Tag: red mass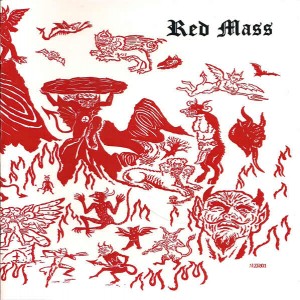 Red Mass // Cindy Lee
Candy b/w Holding The Devil's Hand
Montréal, QC // Vancouver, BC
From the hound's tooth of Jesse Locke:
The first vinyl release from Vancouver's Mongrel Zine is every bit as crucial as the mag. A-Side "Candy" is a star-studded affair with Red Mass main-man Choyce joined by Mark 'BBQ' Sultan on bongos and King Khan on theremin for a hippy-dippy, love bead smoke-out. Groovy times. Cindy Lee's tearjerker "Holding The Devil's Hand" has been a favourite at the HQ since the tape dropped a few months ago, so it's a real treat to have it pressed on 45. Word on the street is that Dirty Beaches has even been covering this number lately. Grip it here and find out why…
Du pied-de-poule de Jesse Locke:
(Traduit par Alex Gauthier en paisley, parce que le pied-de-poule me va pas tellement bien…)
Le premier lancement vinyle de Mongrel Zine est en tout point aussi important que le magazine vancouvérois lui-même. La face A, «Candy», en est truffée de célébrités, réunissant Choyce, le leader de Red Mass, Mark «BBQ» Sultan aux bongos, et King Khan au thérémine. Ça groove, avec un joint partagé entre des mains mi-hippies, mi-yuppies. Depuis l'arrivée de la cassette il y a quelques mois, «Holding the Devil's Hand» de Cindy Lee, qui tire les larmes des yeux, est l'élue des cœurs de nos quartiers généraux. C'est un bonheur de l'avoir maintenant en 45 tours. La rumeur selon laquelle Dirty Beaches en a même fait un cover court récemment. Découvrez pourquoi ici…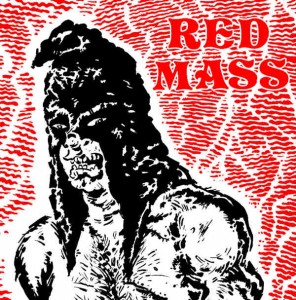 Red Mass
Television Personalities b/w Kill It From The Inside
Montreal, QC
From the shortwave vexation of David Ferris:
Red Mass's two-song single features formerly itinerant songs which have finally found a home on vinyl, thanks to the nurturing hands of Mammoth Cave. Unfortunately, even within his friendly new neighbourhood, Roy Choyce can't seem to turn over a leaf or curb his cur nature; he spends the duration of all seven inches scaring the neighbours and exploring the roles of bad cop integrator and fervent tormentor. You, dear reader, may think you're special, but make no mistake: you are all part of "the masses," and on "Television Personalities" our narrator's altered voice will crackle out of your speakers, enter your head and immediately begins to self-replicate, inducing lunatic bobbing and psychosis. B-side "Kill It From the Inside" reveals Choyce as harrier and hector, with sleazy and violent guitars wife-swapping channels while he announces his itinerary to the listener: killing, lies and lust. A must-get icy cold grip.
Du désarroi à ondes courtes de David Ferris:
Le simple de deux pièces de Red Mass regroupe des chansons orphelines qui ont finalement trouvé demeure sur vinyle grâce aux bons soins de Mammoth Cave. Malheureusement, même dans son nouveau quartier sympathique, Roy Choyce semble incapable de tourner la page ou de museler sa nature de chien enragé; il s'ingénie sur toute l'étendue de ces sept pouces à effrayer les voisins et à incarner les rôles de policier véreux et de fervent tourmenteur. Vous, chers lecteurs, peut-être vous croyez-vous spéciaux, mais n'allez pas vous tromper : vous faites tous partie « des masses », et, sur « Television Personalities », la voix altérée http://youtu.be/ypGxYM3MHqY du narrateur sortira grésillante de vos haut-parleurs, pénétrera votre tête et immédiatement commencera à se dédoubler, engendrant psychose et hochements de tête lunatiques. Sur la face B « Kill It From the Inside », Choyce se révèle tout aussi ravageur et tapageur, avec ses fréquences échangistes de guitares violentes et sordides, tandis qu'il annonce à l'auditeur son itinéraire : meurtre, mensonges et lubricité. À saisir absolument d'une poigne froide et glaciale.
Red Mass – Television Personalities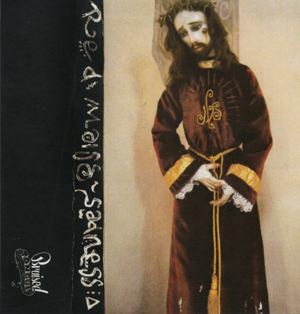 Red Mass
Sadness
Montreal, QC
From the sonic hiss-flames of Alison Lang:
The latest release from Red Mass kicks off with the bluesy groove-mare "Mule Stone Hourly." Above a froth of warbling riff and fuzz, bandleader Choyce calls across the muck. "I work these hands/Bloody hands," he moans, breaking off into a Sabbathy solo overlaid with searching slide guitars far from the flesh and far into the ether. From here, we hear a rasping spoken lament for Arlis Perry, a woman murdered by ice pick at Stanford University in 1974, intoned over a crackling bed of white noise and sonic hiss-flames. There's also a bleakly romantic reflection on mercy — the ugly, Nick Cave-ian kind — and the jingle-stomper "Mamie's Got the Moves," a "Papa Oom Mow Mow" for a generation of consumptives. It's the happiest song on a tape called Sadness, and yet somehow it prowled my dreams, lingering and restless, for weeks.
Du siffleur de flammes soniques d'Alison Lang: (Traduit par Odile Leclerc)
La dernière sortie de Red Mass démarre avec la cadence blues de jument ''Mule Stone Hourly.'' Au-dessus d'une mousse de riff et de flou gazouillant, le chef de groupe Choyce appelle à travers la saleté. ''Je travaille ces mains/ ces mains sanglantes,'' il gémit, se brisant en un solo Sabbath couvert de guitares slide pénétrante loin de la chair et loin dans l'éther. D'ici, nous entendons une lamentation grinçante dite pour Arlis Perry, une femme assassinée par un pique à glace à l'Université de Stanford en 1974, psalmodié au-dessus d'un lit crépitant de bruit blanc et siffleur de flammes soniques. Il y a aussi une réflexion sombrement romantique sur la pitié—l'affreux genre Nick Cave-ian—et l'écrabouilleur de tintement ''Mamie's Got the Moves,'' un ''Papa Oom Mow Mow'' pour une génération de consommateurs. C'est la chanson la plus joyeuse sur une cassette appelée Sadness, et encore, d'une façon ou d'une autre elle rôde dans mes rêves, s'attardant et sans repos, pour des semaines.
Red Mass // Alexandra Gutnik
Split
Montreal, QC // Toronto, ON
From the endless quiver of Jared Majeski:
Another experimental mind warp from Hobo Cult. Choyce / Red Mass and the gang mostly eschew melody for electr(ic)onic psychedelic chaos and free jazz samples, trading metallic barbs with Torontonian Alexandra Gutnik. She navigates the teepee carnage of earth tone grids with saccharine drones and an endless quiver of sample-fried expressionism. The poetically warbled (and no less abrasive) "Sweethearts and Strangers" hurls and burls like so many thrift store relics, while Gutnik's "Chambre Ardent" is an ominous invitation to a minimalist horror show (but is it really?).This split pairs the collective pathos with the lone wolf; a maniacally layered game of 'she said, they said.'
Des frissonnements éternels de Jared Majeski: (Traduit par Odile Leclerc)
Une autre déformation expérimentale de l'esprit de Hobo Cult. Choyce/ Red Mass et le gang évitent pour la plupart du temps la mélodie pour le psychédélique chaos électr(ic)onique et les échantillons gratuits de jazz, échangeant des piques avec la Torontonienne Alexandra Gutnik. Elle navigue sur le carnage de teepee de grilles aux tons terreux avec des drones saccharines et les éternels frissons d'échantillons frits d'expressionisme. Le poétiquement gazouillé (mais pas moins abrasif) '' Sweethearts and Strangers" fait du brouhaha comme tellement de reliques de magasins d'aubaines pendant que ''Chambre Ardent'' de Gutnik est une invitation funeste pour un spectacle d'horreur minimaliste (mais l'est-ce vraiment?). Ce double album met en paire le pathos collectif avec le loup solitaire; un jeu maniaquement superposé de ''elle a dit; ils ont dit''.
Red Mass – Sweethearts & Strangers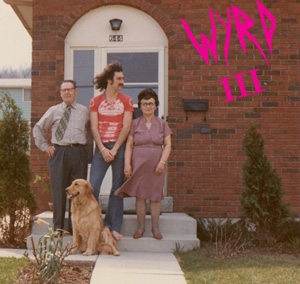 Today is your last day to vote. These final hours are ripe to give you one more reason to believe. BOOM: our keystrokes are bursting with galvanized fervor as we present the official traveling line-up for Wyrd III and the brand new Wyrd Montreal:
///// WYRD III /////
Red Mass
Dirty Beaches
GOBBLE GOBBLE
Wyrd Visions
Sex Church
Famines
Long, Long, Long
Hobo Cubes
Bernardino Femminieli
Velvet Chrome
Feral Children
Silver Dapple
Ketamines
Makeout Videotape
Role Mach
+
???Secret Surprise Guest??? (TBA May 10, 2011)
This wyld traveling caravan (plus local shreddery and other surprises) will be bursting through the following cities:
MAY 20 :: EDMONTON @ Dinwoodie
MAY 21 :: CALGARY @ No. 1 Legion
MAY 22 :: VANCOUVER @ Waldorf Hotel
Tickets for Wyrd III will be available April 1st, 2011! Full band bios, schedule, and other details will be posted next week! Please help us tell the world!
PS – We are doubly excited to let a little secret loose: many of these bands will be tearing through Montreal for a new incarnation of Wyrd. Details soon!
Hearts!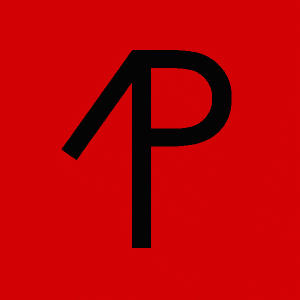 Red Mass
Red Mass
Montreal, QC
Aaron Levin
In some dank Montreal basement lays a dormant time-machine once used to transport Danzig into an alternate future. Encapsulated in blistering walls of noise, terrifying amounts of vocal delay, and a pulsating bass-line churning the earth below this nether-now, Red Mass channels the greatest parts of Danzig's baritone insanity into the type of anthemic punk whose mere existence creates time-signatures in our musical cosmos. Thus, there is no point of reference for Red Mass' debut EP. It is everything all the time at all times, now and into the future. Psychic Handshake really outdid themselves with their second release here, taking a risk on ex-CPC Gangbang's Choyce and his 10+ collective comprising Red Mass. And to top it all off, someone is playing a melodica on Terrorizer, one of the most driving rock songs of this decade. The MP3s do not give the low-end on this EP enough justice, so try to find the vinyl. Killer.
Aaron Levin:
Dans un quelconque sous-sol humide de Montréal, repose une machine à voyager dans le temps dormante autrefois utilisée pour transporter Danzig dans une future parallèle. Encapsulé dans des murs torrides de bruit, dans une quantité terrifiante de reports de voix et de ligne de basse vibrante retournant la terre sous ce bas présent, Red Mass canalise les plus grandes parties de la folie baryton de Danzig dans un type d'hymne punk dont la simple existence crée des signatures temporelles dans notre cosmos musical. Ainsi, il n'y a pas de point de référence pour le début EP de Red Mass. C'est toute chose à tout moment, maintenant et dans le futur. Psychic Handshake se sont vraiment surpassés avec leur seconde mise en vente ici, prenant le risque sur l'ex- Choyce de CPC Gangbang et ses 10+ coopératives compromettant Red Mass. Et pour couronner le tout, quelqu'un joue une mélodica sur Terrorizer, une des chansons rock les plus entraînantes de cette décennie. Le MP3s ne donne rend pas justice au ton bas sur ce EP, alors essayez le vinyle. Tueur.
---