Tag: R&B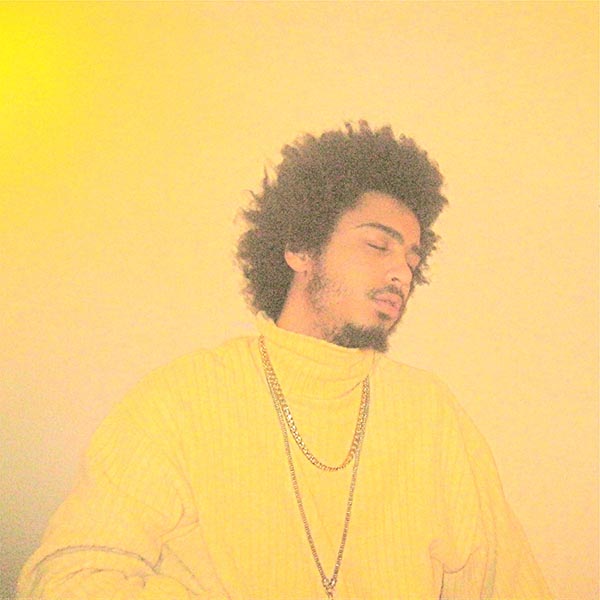 Un Blonde
Good Will Come To You
Montréal, QC
From the rusty sextant of Rolf Carlos:
Mythologies aren't reserved for dusty volumes, or shallowing scriptures on windswept sandstone; new legends are being furtively created by your next door neighbour, in their noisey downtown apartments, long after you've gone to bed. Good Will Come To You, the second in a trilogy of exploratory folk-gospel by Montréal's elusive Jean-Sébastien Audet offers just that. Laying naked at the crossroads of Art&B, spirituals, and Jobim, Un Blonde is reaching into the deep pockets of tradition, but pulling up his own currency. A cow-licked Phil Elverum, heartbroken, layering endless guitars as he builds The Glow Pt. 2; D'Angelo, possessed, determined to break the backbone of harmonic possibility as he croons 16-tracks deep on Voodoo; David Longstreth, strangling impossible chords from his Stratocaster with his middle finger aimed at Yale. This isn't comparison, so much as orientation. Triangulate your compass, and let it lead you to a new mythology; just trust your judgement.
Du sextant rouillé de Rolf Carlos:
(Traduit par le voisin élusif de Maya Keshav)
Les mythologies ne sont réservées ni pour les tomes poussiéreux, ni pour les textes sacrés qui déteignent sur le grès battu par le vent; les nouvelles légendes sont en train d'être créées en catimini par votre voisin d'à côté, dans son appartement bruyant du centre-ville, bien après que vous vous serez couché. Good Will Come To You, le deuxième dans une trilogie de folk-gospel exploratoire de l'élusif Jean-Sébasiten Audet de Montréal vous offre justement cela. Allongé nu au carrefour de l'Air&B, du spirituel et de Jobim, Un Blonde met les mains dans les poches profondes de la tradition, mais il en tire sa propre monnaie. Un Phil Elverum avec une rosette et un coeur brisé, qui étale des guitares interminables pendant qu'il construit The Glow Pt. 2; D'Angelo, possédé, résolu à casser l'épine dorsale de la possibilité harmonique quand il chante 16 morceaux de Voodoo profond; David Longstreth, qui étrangle les accords impossibles avec son Stratocaster en faisant un doigt d'honneur à Yale. Ceci n'est pas une comparaison, c'est plutôt une orientation. Triangulez votre boussole, et laissez-la vous mener à une nouvelle mythologie; faites-vous confiance.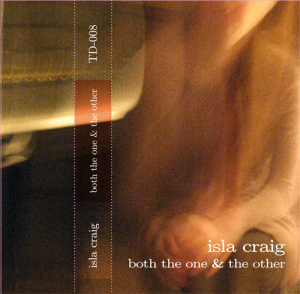 Isla Craig
Both The One & The Other
Toronto, ON
From the croaking heavens of Kevin Hainey:
Isla's crystal pipes have flexed far and wide o'er the years with such diverse local groups as dub-wise slow-grinders The Deeep, indie gospel urbanites Bruce Peninsula, psychedelic living theatre Transcendental Rodeo, smooth soul slingers O.G. Melody, or her own tantric folk meditation ensemble The Continental Drift. Still not convinced Craig is a humble underground sensation around these parts? This latest tape is a testament to her strongest asset. Recorded largely a cappella, accompanied by an intimate choir of pitch-point friends and only the faintest musical accents, Craig spins an intimate yarn with brooding groove. The flipside of this fabulous tape graciously includes Craig's 4-track demos for the album, providing an even warmer glance into her meditative creative process.
De la voix rauque de Kevin Hainey:
(Traduit par la sensation underground de Vincent Rondeau)
Isla est une diva de la région au coeur plein d'âme. Sa voix de cristal a beaucoup voyagé durant plusieurs années, s'intégrant à des formations locales allant du dub lent et intense de The Deep au soul satiné de O. G. Melody en passant par le gospel indie urbain de Bruce Peninsula, le théâtre psychédélique vivant de Transcendental Rodeo et même son propre ensemble de méditation tantrique folk, The Continental Drift. Si cela ne vous convainc pas encore de l'ampleur de la sensation underground qu'est Craig, cette nouvelle cassette met en valeur son plus grand atout : sa voix. Largement a cappella, avec l'accompagnement d'une chorale intime d'amis et quelques nuances musicales, la chanteuse déroule le fil d'un récit complexe sans pour autant paraître [prétentieuse](http://timheinthinks.files.wordpress.com/2012/05/pretentious.jpg). Sur la face B, on a la chance de pouvoir entendre les démos 4 pistes de l'album, question de jeter un coup d'oeil au processus créatif minutieux de Craig.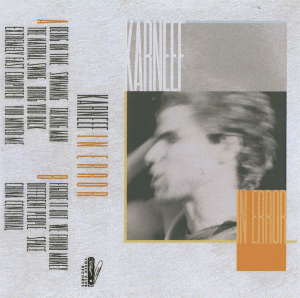 Karneef
In Error
Montréal, QC

Une pop R n' B
hétérotopique
maniérée fait danser Prince avec David Byrne sur du tapis 80/20. Karneef, au pedigree chatoyant (Pat Jordache, Sean Nicholas Savage, Cadence Weapon), se dévoile comme un funketaire sensible à la sensualité de cardigan et au pétillement réflexif d'un premier G&T. De l'euphorie gondolée de tam-tams courtois de « Different People » à l'introspection turquoise moirée de « Figure It Out »,
In Error
agite et célèbre une dichotomie affective pluridécennale entre l'humain et le synthétique. Party music d'une jeunesse éclairée qui célèbre son quotidien (WE FOUND MONEY!) comme s'il n'y avait pas d'iPhone pour se rappeler le passé, que la douce obsolescence d'une encyclopédie hypnagogique qu'on étale dans
l'été indien
.
From the heterotopia of Benoit Poirier:
This mannered heterotopic R n' B pop would make Prince and David Byrne groove on an 80/20 carpet. Karneef, a man with a shimmering pedigree (Pat Jordache, Sean Nicholas Savage, Cadence Weapon), reveals himself as a sensible cardigan funketeer with the sensuous fizzle of a first G&T. From the warped euphoria and courteous tam-tams of "Different People" to the moiré turquoise introspection of "Figure It Out", In Error waves and celebrates a pluridecennial affective dichotomy between the human and the synthetic. This is the party music of an enlightened youth celebrating everyday life (WE FOUND MONEY!) like there was no iPhone to recall the past, only the sweet obsolescence of a hypnagogic encyclopedia spread out in the Indian summer.
[audio:http://weirdcanada.com/wp-content/uploads/2012/10/02-02-karneef-swimming.mp3|titles=Karneef – Swimming] Karneef – Swimming
[audio:http://weirdcanada.com/binary/Weird_Canada-Karneef-Different_People.mp3|titles=Karneef – Different People] Karneef – Different People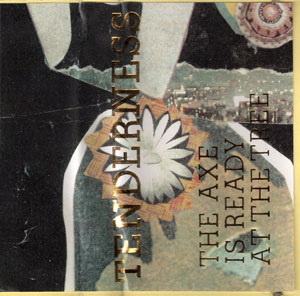 Tenderness
The Axe Is Ready At The Tree
(Self Released)
Moncton, NB
From the grace under fire of Jesse Locke:
Free-floating memories of Sunday morning devotionals merge with the holy ghost of Ann Peebles on this earth-rattling rave-up in the name of. Fresh to def with instantaneous heft and a front-to-back set of unshakeable tunes, Chrissy Reichert's pitch (and paradigm) shifted bangers twist up Tranzac avant-squawk with dusted brother 'No C' Zukerman, including feline sound effects guaranteed to freak out your cats. Tenderness could be 2012's sonic salvation. Get ur grip on.
De la grâce sous les feux de Jesse Locke: (Traduit par les souvenirs de la grâce de Maya Keshav)
Les souvenirs flottants des dévotions de dimanche matin fusionnent avec le Saint-Esprit d'Ann Peebles dans cette rave stupéfiante au nom de. Au courant avec le poids instantané et une série côte à côte de tounes inébranlables, les morceaux décalés et paradigme-changeants tordent l'avant-cri de Tranzac avec le frère saupoudré 'No C' Zukerman, y compris les effets sonores félins qui sont garantis de faire capoter tes chats. Tenderness peut être le salut sonique de 2012. Saute dessus.
Tenderness – We Lay Our Broken World In Sorrow At Your Feet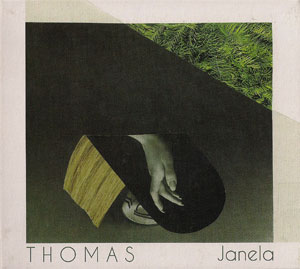 THOMAS
Janela
Toronto, ON
From the divine celebration of Aaron Levin:
Janela burns eternal; an outlier within the data-set of cosmic dance musik. Layers of its breath carry our spirits, buoyed by waves of emotional grace. Each listening a ceremony; a christening for THOMAS' ascension. Every song a Eucharist; a celebration for the last feast of genre. And each movement brimming with quanta of popular majesty, shimmering in sync by the union of the jazz. It is heaven. It is joy. It is love. Janela is our last supper. And our revelation. Join hands, minds, and hearts with your neighbour as our spirits dance with ecclesiastical smoothness into the heavens of rhythm and bass.
De la fête divine d'Aaron Levin: (Traduit par le paradis éternel de Maya Keshav)
Janela vit éternellement; un cas unique dans l'ensemble de données sur la dance cosmique. Les couches de son souffle font voler nos esprits, soutenus par les ondes de grâce emotionnel. Chaque écoute est une cérémonie; un baptême pour l'ascension de THOMAS. Chaque chanson est une Eucharistie; une fête pour le dernier festin de genre. Et chaque mouvement déborde de quanta de majesté populaire, en chatoyant en phase par l'union du jazz. C'est le paradis. C'est la joie. C'est l'amour. Janela est notre Cène. Et notre révélation. Joignons les mains, les têtes et les cœurs avec ton voisin pendant que nos esprits dansent avec la douceur ecclésiastique dans les cieux de rythme et de basse.
THOMAS – (Without So Much As A) Thank You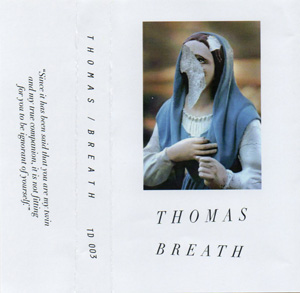 THOMAS
B R E A T H
Toronto, ON
From the breathless hushes of Erik Troitsky:
THOMAS' soft-more album is a hushed leap into breathless dance. Precious grooves lace the four-four jammery with an intimacy not seen since nativity. Deep within THOMAS' narrative is a wilder paradise; a heaven built on stones of catch and rhythm. Pulsing tones and synthetic low-end weave while our morality cools into obsidian; glass candy for the Christ in all of us. B R E A T H is a new divinity. Grip and ye shall worship at the alter of smooth.
Des silences essoufflés d'Erik Troitsky: (Traduit par Maya Keshav)
L'album soft-more de THOMAS est un saut feutré dans la danse essoufflée. Les mélodies précieuses tachettent le quatre-quatre avec une intimité pas vue depuis la nativité. Au fond du récit de THOMAS est un paradis plus sauvage; les cieux construits sur les pierres d'accroche et de rythme. Les tons pulsants et le low-end synthétique se balancent pendant que notre moralité se transforme en obsidienne; les bonbons en verre pour le Christ à l'intérieur de tout le monde. B R E A T H est une nouvelle divinité. Achetez et tu vas adorer l'autel de douceur.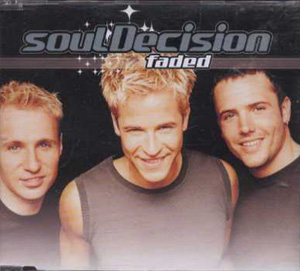 soulDecision
Faded b/w (crappy remixes)
(MCA)
Toronto, ON
From the Thrust raps of Aaron Levin:
The year is 1998. My other single is (coincidentally) lingering in the background as your eyes pan over the Toronto skyline. I'm laced like a jay. Blue from head-to-toe against the orange leather my assistant gripped from Discount Furnitures. Ooh it's kind of crazy money (money that is coincidentally being dried in an apartment below our studio). But it's all so confusing. Why haven't you and I hit it? I like the way you make me move. You've got it and I want it. So, I'll just let my man Thrust mumble some incomprehensible and irrelevant verbage before I get you all alone and take off all your clothes. Confused?
Des raps Thrust d'Aaron Levin: (Traduit par Maya Keshav)
Nous sommes en l'an 1998. Mon autre single apparaît (par coïncidence) dans l'ombre pendant que tes yeux font un panoramique sur la silhouette des immeubles de Toronto. Je m'habille comme un geai bleu. Bleu de la tête aux pieds contre le cuir orange que mon assistant a trouvé à Meubles Rabais. Ooh c'est tellement fou cet argent (cet argent qui par coïncidence est en train d'être imprimé chez l'appartement sous le-nôtre). Mais c'est si mêlant. Pourquoi est-ce qu'on l'a pas encore fait? J'aime ta façon de bouger. Tu l'as et je l'ai envie. Alors, je vais juste laisser mon homme Thrust marmonne quelque verbiage incompréhensible et hors sujet avant que je te trouve toute seule et j'enlève tous tes vêtements. Tu comprends pas?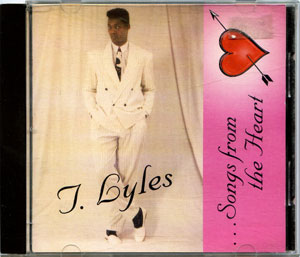 T. Lyles
…Songs from the Heart
(Toon Town Records)
Saskatoon, SK (Originally Released: 1995)
From the kraazy Saskatoon lovertude of Christopher Bateman
Ever wondered what a Prince or Babyface-inspired boy from the Canadian prairies looks and sounds like? By 1995, New Jack Swing was on its way out of radio favor and Saskatoon is about as far from a stronghold of hip hop informed R&B that you can get, but for better or for worse, that never stopped Indianapolis-born T. Lyles from putting out a collection of New Jack swangers in the heart of Joni-town. It is not exactly clear how Lyles is connected to Saskatoon, but it was there that he created his 12-bar New Jack rub-down of an album. For the most part, the disc is more weird than bangin', but it stands as a curious peek into an outsider prairie new jack inductee. Also: check the T-fade.
De l'amoureux-attitude de la kraazy Saskatoon de Christopher Bateman:
(Traduit par Odile Leclerc)
N'êtes jamais demandé de quoi à l'air un garçon inspiré de Prince ou Babyface des prairies canadiennes et comment il sonne? Par 1995, New Jack Swing sortait hors de la faveur radio et Saskatoon est aussi éloigné d'un R&B informé d'un château fort de hip hop qu'elle peut l'être, mais pour le meilleur ou pour le pire, cela n'a jamais arrêté T. Lyles, né à Indianapolis de publier une collection de swingueurs New Jack dans le cœur de Joni-ville. Ce n'est pas exactement clair comment Lyles est relié à Saskatoon, mais c'était là qu'il a créé son rub-down album 12-bar New Jack. Pour la majeure partie, le disque est plus bizarre que cognant, mais il se tient en tant qu'un curieux coup d'œil dans une célébrité New Jack étrangère de la prairie. Aussi : regardez le T-fade.
---