Tag: ramzi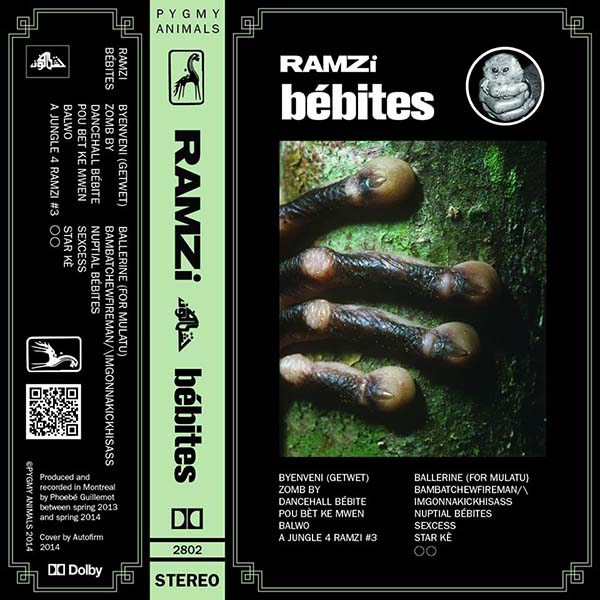 RAMZi
Bébites
Montréal, QC
From the alien discombobulation of Griffin Martell:
The spirit of the jungle is a harmony that manifests in pluralistic conflict. As RAMZi pulls us below the canopy, the peace of chlorophyllic homogeneity gives way to alien discombobulation. The bébites scamper along the cold, damp earth, screeching in perpetual cacophony. This is the language of war and sex. Peace, for the bébites, is inexpressible. It is only through the polyglot mediation of RAMZi that their cacophony becomes euphony. As such, the meaningful substance of Bébites becomes apparent in its constituent sonic organisms. To bounce with the bébites is to see the unity of the jungle in all of its beautiful disarray.
De l'émoi extraterrestre de Griffin Martell:
(Traduit par Julie Forget)
L'esprit de la jungle est une harmonie qui se présente sous forme de conflit pluraliste. Alors que RAMZi nous amène sous la voûte forestière, la paix de l'homogénéité chlorophyllienne cède le passage à l'émoi extraterrestre. Les bébites galopent sur la terre froide et humide, hurlant dans une cacophonie perpétuelle – le langage de la guerre et du sexe. Pour les bébites, la paix est inexprimable. Leur cacophonie devient seulement euphonie dans la médiation polyglotte de RAMZi. L'importante substance même de Bébites devient apparente dans les organismes acoustiques qui le composent. Danser avec les bébites, c'est voir l'unité de la jungle dans toute sa jolie désorganisation.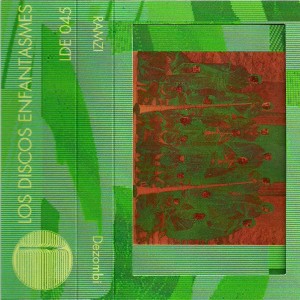 Ramzi
Dezombi
Montreal, QC
From the chop and dub slicer of Mann Durian:
On her first release for Los Discos Enfantasmes, Montreal's Ramzi revitalizes her sound with a glass of Tubby citrus. Her worldly schizo meditations stretch and bump in a psilocybin blender set at the lowest speed, at times sounding like DJ Screw soundtracking Rez.
Dancehall influences peak through on "Byouwa Twopikal," but the lackadaisical, lysergic pop-and-lock under the song's surface makes the whole ship rock in angular momentum. Penultimate banger "Ti-Ponch Moun Yo" paints a freaky nightclub where Shangaan electro and Pharoah Sanders are commonplace. Like the best moments of LA's tropical pop-trippers Sun Araw, Dezombi occupies a similar space where genres are blended, arranged, and melted down into a potent chemical confection that tastes as sweet and spicy as floating over a volcano must feel.
De la machine à découper et à émincer de Mann Durian:
(Traduit par la décoction épicée de Virginie Langlois)
Pour sa première sortie sur le label Los Discos Enfantasmes, la montréalaise Ramzi perfectionne le son qui la caractérise grâce à un verre de jus d'agrumes à la sauce Tubby. Ses méditations schizo s'étirent et heurtent un mélangeur de psilocybine réglé à la vitesse minimale; à certains moments ça ressemble à DJ Screw jouant Rez.
Les influences de la piste de dansesont les plus évidentes sur « Byouwa Twopikal » mais le pop-and-lock languissant et trippant qui affleure à la surface de la chanson permet au navire tout entier d'atteindre une dynamique saccadée. L'avant-dernière détonation « Ti-Ponch Moun Yo » nous transporte dans une boîte de nuit bizarre où Shangaan electro et Pharoah Sanders sont monnaie courante. Comme aux meilleurs moments des pop-trippers tropicaux de LA Sun Araw, Dezombi est ce type de lieu où les genres sont mêlés, arrangés, fondus pour aboutir à une décoction puissante à la fois sucrée et épicée, proche de ce qu'on doit ressentir en flottant au-dessus d'un volcan.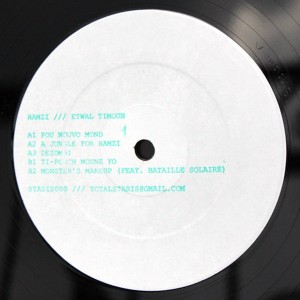 Ramzi
Etwal Timoun
Montréal, QC
From the beachside arcade of Joseph Stephenson Taylor:
When stepping into a craft that you know will be traveling across numerous landscapes, a window seat is the ideal place to be. There, the horizon is at your mercy to be taken in as a whole, or to be dissected where each intricate piece that works so hard to create a big picture can be gripped, held close and observed with an enthusiastic eye. But horizons are subject to dynamic change: bigs and smalls, brights and dulls, flats and sharps. This is also the case with Etwal Timoun, the latest excellence offered by Montreal's Ramzi. Each track locks into place and then sets off far into orchestrations that could accompany an NFB documentary on the inner workings of post-Y2K pinball machines, careening left and right, bumping up and down. The toe-tapping can generally be held to 4/4 while the leads lend themselves to colourful details of buzz, blurp, dizzle, fizzle and the machine that goes PING. Very tasty circuits.
Du jeu d'arcade de bord de mer de Joseph Stephenson Taylor:
(Traduit par Jacinthe Laplante)
Lorsque vous montez à bord d'une embarcation qui visitera de nombreux paysages, l'endroit idéal pour vous asseoir est près de la fenêtre. De là, vous pourrez embrasser du regard l'horizon tout entier ou le disséquer morceau par morceau et reconstituer l'ensemble qui ne demande qu'à être observé d'un œil enthousiaste. Mais l'horizon est sujet au changement : vaste ou limité, brillant ou terne, plat ou accidenté. Il en va de même pour Etwal Timoun, le dernier petit chef-d'œuvre de la Montréalaise Ramzi. Alors qu'on croit avoir cerné une chanson, cette dernière se déploie aussitôt en arrangements orchestraux tout indiqués pour accompagner un documentaire de l'ONF sur les rouages des machines à boules du XXIe siècle, donnant de la bande de gauche à droite, cognant de haut en bas. Le pied peut généralement suivre le rythme en 4/4 alors que la musique se décompose en une série de buzz et de bling-a-ding-ding colorés sans oublier le PING de la machine. De délicieux circuits.
---