Tag: ramzi – dezombi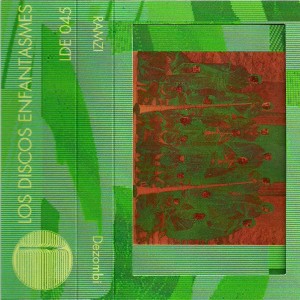 Ramzi
Dezombi
Montreal, QC
From the chop and dub slicer of Mann Durian:
On her first release for Los Discos Enfantasmes, Montreal's Ramzi revitalizes her sound with a glass of Tubby citrus. Her worldly schizo meditations stretch and bump in a psilocybin blender set at the lowest speed, at times sounding like DJ Screw soundtracking Rez.
Dancehall influences peak through on "Byouwa Twopikal," but the lackadaisical, lysergic pop-and-lock under the song's surface makes the whole ship rock in angular momentum. Penultimate banger "Ti-Ponch Moun Yo" paints a freaky nightclub where Shangaan electro and Pharoah Sanders are commonplace. Like the best moments of LA's tropical pop-trippers Sun Araw, Dezombi occupies a similar space where genres are blended, arranged, and melted down into a potent chemical confection that tastes as sweet and spicy as floating over a volcano must feel.
De la machine à découper et à émincer de Mann Durian:
(Traduit par la décoction épicée de Virginie Langlois)
Pour sa première sortie sur le label Los Discos Enfantasmes, la montréalaise Ramzi perfectionne le son qui la caractérise grâce à un verre de jus d'agrumes à la sauce Tubby. Ses méditations schizo s'étirent et heurtent un mélangeur de psilocybine réglé à la vitesse minimale; à certains moments ça ressemble à DJ Screw jouant Rez.
Les influences de la piste de dansesont les plus évidentes sur « Byouwa Twopikal » mais le pop-and-lock languissant et trippant qui affleure à la surface de la chanson permet au navire tout entier d'atteindre une dynamique saccadée. L'avant-dernière détonation « Ti-Ponch Moun Yo » nous transporte dans une boîte de nuit bizarre où Shangaan electro et Pharoah Sanders sont monnaie courante. Comme aux meilleurs moments des pop-trippers tropicaux de LA Sun Araw, Dezombi est ce type de lieu où les genres sont mêlés, arrangés, fondus pour aboutir à une décoction puissante à la fois sucrée et épicée, proche de ce qu'on doit ressentir en flottant au-dessus d'un volcan.
---