Tag: rad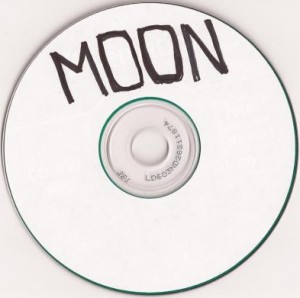 Moon
Moon
(Self Released)
Halifax, NS
From the moulting expectations of Tobias Rochman:
Halifax group Moon's name is either paying tribute to Divorce Records owner Darcy Spidle's daughter, the directorial debut of David Bowie's son, a bare ass, a cult or all of the above.
The blank, bold, minimalist gesture that is this self-released CDR's packaging is a clever comment on cyber-capitalism, the diminishing role of the craftsperson in the digital age, disposable blog music as a tribal signifier used in sexual courting, and the modern record label as a middleman mournfully splitting the crumbs of a pie no one ordered.
This is an impressive debut. It is a snake in dog's clothing, moulting expectations, shedding careless first impressions and slithering towards the heat lamp of your heart. Moon's reflective pop music offers itself as a companion, setting the world to a kraut-beat like a ticking clock, a soundtrack for all that happens until that unseen final moment when — your foot already in the stirrup — death's famous black horse arrives.
For those of us not anticipating the expansion of government controlled drone-killings on home or foreign soil, tangerine coloured "reality augmentation" glasses pumping ads straight to our retinas, or the slapdash reality TV contest that will decide the next leader of the Catholic church, at least we'll have more from this promising group to look forward to.
Des lunettes lunatiques de Tobias Rochman:
(Traduit par Laurence Ouellette et Nicolas Coutlée)
À quoi le nom du groupe Moon fait-il référence? Est-ce un hommage à la fille du fondateur de Divorce Records, Darcy Spidle? Aux débuts cinématographiques du fils de David Bowie? À un cul à l'air? À une secte? À chacune de ces réponses?
Le format ultra-minimal, presque audacieux, de ce CD-Rom auto-produit suggère que le groupe d'Halifax sait très bien qu'il s'insère dans un monde où règne un cyber-capital qui propulse une musique jetable et immatérielle en abondance, ou encore que les labels, affairés à répartir des miettes de pain, sont en obsolescence avancée.
En tout cas, Moon ne laisse pas indifférent. Tel un serpent dissimulé sous une fourrure de chien, il hurle à la lune et glisse, avec une nonchalance reptilienne, tout droit vers la lueur infra-rouge de votre coeur. Moon vient se lover en vous sans hésitation, et vous enveloppe de sa pop opale sur un beat krautrock. Une trame sonore sublime pour n'importe quel moment; même le dernier.
Pour ceux d'entre vous qui n'attendent pas avec impatience de voir les avions drones se multiplier, de faire l'acquisition de lunettes de « réalité augmentée » orange bombardant votre rétine de publicités plus qu'elle ne l'est déjà ou de vous taper la prochaine télé-réalité pour l'élection du prochain leader du Vatican, consolez-vous; il y a toujours Moon, qui promet de nous en donner encore.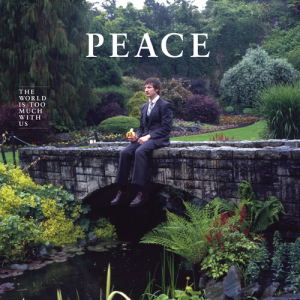 Peace
The World Is Too Much With Us
Vancouver, BC
From the withering trenchcoat of Mark Teo:
Dan Geddes is a force, plain and simple. And despite the heaps of hella-high-praise references Peace receives — to Neu!, or Orange Juice, or Edwyn Collins, or whatever — there's no substitute for experiencing their work via headphones. Peace shines not in virtuosity or violence (despite their ties to Vancouver's explosive Emergency Room scene), but in their command of tone: The World Is Too Much With Us swaps the verbosity of Peace's earlier work in favour of emotional dexterity, ranging from bombastic romancers ("Your Hand in Mine"), to menacing creepers ("Free Time"), to gleefully detached absurdist romps ("Kissed Dust"). It's subtle, eloquent and direct — all of which is why I'm so obsessed.
Du trenchcoat de Mark Teo:
(Traduit par Alexandre Vaillancourt)
Dan Geddes est une force simple et pure. Malgré les nombreuses références louangées que Peace font à NEU!, ou à Orange Juice, ou Edwyn Collins, ou peu importe, il n'y a pas de substitue à l'expérience que leur travail procure au travers d'une paire d'écouteur. Peace ne s'illustre pas dans la virtuosité ou la violence, mais plutôt dans leur commande des tons : The World is Too Much With Us change la verbalité utilisé dans les œuvres précédents pour laisser place à une dextérité émotionnelle passant de romantique emphatique (''Your Hand in Mine''), à un menaçant creep (''Free Time'') à un joyeux ébat d'absurde déconnecté (''kissed Dust''). C'est éloquent et direct — tout ce qui explique pourquoi j'en suis si obsédé.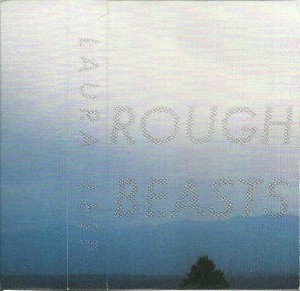 Laura Leif
Rough Beasts
(Self Released)
Calgary, AB
From the altered beast of Kevin Stebner:
Talk about the most underrated of songwriters in Canada. Pioneer Girl of all things vibrant, Laura Leif delivers songs as a sort of throaty, prairie-born Joanna Newsom, where the mean indifference of Toronto is unable to handle her openness, prompting this squamish outflow of ukeleles, guitars and windy voices. The foggy gloom of Nova Scotia, where it was recorded, seems to have infiltrated the tape; Rough Beasts sticks like pinpoints across the Canadian map, like those very pinpricks of Leif's slight vocal delivery. Legendary curmudgeon Calvin Johnston knows the deal, 'bout time you did.
De l'amitié bestiale de Kevin Stebner:
Et si on parlait de l'auteure-compositrice la plus sous-estimée du Canada? Pionnière dans le domaine du vibrant, Laura Leif entonne ses chansons telle une Joanna Newsom des prairies à la voix gutturale. Sifflant soufflant comme le squamish, les ukulélés, les guitares et les voix venteuses s'élèvent au-dessus de la parfaite indifférence de Toronto à l'égard de la franchise de Mme Leif. La brumeuse mélancolie de la Nouvelle-Écosse, lieu de l'enregistrement, semble aussi avoir infiltré la cassette; Rough Beasts est une carte du Canada criblée de punaises, pareilles comme les encoches qui ponctuent la douce prestation vocale de Leif. Le légendaire grincheux qu'est Calvin Johnston a compris ce dont il retournait, serait p'tete temps que vous en fassiez de même.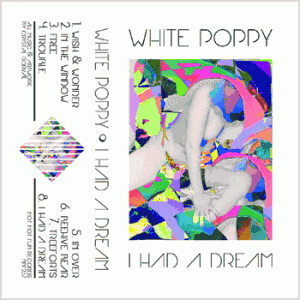 White Poppy
I Had A Dream
Vancouver, BC

Billowing acid casualties litter the emergent form of
our friend Wallis
.
I Had A Dream
is a blown-out saturnalia of junglic trance wrapped with incandescent layers of popular catch. The anthemic wash of lysergic fuzz and drum machine clamour drives like veins bursting with
empathy
and bliss. The perfect triangulation of beachside burnitude, west coastral mellow, and magnetic jammery. Shred.
[audio:http://weirdcanada.com/binary/Weird_Canada-White_Poppy-In_The_Window.mp3|titles=White Poppy – In The Window] White Poppy – In The Window
[audio:http://weirdcanada.com/binary/Weird_Canada-White_Poppy-Free.mp3|titles=White Poppy – Free] White Poppy – Free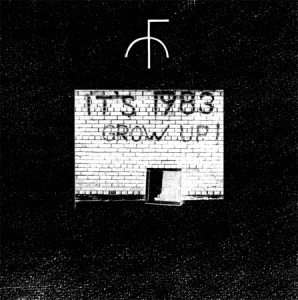 Fist City
It's 1983, Grow Up!
Lethbridge, AB // Calgary, AB

Contradicting its retroactive title, the
Albertan garage archivists
use their newest LP as a growth opportunity (just don't call it a grow-op). Here, Fist City less-than-quietly reboot their sound: "Caveman's Lunch" and "Spit" exhibits the band's brand of landlocked, wall-of-sound surf; "Blow" and "Weak End" turn Evan Van Reekum's guitars into amorphous, impressionist pop; and "Boring Kids," the long-player's opener, dips into jittery new wave territories.
1983
is still Fist City — meaning that, as evidenced by "Fuck", they can still rip with the best — but it's a clear indicator that the band's ready to
travel
far, far beyond Southern Alberta.
[audio:http://weirdcanada.com/wp-content/uploads/2012/10/04-Cavemans-Lunch.mp3|titles=Fist City – Caveman's Lunch] Fist City – Caveman's Lunch
[audio:http://weirdcanada.com/wp-content/uploads/2012/10/08-Blow.mp3|titles=Fist City – Blow] Fist City – Blow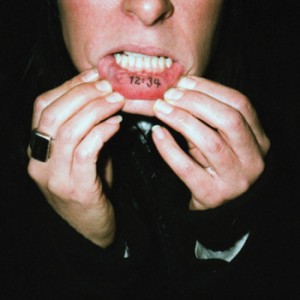 Needles//Pins
12:34
Vancouver, BC

The punky power-pop pandemic that's been percolating over the last few years has come to a boil, and it goes to show that the music seeded to us in late puberty has begun to bloom. Everything we heard at house parties and smoky afterschool basements has fully germinated, fed over the years by long-term practitioners, unashamed of their love of catchy accessibility (see
Young Guv
and his tickle trunk of 7 and 10"s) and the resurfacing and
reissuing
of late '70s nuggets from bands that fall somewhere between The Ramones and Cheap Trick. Vancouver's
Needles//Pins
are leading the pack of these chipped toothed bubblegum chewers, making music best suited for the summer months or crushing out on the cute girl from homeroom on the first day of class. Suddenly the
Screeching Weasels
of the world have never felt so relevant.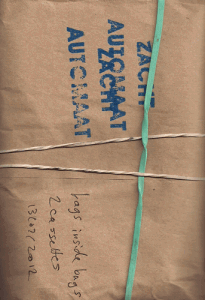 Zacht Automaat
Bags Inside Bags
(Self Released)
Toronto, ON

The depth of
Zacht Automaat's
bag of tricks seemingly knows no bounds, as evidenced by this lysergic whirligig of a double cassette. The Toronto-via-Hamilton-via-The Spaceways duo bent minds with their inaugural 2010-11 onslaught (seven original albums and a Beatles cover record) and have now drifted back into the cosmic consciousness with another hour-plus of mood-altering bubblegum. For
Bags Inside Bags
, the O.G. pairing of Ganesha-armed multi-instrumentalists Carl Didur and Michael McLean have enlisted Louis Percival (a.k.a. Broken Tree Fort a.k.a.
Onakabazien
) to man the traps, and Colin Fisher (one half of
NTW,NTF
) to lay down some skin-peeling sax. This monster release travels from kraut stomp to interstellar bliss-out with stops at the circus and of course a day-trip to
Canterbury
. For a deeper dip into the Automaat ouevre, check this in-depth and in-the-know
article
from the desk of Slim Twig.
[audio:http://weirdcanada.com/binary/Weird_Canada-Zacht_Automaat-Bags-Side_II.mp3|titles=Zacht Automaat – Side II] Zacht Automaat – Side II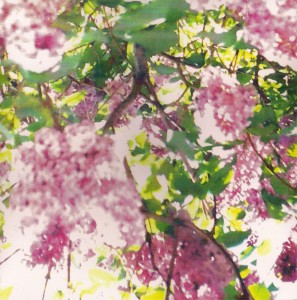 Actual Water
The Paisley Orchard
Toronto, ON

Actual Water have emerged a pop monstrosity from the mirth of fidelic ruin; their debut LP exists within an echo-chamber of guitar-laced jangle and humoured rhythm, making each stab more
destructively addicting
. With bludgeoned flare,
The Paisley Orchard
's euphoric clamour induces a slurred frenzy of popular distaste. The entire package is some
top of the line wine
for the ruinous at heart. Top 10 of the year for sure. YEEEEEEEAAAAAAAAHHHHHHHHHHHHHHHHHHHHHHHHH.
[audio:http://weirdcanada.com/wp-content/uploads/2012/05/01-A01-Pale-Ways.mp3|titles=Actual Water – Pale Ways] Actual Water – Pale Ways
[audio:http://weirdcanada.com/wp-content/uploads/2012/05/10-B04-Summer-In-The-End.mp3|titles=Actual Water – Summer In The End] Actual Water – Summer In The End
[audio:http://weirdcanada.com/wp-content/uploads/2012/05/09-B03-Brighton.mp3|titles=Actual Water – Brighton] Actual Water – Brighton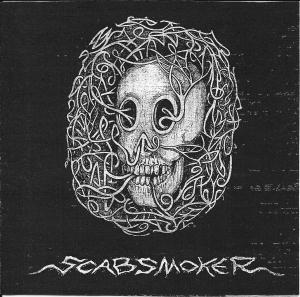 Scab Smoker
Scab Smoker
(Self Released)
Winnipeg, MB

A power trio which sways from
down-tempo doom
to
British Heavy Metal
, and their drummer's tape manipulations are the glue that holds it all together? If the tectonic shifts don't diminish you with a blink, nervous hums will creep up through
Crabskull
's eerie non-sequiturs and form pustules on any clean mind —
infectious stoner metal
in its newest mutation, perversion, persuasion, enticing all to bang head, bang head, bang head.
[audio:http://weirdcanada.com/wp-content/uploads/2012/04/04-butcher-of-daemons.mp3|titles=Scab Smoker – Butcher of Daemons] Scab Smoker – Butcher of Daemons
[audio:http://weirdcanada.com/wp-content/uploads/2012/04/06-call-of-the-first-aethry.mp3|titles=Scab Smoker – Call of the First Aethry] Scab Smoker – Call of the First Aethry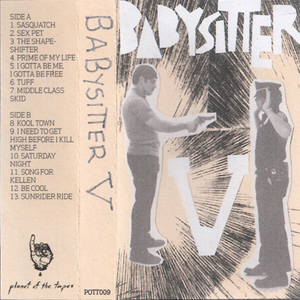 Babysitter
Tape V
Victoria, BC

It's no secret. The shadowy lizard government pulling the strings behind Weird Canada HQ is fully brainwashed by Babysitter's revolutionary rhetoric. The fifth chapter in their ever-evolving
saga
of sub-island urban wastoids is a fully realized dogma of red-lined rock absurdity. With western flair they drive through
60s mellow
with surprising seriousness, espousing their living word in trinkets as clear as "
I'm riding on a plane / a real astral plane
". The blend of rural-rock, 90s hair-pop, and completely burnt punk has never been weirder, as tracks like "be cool" and "sex pet" rip asunder fledging notions of genre. A serious favorite in the nation of fringe. GRIP AND GET FREE.
[audio:http://weirdcanada.com/wp-content/uploads/2011/09/06-middle-class-skid.mp3|titles=Babysitter – Middle Class Skid] Babysitter – Middle Class Skid
[audio:http://weirdcanada.com/wp-content/uploads/2011/09/05-i-gotta-be-me-i-gotta-be-free.mp3|titles=Babysitter – I Gotta Be Me, I Gotta Be Free] Babysitter – I Gotta Be Me, I Gotta Be Free
[audio:http://weirdcanada.com/wp-content/uploads/2011/09/12-be-cool.mp3|titles=Babysitter – Be Cool] Babysitter – Be Cool
---