Tag: Rachel Bellone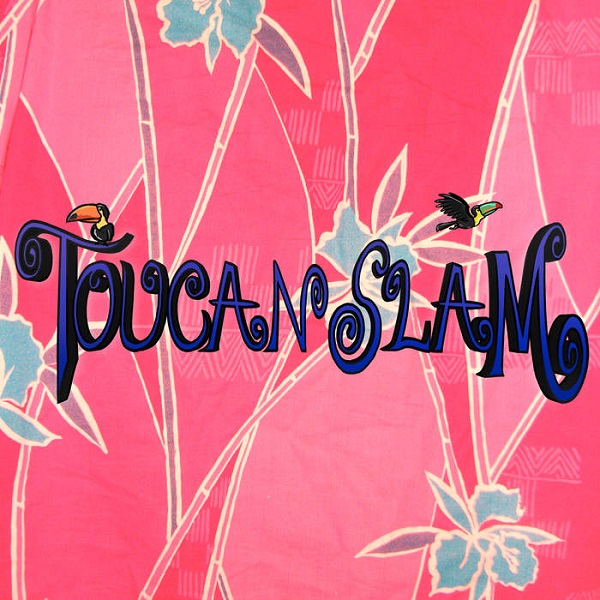 Toucan Slam
Toucan Slam
Toronto, ON
From the turbulent mind of Rachel Bellone:
If someone were to write an EP in a crashing airplane trying to capture the panic in their surroundings as a sort of homage to the turbulent moment before the grand slam the plane levels at the last minute, they might sound a bit like Toucan Slam. The vocals have the effect of a pilot speaking over an intercom, except instead of soothing pleasantries about landing safely, they're spouting experimental poetry . A joyful and punchy two piece,Toucan Slam fills your cereal bowl and then sloshes it around. This bassist and drummer dynamic duo are a sonic match made in heaven, or maybe just the sky they're plummeting from.
De l'esprit turbulent de Rachel Bellone:
(Traduit par l'accalmie mentale de Louis-Félix de Chevigny)
Toucan Slam sonne un peu comme si quelqu'un décidait d'écrire un 45 tours à bord d'un avion en plein écrasement pour sonoriser la panique autour de lui afin de faire hommage au moment de turbulence avant que l'avion ne s'écrase se stabilise à la dernière minute. Les paroles font penser à un pilote parlant à travers l'interphone, sauf qu'au lieu de faire des plaisanteries rassurantes sur la sécurité lors de l'atterrissage, il débite de la poésie expérimentale . Une paire enjouée et dynamique, Toucan Slam remplit votre bol de céréales avant d'en faire remuer le contenu. Ce duo de choc composé d'un bassiste et d'un batteur) sont issus de la même constellation, ou peut-être tombent-ils juste des mêmes cieux.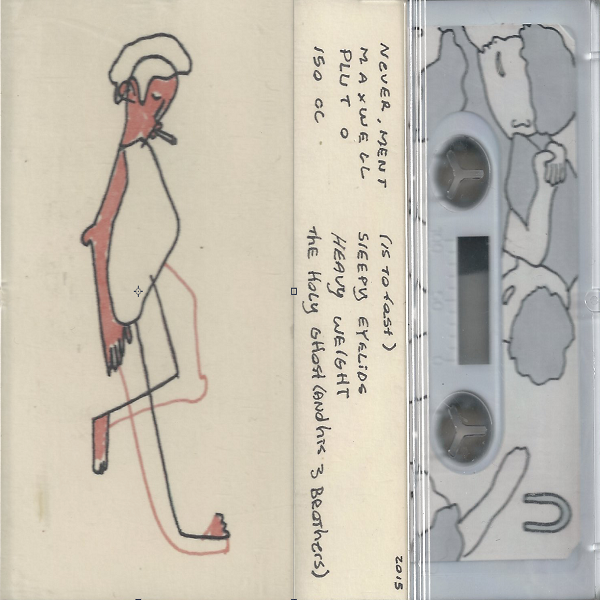 Fish Food
For Mortimer
(Self-Released)
London, ON
From the slack jaw of Rachel Bellone:
Small town Southwestern Ontario is a place with time to kill between house shows. Fish Food fills up the time by mashing hands against instruments and writing lyrics for a brother, a partner, a friend, and even the mean drunk guy, while having big big plans in a small small pond. For Mortimer is homespun and hard hitting, like the smell of cookies in your childhood home which you gobbled for granted. When creativity in this age hits fast and slick, Fish Food reminds us there's still time for new friends, handmade cassettes, and songs with throwback indie vibes and topical beats.
De la mâchoire détendue de Rachel Bellone:
(Traduit par Julie Mayer)
Le sud-ouest de l'Ontario est une petite ville où il y a du temps à tuer entre les spectacles faits main. Fish Food remplit ces temps morts en frappant ses mains contre des instruments de musique et en écrivant des paroles de chansons pour un frère, un partenaire, un ami et même le méchant type saoul, tout en ayant de grands, grands plans dans un petit, petit étang. For Mortimer est fait maison et percutant tout comme l'odeur des biscuits que vous engloutissiez pour acquis quand vous étiez petits. Malgré cette ère dans laquelle la créativité ne fait que passer, Fish Food nous rappelle qu'il est encore temps de se consacrer aux nouvelles amitiés, aux cassettes artisanales, aux rythmes tropicaux ainsi qu'aux chansons composées d'ondes indie qui retournent aux sources.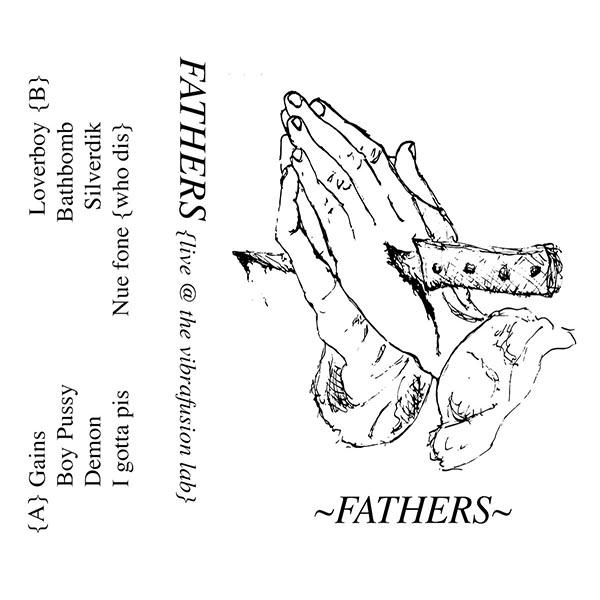 FATHERS
Live @ The Vibrafusion Lab
(Self-Released)
Toronto, ON
From the swollen finger muscles of Rachel Bellone:
Take your favorite dad jokes and turn them into dank memes. Then turn them back into dad jokes. In 30 years, dig them up out of a time capsule and write DIY punk riffs while eating a can of beans over the sink in your WW3 bunker. Even if you followed this recipe exactly, FATHERS could not be replicated. They were born from a web of underground Toronto punk bands and venues (RIP SHIBGB'S). FATHERS are both topical in content and timeless in style. I think it's safe to say we are all children of FATHERS.
Des muscles de doigts enflés de Rachel Bellone:
(Traduit par Julie Mayer)
Prends tes blagues poches préférées et transforme-les en mèmes d'enfer. Puis retransforme-les en blagues poches. Dans 30 ans, déterre-les d'une capsule temporelle et compose des riffs punk DIY tout en mangeant une boîte de haricots au-dessus de l'évier dans ton bunker de la Troisième Guerre mondiale. Même si tu as été fidèle à la recette, les FATHERS ne peuvent être reproduits. Le quatuor est issu d'une toile groupes et de salles appartenant au punk underground torontois (RIP SHIBGB'S). Les FATHERS ont à la fois du contenu actuel et un style intemporel. Je crois qu'on peut dire qu'on est tous les enfants des FATHERS.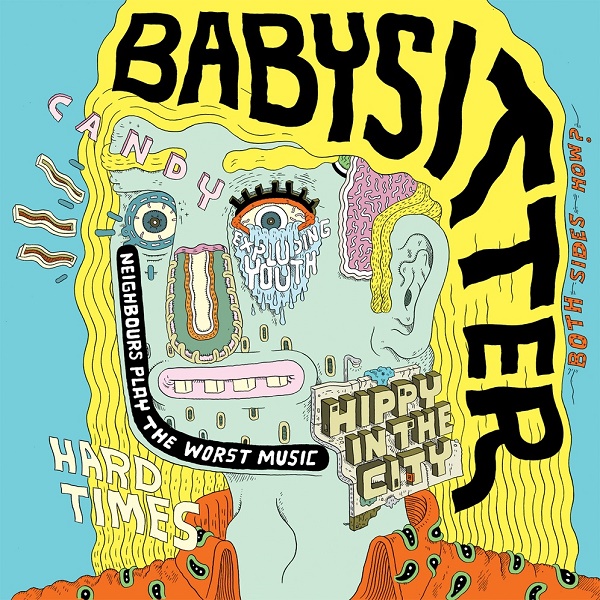 Babysitter
Babysitter
Montreal, QC
From the ascending fistpump of Rachel Bellone:
With over a baker's dozen releases since 2013 including collaborations with Hag Face and JLK, the hair raising Babysitter have become self-proclaimed civic targets. This album illustrates how they transcend the death of rock and roll. Its pre-election release seems to beg for a vigilant eye in a treacherous political climate. I don't know about you, but I'm in the mood for some hard jams, and cathartic atonal solos from guitars, horns, or babies crying.
De l'éloge ascendant de Rachel Bellone:
(Traduit par DIVESTMENT-MAINTENANT)
Avec plus qu'une bonne douzaine de sorties musicales depuis 2013, y compris des collaborations avec Hag Face et JLK, Babysitter, qui fait dresser les cheveux, est devenu une cible civique autoproclamé. L'album illustre comment le groupe transcende la mort de la musique rock. La sortie préélectoral semble demander qu'on soit vigilant dans un climat politique périlleux. Je ne sais pas en ce qui vous concerne, mais j'ai envie d'écouter des jams durs et des solos atonaux et cathartiques de guitares, de klaxons ou de bébés qui pleurent.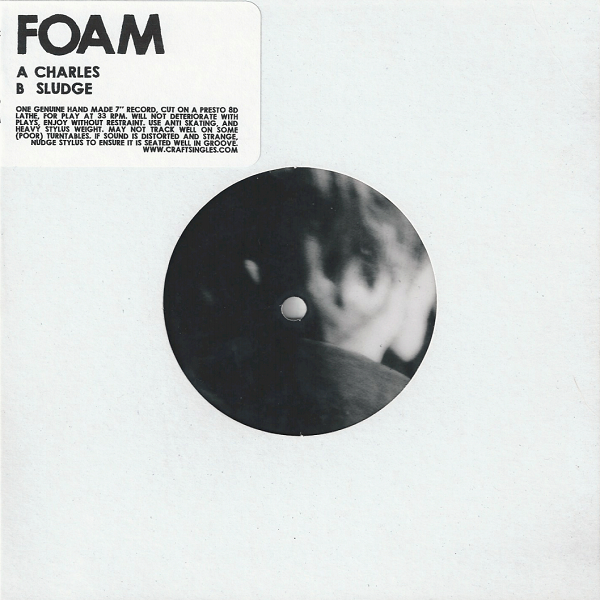 Foam
Charles (Craft Single)
London, ON
From the bloody gullet of Rachel Bellone:
Foam, a boisterous three piece that emerged from an angry gaggle of notable punk bands from London, Ontario. The Out of Sound-ers carry on a legacy of the DIY punk stomping grounds in the "city of opportunity". The opening track, "Charles" evokes a violent encounter between your big toe and an otherwise non confrontational coffee table. "Sludge" could be the soundtrack to a nosebleed you've woken up with after a fever dream. Though it's perfectly normal for similar acts to make you drool, inform your doctor if these tracks cause foaming of the mouth.
De l'œsophage sanguinolent de Rachel Bellone:
(Traduit par la brosse à cheveux édentée de Julie Mayer)
Foam est un trio chahuteur sorti d'un troupeau colérique d'éminents groupes punk originaires de London, en Ontario. Les Out of Sound-eurs perpétuent dans la city of opportunity l'héritage des milieux punk DIY. Le premier morceau, « Charles », évoque une violente confrontation entre votre gros orteil et une table basse qui autrement ne cherche pas la bagarre. « Sludge » pourrait être la trame sonore d'un saignement de nez avec lequel vous vous êtes réveillés à la suite d'un rêve fiévreux. Bien qu'il soit tout à fait normal que de telles situations vous fassent baver, si vous avez l'écume aux lèvres après avoir écouté ces pistes, parlez-en à votre docteur.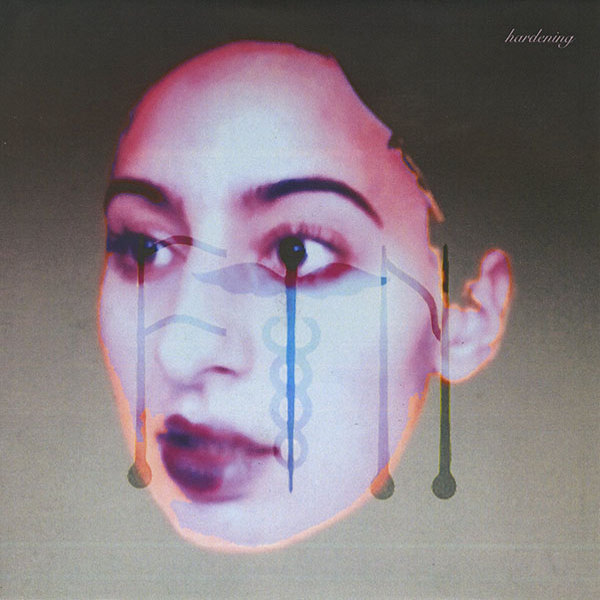 F I N
Hardening
Toronto, ON
From the earnest mumbles of Rachel Bellone:
Spiraling in from right to left, F I N's Hardening uses melody like a swinging pocket watch. Submerging you into this grime-y synth daydream where you can breathe under water. In preparation for a full-length release, we are teased by these sweetly decorated tracks. In Silver's vocal percussion pulls you up for a breath of fresh air. Moving between the spectrum of dissonance in harmonies back to the singularity of the solo wispy and affective voice.
Du bafouillage sérieux de Rachel Bellone:
(Traduit par Jessica Grenier)
En vrilles antihoraires, Hardening de F I N fait osciller la mélodie comme une montre à gousset, nous immergeant dans une rêverie crasse synthétisée où on peut respirer sous l'eau. Les percussions vocales de « In Silver » nous laissent remonter pour un peu d'air frais en traversant le spectre des dissonances harmoniques, pour revenir vers la délicatesse affective de cette voix unique. Ces pistes joliment décorées nous sont offertes en avant-goût, dans l'attente de l'album complet.
---