Tag: quebec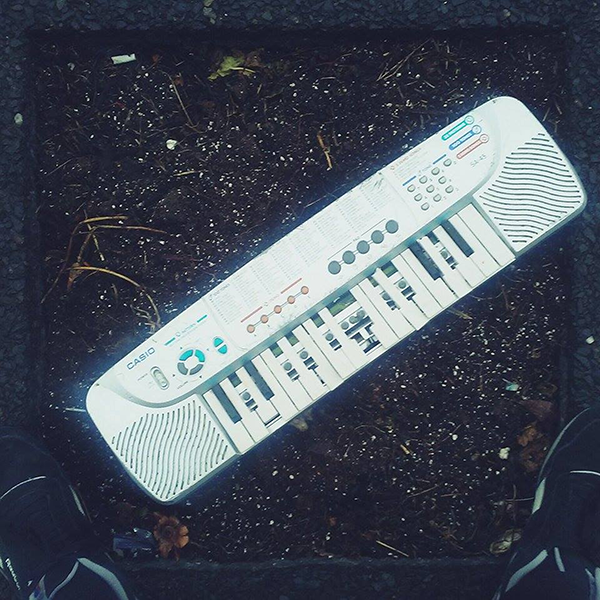 Bone Marrow
A Spiritual Blur / Someone New EP
Self-released
Montréal, QC
From the basement thoughts of Katie Jensen:
You sent yourself a text message last night: "Seeking aural healing. Receiving heaven. Swallowed whole." You must have interfaced with an angel last night. 1080p eyes probe the velvet dark. The room shifted overnight, or maybe just when you got home; piles of clothes heaped on keyboards, jeans weighing down oscillator keys, an organ flipped over and screaming. The phone screen glows, a cheap jellyfish sending tentacles into contact lists. Your long nails catch on the fibres of the blanket, pulling out synthetic fabric in squiggly fibres. It reminds you of shredding dandelions at the lake, feet swinging like Red Rover, slipping on wet wood, splinters gathering in palms, your peach body disappearing into indigo depths.
Des pensées souterraines de Katie Jensen:
(Traduit par l'écharde incrustée dans l'index de Jessica Grenier)
Tu t'es envoyé un message texte hier : « Recherche guérison auditive. Reçois le paradis : engloutissement total. » Tu as dû communiquer avec un ange hier soir. Des yeux en 1080p qui sondent le velours de l'obscurité. La pièce a changé cette nuit, ou peut-être juste quand tu as ouvert la porte de la maison. Des piles de vêtements jonchant des claviers, des jeans appuyant sur les touches d'un oscillateur, un orgue renversé qui se lamente. L'écran du cellulaire brille – une méduse en toc étirant ses tentacules à travers la liste de contacts. Tes longs ongles s'accrochent dans une couverture, tordant ses fibres synthétiques. Ça te rappelle les pissenlits s'effilochant au lac. Tes pieds se balançant comme pour Red Rover, qui glissent sur du bois mouillé; les échardes qui s'accumulent dans tes paumes. Ton corps de pêche qui disparaît dans les profondeurs indigo.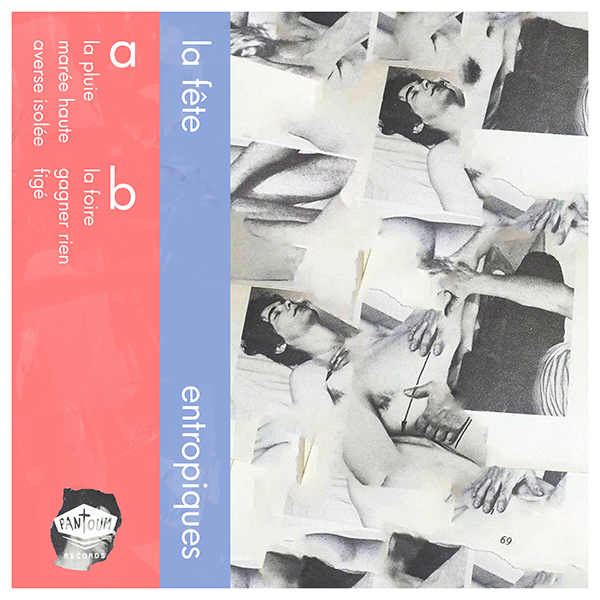 La Fête
Entropiques
Québec, QC
Du ressac lyrique de Mathieu Bédard:
*Entropiques* est un système qui se construit et se défait en permanence, alternant entre des rythmes bondissants et fragmentés et des explorations sonores planantes. Les instruments jouent parallèlement les uns aux autres, sans relâche mais sans se presser, pareils à des gouttes de pluie qui se répondent en tambourinant. L'élément liquide est partout, dans le flux et le reflux de la voix aussi, dont les trémolos agissent comme la marée, qui emporte ou dépose le ruissellement dissonant des guitares. Idéal pour méditer en regardant la pluie, ou pour courir en dessous les yeux fermés.
From the lyrical riptide of Mathieu Bédard:
(Traduit par Sergio Calla)
Alternating between the leaping and fragmented rhythms and soothing sound explorations
*Entropiques* is a system that is constantly created and destroyed. Tirelessly, the instruments calmly play in unison, similar to raindrops which sound like a beating drum. The liquid element is everywhere, in the ebb and flow of the voice too, whose tremolos carry or deposit the guitars' sour runoff like the tide. Ideal to meditate by rainfall, or to blindly run under it.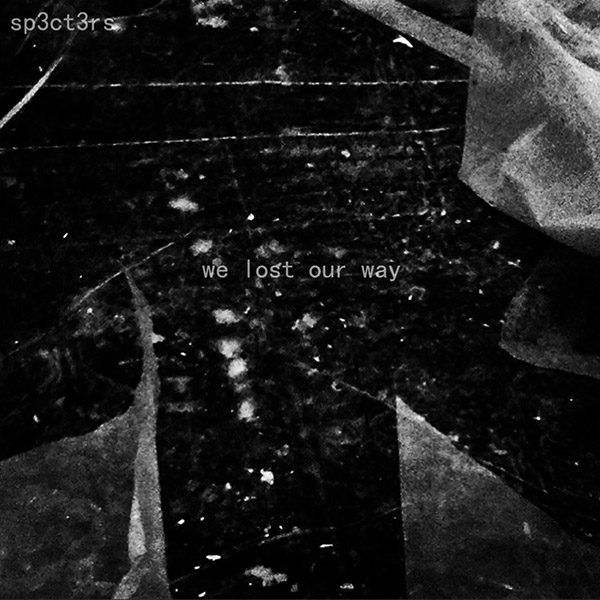 sp3ct3rs
we lost our way
Greenfield Park, QC
From the public appearance of Katie Jensen:
A glowing blue cloud suspended above a jagged metal junkyard. Abstract, scraped melodies rubbing together like the steel shoulders of old cars; rusted robin eggs rolling in a cream-spackled washbasin. The tenderness of fingertips drifting across peach-wrinkled eyelids, thin cotton sheets pulled over restless eyes. A mouth twitching and popping with tension, the copper tang of swallowed words, old scars where the teeth touched down, saving choice words for the lining of cheeks, clamp unyielding, pinching tighter and tighter, screams underwater converted into circular, silver bubbles, canine-gripped flesh, enamel instruments clattering, bowed instruments on metal, dried sand.
De l'apparition publique de Katie Jensen:
(Traduit par les quatre cents coups de Julie Mayer)
Un nuage d'un bleu éclatant suspendu au-dessus d'un dépotoir de ferraille dentée. Des mélodies abstraites et éraflées se frottent les unes aux autres comme les épaules d'acier des vieilles bagnoles; des œufs de merle rouillés roulent dans un lavabo colmaté au mastic. La tendresse des doigts flânant sur des paupières aussi ridées que la peau d'une pêche, de minces draps de coton tirés sur des yeux tourmentés. Une bouche tressaille et produit des bruits secs sous la tension, le goût ferreux de mots ravalés, d'anciennes cicatrices là où les dents se sont enfoncées, gardant des choix de mots à l'intérieur des joues, un serre-joint inflexible, serrant de plus en plus fort, des cris sous l'eau convertis en bulles d'argent sphériques, la chair mordue à pleines dents, le cliquètement d'instruments émaillés, des instruments à cordes sur du métal, du sable séché.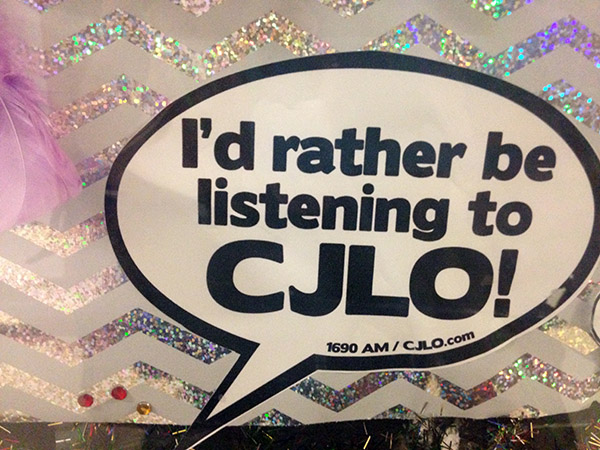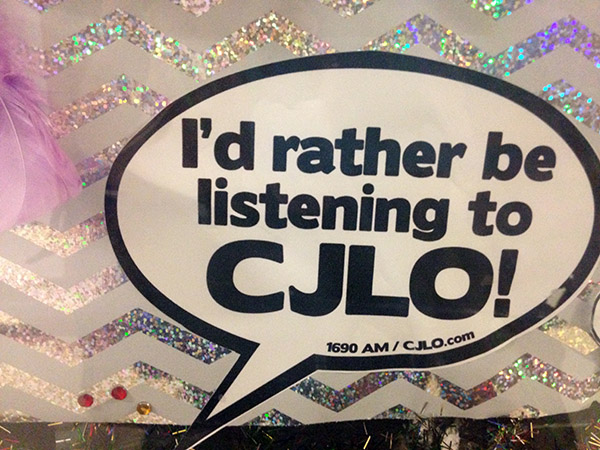 Frequencies :: CJLO 1690 AM (Montréal)
Montréal, QC
(Photos by: Carol Fraser)
From the drowned-out dronefields of Carol Fraser:
Concordia University's campus/community radio station may be a bit hard to find, but it sure isn't hard to love. When not having their Fundrive or just plain having fun, the team at CJLO is hard at work making soundscapes for their city and the world to enjoy.
Recently I met up with three magic-makers: Omar Husain, CJLO's hard-listening Music Director; Denis Arsenault, "Dirty Work" host and CJLO Board member; and Lucy Marshall-Kiparissis, CJLO's Volunteer Coordinator. We met in The Oven, CJLO's recording studio, for a conversation about the station, the state of radio, and never giving up.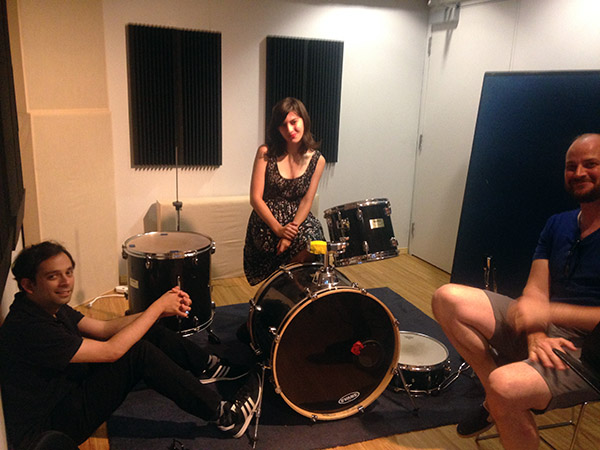 What are the origins of CJLO?
Omar Husain: There were two campus radio stations initially, one on the Sir George Williams campus and one on the Loyola campus, who merged together to become CJLO, which was given this space by the University. From that point onwards, the space has taken different shapes.
When I first started volunteering, this room, The Oven, was offices, and the production studios were all in the small control room (now the on-air studio). The DJ booth, production studios and offices have moved around quite a bit. A few years into CJLO, they decided to turn this room into a full fledged production studio. The odd thing was they were using this as the control room and using a much smaller room as a production studio. I remember being here with the production director at the time, before I was volunteering here, and I just mentioned, "Why don't we switch this?" It was like a lightbulb went off in his head. We took carpets from the station manager's grandma's basement and made it soundproof, even more soundproof than it is today, in my opinion. That's when we started getting bands in to do sessions in it.
There was a lot of charm to how things were run back then. There was a true DIY aesthetic. We had a small group of people, and we just wanted to make a radio station, so we did.
It usually takes much longer for a station to develop a culture, a reputation, quality programming, and to get on air. In a weird sort of way, we've done a lot of that backwards. We had quality programming before we got an AM frequency in 2008, back when we were online-only. We used to say, "If we can only be online, then let's really focus on programming, and push the online aspect." That really helped, because when we flipped the switch to go on AM, we already had professional DJs.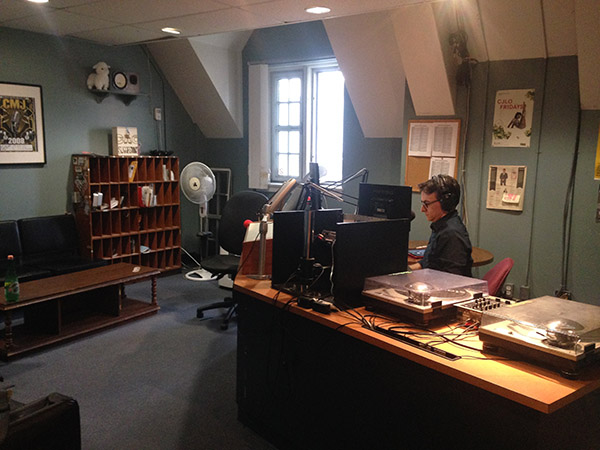 How and why do people get interested and involved in CJLO?
Lucy Marshall-Kiparissis: A lot of the student volunteers and DJs who come in, they've found us by chance. They haven't really found anywhere else on campus or in the city where they can develop their interests or their skills. Campus radio really just attracts a certain kind of person, and that makes for a very vibrant community.
OH: Weirdos is what she means!
LMK: It's people who are bored and restless and want to find an outlet. We're young – we don't have a super rigid structure. If you want to go on air, we have the space for people to really develop what they want to be doing.
How do you think that CJLO supports Weird Canada artists? Where do you see cross-over between CJLO and Weird Canada?
OH: A lot of the bands that are featured on Weird Canada are left of the dial compared to what's on regular radio. That's exactly our mandate: to play new, non-mainstream artists that are doing something interesting, original, weird. A lot of the bands that we catch wind of through Weird Canada are eventually played on CJLO's shows, and many of our volunteers' bands get featured on Weird Canada. There is very much a symbiotic relationship.
LMK: I name-drop Weird Canada a lot on my show, because any given week, if I'm coming up empty, Weird Canada is my first resource, and I know it's the same with a lot of other DJs. A few of us really jumped on getting involved in Drone Day here at CJLO for the past couple of years. Julie Matson of Echo Beach, a long time DJ at the station and a CJLO Board Member, was organizing it here in Montreal. I know she promoted it a lot through CJLO, and I did as well, and there was the Drones against Drones mixtape, too.
What's the relationship between radio and other media? Why do people listen to CJLO specifically?
OH: Radio is where you go to hear a variety of things with human connection instead of an algorithm. I never really liked radio stations where there are no talk spots. What's the point? I might as well just put my WinAmp on shuffle.
LMK: Even if you're listening to us online, you're making the conscious choice to listen to something you don't control. Kids who grew up on being able to curate their music are now choosing to let go. There can be a lot of value in letting someone else choose the music for you. It's something that a lot of young people, who never knew anything but making their own Youtube playlists, are really revelling in.
What's the relationship of CJLO to Montreal, the rest of Canada, and to other campus-community radio stations?
OH: To Montreal, it provides a way for Concordia students and community members to get involved in making radio in the area they want to learn: if they want to go on air, they can come and learn how to do that; if they want to record bands, they can learn that, too. Locally and nationally, it provides a medium for musicians and artists to get their art out to people, another way to help promote it. Sharing your music on Bandcamp or Facebook can only go so far.
LMK: There's a media monopoly in Canada right now. There's just not that many campus-community radio stations in Canada, and we all play an extremely valuable part in the alternative landscape. Not even just for alternative culture – anything slightly beyond the mainstream: we're keeping that alive. The internet has been a boon to music outside of these pre-selected playlists, but you can't rely entirely on the blogosphere.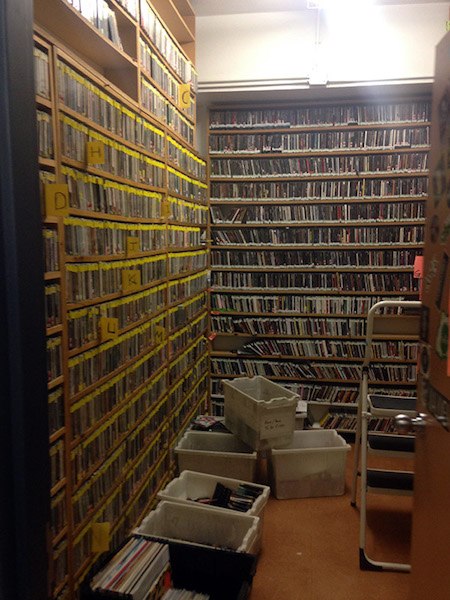 How have you seen the station change and grow in your time here?
OH: It's grown like crazy. When I started it was just a handful of us cobbling things together. Now we have a volunteer base of about 200 people. I don't even know many of their first names, whereas before everyone knew each other and we all hung out together.
It's become what we were hoping it might become. At the same time, there's always room for improvement. It's not quite at the stage where it's exactly how we want it, which is good, because that means there's room to grow.
What advice do you have for radio programmers and musicians?
Denis Arsenault: Don't expect money!
OH: Do it because you love it. 'Cause if you don't love it, you're going to hate yourself. I'm giving you the straight dope here! Honestly, if you're not passionate about it, if you don't love it, if you're doing it 'cause you think it's cool, if you're doing it to get on Pitchfork or Weird Canada or something, you're going to end up hating it and you're not going to keep doing it.
When you put out a record, you don't know how people are going to react. People might love it. People might not even pay attention to it. That can be discouraging. But at the end of the day, it's your art. Are you putting that art out there for yourself? Are you happy with the finished product? Is it something you can look back on and be proud of? If so, you're doing it for the right reasons.
Par les champs de drones étouffés de Carol Fraser:
(Traduit par L. Frank)
Ça se peut que la station de radio communautaire universitaire de Concordia soit difficile à trouver, mais elle n'est pas difficile à aimer. Quand ils ne sont pas en train de faire leur « Fundrive » ou tout simplement de s'amuser, les membres de l'équipe de CJLO sont en plein action créant des paysages sonores pour que leur ville et le monde entier puissent en profiter.
Récemment, j'ai pu rejoindre trois supervedettes de la station: le directeur de musique Omar Husain, l'animateur de « Dirty Work » et membre du conseil d'administration Denis Arsenault et la coordonatrice des bénévoles Lucy Marshall-Kiparissis. On s'est rencontrés dans la salle d'enregistrement de musique de CJLO qui s'appelle [«le four»] On a parlé de la station, de l'état de la radio et de motivation.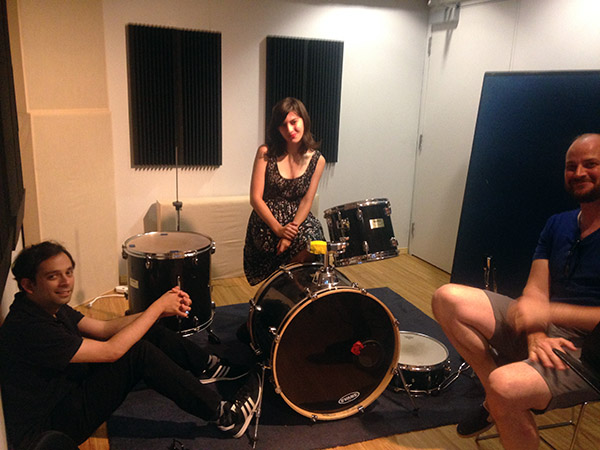 D'abord, parle-moi des origines de CJLO…
Omar Husain: Au début, il y avait deux stations de radio communautaire. La station au campus Sir George Williams et l'autre au campus Loyola se sont fusionnés pour devenir CJLO. L'endroit pour mettre le radio était un don de l'université. D'ici-là, l'espace à pris plusieurs formes.
Quand j'ai commencé, cette salle le four était plusieurs bureaux et les studios de production étaient tous dans la petite salle de contrôle (qui est maintenant le studio en direct). L'espace DJ, les studios de production et les bureaux on tous été déplacés. Quelques années après le début de CJLO une décision a été prise pour que cette salle devienne un véritable studio de production. En fait, c'était bizarre que cette salle ait été utilisée comme salle de contrôle et l'autre comme salle de production même si cette dernière était plus petite. Avant que je me sois impliqué, je me souviens que j'étais ici avec le directeur de production à l'époque et je me suis demandé: « pourquoi pas échanger les salles? ». Pour lui, c'était comme une révélation. On a pris des tapis qui était dans le sous-sol de la grand-mère du gérant et on a insonorisé la salle. À mon avis, la salle était encore plus insonorisé à l'époque qu'aujourd'hui. C'est à ce moment-là qu'on a commencé à avoir des sessions d'enregistrement avec des groupes de musique.
À l'époque, on a géré la station avec beaucoup de charme. Disons que l'esthétique était DIY. Nous étions un petit groupe qui voulait faire une station de radio, alors on l'a fait.
Généralement, ça prend beaucoup plus de temps qu'il nous a fallu pour développer une culture, une réputation, la programmation de qualité et à se mettre en ondes. On l'a fait de façon inverse, ce qui est un peu bizarre. On avait la programmation de qualité avant qu'on soit diffusé sur la fréquence AM en 2008. Auparavant on était diffusé en ligne seulement. On disait, «Si notre seule moyen d'exister est en ligne, concentrons-nous là-dessus et allons au-delà de nous-mêmes. Un fois qu'on a démarré la fréquence AM, on avait déjà des DJ professionnels.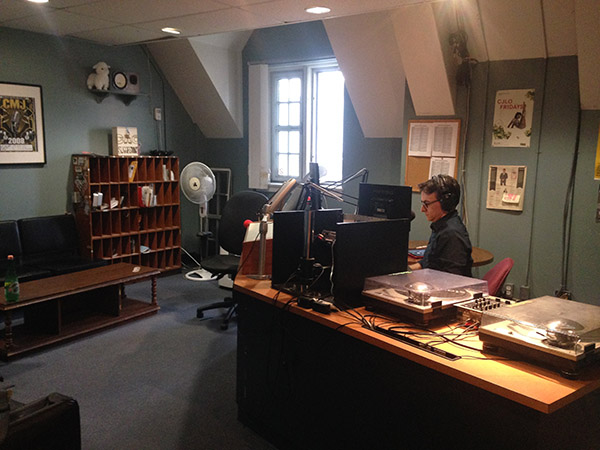 CF: Pourquoi est-ce que les gens peuvent s'impliquer à CJLO? Comment le faire?
Lucy Marshall-Kiparissis: Quant aux bénévoles de la station, un grand nombre d'entre eux sont des étudiants et des DJs qui se sont impliqués incidemment. Ils n'ont pas trouvé d'endroits ni au campus ni en ville où ils pouvaient développer leurs intérêts et leurs talents. Bref, les radios du campus attirent un certain genre de citoyen.ne et ces personnes deviennent le nœud de cette communauté qui est tout à fait vibrante.
OH: La radio communautaire attire des personnes bizarres. C'est ça qu'elle veut vraiment dire!
LMK: Ce sont des gens ennuyés et agités qui veulent trouver une façon de se débarrasser de cette animosité. La plupart d'entre nous sont jeunes et nous n'avons pas vraiment de structure rigide. En effet, si vous voulez vous impliquer, c'est possible: il y a de l'espace pour que les gens puissent vraiment développer ce qu'ils veulent faire.
CF: Est-ce que CJLO soutient des artistes-interprèts de Weird Canada? Est-ce qu'il y a un croisement entre les deux organisations?
OH: Plusieurs groupes qui sont presentés par Weird Canada sont à gauche du cadran quand on les compare avec la radio conventionnelle. C'est notre mandat de jouer des artistes de la relève qui font des choses intéressantes, bizarres et originales. Plusieurs groupes de musique qui ont été médiatisé initialement grâce à Weird Canada sont diffusées à travers nos ondes. De façon inverse, il y a plusieurs groupes de musique de nos bénévoles qui sont publiées par Weird Canada. Il y a vraiment une relation symbiotique.
LMK: Je mentionne Weird Canada souvent pendant mes émissions. Si je n'ai pas de contenu, je consulte Weird Canada et je suis pas mal certaine que bien d'autres DJs de CJLO le font aussi. Depuis quelques années, plusieurs gens se sont impliqués dans [DRONE DAY]. Julie Matson de [Echo Beach] est membre du conseil exécutif et, comme une autre DJ à CJLO, elle était organisatrice de Drone Day ici à Montréal. Elle promouvait l'événement à travers nos ondes, comme je le faisait, et il y avait aussi un mixtape Drones contre Drones.
CF: Pourriez-vous m'expliquer la relation entre la radio et d'autres médias? Plus précisément, pourquoi choisit-on d'écouter CJLO?
OH: La radio est un nœud où on peut y entendre diverses choses qui viennent d'un être humain et non d'un algorithme. Je n'aime pas les stations de radio qui n'ont pas d'espace pour que le monde puisse s'exprimer. À quoi sert-il d'entendre que de la musique? Je préférerais jouer des chansons au hasard de mon WinAmp!
LMK: Même si vous écoutez CJLO en ligne, vous effectuez le choix conscient d'écouter quelque chose qui est hors de votre contrôle. Même ceux et celles qui ont grandi en fabriquant leur propre listes de chansons veulent maintenant l'abandonner. Ça se peut qu'il y a une véritable valeur quand on laisse quelqu'un d'autre choisir. Effectivement, c'est quelque chose que plusieurs jeunes apprécient beaucoup puisque avant ils ne savaient que créer leurs propres playlists Youtube.
CF: Serait-il possible de décrire la relation entre CJLO et Montréal, entre CJLO et le reste du Canada et entre CJLO et d'autres stations de radio communautaires?
OH: Ici, à Montréal, la station offre un moyen de s'impliquer non seulement pour les étudiants de Concordia, mais aussi pour des membres de la communauté. Ceux et celles qui veulent s'impliquer peuvent profiter d'une opportunité dans le domaine qu'ils veulent, soit en direct, soit pour enregistrer de la musique. Il y a plusieurs avenues pour apprendre. Au niveau local et au niveau national la station fourni un moyen aux artistes, aux musiciennes et aux interprètes de promouvoir leurs oeuvres. Au bout du compte, Bandcamp et Facebook ont des limites.
LMK: Présentement, il y a un monopole au Canada. Il n'y a pas grand nombre de stations de radio communautaire et on joue tous un rôle précieux dans le paysage médiatique alternatif. En effet, on offre une bouée non seulement à la culture alternative, mais aussi aux gens qui sont à peine hors de la culture dominante. On ne peut pas se fier absolument à la blogosphère, même si L'Internet a agi comme un coup de pouce pour un genre de musique qui existe hors de ces listes présélectionnées.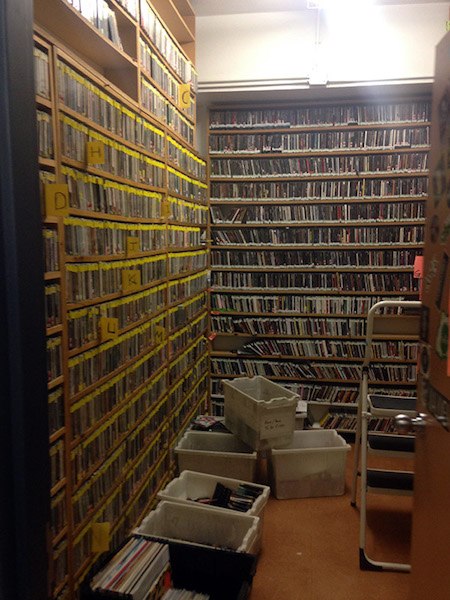 CF: Est-ce que vous avez aperçu des changements à CJLO? Est-ce que la station a connu une importante croissance?
OH: Elle a beaucoup grandi. Au début, c'était une petite poignée de personnes qui bricolaient une station. Maintenant, on a une base de 200 bénévoles. Je ne suis plus au courant des prénoms de la plupart, alors qu'avant je connaissais tout le monde et nous nous soutenions tous.
C'est devenu ce qu'on avait espéré, même si on peut toujours s'améliorer. On pourra dire que nous ne sommes pas arrivés là où on voulait, ce qui est une bonne nouvelle selon moi, parce que ça veut dire qu'il y a quand même du potentiel.
CF: Avez vous des conseils pour des programmeurs radio et/ou pour des musiciens?
Denis Arsenault: Ne vous attentez pas à faire de l'argent!
OH: Faites-le par amour. Si vous n'aimez pas ça, vous allez finir par détester ça. Honnêtement, si vous n'êtes pas passionnés par la radio, si vous le faites parce que vous pensez que c'est à la mode, si vous le faites pour obtenir une revue de Pitchfork ou de Weird Canada, enfin vous détesterez ce que vous faites et peu après vous arrêterez.
Quand vous sortez un disque, la réaction du grand public est toujours inconnue. Peut-être les gens seraient ravis du disque. Peut-être que personne ne tiendra compte du fait que le lancement a eu lieu. Vu que le monde est précaire, on ne sait jamais. Ça peut être décourageant, mais en fin de compte, c'est votre art. Est-ce que vous le faites pour vous-même? Êtes-vous satisfait de l'effort et du processus? Avec le recul, est-ce que vous êtes fier? Si oui, vous le faites pour la bonne raison.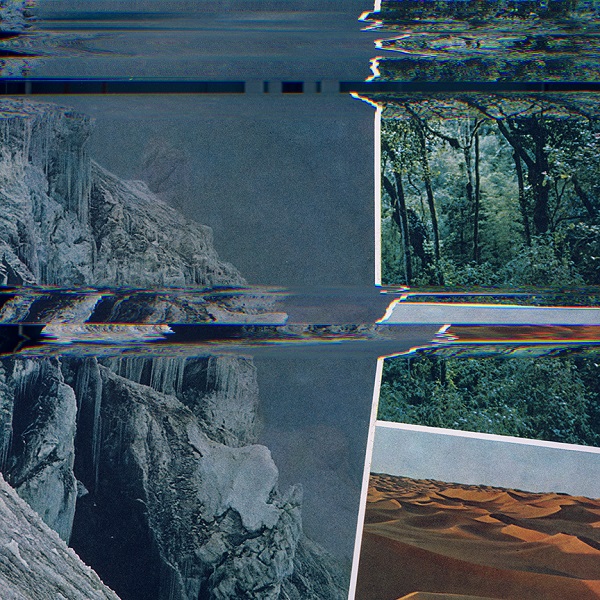 Sarah Davachi
Dominions
Vancouver, BC // Montreal, QC
From the deep chasms of Joshua Robinson:
Soft lulls nudge at the drone-ry of sinusoidal eupnea as electronic orchestration brings to light the staying power of a textured calm. The sonic palette is antiquated, but in being so is refined; the tools of bygone times exhumed to breathe once again, exhaling the fine tones of a mastered craft and the channeled voice of a resonant staticism. These compositions are as delicate as glass, as fragile as they are ethereal. Yet, they are elemental in their resonance; flowing structures and layered depths bridging chasms too deep to truly know.
Des abîmes profondes de Joshua Robinson:
(Traduit par la sérénité texturée de Maya Keshav)
Les tendres accalmies effleurent la drone-essence de la douceur sinusoïdale pendant que l'orchestration électronique met en lumière l'endurance d'une sérénité texturée. La palette des sons est vieillotte, mais en l'étant, elle est raffinée; on exhume les outils d'une époque revolue pour qu'ils respirent encore, en expirant les tons délicats d'un métier maîtrisé et d'une voix transmise, immuable. Ces compositions sont aussi délicates que le verre, aussi fragiles qu'éthérées. Mais, leur résonance est fondamentale; les structures fluides et les fonds superposés s'étendent sur les abîmes trop profondes pour vraiment les connaître.
Nimbes
Des kiwis pour ma fiancée
Quebec, QC
From the airtight held breath of Benoit Arcand:
(Translated by the crackling campfire of Odile Leclerc)
In the semi-darkness, a barely phosphorescent mirage, Nimbes imposes without intrigue the iridescence of its presence. No need for a campfire near a beach cabin, young and mournful: here everything crackles around your head, licks your cheek like a wave of heat. Instead make yourself a sarong from these pyramidal keyboards, plant yourself on this homeopathic surf and caress this abyssal groove.
Don't forget to shine in the night.
De l'apnée hermétique de Benoit Arcand:
Dans la demi-pénombre un mirage à peine phosphorescent, Nimbes impose sans intrigue l'iridescence de sa présence. Pas besoin de feu de camp au bord d'un shack de la plage, jeune mélancolique: ici tout crépite autour de ta tête, te lèche la joue comme une vague de chaleur. Fais-toi plutôt un paréo de ces claviers pyramidaux, plante-toi sur ce surf homéopathique et caresse ce groove abyssal.
N'oublie pas de briller dans la nuit.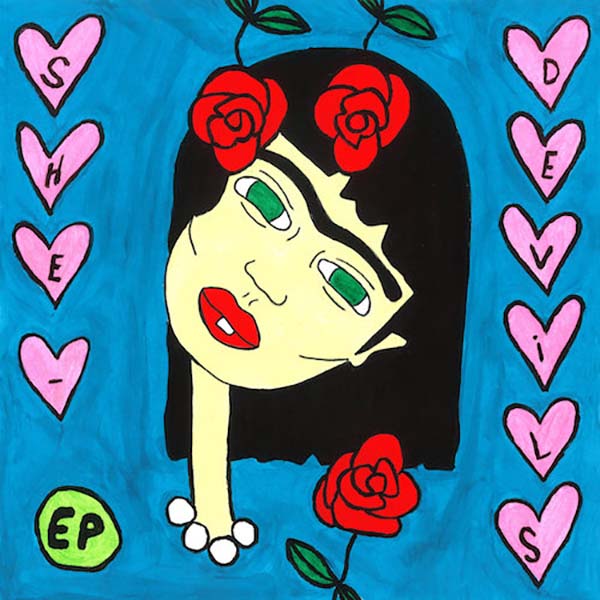 She-Devils
She-Devils EP
(Self-Released)
Montréal, QC
From the lost Hollywood dreams of Mike Roy:
Through the shifting gaze of a kaleidoscope dream, She-Devils appear in a call of absorbing desire. "Come" draws you into its core through the whirring inversion of '60s surf rock, slowly deconstructing the pop processes that breathe life through the meticulous repetition of lyrics and guitar rhythms. "Where There's No One" crackles as it spins classic ballads into a new web of aesthetics, while "I Wanna Touch You" rises up-and-down like an elevator caught between floors of ecstacy and confusion. The additional remix of "Come" cements the experimental nature that is embedded in the album – a collection of puzzle pieces ready for play.
Des rêves d'Hollywood perdus de Mike Roy:
(Traduit par la plage fondante de Mackenzie Smedmor)
À travers le regard changeant d'un rêve de kaléidoscope, She-Devils apparaît dans un appel de désir absorbant. "Come" vous attire jusqu'au plus profond de lui grâce au bourdonnement inversé du surf rock des années 60, en décomposant lentement les processus pop réanimés par la répétition méticuleuse de paroles et de rythmes de guitare. "Where There's No One" crépite en jouant des ballades classiques se transformant en une nouvelle toile d'esthétiques, tandis que "I Wanna Touch You" soulève les ascensions et les descentes comme un ascenseur coincé entre les étages de l'extase et la confusion. Le remix additionnel de "Come" cimente la nature expérimentale qui est gravée dans l'album telle une collection de morceaux de casse-tête de pièce prête `à être jouée.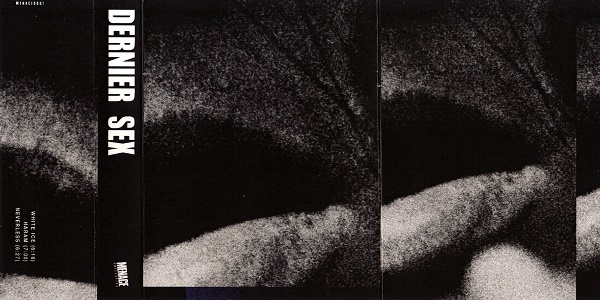 Dernier Sex
3-Song EP
Montreal, QC
From the ethereal web of Charlotte White:
Your blood thickens and the pavement feels warm on your bare feet. Humid air churns around your body creating eddies of fizzing ecstasy as your heartbeat slows to a near standstill.
This is where dreams become nightmares and nightmares become dreams. Here you are lifted above all pain and fears that ooze from dark corners like water seeping under bathroom doors.
At dawn you awake drenched in sweat and blood. You're unsure if it's your own.
Du site web paradisiaque de Charlotte White:
(Traduit par Sergio Calla)
Ton sang s'épaissit et la chaleur du pavé caresse tes pieds nus. L'air humide tourbillonne autour de ton corps générant un tourbillon, un vortex euphorique pétillant provoquant un ralentissement raide du rythme cardiaque.
Il s'agit d'un domaine où les rêves se transforment en cauchemars et les cauchemars en rêves. Ici, cesse la douleur et les craintes qui suintent de tous les coins sombres comme de l'eau qui s'infiltre sous les portes de salles de bains.
Vous vous réveillez à l'aube ensanglanté et en sueur, incertain de votre sort.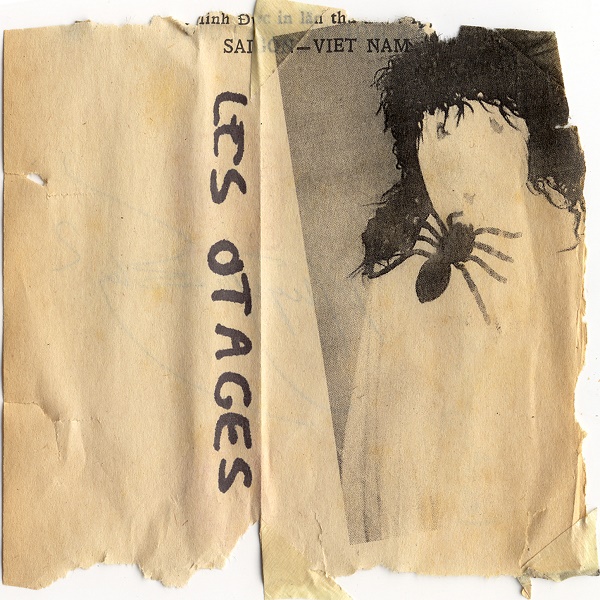 Les Otages
Les Rédemptionnistes
Québec City, QC
From the gothic callisthenics of Don L'Orange:
Emerging from the darkness with a plate of little sandwich pinwheels, the Produce Prince has come to deliver us. Can we break free from these earthly chains and fly with the goats? Freedom is knowing what to eat and when; we have given in to our gastric urges long enough. You need to take your green bin with civic pride. A balance of nutrition and exercise will be your ticket to a healthy and prosperous afterlife. A scrounger's nightmare: we have engaged a cash forward contract. Give the power back to the dollar.
Des callisthénies gothiques de Don L'Orange:
(Traduit par le caséum de Julie Mayer)
Sorti des ténèbres avec un plat de petits sandwichs roulés, le fin bec est venu nous délivrer. Pouvons-nous nous évader de ces chaînes terrestres et voler avec les chèvres? La liberté, c'est de savoir quoi manger et quand; nous avons cédé à nos envies gastriques assez longtemps. Vous devez prendre votre bac vert avec fierté civique. Un équilibre entre la nutrition et l'exercice sera votre billet vers un au-delà sain et prospère. Le cauchemar d'un pique-assiette; nous avons engagé une personne dont le contrat à terme a été négocié de gré à gré. Rendez au dollar son pouvoir.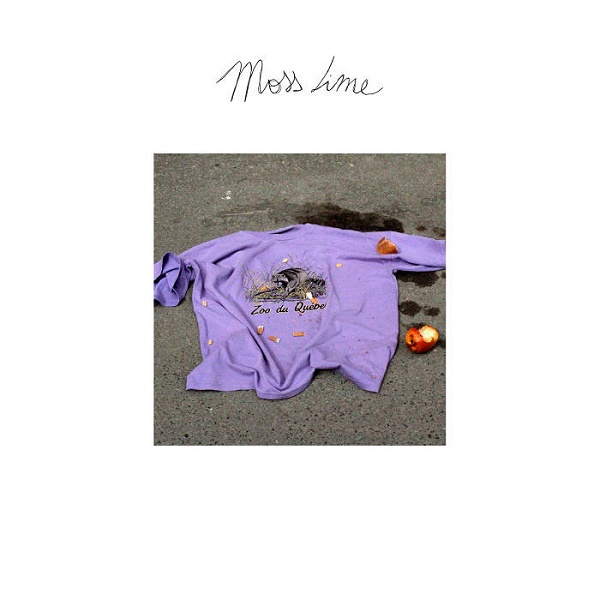 Moss Lime
Zoo du Québec
Montreal, QC
From the memoire footnotes of Rolf Klausener:
The canon of popular music is a thick and robust map of nascent islands and ancient territories. Among them is a land inhabited by the unconscious bass grooves of E.S.G. and the twisted innocence of Beat Happening and the Raincoats; Moss Lime run an eclectic thrift store on its outermost borders. Zoo du Quebec is a furtive tidal wave of immediacy and joy. We're living through a time when vocals are auto-tuned to Adele-ish heights, or stripped of any intimacy by the fog of reverb; singer Hélène Barbier offers glorious contrast. Her dry and dadaist storytelling, sounds like a new friend quietly letting you know, over the din of a packed and sweaty bar, that there's a quiet, late-night cafe around the corner, and it has the best veggie poutine in town; Moss Lime takes your hand, walks you out of the bar, and guides you far from the fray.
Des notes en bas de page de mémoire de Rolf Klausener:
(Traduit par la carte géographique fluorescente de Mackenzie Smedmor)
Le critère de la musique populaire est une carte géographique épaisse et robuste d'îles naissante et d'anciens territoires. Parmi eux se trouve une terre habitée par les grooves de basse inconsciente d'E.S.G. ainsi que l'innocence tordue de Beat Happening et de Raincoats; Moss Lime entretient un magasin d'occasion éclectique sur ses frontières les plus éloignées. Zoo du Québec est un tsunami furtif d'immédiateté et de joie. On vit dans une ère où les chants sont autoaccordés aux apogées à la Adele, ou bien dépourvus d'intimité par le brouillard de réverbération; la chanteuse Hélène Barbier offre un contraste glorieux. Sa narration sèche et dadaïste résonne comme un nouvel ami qui te prévient doucement, au-delà du vacarme du bar bondé et moite, qu'il y a un café nocturne tranquille au coin de la rue qui a la meilleure poutine végétarienne de la ville; Moss Lime te prend la main, t'accompagne hors du bar et te guide loin de la mêlée.
Moss Lime – I Always Get What I Want
---