Tag: punk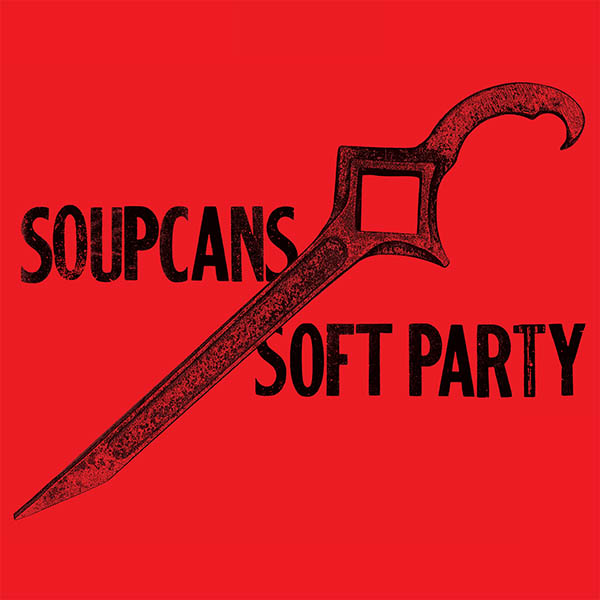 Soupcans
Soft Party
Toronto, ON
From the dank cold cellar of Mitch Jackson:
Word association would suggest a connection between Soupcans and Andy Warhol. That kind of product placement has no place on Soft Party, except if that product placement is for ear plugs. The brutal noise that persists throughout is lifted up by a constant flow of pure meat and potatoes sludge, like they are building a pipeline from the Campbell's Chunky soup factory right into the core of Hogtown, drowning Rob Ford on the Gardiner. Get your spoons ready.
De la cave froide et humide de Mitch Jackson:
(Traduit par le hache-viande plastique de Mackenzie Smedmor)
Les champs lexicaux suggéreraient un lien entre Soupcans et Andy Warhol. Ce genre de placement de produit ne se trouve nulle part sur Soft Party, à moins qu'il s'agisse de placement de produit pour des bouchons d'oreilles. Le bruit brutal qui persiste tout au long est soulevé par un déluge constant de purée viande et de boue de patates, comme s'ils construisent un pipeline de l'usine de la soupe Chunky de Campell's directement au cœur de Hogtown et font noyer Rob Ford sur la Gardiner. Préparez vos cuillères!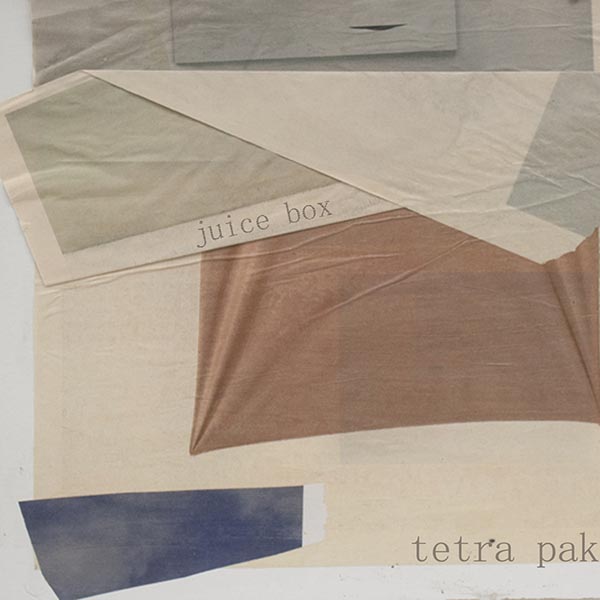 Juice Box
Tetra Pak
(Self-Released)
Calgary, AB
From the gnawed appendages of Piper Curtis:
Voices raised against the musical patriarchy.
Take a sip. We've got a problem.
Take another sip. They'll make you laugh, they'll make you care. Now take a bigger sip. Drink your juice.
Don't swallow what the boys club feeds you.
Des appendices rongés de Piper Curtis:
(Traduit par de Wie Gehts)
Des voix dissidentes contre le patriarcat musical. Buvez une gorgée. Le problème est grave.
Buvez une autre gorgée par la suite. Elle vous fera rire. Elle vous fera prendre des choses en considération.
Maintenant, prenez une gorgée encore plus grande. Buvez votre jus.
N'avalez pas ce que ce patriarcat systématique, ce club fermé, ce club de dinosaure vous nourrit.
Juice Box – Straight White Boys Texting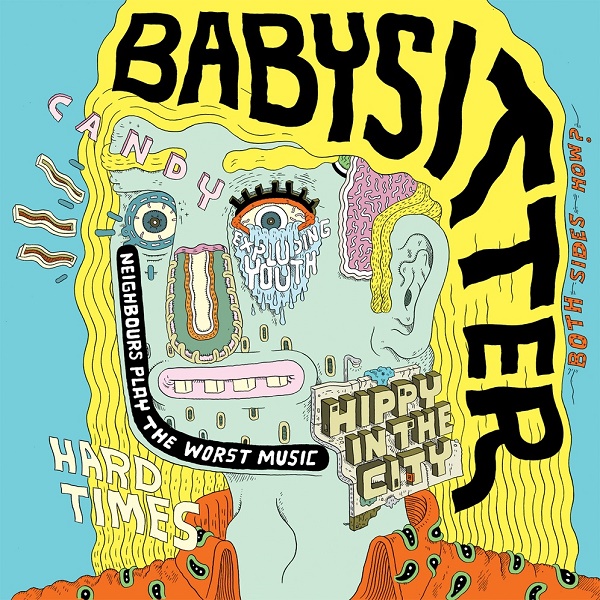 Babysitter
Babysitter
Montreal, QC
From the ascending fistpump of Rachel Bellone:
With over a baker's dozen releases since 2013 including collaborations with Hag Face and JLK, the hair raising Babysitter have become self-proclaimed civic targets. This album illustrates how they transcend the death of rock and roll. Its pre-election release seems to beg for a vigilant eye in a treacherous political climate. I don't know about you, but I'm in the mood for some hard jams, and cathartic atonal solos from guitars, horns, or babies crying.
De l'éloge ascendant de Rachel Bellone:
(Traduit par DIVESTMENT-MAINTENANT)
Avec plus qu'une bonne douzaine de sorties musicales depuis 2013, y compris des collaborations avec Hag Face et JLK, Babysitter, qui fait dresser les cheveux, est devenu une cible civique autoproclamé. L'album illustre comment le groupe transcende la mort de la musique rock. La sortie préélectoral semble demander qu'on soit vigilant dans un climat politique périlleux. Je ne sais pas en ce qui vous concerne, mais j'ai envie d'écouter des jams durs et des solos atonaux et cathartiques de guitares, de klaxons ou de bébés qui pleurent.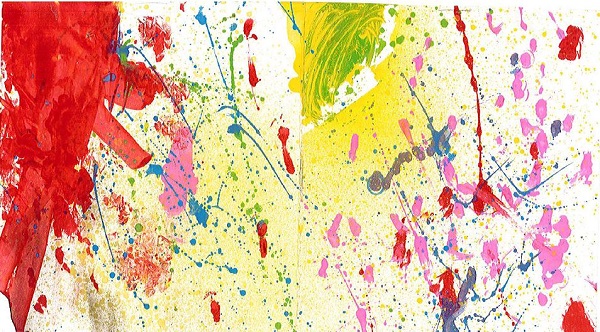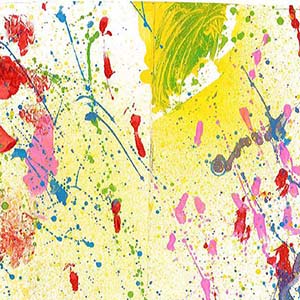 Virgins
Everyone Lost
(Self-Released)
Edmonton, AB
From the bleak worldview of Trevor Angst:
Be still, don't breathe. Doomsday is anthropogenic and takes the form of bio-cybernetic revolt. The planet is threatened and engages to resurrect its biomechanical engines of destruction from its underground dormancy to obliterate humankind. It's the found percussion of hard struck cathedral bells and the incline of a chain hill wooden roller coaster on Everything Dies that mimics dialogue and AI takeover. The droning, Tripod-bass growls are impending. Seismic strides can be mistaken for the sunken heart throbs of those who are enduring a post-apocalyptic world.
Du point de vue austère de Trevor Angst:
(Traduit par les soirées mentholées de Marie-Pier Chevrier)
Immobile, pas un souffle. L'apocalypse est anthropique et prend des airs de révolte biocybernétique. La planète est menacée et s'apprête à ressusciter de leur dormance souterraine ses engins de destruction biomécaniques pour anéantir l'humanité. La percussion retrouvée des cloches de cathédrale sonnées violemment et la pente d'une chaîne de montagnes russes de bois sur Everything Dies mimiquent les dialogues et conquêtes de l'IA. Le bourdonnement et les grognements de basse à Trépied survolent le tout, menaçants. Les éclats sismiques ressemblent à s'y méprendre aux battements de coeur en noyade de ceux qui perdurent dans un monde post-apocalyptique.
Virgins – The Air We Are Breathing (Be Still)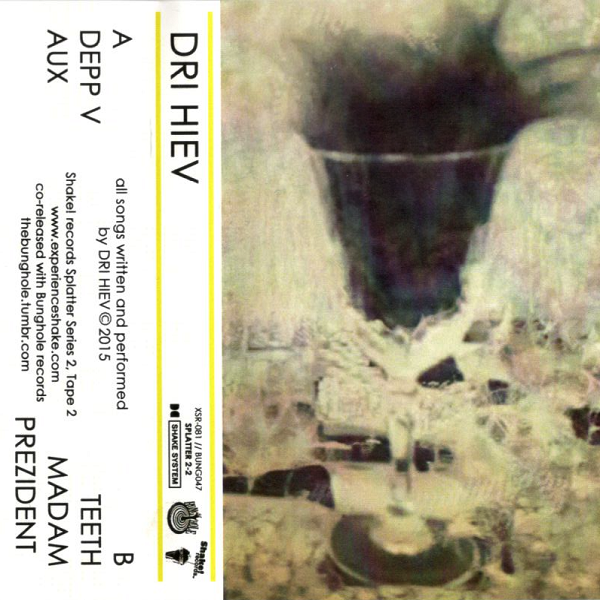 From the chilly chambers of Piper Curtis:
Whirring, head full of cotton, confused. Astray in methodical disarray. Marching past—calling out, too hard to make out, can't be heard. A denouncement.
Angry, defiant. A refrain of malaise.
Par les chambres frisquettes de Piper Curtis:
(Traduit par le gris culbutant d' Émily Traichel)
Bourdonnant, une tête pleine de coton, confus. Égaré dans le désordre méthodique. Défilant—interpellant, trop dur à distinguer, impossible d'être entendu.Une dénonciation. Furieux, irrévérencieux.
Un refrain de malaise.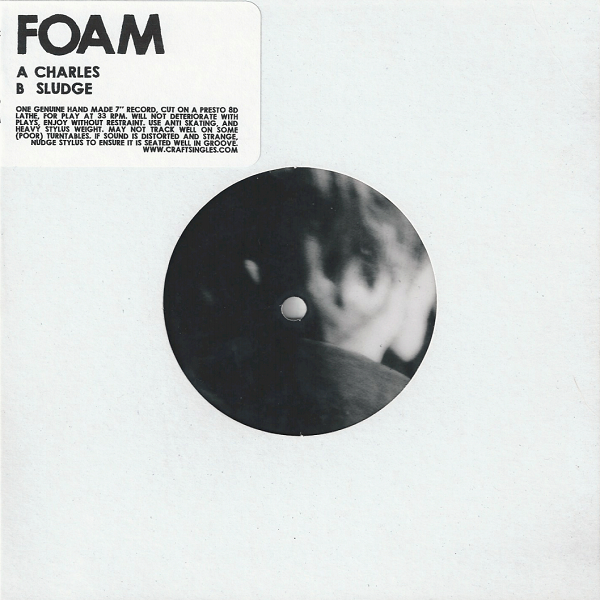 Foam
Charles (Craft Single)
London, ON
From the bloody gullet of Rachel Bellone:
Foam, a boisterous three piece that emerged from an angry gaggle of notable punk bands from London, Ontario. The Out of Sound-ers carry on a legacy of the DIY punk stomping grounds in the "city of opportunity". The opening track, "Charles" evokes a violent encounter between your big toe and an otherwise non confrontational coffee table. "Sludge" could be the soundtrack to a nosebleed you've woken up with after a fever dream. Though it's perfectly normal for similar acts to make you drool, inform your doctor if these tracks cause foaming of the mouth.
De l'œsophage sanguinolent de Rachel Bellone:
(Traduit par la brosse à cheveux édentée de Julie Mayer)
Foam est un trio chahuteur sorti d'un troupeau colérique d'éminents groupes punk originaires de London, en Ontario. Les Out of Sound-eurs perpétuent dans la city of opportunity l'héritage des milieux punk DIY. Le premier morceau, « Charles », évoque une violente confrontation entre votre gros orteil et une table basse qui autrement ne cherche pas la bagarre. « Sludge » pourrait être la trame sonore d'un saignement de nez avec lequel vous vous êtes réveillés à la suite d'un rêve fiévreux. Bien qu'il soit tout à fait normal que de telles situations vous fassent baver, si vous avez l'écume aux lèvres après avoir écouté ces pistes, parlez-en à votre docteur.
Dead Beat Poet Society
Induction
(Self Released)
Sackville, NB
From the Dead Beat mind of Laura Stanley:
Captains! my Captains! our fearful trip has just begun. We're drunk and high, lost in the perpetual agitation brought on by our responsibilities. We're generation Y warriors, wool pulled over our eyes, pretending everything's alright. Our yawp is not savage, but pointed, and matches the fire in our restless bones.
Walk the path where Kay Moon and Zakary Slax stand. Energized and alert.
De l'esprit irresponsable de Laura Stanley:
(Traduit par Aliké Harel)
Ô, Capitaines! Mes capitaines! Notre voyage effroyable ne fait que commencer. Soûls, nous planons, perdus dans le tumulte perpétuel entretenu par nos responsabilités. Nous sommes les guerriers de la génération Y, au regard masqué d'un lainage, affectant un air béat. Notre cri n'est pas sauvage, mais ciselé et aux couleurs du feu, fébrile jusqu'à la moelle. Prenez le chemin où se tiennent Kay Moon et Zakary Slax. D'aplomb et alerte.
Dead Beat Poet Society – Coming of the Age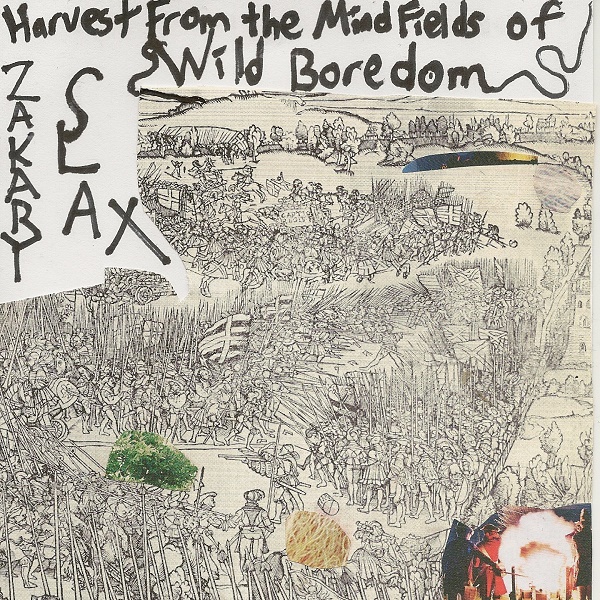 Zakary Slax
Harvest From The Mindfields Of Wild Boredom
(Self-Released)
Montreal, QC
From the murky brainwaves of Justin Crowe:
Old but fresh trax from Zak Slax, a dirge for the stained wasteland of pristine and polished punk, with echoes of vintage junk and modern gunk that ooze into the cells of our frazzled senses. Go for broke and don't read the comments. It's nice and cool down in the sludge. When you feel the heat, slip on the shades and enter the void. The wavy mirage will suck you in. It's gonna be a rager.
Des ondes cérébrales troubles de Justin Crowe:
(Traduit par Julie Mayer)
Des pistes sonores de Zak Slax, nouvelles et familières. Un chant funèbre en l'honneur du terrain vague taché de punk pur et poli, accompagné par des échos de bric-à-brac vintage et de saletés modernes qui suintent dans les cellules de nos sens usés à la corde. Risque le tout pour le tout et ne lis pas les commentaires. C'est bon et cool de se vautrer dans le sludge boueux. Lorsque tu sens que la chaleur monte, enfile tes lunettes de soleil et pénètre dans le vide. Le mirage ondulé va t'aspirer. Ça va être un méchant party.
Casper Skulls
King of Gold
(Hip Priest Records)
Toronto, ON
From the peasant revolt of Rachel Bellone:
His majesty the King of Gold has ordered you to lend your ears to Casper Skulls. The title track keeps the pace of a slow and steady march before moving into a set of narrative lyrics with a familiar political unease . This is matched with guitar/bass tones and drum stylings that have a royal buzz about them. The vocals slice through the distortion, they sincerely want to be heard, especially in the playful call-and-response chorus in "King Of Gold." Casper Skulls taps into the swelling feeling in your head after a good cry.
De la révolte paysanne de Rachel Bellone:
(Traduit par Diane Beaupré)
Sa Majesté le King of Gold vous a ordonné de prêter l'oreille à Casper Skulls. La pièce du même titre débute avec un rythme lent et régulier avant d'entamer une narration aux accents familiers de malaise politique. Les tonalités des percussions qui accompagnent donnent un air royal à la pièce. La voix se fend à travers la distorsion, elle veut réellement se faire entendre, particulièrement quand elle joue à répondre à la guitare dans le refrain de King of Gold. Casper Skulls touche à ce sentiment d'avoir la tête pleine d'ouate lorsqu'on a pleuré un bon coup.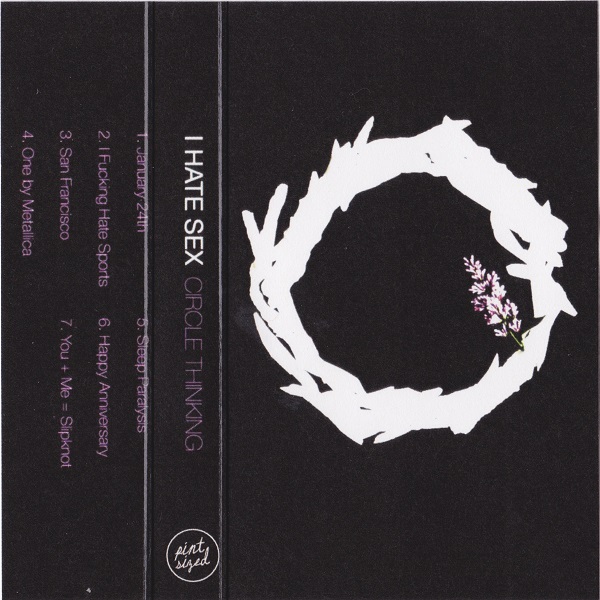 i hate sex
Circle Thinking
Edmonton, AB
From the blaaarrgh of Alec Lovely:
Edmonton's i hate sex are a whirlwind of emotion, raw and unfiltered. Life can be overwhelming, draining, and sad, but there's always comfort in the relationships – reminding yourself that they happened at all gives you solace, despite the cliches. The contrasting melancholic guitar riffs lay underneath the exasperated razor-edged vocals, and what's left is brutally honest and executed to perfection. Feeling totally overwhelmed by everything around, you need to scream for help even if you don't know what to say.
Du blaaarrgh de Alec Lovely:
(Traduit par Julie Mayer)
Le quatuor d'Edmonton i hate sex est un tourbillon d'émotions, crues et non filtrées. La vie peut être accablante, épuisante et triste, mais il y aura toujours moyen de se consoler à travers les relations qu'on a tissées. Le fait de te rappeler que ces dernières ont eu lieu te réconforte, malgré les clichés. Les riffs de guitare mélancoliques et contrastants reposent sous une voix exaspérée aussi tranchante qu'une lame de rasoir. Ce qui reste est brutalement honnête et exécuté à la perfection. Te sentant totalement dépassé par tout ce qui est aux alentours, tu as besoin de crier au secours même si tu ne sais pas quoi dire.
---