Tag: punk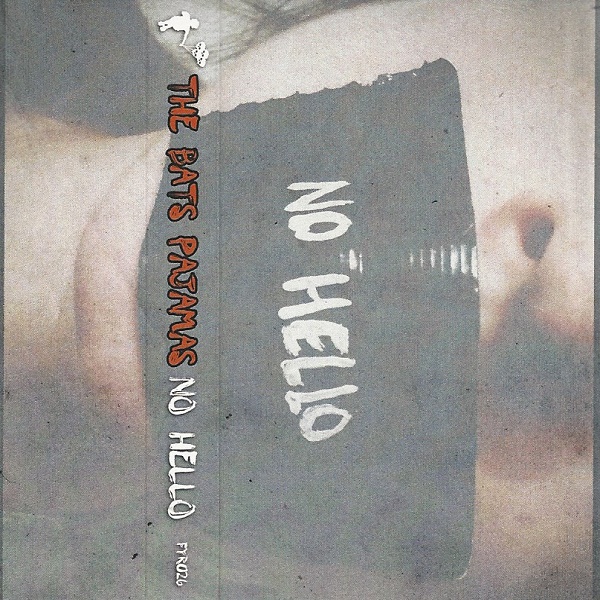 The Bats Pajamas
No Hello
Toronto, ON
From the curdled misanthropy of Adam Bradley:
A primo specimen of Toronto's malformed and curdled species of garage rock. Septic distortion and scummed up bass slop on top of misanthropic, snotty vocals. Kickin' shit over riffs. Window smashing ugliness. Skipped off again, pizza in the alleyway, beer in a bag. Slacker maniac grudge-grunge, hacking a lung, an infected mess bubbling up throbbing puce-goldenrod.
De la misanthropie caillée de Adam Bradley:
(Traduit par le yogourt glacé de Julie Mayer)
Un spécimen de première formé d'espèces torontoises difformes et caillées de garage rock. Une distorsion septique et une basse crasseuse se déversent sur des voix misanthropiques et snobs. Des riffs ravageurs. Une laideur de fenêtres fracassées. Encore à foxer l'école, à manger de la pizza dans la ruelle, une bière dans le sac. Du grunge rancunier, fainéant et maniaque qui charcute un poumon, bordel infecté d'où s'échappe une mousse de pulsations couleur puce-jaune paille.
The Bats Pajamas – Feel Like Shit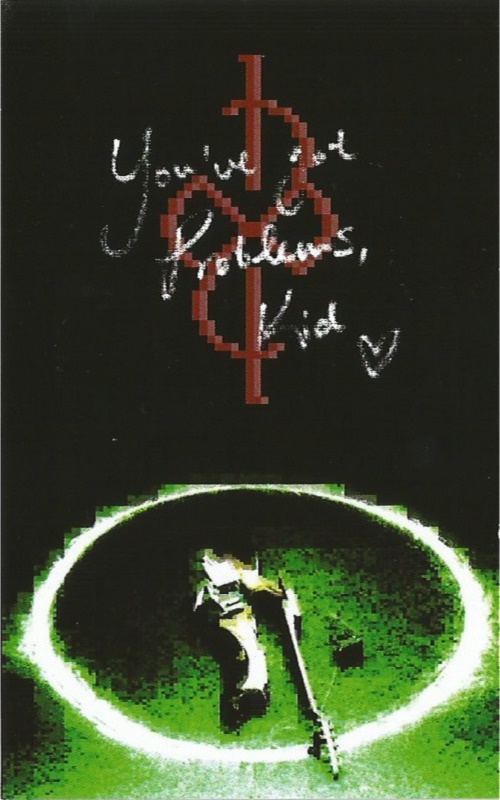 Homo Monstrous
You've Got Problems Kid
(Self-Released)
Regina, SK
From the mighty mitochondria of Mark Anthony Brennan:
It's a glorious mess. Synths shoot laser bolts left and right as the singer screeches with the dubious clarity of a glam rocker. She tries to make herself heard above the sound of power tools, which are out of tune but melodious nonetheless. A red-raw shambolic blast of sheer fucking genius.
Frankly, she sounds as if she could break your spine, but when she wails "I wish I were dead" you feel her pain. Homo Monstrous? It's us. We are the monstrous species for permitting such pain.
Yeah, you do have problems, kid. It ain't fair.
Par la toute-puissante mitochondrie de Mark Anthony Brennan:
(Traduit par la sanglante bouffée bordélique d' Émily Traichel)
C'est un glorieux désordre. Des synthétiseurs tirent au laser dans tous les sens tandis que la vocaliste hurle avec la clarté ambigue d'une glam rocker. Elle tente de se faire entendre au-dessus du boucan d'outils électriques, ceux-ci sonnant faux mais mélodieux malgré tout. Une sanglante bouffée bordélique de pur fucking génie.
Franchement, elle a l'air de pouvoir nous casser le cou, mais lorsqu'elle gémit "I wish I were dead" on ressent sa souffrance. Homo Monstrous? C'est nous. Nous sommes la monstrueuse espèce qui permet une telle souffrance.
Pour reprendre le titre de l'album, eh oui – t'as des problèmes, le jeune. C'est pas juste.
Homo Monstrous – Rat Tails//Painted Nails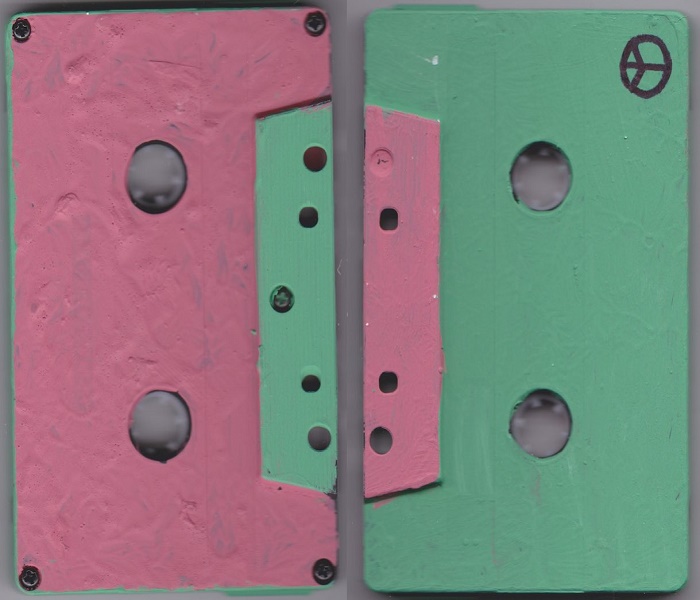 Leeky Tearducts
The Tape
(Self-Released)
Nelson, BC
From the frazzled socket of Eleanor Wearing:
The Leeky Tearducts don't really leak. Spit, churn, streak, explode? Yes. Bang, yell, thrash? Yes. Unfolding like a sudden thunderstorm, their notes strike with the power of a violent lightning bolt. Don't fear the storm. Don't run for cover. Let your body succumb to the short-circuiting sounds. Find yourself in a fast dancing frenzy. After all, sweat and rain are better than tears.
De la prise de courant sautée de Eleanor Wearing:
(Traduit par Zanoni Ngira)
Le tube « The leeky Tearducts » ne vous décevra pas. Ce morceau explosif vous fera chanter, vibrer et danser sans contrôle. Il fait du boucan et se fait entendre partout en battant des records. Comme une soudaine tempête, le morceau suit un rythme de tonnerre. N'ayez aucune crainte, laissez votre corps se faire guider aux sons court-circuit de la chanson, et vous serez pris d'assaut par une danse délirante. Après tout, la sueur et la pluie sont mieux que les larmes.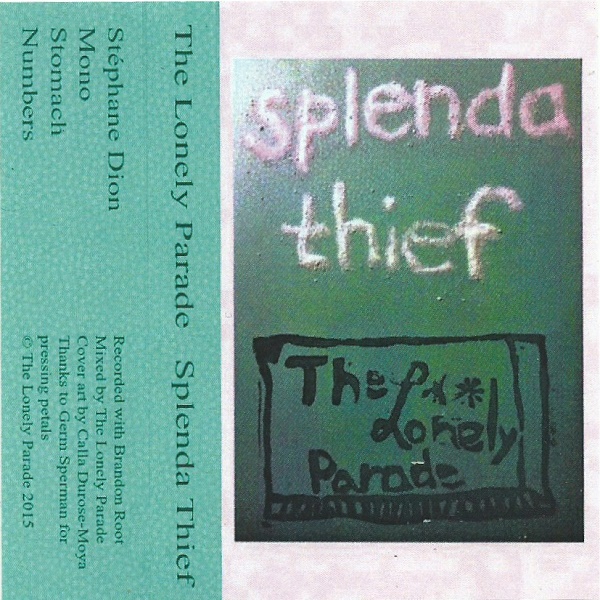 The Lonely Parade
Splenda Thief
(Self-Released)
Peterborough, ON
From the hive-mind of Mike Roy:
There is a desire for the real and the raw on "Splenda Thief," a title that reflects a need to strip away the artifice for an experience that can only be described as truthful. Slowly revealed over the course of the EP, The Lonely Parade use their music as a weapon of sonic destruction to strip away the feigned and the forced. The first half of their tape strikes physically, pulsating over a wall-of-sound and lo-fi vocals to awake the senses. Those physical sensations are brought into embracive light on the latter end, awakening a disclosure ceaselessly being uncovered but continuously being sought.
De l'esprit collectif de Mike Roy:
(Traduit par l'hémisphère gauche de Diane Beaupré)
On sent le désir de l'authenticité à l'état brut en écoutant Splenda Thief, un titre qui illustre la nécessité d'éliminer tout artifice d'une expérience qui ne peut qu'être qualifiée de vraie. Révélée lentement tout au long du EP, la musique de The Lonely Parade sert d'arme de destruction sonore pour éliminer tout ce qui est feint et faux. La première moitié de l'enregistrement vient nous chercher physiquement en faisant vibrer un mur de sons et de voix pour réveiller les sens. Ces sensations se transforment plus tard en lumière, réveillant l'inconnu qui se révèle constamment, mais que l'on cherche toujours.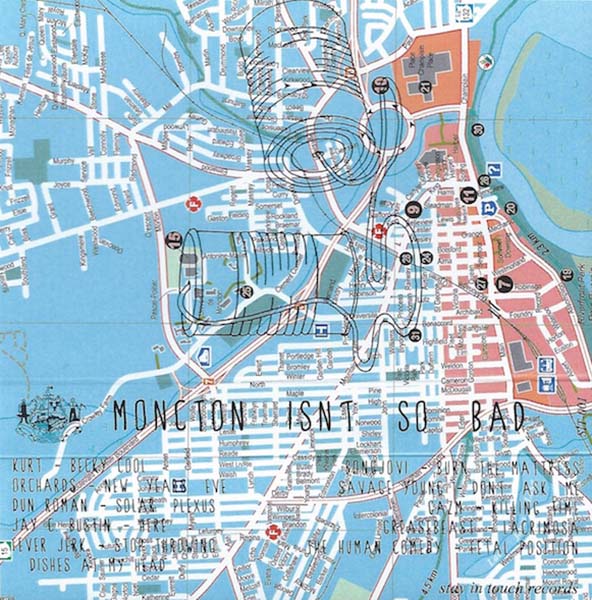 Stay In Touch Records
"Moncton Isn't So Bad" Compilation
Moncton, NB / Halifax, NS / Montreal, QC
From the poutine pizza of Mike Roy:
From the shadows of the East Coast rises Stay in Touch Records and their tribute compilation to the city that raised them, Moncton, NB. Moncton Isn't So Bad serves up a hot-and-ready, sonic pizza, its 10 slices topped with the tastes and flavours of a diverse community. The sweet and steamy bedroom pop from Kurt Inder will immediately entice you, while the piping hot garage riffs of Bong Jovi scorch at your tastebuds, and Gazm turn the notch to 11 for a golden crust that is not too crunchy or soft. Stay in Touch delivers the beautiful underbelly of a talented Moncton community simply bubbling with potential (and possibly mozzarella cheese).
De la pizza-poutine de Mike Roy:
(Traduit par le capharnaüm infernal de Julie Mayer)
Stay in Touch Records émerge des ombres de la côte Est et leur compilation rend hommage à la ville qui les a élevés : Moncton au Nouveau-Brunswick. Moncton Isn't So Bad sert de la pizza acoustique toute-chaude-toute-prête dont les 10 pointes sont garnies de goûts et de saveurs issus d'une communauté diverse. La pop de chambre douce et humide de Kurt Inder va vous allécher sur-le-champ alors que les riffs de garage fumants de Bong Jovi brûlent vos papilles gustatives et que Gazm tourne le bouton à 11 pour produire une croûte dorée qui n'est ni trop croustillante ni trop molle. Stay in Touch livre la belle face cachée d'une talentueuse communauté monctonienne bouillante de potentiel (et sans doute de fromage mozzarella).
Fever Jerk – Stop Throwing Dishes at My Head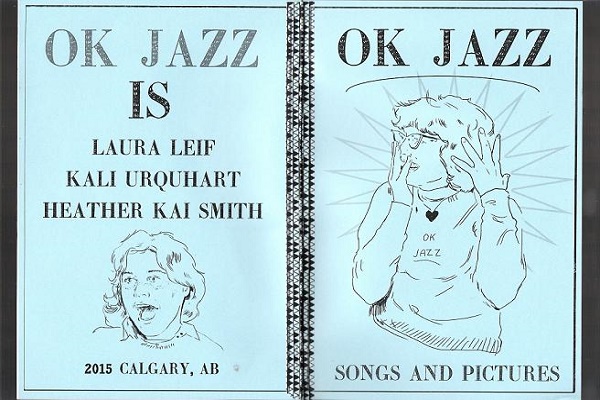 IMAGE
OK Jazz
OK Jazz
(Self-Released)
Calgary, AB
From the swollen biceps of Trevor Angst:
Who remembers weird Canadian sketch comedy Kids in the Hall? OK Jazz do, dedicating a jocular titled track to the pitiful sexist with vegetation for hair. OKJ knows what peeves Cabbage Head and do it best by diving into the fine art of tiered satire. OKJ chants for gender equality in harmonious solidarity. Clean guitar and complimenting overdriven bass tones slither underneath blissful singing. The sound is indefinite and signature throughout their debut. OKJ can belt a shrill voice to drive their take home message; to join their people's club. Anybody is invited. Embrace the state of mind and you won't be waitlisted.
Des biceps enflés de Trevor Angst:
(Traduit par la culture canadienne de Nicolas Coutlée)
Qui se rappelle de Kids in the Hall, cette émission canadienne à l'humour étrange? OK Jazz s'en souvient et dédie un titre plaisantin à ce pitoyable sexiste aux cheveux végétaux. OKJ sait ce qui se trame dans cette tête de chou et l'illustre parfaitement grâce à l'art fin de la satire à niveaux multiples, célébrant l'égalité des sexes dans la solidarité harmonieuse. Une guitare claire complémentée de tons de basse surmultipliée s'immisce sous un chant merveilleux. Sur ce premier album, le son reste indéfini tout en étant distinctif. Mais OKJ peut également scander son message d'une voix stridente : joignez-vous à notre club! Tout le monde est le bienvenu. En adoptant cet état d'esprit, vous pouvez oublier la liste d'attente.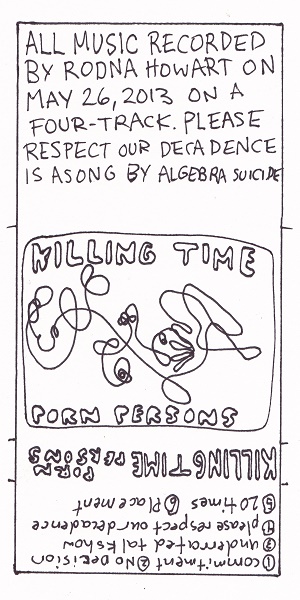 Porn Persons
Killing Time
(Self-Released)
Montreal, QC
From the shredded jeans of Katie Jensen:
Pressure builds uncomfortably behind the back of your eye. You rub the scalloped roughness of your palm against your left eyelid, but this jams the pain further into your cranial nerve. Your heart feels awfully wet.
You peel your skin back to reveal last week's grocery list. Sour milk. A scratched-up tabloid. A present for your mother. You walk to the refrigerator. There is nothing to eat except a box of baking soda. The pain in your eyes is killing you. You stick your head in the freezer and close your eyes against a bag of frozen peas.
Des jeans déchirés de Katie Jensen:
(Traduit par Jessica Grenier)
Juste derrière ton œil, une douleur inconfortable écrase ton nerf crânien. Tu frottes la rugosité écailleuse de ta paume sur ta paupière gauche, mais ça ne fait que déplacer la douleur plus loin sur le nerf. Ton cœur te semble atrocement humide.
Tu relèves la peau pour faire apparaître la liste d'épicerie de la semaine dernière, du lait suri, un journal barbouillé, un cadeau pour ta mère. Tu vas jusqu'au frigo : il n'y a rien à manger à part une boite de bicarbonate de soude. La douleur derrière tes yeux ne fait qu'empirer. Tu ouvres le congélateur puis poses tes yeux fermés sur un sac de pois congelés.
Porn Persons – Underrated Talkshow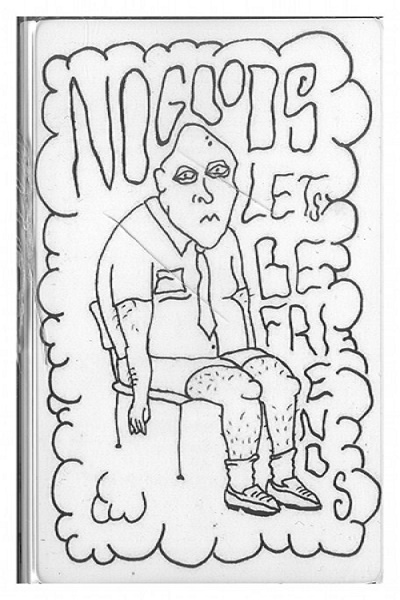 NoGoods
Let's Be Friends
Victoria, BC
From the phosphorescence of Noah Sherman:
NoGoods presents the type of psychedelic, high-intensity punk that can be enjoyed by your lonesome, or while you dance it out with dozens of tightly packed bodies in the sweaty confines of a garage somewhere – the latter being preferable. Try to not move your body when your hear the melodious, addicting guitar riffs, the pounding drums, and the familiar energy of the voice. If that sounds like a challenge, it's because it is.
De la phosphorescence de Noah Sherman:
(Traduit par le cerveau à moitié bon d' Alexis Maurice)
NoGoods présente un type de punk psychédélique à haute intensité pouvant être apprécié en solitaire, mais préférablement en dansant avec des douzaines d'autres humains coincés et suintants dans un garage quelque part. Essaie de ne pas te mettre à bouger sur ces riffs aux mélodies addictives, le tapage de la batterie et l'énergie familière du chanteur. Ça ressemble à un défi? C'en est un.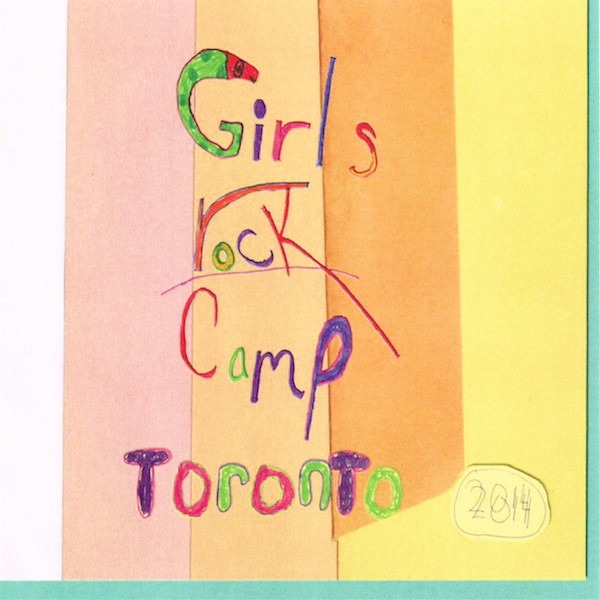 Various Artists
Girls Rock Camp Toronto – 2014
Toronto, ON
From the gushing dopamine levels of Sara Bortolon-Vettor:
Girls Rock Camp Toronto is a non-profit community organization empowering young women to play rock music. Their 2014 Compilation CD features a new kind of pop music: a fresh perspective from the voices of girls. It is genuine, fun, honest and quirky – there's nothing jaded about it. A spectacle of talents, diverse genres and instrumentations with all songs written and performed entirely by girls. The compilation includes 11 tracks highlighting the broad scope of songwriting and playing from Meteor Season's rock-pop gem, "Coming Your Way" to #pandabandits' punk-rocker, "The Great Release." To hear how this new pop will grow is worth the anticipation.
Des niveaux de dopamine débordants de Sara Bortolon-Vettor:
(Traduit par les terrasses caféïnées de Marie-Pier Chevrier)
Girls Rock Camp Toronto est un organisme communautaire à but non lucratif qui encourage les jeunes femmes à jouer de la musique rock. Leur CD Compilation 2014 met en valeur un nouveau style de musique pop de la perspective rafraîchissante des voix des filles. Authentique, ludique et farfelu, on n'y trouve absolument rien de réchauffé. Le tout, entièrement écrit et interprété par des filles, explore différents genres et instrumentations. L'album comprend 11 pistes qui dévoilent une vaste étendue d'écriture et d'interprétation, du bijou pop-rock « Coming Your Way » de Meteor Season au punk-rock « The Great Release » des #pandabandits. L'écoute patiente de l'évolution de cette nouvelle pop en vaudra certainement l'attente.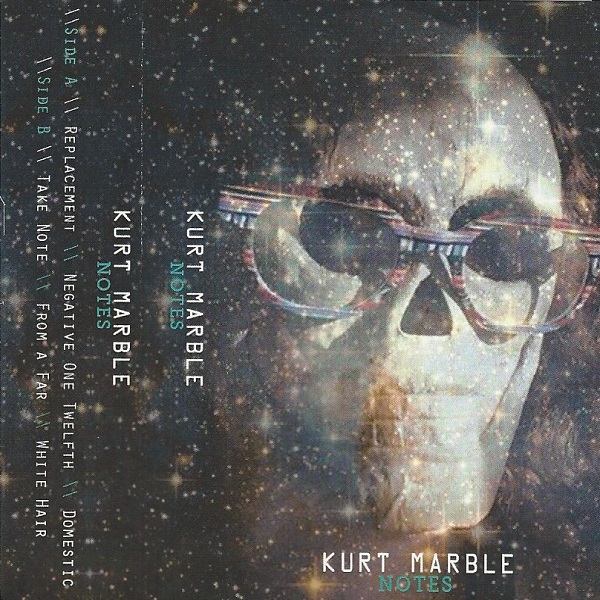 Kurt Marble
Notes
(Self Released)
Toronto, ON
From the impeccable hyperbole Adam Bradley:
Huck the holy hatchet slow-mo into the event horizon. Cement fisted, muscles taut, teeth cracking. A flash of lightning light and a tremendous boom. Kurt Marble emerges from the seething black sphere, all beings of hot, golden energy. Six songs of adamantine garage rock godliness lie herein, slashing on harsh curvature, pummeling like ancient anger. Giant riffs quake, an Olympian voice belts in echo, pensive moments seep through the cracks. The golem comes, prepare thy ears.
De l'hyperbole impeccable d' Adam Bradley:
(Traduit par Jessica Grenier)
La hachette sacrée est lancée, au ralenti, dans l'horizon des événements. Poings de ciment, muscles prêts, dents fendillées : Kurt Marble émerge de la sphère noire nébuleuse en une créature d'énergie rouge et or. Voici six chansons consacrées au rock de garage adamantin, tronçonnant les courbures brutes et martelant telle une rage ancienne. Un tremblement de riffs titanesques fait écho à une voix olympienne; des instants pensifs s'infiltrent par les crevasses. Le golem arrive, soyez avertis.
---