Tag: punk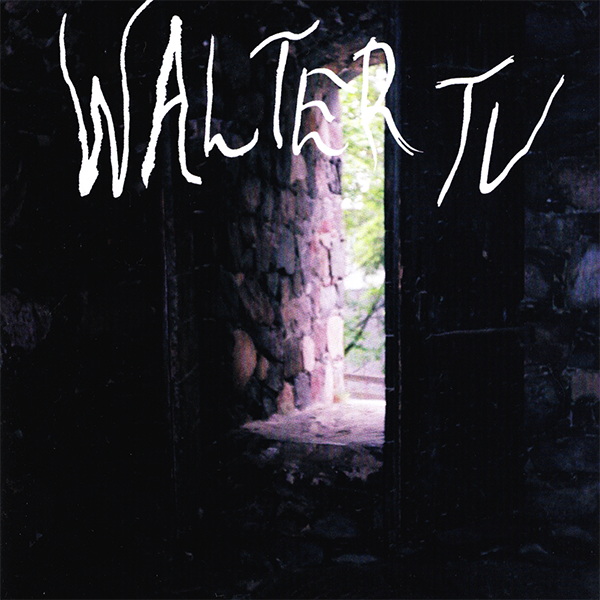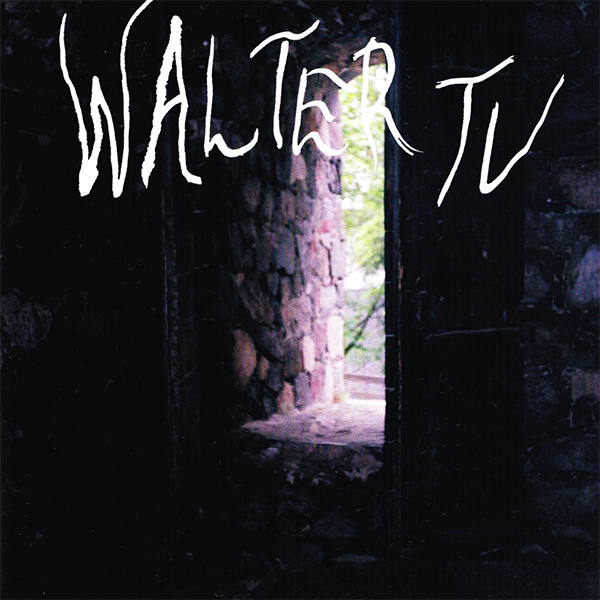 Walter TV
Blessed
Vancouver, BC
From the outrageous orations of Jake Bornheimer:
Blessed seems to be the work of a kaleidoscopic collective of swamp–punks crafting deranged melodies and raucous riffs for psychotic garage pop anthems — yelping & screaming, in warmly warbling stereo, shades of Machiavellian chorus — serving out deluxe dishes of sizzling psychedelic surf. And what a fine work it is! I find myself reveling in a rippling rainbow of resonance: drums thumping, guitars chiming, and distended vocals oscillating in my sensory periphery, as my brain locks into Walter TV's otherworldly slacker groove, propelled into the ionosphere by "Tall Mountains," where I rest with the soft Aurora Borealis.
Des discours extravagants de Jake Bornheimer:
(Traduit par la roue des couleurs de Julie Mayer)
Blessed s'apparente au travail d'un collectif kaléidoscopique de voyous marécageux qui réalisent des hymnes de pop garage psychotiques avec une mélodie dérangée et des riffs rauques déchaînés (glapissements et cris dans une chaîne stéréo chaleureuse et babillarde, nuances de chœurs Machiavélique) et qui servent de délicats mets d'ondulations psychédéliques et grésillantes. Mais quel beau boulot! Je me retrouve en pleine félicité dans un arc-en-ciel ondoyant de résonance : le battement des tambours, le tintement des guitares et les chants distendus oscillent dans ma périphérie sensorielle tandis que mon cerveau entre dans le groove oisif surnaturel de Walter TV, propulsé par « Tall Mountains » dans l'ionosphère, où je m'étends auprès de la douce Aurore Boréale.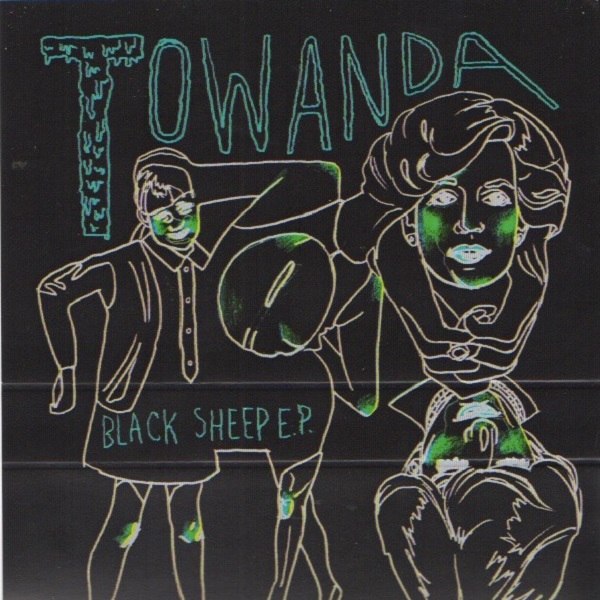 Towanda
Black Sheep
Montreal, QC
From the visual reveries of Simon Provencher:
Evoking rich gouache painted by the best preschoolers in the class, Black Sheep is lively, rich, energetic and almost naïve in its simplicity. This album gives us a powerful brushstroke of vocals that resonates through textured distortions, creating impressive feline rhythms. Without a doubt, there is a ton of creative genius behind and inside the haze of Towanda.
Des rêveries plasticiennes de Simon Provencher:
(From the Bescherelle of Zoë Christmas)
Rappelant une gouache épaisse, peinte par le plus talentueux des enfants de la garderie, Black Sheep est vif, immédiat, énergique et presque naïf par sa simplicité. On obtient, dans la galette, un puissant coup de pinceau vocal étoffé par des distorsions aux textures de carton mouillé et des rythmes fauves redoutables. Un génie créatif indéniable est évident derrière et dans le fuzz!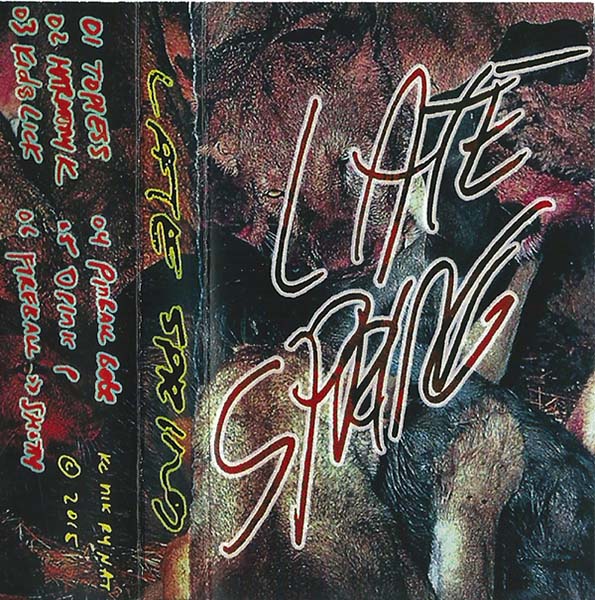 Late Spring
Late Spring
(Self Released)
Vancouver, BC
From the spinning mind of Laura Stanley:
When spring arrives late, winter still circling, a sense of longing becomes unbearable. This yearning is caught up in the mire of Late Spring. As the EP progresses, the questions asked and experiences given allow the band to hear the snow melting. A toughness has grown to take on summer's maturity.
De l'esprit bouillonnant appartenant à Laura Stanley:
(Traduit par Mylène Quevillon)
Lorsque le printemps est tardif, et que l'hiver n'en finit plus de finir, l'attente devient insoutenable. Cette aspiration est enlisée dans la fange de Late Spring. Au fur et à mesure de l'avancement de l'EP, les questions posées et les aventures vécues permettent au groupe d'entendre la neige fondre. Une force s'est développée permettant de capturer la maturité estivale.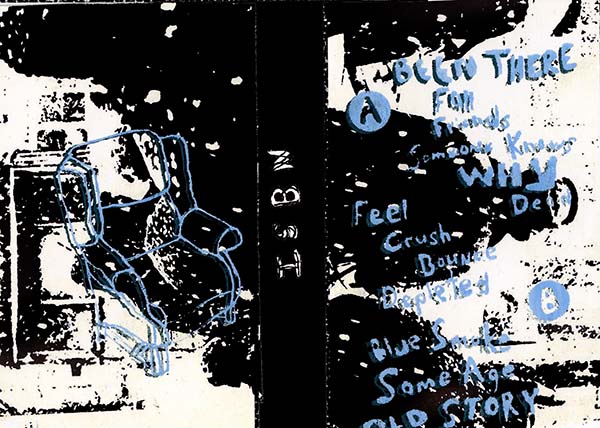 ISBN
Grimmed Out
(Self Released)
Halifax, NS
From the mild surprise of Ezra Lipton:
The new 14-song cassette from ISBN is complete with their catchy-balanced-blended sound. Their balance lies in the punchy bass and responsive drums that form the melody, and construct a foundation for the scratchy exploratory twangings of Dave Burns' guitar which fills in the rest of the sound spectrum. The existential lyrics of Luke Langille are clean and clear. Songs such as "Feel" contain honest, depressive lyrics, but when matched with melody, they create an uplifting, foot-stomping tune that will hurl itself into your memory vaults. Building and maintaining, stopping, and reapplying ensue through their audible expositions, developing a compelling 33 minute release.
De la surprise quelque peu surprenante d'Ezra Lipton:
(Traduit par l'expression légèrement stupéfaite de Louis-Félix Pellerin de Chevigny)
La nouvelle cassette de 14 morceaux d'ISBN s'harmonise avec leur musique entrainante et mélangée, mais équilibrée. Cet équilibre se trouve dans la mélodie formée par une basse dynamique et une batterie réactive; les fondements pour le grattage exploratoire de la guitare de Dave Burns, qui remplit le reste du spectre sonore. Les paroles existentielles de Luke Langille sont nettes et précises. Des morceaux comme « Feel » contiennent des paroles honnêtes et déprimantes qui, une fois couplées à la mélodie, garrochent dans la voûte de tes souvenirs une chanson inspirante qui te fera taper du pied. Construction, poursuite, arrêt et reprise naissent de ces expositions sonores, produisant un album captivant de 33 minutes.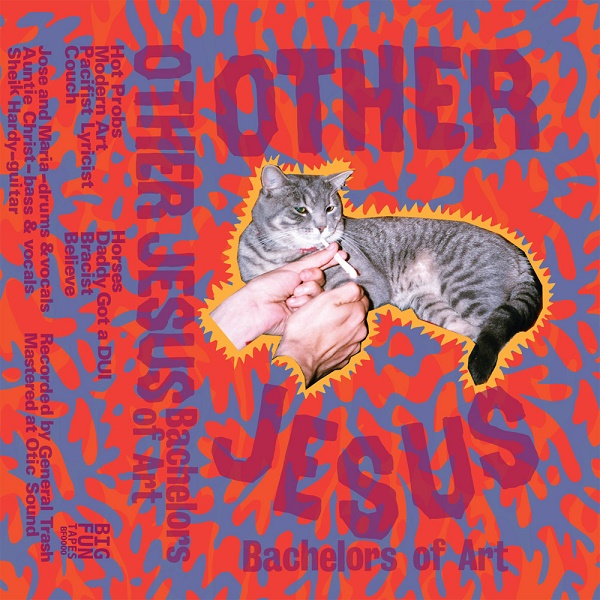 Other Jesus
Bachelors of Art
Vancouver, BC
From the foggy mind and locale of Brian Cleveland:
Seven months of untapped keys have led to an epiphany. Any words would be as distorted as the noise laid overtop this post-punk messiah's debut. Everything is problematic. It's up to you to believe now, true follower. Don't push past the noise and don't try to define. Just experience this Vancouver trio, have some big fun, and rejoice (on your comfy couch)!
De la brume cérébrale et environnante de Brian Cleveland:
(Par la canopée de mots d' Aliké Harel)
Sept mois sans mettre les mains sur les touches ont apporté une révélation. Tout mot serait aussi tordu que le filigrane de bruit sur le premier album de ce messie post-punk. Tout est problématique. Il ne tient qu'à toi d'avoir la foi, fidèle croyant. Ne t'égare pas par-delà le bruit et ne cherche pas de définition. Savoure les mélodies du trio vancouvérois, aie du fun et réjouis-toi (depuis ton sofa confo)!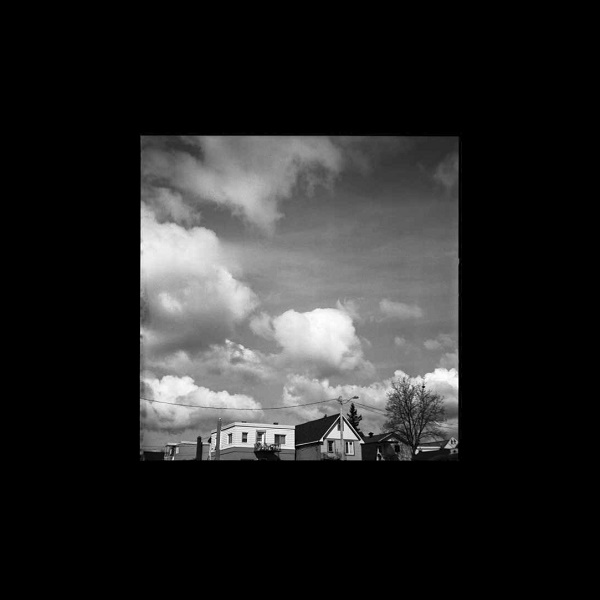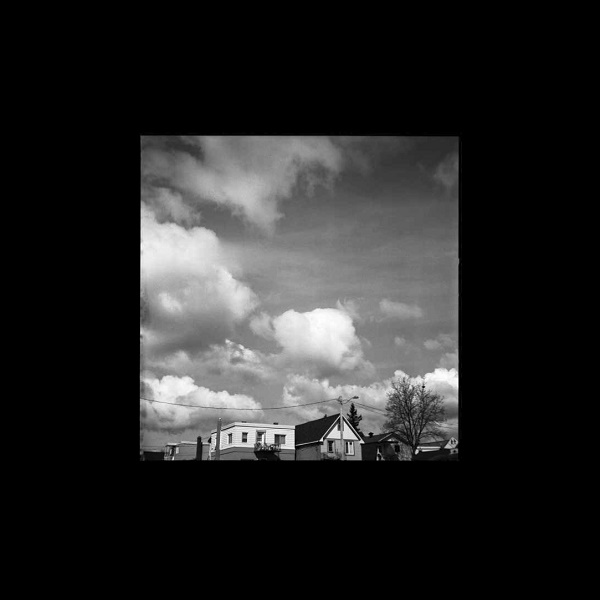 H. de Heutz
Study for Violence and Tape
Hull, QC/Ottawa, ON
From the reductive hemispheres of Rolf Klausener:
H. de Heutz' music is a conversation best had in person: eyes unblinking, breathing slow, and as time collapses, cochlea-searing frequencies radiate through rhythmic stabs that yearn to stop your heart, and lay waste to the passive mind. "Tomorrow should be fine" combines unrelenting percussion by other-worldly drummer/vocalist Olivier Fairfield, with caustic high-frequency samples, protest field recordings, and a bass line skipping through intervals darker than India ink. It descends into live audio of bassist/vocalist Nathan Medema discussing public access to protest-related road closures with RCMP officers, before an unforgiving return to the piece's acerbic closing bars.
Par les hémisphères réducteurs de Rolf Klausener:
(Traduit par les promenades inconscientes d' Émily Traichel)
La musique de H. de Heutz est une conversation qu'il vaut mieux avoir en personne: les yeux fixes, le souffle tranquille, et tandis que le temps s'écroule, des fréquences à calciner les cochlées se répandent à travers le rythme poignardant qui aspire à faire arrêter votre cœur, et ravagent l'esprit passif. « Tomorrow should be fine » amalgame une percussion implacable par le batteur/vocaliste venu d'un autre monde, Olivier Fairfield, avec des échantillons caustiques à haute fréquence, des enregistrements de champs de manifestation, et une ligne de basse qui sautille à travers les intervalles plus noirs que l'encre de Chine. La piste penche vers une trame audio du bassiste/vocaliste Nathan Medema qui discute avec des agents de la GRC de l'accès publique aux routes fermées à cause des manifs, suivie d'une reprise impitoyable des dernières mesures acerbes.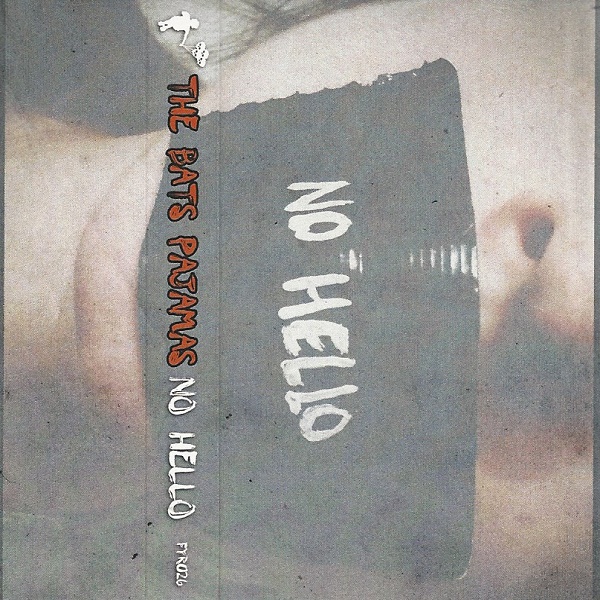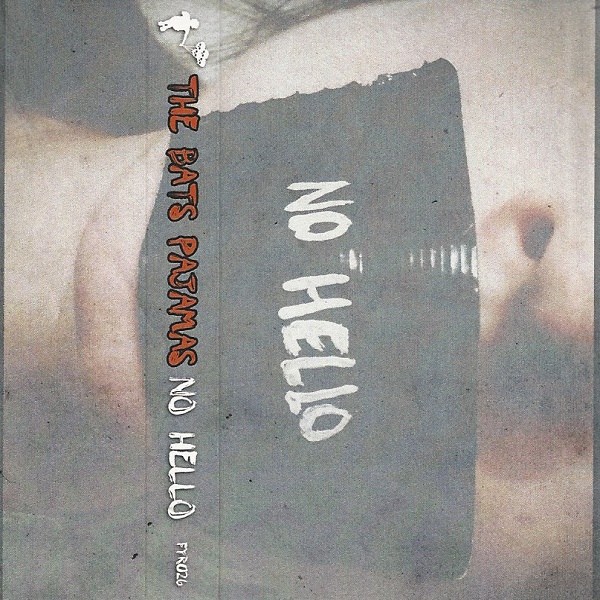 The Bats Pajamas
No Hello
Toronto, ON
From the curdled misanthropy of Adam Bradley:
A primo specimen of Toronto's malformed and curdled species of garage rock. Septic distortion and scummed up bass slop on top of misanthropic, snotty vocals. Kickin' shit over riffs. Window smashing ugliness. Skipped off again, pizza in the alleyway, beer in a bag. Slacker maniac grudge-grunge, hacking a lung, an infected mess bubbling up throbbing puce-goldenrod.
De la misanthropie caillée de Adam Bradley:
(Traduit par le yogourt glacé de Julie Mayer)
Un spécimen de première formé d'espèces torontoises difformes et caillées de garage rock. Une distorsion septique et une basse crasseuse se déversent sur des voix misanthropiques et snobs. Des riffs ravageurs. Une laideur de fenêtres fracassées. Encore à foxer l'école, à manger de la pizza dans la ruelle, une bière dans le sac. Du grunge rancunier, fainéant et maniaque qui charcute un poumon, bordel infecté d'où s'échappe une mousse de pulsations couleur puce-jaune paille.
The Bats Pajamas – Feel Like Shit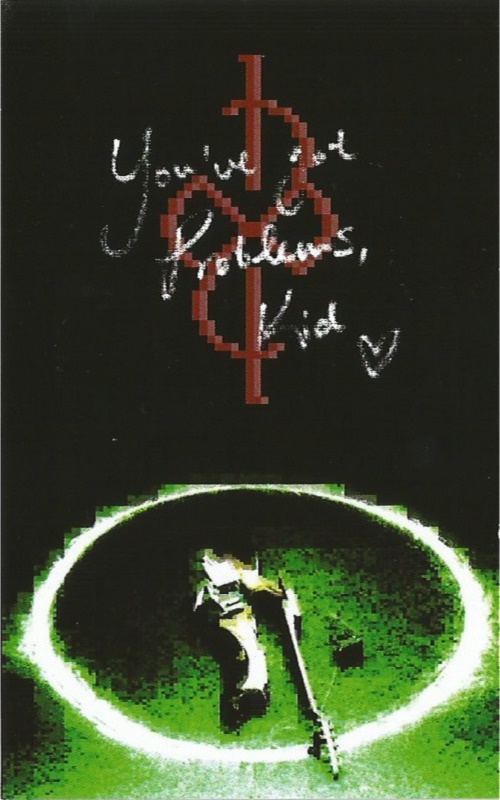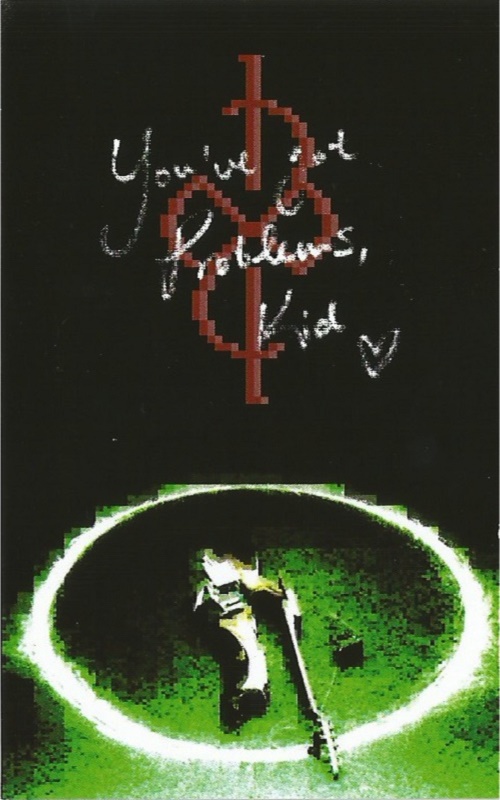 Homo Monstrous
You've Got Problems Kid
(Self-Released)
Regina, SK
From the mighty mitochondria of Mark Anthony Brennan:
It's a glorious mess. Synths shoot laser bolts left and right as the singer screeches with the dubious clarity of a glam rocker. She tries to make herself heard above the sound of power tools, which are out of tune but melodious nonetheless. A red-raw shambolic blast of sheer fucking genius.
Frankly, she sounds as if she could break your spine, but when she wails "I wish I were dead" you feel her pain. Homo Monstrous? It's us. We are the monstrous species for permitting such pain.
Yeah, you do have problems, kid. It ain't fair.
Par la toute-puissante mitochondrie de Mark Anthony Brennan:
(Traduit par la sanglante bouffée bordélique d' Émily Traichel)
C'est un glorieux désordre. Des synthétiseurs tirent au laser dans tous les sens tandis que la vocaliste hurle avec la clarté ambigue d'une glam rocker. Elle tente de se faire entendre au-dessus du boucan d'outils électriques, ceux-ci sonnant faux mais mélodieux malgré tout. Une sanglante bouffée bordélique de pur fucking génie.
Franchement, elle a l'air de pouvoir nous casser le cou, mais lorsqu'elle gémit "I wish I were dead" on ressent sa souffrance. Homo Monstrous? C'est nous. Nous sommes la monstrueuse espèce qui permet une telle souffrance.
Pour reprendre le titre de l'album, eh oui – t'as des problèmes, le jeune. C'est pas juste.
Homo Monstrous – Rat Tails//Painted Nails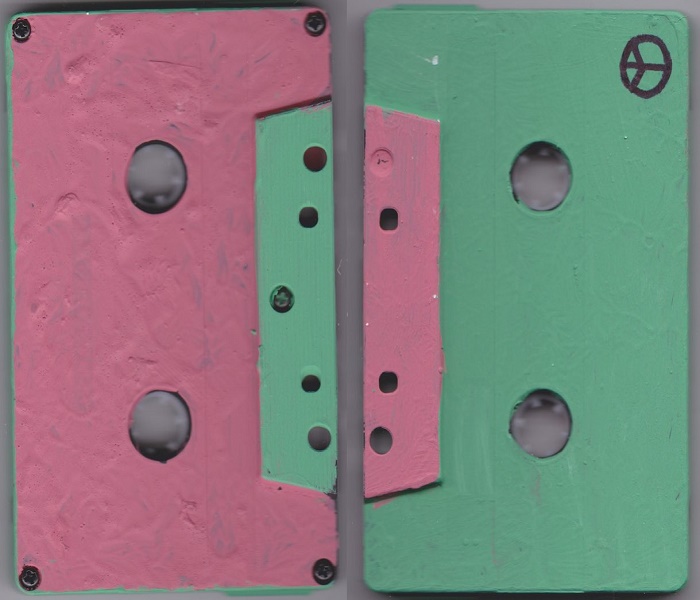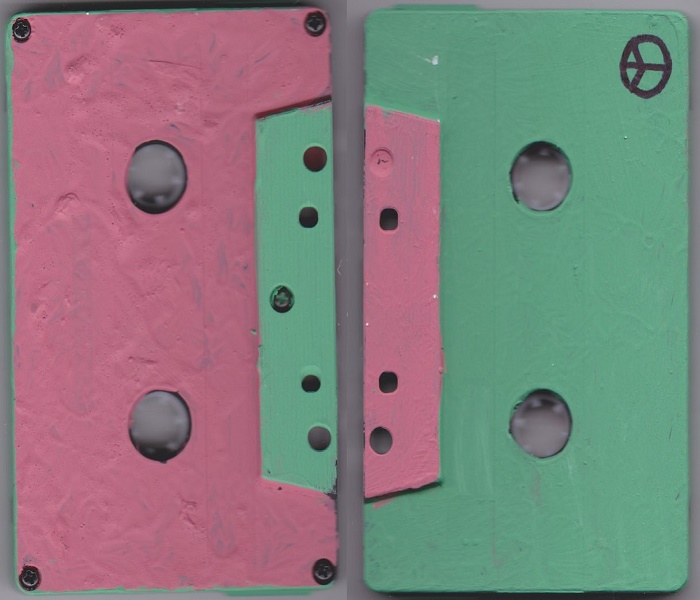 Leeky Tearducts
The Tape
(Self-Released)
Nelson, BC
From the frazzled socket of Eleanor Wearing:
The Leeky Tearducts don't really leak. Spit, churn, streak, explode? Yes. Bang, yell, thrash? Yes. Unfolding like a sudden thunderstorm, their notes strike with the power of a violent lightning bolt. Don't fear the storm. Don't run for cover. Let your body succumb to the short-circuiting sounds. Find yourself in a fast dancing frenzy. After all, sweat and rain are better than tears.
De la prise de courant sautée de Eleanor Wearing:
(Traduit par Zanoni Ngira)
Le tube « The leeky Tearducts » ne vous décevra pas. Ce morceau explosif vous fera chanter, vibrer et danser sans contrôle. Il fait du boucan et se fait entendre partout en battant des records. Comme une soudaine tempête, le morceau suit un rythme de tonnerre. N'ayez aucune crainte, laissez votre corps se faire guider aux sons court-circuit de la chanson, et vous serez pris d'assaut par une danse délirante. Après tout, la sueur et la pluie sont mieux que les larmes.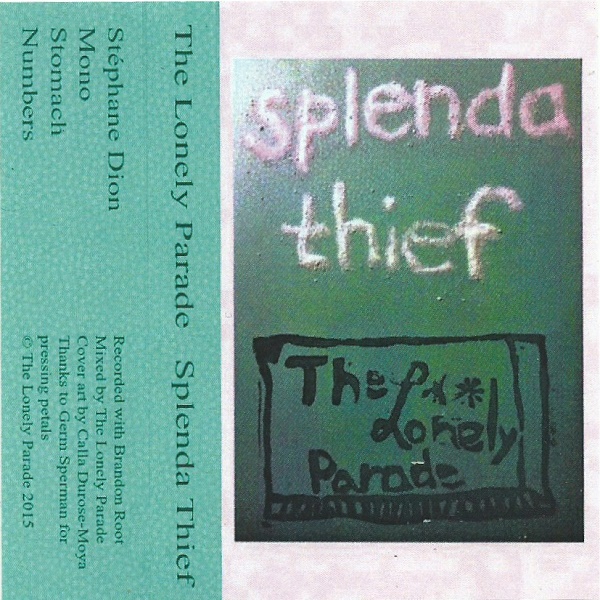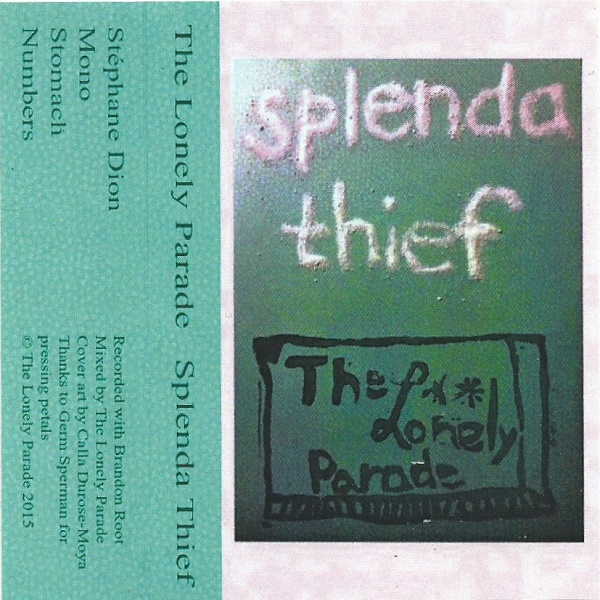 The Lonely Parade
Splenda Thief
(Self-Released)
Peterborough, ON
From the hive-mind of Mike Roy:
There is a desire for the real and the raw on "Splenda Thief," a title that reflects a need to strip away the artifice for an experience that can only be described as truthful. Slowly revealed over the course of the EP, The Lonely Parade use their music as a weapon of sonic destruction to strip away the feigned and the forced. The first half of their tape strikes physically, pulsating over a wall-of-sound and lo-fi vocals to awake the senses. Those physical sensations are brought into embracive light on the latter end, awakening a disclosure ceaselessly being uncovered but continuously being sought.
De l'esprit collectif de Mike Roy:
(Traduit par l'hémisphère gauche de Diane Beaupré)
On sent le désir de l'authenticité à l'état brut en écoutant Splenda Thief, un titre qui illustre la nécessité d'éliminer tout artifice d'une expérience qui ne peut qu'être qualifiée de vraie. Révélée lentement tout au long du EP, la musique de The Lonely Parade sert d'arme de destruction sonore pour éliminer tout ce qui est feint et faux. La première moitié de l'enregistrement vient nous chercher physiquement en faisant vibrer un mur de sons et de voix pour réveiller les sens. Ces sensations se transforment plus tard en lumière, réveillant l'inconnu qui se révèle constamment, mais que l'on cherche toujours.
---