Tag: punk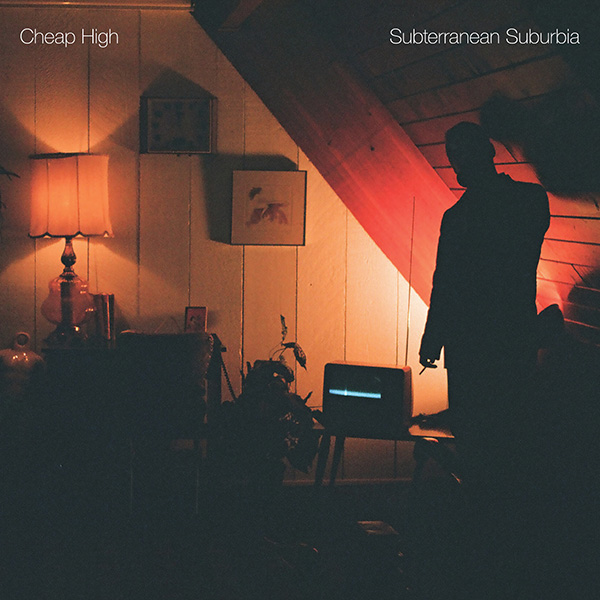 Cheap High
Subterranean Suburbia
Abbotsford, BC // Vancouver, BC
From the illicit parents' basement of Kyle Valade:
Winter nights vectoring towards Vancouver, phone dead, music loud over smoke being sucked out the window, airdrumming the cold from your hands. This band calls themselves suburban, but at least two of the members have been playing around the city for seven years. Cheap High have existed for about three. _Subterranean Suburbia_ is their first full-length and marks the debut of Dipstick Records – so you can be sure the onslaught is measured and explosive. Good thing, because it'll probably be a long time before I change the CD in my car.
De la cave parentale illicite de Kyle Valade:
(Traduit par les doigts frigorifiés de Jessica Grenier)
Les nuits hivernales se dirigent vers Vancouver. Ton cellulaire est mort. De la musique puissante écrase la fumée, qui s'échappe par la fenêtre ouverte. Tu réchauffes tes mains en jouant du airdrum. Ce groupe se dit banlieusard, mais au moins deux de ses membres jouent en ville depuis sept ans – et Cheap High existe depuis trois. _Subterranean Suburbia_ est leur premier album complet, et il inaugure Dipstick Records. Donc, l'assaut est assurément calculé et explosif. C'est une bonne chose, parce que je ne changerai pas le CD dans ma voiture avant un bon moment.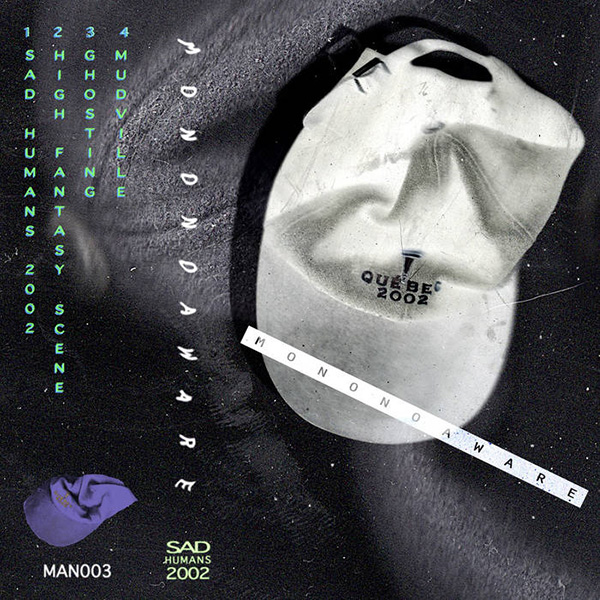 Mono No Aware
SAD HUMANS 2002
Mannequin Tan
Montréal, QC
D'un triste café de banlieue:
Il pleut, la serveuse du café prépare tristement des cupcakes qui seront jetés à la fin de la journée. L'odeur du ruban magnétique encombre mystérieusement les narines des trois clients. Ils s'arrêtent de lire le Journal de Montréal et constatent, en coeur, la fluidité des belles choses. Soudainement, la chanson s'arrête sans crier gare et on retourne à la normalité. 2002 n'aura duré que 6 minutes.
From a sad suburban café:
(Traduit par Alison McReynolds)
It's raining, the café waitress sadly prepares cupcakes that will be thrown out at the end of the day. The scent of a cassette tape mysteriously fill the nostrils of three patrons. They stop reading Le Journal de Montréal and make note of, in their heart of hearts, the fluidity of good things. Suddenly, the song stops without warning and things return to normality. 2002 didn't last more than 6 minutes.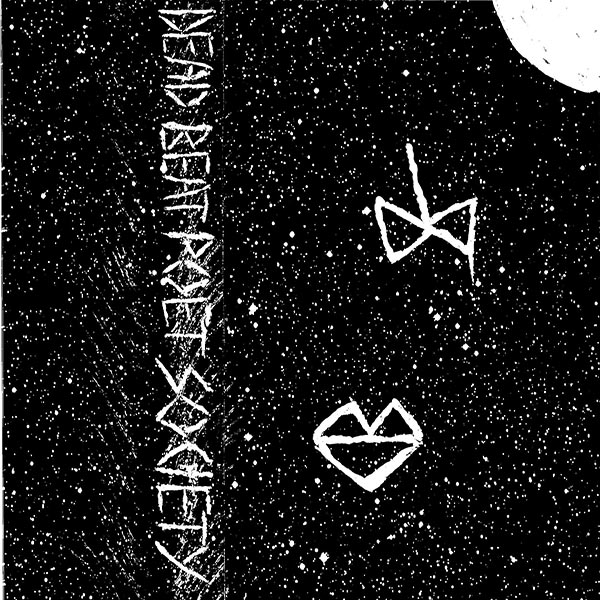 Dead Beat Poet Society
Deimos
(Self-Released)
Montréal, QC
From the gnarled heartbeat of Justin Crowe:
Far from dead and on the beat, these mysterious souls wail from beyond, rocking into the sun and then crawling back into the shadows. A vision of tiptoeing through a darkened house while a secret performance is happening in the next room; sensing a hidden beauty. Spider-like guitar affectionately weaving through words of devotion that are not afraid of dipping toes into colder water. Avoiding the total dark, these songs could easily be heard under brighter skies, behind the garage, eyes focused on the ones you love.
Des battements coeur noueux de Justin Crowe:
(Les lamentations de l'au-delà d'Odile Leclerc)
Loin d'être mortes et sur la touche, ces âmes mystérieuses se lamentent de l'au-delà, se bercent au soleil avant de ramper pour retrouver les ombres. L'impression d'être en train de marcher sur la pointe des pieds dans une maison sombre pendant qu'une performance secrète a lieu dans la pièce d'à-côté; la sensation d'une beauté cachée. Telle une araignée, une guitare tisse affectueusement avec des mots de dévouement qui n'ont pas peur de se tremper les orteils dans des eaux plus froides. Évitant la noirceur totale, ces chansons pourraient facilement être entendues sous des ciels plus clairs, derrière le garage, les yeux fixés sur ceux qu'on aime.
Dead Beat Poet Society – Fly Fly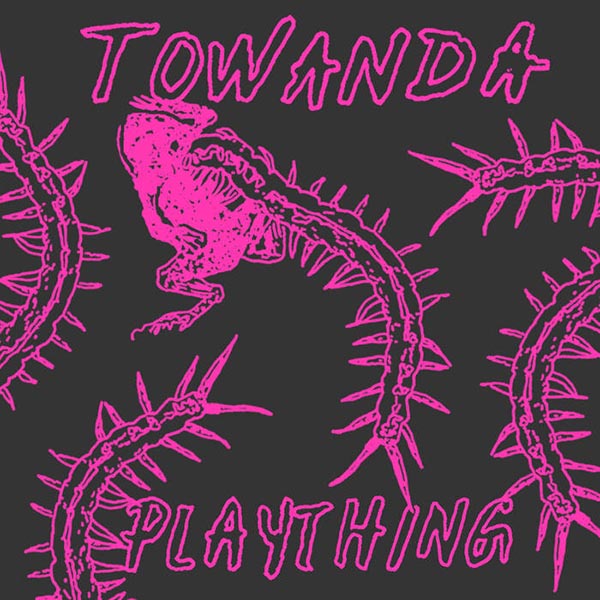 TOWANDA
Plaything
(Self-Released)
Montréal, QC
From the shadow puppet sonata of Mackenzie Smedmor:
The air is thick with sonic fuzz, and the overbearing shadow of unease hangs above. While most suck in the bitter smog, Towanda lets out the snarls we've learned to outwardly deny and inwardly accept. The inexpressible desires churn the hedonist angst in the belly of your existence… because "love is wasted on the loved." The demanding pulsations rupture the peaceful plastic façade in a chaotic yet oddly soothing mantra.
Plaything unapologetically toys with its players amidst devastating intimacy and snarky euphoria.
De la sonate de marionnettes de l'ombre de Mackenzie Smedmor:
(Le brouillard amer de Odile Leclerc)
L'air est épais de duvet sonique et l'ombre de malaise impérieuse se balance au-dessus. Pendant que la plupart aspirent le brouillard amer, Towanda laisse sortir les grognements que nous avons appris à nier extérieurement et à accepter intérieurement. Les désires inexprimables retournent la colère hédoniste dans le ventre de votre existence…parce que ''L'amour est gaspillé sur l'aimé.''. Les pulsations exigeantes rompent la façade paisible de plastique dans un mantra chaotique, mais étrangement apaisant. Le jouet joue sans honte avec ses joueurs parmi une intimité dévastatrice et une euphorie mordante.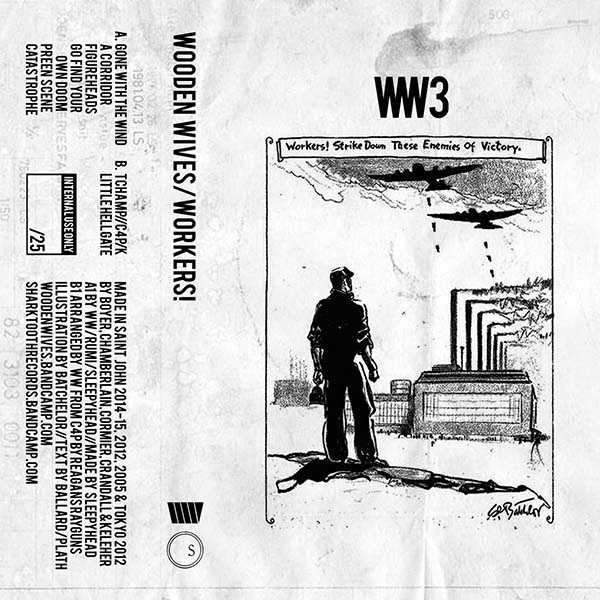 Wooden Wives
Workers! Strike Down These Enemies Of Victory
(Sharktooth Records)
Saint John, NB
From the calloused hands of Brian Cleveland:
WIVES IS OVER. With a decade-long presence that winds throughout Saint John's music scene, the Wooden Wives were unlikely to go out with anything but a bang as their ever-morphing, explosive presence comes to its inevitable conclusion. Despite containing mostly previously unreleased tracks, the final album from the Wooden Wives fittingly plays like a Best Of compilation, running the gamut between spoken word pieces, fast punk snippets, a cover, and long drone selections. Subverting the idea of what constitutes a song, the Wooden Wives relax the mind and energize the body. Influencing innumerable groups from the Maritimes and already splitting off to form a handful of their own exciting new projects, they are gone but hardly forgotten. Wooden Wives 2005-2015 RIP.
Des mains calleuses de Brian Cleveland:
(La sélection de drones d' Odile Leclerc)
Le temps des WIVES est fini Avec une présence sur presque toute la scène musicale de Saint-John's de 10 ans, il était peu plausible que les Wooden Wives n'allaient pas quitter sans frapper fort alors que leur présence explosive et toujours changeante vient à son inévitable conclusion. Malgré qu'il contient majoritairement des pistes précédemment non publiées, l'album final des Wooden Wives joue de façon appropriée comme un Best Of des compilations, dirigeant la gamme entre les fragments de mots parlés, les bribes rapides de punk, une couverture et une longue sélection de drones. Renversant l'idée de quoi constitue une chanson les Wooden Wives relaxent l'esprit et donnent de l'énergie au corps. Influençant d'innombrables groupes des Maritimes et s'étant déjà séparés pour former une poignée de leurs propres nouveaux projets excitants, ils sont partis, mais pas oubliés. Wooden Wives 2005-2015 RIP.
Wooden Wives – Gone With the Wind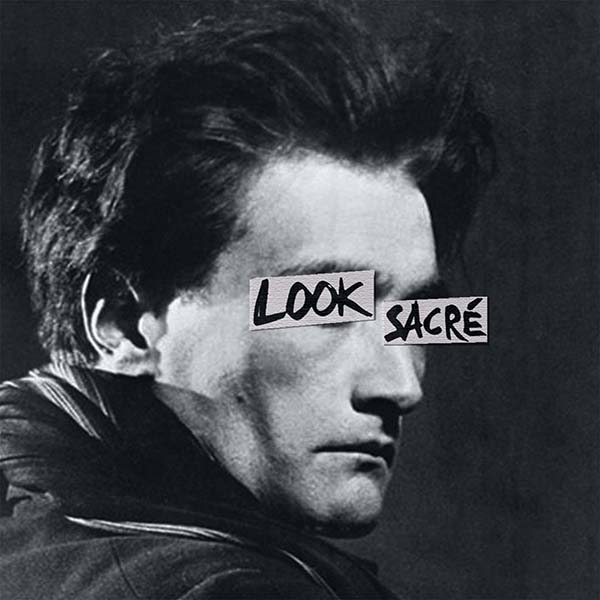 Look Sacré
Nécromensonge
(Self-Released)
Montréal, QC
From the merry-go-round of the feet of Mathieu Bédard:
(Translated by the the warped gravity of Maya Keshav)
If it sounds "like a ton of bricks", how do you dance to it? With a sledgehammer? Post-punk rhythms waltz in Nécromensonges, and send us to the floor with every new turn of the grid. It's like a merry-go-round playing with gravity: it pushes you to the ground, then up in the air you become all light, your head empty of blood. It's there that the poetry of Look Sacré consumes itself (the blood has returned to your feet); you feel your way along between the corpses and the loose soil, full of images which you touch without eyes. Bring your hippest phantoms…
Du manège de pieds de Mathieu Bédard:
Si ça sonne « comme une tonne de briques », ça se danse comment? Avec une massue? Les rythmes post-punk valsent dans Nécromensonges, et nous renvoient au plancher à chaque nouveau tour de quadrille. C'est comme un manège jouant avec la gravité : ça t'appuie au sol, puis tu deviens tout léger dans les airs, la tête vide de sang. C'est là que la poésie de Look Sacré se consomme (le sang est rendu dans les pieds); on erre à tâtons entre les morts et la terre meuble, plein d'images qu'on touche sans les yeux. Amenez vos fantômes les plus hip…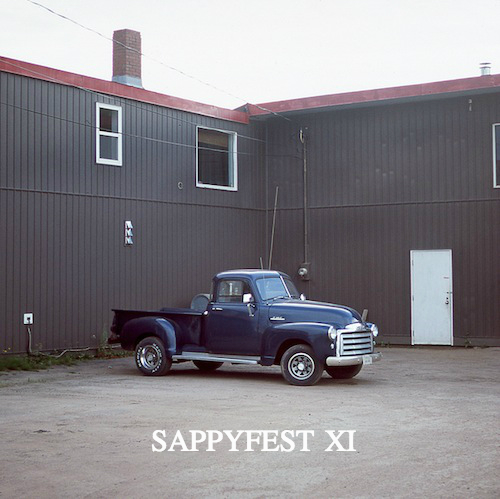 Photo by: Corey J. Isenor
Sappyfest XI

July 29th – 31st, 2016

Various Artists
Sackville NB
Des vagabondages nébuleux de Teddie Brock:
(Traduit par le désastre au chocolat de Maya Keshav)
Tu passes un autre été léthargique mis de côté dans les Maritimes? Secoue cette stupeur confortable en se promenant au cœur sentimental de Sackville au N.-B. cette fin de semaine, et savoure la lueur fluorescente d'un food truck fish-and-chips. Après, suscite ta propre recette du désastre avec Cupcake Ductape, Chocolat, Nancy Pants, et encore plus de petits plaisir saigres-doux faits-maison. Il n'y a nulle part ailleurs que nulle part.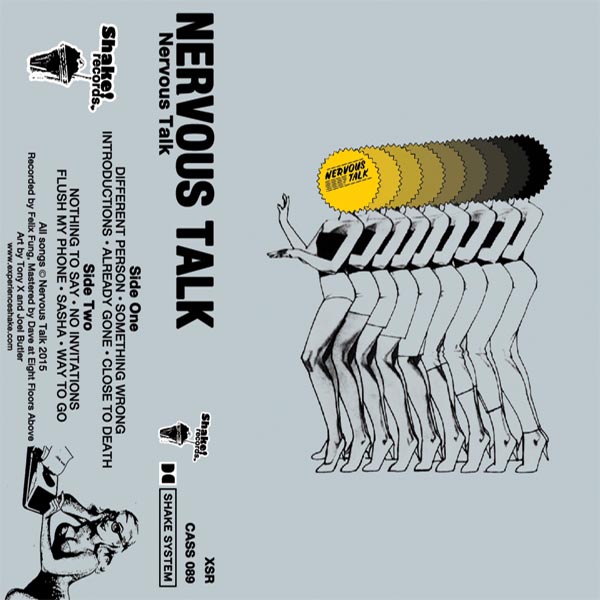 Nervous Talk
Nervous Talk
Vancouver, BC
From the rat face of Kyle Valade:
Nervous Talk's self-titled tape is a violent daydream on a Friday afternoon. Listening at work, you'll have no choice but to play some ferocious air drums while the guitar player throws in tastefully flashy touches all over the place. There's some 60's and 70's ground up and thrown into the mix, but you'll find yourself pining for going from show to show down Hastings. Walking late through the Downtown Eastside with its concrete, rats, and shipping containers, intersecting with pals you only see at shows, heading outside between bands, and listening to the real thing.
De la face de rat de Kyle Valade:
(Traduit par Sergio Calla)
La bande audio éponyme de Nervous Talk est une violente rêverie d'un vendredi après-midi. L'écoute au travail donne le gout de jouer sauvagement à la batterie invisible, alors que le guitariste démontre avec vigueur, son gout « tape à l'œil » charmant. Le mélange des années 60 et 70, donne envie de faire la tournée des spectacles le long du boulevard Hastings. Se promener tard à l'est d'un centre-ville tout en béton, les rats et les conteneurs d'expédition, croisant des copains que vous ne voyez que pendant l'entracte des shows tout en écoutant ce qui est authentique.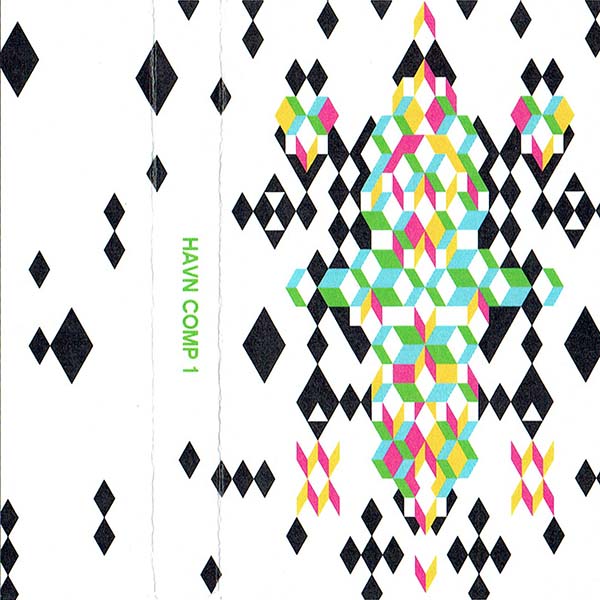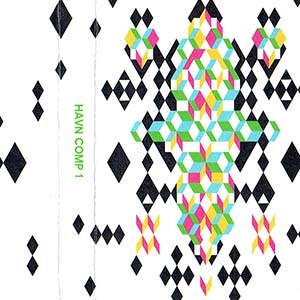 Various Artists
HAVN COMP 1
(HAVN)
Hamilton, ON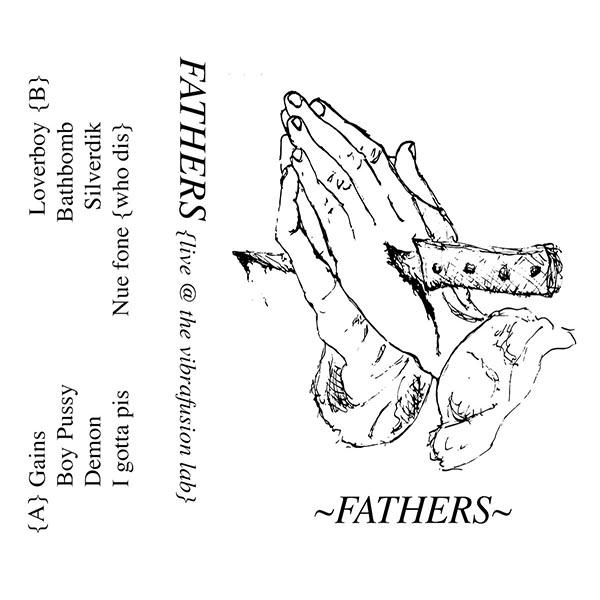 FATHERS
Live @ The Vibrafusion Lab
(Self-Released)
Toronto, ON
From the swollen finger muscles of Rachel Bellone:
Take your favorite dad jokes and turn them into dank memes. Then turn them back into dad jokes. In 30 years, dig them up out of a time capsule and write DIY punk riffs while eating a can of beans over the sink in your WW3 bunker. Even if you followed this recipe exactly, FATHERS could not be replicated. They were born from a web of underground Toronto punk bands and venues (RIP SHIBGB'S). FATHERS are both topical in content and timeless in style. I think it's safe to say we are all children of FATHERS.
Des muscles de doigts enflés de Rachel Bellone:
(Traduit par Julie Mayer)
Prends tes blagues poches préférées et transforme-les en mèmes d'enfer. Puis retransforme-les en blagues poches. Dans 30 ans, déterre-les d'une capsule temporelle et compose des riffs punk DIY tout en mangeant une boîte de haricots au-dessus de l'évier dans ton bunker de la Troisième Guerre mondiale. Même si tu as été fidèle à la recette, les FATHERS ne peuvent être reproduits. Le quatuor est issu d'une toile groupes et de salles appartenant au punk underground torontois (RIP SHIBGB'S). Les FATHERS ont à la fois du contenu actuel et un style intemporel. Je crois qu'on peut dire qu'on est tous les enfants des FATHERS.
---