Tag: psychedelic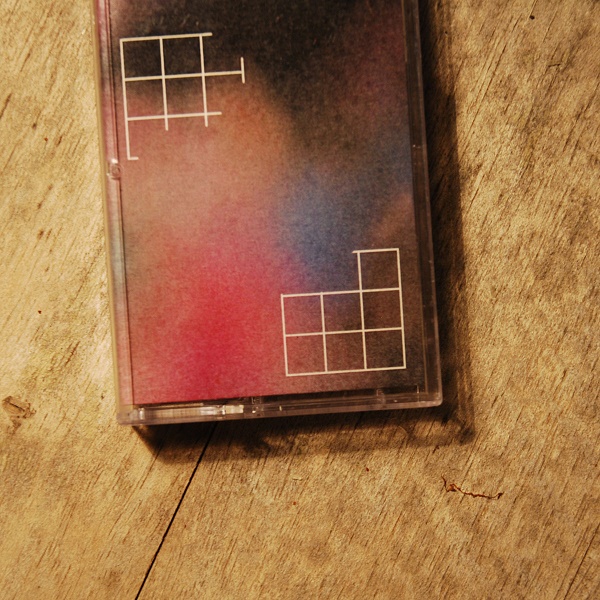 Philippe Vandal
Frag
Montreal, QC
From the splintered mind of Laura Stanley:
Our hearts once beat together. Their united sound displaced the loneliness that lived inside me for so long. But now, the loneliness has returned and I hear the ghosts of our former life: our fights, our joy, your favourite jazz record, the clatter of our dishes, the static from the TV when we forgot to pay our cable bill. In Frag, Montreal's Philippe Vandal summons distant discordance with forgotten feelings. Like us, these memories are fragmented and atonal. Together they sound as fearful of the future as I am.
De l'esprit fragmenté de Laura Stanley:
(Traduit par la mentalité capricieuse de Louis-Félix de Chevigny)
Nos cœurs ont autrefois battu à l'unisson. Ce battement synchronisé a repoussé la solitude qui vivait en moi depuis si longtemps. Maintenant, elle est de retour et je peux entendre les spectres de notre vie d'auparavant : nos chicanes, notre joie, ton disque de jazz favori, le bruit de nos assiettes, les parasites de notre télé la fois où nous avions oublié de payer notre facture de câble. Dans Frag, le Montréalais Philippe Vandal invoque, par des sentiments oubliés, une discordance lointaine. Comme nous, ces souvenirs sont fragmentés et atonaux. En les écoutant, on pourrait penser qu'ils sont aussi effrayés par le futur que je le suis.
The Winter Coats
Why So Monumental?
(Self-Released)
Fredericton, NB
From the chemical-crusted claws of Brian Cleveland:
The cryptically unknowable Frederictonian duo of Garcia and Le Noir have produced a sophomore record you'd be proud to learn was created in your neck of the woods. Updating fans infrequently, rarely releasing tunes, and playing shows even more interstitially, it's fair to assume they no longer exist at any juncture, but they've somehow surpassed the lifespan of many of their cohorts: Yellowteeth, Lee Harvey Oswalds, etc. Let Luis and Joel become your personal Boris or Glenn Branca.
Des griffes chimiquement tartreuses de Brian Cleveland:
(Traduit par Aliké Harel)
Cryptique et insondable, le duo frédérictonnais Garcia-Le Noir a produit un deuxième album qui, vous serez heureux d'apprendre, a été conçu dans la forêt près de chez vous. Le groupe mettant irrégulièrement leurs admirateurs au fait, lançant rarement de nouvelles chansons et étant en spectacle à intervalle encore plus irrégulier, il aurait été acceptable de croire que le duo s'était éteint à tout moment. Il a pourtant dépassé en longévité ses compères : Yellowteeth, Lee Harvey Oswalds, etc. Laissez Luis et Joel devenir votre Boris ou votre Glenn Branca bien à vous.
The Winter Coats – The Chymical Wedding of Christian Rosenkreutz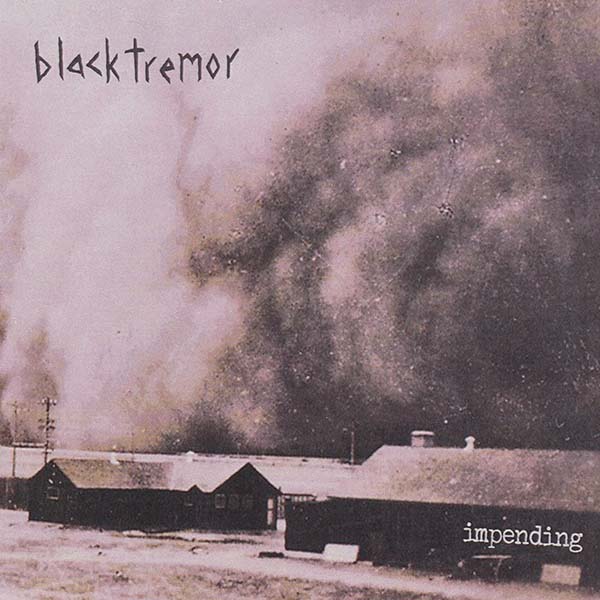 Black Tremor
Impending
(Self Released)
Saskatoon, SK
From the heavy, heavy light of Joshua Robinson:
Like older siblings, they are flame. Dancing at the mouth of the end of it all. Cracks in the welkin overhead; impending kismet. Noumena in mirrors. Siimilar yet singular, gaining reverence for a rapture forced rather than happened upon; conjured rather than readily given; spliced, destroyed and put back together again, all while calamity whispers unto itself that the break in the storm is the end of the beginning of the end. The blackening tremors below allude to the baser animism in us all; rattled, reckoned; the chasm is all that matters. We are all heavy in the light.
Par la lourde, lourde lumière de Joshua Robinson:
(Traduit par la tête animale d' Émily Traichel)
Comme les aînés de la famille, ils pètent le feu. Dansant là où la fin de tout débouche. Des fentes dans la voûte céleste; le destin imminent. Noumènes dans les miroirs. Semblables, mais singuliers, gagnant une révérence pour une extase forcée plutôt que tombée dessus; conjurée plutôt que donnée; épissée, détruite et à nouveau reconstruite, tandis que la calamité se chuchote que l'éclaircie après l'orage est la fin du début de la fin. Les tremblements noircissant d'en bas font allusion à l'animisme infâme à l'intérieur de nous tous; secoué, calculé; le gouffre est tout ce qui compte. Nous sommes tous lourd dans la lumière.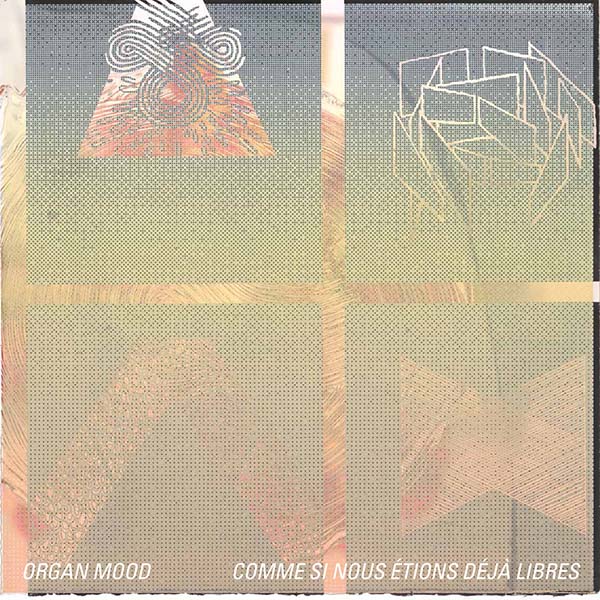 Organ Mood
Comme si nous étions déjà libres
(Self Released)
Montréal, QC
By the space dog of Nicolas Coutlée:
A bottle at interstellar sea, Comme si nous étions déjà libres washes ashore on a planet in perdition after a century of roving in orbit. Vinyl record from the past, vision of a magnified future, the artefact is engraved of the dreams and hopes of a bygone humanity. Galvanizing hymns to listen to in weightlessness, one hand on the heart, the other brandishing the flag of the united people. In the capsule, an instruction manual, primitive cartography of the galaxies travelled during their expedition through the stars. It's one simple record for man, but a mystifying record that will propel you far, far away.
Du chien de l'espace de Nicolas Coutlée:
(Translated by the cumulus castle of Émily Traichel)
Bouteille à la mer interstellaire, Comme si nous étions déjà libres s'échoue sur une Terre en perdition après un siècle d'errance en orbite. Disque de vinyle venu du passé, vision d'un avenir magnifié, l'artefact est engravé des rêves et espoirs d'une humanité révolue. Des hymnes galvanisants à écouter en apesanteur, la main sur le cœur, l'autre brandissant le drapeau des peuples unis. Dans la capsule, un livret d'instructions, cartographie primitive des galaxies parcourues lors de son périple à travers les étoiles. C'est un simple disque pour l'Homme, mais un disque mystifiant qui vous propulsera loin, loin, loin.
Organ Mood – Expérience cybernétique des signes de la main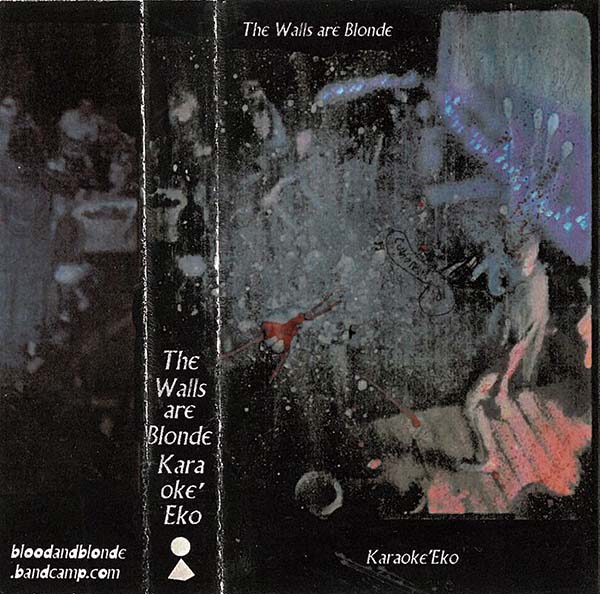 The Walls Are Blonde
Karaoke'eko
Montréal, QC
From the socks and sandals of Sam Joseph:
Here is the last bittersweet popsicle of a long-gone summer vacation. If you remember correctly, it was presented to you by the cheshire-grinned ice-cream man whose smile belied the fact he was ready to embark on a vacation of his own. You'd hoped the fun in the sun would never end. You'd vowed to see your first kiss again one day. You wanted to make that popsicle last forever. How naïve. Those golden days are mere memories – lost to the rear-view mirror of time from the moment Mom and Dad finished loading the minivan. Look at you now! Where did things go so wrong?
Des chaussettes dans les sandales de Sam Joseph:
(Traduit par le sorbet à la lime de Julie Mayer)
Voici le dernier popsicle doux-amer d'un congé estival révolu. Si tu t'en souviens bien, tu l'as reçu du marchand de glaces dont le sourire, évoquant celui du chat du Cheshire, dissimulait le fait qu'il était lui-même prêt à partir en vacances. Tu avais espéré que le plaisir au soleil ne finirait jamais. Tu t'étais juré de revoir un jour le partenaire de ton premier baiser. Tu voulais faire en sorte que ce popsicle dure toujours. Quelle naïveté! Ces jours radieux ne sont plus que de simples souvenirs, perdus dans le rétroviseur du temps à partir de l'instant où Maman et Papa ont fini de charger la fourgonnette. À présent, regarde-toi! À quel moment les choses ont-elles si mal tourné?
The Walls Are Blonde – I Count Tears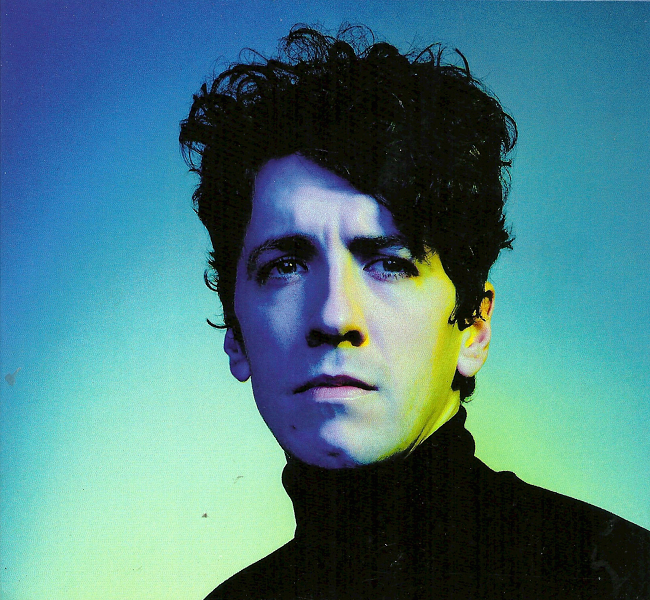 Blonde Elvis
On Vanity
Toronto, ON
From the ruby slipper of Katie Jensen:
A somber gigue leads a funeral procession through a damp cavern. Sconces of flickering candlelight bounce off slick, cratered rock. Venerable Britpop relics give a knowing wink from their influential promontories.
The procession nudges aside a heavy velvet curtain to reveal a psychedelic dance cave resplendent with glittering heavenly bodies. A troupe of well-dressed cavernicoles devour each other hungrily, wiping their mouths on shredded pop anthems.
A flautist gleefully unfurls a playful tattoo as a harpsichord circles the room giving vigorous handshakes. Crushing drumbeats anchor frayed synth vibratos and unholy harmonies. The wet air hums with hedonistic friction, ready to collapse and expand all at once.
De la pantoufle rubis de Katie Jensen:
(Traduit par les diamants sur canapé de Julie Mayer)
Une gigue sombre guide une procession funèbre à travers une grotte humide. Des candélabres aux chandelles vacillantes rebondissent sur de la roche glissante et couverte de cratères. De vénérables reliques de la britpop font un clin d'œil complice du haut de leurs promontoires influents.
La procession écarte un lourd rideau de velours pour révéler une caverne de danse psychédélique resplendissante de corps célestes scintillants. Une troupe de cavernicoles bien vêtus se dévorent les uns les autres avec avidité, s'essuyant la bouche sur des hymnes pop en lambeaux.
Une flûtiste déroule avec allégresse un tattoo enjoué tandis qu'un clavecin décrit des cercles dans la pièce et donne des poignées de main vigoureuses. De terribles battements de tambour ancrent des vibratos démêlés faits au synthé et des harmonies impies. L'air humide bourdonne d'une friction hédoniste, prêt à se contracter et à se dilater en même temps.
Blonde Elvis – Slow Fall On Egypt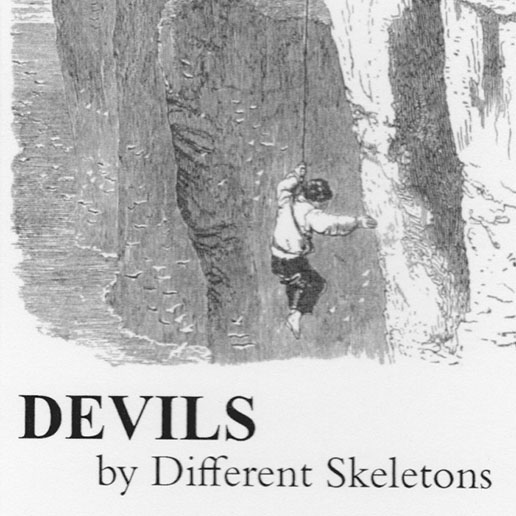 Different Skeletons
Devils
(Self Released)
Toronto, ON
From the echoed penumbrae of Joshua Robinson:
With intoned revelry, Toronto's Different Skeletons again emerge from the fulgent psychedelic pastures of the southernmost lairs of subterranean songlore. Shattering the crisp glow of nocturne, these parables of the sharpest lo-fidelity-glare power the centrifugal pull of bedrocked bodies away from their molten raison-d'etre. Shadows dance wildly in a mania of sulphuric melancholy; smiles aghast as penumbrae paint portraitures of the never-ending spiral of wrinkled glimmers as skies turn in on themselves; celestial bedding for the bodies below, bright and dark with the echoed trills of the sound of something falling apart to come together.
Des échos de la pénombre de Joshua Robinson:
(Traduit par Kevin Godbout)
D'un bruissement festif, Different Skeletons de Toronto, encore une fois, surface des pâturages lumineux psychédéliques de cavernes de chansons légendaires souterraines du sud. Faisant éclater la lueur vive nocturne, ces paraboles d'un fort éblouissement à basse fidélité actionnent la traction centrifuge de corps encrés dans le béton loin de leur raison d'exister au format liquide. Des ombres dansent follement, prises par une manie sulfurique mélancolique; des sourires atterrés tandis que la pénombre peint des portraits d'une spirale incessante de lueurs ridées à mesure que les cieux se tournent sur eux-mêmes; des couvertures célestes pour les corps terrestres, lumineux et sombres avec les échos excités du son de quelque chose qui tombe en morceaux pour ensuite se rassembler.
From the smoke-drenched greasy hair of Eddie & Alexis:
(Translated by Eddie & Alexis)
Dionysos is considered the first Québécois rock band with a full repertoire of originals. Proof may still be required, but they sure didn't need any covers! A bunch of stoner drifters from Valleyfield fuelled by Deep Purple and Mexican Gold took over the studio of Donald Lautrec, the king of yé-yé pop in Québec. There they recorded six heavy psychedelic progressive monsters, tightly wrapped in blues. Through the hypnotic organ spirals ("L'âge du Chlore") and bursts of fuzzed-up guitar ("Narcotique") singer Paul-André Thibert delivers a roaring worker's poetry on "Suzie," a song with lyrics always rhyming with its title. Yet we can't ignore P-A's performance on flute and harmonica. Most of the time, awkward, out of breath or flaky aren't great terms when it comes to music, but P-A gets to the core of these concepts as a raw, free, back-of-the-bus poet. Tripping way over the known parts of Québec rock at the time, Dionysos transcends Black Sabbath and Aut'Chose to become a revolted god who will fall into oblivion after its time.
Eddie & Alexis:
Dionysos serait le premier groupe rock québécois à avoir un répertoire entièrement francophone et formé de compositions. On ne sait pas si c'est complètement vrai, mais c'est tout un groupe rock et ils n'ont en effet pas besoin de faire de reprises. Une bande de zonards stoneurs de Valleyfield carburant au Deep Purple et au Mexican Gold ont pris d'assaut les studios de Donald Lautrec, le roi du yé-yé au Québec, avec un éventail de morceaux progressifs et psychédéliques solidement ancrés dans le blues. À travers des spirales d'orgues Hammond hypnotiques (L'âge du Chlore) et des déflagrations de guitare électrique (Narcotique), le chanteur Paul-André Thibert nous délivre une performance rugissante de poésie ouvrière. Notamment, dans Suzie, leur premier single, où il s'évertue à faire rimer toutes les lignes en i et laisse donc place à des phrases mémorables. On s'en voudrait également de ne pas donner une mention honorable à toutes les apparitions de flûte à bec et d'harmonica. En temps normal, les termes essoufflé, hésitant et mal à l'aise ne sont pas très bien vus pour parler d'instruments de musique, mais c'est mal connaître Thibert. En ses qualités de poète cru et libre, il réussit à en tirer le maximum et à puiser l'essence même de ces concepts. Voyageant bien au-delà des terres connues du rock québécois de l'époque, Dionysos transcende Black Sabbath et Aut'Chose et devient un dieu révolté qui tombera pourtant dans l'oubli.
Dionysos – Narcotique [extract]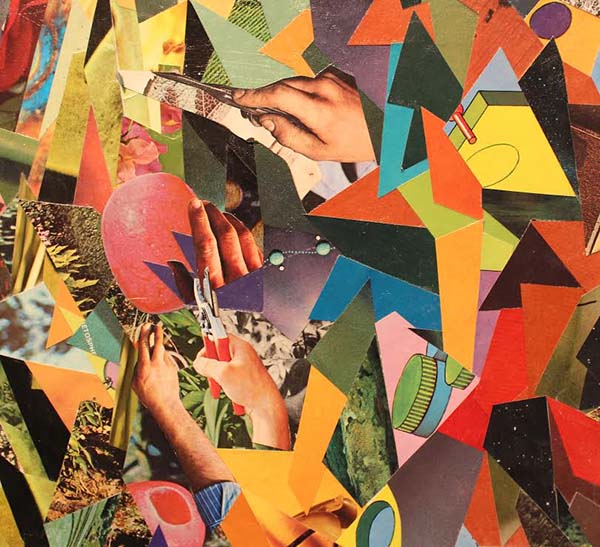 Zale To Infinity
Ghosts
(Self Released)
Montréal, QC
From the travelling blues of Heather Reid:
Ghosts is nothing less than the palpable sensation of movement, gliding through mental space. It's a naturalistic traipse through time. Opener "Dream/Intro" starts with the chiming of the bells, giving way to hushed singing laced through with energetic guitar melodies and snatches of folkiness. Swells of lyrics sound beautiful, but they fade like rotting pages into the past, melting into the music.
Gentle but precise, these are rhythmically forward-moving tunes that remember psychic lullabyes with harmonicas, organs, and electronic shimmers. Zale to Infinity captures the sunny moments of love and warm days, but through the portions of memory, through portals of wintry lonesomeness. Life remembered once your fadedness has made colours pop into the memories and shadows. And when the summer is here, it flashes in a blur of heat and late nights. Summer only really lives in warm sunny hues once we recline in the cold and relive it interiorly. These are songs for journeying, songs for haunting, songs to move through.
De la mélancolie voyagère de Heather Reid:
(Traduit par le blues d'été de Louis-Félix Pellerin)
Ghosts n'est rien de moins qu'une sensation palpable de mouvement, comme de se laisser planer parmi l'espace mental. C'est une déambulation naturaliste à travers le temps. Tout commence au son des cloches de « Dream/Intro », précédant de doux chants en unisson avec des mélodies de guitare énergétiques et de bribes de folk. Un flot de paroles sonne merveilleusement bien, mais s'estompe dans la musique, s'effritant telles des pages poussièreuses englouties par le passé.
Douces, mais précises, ces chansons qui vont rythmiquement de l'avant nous rappellent des berceuses psychiques parsemées d'harmonicas, d'orgues et d'éclats électroniques. Zale to Infinity capture les moments d'amour ensoleillés et les journées chaudes, mais à travers des fragments de mémoire et des portails de solitude glaciale. De la couleur jailli des moments que l'on croyait estompés une fois ceux-ci transformés en souvenirs, et illumine notre mémoire et ses ombres. À peine est-il arrivé, l'été tire déjà sa révérence à coup de vagues de chaleur et de soirées tardives. L'été n'est réellement que teintes chaudes et ensoleillées que lorsque l'on s'allonge au froid et qu'on repasse nos souvenirs. Ces chansons sont faites pour se lancer dans une aventure spirituelle vers des lieux étrangers et éphémères.

Zale To Infinity – A Song For Summer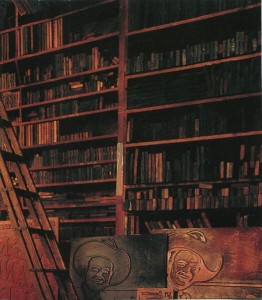 Organ Eyes
Poolside Sampler
(Self Released)
Ottawa, ON
From the tire swing of Chris Sayer:
Organ Eyes' Poolside Sampler can be heard as a concept album about the final summer moments with friends before parting ways. Songs like "Dog Gone" and "Shoot to Kill" are the soundtrack to rebellion, running away from responsibility and enjoying your last days of freedom. The distortion is reminiscent of cold water rushing past your ears with your first dive. "Tumble Dry" and "Red" represent the lethargic afternoons when time's on your side and everything around you seems to move slower. "Golden Wedding" embraces summer romance, sunbathing and the ecstasy of intimacy. It all swirls to a finish with "Sever", a fitting farewell until next season.
De la balançoire à pneu de Chris Sayer:
(Traduit sous les derniers rayons de soleil estivaux par Andréanne Dion)
Poolside Sampler de Organ Eyes' peut être écouté comme un album-concept qui parle des derniers moments estivaux entre amis avant que chacun ne poursuive son chemin. Des chansons comme « Dog Gone » et « Shoot to Kill» forment une bande-son qui invite à la rébellion, à éviter ses responsabilités et à apprécier ses derniers moments de liberté. La distorsion évoque la sensation de l'eau froide qui s'engouffre dans vos oreilles lors du premier plongeon. « Tumble Dry » et « Red » représentent les après-midis léthargiques où le temps est de votre côté et où tout ce qui vous entoure semble bouger au ralenti. « Golden Wedding » épouse les idylles d'été, les bains de soleil et l'extase de l'intimité. Le tout se termine avec « Sever », un adieu approprié jusqu'à la saison prochaine.
---