Tag: psych-punk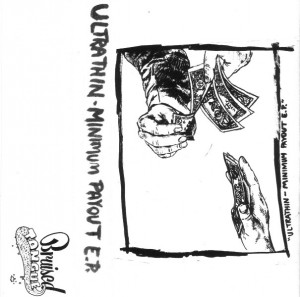 Ultrathin
Minimum Payout EP
Montréal, QC
From the downward spiral of Joni Sadler:
Montreal trio Ultrathin delve into otherworldly territory with this deeply psychedelic blast of fuzz-punk. Whether you prefer your jams fast and nihilistic or drawn out and spacey, these dudes have you covered. When they beckon you to "walk into the void," it's tough to ignore the call. Welcome to the next dimension.
De la spirale descendante de Joni Sadler:
(Traduit par les sons de Julie Forget)
Le trio montréalais Ultrathin plonge dans un territoire mystique avec cette explosion profondément psychédélique de fuzz punk. Que vous aimiez des rythmes rapides et nihilistes ou interminables et planants, ces types vous serviront. Quand ils vous demandent de « walk into the void » (marcher dans le vide), il est difficile d'ignorer l'appel. Bienvenue dans la prochaine dimension.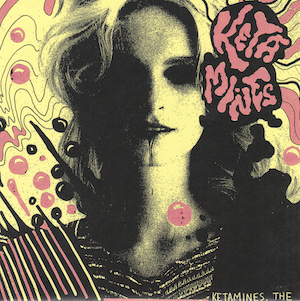 The Ketamines
Line by Line 7″
(HoZaC)
Lethbridge, AB
From the lethal cocktail of Michael Deane:
Sugary sweet melodies and psych-punk explosions collide, creating a perfect distillation of Nobunny bubblepop and Wicked Awesomes-styled monotoned haunt-rock. You're immediately drawn into a comforting K-hole, where you'll ingest a lethal cocktail of melody and hooks that is 2011's twee-punk single of the year, "Line by Line." The deceptively sweet opener (Note: The lines they sing about aren't lines of poetry) is just the start of a slippery slope. Hooks get buried, melodies get blurred and the atmosphere gets murkier as the 7" progresses, bringing a depth and range not normally seen on a debut. It's time to let these Lethbridge abusers lead you through the Gateway. GRIP.
Du cocktail létal de Michael Deane: (Traduit par Odile Leclerc)
Des mélodies aussi douce que de sucre et des explosions de punk psych s'entrechoquent, créant la parfaite distillation d'éclatement de bulle de Nobunny et du haunt-rock monotoné des Wicked Awesomes. Vous êtes immédiatement attirés dans un réconfortant trou-K, où vous allez ingérer un cocktail létal de mélodie et d'accroches qui sont le solo de punk-sensible de l'année de 2011, ''Line by Line''. L'ouverture trompeusement douce (note : les lignes`à propos desquelles ils chantent ne sont pas des lignes de poésie.) n'est que le début d'une pente glissante. Les accroches se font enterrées, les mélodies deviennent floues et l'atmosphère devient plus sombre alors que le 7'' progresse, apportant une profondeur et un étendue qui ne sont normallement pas vus sur un début. C'Est le temps de laisser ces abuseurs de Lethbridge vous guider à travers la Passerelle. ATTRAPEZ.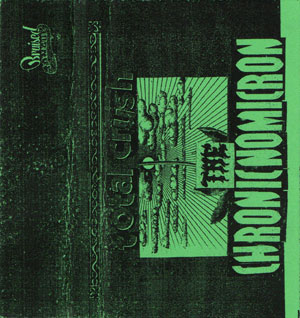 Total Crush
The Chronicnomicron
Ottawa, ON
From the prime dimension of Aaron Levin:
Sprawling, voltronic psych-punk featuring executives from Ottawa's greatest little secret (read: Bruised Tongue). Their droning free magyk is buried beneath unruly synthesizer tantrums and transdimensional holleramas that trace vibrant visions of Ottawa's translucent underground. The tape works best as an imaginative tool, granting insight into the wild nest of bewilderment fermenting at Bruised Tongue HQ. Ten rough live recordings with one epic twenty-four minute jam. Unique packaging featuring a cassette nestled within a folded version of this amazing poster.
De la première dimension d'Aaron Levin:
(Traduit par Maya Keshav)
C'est le psych-punk étendu et voltronique qui met en vedettes les cadres du meilleur petit secret d'Ottawa (ça veut dire: Bruised Tongue). Leur magie libre et bourdonnante est enterrée sous les caprices ingérables de synthé et les hurlegrammes transdimensionnelles qui tracent les visions vives de l'avant-garde translucide d'Ottawa. La cassette marche mieux en tant qu'outil imaginatif, qui donne une idée du nid sauvage de perplexité qui fermente chez le QG de Bruised Tongue. Dix enregistrements crus en live avec un énorme morceau de 24 minutes. L'emballage est unique, en mettant en vedette une cassette empaqueté par une version pliée de cette magnifique affiche.

Total Crush – Three Legged Bird

Total Crush – Heart Crane
---