Tag: proto-punk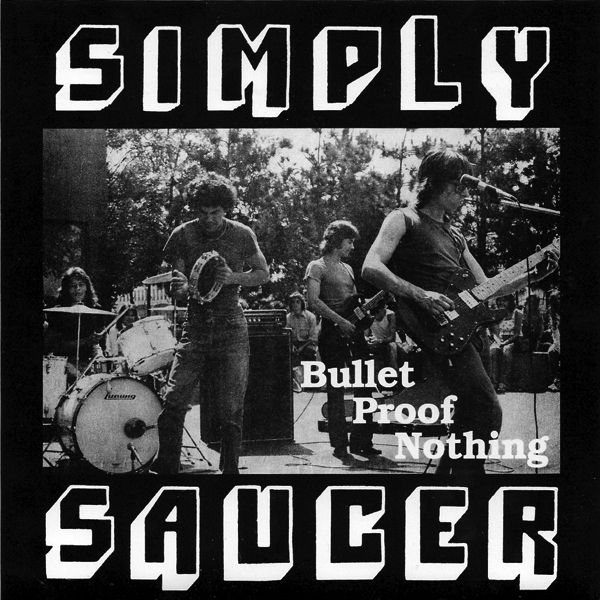 Simply Saucer
Bullet Proof Nothing
Hamilton, ON
From the point blank target of James Lindsay:
Here's a fantasy 7" that never was, but should have been, from Hamilton's once lost but now found golden sons, Simply Saucer. This song and its notorious chorus, from the group's legendary posthumous LP Cyborgs Revisited, finds the Steeltown cosmic-punks phasing out of their usual MC5 interstellar overdrive and basking in the warm glow of a big star. The b-side delivers a revved up live version that makes you want to add a date to your time machine's itinerary. Many thanks to Mammoth Cave for making this happen, and to Ugly Pop for coming up with the "what if" single concept.
De la cible à bout portant de James Lindsay:
(Traduit avec la plume enchantée de Geneviève Simard)
Voici un disque vinyle 7 pouces qui n'a jamais été fantasmé, mais qui aurait dû l'être, de la part des précieux fils d'Hamilton Simply Saucer, autrefois perdus, mais maintenant retrouvés. Cette chanson des membres célèbres du légendaire LP posthume Cyborgs Revisited montre les punks cosmiques de Steeltown qui abandonnent leur habituel MC5 interstellar overdrive pour se délecter de l'éclat chaleureux de Big star. La face B comprend une version en spectacle survoltée qui donne envie d'ajouter une date à l'itinéraire de sa machine à remonter le temps. Un grand merci à Mammoth Cave pour avoir permis à ce vinyle de voir le jour, et à Ugly Pop pour avoir trouvé le concept du single « what if ».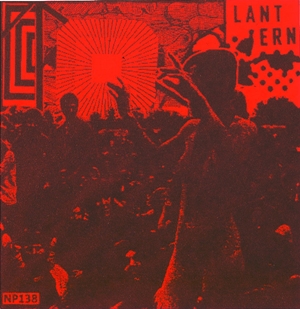 Lantern
Stranger I Come. Stranger I Leave.
Halifax, NS // Montreal, QC // Phila., PA
From the Chevy Chase face of Tobias Rochman:
With this newest offering, Lantern have fully harvested their Hasil Adkins hee-haw while continuing to bury themselves alive in a blizzard of Bo's beats. What am I talking about? A refreshing bad-breath, proto-punk, Rat Fink mud bath in which you can finally erase your pockmarked Chevy Chase face. You the listener are transported via the filth to the absolute crispiest and most burnt ends of the fuzz n' buzz spectrum. There are too many notes in the solos to say they sound like The Cramps, but you get the idea. The opening title track steers the clearest, with an instrumental dub-stomp my co-workers agree is trippy. Lantern is the best band in North America.
Du visage Chevy Chase de Tobias Rochman: (Traduit par la crasse de Maya Keshav)
Avec cette dernière création, Lantern ont moissonné complètement leur hi-han à la Hasil Adkins pendant qu'ils continuent de leur enterrer vivants dans un blizzard des rythmes de Bo. De quoi je parle? Un bain de boue rafraîchissant de mauvaise haleine, de proto-punk et de Rat Fink dans lequel tu peux effacer enfin ton visage grêlé de Chevy Chase. En tant qu'écouteur tu es transporté via la crasse aux extrêmes les plus croustillants et brûlés de la gamme de duvet et bourdonnement. Il y a trop de notes dans les solos pour dire qu'ils ont l'air de The Cramps, mais tu comprends l'idée. La titre-chanson d'ouverture reste la plus à l'écart, avec un dub-stomp instrumental à propos duquel mes collègues sont d'accord: c'est psychédélique. Lantern est le meilleur groupe de l'Amérique du Nord.
Lantern – Stranger I Come. Stranger I Leave.
---