Tag: pregnancy scares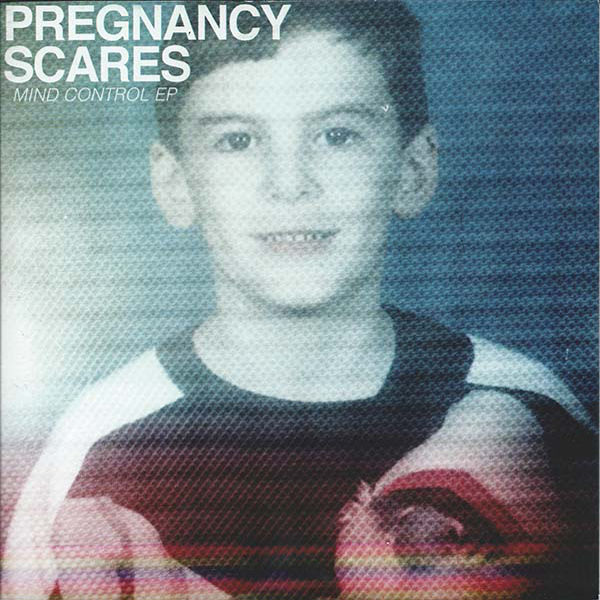 Howled chants hypnotize, rotting into feedback frequencies of confusion. Is the incessant pounding real or just inside your head? It doesn't matter — anger always takes the bait. Childhood shame rises out the chest, twists for air and collapses into decay upon the expulsion, a doom spit nightmare of desperate delirium. Memories snap their teeth before going in for another bite, proving cerebral hysteria breeds from the inside out. Death may be a terror, but modern life is war.
Pregnancy Scares
Mind Control EP
Ottawa, ON
From the turmoiled talons of Alanna Yaraskavitch:
Howled chants hypnotize, rotting into feedback frequencies of confusion. Is the incessant pounding real or just inside your head? It doesn't matter — anger always takes the bait. Childhood shame rises out the chest, twists for air and collapses into decay upon the expulsion, a doom spit nightmare of desperate delirium. Memories snap their teeth before going in for another bite, proving cerebral hysteria breeds from the inside out. Death may be a terror, but modern life is war.
Des serres tourmentées d'Alanna Yaraskavitch:
(Traduit par Jessica Grenier)
Des chants hurlés, hypnotisants, qui se décomposent en des fréquences confuses de feedback. Et ce martèlement incessant, il est réel ou juste dans ma tête? Ça ne changerait rien – la colère réagit toujours. De vieilles hontes d'enfance sortent des poitrines, serpentant en cherchant de l'air avant de se transformer en pourriture une fois expulsées : le tragique crachat cauchemardesque d'un délire désespéré. Les souvenirs font claquer leurs mâchoires avant d'arracher une autre bouchée, preuve que l'hystérie cérébrale nait de l'intérieur. La mort soulève peut-être la terreur, mais la vie moderne, c'est la guerre.

Pregnancy Scares – Master Race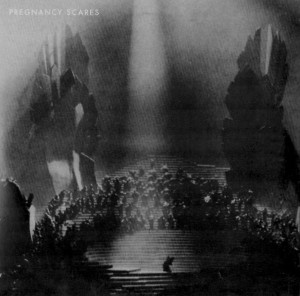 Pregnancy Scares
7"
(Deranged)
Ottawa, ON
From the gut wrench of Alex Bourque:
If you ever find yourself at one of Pregnancy Scares' shows, you'll probably be in and out in 10 minutes, covered in someone else's spit, with your heart trying to beat its way out of your chest. The Ottawa hardcore warriors' Deranged debut is no departure from their live set: relentlessly quick rhythms and dirty guitar leads, topped off with gut-wrenching vocals. Fasten your seatbelts, kids.
Des entrailles déchirées d'Alex Bourque:
(Traduit par le cœur battant d'Andréanne Dion)
Si jamais vous vous retrouvez à un show de Pregnancy Scares, vous serez probablement sortis en 10 minutes, couvert des crachats de quelqu'un d'autre, alors que votre cœur bat à vous en sortir de la poitrine. Le premier album de ces guerriershardcore d'Ottawa, paru sur Deranged, n'est pas différent de leur performances live : des rythmes rapides sans relâche et des guitares sales, couronnés de voix qui vous déchirent les entrailles. Attachez vos ceintures, les enfants.
Pregnancy Scares – Cross-Eyed Man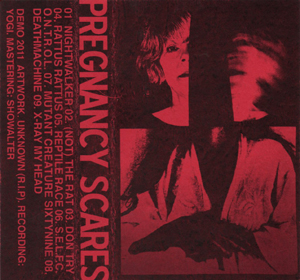 Pregnancy Scares
Demo
(Self Released)
Ottawa, ON
From the mutilated hit maker of Aaron Levin:
The Pregnancy Scares manifesto is relentless; an incipient chaos of guitarmageddon obliterating every conical speaker polar-left of Ottawa. The mayhem starts with 20 seconds of tonal stasis before driving your face through "Nightwalker"'s parabolic shreddery. Their infinite calamity grinds endlessly as each epic (clocking an average of 59.3 seconds) churns through a power nine of diamond-dense hardcore. Grip-mode squad from the co-founder of Bruised Tongue.
Du faiseur de hit motile d'Aaron Levin:
(Traduit par Odile Leclerc)
Le manifeste de Pregancy Scares est incessant; un chaos naissant de guitarmageddon oblitérant chaque haut-parleur conique polaire, restant d'Ottawa. La débâcle commence avec 20 secondes de stase tonale avec de pousser votre face à travers le déchirage parabolique de "Nightwalker". Leur calamité infinie grince sans fin alors que chaque épic (frappant une moyenne de 59.3 secondes) tourne à travers une puissance neuf de hardcore à la densité de diamant. L'escadron du mode attrape du co-fondateur de Bruised Tongue.
[audio:http://weirdcanada.com/wp-content/uploads/2011/08/01-Nightwalker.mp3|titles=Pregnancy Scares – Nightwalker] Pregnancy Scares – Nightwalker
[audio:http://weirdcanada.com/wp-content/uploads/2011/08/05-Reptile-Race.mp3|titles=Pregnancy Scares – Reptile Race] Pregnancy Scares – Reptile Race
---