Tag: preacher katie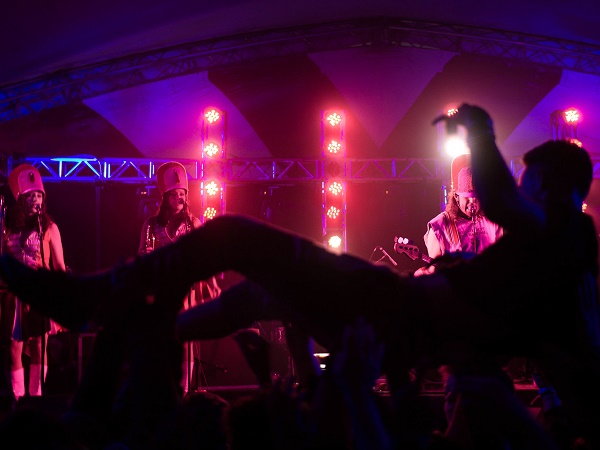 Dawson City Music Festival (DCMF)
Dawson City, YK
From the frost bitten toe of Preacher Katie:
Set in the whiskey drinking miner's heart, Dawson City Yukon gathers travellers, gamblers, ramblers, huskies and artists alike to celebrate the 38th annual Dawson City Music Festival. Once the epicentre of the Klondike Gold Rush, Dawson City's scenery hasn't changed too much. Smoke a cigar while the piano is drunk because you're in a surreal dream set in 1896.
Walk from venue to venue on the dirt roads in the midnight sun with a backdrop of colourful saloons, mountains and the vast Yukon river. Get tipsy and listen to the festival's all-Canadian line-up, either in an old stain glassed church, a circus tent, a grassy knoll by the river, or stroll to other offbeat stages scattered throughout Dawson City. With a familial sideshow of eccentric characters, this music festival is one for the rusty bucket list.
"I love how very extraordinary lives are lived so casually here" Mozart's Sister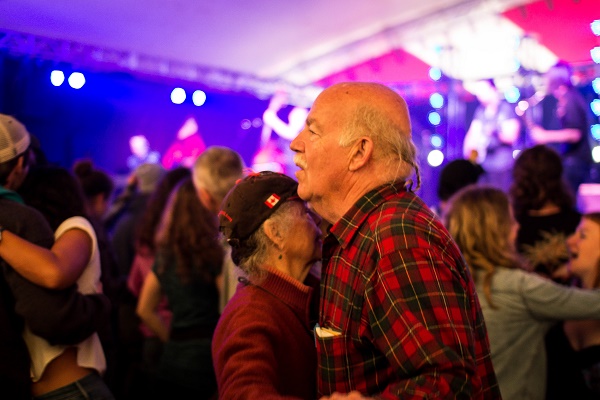 Photo Credit: Preacher Katie
A stolen intimate moment at the Minto Park Mainstage tent area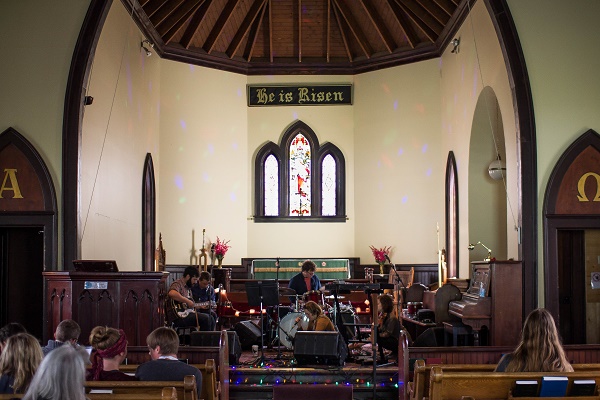 Photo Credit: Preacher Katie
During an Effective Effects performance, Merganzer, Mozart's Sister and Old Cabin joined forces for an experimental set where they asked the crowd to tell them about a dream they have had, then the musicians interpreted the audience member's dream through unique sounds. This session resonated through St. Paul's Anglican Church with beautiful acoustic.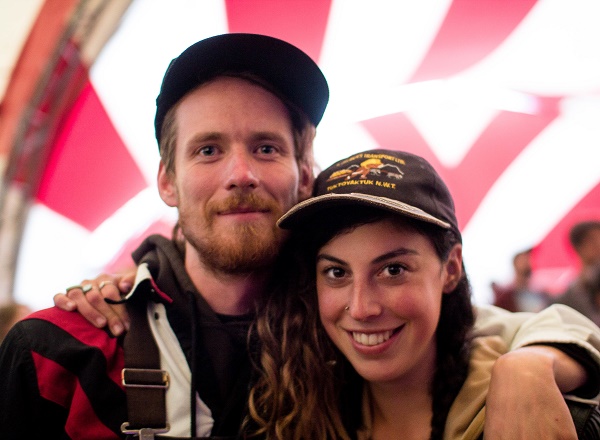 Photo Credit: Preacher Katie
Two locals' perspective on the festival Justin Apperley (Left) Emily Cypher (Right).
Justin Apperley (Local attendee) "The festival always brings a massive influx of people to the city, I like seeing it come alive with a new energy".
Emily Cypher, Owner of Bonana Jellybeans DIY, a caravan/gallery space "I loved being a vendor and showing off the artistic talents of the north in my new caravan store. Our town is the best kept and not so kept secret heaven and it's always cool to open the doors for a bit and see what magic happens!"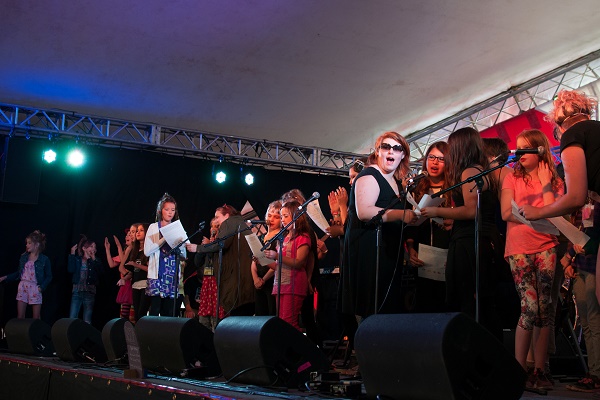 Photo Credit: Aaron Woronuik
Yukon Girls Rock Camp perform on DCMF's Mainstage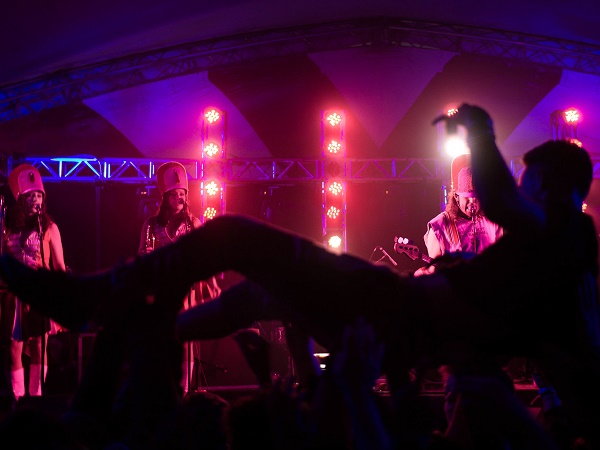 Photo Credit: Preacher Katie
The Wet Secrets from Edmonton had audience members surfing the crowd.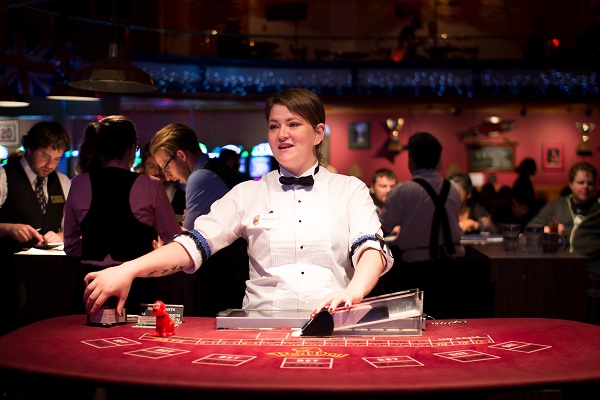 Photo Credit: Preacher Katie
A blackjack dealer at Diamond Tooth Gerties
It's hard to sleep when the sun doesn't set and you're wandering around a dim lit town drunk. The rarest part of DCMF is that when the festivities end, the town doesn't. Play blackjack at the saloon and watch Cancan dancers perform for you at Gerties Diamond Tooth Saloon, watch more music at The Pit with local bands like The Midnight Sons or do a shot with a real frost bitten toe in it at The Downtown Hotel. You will never want to leave.
De l'orteil avec une engelure de Preacher Katie:
(Traduit par Maya Keshav)
Se déroulant dans le cœur d'un mineur buveur de whiskey, La Cité de Dawson au Yukon rassemble les voyageurs, les gageurs, les radoteurs, les huskies et les artistes voisins pour célébrer le 38e Festival de Musique de Dawson City. Autrefois l'épicentre de la ruée vers l'or du Klondike, le décor de Dawson City n'a pas tellement changé. Fumer un cigare pendant que le piano est saoul parce que vous êtes dans un rêve surréel se déroulant en 1896.
Marchez de site en site sur les routes de terre dans le soleil de minuit avec en arrière plans des saloons colorés, des montagnes et le vaste Yukon. Devenez pompette et écoutez le programme entièrement Canadien du festival, soit dans une vieille église aux vitres tachées, une tente de cirque, une butte de gazon près de la rivière, ou promenez-vous aux autres scènes différentes éparpillées à travers la Cité de Dawson. Avec un spectacle familial de personnages excentriques, ce festival de musique en est un pour une bucket list rouillée.
« J'aime à quel point les vies extraordinaires sont vécues avec tant de désinvolte ici. » Mozart's Sister.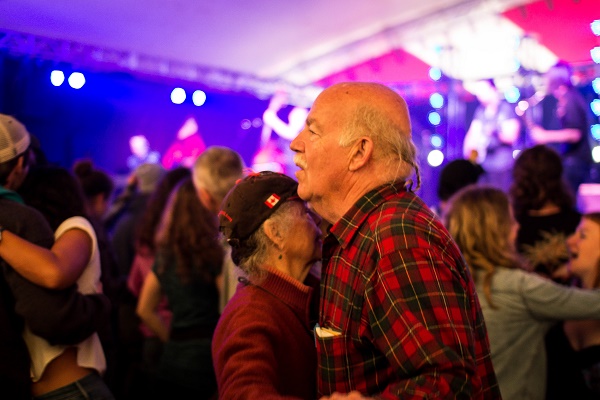 Crédit photographique: Preacher Katie
Un moment intime volé dans la zone principale de la tente de Minto Park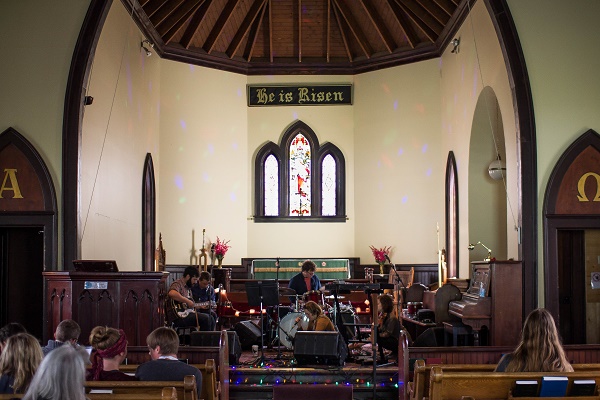 Crédit photographique : Peacher Katie
Durant une performance de Effective Effects, Merganzer, Mozart's Sister et Old Cabin ont joint leurs forces pour un ensemble expérimental où ils ont demandé à la foule de leur parlé à propos d'un rêve qu'ils ont eu, puis les musiciens ont interprété le rêve du membre de l'audience à travers des sons uniques. Cette session a résonné à travers l'église anglicane de St. Paul avec des sons acoustiques magnifiques.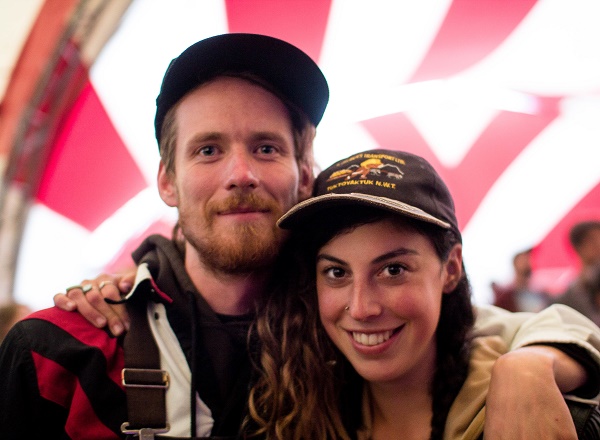 Crédit photographique: Preacher Katie
La perspective de deux locaux sur le festival, Justin Apperley (à gauche) et Emily Cypher (à droite)
Justin Apperley (participant local) « Le festival apporte toujours un flux massif de gens à la cité, j'aime les voir prendre vie avec une nouvelle énergie. »
Emily Cypher, propriétaire de Bonana Jellybeans DIY, un espace caravan/gallerie « J'aime être une vendeuse et mettre en valeur mes talents artistiques du nord dans mon nouveau magasin caravan. Notre ville est un paradis secret et bien connu en même temps et c'est toujours cool d'ouvrir les portes pour un moment et voir la magie! »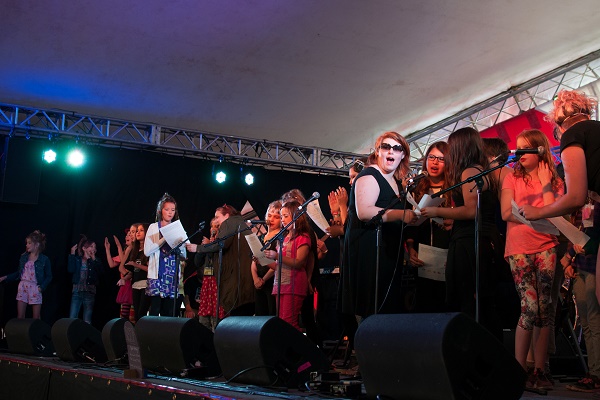 Crédit photographique: Preacher Katie
Un camp Rock Feminin du Yukon performe sur la scène principale de DCMF.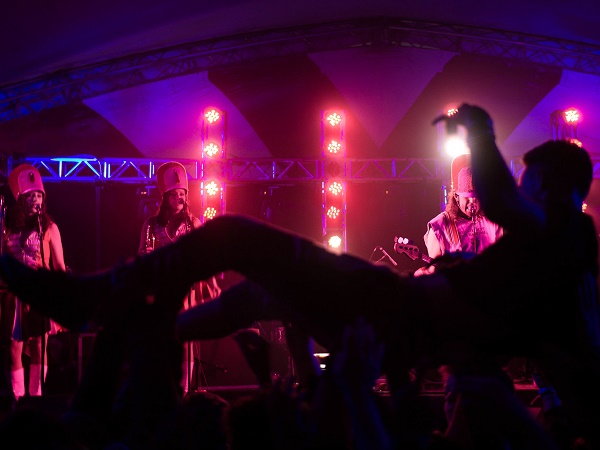 The Wet Secrets d'Edmonton avait des membres du public surfant la foule.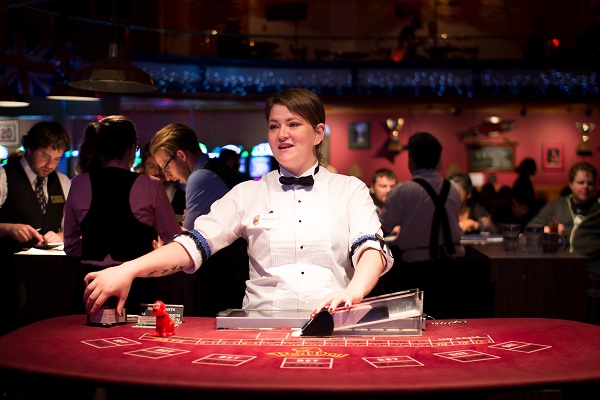 Crédit photographique: Preacher Katie
Un croupier de blackjack à Diamond Tooth Gerties
C'est dur de dormir quand le soleil ne se couche pas et que vous errez autour d'une ville faiblement éclairée, saoul. La partie la plus rare de DCMF c'est quand les festivités se terminent, la ville n'arrête pas. Jouez au blackjack au saloon et regardez les danseuses de cancan performer pour vous au saloon Gerties Diamond Tooth, regardez plus de musique au The Pit avec des groupes locaux comme The Midnight Sons ou faites un cul sec avec un orteil vraiment gelé à l'hôtel du centre-ville. Vous ne voudrez jamais partir.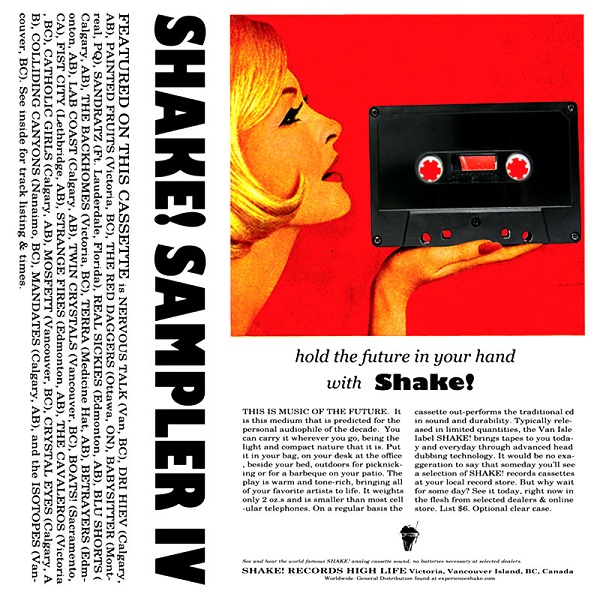 Various Artists
Shake! Sampler IV
Victoria, BC
From the curdling milk of Preacher Katie:
"Hold the future in your hand" while drinking a strawberry milkshake in your other hand that was made by a lady named Ronda from Dennys. No need to leave your lawn chair these days because Shake! Records delivers everything you need, contained into Shake!'s IV sampler cassette is 23 different bands of North America's best. So shake it, twist it, smoke it, squirt it and chug it to this sun-kissed mix tape. Make sure you remember to bring all the boys to the yard.
Du lait caillé de Preacher Katie:
(Traduit par la saveur magnifique de Maya Keshav)
« Tiens l'avenir dans ta main » pendant que de l'autre tu bois un milkshake à la fraise qui a été préparé par une dame qui s'appelle Ronda from Dennys. Pas besoin de quitter ta chaise longue ces temps-ci parce que Shake! Records fournit tout ce dont tu as besoin; la cassette IV de Shake! contient un échantillon de 23 des meilleurs groupes de l'Amérique du Nord. Alors, secoue-le, tourne-le, fume-le, injecte-le et descends-le avec cette compilation bronzée. Assure-toi de ne pas oublier d'amener tous les garçons dans la cour.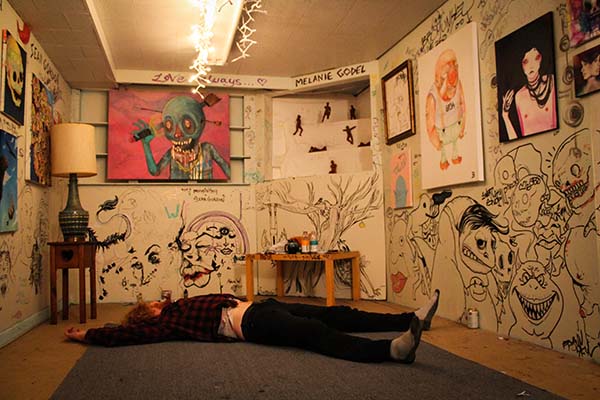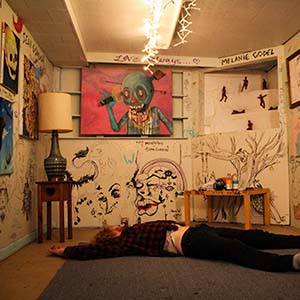 Crace Mountain
Artist Space
Capacity: Nominally, ~100, attendances of 300+ have been observed
Accessability: 19+
Nanaimo, BC
From the crushing door of Sam Joseph:
Crace Mountain exists as a place for Nanaimo's local artists to stretch their legs, as the "mother of music, art and culture in Nanaimo's underground." Birthed in 2011, Crace's footprint has recently expanded – the venue's proprietors have acquired the adjacent property, giving rise to a Crace complex affectionately known as "Craceland." I sat down with boss mama (and Wyrd contributor) Preacher Katie in July 2015.
Sam: Who were the founders of Crace? You're not exactly old, and by that metric, you and your friends must have been just kids when you started off here.
Katie: One of them was in Hag Face,as well as Bash Brothers with another lovely lady. They started it. Then a few years later they had to move out to different pastures. I had been there for about half a year when they asked me if I wanted to keep Crace going. I didn't know what the hell I was doing at first, but I gave it a go.
I've been here the longest and many friends have moved in, it's definitely been a house/community effort.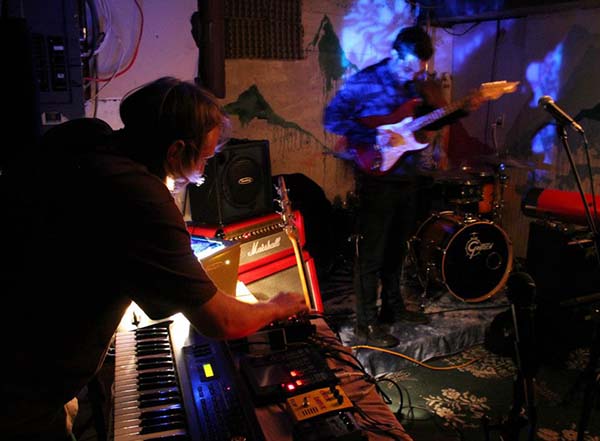 Sam: Why "Crace Mountain?"
Katie: It's on Crace Street, and it's on a small little hill. Now that we have both lots, we've been calling it "Craceland."
Sam: What confluence of factors lead to the development of Crace Mountain?
Katie: Frustration with being unable to play alternative music in Nanaimo… having to pay bar fees or having a huge cut taken off. Mostly just not being allowed to play the type of music certain bands wanted to play; there weren't other places letting that happen at the time.
Sam: Most significant event in the venue's history?
Katie: Our Halloween shows are really fun. We've had an annual Halloween event where we get most of the bands we really want and it gets out of hand and everyone's in costumes. Those are significant events.
I'd say our best event was when we had Apollo Ghosts and Karl Blau and Mount Eerie play – that was a really cool show; big names to have in the basement, in my eyes. There was a sort of a realization that we could actually get those kinds of names.
Canada Day (2015), we had 20 bands play. (This show was the opener of SHAKE/ARAMA II, a tour of Shake! Records acts.)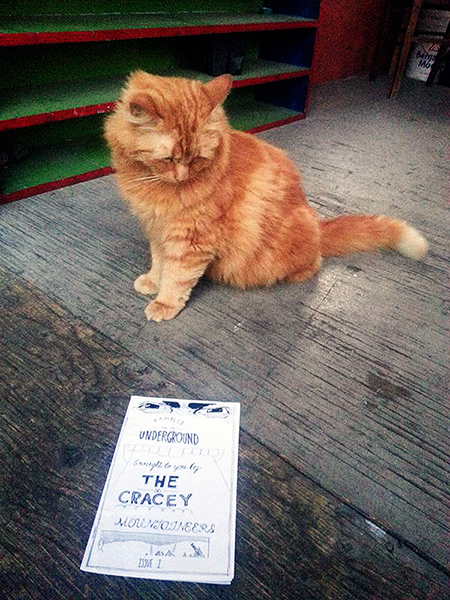 Pete the cat examines a copy of the Crace zine.
Sam: You guys have just started a zine!
Katie: I found a zine book at Literacy Nanaimo. I've always loved zines, but this one had a more scholarly perspective of alternative culture, and what it means to make zines – how they don't have any structure. So I was like, yeah, let's make one! Everyone here likes things being done right and artistically and thought-out, but we all just got high one night and decided that whatever the fuck we put on paper had to go in, whether we liked it or not. I think the funnest part about doing this is that we decided to not give a shit and just put it out there. I'm happy with how it turned out. So it started out of art night, basically.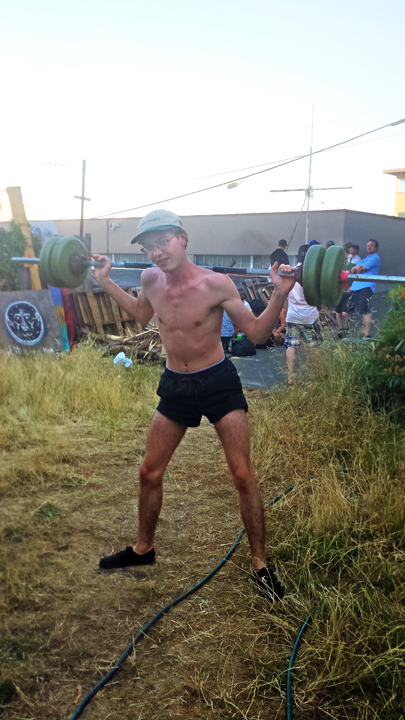 Jakob Nielsen of Girlfrend, A.K.A. Naked Chillen, sweating to the oldies. 
(Photo credit: Jon Varley of Painted Fruits)
Sam: You've had some weird and wonderful people come through these doors. Without naming names, could you tell us a story about a particularly interesting guest or guests you've had at Crace?
Katie: I remember one night, we had a guy stabbing the wall with knives – not necessarily violently, but kind of. We've had people camp out and stay way too long – we'd come home and they'd be in the hammock. I think we have a very safe environment and so there's a lot of people who feel welcome. There's only been a couple of situations where things have gotten out of hand, and other than that, people have been really respectful. But it definitely is a magnet for weirdos and alternative people!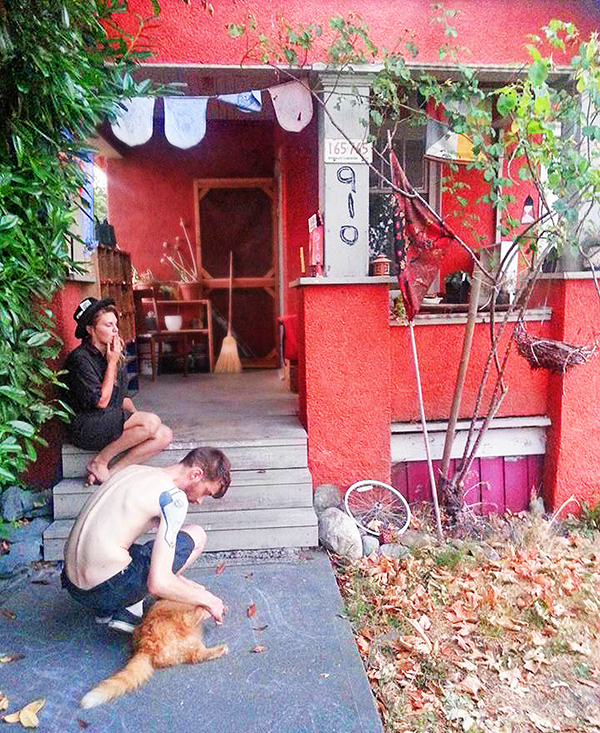 Sam: What's next for Crace?
Katie: More burlesque events. Right now, Richard is working on a possible projection outside of Sound Heritage and the Cambie. Bringing in more multi-media theatre (to Richard and Stefan) What are some upcoming projects at Crace Mountain?
Stefan: Soulsucker!
Katie: Soulsucker! We want to have a festival in September (2015)…
Richard: A three-day festival – every medium you can think of, and some that you haven't even thought of before! At least ten different DIY venues around the South End and downtown core. At least two outdoors.
Stefan: Ten? I was thinking seven (laughs)
Katie: Another zine…
Richard: Some all-ages shows…
Katie: A garage sale…
Richard: Block. Party.
Katie: Archery. Pellet guns.
Richard: Kiddie pool. Gotta maintain the kiddie pool and put lifeguards in…
Katie: Garden.
Richard: Gotta make sure Pete's happy and fed and that he's getting lots of love.
Katie: !! I still really want to get a transmitter again. We used to have pirate radio. I want to do that again – a little radio station. •
Par la porte écrasante de Sam Joseph:
(Par les vents féériques d' Émily Traichel)
Fondé sur une frustration générale par rapport au manque d'espaces expressifs, Crace Mountain se veut une place permettant aux artistes locaux à Nanaimo de s'étirer les jambes, étant la «mère de la musique, de l'art et de la culture underground à Nanaimo.». Enfanté en 2011, la portée de Crace s'est étendue dernièrement – les propriétaires de la salle ont fait l'acquisition de la propriété adjacente, créant ainsi un complexe Crace connu sous le nom affectueux de «Craceland.»* J'ai rencontré la boss mama Preacher Katie (également contributrice à Wyrd) en juillet 2015.
Sam: Qui sont les fondateurs de Crace? Tu n'es pas forcément âgée, et donc par inférence, tes amis et toi ne deviez être que des enfants lorsque vous avez commencé ici. B.
Katie: Une d'entres elle était membre de Hag Face, ainsi que Bash Brothers avec une autre dame sympathique. C'est elles qui l'ont lancé. Ensuite quelques années plus tard elles ont dû déménager à de pâturages différents. J'y étais pendant à peu près 6 mois quand elles m'ont demandé si je voulais prendre la relève pour Crace. Je n'avais aucune espèce d'idée de ce que je faisais au départ, mais je m'y suis lancée.J'ai habité ici le plus longtemps et de nombreux amis ont emménagé. Ça a vraiment été un effort de communauté dans cette maison.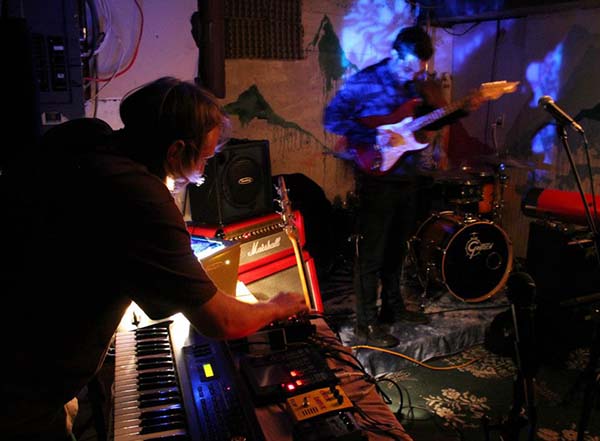 Sam: Pourquoi « Crace Mountain »? C.
Katie: C'est sur la rue Crace et c'est sur une toute petite colline. Maintenant qu'on a les deux terrains, on a commencé à l'appeler «Craceland.»
Sam: Quelle confluence de facteurs a mené au développement de Crace Mountain?
Katie: La frustration de ne pas pouvoir jouer de la musique alternative à Nanaimo… devoir payer des frais aux bars ou se faire enlever un montant de la paie. Surtout ne pas pouvoir jouer les genres de musique que certains groupes voulaient jouer; il n'y avait pas d'endroits qui le permettaient à l'époque.
Sam: Et l'évènement le plus marquant dans l'histoire de la salle?
Katie: Nos spectacles d'Halloween son vraiment l'fun. Nous en avons eu un où nous avons reçu la plupart des groupes qu'on aime et ça devient hors contrôle et tout le monde est en costumes. Ce sont des évènements marquants.
Je dirais que notre meilleur spectacle était quand Apollo Ghosts et Karl Blau et Mount Eerie sont venus jouer – ça, c'était vraiment cool; des grands noms à recevoir dans le sous-sol, à mes yeux. Il y avait une sorte de prise de conscience que nous pouvons en fait recevoir ces types de noms.
Lors de la fête du Canada (2015), on a eu 20 groupes qui ont joué. (Ce spectacle était l'ouverture de SHAKE/ARAMA II, une tournée des numéros de Shake! Records.)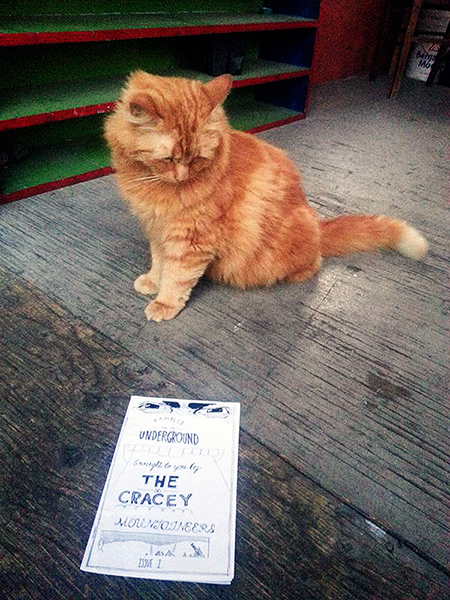 (Sous-titre: Pete le chat examine une copie du zine de Crace. )
Sam: Vous venez de partir un zine!
Katie: J'ai trouvé un livre zine à Literacy Nanaimo. J'ai toujours adoré les zines, mais celui-ci avait une perspective plus érudite de la culture alternative, et de ce que ça veut dire de fabriquer des zines – de la façon qu'ils n'ont pas de structure. Alors je me suis dit, ouais, créons-en un! Tout le monde ici aime que les choses se fassent comme il faut et artistiquement et de façon réfléchie, mais on s'est juste tous défoncés un soir et on a décidé qu'il fallait inclure tout ce qu'on mettait sur papier, qu'on aime ou non. Je pense que la partie la plus l'fun dans tout ça c'est qu'on a décidé de s'en foutre et de tout simplement le publier. Je suis contente de la façon que ça a tourné. Alors, c'est parti d'une soirée d'art, dans le fond.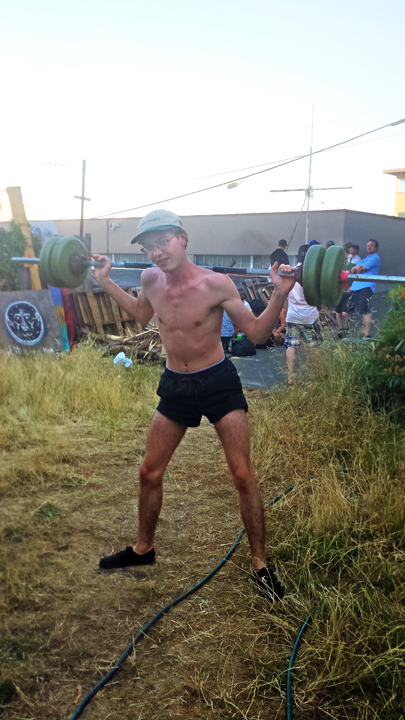 Jakob Nielsen de Girlfrend, aussi connu sous le nom de Naked Chillen, en train de suer en écoutant les oldies. (Crédit photo: Jon Varley de Painted Fruits)
Sam: Vous avez reçu du monde bizarre et merveilleux à travers ces portes. Sans donner de noms, pourriez-vous nous raconter une histoire au sujet d'un(e) ou plusieurs invité(e)(s) particulièrement intéressant(e)(s) que vous avez eu(e)(s) chez Crace?
Katie: Je me souviens qu'un soir, on avait eu un gars qui poignardait les murs avec un couteau – pas nécessairement de façon violente, mais un peu. On a eu des gens qui ont campé et qui sont restés beaucoup trop longtemps – on rentrait chez nous, puis on les retrouvait dans le hamac. Je pense que nous avons un environnement très sûr et donc il y a beaucoup de gens qui se sentent bienvenus. Il n'y a eu que quelques situations où les choses sont devenues hors contrôle, autrement, les gens ont été très respectueux. Mais c'est définitivement un aimant pour les weirdos et les personnes de culture alternative!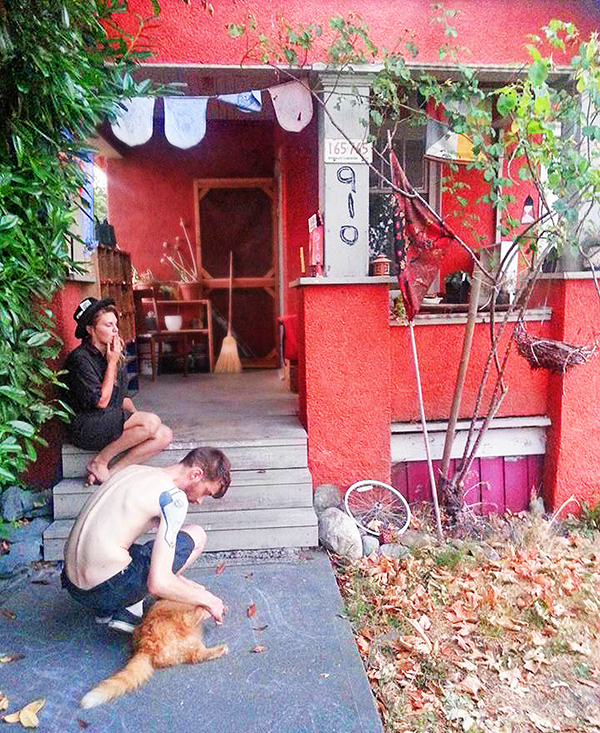 Sam: Quel est le prochain chapitre pour Crace?
Katie: Plus de soirées burlesques. Actuellement, Richard s'occupe d'une projection qui aurait possiblement lieu en dehors de Sound Heritage et de la Cambie. Présenter plus de théâtre multimédia. (envers Richard et Stefan) Quels sont certains des prochains projets chez Crace Mountain?
Stefan: Soulsucker!
Katie: Soulsucker! On veut avoir un festival au mois de septembre (2015)…
Richard: Un festival de trois jours – tous les médiums imaginables, et quelques-uns qui ne vous sont jamais même venus à l'esprit! Au moins dix salles DIY différentes à travers la région du sud et au coeur du centre-ville. Au moins deux à l'extérieur.
Stefan: Dix? Je pensais sept (il rit)
Katie: Un autre zine…
Richard: Quelques spectacles pour tous les âges…
Katie: Une vente de garage…
Richard: Un party. De quartier.
Katie: Du tir à l'arc. Des fusils à plomb.
Richard: Une pataugeoire. Il faut entretenir la pataugeoire et y ajouter des sauveteurs…
Katie: Un jardin.
Richard: Il faut s'assurer que Pete est content et bien nourri et qu'il reçoit plein d'amour.
Katie: !! Je veux toujours vraiment acquérir un émetteur radio. On avait déjà eu une radio pirate. Je veux faire ça à nouveau – une petite station de radio. •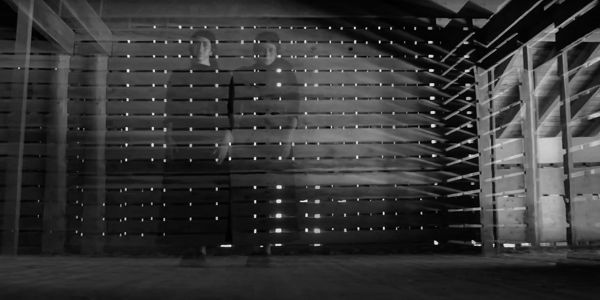 Ora Cogan
End of Nowhere
(Directed by: Angelo Scaia)
Vancouver, BC
From the bush whacked Preacher Katie:
Creeping guitar twangs of Ora Cogan linger on black 'n white reels while you brace yourself on the old, weathered barndoor of your double vision lucid dream. Old haunts of Sibylle Baier and Vashti Bunyan bush-whack through the farmer's hay bales and you're lost in the dark again, but this time you know there is nowhere else to go.
De Preacher Katie l'assommée:
(Traduit par les mèches graisseuses de Julie Mayer)
Les sons insidieux issus des cordes pincées par Ora Cogan s'attardent sur les bobines en noir et blanc tandis que vous vous cramponnez à la vieille porte de grange patinée de votre rêve lucide à vision double. De vieux repères évoquant Sibylle Baier et Vashti Bunyan se frayent un chemin à travers les balles de foins du fermier. Vous vous perdez encore dans le noir, mais cette fois vous savez qu'il n'y a plus nulle part où aller.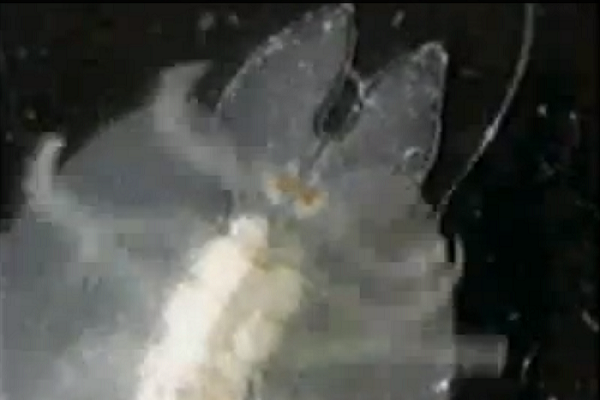 Colliding Canyons
Tsaxis
Nanaimo, BC
From the diseased flea bitten squirrel tails of Preacher Katie:
Colliding Canyons' parasitic visionary dial tones are infectious. As a friendly host, they crawl under your skin to create a symbiotic relationship that multiplies into various melodic shapes. This new microscopic disease will recycle the vital organisms you let shrivel up and die.
Des queues d'écureuil pleines de puces de Preacher Katie:
(Traduit par les abonnés proliférants de Benoit Arcand)
Les tonalités parasitaires et visionnaires de Colliding Canyons sont contagieuses. Elles rampent sous votre peau d'hôte accueillant et y établissent une relation symbiotique d'où prolifèrent les formes mélodiques les plus variées. Cette nouvelle maladie microscopique recyclera les organismes vitaux que vous laissez se désagréger et mourir.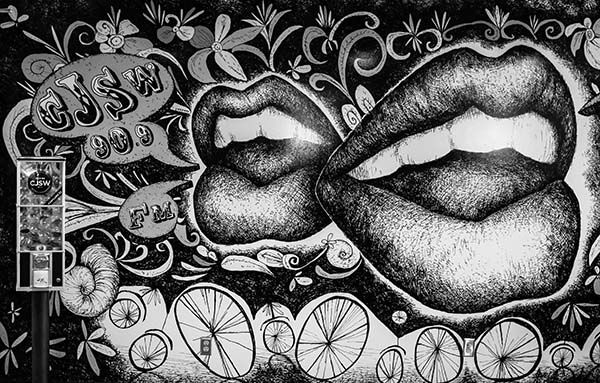 Calgary's CJSW 90.9FM Campus and Community Radio Station
Calgary, AB
From the duct-taped corners of Preacher Katie:
Through the neat and tidy hallways of the University of Calgary lays CJSW 90.9FM, Calgary's solitary campus and community radio station. CJSW is whispered through the radio circuit to be a cut above campus and community radio stations, upon 30 seconds of arriving it becomes clear why this title follows. The walls are colorful with thoughtful designs, the type of designs that are organized with effort. Kind staff and volunteers work diligently at their individual desks. No corner is duct taped, no paint is peeling and no toilet seat is covered in piss. Equipped with three closed offices, a meeting room, three production rooms, an on air booth, an extensive physical music library, a tech room, a kitchen and spacious communal area, CJSW is not your average campus and community radio station. It is an establishment.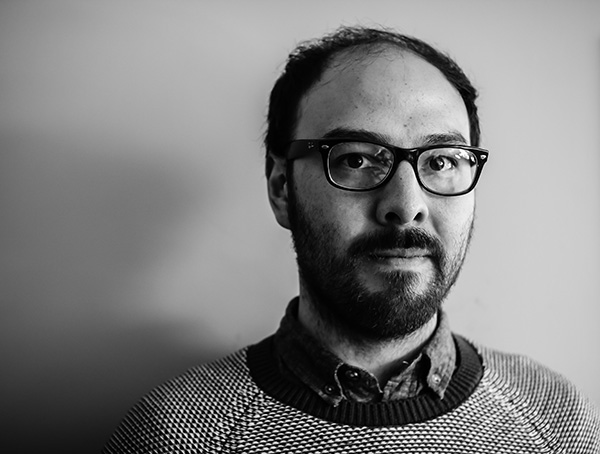 Whitney Ota, the music director sheds an in-depth overview of the station:
His own label: Unit Structure Sound Recordings
PK: What do you think is special about CJSW?
W: There is a pretty incredible community here. It is a family. We just moved up here a couple of years ago from the basement. The old CJSW was rougher around the edges. We are the only station that plays experimental music, metal, punk, noise and have a commitment to local and developing artists that no other station in town has. We are the only station in Canada that I'm aware of that has an experimental chart. I am really into experimental music. My love for experimental music spans many genres. In each genre of music, I appreciate those that are doing something unique and interesting. Things get really boring when you hear the same ideas rehearsed over and over again; I'm always interested in hearing boundaries being pushed. I love challenging art in all forms, it is exciting that Weird Canada is getting into covering "weird" written word, video and other forms of art. It's an exciting time for us weird Canadian weirdos.
The live band room is becoming more developed; this is going to be a big project for this next year. We are working towards becoming the best live band room in the country, better even than CBC.
PK: In what ways is CJSW working towards this goal?
W: Everything really, we want to look at the way it is designed, the interior decorating, the gear- making sure it is state of the art. Most importantly the sound, making sure that everything sounds amazing. We also want to get it setup with video cameras and such, so that we can video tape all of the sessions that come through. That is sort of the big project we are looking at for this year. More podcasting. We also got a bigger tower put up recently, therefore we get to broadcast with greater range now.
PK: Why do you work here?
W: Well music of course, is my passion. A job that I get to listen to music all day long is just ideal for me, it's crazy. It's a great atmosphere; the people I work with are fantastic. I mean I have been to a few other stations, and I have never seen a station like this before. I think people are kind of surprised when they come in, they expect that campus and community vibe, where things are less organized, though I love that. But I feel like it is very establish here, within itself and the Calgary music scene.
PK: Is there an artist, event, person or song that brought you to CJSW? Why did you decide to get involved?
W: The first time CJSW rang out for me, was when I was in high school, I remember the day, I turned on the radio and there was this crazy track that sounded like it was two separate tracks played at the same time. It was like this crazy weird noise, experimental thing. And I was like, how the hell is this on the radio? This is crazy. And I remember the numbers, 90.9FM. I kept listening over and over. Eventually I thought: I need to find out who these people are! So I just came in, started volunteering, and eventually I got my own show- years later and yeah…now I work here as the music director. Its pretty fun!
PK: Who should we listen to in Calgary?
W: Valiska, he is doing really beautiful ambient electronic music, his stuff is world class. That is kind of what I search for, is this from Calgary I ask myself. If it is from Calgary then it's not really my taste.
PK: Then what would you consider is Calgary's sound?
W: I don't know, there is a pretty hardcore community here; a lot of people are kind of into that stuff. I am into it but Valiska is doing something really unique for a Calgary sound. There is a sound, like the Garbage Daze kids. A lot of them are in the same bands, it is almost an incestuous sound. There is a limited amount of creative people in Calgary, most have to work with the same people and switch it up. There is a weird aggressive tone. Calgary music is kind of intense. That is why I bring up Valiska, he is just doing something completely different from a totally different angle. I think it is something Calgary needs, something beautiful to listen to. Alberta Hardcore!
PK: How is your station supporting WC bands and why do you think this is important?
W: Weird Canada is doing a fantastic job of covering Canadian music that doesn't have many other outlets in the written media. Weird Canada is an amazing resource for up-and-coming artists as well as those that are just too strange to really have anyone else care enough to write about them. CJSW has a similar mandate to help nationalize micro-communities from local areas. It can be difficult for local bands to break out of their communities, but WC/CJSW are doing our best to help spread the word. It can help these bands establish fan-bases outside of their areas which can help with touring, album sales etc!
PK: Why should people keep listening to radio?
W: I don't think radio will die anytime soon. As long as people have radio dials, there will be radio stations playing music and delivering content to listeners. I feel that mainstream radio will lose value over the years, but campus/community stations will become more and more vital as we will be some of the only resources around that represent our local community. With the help of internet radio and online podcasting, we will be able to spread the word even further that there is amazing stuff coming out of Calgary. Campus/community radio is all about sharing ideas; getting people talking and informing people of important issues or things that are happening in our communities. With a million and one online music resources available, it can become overwhelming trying to decide which to listen to, especially as many of them do not engage at all with local communities.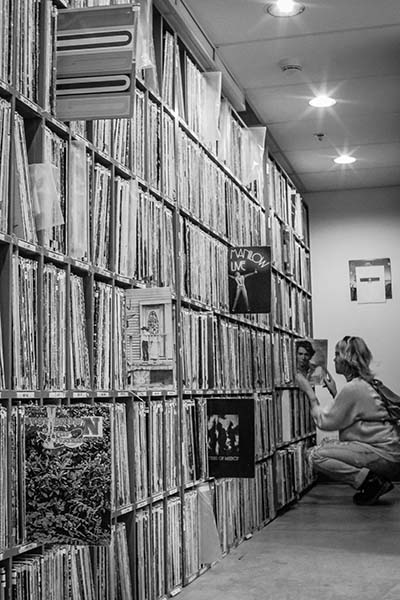 CJSW is a musical foundation for bands, they offer big and small time bands a great degree of professionalism. Bands that play live in CJSW's band room receive great publicity through the stations high amount of listeners and supporters. In addition, bands that may not have access to a studio or equipment are able to acquire a quality recording of their music. Hag Face is among many that have used their recordings from the studio to publish an album on bandcamp. Thus CJSW continues to be a huge supporter of Canadian and independent music.
Des coins couverts de duct tape de Preacher Katie:
(Traduit par Jessica Grenier)
La station radio étudiante et communautaire de Calgary, CJSW 90.9FM, se cache derrière une série de corridors proprets de l'Université de Calgary. Entre les branches radiophoniques, on chuchote qu'elle est une coche au-dessus des autres stations radio étudiantes et communautaires – et on comprend pourquoi quelques secondes après y être arrivé. La décoration des murs (les couleurs et le design), est visiblement réfléchie, du genre qui demandé beaucoup de travail. Les employés et les bénévoles – tous amicaux – travaillent assidument à leurs bureaux respectifs. Pas de duct tape dans les coins, ni de peinture écaillée, ni de siège de toilette recouvert d'urine. Plutôt trois bureaux fermés, une salle de réunion, trois salles de production, une cabine de diffusion, une vaste bibliothèque (physique) de musique, une salle de technologie, une cuisine et un espace communautaire spacieux. CJSW n'est pas une station radio étudiante et communautaire typique : c'est un établissement.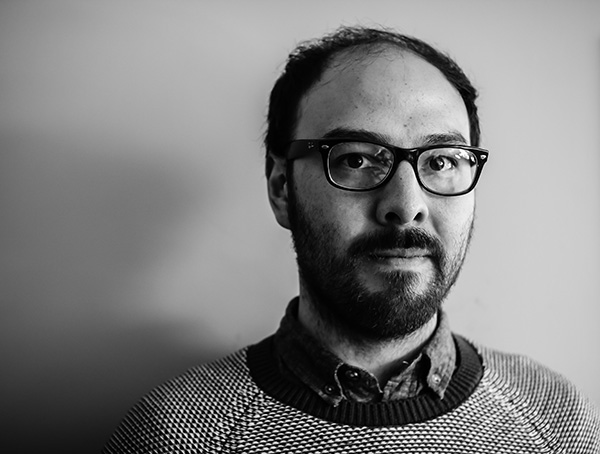 Whitney Ota, le directeur musical, décrit le parcours de la station :
Son propre label : Unit Structure Sound Recordings
PK : Qu'est-ce qui rend CJSW si spéciale?
W : Ici, l'esprit de communauté est vraiment génial. C'est une famille. Avant, on était dans le sous-sol, le déménagement jusqu'ici s'est fait il y a environ 2 ans. L'ancienne CJSW était un peu plus brouillon. On est la seule station en ville qui diffuse de la musique expérimentale, du métal, du punk, du noise et qui encourage activement les artistes locaux et émergents. À ma connaissance, on est la seule station au Canada qui a un classement de musique expérimentale. J'adore la musique expérimentale, et cet amour touche plusieurs genres de musique. Particulièrement ceux qui font quelque chose d'unique et d'intéressant. Ça devient ennuyant quand on entend toujours les mêmes idées se répéter. Ce qui m'intéresse, c'est quand on repousse les limites. J'aime l'art provocateur sous toutes ses formes, c'est excitant de voir Weird Canada se pencher sur la couverture de mots écrits, de vidéos et d'autres formes d'art « weird ». C'est une époque excitante pour nous, les "weirdos" de Weird Canada.
La salle de musique en direct se développe de plus en plus, ça va être un gros projet pour l'année qui vient. On travaille à ce qu'elle devienne la meilleure du pays, même meilleure que celle de CBC.
PK : Comment CJSW travaille-t-elle pour y parvenir?
W : C'est dans tout ce qu'on fait : tant dans la façon dont elle est conçue (la décoration intérieure), que l'équipement – en s'assurant qu'il est à la fine pointe. Mais surtout, on s'assure que le son soit génial pour tout. On veut aussi installer des caméras vidéo et tout, pour pouvoir enregistrer les séances qui s'y passent. C'est pas mal le gros projet que nous avons en vue cette année. Plus de podcasting. Aussi, une tour plus grosse a été installée récemment, alors on a une plus grande portée de diffusion.
PK : Pourquoi travailles-tu ici?
W : La musique est évidemment ma passion, donc un travail, si je peux passer la journée à écouter de la musique, c'est vraiment l'idéal, c'est fou. L'atmosphère est géniale, les gens avec qui je travaille sont fantastiques. J'ai déjà été dans d'autres stations, mais je n'en ai jamais vu une comme ici. Je pense que les gens sont toujours un peu surpris quand ils arrivent : ils s'attendent à une atmosphère étudiante et communautaire, à ce que les choses soient moins organisées – même si c'est quelque chose que j'aime aussi. Mais j'ai l'impression que la station est vraiment établie ici, en elle-même et dans la scène musicale de Calgary.
PK : Est-ce qu'il y a un artiste, un événement, une personne ou chanson qui t'a amené ici? Pourquoi as-tu choisi de t'impliquer chez CJSW?
W : Je me rappelle la première fois que j'ai entendu CJSW, j'étais à l'école secondaire. Un jour, j'ai ouvert la radio, et il y avait une piste folle qui sonnait comme si deux pistes différentes étaient jouées en même temps. C'était un genre de noise expérimental vraiment bizarre. Je me suis dit : « Voir que ça joue à la radio? C'est fou! » Je me suis souvenu des chiffres (90.9 FM) et j'ai continué a écouté le poste de radio. J'en suis venu à me dire : il faut que je sache qui sont ces gens! Alors, je me suis présenté, je suis devenu bénévole; j'ai eu mon émission des années plus tard et ouais… maintenant je suis le directeur musical. C'est vraiment plaisant!
PK : Qu'est-ce qu'on devrait écouter à Calgary?
W : Valiska fait de la belle musique électro ambiante, de calibre mondial. C'est ce genre de truc que je recherche. Je me demande : est-ce que c'est de Calgary? Si oui, ce n'est pas vraiment mon genre.
PK : Alors selon toi, quel serait le son de Calgary?
W : Je ne sais pas… il y a une communauté assez hardcore ici et beaucoup de gens ont l'air d'aimer ça. J'aime aussi, mais Valiska fait quelque chose de vraiment unique pour un son de Calgary. Il y a un son comme celui de la clique de Garbage Daze. Beaucoup des musiciens font partie des mêmes groupes : ça donne un son presque incestueux. La quantité de gens créatifs à Calgary est limitée, alors la plupart ont à travailler ensemble et changent de groupe de temps en temps. Il y a une tonalité agressive et étrange. La musique de Calgary est assez intense. C'est pour ça que je mentionne Valiska : il fait quelque chose de complètement différent et d'un angle totalement différent. C'est quelque chose de beau à écouter, et je pense que Calgary en a besoin. L'Alberta est hardcore!
PK : Comment la station encourage-t-elle les groupes mentionnés sur Weird Canada et pourquoi penses-tu que c'est important?
W : Weird Canada fait un excellent travail en traitant de ce type de musique canadienne qui n'a pas vraiment d'autre place dans les médias écrits. C'est une ressource sans pareil pour les artistes de la relève comme pour ceux qui sont juste trop bizarres pour intéresser quelqu'un d'autre à écrire à leur sujet. CJSW a un mandat similaire qui est celui d'aider à nationaliser les microcommunautés locales. Faire parler de soi peut être difficile pour les groupes locaux, mais WC et CJSW font de leur mieux pour passer le mot; ce qui peut aider ces groupes à se faire des fans dans d'autres régions et permettre des tournées, des ventes d'albums, etc.!
PK : Pourquoi les gens devraient-ils continuer à écouter la radio?
W : Je ne pense pas que la radio soit près de mourir. Aussi longtemps que les gens auront des cadrans radio, il va y avoir des stations qui vont diffuser leur musique aux auditeurs. J'ai l'impression que la radio grand public va perdre en valeur dans les années à venir, mais les radios étudiantes/communautaires vont devenir de plus en plus vitales puisqu'elles seront les seules ressources représentant les communautés locales. Avec l'aide de la radio sur internet et du podcasting, on va pouvoir répandre encore plus tous les trucs géniaux qui se font à Calgary. Le but d'une radio étudiante/communautaire est de partager les idées, de faire discuter les gens et de les informer sur les problèmes importants ou ce qui se passe dans leur communauté. Avec les milliers de ressources musicales accessibles en ligne, il peut être très difficile d'essayer de trouver quelque chose à écouter, surtout quand la plupart des stations s'engagent très peu dans les communautés locales.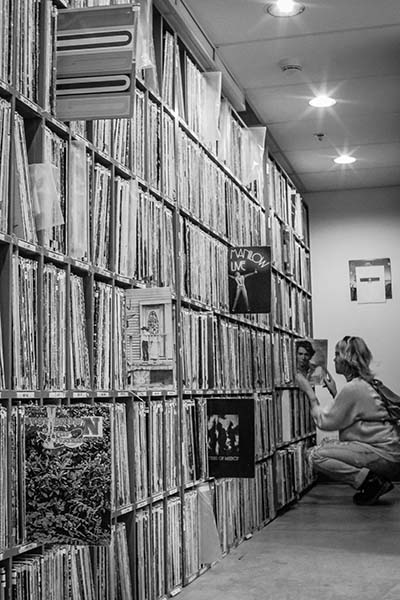 CJSW est une fondation musicale qui œuvre avec beaucoup de professionnalisme auprès des groupes petits et grands. Les groupes qui jouent en direct dans la salle de musique de CJSW reçoivent une excellente publicité auprès de ses très nombreux auditeurs et partisans. De plus, elle offre un accès à un studio ou à de l'équipement qui permet d'obtenir des enregistrements de qualité – ce qui n'aurait pas nécessairement été possible pour certains groupes. Hag Face est au nombre de ceux qui ont pu utiliser leurs enregistrements du studio pour publier un album sur Bandcamp. CJSW continue donc d'être un important défenseur de la musique indépendante canadienne.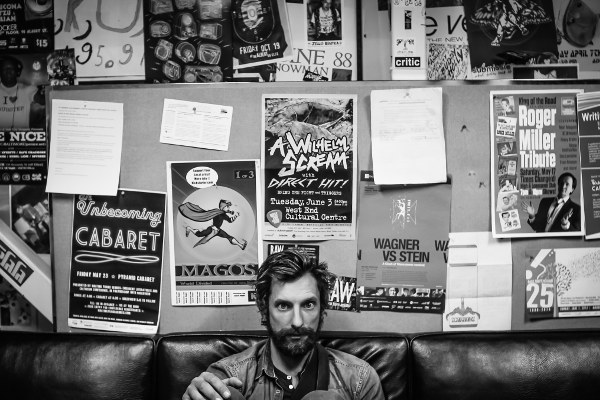 CKUW 95.9 FM
University of Winnipeg
Winnipeg, MB
From the street meat corners of Preacher Katie:
Up the labyrinthine stairs to the highest floor of the University of Winnipeg lays the relish and mustard of the city's music scene. Broadcasting at 450 watts, CKUW 95.9 FM operates for the indulgence of its listeners as much as your dirty hot dog from 7/11. The snug, chummy space is spiritedly painted with posters and facetious notes dating as far back as when the station started in the '60s. Since then, CKUW has closely held hands and skipped to the lou of the local community music scene which —- Kent Davies explains below — has been amplifying in the last few years.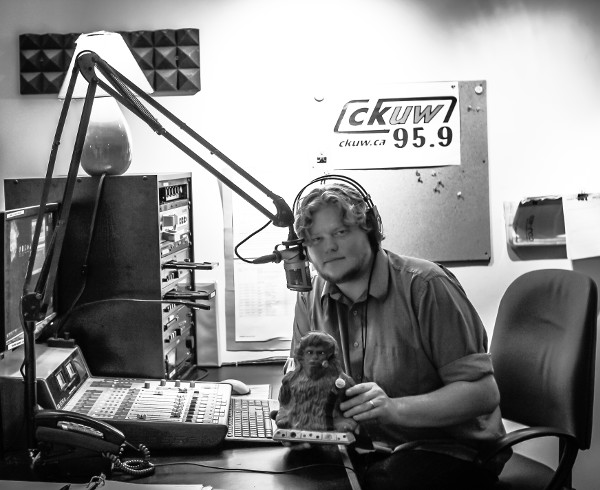 Programmer: Kent Davies
"Most of the bands in Winnipeg you should be comfortable to drink a king can with"
Davies broadcasts Amateur Hour every Wednesday from 5-6 pm and Peg City Groove every Friday from 5-6 pm.
Preacher Katie: What type of programming do your two shows encompass?
Kent Davies: Amateur Hour is basically the weird show where we play anything that is not commercially viable. So anything we have that is cheesy or crazy from Jesus exercising records to Daniel Johnston. Basically people will send in their demos that didn't really make the standard. Last week we did the rejects from the Hockey Night in Canada theme song contest. Peg City Groove is 100% local content, that's our mandate.
PK: What do you think is special about CKUW?
KD: We have a tremendous amount of history here, ever since we were a record club just playing for the cafeteria in the '50s. But over time it became less and less of a student group and more of a serious radio station. So a lot of the weirdos that hung around record stores and went to shows would loiter around here. This was their space from 1962 on. We went FM in 1999. The fact is that there are still people doing their shows after 25 years, before we went FM. They are still a part of that cool kids club. So there is a lot of history, and a lot of students come and go, but there are also people like me who come, stay for a decade, and get a job here.
PK: From my experience, certain provinces have their own unique sound. Is there a Manitoba sound? What would you say Manitoba's music scene or sound is like compared to other places?
KD: There is just one scene, it's weird. There are so many bands that you can be put on a bill with. You will know somebody. Everyone is in three different bands. Everyone is basically connected. The sound is crazy diverse.
Garage is a huge thing here, like a lot of places. Bands like the Vibrating Beds and Lonely Vulcons on Eat Em Up Records represent well. Most of the bands you should be comfortable to drink a king can with. That's the thing about Winnipeg and Manitoba bands; there are few pretentious band types that can actually exist here. There are no rock star haircuts or anything like that. If you see the guy from Jet Set Satellite with a haircut like that you just kind of laugh. You can't make that kind of scene in Winnipeg when its minus 50 for five months a year. You just look like what you look like; people dress like they're not trying to impress anyone. Most importantly you subdue to your basement so you have to play whatever you can and then get out whenever you can.
Like Mahogany Frog. Those guys are awesome, but you will see them at the bar and hang out with them, they are around the community. I've been involved in the local music scene for the last 10 years, but the last couple have been crazy. The Winnipeg music scene is huge and growing these last few years in every genre.
PK: Why do you think the scene has grown so much?
KD: I would say one of the biggest reasons is because the kids are starting to learn to do things themselves; they are becoming more entrepreneurial in how they are approaching things. It used to be that we didn't have the Internet, we didn't have tools like bandcamp. Now you can be your own band manager, publicist and label. And they are all getting jobs too.
Then there is a younger generation that is taking over some of the venues here because they were in a position where they were getting mistreated by some of the owners. There is a whole new line of people that know how to run a venue, in an almost DIY kind of way. They know how to not run a business because it has really just been older guys that think in an old fashioned way of how to run a rock 'n' roll club. It's a stable city right now with a lot of events.
PK: What's your favourite local Weird Canada-esque band?
KD: The best underground band right now that really isn't on anyone's radar — because I don't think they know what they are yet — is Luke Warm. They are fantastic, kind of like Fugazi meets Primus. No one has heard of them. There is no bio sheet. This is what gets me excited, finding them, discovering them and getting them out there. Also, Surprise Party is one of the best psych bands in Winnipeg. They used to be The Hoots.
PK: Is there a particular artist, song or person that brought you to the station?
KD: When I was a kid, I first heard someone playing Coil. Some weirdo. And I was like… what's this? Then I was on the radar, working at CBC doing audio editing as a kid (CBC is across the street) and I didn't know that playing that kind of music was an option. I didn't know someone could have that much freedom on the radio. So I came in, and 10 years later I am still here.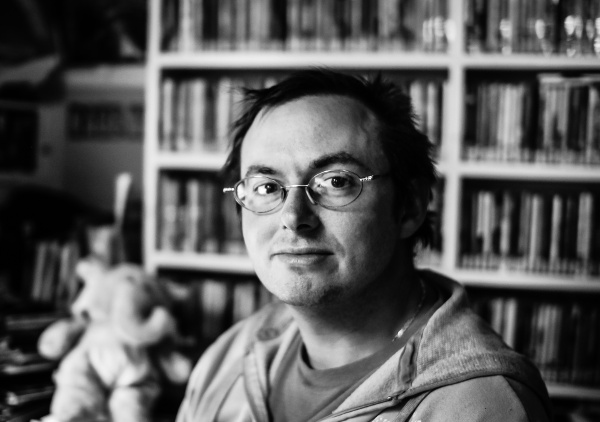 Music Director: David Tymoshchuk
"There is still something about radio that isn't getting lost in the fuzz of the internet"
Tymoshchuk broadcasts Trouble With The Sandman every Wednesday from 12 am to 6 am.
PK: Why do you work here?
DT: I was a long-term listener. I was also a student at the time. The short story is that I got hit by a car, so I was like, well, life's too short. I am going to go volunteer.
PK: How does this station continue to foster underappreciated artists?
DT: There are a lot of times that I will go out to shows and buy from bands merch table or ask them to come on air. I am active in approaching musicians.
PK: How does this station connect to its student body? How does the station integrate young artists or students?
DT: The student's union will appoint a representative to sit on the board. Sometimes we get granted a certain amount of money from the student union on top of the levy. Programming wise, we try to have a certain percentage of student programmers, as much as we can. I would say we are doing pretty good. We have a table during the frosh week. We have booths a lot around campus and we try to recruits when we can. We also have Stylus Magazine with our program schedule. You see it all over the place on campus.
PK: Is there anything Weird Canada's attention should be drawn to here in Manitoba?
DT: Well, there was this band. They don't sound too good but they are amazing. They were called The Drugs. To listen to them on a record, they don't sound that good, but their live shows were something else. They had a jar of burrs, like the seed, and they were just giving them out. People were getting upset that the burrs were getting stuck on them. Haha. Then they had this place called The Moldy Place, off the train tracks. They called it that because there was just mold everywhere. Then the MP at the time, Judy Wasylycia-Leis, showed up chugging a quart of wine. They are good for their performance value.
PK: What's your favourite local Weird Canada-esque band?
DT: There is a band called Valley Girl Specials. They have only had a few shows. I have seen them a couple of times. They are great.
PK: Why do you think it's important for people to keep listening to radio?
DT: I would say that radio isn't dying at all. There is still something about radio that isn't getting lost in the fuzz of the internet. It's still very portable. It's still cheap. It's ubiquitous. It's everywhere. And there is a want for it.
Des vendeurs de viande du coin de Preacher Katie:
(Traduit par le shish-taouk tiède de Jessica Grenier)
On trouve la relish et la moutarde de la scène musicale de la ville au dernier étage de l'Université de Winnipeg, après avoir gravi des escaliers labyrinthiques. Avec sa diffusion à 450 watts, CKUW 95.9 FM fonctionne tant pour le plaisir des auditeurs que pour accompagner le hot dog dégueulasse du dépanneur du coin. Le local douillet et chaleureux est décoré par des affiches et des messages drôles, certains datant des années 60 (le début de la station). Depuis cette époque, les gens de CKUW se sont tenus par la main et ont gigué sur la scène musicale locale qui – comme l'explique Kent Davis – a beaucoup grandi ces dernières années.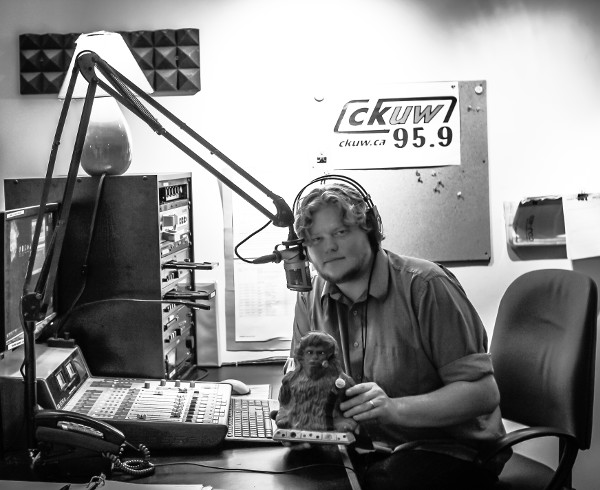 Programmeur : Kent Davies
« Tu serais à l'aise de boire une pinte avec la plupart des groupes de Winnipeg. »
Davies diffuse Amateur Hour les mercredis de 17 h à 18 h, et Peg City Groove les vendredis de 17 h à 18 h.
Preacher Katie : Quel est le genre de programmation de tes deux émissions?
Kent Davies : En gros, Amateur Hour est l'émission étrange où on fait jouer tout ce qui n'est pas viable commercialement. Donc, pas mal tout ce qu'on a qui est trop cheesy ou trop fou, de Daniel Johnston aux enregistrements d'exercices de Jésus. Généralement, les gens nous envoient leurs démos qui sortent de la norme. La semaine passée, nous avons diffusé les perdants du concours de la chanson thème de Hockey Night in Canada. Peg City Groove a un contenu local à 100 % : c'est notre mandat.
PK : Selon vous, qu'est-ce qui rend CKUW spéciale?
KD : Il y a vraiment beaucoup d'histoire ici. Ça a commencé dans les années 50, quand on était un club de disques qui jouait juste pour la cafétéria. Avec le temps, ce qui n'était qu'un groupe d'étudiants s'est rapproché de plus en plus d'une station radio sérieuse. Donc, beaucoup parmi les gens bizarres qui trainaient dans les magasins de disques et allaient aux spectacles se ramassaient ici. C'est devenu leur espace à partir de 1962. En 1999, on est passé au FM. Il faut savoir qu'il y a des gens aujourd'hui qui font des spectacles depuis 25 ans, donc qui en faisaient avant qu'on passe au FM. Et ils font encore partie du club. Bref, il y a beaucoup d'histoire, beaucoup d'étudiants qui vont et viennent, mais aussi des gens, comme moi, qui arrivent, restent ici une dizaine d'années et se font offrir un emploi.
PK : J'ai remarqué que certaines provinces ont un son propre qui les rend uniques. Est-ce que le Manitoba en a un? Quelle est la différence entre la scène musicale (ou le son) d'ici et celle d'ailleurs?
KD : Il n'y a qu'une scène, c'est étrange. Il y a tellement de groupes qui sont faciles d'approche, c'est sûr que tu vas connaitre quelqu'un. Tout le monde est dans trois groupes différents, donc tout le monde est connecté. Le son est vraiment diversifié.
Comme à bien des endroits, le style garage est vraiment important. Des groupes comme Vibrating Beds et Lonely Vulcons chez Eat Em Up Records le représentent bien. Tu serais à l'aise de boire une pinte avec la plupart des groupes. C'est ce qui est bien avec ceux de Winnipeg et du Manitoba : il n'y a pas beaucoup de groupes prétentieux qui peuvent survivre ici. Ils n'ont pas de coupe de cheveux de vedette ou de trucs du genre. Si on voyait le gars de Jet Set Satellite avec des cheveux comme ça, on se mettrait à rire. On ne peut pas faire ce genre de chose dans une ville où il fait -50 °C cinq mois par année. On a simplement l'air de ce qu'on a l'air : les gens ne s'habillent pas comme s'ils voulaient impressionner quelqu'un. Et comme on est souvent enfermé dans notre sous-sol, on joue tout ce qu'on peut et on sort dès qu'on peut.
Par exemple, les gars de Mahogany Frog sont géniaux, mais quand on les voit au bar, on va prendre une bière avec eux : ils sont présents dans la communauté. Je fais partie de la scène musicale locale depuis 10 ans, mais les dernières années ont été folles. La scène de Winnipeg est énorme, et ces derniers temps, elle s'élargit dans tous les genres.
PK : Pourquoi penses-tu qu'elle a autant grandi?
KD : Je dirais qu'une des plus grandes raisons est que les jeunes apprennent à faire les choses par eux-mêmes et que leur façon de les approcher devient plus entrepreneuriale. Avant, on n'avait pas Internet ni d'outils comme bandcamp. Aujourd'hui, tu peux être ton propre gérant, ton propre publiciste et ton propre label. Et ils se trouvent aussi tous des emplois.
Et puis, il y a une génération plus jeune qui s'approprie certains endroits ici, que les anciens propriétaires commençaient à maltraiter. Il y a plein de nouvelles personnes qui savent comment s'en occuper, un peu à la DIY. Elles savent comment ne pas faire fonctionner une entreprise, parce qu'il y avait à peu près juste de vieux bonshommes avec leur ancienne façon de gérer des bars de rock 'n' roll. C'est devenu une ville stable avec beaucoup d'événements.
PK : Quel est ton groupe Weird Canada-esque préféré?
KD : Le meilleur groupe underground qui n'est sur aucun radar en ce moment – je pense que c'est parce qu'ils ne savent pas encore ce qu'ils sont – c'est Luke Warm. Ils sont fantastiques. C'est une espèce de rencontre entre Primus et Fugazi. Personne n'en a entendu parler. Ils n'ont pas de bio de groupe. C'est excitant de les trouver : de les découvrir et de les sortir de là. Il y a aussi Surprise Party, un des meilleurs groupes psychédéliques de Winnipeg. Avant, ils étaient The Hoots.
PK : Est-ce qu'il y a quelque chose de précis qui t'a mené ici? Un artiste, une chanson, une personne?
KD : J'ai entendu quelqu'un faire jouer Coil quand j'étais jeune. Un bizarre… J'étais comme… qu'est-ce que c'est? Pas longtemps après j'ai été sur le radar, à faire de l'édition audio chez CBC (qui est de l'autre côté de la rue), et je ne savais pas que c'était possible de jouer ce genre de musique. Je ne savais pas qu'on pouvait avoir autant de liberté à la radio. Alors, je suis venu ici, et j'y suis toujours dix ans plus tard.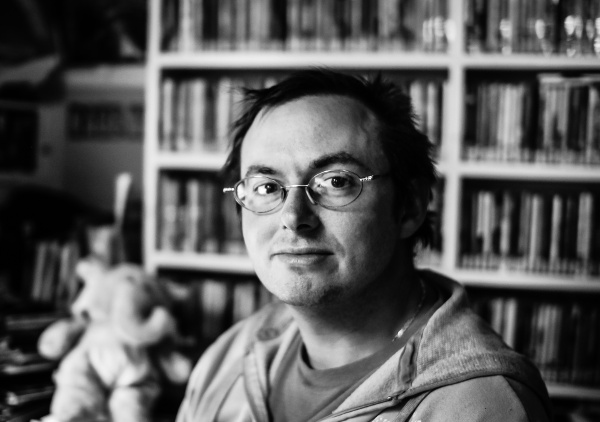 Directeur musical : David Tymoshchuk
« Il y a quelque chose dans la radio qui ne s'est pas encore perdu dans tout le bourdonnement d'Internet. »
Tymoshchuk diffuse Trouble With The Sandman le mercredi de minuit à 6 h.
PK : Pourquoi travailles-tu ici?
DT : J'étais auditeur depuis longtemps. À l'époque, j'étais aussi un étudiant. L'histoire courte est que je me suis fait frapper par une auto, alors j'étais comme : eh bien, la vie est trop courte, je vais devenir bénévole.
PK : Comment la station continue-t-elle d'encourager les artistes dévalorisés?
DT : Souvent, je vais directement aux spectacles pour acheter les trucs des groupes sur place ou pour leur demander de passer durant l'émission. Je suis très actif pour approcher les musiciens.
PK : Comment la station rejoint-elle le corps étudiant? Comment intègre-t-elle les jeunes artistes, étudiants ou non?
DT : L'association étudiante mandate une personne qui sera son représentant dans le conseil. Il arrive aussi que l'on reçoive une somme d'argent de l'association qui vient s'ajouter au prélèvement. Pour la programmation, on essaye autant que possible d'avoir un certain pourcentage de programmeurs étudiants. Je dirais qu'on se débrouille plutôt bien. On a une table durant la semaine d'initiation. On a des kiosques un peu partout sur le campus et on recrute quand on peut. Il y a aussi le magazine Stylus qui contient notre programmation : on le retrouve partout sur le campus.
PK : Est-ce qu'il y a quelque chose dans la scène musicale locale du Manitoba qui devrait attirer l'attention de Weird Canada?
DT : Eh bien, il y avait un groupe. Ils n'ont pas un bon son, mais ils sont géniaux. Ils s'appelaient The Drugs. Ils ne sonnaient pas bien sur enregistrement, mais leurs spectacles étaient vraiment quelque chose d'autre. Ils avaient un pot de graines de bardane, et ils en distribuaient. Les gens n'étaient pas contents parce qu'elles restaient prises sur eux. Hahaha! Et il y avait un endroit près du chemin de fer qu'ils appelaient The Moldy Place (la Place pourrie), parce qu'il y avait de la moisissure partout. La députée de l'époque, Judy Wasylycia-Leis, était arrivée en calant un litre de vin. Ils savent comment donner un bon spectacle.
PK : Quel est ton groupe local Weird Canada-esque préféré?
DT : Un groupe qui s'appelle Valley Girl Specials. Ils n'ont fait que quelques spectacles. Je les ai vus plusieurs fois, ils sont vraiment bons.
PK : Pourquoi penses-tu que c'est important que les gens continuent d'écouter la radio?
DT : Je dirais que la radio n'est pas du tout en train de mourir. Il y a quelque chose dans la radio qui ne s'est pas encore perdu dans tout le bourdonnement d'Internet. C'est pas cher, flexible, omniprésent. C'est partout et les gens en demandent.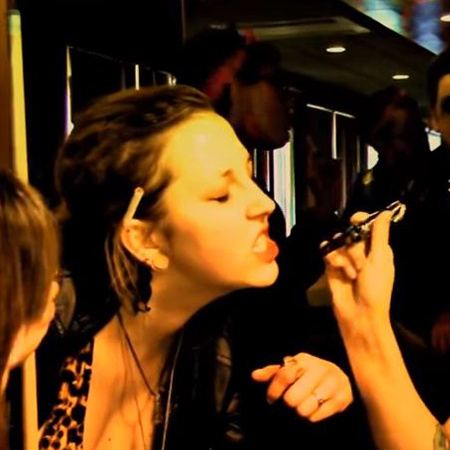 From Alberta's hardcore epicentre, Fist City presents a rockabilly, lollipop piercing, silkscreen-patched, switch-bladed, cow-licked, sweetly deviant post-punk girl gang. With pop clangs and surfed smoke rings, these tattooed warriors shit kick away from the life of a Leave it to Beaver stay-at-home mom.
Fist City
"Let's Rip"
(Director: Kier Fist)
Lethbridge, AB
From the silkscreen patched rambles of Preacher Katie:
From Alberta's hardcore epicentre, Fist City presents a rockabilly, lollipop piercing, silkscreen-patched, switch-bladed, cow-licked, sweetly deviant post-punk girl gang. With pop clangs and surfed smoke rings, these tattooed warriors shit kick away from the life of a Leave it to Beaver stay-at-home mom.
Du radotement sérigraphié de Preacher Katie:
(Traduit par les absurdités décousues de Louis-Félix Pellerin)
Sorti tout droit de la scène hardcore albertaine, Fist City présente un gang de filles post-punk délicieusement déviant aux airs de rockabilly, ses membres couvertes d'écussons sérigaphiés et de piercings sucettes, portant fièrement l'épi et le cran d'arrêt. À l'aide de clinquements pop et de ronds de fumée surfant l'air, ces guerrières tatouées crachent sur le style de vie de la mère au foyer à la Leave it to Beaver.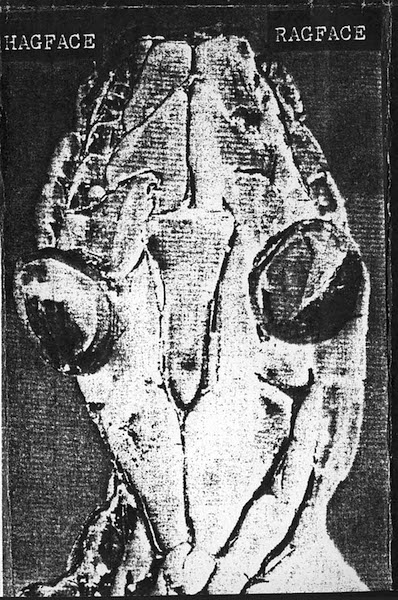 Gunslinging sleep paralysis from the feminine witch nouns of Mare, Hag Face will sit on your chest until a "dirtbag dream boat" appears. Don't be afraid to accept these blonde pillboxes' invitation to dine on raccoon wishbones by candlelit salt circles at their smoky Kozmik Mansion. Metal moon séances will reveal what it's like when a freak punk goes to the opera.
Hag Face
Rag Face
(Self Released)
Calgary, AB
From the raccoon wishbones of Preacher Katie:
Gunslinging sleep paralysis from the feminine witch nouns of Mare, these garage gremlins will sit on your chest until a "dirtbag dream boat" appears. Don't be afraid to accept these blonde pillboxes' invitation to dine on raccoon wishbones by candlelit salt circles at their smoky Kozmik Mansion. Metal moon séances will reveal what it's like when a freak punk goes to the opera.
Des bréchets de raton laveur de Preacher Katie:
(Traduit par votre elfe du cosmos, Bronwen Alexina)
Simulant la paralysie du sommeil des sorcières associées à la mara, ces diablotines de garage s'assoiront sur votre poitrine jusqu'à ce qu'apparaisse un « apollon ordure ». N'ayez pas peur d'accepter l'invitation à dîner de ces piluliers blondes. Dans leur château kozmique enfumé, elles vous serviront des bréchets de raton laveur dans des cercles magiques illuminés aux chandelles. Les séances de métal à la pleine lune révéleront ce qui se passe quand un punk bizarre assiste à l'opéra.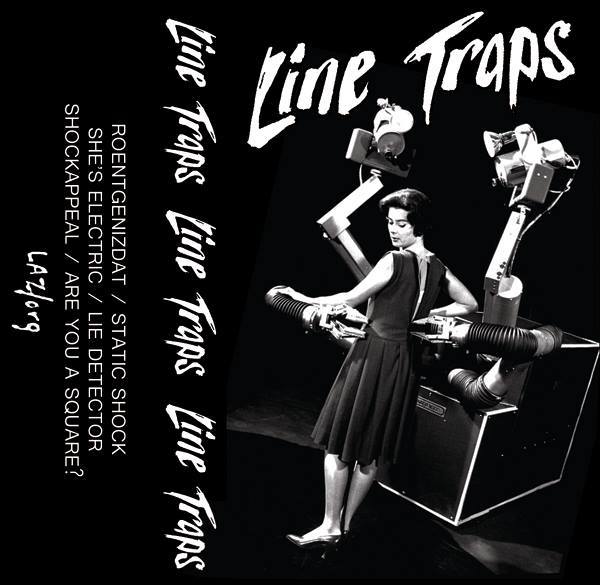 Line Traps
Demo
Victoria, BC
From the tightrope walking balance of Preacher Katie:
The high transmitting frequency of the Line Traps channels auditory communication signals to unwanted destinations, resisting the temptations of noise. Tightrope walking ringmasters' balance on the powerlines of transient bandwidths. The needle of the anarchist's "lie detector" lingers in the red stretched space of this three-piece punk band's static shock. Another electric grunge bolt from Victoria's own Shake! Records.
Du funambulisme de Preacher Katie:
(Traduit par les clowneries linguistiques de Louis-Félix Pellerin)
La haute fréquence de transmission de Line Traps canalise des signaux de communication auditive vers des destinations non désirées, résistant à la tentation du bruit. Des Monsieurs Loyals se tiennent en équilibre sur les lignes à haute tension de bandes passantes éphémères. L'aiguille du « détecteur de mensonges » de l'anarchiste s'attarde dans l'espace rouge étendu du choc statique de ce trio punk. C'est une autre décharge électrique grunge venue tout droit de Victoria et offerte par Shake! Records.
---