Tag: power pop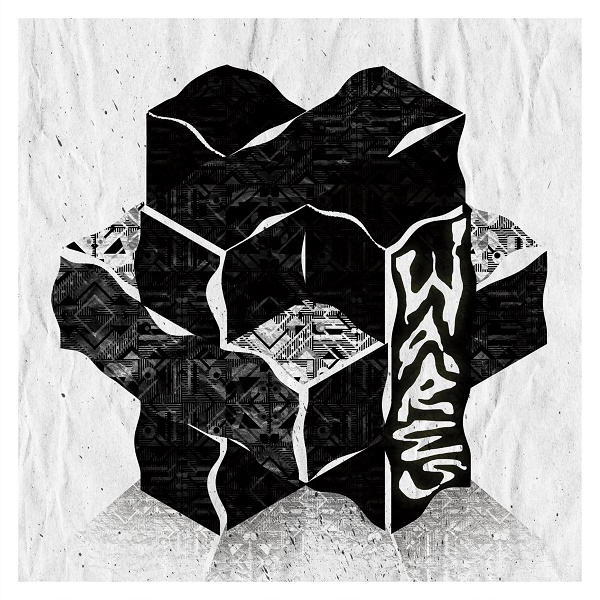 Wares
Missed the Point b/w Beach Date
Edmonton, AB
From the curtained catharsis of Josh Rohs:
School's in, city kids, and attendance is compulsory. On "Missed the Point", Wares' opening salvo of ring mod punk rock capitulates to capital-p Power pop. On the b-side: brass-coupled lakefront nostalgia, sunbleached ivories sufficiently tickled – now with extra curtain-drawn catharsis. Knock down the door and, fuck it, let 'em see you bleed.
De la catharsis garnie de rideaux de Josh Rohs:
(Traduit par la nostalgie académique de Maya Keshav)
L'école est ouverte, les enfants de la ville, et la présence est obligatoire. "Missed the Point" de Wares s'ouvre sur une salve de modulation en anneau (ring mod) punk rock qui capitule jusqu'à p-majuscule Power pop. Sur la face B: la nostalgie du bord du lac conjuguée aux cuivres, les ivoires blanchis au soleil assez chatouillés – maintenant avec plus de catharsis rideaux-fermés. Défoncez la porte et d'la marde, laissez-les vous voir saigner!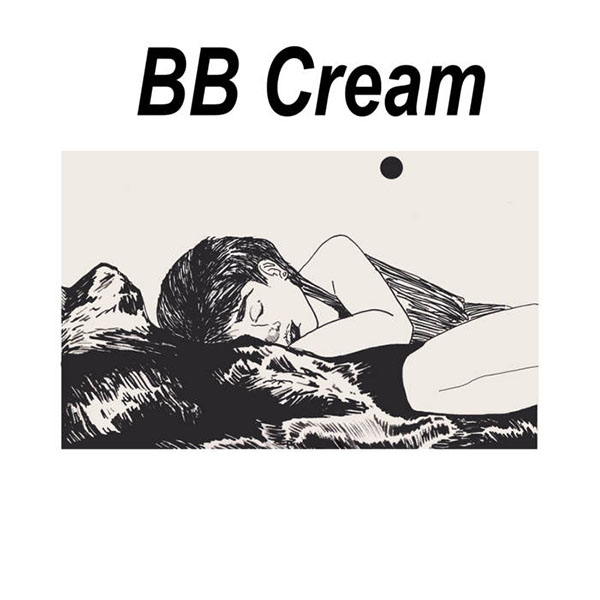 BB Cream
BB Cream
Ottawa, ON
From the sweaty bangs of Christine McKenna:
The inaugural release from Ottawa's BB Cream is an unconcealed visage, a spectacle of intimate feelings, a candid display of self-actualization on tape. A basic trio of instruments forms a Neapolitan ice cream of sound: a guitar, a bass, and set of drums are churned by the phantom hand of Marc Bolan, and a cold and sweet sonic treat drips onto thighs that ache from dancing the previous night. Catch a glimpse of yourself reflected in someone else's glasses and notice the sweaty bangs stuck to your forehead, enclosing the pop hooks stuck into your brain.
Par les franges en sueur de Christine McKenna:
(Traduit par Odile Leclerc)
La sortie inaugurale de BB Cream d'Ottawa est un visage non caché, un spectacle de sentiments intimes, une démonstration candide d'autoréalisation sur cassette. Un trio d'instruments de base forme une tranche napolitaine de sons : une guitare, une basse et un ensemble de batteries sont retournées par la main fantôme de Marc Bolan, et un dessert sonique froid et sucré dégoutte sur des cuisses douloureuses à force d'avoir dansé la nuit précédente. Regarde-toi dans le reflet des lunettes de quelqu'un d'autre et remarque les franges en sueur qui collent à ton front, entourant les idées de musique pop dans ton cerveau.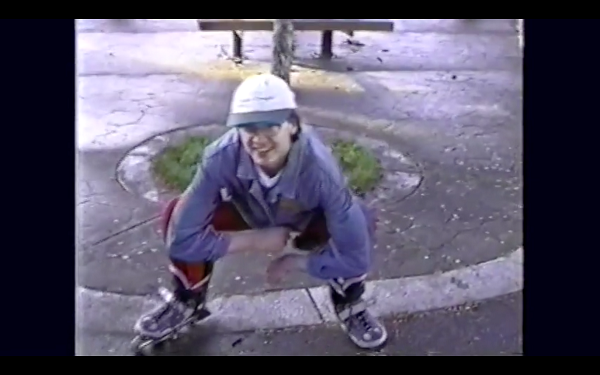 />
Girlfrend
Caroline
(Directed by: Jakob Nielsen)
Victoria, BC
From the worn-out knee pads of Sacha KW:
Finally, a tribute to both rollerblading and VHS camcorders, two elements of the 1980s aesthetic which could have aged with grace. We should give credit where it's due, and celebrate those who can write a great pop song as well as play guitar while skating. Girlfrend's video for "Caroline" is an endearingly trippy snapshot of grown men in pursuit of daytime adventure. With the assistance of a few chorus-laden licks and a public park, anything is possible. This is the soundtrack for getting moving, breathing outdoor air, and ordering candy off the Internet.
Des genouillères maganées de Sacha KW:
(Traduit par la pochette de vidéocasette décolorée de Mackenzie Smedmor)
Enfin, un double hommage aux patins à roues alignées et aux caméscopes VHS, deux éléments de l'esthétique des années 80 qui auraient pu vieillir avec grâce. Nous devons reconnaître le talent de ceux qui en ont et célébrer ceux qui peuvent composer une super chanson pop et jouer de la guitare en patinant. La vidéo « Caroline » de Girlfrend est un instantané affectueusement délirant d'hommes adultes à la recherche d'aventure en pleine journée. À l'aide de quelques riffs chargés de refrains et un parc public, tout est possible. C'est la bande sonore pour bouger, prendre l'air et commander des bonbons par internet.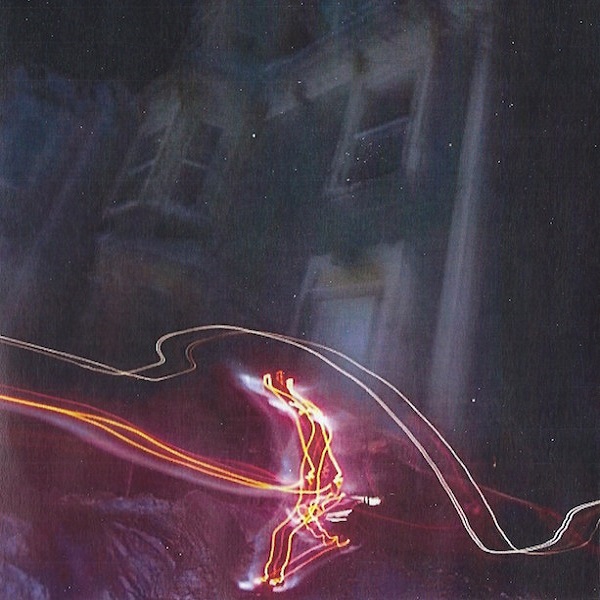 Sleepy
Asleep at the Switch
St. John's, NL
From the bottomless pint of Mike Roy:
Under the moniker Sleepy, Newfoundland's Dan Greene has created a beautiful composite of East Coast sounds for his project entitled Asleep at the Switch. The undeniable influences of power pop ingenues effortlessly combine with the fuzz of 90s garage rock crusaders, but Greene makes the sound all his own by contributing well-crafted lyrics and haunting melodies. You may try to resist the symphonic spell Asleep at the Switch casts upon you, you will soon find yourself caught under its hypnotic sway.
De la pinte sans fond de Mike Roy:
(Traduit sous influence par Virginie Langlois)
Sous le sobriquet Sleepy, Dan Greene, originaire de Terre-Neuve, a élaboré un magnifique composite du son de la côte Est pour son projet intitulé Asleep at the Switch. Les influences indéniables des ingénues power pop côtoient allègrement le fuzz des croisés du garage rock des années 90, mais Greene a su se créer un son bien à lui grâce à des paroles soignées et des mélodies obsédantes. Vous pouvez tenter de résister au charme symphonique de Asleep at the Switch mais vous n'aurez d'autre choix que de succomber à son emprise hypnotique.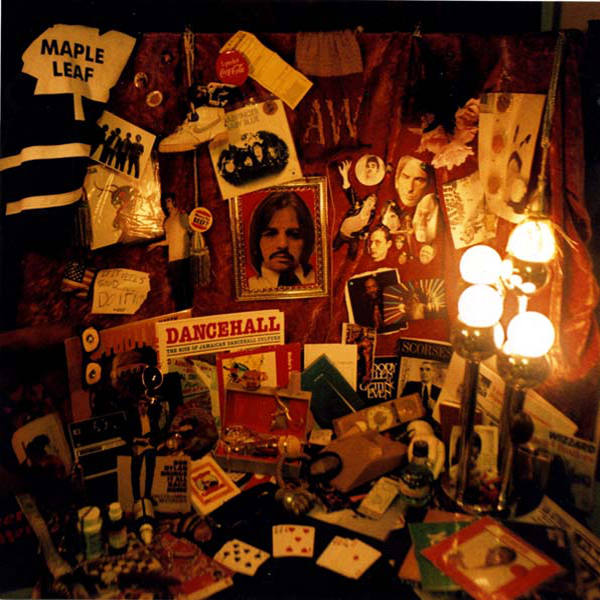 Actual Water
Call 4 Fun
Toronto, ON
From the Sober Sleaze of Joseph Stephenson Taylor:
Summer is flying out the window, but do the vibes have to go too? Hey man, we can pull back some freezees and rip our mouth corners up real good. We're already covered in SPF whatever so lets just go to the beach one last time. We can pretend, you can pretend and with Actual Water, winter will be none the wiser. The Power Pop world is built on a foundation of mainstays, a checklist, and Call 4 Fun meets all them em-effing parameters like whoa. Honest Hooks: Check! Sober Sleaze: Check! Riotous Rhythms: Come on man, check! The production is poppy as all get out with a tinge of much appreciated dirt that'll keep it safe for those of you worried about your crust-cred. With this we bid farewell to our favourite sister, Summer.
De la vulgarité sobre de Joseph Stephenson Taylor:
(Traduit par les commissures blessées de Jessica Grenier)
L'été s'envole à vue d'œil, mais est-ce que son ambiance doit aussi partir? Pas de problème man, on peut s'acheter des Mr. Freeze et se couper les coins de la bouche comme il faut. On est déjà beurrés de crème solaire, aussi bien aller à la plage une dernière fois. On peut faire semblant. Tu peux faire semblant avec Actual Water, l'hiver n'aura pas le dernier mot. Le monde de la power pop est construit sur les piliers d'une check-list, et Call 4 Fun la suit à la lettre, c'est fou! Des accroches sérieuses… check! Une vulgarité sobre… check! Des rythmes déchaînés… facile, check! Le produit fini est très pop, et tout ressort avec une teinte terreuse. Tu n'auras donc pas à t'en faire pour ta réputation de dur à cuire. Nous pouvons maintenant dire adieu à l'été, notre sœur préférée.

Actual Water – Power Pop Radio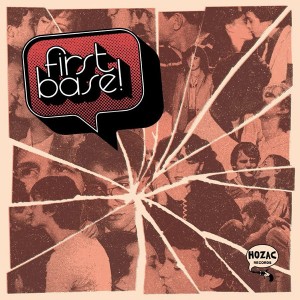 First Base
First Base
(HoZac)
Toronto, ON
From the broke mind of Joel French:
Twelve perfect bittersweet pop songs to get you ready for the summer and wish you were making out. First Base's debut on Chicago-based HoZac Records is laced with hooks, charm and sing-alongs. These tunes will worm their way into your ears' brain, throw up a cot and tell you to chill out and have a time. Don't let them down this summer — pick up a copy on gold vinyl!
De l'esprit brisé de Joel French:
(Traduit par Jacinthe Laplante)
Douze chansons pop, douces-amères, parfaites pour vous donner envie que ce soit l'été et d'être en train d'embrasser quelqu'un. Le premier album de First Base sur HoZac Records installé à Chicago vous accroche, vous charme et vous invite à chanter. Ces chansons se transformeront en vers d'oreille, déposeront leurs valises et vous diront de relaxer et de prendre une pause. Ne les laissez pas tomber cet été : achetez-en une copie en vinyle or!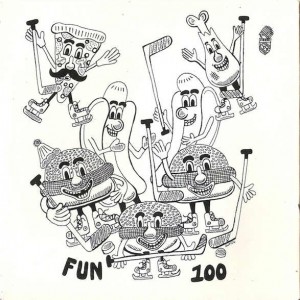 Fun 100
Goodbye EP
Abbotsford, BC
Originally Released: 2007
From the foam improvement of Josiah Hughes:
When I lived in Abbotsford, there was no Champion Jack's and certainly no chillwave. There were, however, a million church basements, a handful of awesome thrift stores and a one-good-band-per-four-hippie-jam-bands ratio. Actually, there were a lot of goth bands too. A dude from my high school played in one called Ms. Anne Thropy, and now he's in some Skinny Puppy side-project.
Anyway, living in a shitty city with nothing to do is actually a lot of fun. We spent our time playing shows in houses and church basements, and the best band in the city was Fun 100. When I say they were the best band in the city, I mean that they had a middle-aged guitarist who butchered Sabbath and Police riffs through his awful Peavey practice amp before the whole band broke into a brutal "Blitzkrieg Bop." But twin towers Bruce and Ryan Dyck (k brothers, not twins) knew what was up. The former bashed his drums with Frankenstein arms, while the latter knew that a good frontman prioritizes throwing expired Twinkies at the audience over pitch or tone.
Since meeting them at the Burlesque House, Bruce and Ryan (and soon Adam and Marcus and Steve) became and remained my best friends. We released a split fan-CD, had Nelly dance parties and played with mohawked Christian pop-punk bands in tiny towns with names like Mission and Hope. We wheatpasted dumb jokes all over Abbotsford, started Internet fights and talked a whole lot of shit.
Somewhere along the way, Fun 100 evolved from my favourite friends to my favourite band, a remarkable songwriting prowess shining through more and more with each new release. From the droning-but-addictive chorus of "Computer" to Hit It and Quit and the Paper Lanterns split, Fun 100 were circling in on pop-punk perfection. Then, they called it quits. I've seen cry-moshing before, but until that night I'd never teared up at a hall show. It didn't matter, however, because they played an impossibly legendary, mic-less final set.
Not to get all Kevin Arnold on you, but everything from your childhood ends and changes, and the loss of my Favourite Band Ever has evolved from a bummer to the best teenage memories a guy could ask for. Those wildly absurd shows were literally the most formative times of my life, and the time I spent with these goofs shaped me as a person. My love of music writing can be seriously credited to Ryan's Bull Sheet zine.
It also helps that Fun 100's final release, the limited Goodbye CD-R, is secretly one of the best Canadian punk releases of its time. "Shitty Band" is all addictive guitar and synth interplay, "Slide Into Jerry" sees Ryan's comedic genius lyricism at its most loboto, "Foam Improvement" is a timeless power-pop classic that sounds like a way cooler Atom and his Package or a slightly lamer Pointed Sticks, "Ghetto Mall" is a Will Sasso-approved pop hit, and "Prom" is an incredible farewell to high school with absurd lyrics and million-part harmonies.
Clearly, the members of Fun 100 did the right thing by throwing in the towel — they've all moved on to better projects. One of 'em's a dad, one of 'em's a soldier and three of 'em are still in high school. Now if you'll excuse me, I have a Fun One Hun tattoo to design.
Josiah Hughes is the Music and Film Editor of FFWD Weekly, a regular contributor to Exclaim!, guit and choral for Grown-Ups, and a general shit disturber.
De la mousse intelligente de Josiah Hughes:
(Traduit par la larme à l'œil de Nicolas Coutlée)
Dans le temps où je vivais à Abbotsford, il n'y avait pas de Champion Jack's et certainement pas de chillwave. Il y avait cependant un million de sous-sols d'église, une poignée d'incroyables comptoirs familiaux et un ratio d'un-bon-band-pour-quatre-bands-de-jam-hippie. En fait, il y avait pas mal de groupes gothiques aussi. Un gars de mon école secondaire jouait dans l'un d'eux, Ms. Anne Thropy, et aujourd'hui il fait partie d'un side-project quelconque de Skinny Puppy.
Peu importe, vivre dans une ville de merde avec rien à faire est somme toute très amusant. On passait notre temps à donner des concerts dans les maisons et les sous-sols d'église, et Fun 100 était le meilleur groupe en ville. Par meilleur groupe en ville, je veux dire que leur guitariste de près de cinquante ans massacrait au travers de son horrible ampli de pratique Peavey des riffs de Sabbath et de Police avant que tous ne se lancent dans une version brutale de « Blitzkrieg Bop ». Mais les deux tours jumelles qu'étaient Bruce et Ryan Dyck (pas des jumeaux, juste les frères k) savaient ce qu'ils faisaient. Le premier piochait sur sa batterie avec ses bras de Frankenstein, tandis que l'autre priorisait le fait de lancer des Twinkies périmés dans la foule plutôt que de chanter dans le ton.
Depuis notre rencontre à la Burlesque House, Bruce et Ryan (suivis peu après par Adam et Marcus et Steve) sont devenus et restent encore à ce jour mes meilleurs amis. Nous avons fait paraître un split, organisé des partys à danser sur des tounes de Nelly et partagé la scène avec des groupes de pop-punk chrétiens dans des petits patelins avec des noms comme Mission et Hope. Nous couvrions les murs d'Abbotsford de posters comiques niaiseux, instiguions des batailles sur Internet et déconnions substantiellement.
De fil en aiguille, les membres de Fun 100 sont passés du statut de meilleurs amis à celui de groupe préféré, leur remarquable talent de composition se démarquant de plus en plus à chaque nouvelle parution. Du refrain monocorde-mais-contagieux de « Computer » à Hit It and Quit en passant par le split Paper Lanterns, Fun 100 gravitait autour de la perfection pop-punk. Puis, ils ont tiré leur révérence. J'ai déjà vu pleurer dans un mosh-pit, mais avant ce soir-là je n'avais jamais éclaté en sanglots à un concert de salle communautaire. Mais ça ne faisait rien puisqu'ils nous offrirent un dernier concert sans micro, légendaire au possible.
Je ne veux pas faire mon Kevin Arnold, mais tout ce qui est issu de l'enfance est voué à disparaître un jour et à évoluer, et la perte de mon Groupe Préféré À Vie, vécu d'abord avec dépit, est à la source aujourd'hui des meilleurs souvenirs d'adolescence que j'aurais pu espérer. Ces concerts sauvagement absurdes constituent littéralement l'époque la plus formatrice de ma vie et le temps que j'ai passé auprès de ces bouffons m'a façonné en tant qu'individu. Je dois d'ailleurs directement mon amour du journalisme musical au zine Bull Sheet de Ryan.
Le fait que le dernier effort de Fun 100, le CD-R à tirage limité Goodbye, soit l'un des secrets les mieux gardés du punk canadien de son époque n'est pas à négliger non plus. « Shitty Band » n'est que guitare contagieuse et jeux de synthé, « Slide Into Jerry » dévoile le génie des textes comiques de Ryan à son plus délirant, « Foam Improvement » s'impose comme un classique power-pop intemporel plus cool que Atom and his Package ou légèrement plus ringard que Pointed Sticks, « Ghetto Mall » est un hit pop portant le sceau d'approbation de Will Sasso et « Prom », un incroyable adieu au secondaire avec ses paroles absurdes et ses harmonies à un million de voix.
Il est évident que les membres de Fun 100 ont pris la bonne décision en se retirant – ils sont tous passés à de meilleurs projets. L'un d'entre eux est papa, un autre est soldat et trois d'entre eux fréquentent toujours le secondaire. Maintenant, si vous voulez bien m'excuser, j'ai un tatouage Fun One Hun à concevoir.
Josiah Hughes botte des culs, tous les autres puent.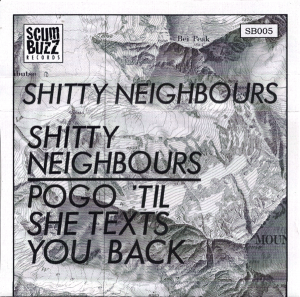 Shitty Neighbours
Pogo 'Til She Texts You Back
Vancouver, BC
From the welcome wagon of James Lindsay:
The cool kids who rent the dilapidated house next door are at it again. And this time you grudgingly call the cops because they're sounding pretty good over there, like something Sam Sutherland might have written about, or the awesome 7" collection you gave away when you gave up. Was that Needles//Pins that just showed up to the party? Does Don Pyle know about this? Too many questions for a Thursday when you have to work early tomorrow. Maybe if you keep your mouth shut and bring some beer, they'll let you hang out next time.
Du panier d'accueil de James Lindsay:
Les jeunes cools qui louent la maison délabrée d'à côté en remettent à nouveau. Et cette fois, vous appelez la police à contrecœur parce que ce que vous entendez commence à sonner pas mal bien, comme quelque chose sur quoi Sam Sutherland aurait écrit, ou encore la super collection de 7" dont vous vous êtes débarrassé quand vous avez jeté l'éponge. Ça serait pas Needles//Pins qui vient juste de faire son entrée au party? Est-ce que Don Pyle est au courant de tout ça? Trop de questions pour un jeudi soir quand vous avez à travailler aussi tôt le lendemain. Peut-être que si vous la fermez et que vous amenez de la bière, vous serez invité la prochaine fois?
Shitty Neighbours – First Mistake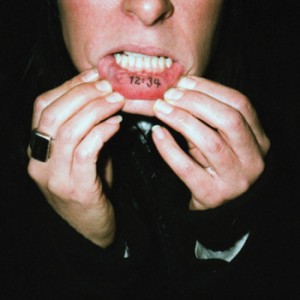 Needles//Pins
12:34
Vancouver, BC

The punky power-pop pandemic that's been percolating over the last few years has come to a boil, and it goes to show that the music seeded to us in late puberty has begun to bloom. Everything we heard at house parties and smoky afterschool basements has fully germinated, fed over the years by long-term practitioners, unashamed of their love of catchy accessibility (see
Young Guv
and his tickle trunk of 7 and 10"s) and the resurfacing and
reissuing
of late '70s nuggets from bands that fall somewhere between The Ramones and Cheap Trick. Vancouver's
Needles//Pins
are leading the pack of these chipped toothed bubblegum chewers, making music best suited for the summer months or crushing out on the cute girl from homeroom on the first day of class. Suddenly the
Screeching Weasels
of the world have never felt so relevant.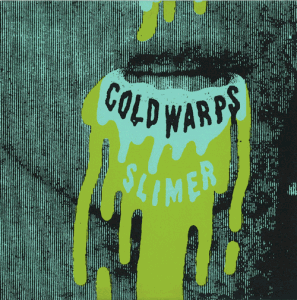 Cold Warps
Slimer
(Fundog)
Halifax, NS

Sometimes it's good to take a break to keep the people hungry, and in the case of Halifax's sweetie pop-punkers Cold Warps, absence makes the heart grow fuzzier. The foursome — who currently maintain a long-distance relationship with their Ottawa-based guitarist Dom Taylor — released a tantalizing
smattering of demos
and a
Cheap Trick cover
after their last tape, and
Slimer
marks their first physical release in around two years. While the songs remain breezy on the surface, with the usual hooks that unspool for days, the music itself boasts a bit more gnarl and heft – a tiny bit grungier, a little heavy and
head-y
. It's August now, so let's close with a cottage analogy: the boys still have their feet planted
on the beach
, but
Slimer
dips a toe into the swampy shit at the bottom of the lake —
the secret of the ooze
.
---