Tag: post-rock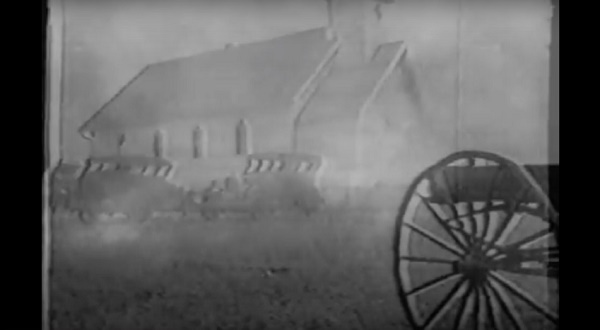 Black Tremor
Impending
(Directed by: Peter Grier)
Saskatoon, SK
From the prodding madness of Joshua Robinson:
The arid dystopianism creeps in underneath my door. The wind, carrying granules of parched earth, taps against my cheek:
——-'Shhhhhhhhhhhh'——–: the sound of a madness prodding my brain.
"What is this?", it asks, knowing full well that I could not speak as dust filled my mouth.
——-'Shhhhhhhhhhhh'——-: the sound of walls giving way to prairie cyclones.
"The broken earth," speaking with my eyes yet insinuating with my hand as I reach for the cracked glass sitting on my bedside table. Water rolls down my forearm, reaching my chapped lips and meeting the grime in my mouth as I choke on my first taste of mud.
Des petits coups de folie de Joshua Robinson:
(Traduit par les lèvres gercées de Julie Mayer)
Le dystopianisme aride s'insinue en dessous de ma porte. Le vent, porteur de granules de terre asséchée, tape contre ma joue :
——-'Shhhhhhhhhhhh'——–: le son de la folie frappant mon cerveau à petits coups.
« C'est quoi ça?», demande-t-il, sachant très bien que je ne pouvais parler alors que la poussière remplissait ma bouche. ——-'Shhhhhhhhhhhh'——-: le son des murs qui cèdent sous les cyclones des prairies.
La « terre brisée » parle avec mes yeux, mais se lie d'amitié avec ma main alors que je tends le bras pour prendre le verre craquelé posé sur ma table de chevet. L'eau coule le long de mon avant-bras, atteint mes lèvres gercées et rejoint la crasse de ma bouche alors que je m'étouffe à mon premier goût de boue.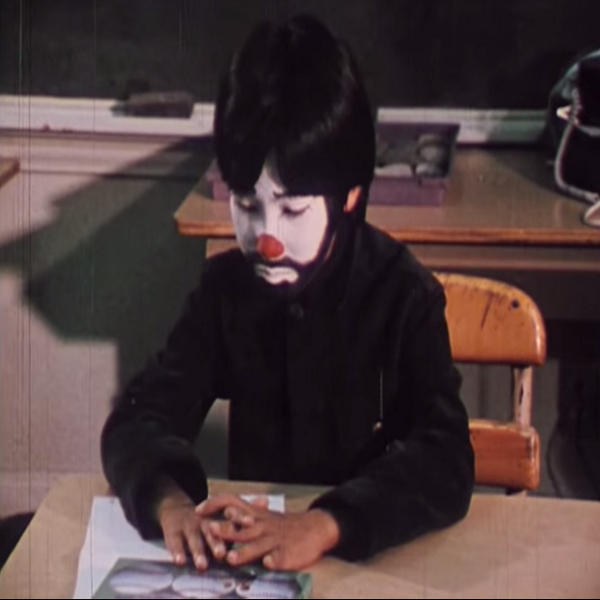 Scattered Clouds
Enchantresse
Ottawa, ON
[Directed by: Mike Dubue]
From the stolen pheromones of Rolf Klausener:
Somewhere between a Lynchian dream sequence, and your own grade school nightmares, you'll find "Enchantresse," the latest video for post-rock squires, Scattered Clouds (Hull, Quebec). Displaying a preternatural sense for timing and juxtaposition, newcomer video editor Mike Dubue (of Ottawa's HILOTRONS) guides you through a terrifying vision of shame and playground dystopia. As the song screeches between gut-punch bass stabs, and mind-searing harmonics, a seemingly innocent clown-faced child confronts the scrutiny and bullying of rival clown-mates. Visions of a demon spider-monkey beckon the child to let go of reality and succumb to his own self-loathing. Have a good look at yourself today.
Des phéromones dérobés de Rolf Klausener:
(De la Strada maléfique de Benoit Arcand)
Enchanteresse, dernier vidéo des chantres du post-rock Scattered Clouds (Hull, PQ), se situe quelque part entre la séquence onirique lynchéenne et le cauchemar d'école primaire. Mike Dubue (des Ottaviens HILOTRONS) déploie un sens inouï du synchronisme et de la juxtaposition et vous mène dans les rets de la honte et de la dystopie de terrain de jeu. La chanson crisse entre des basses qui vous triturent les tripes et des harmonies qui vous brûlent l'âme, vous présente un enfant grimé en clown, d'apparence innocente, confronté aux regards tranchants et aux railleries des autres clowns-enfants. L'apparition sporadique d'un démon-araignée invite l'enfant à abandonner la réalité et à succomber à son dégoût. Regardez-vous bien aujourd'hui.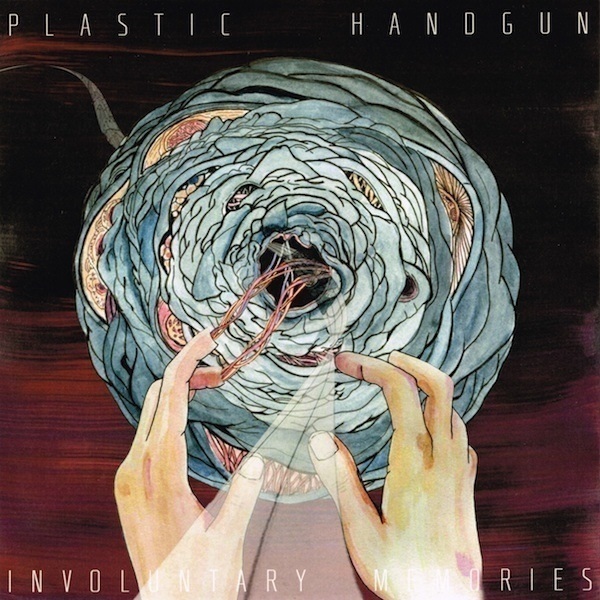 Plastic Handgun
Involuntary Memories
(Self-Released)
Toronto, ON
From the REM sleep of Sara Bortolon-Vettor:
Dreams collide with reality in united pleasure as momentous occasions of the past tickle present thought. Paths cross and fresh roads are carved. Curious minds crave discovery of the unknown! But is this real? Recollections transform into experimental orchestrations of electronic-surreality. Recorded and produced by Mark Di Giovanni over a four-month period, Involuntary Memories is the first release from Toronto's experimental, dreamy post-rock project, Plastic Handgun.
Du sommeil paradoxal de Sara Bortolon-Vettor:
(Traduit par les paupières lourdes de Jessica Grenier)
Le rêve rencontre la réalité dans un élan de plaisir réciproque occasionné par l'union de pensées actuelles et d'occasions mémorables passées. Des chemins se croisent; de nouvelles routes se creusent : mais est-ce bien réel? Des souvenirs deviennent une orchestration expérimentale électronique irréelle. Involuntary Memories, le premier album de Plastic Handgun, ce projet de rêverie expérimentale post-rock de Toronto, a été enregistré et produit par Mark Di Giovanni sur une période de quatre mois.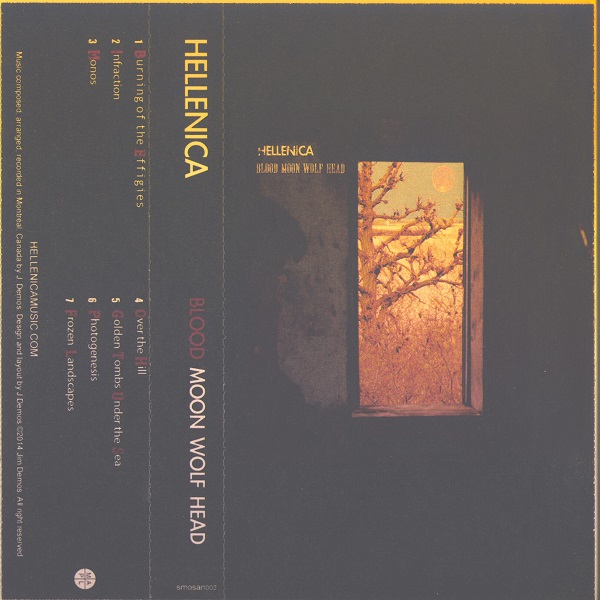 Hellencia
Blood Moon Wolf Head
(Self-Released)
Montreal, QC
From the banks of Eva Jane:
A soundtrack for the dreams of space and time. The tracks off Blood Moon Wolf Head take you from overlooking our water based planet to the very beginning, where there would be no better way to listen to these translucent, reverie inducing sounds than in the cave you call your home. Hellenica stitch together a soundscape through an unremitting spell of time, saying Howdy! to the 21st century.
Des rives d'Eva Jane:
(Traduit par Jessica Grenier)
Une trame sonore pour des rêves d'espace et de temps : les pistes de Blood Moon Wolf Head t'emmènent en survolant notre planète à base d'eau jusqu'au tout début; et il n'y aurait pas de meilleur endroit pour écouter ces sons translucides invitant à la rêverie que la grotte où tu habites. Hellenica raccommode un paysage sonore par un envoûtement temporel incessant; un salut au 21e siècle.

Hellenica – Burning of the Effigies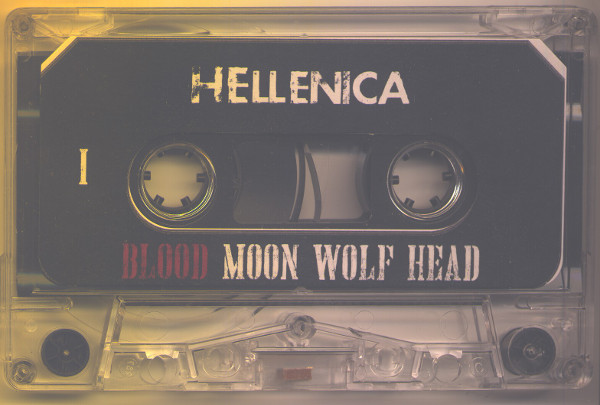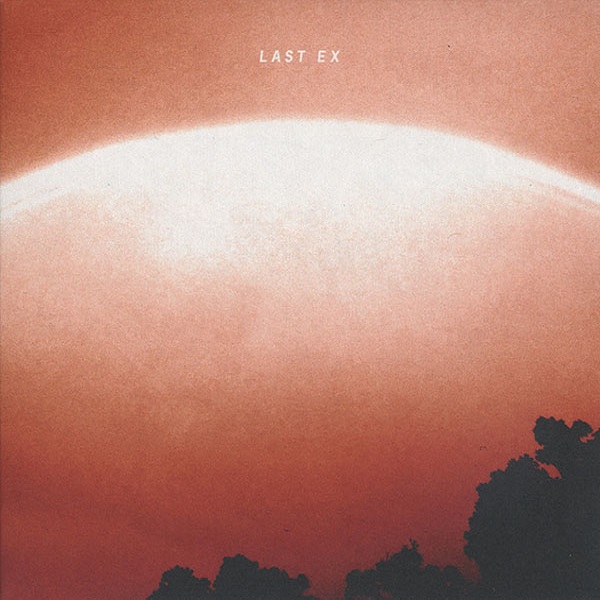 Last Ex
Last Ex
Montréal, QC
From the heavy energy of Adam Bradley:
Nightmare walls bend around you. The colours are mute and shapes are miscarried. The floor heaves like a linoleum ocean as a baby mobile tinkles hazily, each talisman representing a failure or fear. A chasm roars open. Specks at the bottom are a man of fire and a woman of water, waltzing barely, blankly in the semi-light. Through a rectangle hole you are drawn, lit by candles that writhe as snakes, nipping at your clothing. An aquamarine crystal seeps through the stone, emits waves of heavy energy. Sink to your knees. Shut your eyes. Shut your eyes.
De l'énergie pesante d'Adam Bradley:
(Traduit par la transe pétrifiée de Jessica Grenier)
Des murs cauchemardesques s'incurvent vers toi. Les couleurs sont silencieuses, les formes, inachevées. Le plancher déverse un océan de linoléum, un mobile pour bébé scintille paresseusement; chaque talisman représente un échec ou une peur. Un gouffre s'ouvre en éclatant. Tu vois des étincelles tout au fond, dans la pénombre : un homme de feu et une femme d'eau, leur presque valse, leur regard vide. Ton corps est attiré par une ouverture rectangulaire éclairée par des chandelles qui se tortillent comme des serpents en essayant de mordre tes vêtements. Un cristal aigue-marine sourd du roc en émettant des ondes d'énergie pesante. Tu tombes à genoux. Ferme les yeux… Ferme les yeux.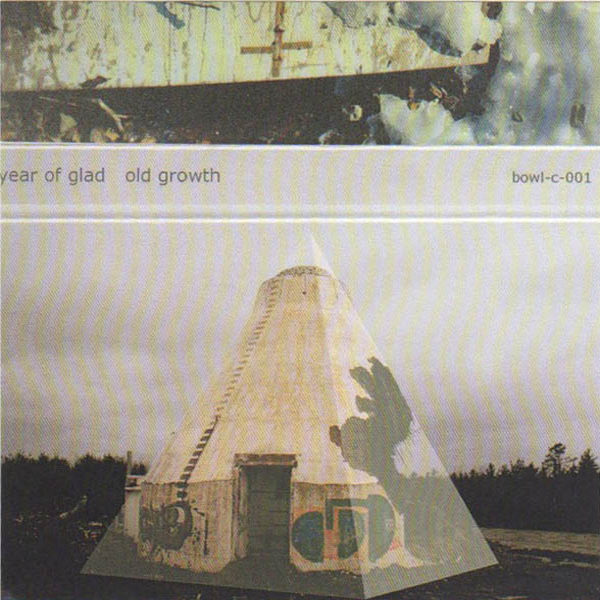 Year of Glad
Old Growth
Montréal, QC
From the self-consuming snake of Rachel Weldon:
Tones expand infinitely across an apocalyptic wasteland. Last gasps of existence smear across the temporal canvas, breathing life into a new and evolved lifeform. Euphonic in its thickness of space, Old Growth's dynamic ambience enlarges the mind. We are in here. Space slashed with subsidized time relentlessly pushes forward, growing bigger as it consumes its surroundings.
Du serpent en train de se manger lui-même de Rachel Weldon:
(Traduit par Jessica Grenier)
Les sons s'étirent à l'infini par-dessus la dévastation d'un paysage post-apocalyptique. Les derniers souffles de vie sont étalés sur le canevas temporel, donnant naissance à une nouvelle forme d'existence évoluée. Rendu euphonique par l'épaisseur de son espace, Old Growth offre des ambiances dynamiques qui élargissent l'esprit. Nous sommes ici, à l'intérieur : l'espace est lacéré par un congé payé qui cherche inlassablement à avancer, grossissant au rythme où il consume ce qui l'entoure.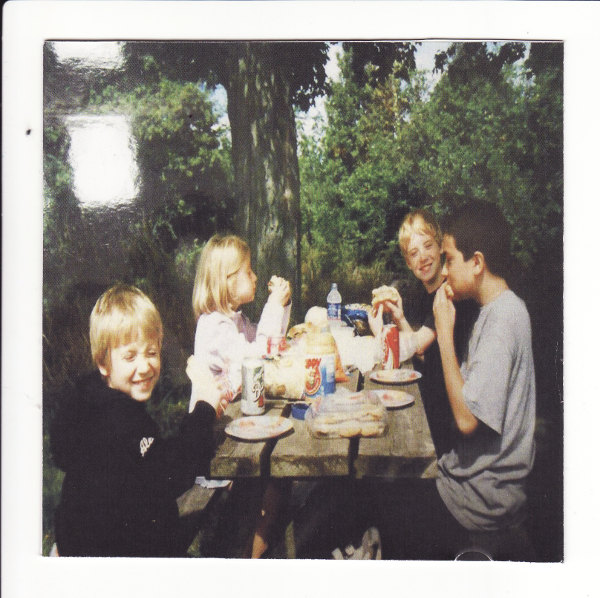 Whimm
Wm
(Self Released)
Toronto, ON
From the crash cymbals of Gabe Girard:
Layered guitars inexorably wail and drone on this lofty post-rock release, riding the waves of a drummer nurturing a personal vendetta against crash cymbals. A horror surf swell that brings to mind Deerhoof's "Giga Dance" propels the single, "Michigan Mustang". Chaos, trance and groove come together to form an insoluble whole. Wm exists in a dimension all its own – one unfettered by stasis or the commonplace.
De la cymbale crash de Gabe Girard:
(Traduit par la caisse claire de Benoit Arcand)
Des guitares stratifiées hurlent et bourdonnent inexorablement sur cet opus post-rock spacieux, surfant sur les vagues d'une batterie entretenant une vendetta contre la cymbale crash. Un surf d'horreur dans la houle qui rappelle la "Giga Dance" de Deerhoof propulse le single "Michigan Mustang". Chaos, trance et groove se fondent pour former un tout insoluble. Wm gravite dans sa propre dimension, affranchi des lois de l'inertie et des lieux communs.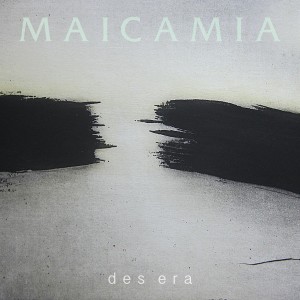 MaicaMia
Des Era
(Self Released)
Montréal, QC
From the post-apocalytic transmission of AnneMarie Papillon:
(Translated by AnneMarie Papillon)
At WC, we were slow to register the existence of MaicaMia. In 2012, back when the band was playing as a duo, they recorded Sparcity Blues, a beautiful work of dimly lit folk and slowcore sadness. Most of us missed it, but the album was acknowledged here.
Since being joined by GY!BE's Mauro Pezzente in the past year, the group has now released Des Era, a collection of dark experiments where the raw complexity of dreadful feelings is used to their advantage. Like a magnetic force of nature, it draws you in. Sparse arrangements chart ethereal explorations of the moon in a post-apocalyptic transmission. It is a blackened aurora borealis awash with sonic experimentation streaking across our winter sky. The hypnotic haziness of Maica Armata's vocals seem to melt all over the cathartic clashes of drums and dense bass notes. MaicaMia deal with an uneasy 21st century blues; pained and haunting, melodic and challenging.
Des transmissions post-apocalyptiques d'AnneMarie Papillon:
Chez WC, nous avons été lents à réaliser l'existence de MaicaMia. En 2012, alors que le groupe n'était qu'un duo, ils enregistrent Sparcity Blues, une excellente oeuvre de folk tamisé et de tristesse slowcore. La plupart d'entre nous ne l'ont pas vu passer, mais l'existence de l'album est reconnue ici.
Au cours de la dernière année, Mauro Pezzente de GY!BE a rejoint le groupe. Ils sortent maintenant Des Era, une collection de sombres expérimentations où la complexité brute de ces émotions qui font peur est utilisée à leur avantage. Comme une force de la nature empreinte de magnétisme, ils nous attirent à eux. Les arrangements minimes semblent évoquer les explorations éthérées de la lune, dans une transmission post-apocalyptique. C'est une sombre aurore boréale inondé d'une expérimentation sonique, laissant ses trainées lourdement teintées dans notre ciel d'hiver. La brume hypnotique qui voile la voix de Armata semble se fondre partout sur les clashs cathartiques de batteries et les denses notes de basses. Maicamia maîtrise habilement un blues quasi perplexe en ce 21e siècle : peiné et obsédant, ambitieux et mélodique.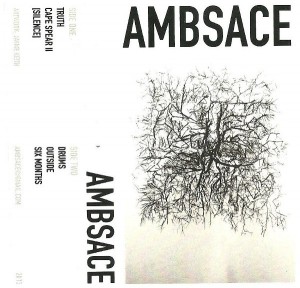 Ambsace
Ambsace
(Self Released)
Toronto, ON
From the cavernous subconscious of Brennan McCracken:
On his latest cassette as Ambsace, J.M. Ladd may gauze his brand of melancholy with a sheathing of lo-fi textures, but make no mistake: this is grand, ambitious music, and when heard in the right context it has amazing emotional potency. The word ambsace may suggest a low point — and the sound of these five songs certainly reinforces that sadness — but something about them proves to be uplifting in unlikely ways. Like approaching headlights in a syrupy fog, this is a brief escape from cacophonic singularity.
Du subconscient caverneux de Brennan McCracken:
(Traduit par la puissance musicale de Julie Forget)
Sur sa plus récente cassette sous le nom d'Ambsace, il se peut que J. M. Ladd panse sa marque de mélancolie d'un revêtement de textures lo-fi, mais croyez-moi : il s'agit d'une musique sensationnelle et ambitieuse et lorsqu'écoutée dans le bon contexte, elle détient une puissance émotionnelle stupéfiante. Le mot ambsace peut suggérer un moment des plus difficiles – et le son de ces cinq chansons renforce sans doute cette tristesse – mais quelque chose à leur sujet révèle un espoir de manière improbable. Comme l'approche de phares dans un brouillard apaisant, voici un moyen de s'évader brièvement de la singularité cacophonique.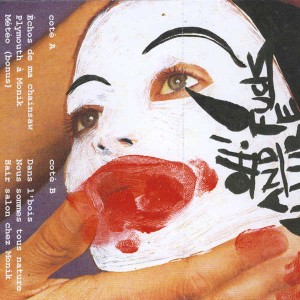 FET.NAT.
Oh! and fuck allure
Hull (Gatineau), QC
From the punk allure of Benoit Poirier:
(Translated by Benoit Poirier)
From the improbable Gatineau comes a study of contrasts: spasmodic sleaze-punk flanked in a muddy jazz pond and suburban nihilistic poetry longing for nature, each trying to outmanoeuvre the other in a bulimic impetus to shake some dust and then soar. Singer JF No is a bawling maw devising the unsound bipolarity of 6- and 4-strings. His breaths come between irate winces, always expecting something and wishing to manumit himself; looking for serenity in the relief of sonic tension and in the choirs of the choruses (here's to Greek tragedy). FET. NAT. slams quebecitude into punk, with a declamation à la French B, ti-pop themes recalling Vent du Mont Schärr, and an attitude that makes you want to fight at poetry nights.
De l'allure punk de Benoit Poirier:
De l'improbable Gatineau, une étude de contrastes entre une variété de sleaze-punk spasmodique flanqué dans une mare jazz et une poésie de nihil suburbain avec une envie de nature, colletaillant dans un élan boulimique pour brasser de la poussière et se déployer chacun. Une gueule qui trame avec la bipolarité bancale des instruments à cordes, à respirer entre deux strictions d'être en beau fusil de s'espérer, voulant s'affranchir en cherchant une sérénité dans les relâchements de tension sonique et dans la présence de l'autre et des chœurs (tragédie grecque bonjour) : FET. NAT. bat la québécitude dans le punk, avec une déclamation rappelant celle d'un Richard Gauthier des glorieux French B, des détours ti-pop à la Jean-Luc Bonspiel de Vent du Mont Schärr, et une attitude qui donne envie de se battre dans les soirées de poésie à coups de dévoyé dans le ça pue.
FET.NAT. – Échos de ma chainsaw
---