Tag: post-punk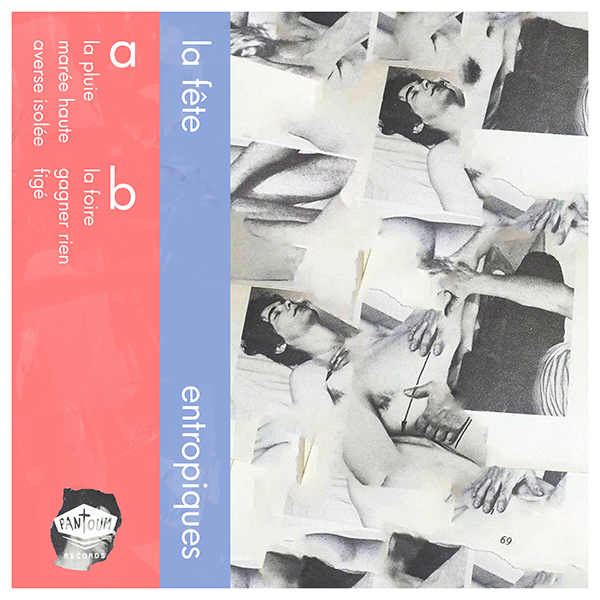 La Fête
Entropiques
Québec, QC
Du ressac lyrique de Mathieu Bédard:
*Entropiques* est un système qui se construit et se défait en permanence, alternant entre des rythmes bondissants et fragmentés et des explorations sonores planantes. Les instruments jouent parallèlement les uns aux autres, sans relâche mais sans se presser, pareils à des gouttes de pluie qui se répondent en tambourinant. L'élément liquide est partout, dans le flux et le reflux de la voix aussi, dont les trémolos agissent comme la marée, qui emporte ou dépose le ruissellement dissonant des guitares. Idéal pour méditer en regardant la pluie, ou pour courir en dessous les yeux fermés.
From the lyrical riptide of Mathieu Bédard:
(Traduit par Sergio Calla)
Alternating between the leaping and fragmented rhythms and soothing sound explorations
*Entropiques* is a system that is constantly created and destroyed. Tirelessly, the instruments calmly play in unison, similar to raindrops which sound like a beating drum. The liquid element is everywhere, in the ebb and flow of the voice too, whose tremolos carry or deposit the guitars' sour runoff like the tide. Ideal to meditate by rainfall, or to blindly run under it.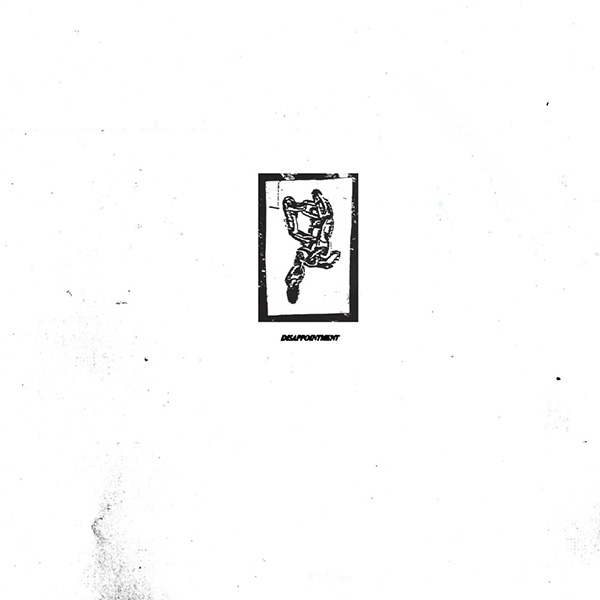 Tunic
Disappointment
Public Tone
Winnipeg, MB
From the constant disappointment of Josh Rohs:
Winnipeg's Tunic roll up their sleeves on their 7" debut, a tetra-pack of knuckle-dragging noise-punk as exothermic (and ephemeral) as an arc flash. These Manitoban noisemongers scrape and claw through tracks like adderall-fueled Liz-kids. Got an itch you can't scratch? Can't get no satisfaction? Here's a dose of *Disappointment*.
Du désappointement constant de Josh Rohs:
(Traduit par la chambre noire de Julie Mayer)
Le groupe Tunic de Winnipeg retrousse ses manches sur son tout premier super 45 tours, un Tetra Pak de punk noise primitif aussi exothermique (et éphémère) qu'un arc électrique. Ces sonoriers manitobains égratignent et griffent à travers les chansons comme de jeunes lézards roublards nourris à l'Adderall. Tu n'peux pas te *scratcher* pour soulager ta démangeaison? T'es pas satisfait? Voici une dose de *Disappointment*.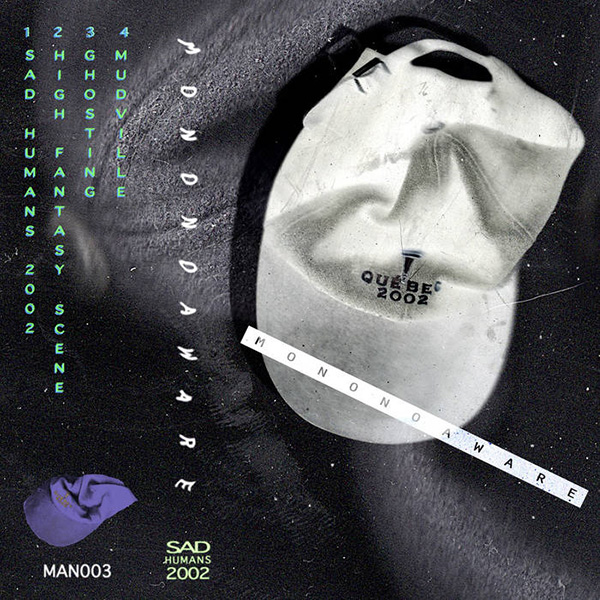 Mono No Aware
SAD HUMANS 2002
Mannequin Tan
Montréal, QC
D'un triste café de banlieue:
Il pleut, la serveuse du café prépare tristement des cupcakes qui seront jetés à la fin de la journée. L'odeur du ruban magnétique encombre mystérieusement les narines des trois clients. Ils s'arrêtent de lire le Journal de Montréal et constatent, en coeur, la fluidité des belles choses. Soudainement, la chanson s'arrête sans crier gare et on retourne à la normalité. 2002 n'aura duré que 6 minutes.
From a sad suburban café:
(Traduit par Alison McReynolds)
It's raining, the café waitress sadly prepares cupcakes that will be thrown out at the end of the day. The scent of a cassette tape mysteriously fill the nostrils of three patrons. They stop reading Le Journal de Montréal and make note of, in their heart of hearts, the fluidity of good things. Suddenly, the song stops without warning and things return to normality. 2002 didn't last more than 6 minutes.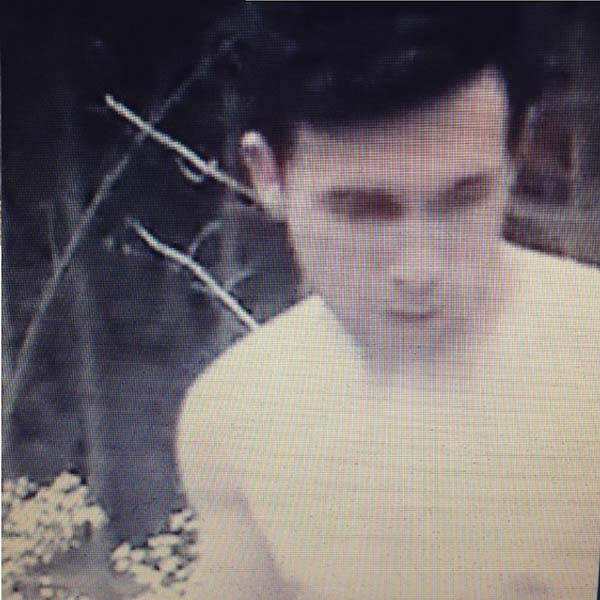 Alex Curtis
Sheer Curtain
(Self-Released)
La Ronge, SK
From the stop-start -isms of Joshua Robinson:
Icy wind and the whir of a stop-start motor on a frozen driveway. Broken is the one whose overtures are those of semi-northernly frigidity; intoned voices commixed to the point of spililng through the frosted windows of a basement too cold to keep itself warm. The yearning is obvious; spoken even. Pale blue eyes and the reckoning of humanity, fragile while loosening itself from the drapery of iconoclastic figures of the past. To breathe while sleeping is a gift, given that nihilism is the sad voyeur whose eyes frost the warm heart in the early dark of a prairie morning.
Des tressaillements de Joshua Robinson:
(Traduit par les yeux ni bleus ni pâles de Maya Keshav)
Le vent glacial et le ronronnement intermittent d'un moteur sur une allée gelée. Brisé est celui dont les ouvertures sont d'une frigidité quelque peu nordique, les voix qui s'élèvent se métissent jusqu'à ce qu'elles se renversent par les fenêtres givrées d'un sous-sol trop froid pour se garder au chaud. Le souhait est clair; même prononcé à voix haute. Les yeux bleus pâles et le jugement de l'humanité, fragile tout en se dénouant de la draperie des personnages iconoclastes du passé. Respirer en dormant, c'est un don, étant donné que le nihilisme est le voyeur triste, duquel les yeux gèlent le cœur chaud dans le noir de la prairie tôt le matin.
Alex Curtis – I Was A Bad Person Blues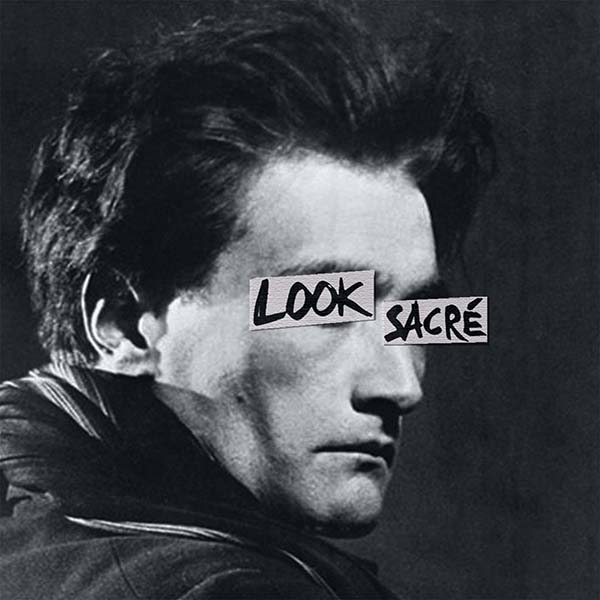 Look Sacré
Nécromensonge
(Self-Released)
Montréal, QC
From the merry-go-round of the feet of Mathieu Bédard:
(Translated by the the warped gravity of Maya Keshav)
If it sounds "like a ton of bricks", how do you dance to it? With a sledgehammer? Post-punk rhythms waltz in Nécromensonges, and send us to the floor with every new turn of the grid. It's like a merry-go-round playing with gravity: it pushes you to the ground, then up in the air you become all light, your head empty of blood. It's there that the poetry of Look Sacré consumes itself (the blood has returned to your feet); you feel your way along between the corpses and the loose soil, full of images which you touch without eyes. Bring your hippest phantoms…
Du manège de pieds de Mathieu Bédard:
Si ça sonne « comme une tonne de briques », ça se danse comment? Avec une massue? Les rythmes post-punk valsent dans Nécromensonges, et nous renvoient au plancher à chaque nouveau tour de quadrille. C'est comme un manège jouant avec la gravité : ça t'appuie au sol, puis tu deviens tout léger dans les airs, la tête vide de sang. C'est là que la poésie de Look Sacré se consomme (le sang est rendu dans les pieds); on erre à tâtons entre les morts et la terre meuble, plein d'images qu'on touche sans les yeux. Amenez vos fantômes les plus hip…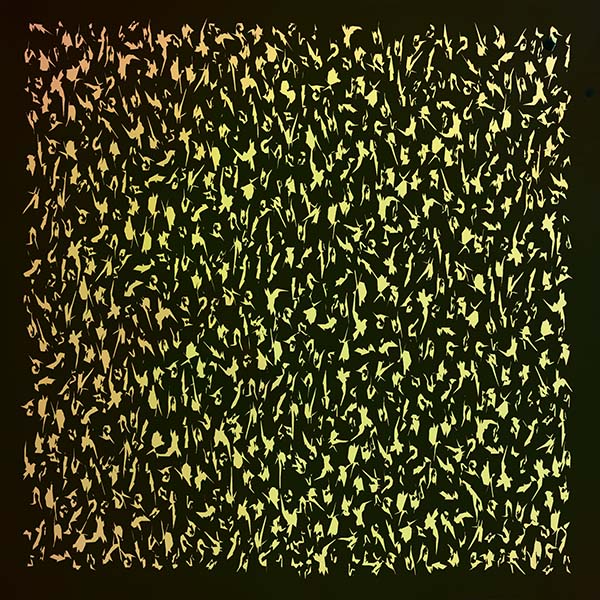 Bruised Knees
CASTINGS
(Self-Released)
Toronto, ON
From the hydrangea gel of Adam Bradley:
Magnetic metal bearings suspended in a translucent, lilac gel. Bass vibrations shuffle their symmetry, rumbling drums make them shake. A vast, cold room with no light. Heaving flashes slash the dark, and purple purse-lipped faces appear, diamond eyed and austere. Warbling synthetic tones echo to penetrate like alarms. Anxiety and urgency are the singular senses, limbs lashed to a metal slab. The ceiling shrinks closer, the music becomes louder. The floor rises, shouts are drowned. Room a slim rectangle, filling with water. Walls become porous with light and hydrangeas curl out to blossom in the pitch.
Du gel d'hortensia d' Adam Bradley:
(Traduit par Jessica Grenier)
Des billes de métal magnétiques, comme suspendues dans un gel lilas translucide. Les vibrations d'une basse les déplacent symétriquement; le grondement d'une batterie les fait frémir. Une pièce vaste et froide, sans lumière. Des éclairs nauséeux déchirent l'obscurité, révélant des visages cramoisis austères, les lèvres pincées et les yeux en diamant. L'écho de notes synthétiques chante comme une alarme. Le sentiment singulier d'une urgence anxieuse, les membres fixés à une table métallique. L'espace semble rapetisser à mesure que le son de la musique augmente. Le plancher se soulève, noyant les cris. La pièce n'est plus qu'un mince rectangle se remplissant d'eau. La lumière passe par les pores des murs, où des hortensias se mettent à fleurir.
Novel
Discrete Noise
Victoria, BC
From the junk drawer of Katie Jensen:
A messy bedroom, a bitten nail gnawed down to the half moon. Fragments of receipts crushed into origami. Scattered crumbs forming pointillistic portraits in unflattering nudes and terracottas. Half-finished journals scrawled with cryptically chronicled entries, buried between mattresses; the memories poked into squishy folds of grey matter.
Discordant, angular guitars kick sheets off the bed, scattering beach sand. Crooning, pastiched vocals quaver into a warped mirror. It throws back a grinning doppleganger dancing within a flimsy cage of glass and plywood.
Saucy drums interrupt the poorly-attended pity party like a mother knocking on the door. They won't go away until they've made their point.
Du tiroir fourre-tout de Katie Jensen:
(Traduit par le brioché au caramel de Julie Mayer)
Une chambre en désordre, un ongle rongé jusqu'à la lunule. Des bouts de reçus réduits en origami. Des miettes éparses formant des portraits pointillistes dans des tons chair et terracotta peu flatteurs. Des journaux à moitié finis barbouillés d'entrées chroniquées de façon mystérieuse, enfouis entre les matelas; des souvenirs rentrés avec les doigts dans les replis spongieux de matière grise.
Les guitares discordantes et angulaires arrachent les draps du lit, répandant du sable de plage. Les voix pastichées chantonnantes tremblotent dans un miroir déformant. Ce dernier renvoie un sosie souriant qui danse dans une frêle cage faite de verre et de contreplaqué.
Des tambours inopportuns interrompent la séance d'apitoiement peu courue telle une mère frappant à la porte. Ils ne partiront pas avant d'avoir fait passer leur message.
Casper Skulls
King of Gold
(Hip Priest Records)
Toronto, ON
From the peasant revolt of Rachel Bellone:
His majesty the King of Gold has ordered you to lend your ears to Casper Skulls. The title track keeps the pace of a slow and steady march before moving into a set of narrative lyrics with a familiar political unease . This is matched with guitar/bass tones and drum stylings that have a royal buzz about them. The vocals slice through the distortion, they sincerely want to be heard, especially in the playful call-and-response chorus in "King Of Gold." Casper Skulls taps into the swelling feeling in your head after a good cry.
De la révolte paysanne de Rachel Bellone:
(Traduit par Diane Beaupré)
Sa Majesté le King of Gold vous a ordonné de prêter l'oreille à Casper Skulls. La pièce du même titre débute avec un rythme lent et régulier avant d'entamer une narration aux accents familiers de malaise politique. Les tonalités des percussions qui accompagnent donnent un air royal à la pièce. La voix se fend à travers la distorsion, elle veut réellement se faire entendre, particulièrement quand elle joue à répondre à la guitare dans le refrain de King of Gold. Casper Skulls touche à ce sentiment d'avoir la tête pleine d'ouate lorsqu'on a pleuré un bon coup.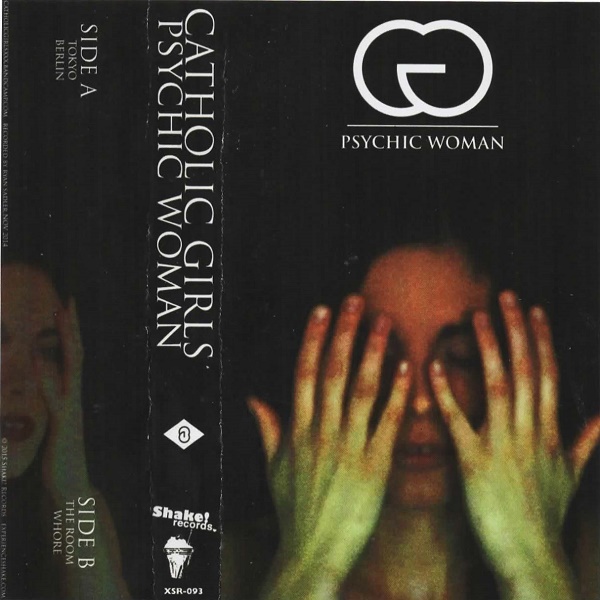 Catholic Girls
Psychic Woman
Calgary, AB
From the black X-marked hands of Mackenzie Smedmor:
An entrancing pulse initiates this party. Harshly contorting you, your body submits to a bewitching dance. Even your fingers are possessed to float on the smoke of hazy synthesizers. No longer a struggle, the rhythm matches your heart rate and sustains you until dawn. The question sprouts and flourishes and re-animates the somnambulist your mind ditched for the night.
Catholic Girls, once again, master the awakening rites of your being.
Des mains marquées d'un X noir de Mackenzie Smedmor:
(Traduit par Julie Mayer)
Des pulsations envoûtantes amorcent ce party. Te contorsionnant avec rudesse, ton corps se soumet à une danse ensorcelante. Même tes doigts flottant sur la fumée des synthétiseurs brumeux semblent possédés. Le rythme de la musique devient facile; il coïncide avec celui de ton pouls et te tient debout jusqu'aux aurores. La question germe et s'épanouit. Elle réanime le somnambule que ton esprit a abandonné pour la nuit.
Encore une fois, Catholic Girls maîtrise les rites d'éveil de ton être.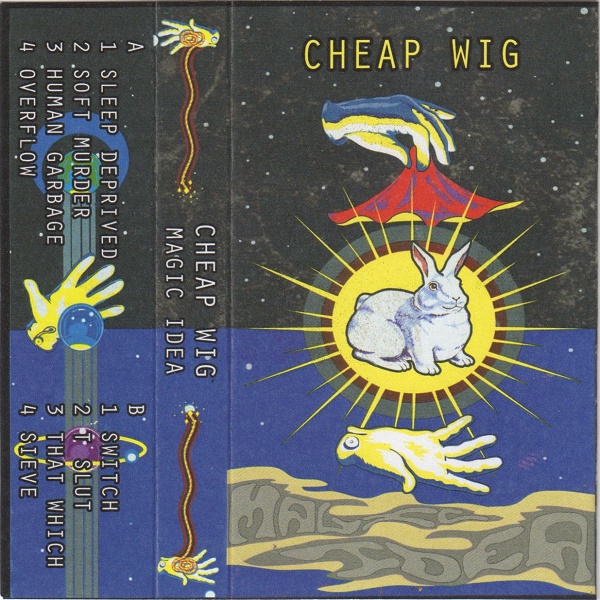 Cheap Wig
Magic Idea
(Self-Released)
Montreal , QC
From the pink veil of Rachel Weldon:
Glitter, grit, and spit soaked, Magic Idea is a ripping must-grip tape debut from Montréal's new queer, feminist, 'no-means-no wave' foursome Cheap Wig. 'Sleep Deprived' and 'Switch' pack an irresistible freak-out energy, but the tape's longest and most tantalizing track 'Sieve', loping along at stoner-metal speed at first, brings the voracious vocals of frontwoman Samantha Garritano (co-founder of Montreal's Slut Island Festival) to the fore. She coyly spells out 'F-U-C-K Y-O-U', initiating the build to an ecstatic and furious climax, un vrai petit mort. "Oh no, you weren't expecting that, were you?"
Du voile rose de Rachel Weldon:
(Traduit par les pensées détrempées d' Aliké Harel)
Des paillettes, des postillons et de la trempe. Ruez-vous sur Magic Idea, le saisissant premier album sur cassette du groupe montréalais Cheap Wig, un ménage à quatre de la nouvelle vague altersexuelle, féministe, «non-c'est-non». «Sleep Deprived» et «Switch» débordent d'une énergie détraquée, mais la piste la plus longue et la plus pétrifiante demeure «Sieve». La voix avide de Samantha Garritano, chanteuse principale (et co-fondatrice du festival Slut Island de Montréal), s'élève au premier plan. À vitesse métal stoner d'abord, fine enjôleuse, elle épelle «F-U-C-K Y-O-U» et progresse dans une montée effrénée et enragée jusqu'au climax, un vrai petit mort. «Oh no, you weren't expecting that, were you?»
---