Tag: pop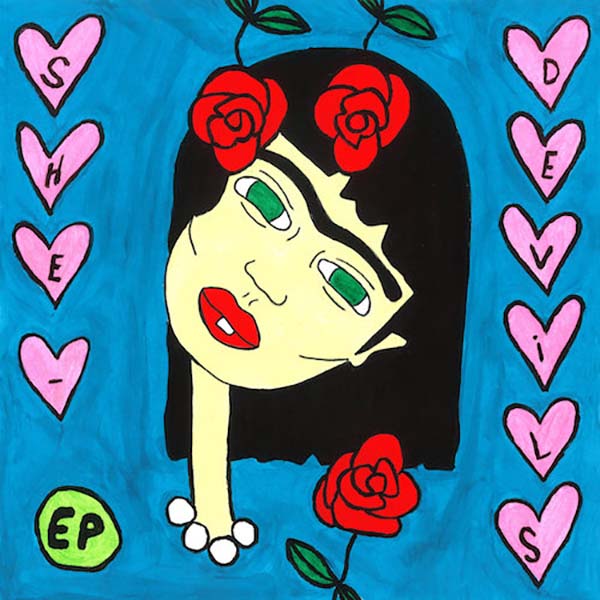 She-Devils
She-Devils EP
(Self-Released)
Montréal, QC
From the lost Hollywood dreams of Mike Roy:
Through the shifting gaze of a kaleidoscope dream, She-Devils appear in a call of absorbing desire. "Come" draws you into its core through the whirring inversion of '60s surf rock, slowly deconstructing the pop processes that breathe life through the meticulous repetition of lyrics and guitar rhythms. "Where There's No One" crackles as it spins classic ballads into a new web of aesthetics, while "I Wanna Touch You" rises up-and-down like an elevator caught between floors of ecstacy and confusion. The additional remix of "Come" cements the experimental nature that is embedded in the album – a collection of puzzle pieces ready for play.
Des rêves d'Hollywood perdus de Mike Roy:
(Traduit par la plage fondante de Mackenzie Smedmor)
À travers le regard changeant d'un rêve de kaléidoscope, She-Devils apparaît dans un appel de désir absorbant. "Come" vous attire jusqu'au plus profond de lui grâce au bourdonnement inversé du surf rock des années 60, en décomposant lentement les processus pop réanimés par la répétition méticuleuse de paroles et de rythmes de guitare. "Where There's No One" crépite en jouant des ballades classiques se transformant en une nouvelle toile d'esthétiques, tandis que "I Wanna Touch You" soulève les ascensions et les descentes comme un ascenseur coincé entre les étages de l'extase et la confusion. Le remix additionnel de "Come" cimente la nature expérimentale qui est gravée dans l'album telle une collection de morceaux de casse-tête de pièce prête `à être jouée.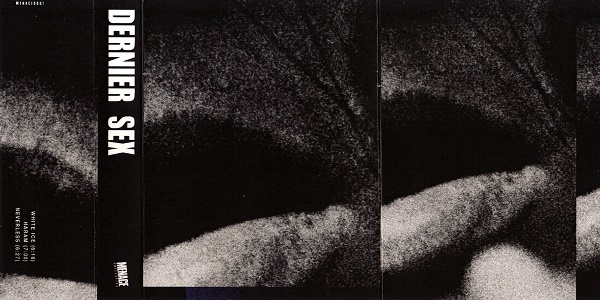 Dernier Sex
3-Song EP
Montreal, QC
From the ethereal web of Charlotte White:
Your blood thickens and the pavement feels warm on your bare feet. Humid air churns around your body creating eddies of fizzing ecstasy as your heartbeat slows to a near standstill.
This is where dreams become nightmares and nightmares become dreams. Here you are lifted above all pain and fears that ooze from dark corners like water seeping under bathroom doors.
At dawn you awake drenched in sweat and blood. You're unsure if it's your own.
Du site web paradisiaque de Charlotte White:
(Traduit par Sergio Calla)
Ton sang s'épaissit et la chaleur du pavé caresse tes pieds nus. L'air humide tourbillonne autour de ton corps générant un tourbillon, un vortex euphorique pétillant provoquant un ralentissement raide du rythme cardiaque.
Il s'agit d'un domaine où les rêves se transforment en cauchemars et les cauchemars en rêves. Ici, cesse la douleur et les craintes qui suintent de tous les coins sombres comme de l'eau qui s'infiltre sous les portes de salles de bains.
Vous vous réveillez à l'aube ensanglanté et en sueur, incertain de votre sort.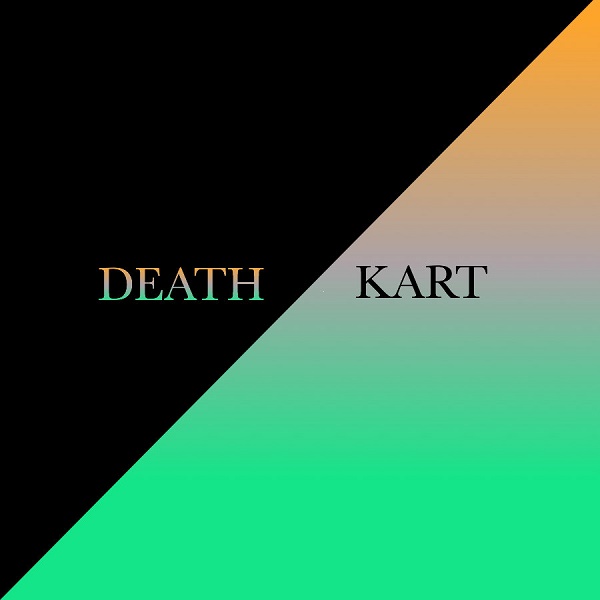 DEATH KART
DEATH KART
Victoria, BC
From the beach bum vigor of Joshua Robinson:
Super poppers from BC's Isle of Slack mix the fuzz with psych proclivities to make a sound brimming with the vigor of beach bummers and the steady flow of lo-fidelities. Down-tempo slackers spill their guts with the richness required to spin lysergic daydreams into hazy somnambulisms, replete with the rich overture of waking to repeat the cycle.
Par la vigueur de flâneurs de plage de Joshua Robinson:
(Par les rêveries lysergiques d' Émily Traichel)
Super poppers venu de l'île du Slack en Colombie-Britannique mixent les tendances fuzz et psych pour produire un son qui déborde de la vigueur de flâneurs de plage et du flux constant de basse-fidélités. Les slackers down-tempo vident leur sac avec la richesse requise pour faire tourner des rêveries lysergiques en somnambulismes vaporeux, remplis de la riche ouverture du réveil pour répéter le cycle.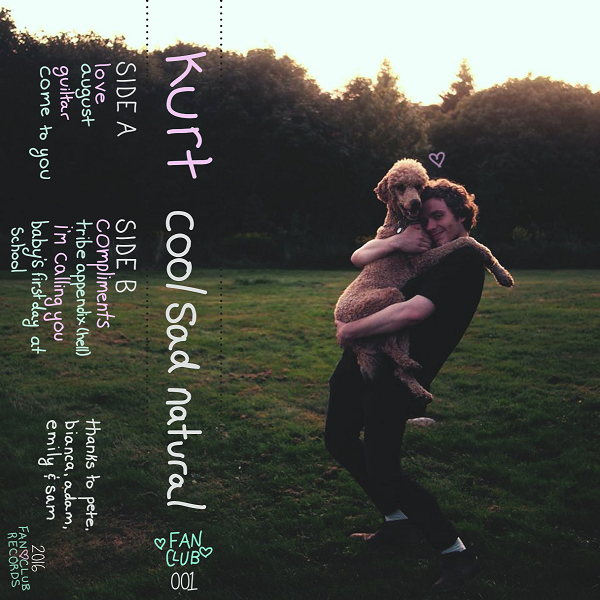 kurt
cool sad natural
Halifax, NS
From the cold shoulder of Katie Jensen:
Items tossed in a hard-shelled suitcase. Voicemails overwritten on glossy brown cassette tape. Damp socks dangling from the railing, heels dripping in quiet splashes. The hall mirror is staging an exclusive viewing of Sadsack Packs Up Things After Breakup, one night only, playing for an audience of precisely no one.
Cardboard boxes are sympathetic storage units, gobbling up smooth-rubbed talismans, creased comics scrawled in blue ballpoint, sweaters threaded with clove cigarette smoke.
A drumbeat taps like gentle pats on the back, or a dog wagging its tail against the hardwood. Tender guitar melodies flutter like a spring breeze, catching the linen skirt of the curtain. The answer couldn't be more obvious, and it couldn't be more miserable.
De l'accueil glacial de Katie Jensen:
(Traduit par Alison McReynolds)
Des objets jetés dans une valise rigide. Des messages vocaux remplacés sur une cassette brune lustrée. Des chaussettes humides pendent sur la rampe, des talons dégoulinent doucement. Le miroir du corridor monte une scène exclusive d'un Personnage Tragique En Train De Faire Ses Valises Après Une Rupture, un soir seulement, pour un public de précisément personne.
Des boites en carton sont des entrepôts sympathiques, engloutissant des talismans lissés, des bandes dessinées gribouillées en stylo bille bleu, des pulls tissés avec de la fumée de cigarette au clou de girofle.
Un tambour bat comme des tapes gentilles dans le dos, ou comme un chien remuant la queue sur un plancher de bois. Des mélodies tendres de guitares flottent comme une brise printanière, saisissant le bas du rideau. La réponse ne peut pas être plus claire et elle ne peut pas être plus misérable.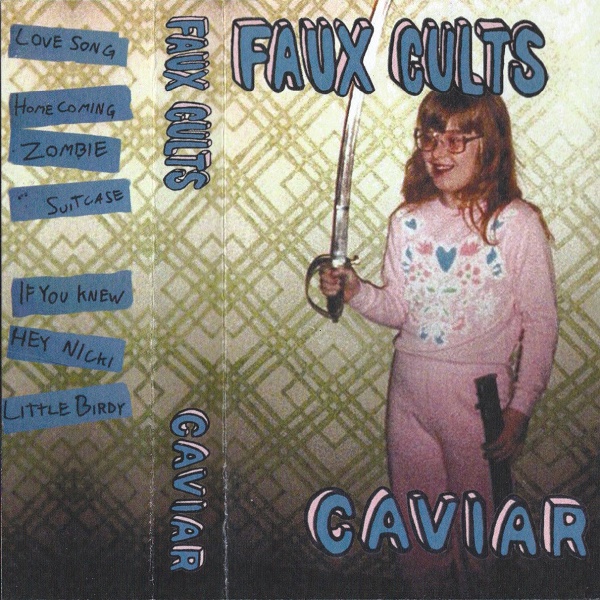 Faux Cults
Caviar
(Self-Released)
Peterborough, ON
From the gnarly swells of Mike Roy:
An abandoned fish tank sits in the corner of your parents' living room. The tank is still half-full, void of life beyond its tropical beach backdrop. An aimless surfer is face down in a growing pit of algae. You approach the glass and tap to find a pulse. Tick. Tick. A hairline crack is formed. It grows and grows. The tank comes to life. Tick. Tick. The surfer twists in his pit of algae to look at you. A longing for a swell to escape Tick. Tick. Crack. Water gushes through the room, liberated to all corners of the room. The surfer rides these currents to land by your feet. The energy of an endless summer from a long forgotten memory warms the room. The look of longing evolves to a smile.
Des gonflements fous de Mike Roy:
(Traduit par l'adulation en série Mackenzie Smedmor)
Un aquarium abandonné est posé au coin du salon de tes parents. Il est toujours à moitié rempli, dépourvu de vie autre que le fond de plage tropicale. Un surfeur vagabond est à plat ventre dans un trou croissant d'algues. Tu t'approches du verre et tapes à la recherche de son pouls. Tick. Tick. Une petite fissure se forme. Elle croît et croît. L'aquarium prend vie. Tick. Tick. Le surfeur se serpente dans son trou d'algues pour te regarder. Une envie pour qu'un gonflement s'échappe. Tick. Tick. Crack. L'eau jaillit dans la salle, libérée dans chaque coin de la salle. Le surfeur monte ces courants pour atterrir à tes pieds. L'énergie d'un été sans fin d'une mémoire longtemps oublié réchauffe le salon. Le regard d'envie s'évolue en sourire.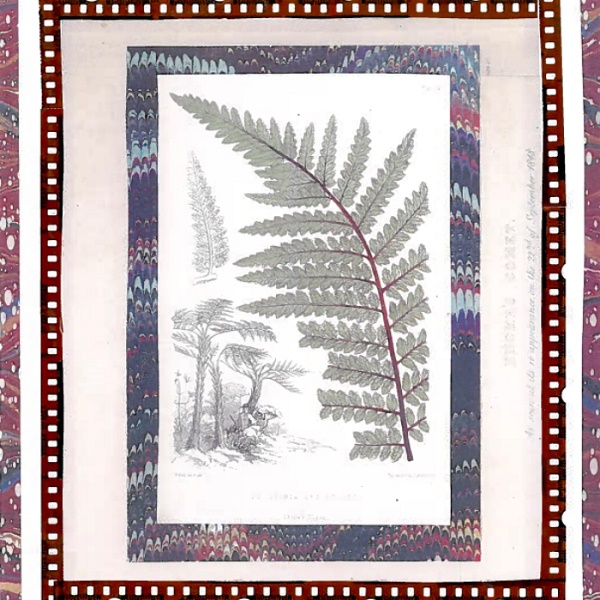 Nutrients
Drag On
(Self-Released)
Toronto, ON
From the cyborg midwife of Sam Joseph:
You have slayed the dragon! The pound of flesh is yours; this moment was a long time coming. And at this moment of sonic incandescence, goldenrod memories of a million little victories seep into your slackened psyche like an incoming torrent of liquid sunshine – warmer than the Danforth on a July evening. This is a sundown for the ages; put on your shades, open your ears, and, yes, drink in that pop. Make it last. What comes next?
De la sage-femme cyborg de Sam Joseph:
(Traduit par Jessica Grenier)
Tu as tué le dragon! Réclame ton dû : tu as attendu si longtemps pour ce moment. Cet instant de sonorité incandescente, les souvenirs d'un million de petites victoires s'infiltrant dans ton esprit détendu comme un torrent diluvien de soleil liquide – plus chaud encore que le Danforth par un soir de juillet. C'est un crépuscule millénaire : tends l'oreille, mets tes lunettes de soleil, bois un peu de boisson gazeuse… et étire le plaisir. Que faire maintenant?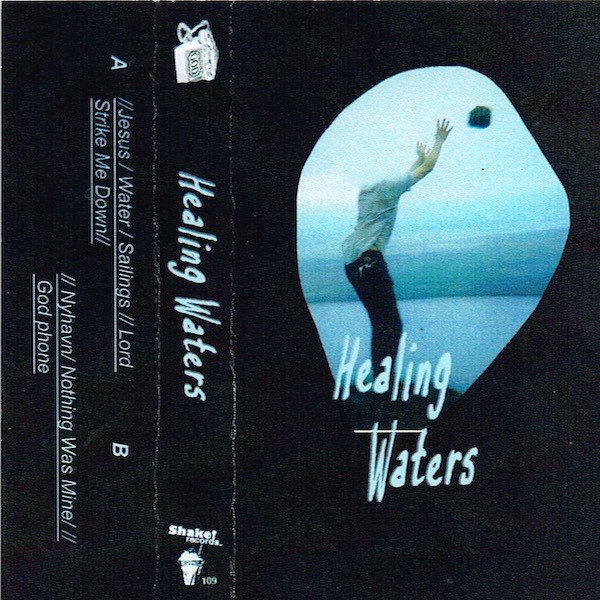 Healing Waters
Water
Victoria, BC
From the aquaphobic hallucinations of Sara Bortolon-Vettor:
Curves of black and blue fluid create a divine ripple effect. Sun sparkles. The water is warm. Our minds bloat and float away like abandoned canoes, left to drift. Passengers' punctured souls litter the water's floor. As the heaviness behind our eyes turns our gaze downward, staring into the water, we wonder whether our thoughts will drown. Be gone forever.
Des hallucinations aquaphobiques de Sara Bortolon-Vettor:
(Traduit par Diane Beaupré)
Des courbes de fluides noirs et bleus créent un effet d'ondulation divin. Le soleil brille. L'eau est chaude.. Nos esprits se gonflent et partent à la dérive comme des canots abandonnés à la merci du courant. Les âmes perforées des passagers jonchent le plancher des eaux. Alors que nos paupières lourdes nous font baisser les yeux et fixer les profondeurs de l'eau, nous nous demandons si nos pensées couleront. Disparaître à jamais.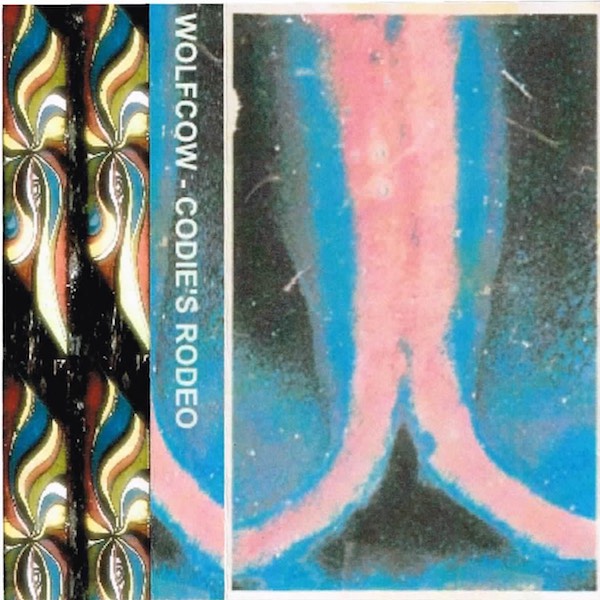 WOLFCOW
CODIE'S RODEO
(Self-Released)
Toronto, ON
From the upper respiratory system of Sara Bortolon-Vettor:
Sweating psychosis: the kind you get from impulsively doing speed and climbing a mountain. Taking a breath is excruciatingly satisfying. Lack of oxygen has you high. Enthralled in manic hallucination, your heart pops out of your chest. Warm and bloody. Dangling above you. Forever, slightly out of reach…
Des voies respiratoires supérieures de Sara Bortolon-Vettor:
(Traduit par le larynx silencieux de Joannie Pharand)
Psychose en transpiration : le genre de sueur qu'on a quand on prend du speed impulsivement et quand on escalade une montagne. Reprendre son souffle est atrocement satisfaisant. Un manque d'oxygène donne des hallucinations. Captivé par un épisode illusoire, votre cœur sort de votre poitrine. Chaud et saignant. Se balançant au-dessus de vous. Toujours, légèrement hors d'atteinte…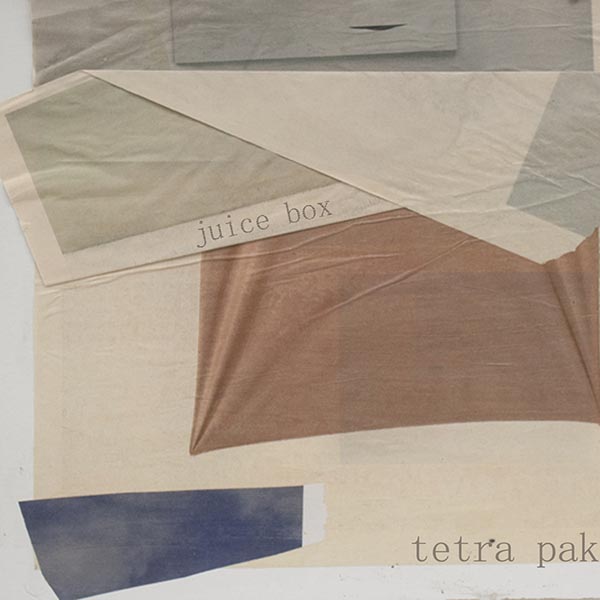 Juice Box
Tetra Pak
(Self-Released)
Calgary, AB
From the gnawed appendages of Piper Curtis:
Voices raised against the musical patriarchy.
Take a sip. We've got a problem.
Take another sip. They'll make you laugh, they'll make you care. Now take a bigger sip. Drink your juice.
Don't swallow what the boys club feeds you.
Des appendices rongés de Piper Curtis:
(Traduit par de Wie Gehts)
Des voix dissidentes contre le patriarcat musical. Buvez une gorgée. Le problème est grave.
Buvez une autre gorgée par la suite. Elle vous fera rire. Elle vous fera prendre des choses en considération.
Maintenant, prenez une gorgée encore plus grande. Buvez votre jus.
N'avalez pas ce que ce patriarcat systématique, ce club fermé, ce club de dinosaure vous nourrit.
Juice Box – Straight White Boys Texting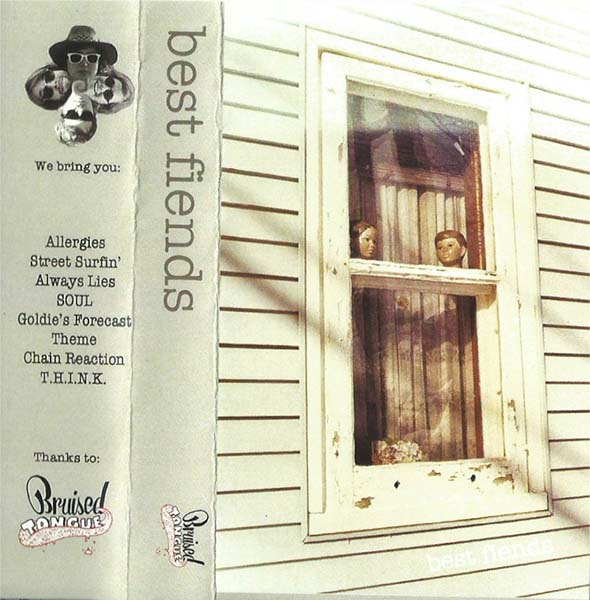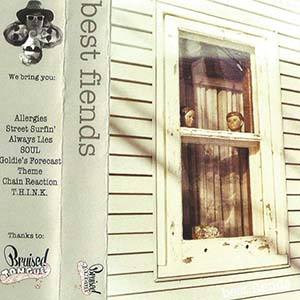 Best Fiends
Best Fiends
Halifax, NS
From the fiendish heart of Laura Stanley:
Beware the heart of Best Fiends. It is not blackened with hate or eroded by bitterness, but it beats in frantic measure; always in bright hues of red and pink. Wrapped in a panoply of anxiety and ardor, it surfs, has SOUL, and is desperate to get outside. But be sure Best Fiends are no villains, these fiends are out for friends.
Du cœur monstrueux de Laura Stanley:
(Traduit par Julie Mayer)
Prenez garde au cœur de Best Fiends. Ce dernier n'est pas noirci de haine ou érodé par l'amertume, mais il bat à un rythme effréné, toujours en teintes vives de rouge et rose. Enveloppé dans une panoplie d'anxiété et d'ardeur, ce cœur surfe, a une âme et veut à tout prix aller dehors. Mais soyez assurés que les Best Fiends ne sont pas méchants, ces monstres sont à la recherche d'amis.
---