Tag: pop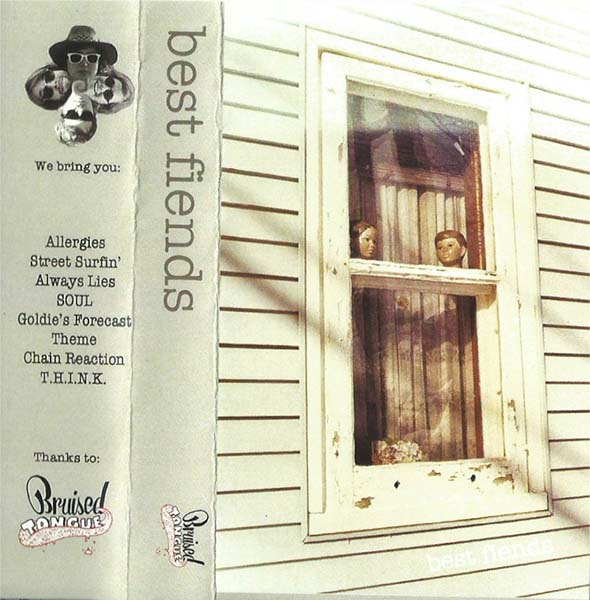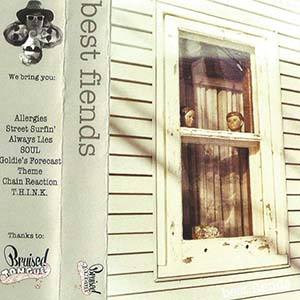 Best Fiends
Best Fiends
Halifax, NS
From the fiendish heart of Laura Stanley:
Beware the heart of Best Fiends. It is not blackened with hate or eroded by bitterness, but it beats in frantic measure; always in bright hues of red and pink. Wrapped in a panoply of anxiety and ardor, it surfs, has SOUL, and is desperate to get outside. But be sure Best Fiends are no villains, these fiends are out for friends.
Du cœur monstrueux de Laura Stanley:
(Traduit par Julie Mayer)
Prenez garde au cœur de Best Fiends. Ce dernier n'est pas noirci de haine ou érodé par l'amertume, mais il bat à un rythme effréné, toujours en teintes vives de rouge et rose. Enveloppé dans une panoplie d'anxiété et d'ardeur, ce cœur surfe, a une âme et veut à tout prix aller dehors. Mais soyez assurés que les Best Fiends ne sont pas méchants, ces monstres sont à la recherche d'amis.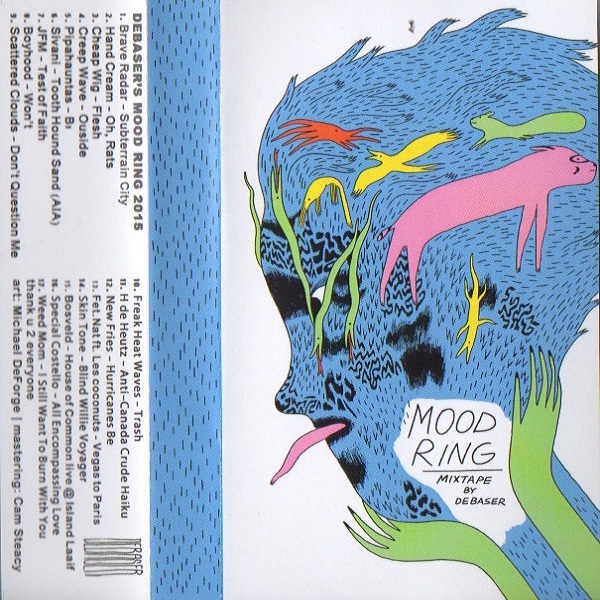 Various Artists
MOOD RING
(Debaser)
Ottawa, ON
From the blonde arm hair of Katie Jensen:
Defiant and pure, a dirty finger brushes away thick tears.
Tricked by the smear of this glass into leaving the apartment. For a good time, call these jeans. For a better time, take them off. Roll them down with exhausted hands; hitch them off stubborn feet; collapse on the bed.
The bar was a pale mess of limp clothes and lukewarm handshakes; a cluster of grimaces copied from grainy school photographs. In one, an eyetooth poked through plump flesh. In another, a yawn that never ends, begging for attention. The clock mutters of lost hours spent grinding its teeth, deciphering glowing, cryptic symbols in the dark. Sleep comes in twitching waves.
Par les poils de bras blonds de Katie Jensen:
(Traduit par l'hiver printanier d' Émily Traichel)
Provocateur et pur, un doigt sale essuie de grosses larmes.
Trompé par la tache de cette vitre et mené à quitter l'appartement. Pour prendre du bon temps, appelez ces jeans. Encore mieux, enlevez-les. Rabaissez-les avec des mains épuisées; décrochez-les des pieds obstinés; effondrez-vous sur le lit.
Le bar était un pâle bordel de vêtements mous et de poignées de mains tièdes; un amas de grimaces copiées de photos d'école grenues. Sur l'une d'elles, une canine a perforé de la chair potelée. Dans une autre, un bâillement qui ne finit jamais, mendiant de l'attention. L'horloge grommèle contre les heures perdues à grincer ses dents, déchiffrant des symboles lumineux et cryptiques dans le noir. Le sommeil vient en vagues spasmodiques.
Sivani – Tooth Hound Sand (AIA)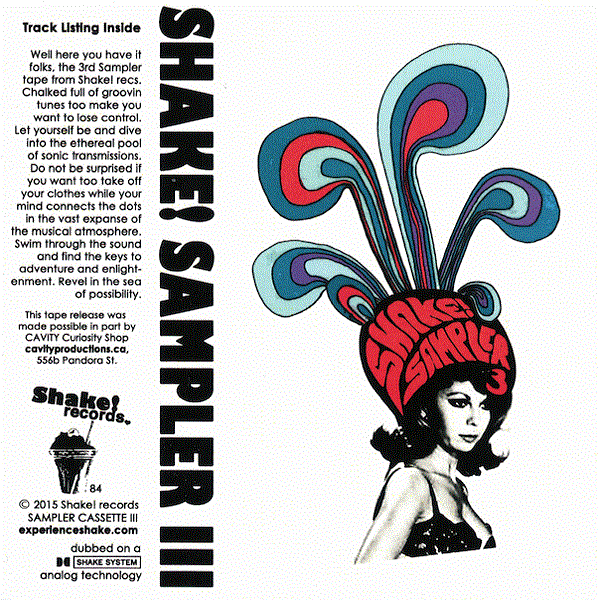 Various Artists
Shake! Sampler III
Victoria, BC
From the competing frequencies of Katie Jensen:
A junk store window gleaming with treasures. Dented jangle-pop cans burnished with gritty, syrup-stained rims. Sunbleached beach towels with familiar stains. A tambourine rattling coquettishly; the shopkeeper's purring pet. Tinted glasswear played like cowbells: hollow and true. A wooden bowl with a wide-mouthed brim, drooling with overflowing keys. Unopened letters. Leftovers from someone else's life.
A tiny handheld radio blares an anthem of discordant, slacker post punk. Twist the dial but stay between frequencies. Hover here. Hold your breath.
Des fréquences en compétition de Katie Jensen:
(Traduit par Julie Mayer)
La vitrine d'un bazar, étincelante de trésors. Des cannettes de jangle pop cabossées, polies, aux contours rugueux et maculés de sirop. Une serviette de plage blanchie par le soleil, couverte de taches familières. Un tambourin cliquète d'une manière aguicheuse; l'animal domestique ronronnant du commerçant. De la verrerie teintée jouée à la manière des cloches à vache : un son creux et vrai. Un bol en bois au large bord, dégoulinant de clés qui débordent. Des lettres non lues. Les restes appartenant à la vie de quelqu'un d'autre.
Une petite radio portative braille un hymne de slacker post punk discordant. Tourne la molette mais reste entre les fréquences. Fais du surplace ici. Retiens ton souffle.
Snooker Emporium – TökfQzelék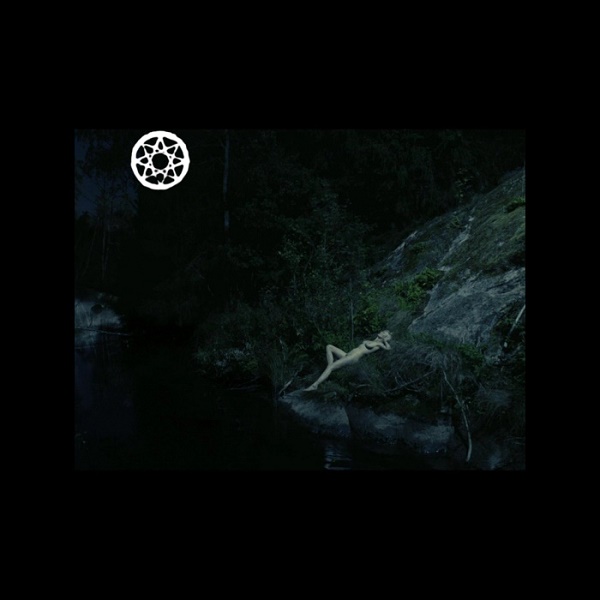 CITADEL
Moonbather b/w Well I Made It & Autumnal Suite MMXIII
(Coven Not Cult)
Montreal, QC
From the hidden knowledge of Cassilou Landra:
Montreal-based CITADEL breathes life into the paranormal. Two tracks of wistfully illuminated synths, like dim evening light tumbling in through windows of broad bones and pummeling beats, frame a dancefloor exorcism within an old shaking home. These spirits are clearly in a state of unrest, as evident by their distant calls under the heavy low-end ceiling. Conjured with the help of kindred pop-maestro Mozart's Sister and old friend James Cochrane, the cold, airy choir of ghosts float forth not in agony, but in transcendence. The victory isn't taken for granted as the nine-minute Autumnal Suite meditates on the preceding charred, pop landscape with a sparkling organ drone pedestalled by absolutely gorgeous chord changes and an incredible sense of patience and understanding. Building like a stretched crescendo, the billowing synths seem to gradually expand in depth as the piece progresses from calm to catastrophic in scope. These spirits are your friends and you can learn from them.
Par les connaissances cachées de Cassilou Landra:
(Traduit par les jeudis frits d' Émily Traichel)
CITADEL de Montréal donne vie au paranormal. Deux pistes de synthés amèrement illuminés, comme la faible lueur du soir qui dégringole par les fenêtres faites de forte ossature et d'un rythme tabassant, encadrent un exorcisme de plancher de danse dans une vieille maison tremblante. Ces esprits sont clairement dans un état d'agitation, comme en témoignent leurs cris lointains sous le lourd plafond à basse fréquence. Conjurée avec l'aide du pop-maestro apparenté Mozart's Sister et vieil ami James Cochrane, la chorale froide et éthérée de fantômes flotte en avant, non pas en agonie, mais en transcendance. La victoire n'est pas prise pour acquis car la Suite Automnale de neuf minutes médite sur le précédent paysage-pop calciné avec un organe-drone scintillant élevé par des changements de cordes absolument magnifiques et un sens incroyable de patience et d'entente. Amplifiant comme un crescendo allongé, les synthés ondoyants semblent gonfler graduellement en profondeur alors que l'étendue du morceau progresse de l'état calme au statut catastrophique. Ces esprits sont nos amis et peuvent nous apprendre bien des choses.
Almonds, Cohen
Ceiling Once Ltd.
(Self Released)
Toronto, ON
From the rat shack of Johnnie Regalado:
Sounds of a picnic in the seabreeze. Friends from years back, and across the country, come together to help pin down the fluttering corners of the beach blanket. The taut fabric reverberates a moment from a resonating relationship. Days might go by, but you can still remember our Old Life.
De la cabane à rats de Johnnie Regalado:
(Traduit par Aliké Harel)
La mélodie d'un pique-nique, l'air du large. Des amis d'autrefois et de partout au pays se rassemblent et donnent un coup de main pour ancrer les coins virevoltants d'une couverture de plage. Le tissage de la toile renvoie l'écho d'un moment dans une relation vibrante. Les jours passent, mais le souvenir des jours passés reste.
Almonds, Cohen – Quantum Summer
Dead Beat Poet Society
Induction
(Self Released)
Sackville, NB
From the Dead Beat mind of Laura Stanley:
Captains! my Captains! our fearful trip has just begun. We're drunk and high, lost in the perpetual agitation brought on by our responsibilities. We're generation Y warriors, wool pulled over our eyes, pretending everything's alright. Our yawp is not savage, but pointed, and matches the fire in our restless bones.
Walk the path where Kay Moon and Zakary Slax stand. Energized and alert.
De l'esprit irresponsable de Laura Stanley:
(Traduit par Aliké Harel)
Ô, Capitaines! Mes capitaines! Notre voyage effroyable ne fait que commencer. Soûls, nous planons, perdus dans le tumulte perpétuel entretenu par nos responsabilités. Nous sommes les guerriers de la génération Y, au regard masqué d'un lainage, affectant un air béat. Notre cri n'est pas sauvage, mais ciselé et aux couleurs du feu, fébrile jusqu'à la moelle. Prenez le chemin où se tiennent Kay Moon et Zakary Slax. D'aplomb et alerte.
Dead Beat Poet Society – Coming of the Age
L CON
The Distance of the Moon
(Self Released)
Toronto, ON
From the celestial chatter of Mark Anthony Brennan:
This is about distance. In the distance between any two objects there is space. Space is eternal. You can never get rid of it. You cannot fill it because space will always surround any object you place in it. Work with it, don't ignore it or pretend it isn't there. Music exists as much in the empty air as in the sound waves that travel through it. Rejoice in the distance. Listen to the spaces in between.
Par le bavardage célestial de Mark Anthony Brennan:
(Traduit par les synapses intersidéraux d' Émily Traichel)
Il s'agit de la distance. Dans la distance entre n'importe quelle paire d'objets, il y a de l'espace. L'espace est éternel. On ne peut jamais s'en débarrasser. On ne peut le remplir, car l'espace entourera toujours tout objet que l'on y place. Composez avec, ne l'ignorez pas et ne prétendez pas qu'il n'est pas là. La musique existe autant dans l'air vide que dans les ondes sonores qui voyagent à travers. Réjouissez-vous de la distance. Écoutez les espaces qui s'y figurent.
L CON – The Distance of the Moon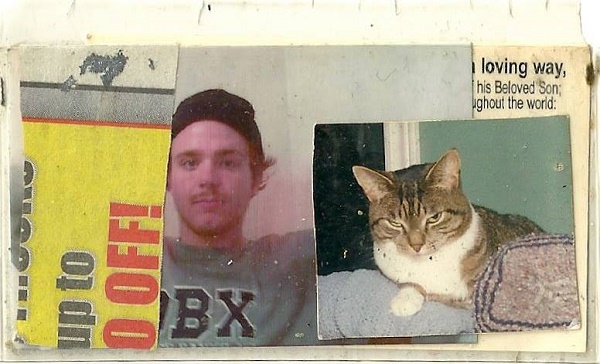 kurt
soft things
(Self-Released)
NFLD
From the cluttered desk of Katie Jensen:
Maybe water will fix everything that's wrong with you. Tighten your internal gears, shift the abstract thoughts, make you loveable. Underneath the surface, your limbs resemble fat peach stems green enough to bend in half.
You swipe your fingers, shooing away bubbles and resisting fluid friction. A fight you can win by yanking out the plug; a fantasy that doesn't translate to dry land.
Deprived of gravity's mulish tug, your face falls like magnetic alphabets slipping from a refrigerator. Plunk, plunk, plunk. They don't spell anything when they hit the ground, just a preschool jumble of half-articulated ideas.
Du bureau encombré de Katie Jensen:
(Traduit par la perspective enfantine de Mackenzie Smedmor)
Peut-être que l'eau réparera tout ce qui ne va pas chez toi; resserrer les engrenages internes, décaler les pensées abstraites, te rendre facile à aimer. Sous la surface, tes membres ressemblent de grosses tiges de pêche vertes que l'on pourrait facilement plier en deux.
Du bout des doigts, tu chasses les bulles et le fluide de friction qui résiste. Une lutte que tu peux gagner en arrachant le bouchon; une fantaisie que la terre ferme ne peut traduire.
Privé de la poigne entêtée de la gravité, ton visage tombe comme des lettres d'alphabet magnétiques glissant d'un frigo. Plouk, plouk, plouk. Elles n'épellent aucun mot en tombant sur le sol; rien qu'un méli-mélo préscolaire d'idées à demi-articulées.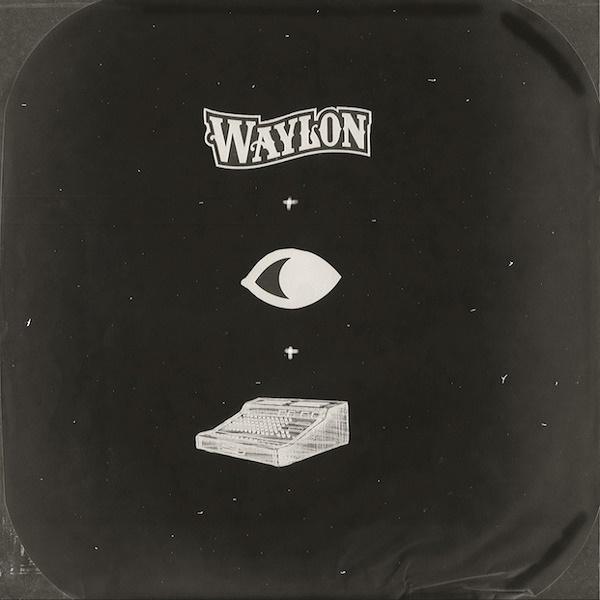 Pee Wee
Tingles
(Self-Released)
Montreal, QC
From the faded shoulder of Katie Jensen:
A shuffling drumbeat echoes the long walk home from school: lazy, fawn-coloured motes drifting diagonally, warm grey rubber smacking down onto dimpled concrete. Each hesitant smile is coloured with the blush of tiny achievements, hoarded in lint-lined, triangular pockets: a creased paper fortune teller, a geometric knob of Pink Pearl, a flat rectangle of tropical gum gnawed into a dented wedge of jaw-achingly sweet rubber. Memories fade like milky water.
De l'épaule délavée de Katie Jensen:
(Traduit par le kit de géométrie incomplet de Julie Mayer)
Après l'école, un battement de tambour à l'allure traînante se répercute sur la longue marche du retour chez soi : de petites particules couleur fauve flottent paresseusement en diagonale, du caoutchouc gris et chaud s'écrase sur du béton alvéolé. Chaque sourire hésitant est teinté du rosissement qui vient avec les petits trophées amassés dans des poches triangulaires doublées de peluche : un coin-coin froissé, un bout d'efface Pink Pearl de forme géométrique, une tablette de gomme à saveur tropicale grugée dans une cale dentée de gomme à mâcher dont le goût sucré donne mal aux dents. Les souvenirs s'effacent comme de l'eau laiteuse.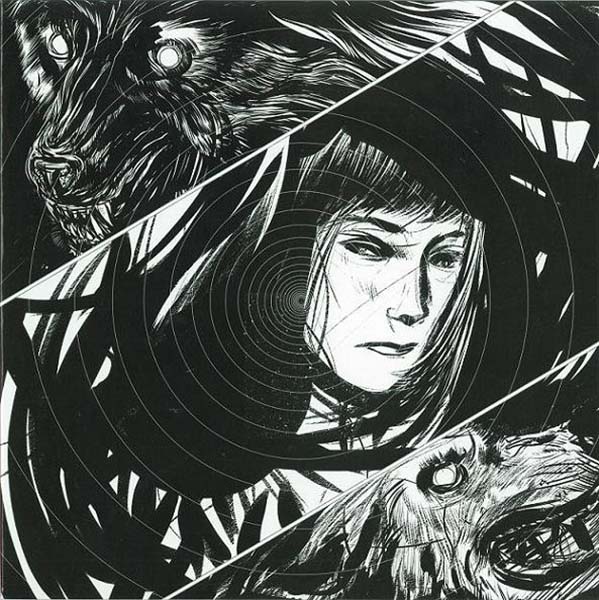 Terra
Couldn't Save This
Medicine Hat, AB
From the therapeutic helmet of Trevor Angst:
A herald abdicates his duties to become a harbinger. He gives an exit speech of honest introspection and narrates his inner conflicts to the hearkening convergence of the rank and file. His oratory is tonally commanding and it's mastered with a silver tongue. People discern the vocalized afflictions. It is sheathed like a cupped mic to make a bull horned public address of incurable conditions.
Du casque thérapeutique de Trevor Angst:
(Traduit par le clavier post-numérique de Mackenzie Smedmor)
Un héraut renonce à ses responsabilités afin de devenir un annonciateur. Il tient un discours de sortie d'une honnête introspection et narre ses conflits internes jusqu'à la convergence prêtant l'oreille du rang et du fichier. Son oratoire adopte un ton autoritaire et est maîtrisé avec une grande éloquence. Les gens distinguent les afflictions vocalisées. C'est recouvert comme un microphone enveloppé pour faire une allocution publique audacieuse à conditions irrémédiables.
---