Tag: pop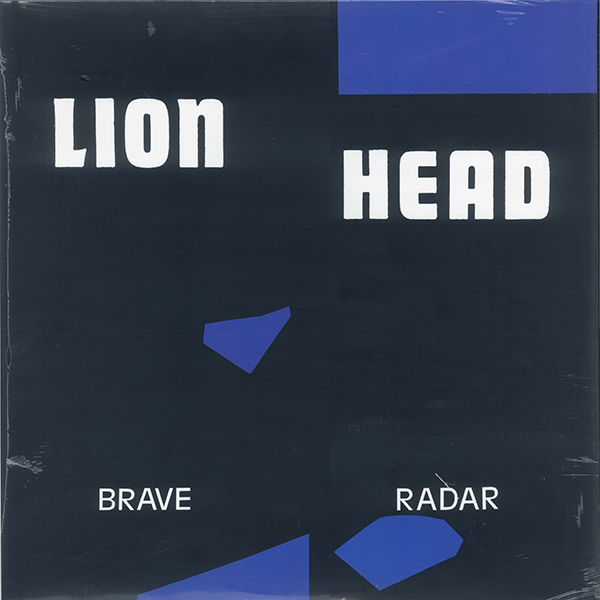 Brave Radar
Lion Head
Montréal, QC
From the littered desk of Laura Donohue:
The elevator's interior is so reflective it is hard to tell when the door has opened. Stepping inside, a million different versions of yourself extend radially from each corner. Tilting sideways to glimpse your other selves, one figure splits from the lattice. The rogue steps forward and presses an arm through the fluid pane. Your fingers almost touch. The elevator chimes the arrival of the 6th floor, ending the fever dream. Where do you go from here?
Du bureau encombré de Laura Donohue:
(Traduit par le voyage en ascenseur de Maya Keshav)
L'intérieur de l'ascenseur est si réfléchissant qu'il est difficile de remarquer que la porte s'est ouverte. En entrant, un million de versions de toi-même se répand en étoile de chaque coin. Tu te penches de côté pour entrevoir tes autres toi, quand un des toi se sépare du treillis. L'intrus s'approche et pousse un bras à travers le carreau fluide. Vos doigts se touchent quasiment. L'ascenseur sonne l'arrivée du sixième étage, mettant fin aux hallucinations. Où tu vas maintenant?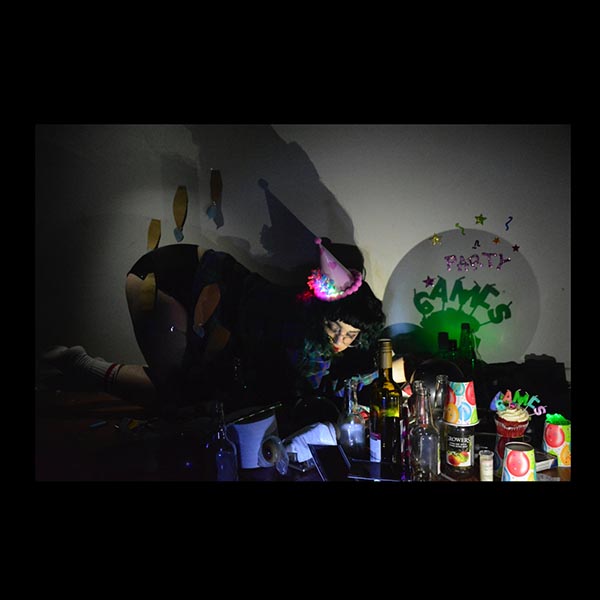 Caity Fisher
Party Games
(Self-Released)
Edmonton, AB
From the empty red cup of Laura Stanley:
There's a stain in the carpet, a drink in your hand, and out of someone's crappy computer speakers Caity Fisher plays her Party Games. Her pop has enough power to rise above the din of the drunken party goers; her fuzzy licks match the fuzz on your tongue. As Fisher croons about feeling good, you drink more and the room begins to spin. She convinces you to dance. At first you're alone but then others join in. You lock eyes with someone on the other side of the room…
The party ends and you don't go home alone. A cruel hangover, puke, and a stranger greet you in the morning, but the next round of Party Games is not too far away.
De la coupe rouge vide de Laura Stanley:
(Le lendemain de veille cruel d'Odile Leclerc)
Il y a une tache sur le tapis, un verre dans ta main et venant des haut-parleurs merdiques de l'ordinateur de quelqu'un, Caity Fisher joue sa Party Games. Sa pop a assez de puissance pour s'élever au-dessus des gens saouls qui font la fête, ses rythmes flous correspondent au duvet sur ta langue. Alors que Fisher roucoule à propos du fait qu'elle se sent bien, tu continues à boire et la pièce commence à tourner. Elle te convainc de danser. Au début, tu es seul, mais ensuite d'autres te rejoignent. Tu croises le regard de quelqu'un à l'autre bout de la pièce… La fête se termine fin et tu ne rentres pas seul chez toi. Un lendemain de veille cruel, de la vomissure et un étranger t'accueillent au matin, mais la prochaine partie de Party Games n'est pas trop loin.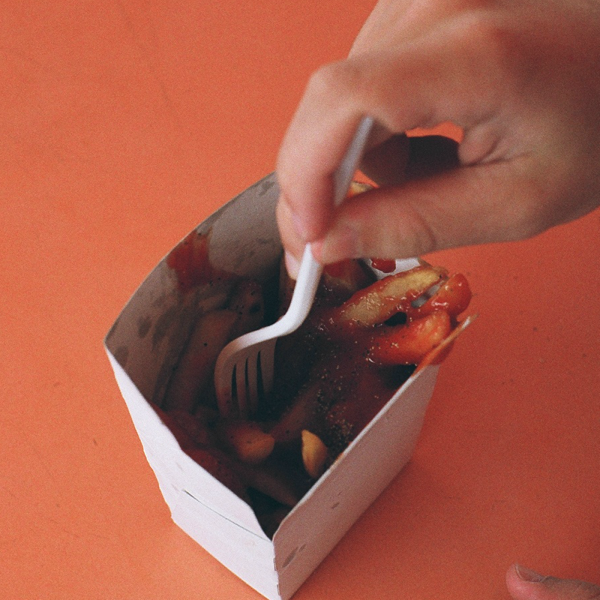 LA ROSE
lean period
(Self-Released)
Toronto, ON
From the scraped knees of Joshua Robinson:
Bedroom sophistry unfurls late-night curlicues, its lo-fi heartache screaming synthesized apologies that bounce off walls to rest, at long last, in the deepening emptiness of the space between weary ears. A catalogue of downtrodden pop-plunderphonics that bleed soft-spoken requiem; these entries are retreating voices and cigarette smoke, turning bright and polished daydreamed lovery into pale, ghostly, mournful parables. Intoned sepia dreams; clouded glasses and knees scraped against sharp pavement. The answer to the echoes that dance upon an upside down stage eyes hooked to the shadows that move across quiet ceilings.
Des genoux râpés de Joshua Robinson:
(Traduit par les roucoulades douces de Maya Keshav)
Le sophisme d'alcôve déroule des enjolivures nocturnes, pendant que son chagrin lo-fi hurle des excuses synthétisées qui rebondissent sur les murs jusqu'à ce qu'elles se reposent, enfin, dans le vide de plus en plus grand entre des oreilles fatiguées. Un catalogue des pop-plunderphonics opprimés qui dispersent le requiem doux; ces entrées sont des voix en retraite et de la fumée de cigarette qui transforment les roucoulades rêvées brillantes et bien polies en paraboles pâles, spectrales, et funèbres. Les rêves sépia entonnés; la buée sur les lunettes et les genoux égratinés par la chaussée rugueuse. La réponse aux échos qui dansent sur une scène à l'envers, les yeux rivés aux ombres qui se déplacent sur les plafonds silencieux.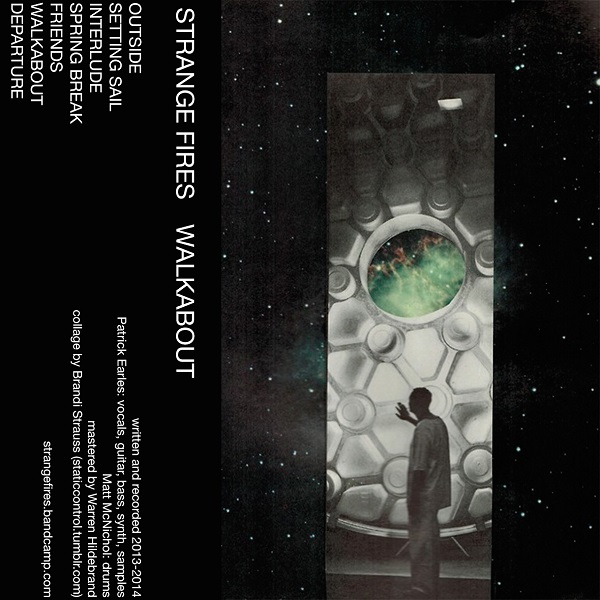 Strange Fires
Walkabout
Edmonton, AB
From the twinkly toes of Kelly MacNeil:
Walkabout is a tumble through town, showing us all of the secret and special places. Edmonton's Strange Fires yips into culverts, taping the echoes and keeping them warm in their front breast pocket. Together we wander, throw stones in ponds, staring at the ripples, watching fish dart. Walkabout is a time of solemn remembrance, the kind that fills your heart with sparks and makes your toes wriggle. Beneath layers of dust, dirt, and snow we come to see the beauty in the old places we know.
Des orteils brillants de Kelly MacNeil:
(Traduit par Julie Mayer)
L'album Walkabout nous montre tous les endroits secrets et spéciaux de la ville qu'il traverse à la course. Originaire d'Edmonton, le groupe Strange Fires jappe dans les caniveaux, enregistre les échos et les garde au chaud dans sa poche poitrine. Ensemble, nous vagabondons, nous lançons des cailloux dans les mares, nous fixons les ondes et regardons les poissons s'enfuir. Walkabout est un moment de commémoration solennelle, du genre qui remplit votre cœur d'étincelles et fait tortiller vos orteils. Sous les couches de poussière, de saleté et de neige, nous parvenons à voir la beauté des lieux qui nous sont bien familiers.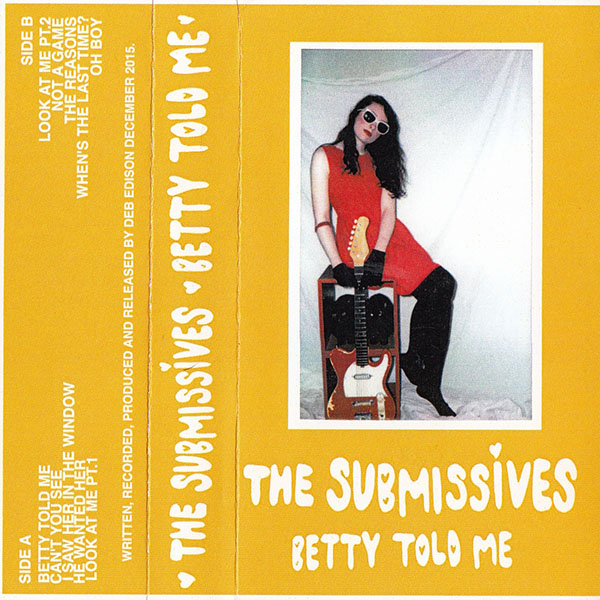 The Submissives
Betty Told Me
(Self-Released)
Montréal, QC
From the hesitating affections of Christina Bell:
Betty Told Me listens like an album-long conversation on the hazards of hesitating affection. It's a swaying drama, jangling out a breezy narrative on navigating the mean streets of fallin' in and outta love. Even though they're mostly singing about losing, The Submissives are an easy kind of cool. They are bent on telling it like it is. Simple. Straight forward. Unaffected? Aching.
De l'affection hésitante de Christina Bell:
(Traduit par le flafla douloureux de Mathieu Bédard)
Betty told me s'écoute comme une conversation qui durerait tout un album au sujet des dangers d'une affection hésitante. C'est un drame ondulant, un récit cliquetant et désinvolte sur le pilotage dans les rues périlleuses de l'amour et du désamour. Même si elles chantent surtout sur le fait d'être perdantes, The Submissives sont cools tout de suite en partant. Elles sont résolues à dire les choses comme elles sont. Simplement. Sans flafla. Sans être affectées? Douloureusement.
The Submissives – I Saw Her in the Window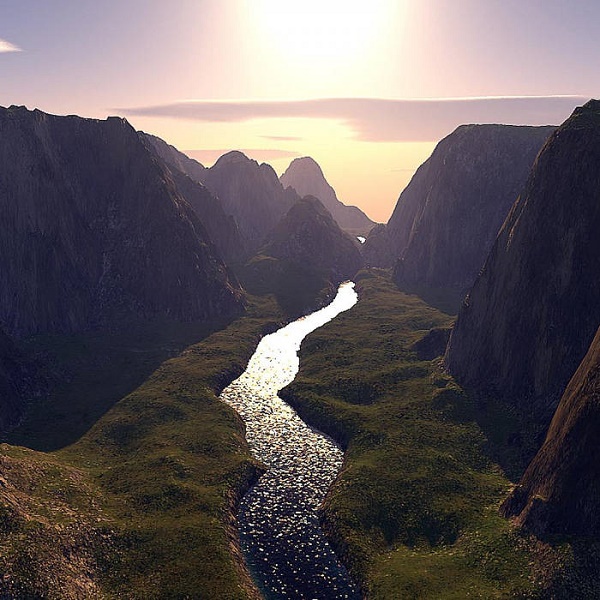 Amy Casper
One of the Lucky Ones
(Self-Released)
Victoria, BC
From the selfish selflessness of Mark Anthony Brennan:
Amy Casper is the voice of vulnerability, as her mirror self sings melodiously "Down by the River" or ghostly "Gave You My All". Down by the River is stripped down to a fish-bone skeleton, leaving Amy Casper to flesh out the compositions with her painfully human voice. She calls to us from a reedy distance, finding that there is no way to go back home "Into the Rope", and turns strange as she explores the forces around us "Silver Hands".
De l'égoïste désintéressement de Mark Anthony Brennan:
(Traduit par Mylène Quevillon)
Amy Casper incarne la voix de la vulnérabilité, alors que sa réflexion chante mélodieusement "Down by the River" ou fantomatiquement "Gave You My All". * Down by the river * est épuré, tel un squelette d'arrêtes de poisson, laissant Amy Casper étoffer les compositions avec sa voix douloureusement humaine. Elle nous appelle d'une maigre distance, réalisant qu'il n'y a aucun moyen de rentrer à la maison "Into the Rope", et elle devient bizarre alors qu'elle explore les forces qui nous entourent "Silver Hands".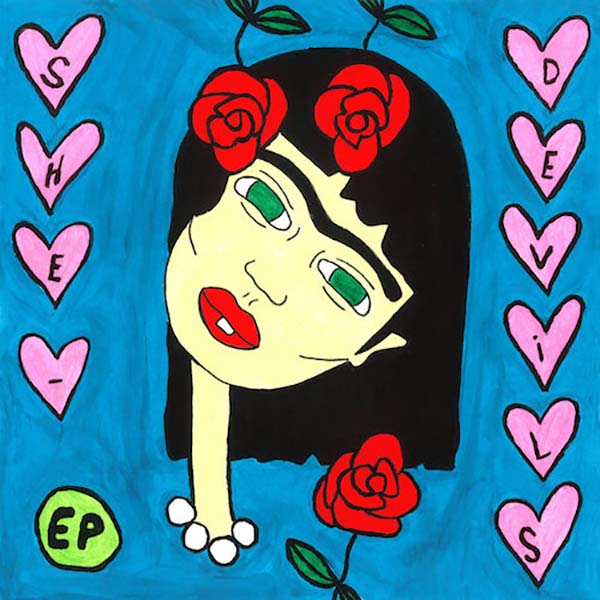 She-Devils
She-Devils EP
(Self-Released)
Montréal, QC
From the lost Hollywood dreams of Mike Roy:
Through the shifting gaze of a kaleidoscope dream, She-Devils appear in a call of absorbing desire. "Come" draws you into its core through the whirring inversion of '60s surf rock, slowly deconstructing the pop processes that breathe life through the meticulous repetition of lyrics and guitar rhythms. "Where There's No One" crackles as it spins classic ballads into a new web of aesthetics, while "I Wanna Touch You" rises up-and-down like an elevator caught between floors of ecstacy and confusion. The additional remix of "Come" cements the experimental nature that is embedded in the album – a collection of puzzle pieces ready for play.
Des rêves d'Hollywood perdus de Mike Roy:
(Traduit par la plage fondante de Mackenzie Smedmor)
À travers le regard changeant d'un rêve de kaléidoscope, She-Devils apparaît dans un appel de désir absorbant. "Come" vous attire jusqu'au plus profond de lui grâce au bourdonnement inversé du surf rock des années 60, en décomposant lentement les processus pop réanimés par la répétition méticuleuse de paroles et de rythmes de guitare. "Where There's No One" crépite en jouant des ballades classiques se transformant en une nouvelle toile d'esthétiques, tandis que "I Wanna Touch You" soulève les ascensions et les descentes comme un ascenseur coincé entre les étages de l'extase et la confusion. Le remix additionnel de "Come" cimente la nature expérimentale qui est gravée dans l'album telle une collection de morceaux de casse-tête de pièce prête `à être jouée.
Dernier Sex
3-Song EP
Montreal, QC
From the ethereal web of Charlotte White:
Your blood thickens and the pavement feels warm on your bare feet. Humid air churns around your body creating eddies of fizzing ecstasy as your heartbeat slows to a near standstill.
This is where dreams become nightmares and nightmares become dreams. Here you are lifted above all pain and fears that ooze from dark corners like water seeping under bathroom doors.
At dawn you awake drenched in sweat and blood. You're unsure if it's your own.
Du site web paradisiaque de Charlotte White:
(Traduit par Sergio Calla)
Ton sang s'épaissit et la chaleur du pavé caresse tes pieds nus. L'air humide tourbillonne autour de ton corps générant un tourbillon, un vortex euphorique pétillant provoquant un ralentissement raide du rythme cardiaque.
Il s'agit d'un domaine où les rêves se transforment en cauchemars et les cauchemars en rêves. Ici, cesse la douleur et les craintes qui suintent de tous les coins sombres comme de l'eau qui s'infiltre sous les portes de salles de bains.
Vous vous réveillez à l'aube ensanglanté et en sueur, incertain de votre sort.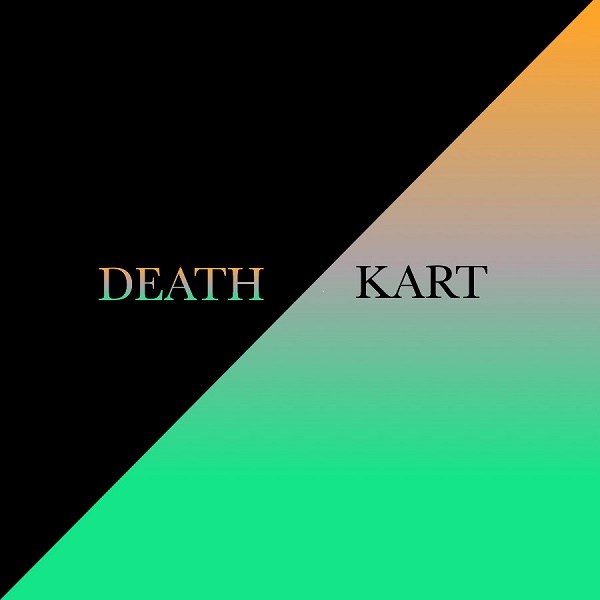 DEATH KART
DEATH KART
Victoria, BC
From the beach bum vigor of Joshua Robinson:
Super poppers from BC's Isle of Slack mix the fuzz with psych proclivities to make a sound brimming with the vigor of beach bummers and the steady flow of lo-fidelities. Down-tempo slackers spill their guts with the richness required to spin lysergic daydreams into hazy somnambulisms, replete with the rich overture of waking to repeat the cycle.
Par la vigueur de flâneurs de plage de Joshua Robinson:
(Par les rêveries lysergiques d' Émily Traichel)
Super poppers venu de l'île du Slack en Colombie-Britannique mixent les tendances fuzz et psych pour produire un son qui déborde de la vigueur de flâneurs de plage et du flux constant de basse-fidélités. Les slackers down-tempo vident leur sac avec la richesse requise pour faire tourner des rêveries lysergiques en somnambulismes vaporeux, remplis de la riche ouverture du réveil pour répéter le cycle.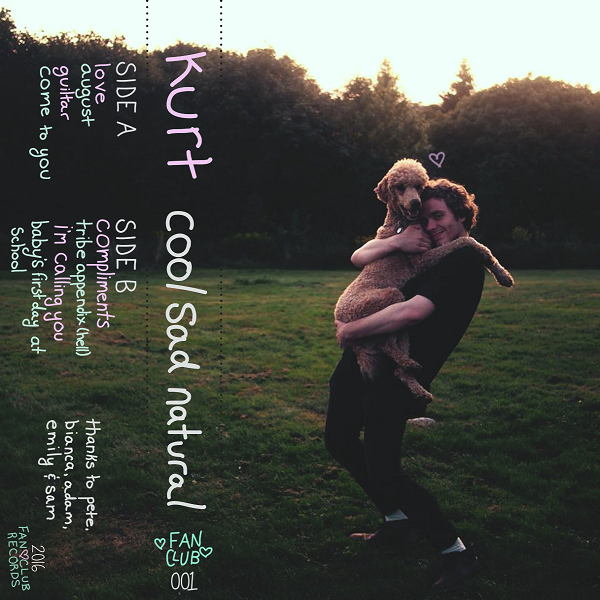 kurt
cool sad natural
Halifax, NS
From the cold shoulder of Katie Jensen:
Items tossed in a hard-shelled suitcase. Voicemails overwritten on glossy brown cassette tape. Damp socks dangling from the railing, heels dripping in quiet splashes. The hall mirror is staging an exclusive viewing of Sadsack Packs Up Things After Breakup, one night only, playing for an audience of precisely no one.
Cardboard boxes are sympathetic storage units, gobbling up smooth-rubbed talismans, creased comics scrawled in blue ballpoint, sweaters threaded with clove cigarette smoke.
A drumbeat taps like gentle pats on the back, or a dog wagging its tail against the hardwood. Tender guitar melodies flutter like a spring breeze, catching the linen skirt of the curtain. The answer couldn't be more obvious, and it couldn't be more miserable.
De l'accueil glacial de Katie Jensen:
(Traduit par Alison McReynolds)
Des objets jetés dans une valise rigide. Des messages vocaux remplacés sur une cassette brune lustrée. Des chaussettes humides pendent sur la rampe, des talons dégoulinent doucement. Le miroir du corridor monte une scène exclusive d'un Personnage Tragique En Train De Faire Ses Valises Après Une Rupture, un soir seulement, pour un public de précisément personne.
Des boites en carton sont des entrepôts sympathiques, engloutissant des talismans lissés, des bandes dessinées gribouillées en stylo bille bleu, des pulls tissés avec de la fumée de cigarette au clou de girofle.
Un tambour bat comme des tapes gentilles dans le dos, ou comme un chien remuant la queue sur un plancher de bois. Des mélodies tendres de guitares flottent comme une brise printanière, saisissant le bas du rideau. La réponse ne peut pas être plus claire et elle ne peut pas être plus misérable.
---