Tag: pop-punk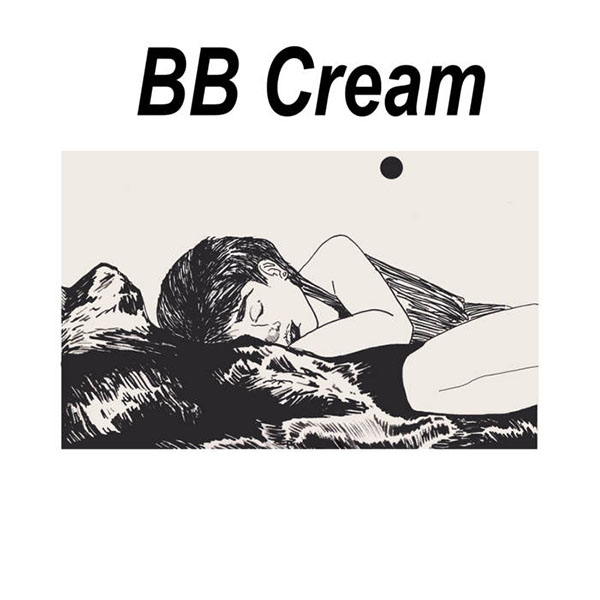 BB Cream
BB Cream
Ottawa, ON
From the sweaty bangs of Christine McKenna:
The inaugural release from Ottawa's BB Cream is an unconcealed visage, a spectacle of intimate feelings, a candid display of self-actualization on tape. A basic trio of instruments forms a Neapolitan ice cream of sound: a guitar, a bass, and set of drums are churned by the phantom hand of Marc Bolan, and a cold and sweet sonic treat drips onto thighs that ache from dancing the previous night. Catch a glimpse of yourself reflected in someone else's glasses and notice the sweaty bangs stuck to your forehead, enclosing the pop hooks stuck into your brain.
Par les franges en sueur de Christine McKenna:
(Traduit par Odile Leclerc)
La sortie inaugurale de BB Cream d'Ottawa est un visage non caché, un spectacle de sentiments intimes, une démonstration candide d'autoréalisation sur cassette. Un trio d'instruments de base forme une tranche napolitaine de sons : une guitare, une basse et un ensemble de batteries sont retournées par la main fantôme de Marc Bolan, et un dessert sonique froid et sucré dégoutte sur des cuisses douloureuses à force d'avoir dansé la nuit précédente. Regarde-toi dans le reflet des lunettes de quelqu'un d'autre et remarque les franges en sueur qui collent à ton front, entourant les idées de musique pop dans ton cerveau.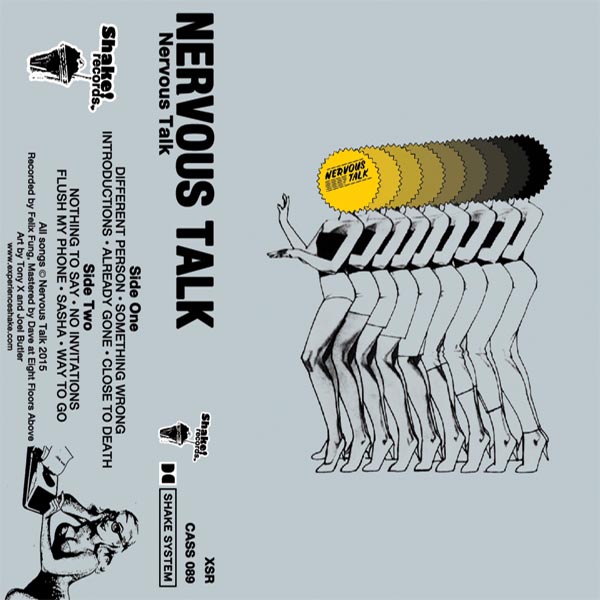 Nervous Talk
Nervous Talk
Vancouver, BC
From the rat face of Kyle Valade:
Nervous Talk's self-titled tape is a violent daydream on a Friday afternoon. Listening at work, you'll have no choice but to play some ferocious air drums while the guitar player throws in tastefully flashy touches all over the place. There's some 60's and 70's ground up and thrown into the mix, but you'll find yourself pining for going from show to show down Hastings. Walking late through the Downtown Eastside with its concrete, rats, and shipping containers, intersecting with pals you only see at shows, heading outside between bands, and listening to the real thing.
De la face de rat de Kyle Valade:
(Traduit par Sergio Calla)
La bande audio éponyme de Nervous Talk est une violente rêverie d'un vendredi après-midi. L'écoute au travail donne le gout de jouer sauvagement à la batterie invisible, alors que le guitariste démontre avec vigueur, son gout « tape à l'œil » charmant. Le mélange des années 60 et 70, donne envie de faire la tournée des spectacles le long du boulevard Hastings. Se promener tard à l'est d'un centre-ville tout en béton, les rats et les conteneurs d'expédition, croisant des copains que vous ne voyez que pendant l'entracte des shows tout en écoutant ce qui est authentique.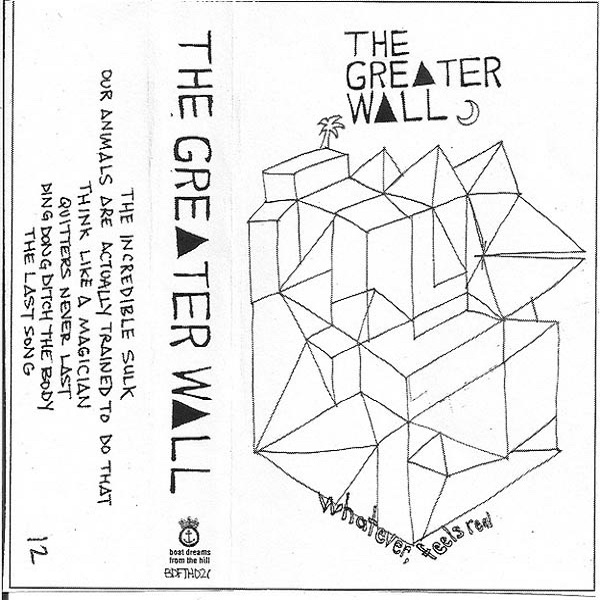 The Great Wall
Whatever, Feels Real
Vancouver, BC
From the snot nose of Bryce Warnes:
The Greater Wall are bummed out and cranky. Which is a good place to be, emotions ­wise, when you're chugging out pop punk songs about being bummed out and cranky. "Quitters Never Last" is the story of a person who feels really lame and doesn't want to get intimate. "The Last Song" is about two people who are together but eventually they will have to break up and that really sucks. All this despair comes in a sweet, chewy, snot­-nosed package, reminding you with catchy choruses and righteous riffs that nothing is fun and everyone sucks.
Du nez morveux de Bryce Warnes:
(Traduit par Jessica Grenier)
The Greater Wall sont déprimés et grincheux. Et c'est un bon endroit où être, émotivement, quand tu halètes des chansons pop punk sur le fait d'être déprimé et grincheux. « Quitters Never Last », c'est l'histoire d'une personne se sentant vraiment nulle qui fuit l'intimité. « The Last Song », celle de deux personnes qui sont ensemble, mais qui vont bientôt devoir se séparer, ce qui est vraiment poche. Tout ce désespoir est livré dans un enrobage sucré, moelleux et morveux, vous rappelant avec des paroles accrocheuses et des bons riffs que rien n'est plaisant et que tout le monde est con.
The Greater Wall – Ding Dong Ditch the Body
The Greater Wall – Our Animals Are Actually Trained To Do That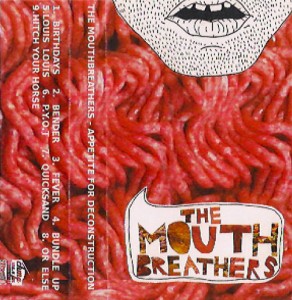 The Mouthbreathers
Appetite for Deconstruction
Sackville, NB
From the swamp magic of Alison Lang:
This time of year, as winter approaches, as the days lurch into longer, darker, heavier nights, it can be hard to keep your head up. It can be hard to care. Deep from the land of swamp magic come the Mouthbreathers, with nine joyful tunes that will worm their way into the sour core of your heart. These guys are preternaturally wise and yet sweetly raw, with a warm vitality thrumming beneath the surface. The lyrics are funny and friendly and wayyy too smart, and each song snaps like a whip, peppered with crunchy guitars and oddly heartfelt bon mots. It's true, as singer/wordsmith Lucy Niles confesses on "Bender", that some of us prefer songs about stuff, but it's the deceptively simple stuff that feels like it matters — getting a crush and being a goof, loving your small town, yet dying to get out, getting baked and talking too much about your feels. The band says all of this is fine, and you will be fine. So stay here. Sit longer. Cherish the sweet, warming glow.
Du marais magique de Alison Lang:
(Traduit par le solstice de Catherine Gaucher)
En cette période de l'année, comme l'hiver approche, les journées se transforment en nuits plus longues, plus sombres, plus lourdes et il peut être difficile de garder le moral. Il peut être difficile de se soucier de quelque chose. De la terre lointaine du marais magique nous arrive Mouthbreathers avec neuf joyeuses chansons qui se faufileront droit vers le noyau aigre de votre cœur. Ces gars sont prématurément sages, encore doucement bruts et possèdent une vibrante et chaleureuse vitalité. Leurs paroles sont drôles, amicales et beaaaaucoup trop intelligentes. Claquant comme le fouet, chacune de leurs chansons est parsemée de guitares croustillantes et de bons mots étrangement sincères. Il est vrai, comme l'avoue la chanteuse/parolière Lucy Niles sur « Bender », que certains d'entre nous préfèrent les chansons qui racontent quelque chose, mais ce sont les petites choses en apparence si simple qui finissent par nous parler le plus — tomber en amour et faire l'imbécile, aimer son patelin tout en rêvant de partir, se défoncer et parler trop de ses sentiments. Le groupe nous assure que tout cela est très bien, et que nous aussi nous irons bien. Alors restez ici. Installez-vous. Chérissez cette lueur, douce et chaleureuse.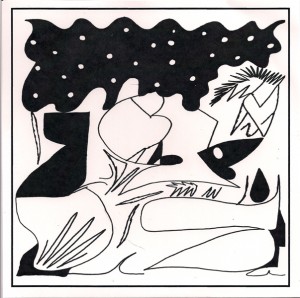 B-Lines
Tell Me / You Are Here
Vancouver, BC
From the PWYC pitcher of Joel French:
Picture a crammed, sweaty basement. The PA speaker might be a little blown out, but everything sounds and feels just right. There's a PWYC pitcher sitting somewhere, but everyone is too busy having a great time to pass it around. Living in the moment. That's what this 7″ sounds like. "Tell Me" has a pop-punk hook that will stay stuck in your head and have you singing along. "You Are Here" almost sounds like a Dead Kennedys tune without the warble. Short, poppy, wordy punk with energy to spare. Dig it!
Du pichet à contribution volontaire de Joel French:
(Traduction par Félix HT)
Imaginez un sous-sol en sueur, rempli de monde. Le haut-parleur du système de son est peut-être un peu peté, mais tout sonne bien, tout va bien. Il y a un pichet à contribution volontaire en quelque part, mais tout le monde est trop occupé à s'amuser pour se le distribuer. Vivre dans le moment. C'est ça le son de ce 7″. "Tell me" a un hook pop-punk qui va vous rester dans la tête et qui vous fera chanter. "You Are Here" sonne Presque comme une toune des Dead Kennedyssans l'acrobatie vocale. Du punk pop, pas long, verbeux et avec de l'énergie à revendre. Trippez!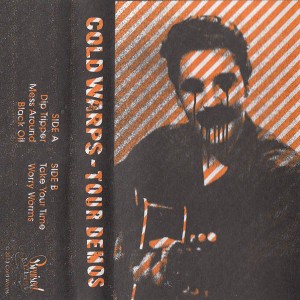 Cold Warps
Tour Demos
Halifax, NS
From the bottle-cap collection of Johnnie Regalado:
Imagine this: Amplifiers wrestling PAs. XLRs constricting mic stands. Gear and guitar boxes shoved against the far end of a cleared out living room. A swarm of sweaty tattooed shoulders huddled around a few dirty couches. Room temperature beers fished out of a communal cooler, capped and passed. Then the tuning twang and mic check feedback snap the room to attention. Sure, this could be the stage for any shithole basement DIY show. But, what band could capture this euphoria on a five-track cassette tape? Cold Warps of course. A group who managed to tattoo their name onto my ear drums with a chance concert encounter at a radio conference in Kingston, ON. I've been a diehard dip tripper ever since. Who knew power pop could be so unforgettable? These songs can transform anyone into a toe-tapping bobble-head.
De la collection de capsules de bouteille de Johnnie Regalado:
(Traduit par la tête branlante de Stéphanie Trottier)
Imagine-toi des amplificateurs combattant des systèmes de son. Des fils XLR se resserrant sur des pieds de micro. Des boîtes d'équipement et de guitares empilées de l'autre côté d'un salon vide. Une marée d'épaules tatouées et suantes rassemblées autour de quelques divans sales. Des bières tièdes sorties d'une glacière commune, décapsulées et distribuées. L'accord nasillard et le feedback du réglage du micro rappellent la pièce à l'ordre. Ceci pourrait certes décrire n'importe quel concert maison dans un sous-sol miteux. Mais quel groupe serait capable de capter telle euphorie sur une cassette à 5 pistes? Cold Warps, bien sûr. Un groupe qui a réussi à tatouer son nom sur mes tympans grâce à une rencontre fortuite lors d'un concert à une conférence radio à Kingston, ON. Depuis, je suis un dip tripper fini. Qui eût su que le power pop pouvait être si inoubliable? Ces chansons peuvent transformer qui que ce soit en une poupée à tête branlante qui tape du pied.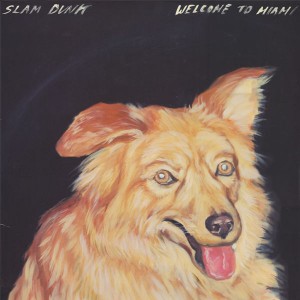 Slam Dunk
Welcome to Miami
Victoria, BC
From the score sheet of Johnnie Regalado:
You'll find one in every town. That rock and roll workhorse that plays so goddamn hard you want to keep it a secret. That band you never want to stop or leave. In Victoria, that band is called Slam Dunk. On their sophomore album Welcome to Miami, Slam Dunk deliver rollicking pop songs about the shortage of scabies cream in pharmacies, their good friends' very average grades, and just about every other demented whim they've ever had a good laugh over. This album is a compilation of all those beautiful things that crowds of sweaty drunks are ready to pump their fists to. Strip away the silliness and you're left with a tight and technical perfection of pop rock that's sure to leave you with a sore neck from excessive thrashing. This album isn't just a two-pointer. It's an all-out, 360, through the legs NBA jam of unprecedented awesomeness.
De la feuille de pointage de Johnnie Regalado:
(Traduit par le culte rodmanien de Nicolas Coutlée)
Il y en a un dans chaque ville. Ce cheval de trait du rock'n'roll qui bûche tellement fuckin' fort que vous aimeriez garder le secret juste pour vous; ce groupe que vous souhaiteriez ne jamais voir arrêter ou disparaître. À Victoria, il s'appelle Slam Dunk. Sur leur deuxième album intitulé Welcome to Miami, Slam Dunk parle dans ses chansons pop-noise de pénuries de crème contre les morpions, des notes plus que moyennes de leurs bons amis et d'à peu près n'importe quelle connerie démente dont ils ont pu rire un jour. Il s'agit d'une compilation de toutes ces belles choses qui font brandir le poing des foules d'ivrognes en sueur. Mais enlevez les pitreries, et vous vous retrouverez avec un petit joyau de pop-rock technique bien taillé sûr de vous donner le torticolis à force de trop mosher. Cet album n'est pas qu'un simple deux-points. C'est un 360 complet de pur brio entre les jambes.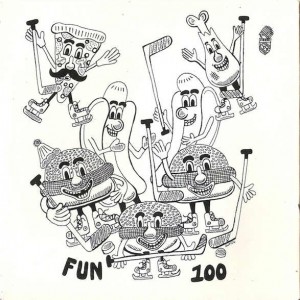 Fun 100
Goodbye EP
Abbotsford, BC
Originally Released: 2007
From the foam improvement of Josiah Hughes:
When I lived in Abbotsford, there was no Champion Jack's and certainly no chillwave. There were, however, a million church basements, a handful of awesome thrift stores and a one-good-band-per-four-hippie-jam-bands ratio. Actually, there were a lot of goth bands too. A dude from my high school played in one called Ms. Anne Thropy, and now he's in some Skinny Puppy side-project.
Anyway, living in a shitty city with nothing to do is actually a lot of fun. We spent our time playing shows in houses and church basements, and the best band in the city was Fun 100. When I say they were the best band in the city, I mean that they had a middle-aged guitarist who butchered Sabbath and Police riffs through his awful Peavey practice amp before the whole band broke into a brutal "Blitzkrieg Bop." But twin towers Bruce and Ryan Dyck (k brothers, not twins) knew what was up. The former bashed his drums with Frankenstein arms, while the latter knew that a good frontman prioritizes throwing expired Twinkies at the audience over pitch or tone.
Since meeting them at the Burlesque House, Bruce and Ryan (and soon Adam and Marcus and Steve) became and remained my best friends. We released a split fan-CD, had Nelly dance parties and played with mohawked Christian pop-punk bands in tiny towns with names like Mission and Hope. We wheatpasted dumb jokes all over Abbotsford, started Internet fights and talked a whole lot of shit.
Somewhere along the way, Fun 100 evolved from my favourite friends to my favourite band, a remarkable songwriting prowess shining through more and more with each new release. From the droning-but-addictive chorus of "Computer" to Hit It and Quit and the Paper Lanterns split, Fun 100 were circling in on pop-punk perfection. Then, they called it quits. I've seen cry-moshing before, but until that night I'd never teared up at a hall show. It didn't matter, however, because they played an impossibly legendary, mic-less final set.
Not to get all Kevin Arnold on you, but everything from your childhood ends and changes, and the loss of my Favourite Band Ever has evolved from a bummer to the best teenage memories a guy could ask for. Those wildly absurd shows were literally the most formative times of my life, and the time I spent with these goofs shaped me as a person. My love of music writing can be seriously credited to Ryan's Bull Sheet zine.
It also helps that Fun 100's final release, the limited Goodbye CD-R, is secretly one of the best Canadian punk releases of its time. "Shitty Band" is all addictive guitar and synth interplay, "Slide Into Jerry" sees Ryan's comedic genius lyricism at its most loboto, "Foam Improvement" is a timeless power-pop classic that sounds like a way cooler Atom and his Package or a slightly lamer Pointed Sticks, "Ghetto Mall" is a Will Sasso-approved pop hit, and "Prom" is an incredible farewell to high school with absurd lyrics and million-part harmonies.
Clearly, the members of Fun 100 did the right thing by throwing in the towel — they've all moved on to better projects. One of 'em's a dad, one of 'em's a soldier and three of 'em are still in high school. Now if you'll excuse me, I have a Fun One Hun tattoo to design.
Josiah Hughes is the Music and Film Editor of FFWD Weekly, a regular contributor to Exclaim!, guit and choral for Grown-Ups, and a general shit disturber.
De la mousse intelligente de Josiah Hughes:
(Traduit par la larme à l'œil de Nicolas Coutlée)
Dans le temps où je vivais à Abbotsford, il n'y avait pas de Champion Jack's et certainement pas de chillwave. Il y avait cependant un million de sous-sols d'église, une poignée d'incroyables comptoirs familiaux et un ratio d'un-bon-band-pour-quatre-bands-de-jam-hippie. En fait, il y avait pas mal de groupes gothiques aussi. Un gars de mon école secondaire jouait dans l'un d'eux, Ms. Anne Thropy, et aujourd'hui il fait partie d'un side-project quelconque de Skinny Puppy.
Peu importe, vivre dans une ville de merde avec rien à faire est somme toute très amusant. On passait notre temps à donner des concerts dans les maisons et les sous-sols d'église, et Fun 100 était le meilleur groupe en ville. Par meilleur groupe en ville, je veux dire que leur guitariste de près de cinquante ans massacrait au travers de son horrible ampli de pratique Peavey des riffs de Sabbath et de Police avant que tous ne se lancent dans une version brutale de « Blitzkrieg Bop ». Mais les deux tours jumelles qu'étaient Bruce et Ryan Dyck (pas des jumeaux, juste les frères k) savaient ce qu'ils faisaient. Le premier piochait sur sa batterie avec ses bras de Frankenstein, tandis que l'autre priorisait le fait de lancer des Twinkies périmés dans la foule plutôt que de chanter dans le ton.
Depuis notre rencontre à la Burlesque House, Bruce et Ryan (suivis peu après par Adam et Marcus et Steve) sont devenus et restent encore à ce jour mes meilleurs amis. Nous avons fait paraître un split, organisé des partys à danser sur des tounes de Nelly et partagé la scène avec des groupes de pop-punk chrétiens dans des petits patelins avec des noms comme Mission et Hope. Nous couvrions les murs d'Abbotsford de posters comiques niaiseux, instiguions des batailles sur Internet et déconnions substantiellement.
De fil en aiguille, les membres de Fun 100 sont passés du statut de meilleurs amis à celui de groupe préféré, leur remarquable talent de composition se démarquant de plus en plus à chaque nouvelle parution. Du refrain monocorde-mais-contagieux de « Computer » à Hit It and Quit en passant par le split Paper Lanterns, Fun 100 gravitait autour de la perfection pop-punk. Puis, ils ont tiré leur révérence. J'ai déjà vu pleurer dans un mosh-pit, mais avant ce soir-là je n'avais jamais éclaté en sanglots à un concert de salle communautaire. Mais ça ne faisait rien puisqu'ils nous offrirent un dernier concert sans micro, légendaire au possible.
Je ne veux pas faire mon Kevin Arnold, mais tout ce qui est issu de l'enfance est voué à disparaître un jour et à évoluer, et la perte de mon Groupe Préféré À Vie, vécu d'abord avec dépit, est à la source aujourd'hui des meilleurs souvenirs d'adolescence que j'aurais pu espérer. Ces concerts sauvagement absurdes constituent littéralement l'époque la plus formatrice de ma vie et le temps que j'ai passé auprès de ces bouffons m'a façonné en tant qu'individu. Je dois d'ailleurs directement mon amour du journalisme musical au zine Bull Sheet de Ryan.
Le fait que le dernier effort de Fun 100, le CD-R à tirage limité Goodbye, soit l'un des secrets les mieux gardés du punk canadien de son époque n'est pas à négliger non plus. « Shitty Band » n'est que guitare contagieuse et jeux de synthé, « Slide Into Jerry » dévoile le génie des textes comiques de Ryan à son plus délirant, « Foam Improvement » s'impose comme un classique power-pop intemporel plus cool que Atom and his Package ou légèrement plus ringard que Pointed Sticks, « Ghetto Mall » est un hit pop portant le sceau d'approbation de Will Sasso et « Prom », un incroyable adieu au secondaire avec ses paroles absurdes et ses harmonies à un million de voix.
Il est évident que les membres de Fun 100 ont pris la bonne décision en se retirant – ils sont tous passés à de meilleurs projets. L'un d'entre eux est papa, un autre est soldat et trois d'entre eux fréquentent toujours le secondaire. Maintenant, si vous voulez bien m'excuser, j'ai un tatouage Fun One Hun à concevoir.
Josiah Hughes botte des culs, tous les autres puent.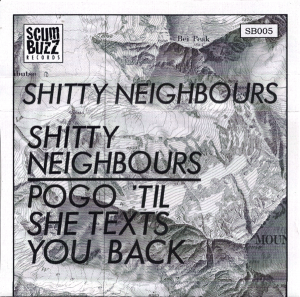 Shitty Neighbours
Pogo 'Til She Texts You Back
Vancouver, BC
From the welcome wagon of James Lindsay:
The cool kids who rent the dilapidated house next door are at it again. And this time you grudgingly call the cops because they're sounding pretty good over there, like something Sam Sutherland might have written about, or the awesome 7" collection you gave away when you gave up. Was that Needles//Pins that just showed up to the party? Does Don Pyle know about this? Too many questions for a Thursday when you have to work early tomorrow. Maybe if you keep your mouth shut and bring some beer, they'll let you hang out next time.
Du panier d'accueil de James Lindsay:
Les jeunes cools qui louent la maison délabrée d'à côté en remettent à nouveau. Et cette fois, vous appelez la police à contrecœur parce que ce que vous entendez commence à sonner pas mal bien, comme quelque chose sur quoi Sam Sutherland aurait écrit, ou encore la super collection de 7" dont vous vous êtes débarrassé quand vous avez jeté l'éponge. Ça serait pas Needles//Pins qui vient juste de faire son entrée au party? Est-ce que Don Pyle est au courant de tout ça? Trop de questions pour un jeudi soir quand vous avez à travailler aussi tôt le lendemain. Peut-être que si vous la fermez et que vous amenez de la bière, vous serez invité la prochaine fois?
Shitty Neighbours – First Mistake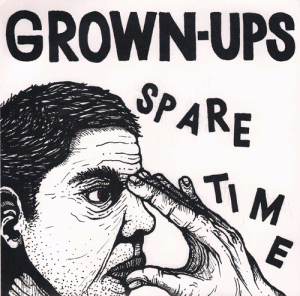 Grown-Ups
Spare Time
Calgary, AB
From the extracurricular activities of Jesse Locke:
Been a minute since the Lords of Cowtown slipped out their latest bonzer, but that doesn't make it stale bread. On their inaugural blast from the Cave, the bummer-punks tear through four ranters / crowd pleasers equal parts PPM and Fat Wreck. As always, the trio has its fair share of modern life gripes, but I don't think they truly believe the doom 'n' gloom of their lyrics when they seem like they're having this much fun. Black vinyl, large hole and bonus points for the squeegee kid Pettibon sleeve.
Des activité extrascolaires de Jesse Locke: (Traduit par le grand trou de Maya Keshav)
Ça fait une minute depuis que les Lords of Cowtown ont sorti leur dernier morceau, mais ça veut pas dire que c'est du pain rassis. Avec leur premier explosion de la caverne, les bummer-punk rockeurs déchirent avec quatre diatribes font pour faire plaisir au public qui sont également PPM et Fat Wreck. Comme d'hab, le trio a un part équitable des soucis de la vie moderne, mais je pense pas qu'ils croient vraiment la morosité de leurs paroles quand ils ont l'air de s'amuser autant. En vinyle noir, avec un grand trou et je leur donne des points de bonus pour la couverture Pettibon avec un enfant raclette.
---