Tag: pon de replay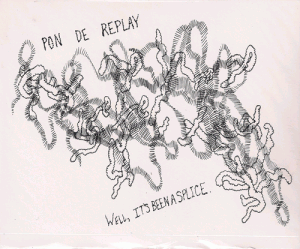 Pon de Replay
Well, It's Been a Splice
(Inyrdisk)
Montreal, QC
From the vanilla splice of James Lindsay:
In the past, sampling pop music has easily come off as irony for irony's sake or overly obvious to the point of being obnoxious. But in the loving hands of Pon De Replay, the opening riff from "Jeremy" and the horns from "Creep" are tenderly cradled with a genuine respect. At no time does he ever fling it in your face as if screaming, "Remember this? Well, how do you like it now that I've had my way with it?" Rather, it's like a friend playing a song for you that you've heard a hundred times, but only now, with them, do you really hear it. And like a good friend, he chooses the high road of sincerity over irony, elegantly weaving source material that could have been pulled from Value Village CDs with the reoccurring sounds of a flock of seagulls (a real flock of seagulls, not the band in lowercase), a splashy resurfacing beat, tape effects, and rapturous ranting. The effect is not unlike lying outside in August and staring at the sky, if the sky was made from our childhood memories of MuchMusic. Inyrdisk on a roll.
De la jointure à la vanille de James Lindsay: (Traduit par Maya Keshav)
Avant, l'échantillonnage de pop donne facilement l'impression d'ironie dans l'intérêt d'ironie, ou d'être excessivement évident jusqu'à être odieux. Mais dans les mains tendres de Pon De replay, le premier riff de "Jeremy" et les cuivres de "Creep" sont bercés tendrement avec le respect véritable. Il ne le lance jamais dans ta face comme s'il criait « Tu te souviens de ça? Bon, comment tu l'aimes maintenant que je l'ai utilisé? » Plutôt, c'est comme un ami qui joue une chanson pour toi que t'as entendu mille fois, mais c'est seulement maintenant, avec lui, que tu l'entends vraiment. Et comme un ami proche, il est en bonne voie, en choisissant la sincérité au lieu de l'ironie, en tissant élégamment la matière originale qui a l'air d'être tirée des CDs du village des valeurs avec les sons récurrents d'une volée de mouettes (une vraie volée de mouettes, pas le groupe qui s'appelle Seagulls), un rythme clinquant répétitif, les effets de cassette, et les élucubrations euphoriques. Le résultat ressemble coucher dehors en août et regarder le ciel, si le ciel était fait de nos souvenirs d'enfance de MuchMusic. Inyrdisk a le vent en poupe.
Pon de Replay – #3 (version 2)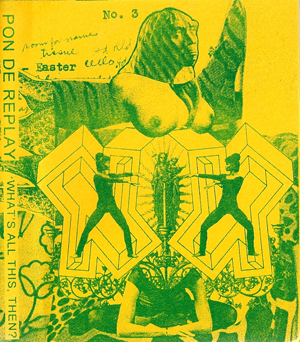 Pon De Replay
What's All This, Then?
(Psychic Encumbrance)
Toronto, ON
From the spool of rock of Jesse Locke:
Former Wasted Nymph and Toronto transplant Brian Seeger unspools squiggles of sound on this warped solo jammer. Bringing the house of pain with heady waves of tape loop elation, he jump cuts between decade-spanning samples, cough syrup hip-hop and seat-leaping jolts of electronic interference. As disorienting as a drunken stumble through the discotheque, minus any walk of shame repercussions. Killer hieroglyphics from Andrew Zukerman in a mini-Disney clamshell via Beniffer Editions offshoot Psychic Encumbrance.
Du rock de bobine de Jesse Locke:
(Traduit par Odile Leclerc)
L'ancien Wasted Nymph et la transplantation de Toronto, Brian Seeger, déroule des gribouillis de son sur ce brouilleur de solo déformé. Apportant la maison de souffrance avec des vagues grisantes des exultations de boucle de cassette, il fait des coupures entre des échantillons s'étendant sur des décennies, entre du hip hop de sirop pour la toux et des secousses électroniques d'interférence à en sauter sur son siège. Aussi désorientant qu'un soûl qui trébuche à travers la discothèque, moins les répercussions de la marche de la honte. Des hiéroglyphes tueurs d'Andrew Zukerman dans une mini coquille de Disney via le rejeton de Beniffer Editions, Psychic Encumbrance.
[audio:http://weirdcanada.com/wp-content/uploads/2011/09/Weird_Canada_-_Pon_De_Replay_-_5.mp3|titles=Pon De Replay – 5] Pon De Replay – 5
[audio:http://weirdcanada.com/wp-content/uploads/2011/09/Weird_Canada_-_Pon_De_Replay_-_7b.mp3|titles=Pon De Replay – 7b] Pon De Replay – 7b
---