Tag: Pleasence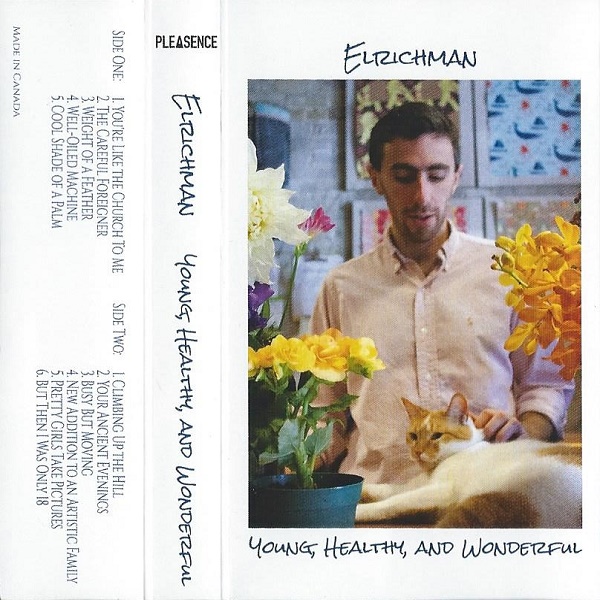 Elrichman
Young, Healthy, and Wonderful
Toronto, ON
From the dirty shades of Shawna Naklicki:
Known for his part in fearless fun-havers Gay, Paul Erlichman shifts to his inner crooner, beach bum and romantic with this side project. While maintaining his signature guitar twang, he switches group vocals for a spotlight on one, driving drums for simple strings. That's not to say he's taking life too seriously. It just means he'll be spending lots of time in the cool shade of a palm singing psychedelic love songs.
Des lunettes de soleil sales de Shawna Naklicki:
(Traduit par Jessica Grenier)
Connu en tant que membre du groupe d'audacieux joyeux lurons Gay, Paul Erlichman profite de ce projet solo pour laisser sortir son crooner intérieur; un beach bum romantique. Il conserve sa façon très personnelle de jouer de la guitare, mais remplace les ensembles vocaux par une seule voix et les puissantes percussions par de simples cordes. Mais il ne prend pas la vie trop au sérieux pour autant : il va simplement passer beaucoup de temps à l'ombre fraîche d'un palmier, en fredonnant des chansons d'amour psychédéliques.
Elrichman – Cool Shade of a Palm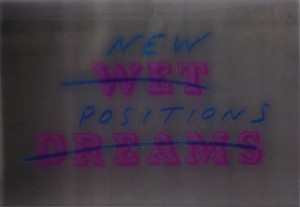 New Positions
New Positions
Toronto, ON
From the endless churn of Javier Fuentes:
Number one waste management crew Rankin and Jude lead a tour of the local sewer system. Once inside the tunnels the only way out is to follow the infinite drone. Open eyes deceive themselves, oblivious to the darkened sludge covering the walls. The body makes a slow surrender to the magnetic force field of subterranean vibrations. Each step into the thick drainage becomes a more laboured effort as the source of the noise draws closer. The half broken lights flicker in time to the conveyer belt percussion that churns endlessly into the night. Sax contortions reign supreme as the mind lets out the last of its inhibitions. No ears are safe to these city dwelling druids.
Du flux sans fin de Javier Fuentes:
(Traduit par la curiosité souterraine de Virginie Langlois)
L'équipe de choc pour le traitement des déchets, Rankin et Jude, organise une visite guidée des égouts du quartier. Une fois à l'intérieur des tunnels, la seule façon d'en sortir est de suivre le vrombissement infini. Nos yeux, pourtant bien ouverts, nous jouent des tours, inconscients de la boue noircie qui recouvre les parois. Le corps s'abandonne lentement au champ de force magnétique des vibrations souterraines. Chaque pas effectué dans ces denses entrailles devient un effort de plus en plus laborieux à mesure que se rapproche la source du bruit. La lumière des lampes à demi brisées vacille au rythme des percussions du tapis roulant qui tourne sans fin dans la nuit. Les contorsions du saxophone règnent en maître tandis que l'esprit libère ses dernières inhibitions. Nul ne verra ses oreilles épargnées par ces druides citadins.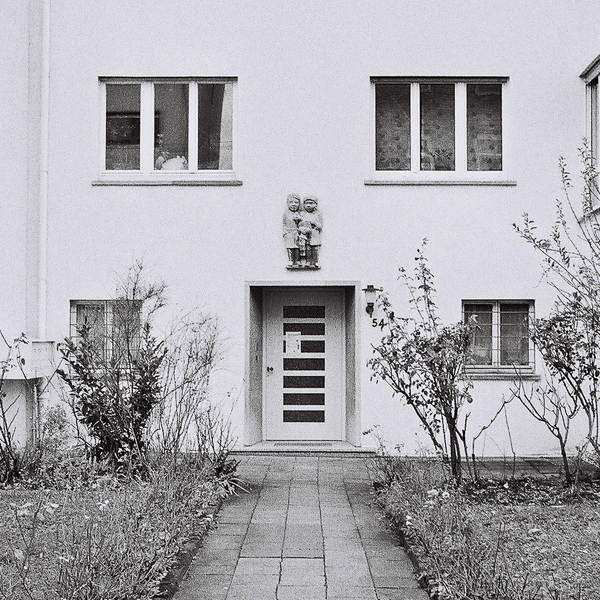 Hobo Cubes // Taiwan
Split 12"
Montreal, QC // Edmonton, AB
From the split personality of Kevin Hainey:
There's a refreshingly assured and refined air about this split slab of wax for Montreal's resident synth geometry major Hobo Cubes and outta nowhere Edmonton newcomers Taiwan.
Given the endless flow of tapes, CD-Rs, splits, tours and press Hobo Cubes has gotten out there over the years it's almost tough to swallow that this is only the project's first full LP side. Nonetheless, main man Fracesco de Gallo (also a sometime member of Dirty Beaches and the dude behind the Hobo Cult cassette label) sounds as reserved as anyone could hope to be on his first commitment to the 12″, like he's got all of the time in the world and nowhere in particular to be. A spacious, vacuous and explorational journey through keyboard concrete, Hobo Cubes' brilliant side forsakes familiar trends in dreamy synth-scapes and robotic repetition in favour of stranger 20th century-inspired lands, benefitting all the more for its adventurous composition and stringent individuality.
Taiwan have already become synonymous with Angelo Badalamenti around these parts, and David Lynch's musical collaborator and soundtrack composer is without a doubt the creative launching pad for these fresh young cats. From the opening strains of their side you can imagine Laura Palmer searching for her diary in an eerie house. Yet what Taiwan add to the homage is their desire to build brief epics that haven't been blasted this darkly and elegantly since the post-rock explosion heydays of the late '90s. When you boil it down, Taiwan are lurking closer to a heaven where everything is fine than the otherworldly horrors of The Black Lodge, but that doesn't mean there aren't many fine surprises to be found in the kaleidoscopic 20-minute song cycle they've recorded for us in crystalline quality.
Du dédoublement de la personnalité de Kevin Hainey :
(Traduit par les reniflements sans fin d'Andréanne Dion)
Une rafraichissante assurance et un raffinement émanent de ce split sur vinyle par Hobo Cubes, spécialistes montréalais de la géométrie des synthétiseurs, et Taiwan, nouveaux venus d'Edmonton, surgis de nulle part.
Vu le flot sans fin de cassettes, de CD-R, de splits, de tournées et de publicité associé depuis des années à Hobo Cubes, il est presque difficile à avaler qu'il s'agisse là de leur première face de 33 tours complète. Néanmoins, le leader Fracesco de Gallo (le type derrière le label de cassettes Hobo Cult, parfois membre de Dirty Beaches) apparaît aussi réservé que n'importe qui à son premier enregistrement sur vinyle, comme s'il avait tout le temps du monde devant lui et nulle part en particulier où aller. Vaste voyage exploratoire de la froide brutalité du synthétiseur,Hobo Cubes délaisse les répétitions robotiques et les paysages de rêves synthétiques familiers pour des terres plus étranges inspirées du 20e siècle, qui bénéficient des compositions aventureuses et de leur individualité rigoureuse.
Taiwan rime déjà avec Angelo Badalamenti en ces contrées, et le collaborateur musical et compositeur de David Lynch est sans aucun doute la rampe de lancement créative qui propulse ce jeune groupe. Dès les notes d'ouverture, on imagine Laura Palmer en train de chercher son journal intime dans une maison inquiétante. Pourtant, ce que Taiwan ajoute à cet hommage est leur désir de composer des chansons courtes mais épiques, qui rappellent par leur sombre élégance l'explosion post-rock à la fin des années 90. Quand on y regarde de près cependant, Taiwan flirte davantage avec un petit coin de paradis où tout va bien qu'avec les horreurs mystiques de la Black Lodge, mais cela ne veut pas dire qu'il n'y a pas de belles surprises cachées dans le cycle musical kaléidoscopique de 20 minutes que le groupe a enregistré pour nous dans une qualité cristalline.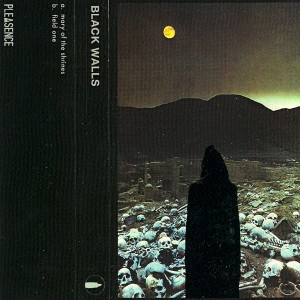 Black Walls
Mary of the Shrines
Etobicoke, ON
From the sparse breaths of Javier Fuentes:
Black Walls' epic Mary of the Shrines unwinds like a journey into a deep-sea cave, pushing further into the darkness with each movement. Monolithic guitar squalls ring out as voices from past travellers tell their tales. The drone thins out into sparse breaths as b-side "Field One" descends to the open air and towards the heavens. A communion of spirits awaits…
Des souffles épars de Javier Fuentes:
(Traduit par Claudine Maclure)
Mary of the Shrines se déroule comme un voyage dans une grotte sous-marine profonde, plongeant plus loin dans les ténèbres à chaque mouvement. Les bourrasques de guitares monolithiques résonnent, alors que les voix de voyageurs disparus racontent leurs histoires. Le bourdonnement s'amincit en souffles épars au moment où "Field One", la face B, descend à l'air libre, puis vers les cieux. Une communion d'esprits vous attend!
Black Walls – Mary of the Shrines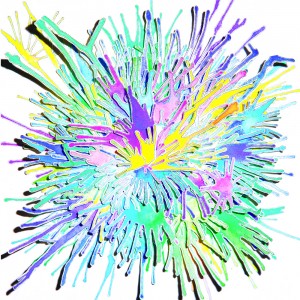 Gay
Dance Mix '95
Toronto, ON
From the aural archaeloogy of Trevor Blumas:
I suggest entering into this album like one does a Dan Brown novel: with a keen eye (or ear) for uncovering hidden secrets. Dance Mix '95 seems to function like a sort of quasi-mystical aural archaeology that unearths a treasure chest of obscure historical and pop-cultural references buried deep below the surface of common knowledge. You will literally transform into a more intelligent being after listening to it!
I now find it extremely difficult not to imagine Gay as anything but a rare and elusive species of chameleon Hardy Boy crooners. They draw their songs from an eerie post-pop mythology, and remain impossible to catch as they continuously morph into different things. But it's always fun to try…
De l'archéologie sonore de Trevor Blumas:
(Traduit par le Indiana Jones intérieur de Nicolas Coutlée)
Il convient d'aborder cet album comme un roman de Dan Brown : l'œil (ou l'oreille) à l'affût de tout secret caché. Dance Mix '95 constitue une sorte de terrain de fouilles archéologiques sonores quasi mystiques où git un coffre aux trésors rempli d'obscurs artefacts de culture populaire enfouis profondément sous la surface des connaissances générales. Vous deviendrez littéralement plus intelligent après une écoute.
Il m'apparaît extrêmement difficile à présent d'imaginer Gay comme autre chose qu'une espèce rare et insaisissable de crooners caméléons émules des frères Hardy. Puisant leurs chansons à même une inquiétante mythologie post-pop, ils restent impossibles à saisir au rythme où ils se métamorphosent en diverses créatures. Malgré tout, il peut toujours être amusant d'essayer…
---