Tag: Pleasence Records
Ephemera of Francesco de Gallo
Existing during the recording of Hobo Cubes // Taiwan – Split 12"
Montréal, QC
[photos: Aliya Kahsay]
From the happy hunting ground of Christina Bell:
The dogma of slowing right down is at the root of the symphonic revelation that is Hobo Cubes' Francesco de Gallo's recent work. The new sound is an experiment in deliberate unhurriedness. Inspired by artistic connections, de Gallo paired up with Edmonton's Taiwan to release a 12" split. Things that are independently constructed can merge together in magical ways. Fully succumbing to the wayward spirit of collaboration, the 12" released by Toronto's Pleasence Records demonstrates physical proof of this phenomenon in the fluid conjoining of artists — but also in Hobo Cubes' approach to his contribution. Through the involved process of collaging, deconstructing and layering, intricate soundscapes emerged. And although this variegated sound occupies a world of its own, we indulgently explored the nexus of "stuff" that contributed. Align your senses. Listen to this track while you float through these gorgeous photos.
Labyrinths by Jorge Luis Borges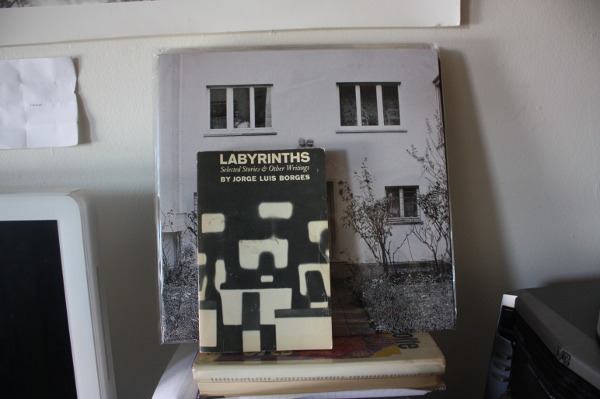 My friend Ryan lent me this Borges book before I knew his writing at all. It doesn't really directly have anything to do with the album but I just feel like after I read this I had a different state of mind. I wanted to go into more minimal but deeper sounds conceptually. Borges' stuff is super illustrative but almost abstract. Also, I just love labyrinths and the concept of the maze. Maybe this marked the beginning of the slowness in my life. I recently found this copy for sale and it has the same cover as the one my friend lent me.
Synthesizer (Roland JX-3P) // Controller (PG-200)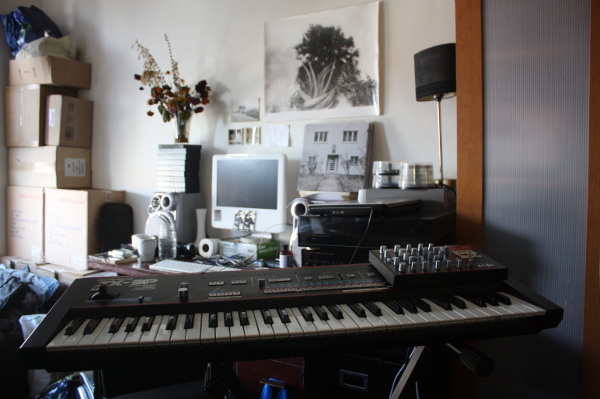 I bought the synth from a guy in Montreal. It had been in storage for 10 years and I bought it really cheap but then had to get it fixed and that cost a lot of money. The controller, which you can buy separately, I got from my friend Christian. His friend found the controller, and gave it to him, so he just gave it to me. But, I had to get a specific cable from Italy. Unfortunately this was during a time when Canada Post was on strike, so I had to wait for like two months until I could even use it. [The controller] truly opened up a different world of sounds because I could manipulate the synth more. It's possible to manipulate the synth from inside but I don't have that logic. I don't want to get inside the synth. The controller is just hands-on. You hear it a little bit on the album.
Alto-Sax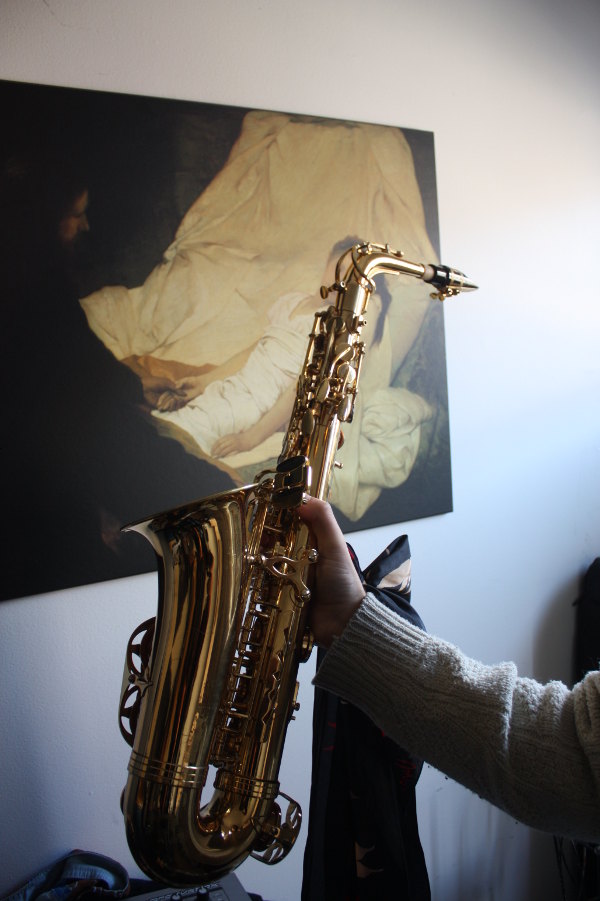 I learned on this saxophone. This is the one I was using to tour a little bit and it's what Alex Dirty Beaches saw me playing in Calgary when he said we should tour together. The first tour [with Dirty Beaches] was done with this sax. One show in France we were playing in this small venue inside a boat. The show was so crazy and at the end of the set I pulled off this weird punk move and dropped the sax. During the next show I was like "why is the sound all… fuck, I broke the sax." It sucked, but it's something that people remember from that show. I could get it fixed, I just never have, because in my heart I know I want a tenor sax — that heavier sound.
"Focus" Tattoo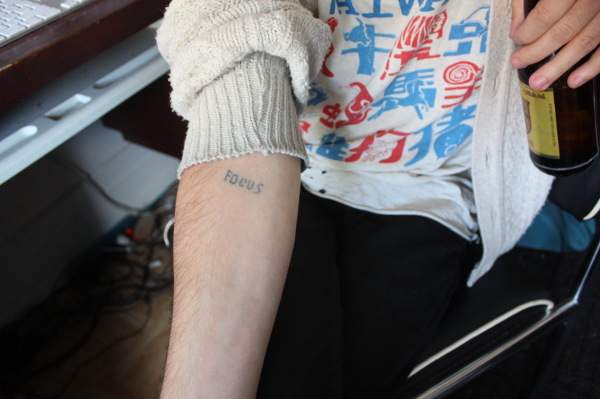 When I got it, I was really in that focus zone. Now it's harder to focus in general. But I have it here, so now I can't not focus. At the same time, the tattoo is sort of blurry. So it becomes this double-edged message. Sometimes life is pretty fucked, but you just gotta see what's in there anyways — and sometimes you have to focus.
Tapes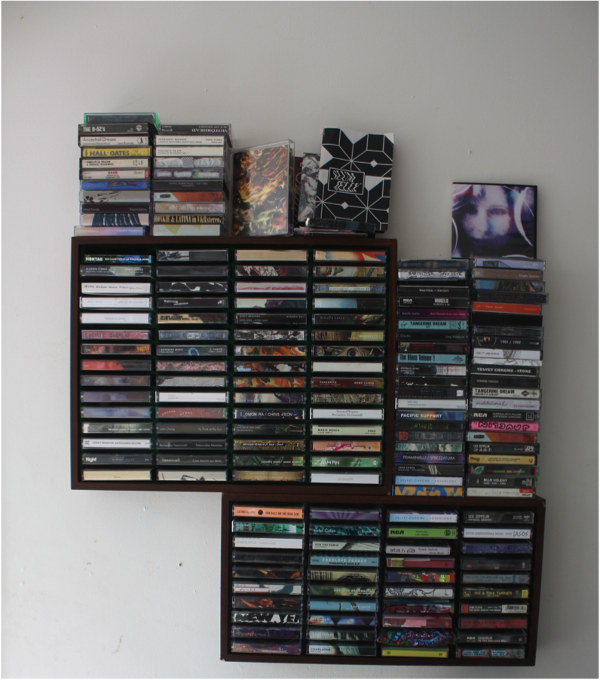 Du joyeux terrain de chasse de Christina Bell:
(Traduit par les retours d'électricité d' Aliké Harel)
« Ralentir radicalement », c'est le dogme au cœur de la révélation symphonique qu'est l'œuvre récente de Hobo Cubes de Francesco de Gallo. Ce nouveau son est une expérience dans l'art de prendre délibérément son temps. Inspiré par leurs connexions artistiques, de Gallo s'est joint à Taiwan d'Edmondton pour nous offrir un split sur vinyle. Des éléments élaborés séparément peuvent fusionner de façon magique. Fruit d'un abandon total aux aléas de la collaboration, ce 12 pouces du label torontois Pleasence Records est la preuve concrète de ce phénomène, d'abord dans la fluidité de cette rencontre entre artistes, puis dans l'approche collaborative même d'Hobo Cubes pour ce projet. Du processus complexe d'assemblage, de déconstruction et de mise en couches, émerge un paysage sonore complexe. Bien que ce son bigarré subsiste dans un monde qui lui est propre, nous avons exploré avec indulgence la constellation de « choses » ayant contribué au tableau. Ajustez vos sens. Écoutez cette piste tout en laissant planer votre regard sur ces images magnifiques.
Labyrinths de Jorge Luis Borges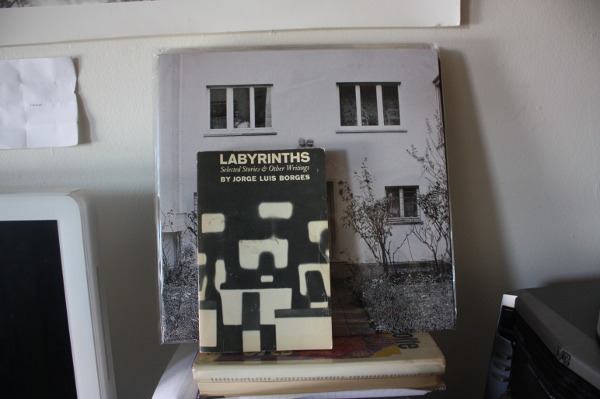 Mon ami Ryan m'a prêté ce livre de Borges avant même que je connaisse l'auteur. Il n'y a pas vraiment de lien avec cet album, mais je sens simplement qu'après cette lecture, je n'ai plus été dans le même état d'esprit. J'ai voulu explorer un son minimaliste mais de conception plus profonde. Ce qu'écrit Borges est hyper illustratif, mais presque abstrait. De plus, j'adore les labyrinthes et le concept de dédales. C'est peut-être le point de départ de la lenteur dans ma vie. Récemment, j'ai trouvé cette édition à vendre et elle a la même couverture que celle que mon ami m'avait prêtée.
Synthétiseur (Roland JX-3P) // Contrôleur (PG-200)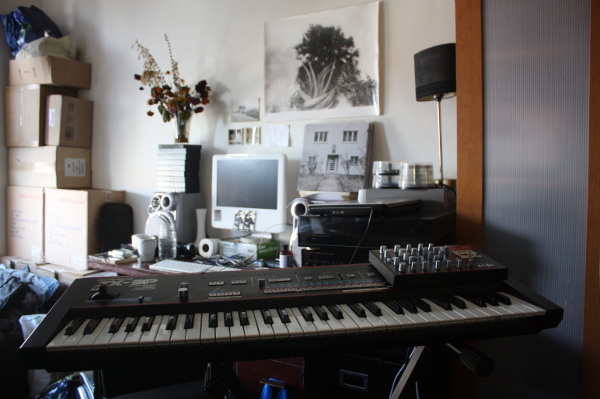 J'ai acheté ce synthétiseur d'un gars à Montréal. Il était entreposé depuis dix ans et je l'ai eu pour pas cher du tout, mais j'ai ensuite dû le faire réparer, ce qui a coûté vraiment cher. Le contrôleur qu'on peut acheter séparément, je l'ai eu de mon ami Christian. Son ami l'avait trouvé et le lui avait donné, et il me l'a donné par la suite. Par contre, j'ai dû obtenir un fil spécial d'Italie. Malheureusement, tout ça se déroulait au moment où Poste Canada était en grève. J'ai dû attendre deux mois avant de pouvoir m'en servir. Le contrôleur m'a ouvert la porte sur un nouveau monde sonore en me permettant de manipuler davantage le synthétiseur. C'est possible de faire ça en jouant avec les circuits du synthétieur, mais je ne suis pas doué avec ces trucs. Le contrôleur est plus pratique. On peut l'entendre un peu sur l'album.
Le sax alto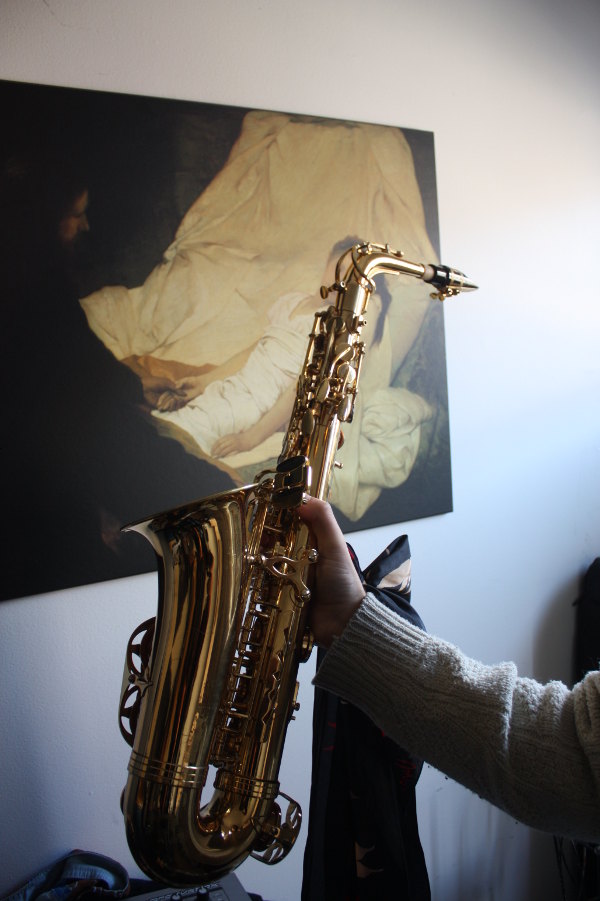 J'ai appris avec ce saxophone. C'est celui que j'utilisais en tournée et c'est celui avec lequel je jouais à Calgary le jour où Alex Dirty Beaches(http://weirdcanada.com/tag/dirty-beaches/) a proposé qu'on fasse une tournée ensemble. J'ai joué avec ce saxophone lors de ma première tournée avec Dirty Beaches. Pendant un concert en France, nous jouions dans une petite salle sur un bateau. L'ambiance était malade et à la fin j'ai fait une genre de pirouette punk bizarre et je l'ai échappé. Au concert d'après, je me demandais « pourquoi est-ce que le son est tout… merde, j'ai brisé le sax ». C'était chiant, mais c'est quelque chose que les gens ont retenu du spectacle. Je pourrais le faire réparer mais je ne l'ai jamais fait, parce qu'au fond de mon cœur, je veux un saxophone ténor — pour ce son plus grave.
Le tatouage « Focus »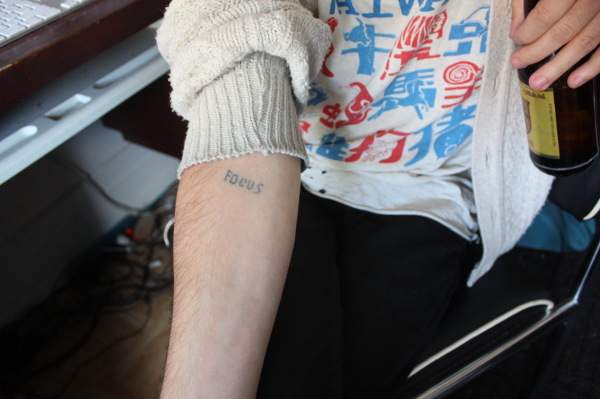 Quand je l'ai fait faire, j'étais vraiment dans une phase de concentration. Maintenant, c'est généralement plus difficile de rester concentré. Mais je l'ai, donc je ne peux pas ne pas être concentré. En même temps, le tatouage est un peu flou. Donc, ça devient un peu un message à double sens. Parfois, la vie est un vrai foutoir, mais tu dois quand même voir ce qui s'y trouve malgré tout — et parfois il faut se concentrer.
Les cassettes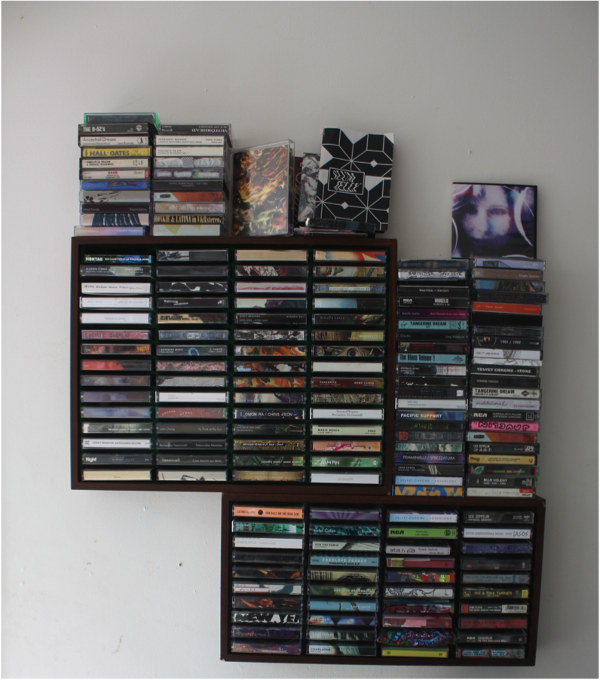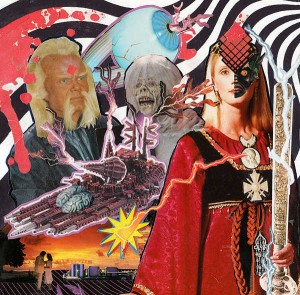 The Ketamines
All The Colours of Your Heart b/w Turning You On
Toronto, ON
From The Mortal Coil of Christopher Laramee:
Tired of smashing your head against the punk rock 'til it bleeds? Nah, me neither. Neither are The Ketamines. As always, they're up to their old tricks again. Side A kicks off proceedings with "Colours"'s wicked Steve-Cropper-jonesing GEETAR licks bumping with some uptight rythym urgency. Hit a sideways pogo to "chase away the gloom", as our heroes say. Besides being a nice (ahem) sexualized horizontal anthem, this punk-as-funk mover's got hooks aplenty. Imagine Sky Saxon lighting boards (JOINTS!, squares!) for The Meters, and you're almost there. Side B's "Turning You On"'s a teen monster movie throb, the one where the zombie rises off the floor and tries to grab some flesh before getting bounced out of the party. I feel like I've seen this show awhile back, but shit, I'm still gonna watch! This single's the first in a four-part series that, when all the covers are assembled, form a certain kind of Jedi-soft-core-daytime pleasure zone. Everyone stays safe, while still feeling threatened. Ummm, Rock'n Roll !?!??!
De l'Enveloppe Mortelle de Christopher Laramee:
(Traduit par le mambo de Hugo Hyart-Dauvergne)
Vous en avez assez de vous taper la tête contre le punk rock jusqu'à ce que ça saigne ? Nan, moi non plus, pas plus que les Ketamines. Comme toujours, les voilà de retour pour nous jouer leurs bon vieux mauvais tours. La face A lance les festivités en procédant avec un méchant jones-ment à la Steve Cropper et des coups de GUITARRRE bien léchés qui s'entrechoquent avec une envie pressante de rythme crispé. Lance-toi dans un pogo sur le trottoir « pour chasser la morosité », pour reprendre les mots de notre héros. En plus d'être une hymne sympa (ahem) sexualisée et horizontale, ce mambo aussi-punk-que-funk est largement fourni en airs entraînants. Imaginez Sky Saxon qui allume des oinjs (des JOINTS ! bandes de coincés du … !) pour The Meters et vous y êtes presque.
La Face B, « Turning On », est un bombardement de films de monstres pour adolescent, celui où le zombie sort du sol et essaie d'attraper un peu de chair fraiche avant de se faire éjecter. C'est comme si j'avais déjà vu ce truc il y a longtemps, mais merde, ça va pas m'empêcher de le reregarder. Ce single est le premier d'une quadrilogie qui quand on en assemble les couvertures forme une certaine sorte de zone de plaisir Jedi-softc¬ore-en-journée. Tout le monde est à l'abri, tout en se sentant menacé. Heeeeeeuuuum, Rock'n Roll !?!??!
The Ketamines – All the Colours of Your Heart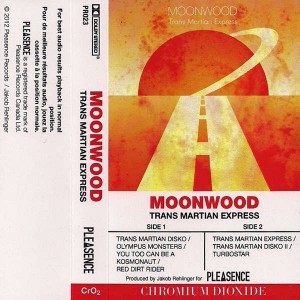 Moonwood
Trans Martian Express
Toronto, ON
From the shakra shake of Jared Majeski:
Who is this mysterious alien creature and where is he taking us? Moonwood is a perpetual concept from Toronto's Jakob Rehlinger, and these numerous EPs, splits and live takes straddle the rhythms and hypnoses of global obscura: shakra shakes, erotic drones and German-American soul for mushy-minded transcendentalists. The latest kaleidoscopic signpost on the new highway of life is Trans Martian Express. The silked-out analog of "You Too Can Be a Kosmonaut" is more Hallo Gallo than Mother Sky, and "Red Dirt Rider" crunches endlessly between tape echo slap-backs. Nothing less than cosmic grippage – there's plenty of road and the sun ain't quite up yet.
Du trémoussement des chakras de Jared Majeski:
(Traduit par le pouceux pas sûr de Nicolas Coutlée)
Quelle est cette mystérieuse créature extraterrestre et où nous amène-t-elle? Moonwood est un concept perpétuel du Torontois Jakob Rehlinger, et ces innombrables EP, splits et enregistrements live raccordent les rythmes et les hypnoses de l'obscurantisme mondial : trémoussement des chakras, bourdonnements érotiques et soul germano-américain pour transcendantalistes à l'esprit nébuleux. Le plus récent panneau kaléidoscopique sur la nouvelle autoroute de la vie est Trans Martian Express. L'analogisme dépouillé de « You Too Can Be a Kosmonaut » fait plus Hallo Gallo que Mother Sky et « Red Dirt Rider » crisse incessamment entre l'écho répété de la cassette. À agripper rien de moins d'une poigne cosmique – il y a en masse de route à faire et le soleil n'est pas tout à fait levé encore.
Moonwood – You Two Can Be a Kosmonaut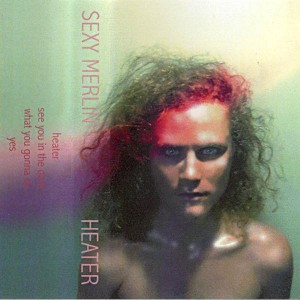 Sexy Merlin
Heater
Toronto, ON
From the bongo beat of Paul Lawton:
Adjectives serve no purpose here, as Sexy Merlin is not something you come to intellectually. Which is not to call Heater anti-intellectual, as this maxi-single has a mindfulness most modern dance producers would be wise to cop. You either feel the bass in your pleasure centres or you miss the point entirely. Rhythmic layering, unique sonic textures and a sprinkle of mystery emerge from these tunes, colluding to embed themselves in the body. Move. Don't think.
Editor's Note: The scanned image above is the j-card for the limited edition cassette, but the quintessential format of Heater is its 12″ version complete with disco sleeve. Sexy, indeed.
Du bongo beat de Paul Lawton:
Ici, tous les adjectifs sont inutiles. Sexy Merlin ne se prête pas à une approche intellectuelle. Mais ce n'est pas non plus de l'anti-intellectualisme : ce maxi démontre une présence d'esprit que la plupart des créateurs de musique dance moderne feraient bien d'imiter. Soit on ressent les basses fréquences dans les organes du plaisir ou on n'a rien compris. Il ressort de ces pièces des textures sonores uniques, des rhythmes à plusieurs niveaux et une pincée de mystère qui s'unissent pour s'incruster dans le corps. Bougez, ne pensez pas.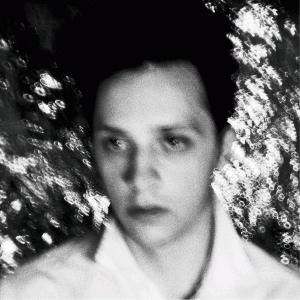 Slim Twig
A Hound At The Hem
Toronto, ON
From the discontinuous charade of Max Cotter:
Narrative machismo pop madness, horribly disfigured in a strange-yet-bewitching time machine accident. Slim Twig collides with a mine of baroque psychedelia and art-rock in the haywire patch bay of a lopsided, dusty old synth, misplaced in an opera hall's dilapidated orchestra pit. Haunting warps and warbles meld in an innocent-seeming act of sinister hypnotism. Dense and intense.
Des simulacres constants de Max Cotter:
Une pop narrative démente empreinte de machisme, puis horriblement défigurée dans un étrange mais envoûtant accident de machine à voyager dans le temps. Slim Twig exploite une mine d'or de psychédélisme baroque et d'art-rock dans la console déprogrammée d'un vieux synthétiseur poussiéreux égaré dans la fosse d'orchestre délabrée d'une salle d'opéra. Des trémolos déformés et lancinants se fondent dans un tourbillon d'hypnose sinistre. Dense et intense.
Slim Twig – Maintain The Charade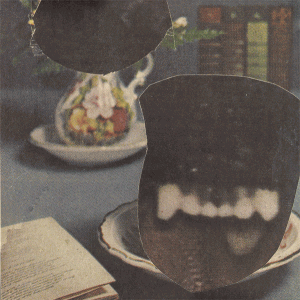 Fleshton Aura
On Rusticated Slant
Toronto, ON
From the snipped anxieties of David Ferris:
Remembering the often forgotten playfulness of early Musique Concrete, Fleshtone Aura liberates his sounds from the Dementor-like wraith of musical academia / boredom, as sounds of scrapes and buzzes jocularly rub shoulders with old soundtrack splinters and various cheeky ejaculations. On Rusticated Slant presents the blurred landscape of a clever but potentially unhinged mind, as viewed through the window of a high-speed train. Fragments of ideas speed by relentlessly, erupting and retreating with some unknown and disturbingly consistent self-contained logic inside a damaged aural kaleidoscope. Many times one will be lured into the dense succession of microsound, only to have it explode like a novelty-gag can of snakes. This beguiling record is a meditation on damage, rewarding decompression through close listening.
Des anxiétés coupées de David Ferris: (Traduit par les peurs sauvages de Maya Keshav)
En rappellant l'allégresse souvent oubliée des débuts de Musique Concrete, Fleshtone Aura libère ses sons du spectre détraqueresque du monde universitaire musical/ de l'ennui, quand les sons de grattements et de bourdonnements côtoyent joyeusement avec les extraits des vieilles bande-sons et diverses exclamations insolentes. On Rusticated Slant présente le paysage flou d'une tête brillante mais possiblement folle, comme vue de la fenêtre d'un train à grande vitesse. Les éclats d'idées passent à toute allure sans cesse, en explosant et reculant avec quelque logique inconnue, autonome et sinistrement concordante dans un kaléidoscope auriculaire brisé. Plusieurs fois on est attiré dans la série intense de microsons, mais soudainement elle explose comme un bidon d'enfant de serpents. Ce morceau séduisant est une méditation sur les dommages, qui récompense la décompression avec une écoute soigneuse.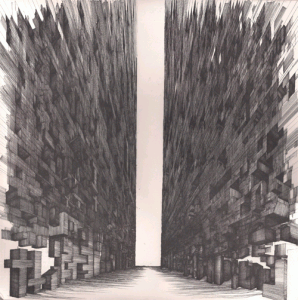 Black Walls
Acedia
Etobicoke, ON
From the crushing placidity of Mark Teo:
Acedia dives into the depths of Ken Reaume's psyche, and it's a sprawlingly gorgeous — if occasionally unsettling — place. Teenage skate-vid ephemera (see "Brian Lotti," narrated by the legend himself) intersects with finger-picked guitar cascades; sparse drum robotics, as on "Hiatus" or "Sun to Rise," underscore crushingly placid vocals, recalling Red House Painters after a three-day chemical bender; "Pines" is a blackened vocal choir for the Godless, before being washed away in whitecaps of white noise. Acedia's final chapter, "Mark's Song," is a full-blown Sunday morning existential crisis: It cracks the blinds to Reaume's sunny finger-picking, before the previous night's minor-key regrets slowly seep in. Beautiful, blackened psych-folk for the self-loathing.
De le flegme dévastateur de Mark Teo: (Traduit par la dévastation flegmatique de Maya Keshav)
Acedia saute dans les entrailles de l'âme de Ken Reaume, et c'est un endroit merveilleusement étendu— même si c'est occasionnellement perturbant. Les éphémères skate-vidéo d'ado (veuillez voir "Brian Lotti", raconté par la légende elle-même) se croisent avec les flots de guitare doigtée; la robotique rare de batterie, comme dans "Hiatus" ou "Sun to Rise", souligne le chant terriblement placide, en rappellant Red House Painters après une tornade chimique de trois jours; "Pines" est une choral noircie pour ceux qui sont sans dieu, avant qu'il soit enlevé par les crêtes de bruit blanc. Le dernier chapitre d'Acedia, "Mark's Song", est une crise existentielle véritable de dimanche matin: Il ouvert les stores aus grattements de doigt insouciants de Reaume, avant que les regrets en mode mineur de la nuit dernière gouttent lentement. Le beau psych-folk noirci pour tout le monde qui a haine de soi-même.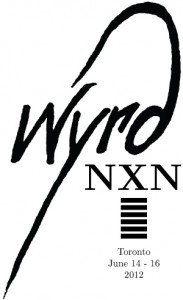 As Toronto is set ablaze with music during one of Canada's largest music festivals, we're proud to join our friends in providing an alternative to the chaos. NXNWyrd is a new micro-festival curated by Weird Canada, Offerings, Pleasence and Burn Down The Capital and is happening Thursday June 14 through Saturday June 16. As an imprint of Weird Canada's nation-wide Wyrd festival series, NXNWyrd will focus on empowering guests to explore and discover the North American musical underground.
On top of stages shared by bands like Drainolith, Oneida-and-Sightings-related Man Forever, Sean Nicholas Savage, Sexy Merlin, and other emerging artists, NXNWyrd will feature a special Saturday Afternoon Mellow with vintage private issue New Age DJ'ing by yours truly and environs, smells, and comforts provided by Spa Kosmische.
Advance tickets for the entire weekend are $15, or priced individually for each show at the door. The weekend rate presents a deep discount if one plans on going to at least two shows. Full lineup, details, locations, and ticket information below.
Festival Details
Dates: Thursday June 14, Friday June 15, Saturday June 16
Festival Tickets: $15 (http://nxnwyrd.eventbrite.com/)
Festival Website: http://weirdcanada.com/nxnwyrd
Venues:
Double Double Land (209 Augusta Ave.)
Infinite Library (Upper – 664 Queen Street West)
Polyhaus (388 Carlaw Ave)
Full Lineup
Astral Gunk
Drainolith
Doom Tickler
Energetic Action
Indigenous Nudes
John Milner, You're So Boss
Man Forever
Man Made Hill
Mass Horns
Moonwood
Pon De Replay
Sean Nicholas Savage
Sexy Merlin
The Soupcans
TOPS
Young Truck
Show Details
Thursday June 14: Man Forever + Mass Horns + Guests
Featuring:
Man Forever
Mass Horns
(special guests)
Date: Thursday June 14, 2012
Location: Double Double Land (209 Augusta Ave.)
Price: $10 door. / $0 with festival pass.
Doors: 9pm
Friday June 15: Pleasence Showcase
To celebrate Toronto's finest polyvinyl imprint, Pleasence has curated an enormous bill of talent from across Canada.
Featuring:
Sexy Merlin
Young Truck
Drainolith
Pon De Replay
Energetic Action
Astral Gunk
John Milner, You're So Boss
Man Made Hill
The Soupcans
Indigenous Nudes
Date: Friday June 15, 2012
Location: Polyhaus (388 Carlaw Ave.)
Doors: 7pm
Price: $10 door. / $0 with festival pass.
Saturday June 16: Saturday Afternoon Mellow + Sean Nicholas Savage + Guests
Everyone needs an afternoon of mellowtude. Come and relax within Weird Canada's HQ. Vintage and authentic New Age meditation music provided by Aaron Levin with environs and aromatics by Spa Kosmische.
Featuring:
Sean Nicholas Savage
Doom Tickler
Moonwood
TOPS
New Age Meditation Music DJ Aaron Levin
Date: Saturday June 16, 2012
Location: Infinite Library (Upper Floor – 664 Queen Street West)
Doors: 3:30pm
Price: $7 door. / $0 with festival pass.
Set-Times:
16:00 :: New Age music mellowness
18:00 :: TOPS
19:00 :: Sean Nicholas Savage
20:00 :: Doom Tickler
21:00 :: Moonwood
Performer Details
Astral Gunk (Sackville, NB)
ASTRAL GUNK was formed in September 2011 after 2 years of communicating through touring and email, the four members found themselves living in the same town while their previous bandmates were sprawled across eastern Canada. Drawing inspiration from a melting pot of punk, post punk, garage rock, pop, psych rock and everything in between, the prevailing sound is as much an amalgamation of influences as it is the product of four dudes drinking beer in a shed and avoiding their responsibilities. The gunk rockers are equally influenced by the rich history of rock n roll music as the current onslaught of Canadian and international bands they regard as peers and mentors.
Drainolith (Montréal, QC)
Drainolith is the droned-out, avant-cosmic project of AIDS Wolf guitarist Alex Moskos. We have heard tales of live shows nothing short of incredible.
Doom Tickler (Toronto, ON)
An intense miasma of gremlinized vocal workouts from Toronto's L. Predy. Incredible, if not totally terrifying.
Energetic Action (Edmonton, AB)
Hailing from the petroleum wastelands of Edmonton, Alberta, Energetic Action have single-handedly revived the D.E.Y (Do Everything Yourself) aesthetic that defined the British post-punk invasion. In one fell swoop they have conjured an punk-driven intensity that compares to nothing the world is ready for.
Indigenous Nudes (London, ON)
Rude, nude, and dudes. We're kidding. This avant-collage project from the unlikely town of London, ON, heralds back to a time when the Nihilist Spasm Band ran rampant through the streets of tinsel town, Ontario.
John Milner, You're So Boss (Toronto, ON)
Intense punk crustaceans from Toronto's underground nether maze. As brilliant live as their name is long.
Man Forever (Brooklyn, NY)
John Colpitts (aka Kid Millions) is a Brooklyn-based multi-instrumentalist, composer and writer who is perhaps best known as the drummer for Oneida. Man Forever, his vehicle for exploring the outer limits of drum performance, was created to overwhelm, to investigate the nuances that bloom in the midst of repetitive music, and to act as a pure sound experience. John also plays in Brooklyn-based band Sightings.
Man Made Hill (Toronto, ON)
Man Made Hill is a breathtaking work-out of sexual funk jams that has Susan Johanson getting busy on the dance floor. If you can match Man Made Hill's dance regime, you're guaranteed to loose 50 in 30. We'll let you define the units and time frame. In the interim, GET FONKAY.
Mass Horns (Toronto, ON)
file under: avant-drum-psych intensity
why we love them: n/a
official website: n/a
A blistering side-project of Young Mother, the drum-based guitar wrenching insanity will completely melt your face, body, mind, soul, wallet, children, home, job, and universe. This will be the last thing you ever see. Die fantastically.
Moonwood (Toronto, ON)
Moonwood conjure a choking atmosphere of worldly instrumentals. Their drawn-out explorations touch upon every ephemeral state. Their new jams stray from the acoustic cosmos occupied on their first album and dive deep into heavy Krautrock territory. We're excited to see the climax of their being. Join us.
Pon De Replay (Toronto, ON)
We say it's warbled tape jams because this collage project is just that. Can you deal with it? Or will you dance to it. You decide.
Sean Nicholas Savage (Montréal, QC)
Edmonton ex-pat and now-Montreal crooner extraordinary, Sean Nicholas Savage has established himself as the go-to man for all things love. It's pop, it's personality, it's beautiful. Sean Nicholas Savage is nothing short of a miracle.
Sexy Merlin (Toronto, ON)
Easily the best-named band in canada, Sexy Merlin is an unstoppable erectro-drum kit explosion. harkening back to a time when Liquid Liquid filled cavernous halls with their insatiable drum-dance to the mother-land, Sexy Merlin will fill your mind with ecstatic sensations of eclectic euphoria.
The Soupcans (Toronto, ON)
Toronto's Soupcans will vomit trashy punk jams of the highest calibre, and you will eat the spew up with utter delight owing simply to their incomprehensible personality the band emits on stage. An incredibly unique experience and worth ditching your dinner date to catch the sloppy seconds. What?
Spa Kosmische (Toronto, ON)
Spa Ksomische is the musically-inspired spa product-line of Naomi Hocura. We are talking bath salts inspired by Can. Do you need any more?!
TOPS (Montréal, QC)
Birthed from the ashes of Montreal-by-way-of-Edmonton's Silly Kissers, Arbutus recording artist TOPS have redefined soft-pop into a mirrored acquiescence of mellowed delight.
Young Truck (Toronto, ON)
With an incredible knack for thrashing genre boundaries and creating a beacon of non-wave dance
euphoria, Young Truck have become the premier gravity well for all things angular.
Partner Details
Burn Down The Capital
Burn Down The Capital puts on shows in Toronto. Our booking policy in dictated by personal taste, although we do tend towards noise, jazz & punk in the avant-garde, we are opened to pretty much any genre. We have been putting on shows in Toronto for about 5 years now & hope to continue doing so in the future. If you think we'd be into your music, please feel free to get in touch. Even though we can't help everyone, it's nice to hear from people who are into the same stuff we are.
Pleasence Records
Pleasence Records is owned and operated by Deirdre O'Sullivan and James Lindsay. We release music on vinyl records. Pleasence Records loves no one specific genre more than another, though we prefer bands and artists with a flare for the oddball and experimental. Pleasence Records would like to meet you.
Spa Kosmische
SPA KOSMISCHE is an exploration of the therapeutic relationship between sound and scent. Each product is hand-blended using pure botanical essences chosen for their therapeutic and aromatic qualities. Inspired by kosmische musik (cosmic music) and krautrock, a genre of experimental music that emerged in Germany in the late 1960s, Spa Kosmische creates meditative environments to help your body return to earth while sending your mind into orbit. Created for people who enjoy exploring outer and inner space.
Weird Canada
Weird Canada is an award-winning publisher of diy / fringe / experimental / self-released musics from Canada. Weird Canada explores the Canadian musical cosmos through the lens of physically-released ephemera across all formats, genres, and experiences.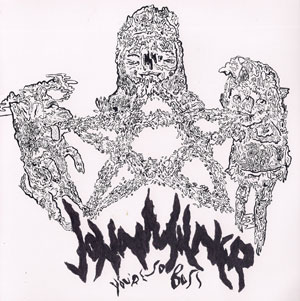 John Milner You're So Boss
7″
Toronto, ON
From the throat hissing of Pam Haasen:
Convenience stores emit sounds so high pitched that adults can't hear to ward off young people from loitering (what we used to call "hanging out"). Reverse this hypothesis and lo, a sound that shakes soil and loam to drag up undergrounders from the deep who can dance with their eyes closed. Metal gates creak open in Sodom to welcome those shunned from the sidewalks and we fall, tripping over cracks. This overtly rude foursome can't help but glue together weirdos and fun-boys, calling the rest of us a bunch of Taquito-eating old folks. If you think you've got it on the wrong speed, it's right.
Du sifflement de gorge de Pam Haasen: (Traduit par Odile Leclerc)
Des dépanneurs émettent des sons tellement aigus que les adultes ne peuvent pas entendre pour empêcher les jeunes gens de flâner (ce que nous avions l'habitude d'appeler ''sortir''). Renverser cette hypothèse et voici, un son qui secoue sol et terreau pour traîner vers le haut les sous-terriens des profondeurs qui peuvent danser avec leurs yeux fermés. Des portes de métal s'entre-ouvrent dans Sodome pout accueillir ceux bannis des troittoirs et nous tombons, trébuchant sur des craques. Ce ménage à quatre ouvertement impoli ne peut s'empêcher de coller ensemble les bizarroïdes et les efféminés, appelant le reste de nous autres une gang de vieillards mangeur de Taquito. Si vous pensez que vous l'avez eu sur la mauvaise vitesse, c'est correct.
John Milner You're So Boss – Side A (Excerpt – Study Service, Meat Shits, Gr3, Wide Mart, Hope Void)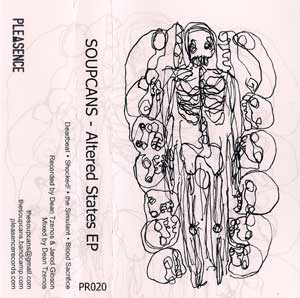 The Soupcans
Altered States
Toronto, ON

Toronto's finest trash heap trio returns with another quick fix for the
pigfuck
junkies. The gnarled guitar riffs squeal like an alley cat stretched through a meat grinder, while the fat-stripped rhythm section hits harder than
Soda Popinski
. Essential 2012 gripitude from the ever-swelling catalogue of
Pleasence
.
[audio:http://weirdcanada.com/wp-content/uploads/2012/03/02-Shocked.mp3|titles=The Soupcans – Shocked!] The Soupcans – Shocked!
[audio:http://weirdcanada.com/wp-content/uploads/2012/03/04-Blood-Sacrifice.mp3|titles=The Soupcans – Blood Sacrifice] The Soupcans – Blood Sacrifice
---