Tag: Pleasence Records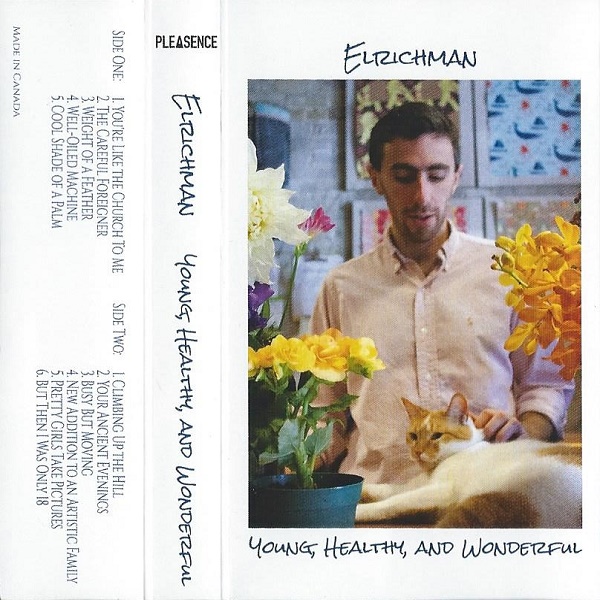 Elrichman
Young, Healthy, and Wonderful
Toronto, ON
From the dirty shades of Shawna Naklicki:
Known for his part in fearless fun-havers Gay, Paul Erlichman shifts to his inner crooner, beach bum and romantic with this side project. While maintaining his signature guitar twang, he switches group vocals for a spotlight on one, driving drums for simple strings. That's not to say he's taking life too seriously. It just means he'll be spending lots of time in the cool shade of a palm singing psychedelic love songs.
Des lunettes de soleil sales de Shawna Naklicki:
(Traduit par Jessica Grenier)
Connu en tant que membre du groupe d'audacieux joyeux lurons Gay, Paul Erlichman profite de ce projet solo pour laisser sortir son crooner intérieur; un beach bum romantique. Il conserve sa façon très personnelle de jouer de la guitare, mais remplace les ensembles vocaux par une seule voix et les puissantes percussions par de simples cordes. Mais il ne prend pas la vie trop au sérieux pour autant : il va simplement passer beaucoup de temps à l'ombre fraîche d'un palmier, en fredonnant des chansons d'amour psychédéliques.
Elrichman – Cool Shade of a Palm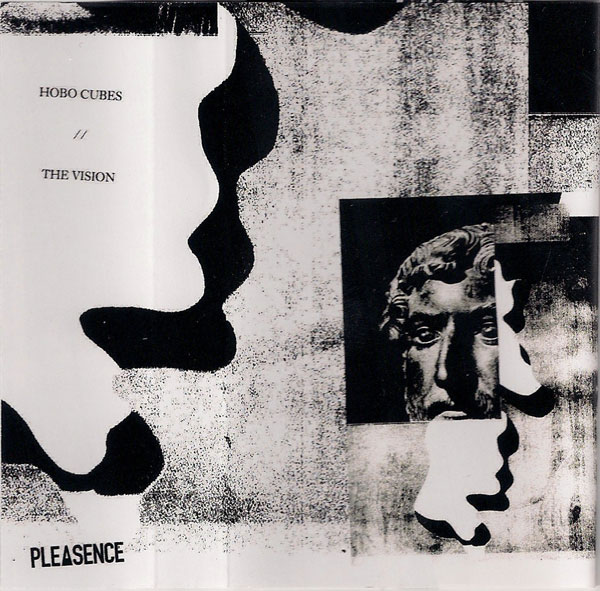 Hobo Cubes
The Vision
Montreal, QC
From the home drone of Josh Silver:
The standard puzzle is made up of a regularized series of pieces. Each piece severed from its greater system takes on a life of its own: a sail fragment becomes a patch of cloudy sky or a ship's mast is mistaken for a window frame. The undulating drones of The Vision construct an assemblage of puzzle pieces, slicing up jazz solos and excess takes to be recombined and morphed. Here a saxophone becomes a sweeping wave of sound and a drum section becomes a mountainous accent breaking through the formal drone-zone patina.
Du drone personnel de Josh Silver:
(Traduit par Jessica Grenier)
Un casse-tête se compose généralement d'une série de pièces de base. Chaque pièce séparée de l'ensemble devient une forme de vie autonome : un fragment de voile peut devenir une parcelle d'un ciel nuageux, ou le mat d'un navire être pris pour le cadre d'une fenêtre. Le drone ondulant de The Vision assemble les pièces d'un casse-tête, sectionnant des solos de jazz pour en refondre/métamorphoser les excès. Ici, un saxophone devient une vague de son déferlante, une batterie, un accent colossal défonçant la surface de la drone-zone.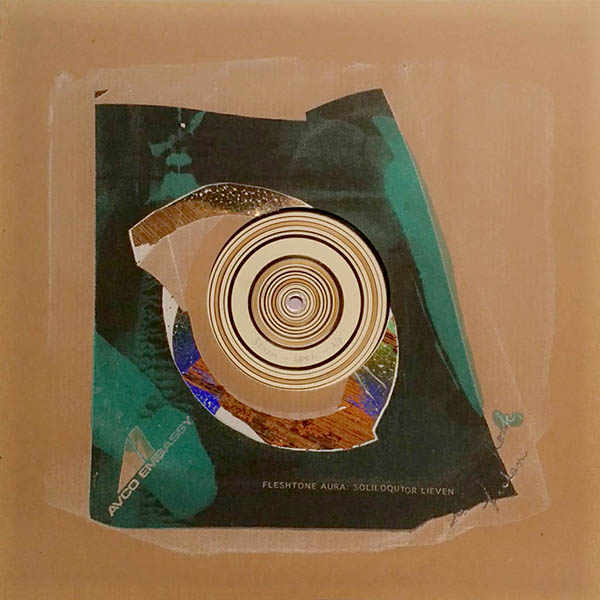 Fleshtone Aura
Soliloquy for Lieven
Toronto, ON
From the vitriolic taste of Kevin Hainey:
Andrew Zukerman is a consistently strong individual force and significant presence among Toronto's underground and experimental music communities. Whether it's been with his many solo projects, or as part of the long-running cut-up sound-wrestling noise team Gastric Female Reflex, Zukerman has constantly developed his own definable style of compositional electronic music for over a decade now. Fleshtone Aura is Andrew's most serious and vinyl heavy solo project to date, and this third record is not what anyone would have expected. Opposed to maximizing his hyperactive use of editing to micromanage recorded time and cram the listening experience with as many ideas, sounds and jarring effects as possible over a short period, this latest record is more about an absence of… well, nearly everything. Without quite fitting into the eternally yawning genre, Zukerman has made his equivalent of an ambient record, so far in that a nod to a modern master of the international chill-out scene Lieven Martens (aka Dolphins Into the Future) could not be avoided. This time around, it's not so much about sound as the absence of sound. Zukerman has polarized his talent with this record, and set an extreme sound-barrier for himself far in the opposite direction he's used to pushing himself in. For my minimalist leaning tastes, this is the best Fleshtone Aura record so far. Where he's prone to packing out the playing field and keeping the action wild, this time around he's cleared it of athletes, and punctured the ball.
Du goût acerbe de Kevin Hainey:
(Traduit par Jessica Grenier)
Andew Zukerman est une force individuelle constante et une présence importante dans l'underground et les communautés de musique expérimentale de Toronto. Que ce soit par le biais de ses nombreux projets solos ou par celui de l'équipe éternelle de destructeurs/lutteurs de bruit Gastric Female Reflex, Zukerman a toujours suivi son propre style dans la composition de musique électronique – soit depuis plus d'une décennie. Fleshtone Aura est son projet solo le plus sérieux et le vinyle le plus lourd jusqu'à présent, et ce troisième enregistrement n'est pas ce à quoi on aurait pu s'attendre. Plutôt que de maximiser son utilisation hyperactive de l'édition pour utiliser chaque seconde enregistrée en bourrant l'expérience auditive d'autant d'idées, son dernier album mise plutôt sur l'absence de… presque tout, en fait. Sans nécessairement tomber dans le genre à faire bâiller, Zukerman a produit l'équivalent d'un album d'ambiance, à tel point qu'un clin d'œil au maître moderne du chill-out sur la scène internationale, Lieven Martens (aka Dolphins Into the Future), n'a pu être évité. Cette fois-ci, ce n'est pas le son qui compte, mais son absence : Zukerman a polarisé son talent avec cet album, érigeant lui-même une barrière de son à l'extrémité opposée de la direction vers laquelle il allait jusque-là. Selon mes goûts penchant vers le minimalisme, c'est le meilleur album de Fleshtone Aura jusqu'à présent. Là où il remplirait normalement le terrain avec une action folle, il a plutôt retiré les athlètes et fait des trous dans les ballons.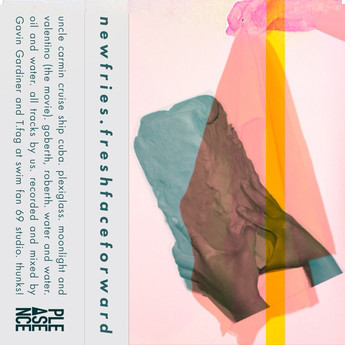 New Fries
Fresh Face Forward
Toronto, ON
From the warped reflection of Julia Dickens:
You're in a room. You begin pacing back and forth, thinking furiously about a strange memory, an odd decision, disjointed communication, your own existential confusion. Your speed increases, becomes frantic, stops and starts. You're muttering, talking out loud without knowing, repeating the same words until they become the steady rhythm to a herky jerky dance routine, ending as abruptly as it began. Absolute silence interrupted by your own yelps; spastic bursts of noise, and the pacing starts again. This is the deconstructed dance anthem to your most obsessive and zig-zagged anxiety attack, the performance art soundtrack to a poetically deranged stream of consciousness.
De la réflexion tordue de Julia Dickens:
(Traduit par Jessica Grenier)
Tu marches furieusement dans une pièce, ton va-et-vient occupé par un souvenir étrange, une décision bizarre, un problème de communication, ta propre confusion existentielle. Ta vitesse accélère, devient frénétique, ponctuée d'arrêts et de recommencements. Tu marmonnes sans t'en rendre compte, répétant à haute voix les mêmes mots jusqu'à ce qu'ils deviennent le rythme régulier d'une danse saccadée qui prend fin aussi abruptement qu'elle a commencé. Un silence absolu, parfois interrompu par tes propres cris – spasmes éclatants de bruit – et tu recommences à faire les cent pas. C'est l'hymne déconstruit de la danse pour tes attaques d'anxiété les plus obsessives et zigzagantes, la trame sonore d'un artiste de performance pour un flot de conscience poétiquement dérangé.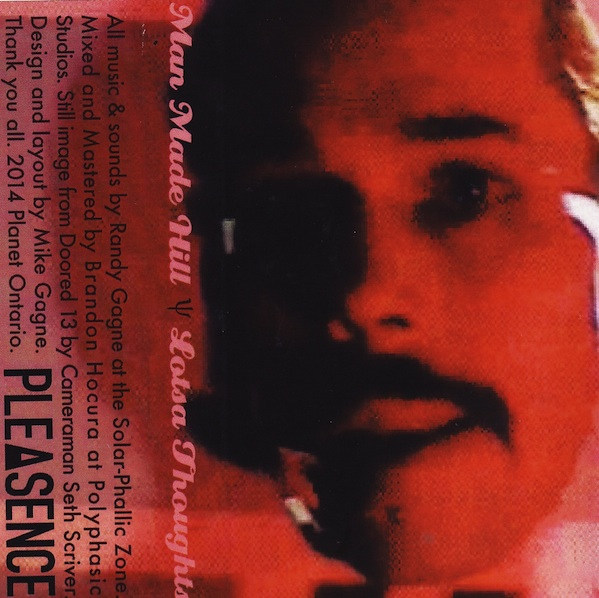 Man Made Hill
Lotsa Thoughts
Toronto, ON
From the engulfing blob of Brad Casey:
Imagine an old high school friend is visiting. You moved to the city and haven't seen him in 10 years. He never left your small hometown. Ever. You two go to a bar. The bar is empty but there's a closed off back room and it sounds like there's a party happening back there. You both open the doors to the back room. There's a flash of light. Everything sounds like it's underwater. There's a man onstage and he's planking on top of a ladder. His whole body is painted silver and music is shooting from his body in colourful light as he spins like a record. The crowd is one anomalous blob of furries and they engulf your friend. Later, you'll find him covered in sparkles, wearing only a t-shirt that says Man Made Hill and reciting the words to "Ballad of a Thin Man" as if in a trance.
Du blob vorace de Brad Casey:
(Traduit par l'appétit pour les mots de Louis-Félix Pellerin)
Imagine qu'un ami du secondaire te rend visite. Vous ne vous êtes pas vus depuis dix ans parce que tu as déménagé à la grand'ville et lui n'a jamais, jamais, quitté votre patelin d'enfance. Vous allez boire un verre. Le bar est vide, mais vous entendez ce qui est clairement un party venir de l'arrière-salle. En ouvrant les portes, de la lumière en jaillit. Vous avez l'impression d'être rendus sous l'eau. Sur la scène, un homme fait la planche au sommet d'une échelle. Son corps est recouvert de peinture argentée et la musique jaillit en rayons de lumière colorée de son corps qui tourne tel un vinyle. La foule est un étrange troupeau de furries qui s'empresse d'engloutir ton ami. Plus tard, tu le retrouves, étincelant, en train de réciter les paroles de "Ballad of a Thin Man" comme s'il était en transe, avec comme seul vêtement un t-shirt qui dit Man Made Hill.
Man Made Hill – Repetitive Party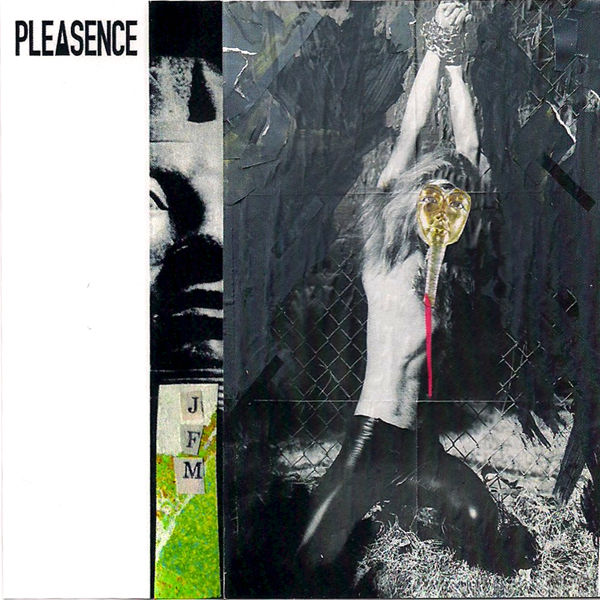 From the crass cranium of Farah Barakat:
JFM (Jesse Frank Matthews) constructs groovy soundscapes using a sampler and effects. For his cassette debut on Pleasence Records, the loops are minimally constructed, maximally effective. One carefully chosen beat, riff or rhythm is looped for minutes at a time, as intricate tweaks are added to create titillating audio collages before switching the vibe. Squat is a long, pleasant (pun intended) city drive late at night, with identical streetlights guiding you down the road like outstretched arms.
Du crâne insensible de Farah Barakat:
(Traduit par le doux murmure d'Anaïs Njike)
Producteur de musique décalée et compositeur solo de musique électronique, JFM (Jesse Frank Matthews) crée une atmosphère musicale groovy à partir d'un sampleur et d'effets sonores. Sa première cassette sortie sur Pleasence Records est l'exemple d'une boucle minimale, pour un effet maximal. Une rythmique ou un riff minutieusement choisis qui constituent une boucle répétée pendant plusieurs minutes, à laquelle s'ajoutent des éléments complexes pour créer un univers audio émoustillant avant de passer à l'ambiance suivante. Squat est aussi agréable qu'une longue virée en voiture tard dans la nuit, dans une ville dont les réverbères, identiques, vous tendent les bras pour guider votre chemin.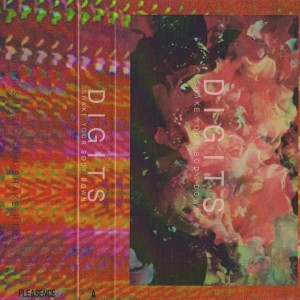 Digits
Shake Your Body Down
Toronto, ON
From the polyphonic pen of Ryan Warner:
Armed with Moroder-style synths and a penchant for high drama, Digits' latest mixtape Shake Your Body Down seduces listeners into a sensual realm of disco paranoia. The tape offers a smorgasbord of original tunes, remixes, reworkings and collaborations with Toronto's Doomsquad and Digits side-project Bad Passion. The music here is texturally rich, deeply saturated and full of attention grabbing sonics (no doubt due to Alt Altman's Artscape residency). However, it isn't studio wizardry that makes this tape intoxicating; the high quality of songwriting and deft arrangements keep it on steady loop.
Du stylo polyphonique de Ryan Warner:
(Traduit par la richesse musicale de Julie Forget)
Armé de synthés de style Moroder et d'un penchant pour le grand drame, le dernier mixtape de Digits, Shake Your Body Down, entraîne les auditeurs dans un royaume sensuel de paranoïa disco. La cassette offre une panoplie de chansons originales, de remixes, de reprises et de collaborations avec Doomsquad, de Toronto, et avec le projet parallèle de Digits, Bad Passion. La musique est riche en textures, profondément saturée et remplie de sons attirant l'attention (sans doute grâce à la résidence d'Alt Altman à l'Artscape). Toutefois, ce n'est pas la magie du studio qui rend cette cassette enivrante; la grande qualité de la composition des chansons et les arrangements habiles maintiennent sa complète harmonie.
Crosss // Astral Gunk
Split 7″
Toronto, ON // Sackville, NB
From the prophetic dirge of Josh Boguski:
Darkness envelopes a barren landscape as cloaked figures surround their fallen chapter. Though trembling, we are euphoric as the beast they've summoned welcomes us into its arms. Crosss seamlessly combine doom and post-punk with the disorienting pop sensibilities that we've come to expect from Halifax. And they're destined to the throne. On the flipside, chain-gun percussion accompanies the proclamation that punk is not dead. In their own maniacal language, Sackville's Astral Gunk abandon convention and leave the capitol in search of unpredictable territory.
De l'hymne funèbre prophétique de Josh Boguski:
(Traduit par elfranc)
L'obscurité enveloppe un paysage aride alors que des personnages cagoulés entourent leur acolyte tombé. Malgré les tremblements, nous sommes euphoriques : la bête qui a été invoquée nous accueille dans ses bras. Crosss combinent sans couture le doom et le post-punk avec la sensibilité pop désorientante d'Halifax. Ils sont destinés au trône. De l'autre côté, des rythmes de mitraillette accompagnent la proclamation que le punk n'est pas mort. Dans leur propre langue maniaque, Astral Gunk, de Sackville, abandonnent les conventions et quittent le Capitole à la recherche de territoires imprévisibles.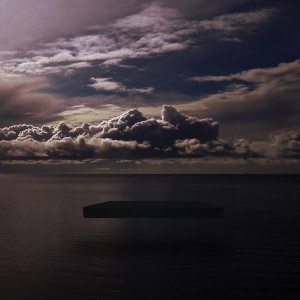 Black Walls
Communion
Toronto, ON
From the PTSD march of Jesse Locke:
Arising from the Paleolithic mist, one-man monolith Ken Reaume (a.k.a. Black Walls) obscures all hints of sunshine and big spins with his latest saga of overcast elegies. This funereal march floats above fields of headstones, stretching blackened tone poems to the point of oblivion. Strong contender for cover art of the year, and Liz Harris-level heartrend.
Du cortège de SSPT de Jesse Locke:
(Traduit dans l'ataraxie par Benoit Arcand)
Émergeant du brouillard paléolithique, l'homme-monolithe Ken Reaume (alias Black Walls) annihile toute possibilité d'ensoleillement ou de big spins avec sa dernière épopée d'oppressantes élégies. Cette marche funèbre plane sur un champ de stèles, étalant ses poèmes enténébrés jusqu'à l'amnésie. Prétendant sérieux au titre de pochette de l'année et porteur d'un accablement digne de Liz Harris.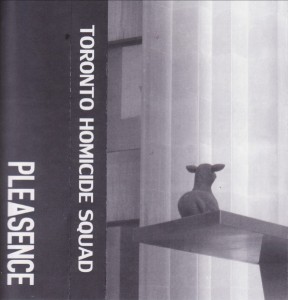 Toronto Homicide Squad
Nein Bullets
Toronto, ON
From the megacity delirium of Liam Kennedy:
This drum and bass combo brings an uneasy rhythmic counterweight to songs perfect for a dystopian French Connection in downtown Toronto, let's say, 2035. Fully setting the scene for Nein Bullets will require co-channeling William Gibson and Phillip K. Dick, an experiment they would probably both be up for.
You're a cop, and not some replicant-hunter eating soba in the rain. You're a beat cop rubbing shoulders with the day-traders turned nuke-junkies in TTC corridors. Your life is zur tshong khang (Tibetan corner store)-fueled all-night stakeouts, shaking down derelict Queen West hipsters, and losing perps in the dark alley birdsnest of MetaScarborough.
Another day bleeds into night and you're searching for him, your flagitious Moby Dick. Every step you take closer to him the further away you end up. Tonight, you're aimlessly rolling through cracked Annex side streets, Lakeshore ruins, and Toronto's leaky ventricle, the DVP – like Conrad's Congo snaking through the GTA's own fattened and sluggishly opaque myocardium. Nein Bullets is the soundtrack to the sodium-vapour tinted pallet of your megacity delirium.
Du délire de mégapole de Liam Kennedy:
(Traduit par le calot rayé en cavale de Julie Mayer)
Cette combinaison basse/batterie apporte un contrepoids rythmique inconfortable à des morceaux parfaits pour une French Connection contre-utopique au cœur d'un Toronto situé, disons, en 2035. Pour réaliser la mise en scène de Nein Bullet, il faudrait brancher William Gibson et Phillip K. Dick sur la même longueur d'onde, une expérience à laquelle tous deux auraient sans doute participé. Vous êtes flic, et non pas un chasseur de réplicants qui mange des soba sous la pluie. Vous êtes un flic de quartier qui se frotte aux spéculateurs sur séance devenus accros à la nuke dans les corridors de la TTC. Votre vie carbure au zur tshong khang (dépanneur tibétain). Vous passez vos veilles à secouer des hipsters, épaves de Queen West, et à vous faire semer par des malfrats dans le réseau de sombres allées qu'est Meta-Scarborough. Un autre crépuscule sanglant coule vers la nuit alors que vous êtes à la recherche de votre Moby Dick infâme. Chaque pas qui vous rapproche de lui vous mène de plus en plus loin. Cette nuit, vous roulez sans but à travers les petites rues fissurées de l'Annex, les ruines de Lakeshore et le ventricule suintant de la Ville Reine. Le DVP, similaire au Congo de Conrad,serpente dans le myocarde opaque, empâté et léthargique du Grand Toronto. Nein Bullets est la bande sonore originale de la palette teintée de vapeur de sodium de votre délire de mégapole.
Toronto Homicide Squad – Cold Eggs
---