Tag: play guitar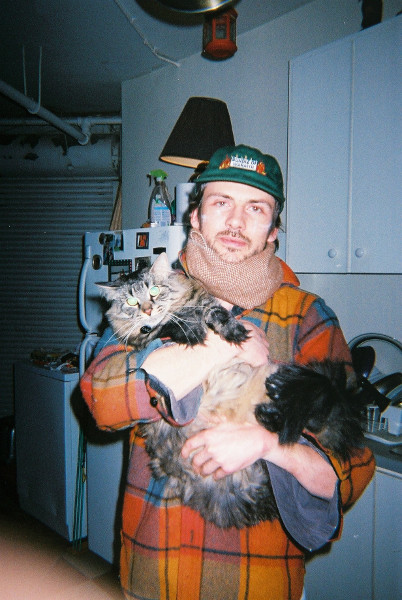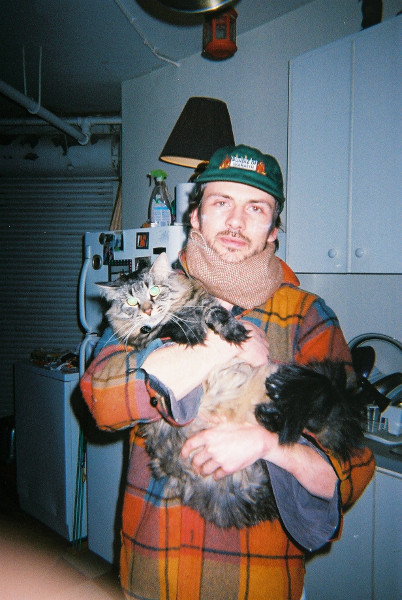 Since its first batch of releases in early 2011, Craft Singles has been steadily cultivating and curating "a series of snapshots of interrelated communities." Perpetually delving into disparate sounds and geographies, the subscription-based label educates its listeners in Canadiana through brief, single-driven cassette doses. Each meticulously orchestrated batch of releases offers a unique visual aesthetic and attention to packaging, adding collectibility to the already enticing array of singles. Weird Canada spoke to Andy March, founder of Craft Singles.
Craft Singles
Halifax, NS
From the orchestrated collectibility of Max Cotter:
Since its first batch of releases in early 2011, Craft Singles has been steadily cultivating and curating "a series of snapshots of interrelated communities." Perpetually delving into disparate sounds and geographies, the subscription-based label educates its listeners in Canadiana through brief, single-driven cassette doses. Each meticulously orchestrated batch of releases offers a unique visual aesthetic and attention to packaging, adding collectibility to the already enticing array of singles. Weird Canada spoke to Andy March, founder of Craft Singles.

The You Are Minez – Can't Question Desire

The Ether – Dead Scene Politics
Max Cotter: What are the origins of Craft Singles (CS) and how did it evolve into its current form?
Andy March: CS started as a project where I wanted to try my hand at production. I had been recording, playing in bands, and running labels, and I thought it would be a worthwhile exercise to see what I could do to put all that together and try to produce recordings. I wanted to be able to work with a lot of different artists, to do it without needing to find much money, to work quickly and release things rapidly, and to publish the output in a coherent form, as a project, in a format that was collectible. I also wanted to be able to give the bands something that they could sell, which could get reviewed, with the result of garnering some attention.
The cassette single format is one I have always liked. It made sense to me that the project as a whole could gain some momentum, even if the releases were very short, and the editions very small. I bought a cassette duplicator, a glue dispenser gun, and trained with Charles Austin at Echo Chamber Audio, reaching an agreement where I could use the studio at night for a reasonable rate. The first half-dozen or so releases followed this ethos, and I made some recordings I am really proud of. Friendly Dimension, The Ether, Special Costello, and Lantern really stand out for me as sessions where I put a lot of thought and effort into being the perfect producer for that particular group at that particular point in their career, and I think I gave them something that made sense for them that, at the time, did justice to their development and their aesthetic.
As I began to spend less time in Halifax and Montreal (where I had studio access as well), and as I became more focused on my own band, CS morphed into more of a traditional label in that bands, such as Play Guitar and Grand Trine, submitted their content for release through the label. I was still doing some recordings for bands like Bad Vibrations, but the emphasis was more on making the release process affordable, without losing quality, for bands that were near the beginning of their careers.
At this point the label began to grow in its ability to provide exposure across Canada, in part thanks to Weird Canada and campus radio. It fell into its current character; a series of snapshots of interrelated communities, a rhizome of bands and musicians and scenes.
There seemed to be a heavy focus on the Halifax scene that has slowly shifted to documenting other parts of the country. What led to this change? How has CS's relationship with the Halifax music community changed with this shift?
I am fairly nomadic so as I spent less [time in] Halifax and started exploring other parts of the country, I found relationships between cities that made it possible to expand the label to other regions. Sackville, Montreal, Toronto, and Calgary all have threads in common; dialogues of various degrees between certain threads of creativities, which was very exciting for me to realize. My relationship to the Halifax scene is still strong. I go back all the time and try to keep tabs on what is up, and I hope to be able to continue this forever.
Especially considering the aforementioned shift, how does the CS curation process work? Has it become more of a challenge to make informed release decisions when looking with a wider lens at Canada as a whole? The process of deciding on releases is pretty straight forward. I try to determine if a release is mutually beneficial for all parties involved: the band, the label, and the other bands under the label. If so, and if the band is keen, I do whatever needs done to make a tape happen. I find that the wider the scope geographically, the more cohesive the project becomes. Releasing Homebody (from Denver, Colorado) and seeing the ties with, say, Heaven For Real or You Are Minez, was really sweet.
With each round of releases featuring a different-yet-cohesive aesthetic, it seems graphic design is an important aspect of CS. How would you describe the relationship between the label/music and the visual aspects?
I spent a long time in art school in Halifax, and I decided early on that visual cohesion was vital to the sensibility of the project. Other labels–like Sacred Bones–incorporate the visual to great effect, and I get a lot of satisfaction from doing this successfully. I do feel a little strange imposing an aesthetic on a group of artists, but ultimately I think it plays a big role in making the label operate the way it does, ontologically, and no one has made a stink about it yet.
As a subscriber, I've always found each round of CS releases is like a lesson in independent Canadian music. What led to the idea of a subscription based label?
The subscription is just a way to maintain momentum as well as adding another element to the nature of the project. I think it makes it a richer project by adding to the element of collectibility, like when you wanted a complete set of baseball cards when you were a kid, and if you were really keen, maybe you would just buy the whole set at once. In this way the collector becomes a part of the project. They don't know what tape they will be getting, they are subscribing to the label, and they are really another wing of the whole thing.
How does the cassette format relate to the CS ideology and aesthetic? Is the label bound to this specific medium or do you have plans to experiment in other tangible delivery methods?
Cassettes are amazing because they are cheap, easy to duplicate, easy to package, durable, and they ship cheaply as lettermail. They also make unmastered digital recordings sound cooler, and they don't take up much space in your collection. They have a wide spine, so as a series the spines all line up to look great on your shelf.
In 2010 I bought a very large and ancient record lathe, which is a device used in manufacturing vinyl records. I modified the machine, and along with a rad online community, experimented to find a way to use it for short run manufacturing of hand-made records. At this point it is possible, for a few dollars, to produce a mono disk that does not wear out with use, that will play well, and that sounds excellent across a large frequency range, with a low noise floor, and at a decent volume, on MOST turntables. Unfortunately the Stylus that the machine uses is made of Saphire, and costs about $100, so mistakes are very expensive, and a big part of the experimentation has been getting as many copies as possible out of a stylus without wearing it out. My first release in this format was CS024-SLOW BURN for TORONTO HOMICIDE SQUAD. The run of 30 copies took me about 2 long days of work, and they came out great.
What's next for CS?
Next up are releases for Negative Rage and Un Blonde, two of the most exciting cassingles to date. Both are young, 'auteur' types and I am beside myself with excitement. I think the next wave of artists in Canada will be truly unbelievable, and everyone should be ready to have their minds blown into a million pieces. At the same time I am very pleased to see CS bands like Heaven For Real, Monomyth, Old and Weird, and others, move forward in their careers at an amazing pace, and I am thinking of ways that the label can evolve to keep up with them.
Craft Singles Discography (to date):
CS001 – Omma Cobba – Policeman
CS002 – The Ether – Dead Scene Politics
CS003 – The Friendly Dimension – Executive Koala
CS004 – Lantern – American Razorwire
CS005 – Kill Squares – Swim To Me
CS006 – Play Guitar – Majic Child
CS007 – Grand Trine – Euthanize Me
CS008 – Crosss – Bone Brigade
CS009 – Bloodhouse – Baby Butter Knife
CS010 – Transfixed – Physical Demands
CS011 – Bad Vibrations – In The Rough
CS012 – Old and Weird – Minstrel Rock
CS013 – Special Costello – Music and Image
CS014 – The You Are Minez – Can't Question Desire
CS015 – Astral Gunk – Street Level
CS016 – Yellowteeth – Repo
CS017 – Chief Thundercloud – End of August
CS018 – Quaker Parents – Rubber Match
CS019 – Quivers – Self Portrait in E
CS020 – Heaven For Real – Hero's Code
CS021 – Monomyth – Trash Day
CS022 – Homebody – Homebody EP
CS024 – Toronto Homicide Squad – Slow Burn
CS025 – Negative Rage – I'm Controlled, You're Controlled
Des collections bien orchestrées de Max Cotter:
(Traduit par Anne-Marie Papillon)
Depuis sa première fournée de sorties en 2011, Craft Singles cultive de façon régulière une série de clichés de communautés entremêlées. Fouillant perpétuellement les creusets de sons et de géographies disparates, l'étiquette qui fonctionne par abonnement éduque ses adeptes en Canadiana au moyen de doses de cassettes brèves et orientées vers le simple. Chacune des fournées de sorties méticuleusement orchestrées offre une esthétique visuelle unique et une attention toute particulière à l'emballage, ajoutant l'envie de collection aux déjà très séduisants simples. Weird Canada a conversé avec Andy March, le fondateur de Craft Singles.

The You Are Minez – Can't Question Desire

The Ether – Dead Scene Politics
Max Cotter : Quelles sont les origines de Craft Singles (CS) et comment l'étiquette a-t-elle évolué pour atteindre sa forme actuelle?
Andy March : CS a débuté par un projet où je voulais essayer de produire pour la première fois. Auparavant j'avais enregistré, joué dans des groupes et dirigé des étiquettes et je pensais que cela vaudrait la peine de voir ce que je pourrais obtenir comme résultat en combinant le tout grâce à la production. Je voulais avoir l'opportunité de travailler avec de nombreux artistes différents, de pouvoir le faire sans avoir besoin de trop de sous, de travailler et de sortir des trucs rapidement et de publier le tout de façon cohérente, dans un format facile à collectionner. Je voulais aussi être en mesure d'offrir aux artistes quelque chose qu'ils peuvent vendre, quelque chose à propos duquel on peut écrire, dans le but d'attirer l'attention sur la musique.
Le format cassette est un truc que j'ai toujours aimé. Ça avait du sens pour moi que le projet prenne de l'élan, même si les parutions étaient très courtes et le nombre de copies limité. J'ai acheté une reproductrice de cassettes, un fusil à colle et discuté avec Charles Austin de Echo Chamber Audio. On s'est entendu pour que je puisse utiliser son studio un soir par semaine, à un prix raisonnable. La première demi-douzaine de parutions a suivi cette philosophie et j'ai produit des trucs dont je suis très fier. Friendly Dimension, The Ether, Special Costello, et Lantern se distinguent particulièrement pour moi comme des sessions auxquelles j'ai consacré beaucoup de temps et d'effort afin d'être le meilleur producteur pour chaque artistes à ce point particulier de leur carrière. Je crois leur avoir donné un résultat qui avait du sens pour eux et que ce résultat rendait justice à leur développement et à leur esthétique du moment.
Lorsque j'ai commencé à passer de moins en moins de temps à Halifax et à Montréal (où j'avais aussi accès à un studio) pour me concentrer davantage sur mon propre groupe, CS s'est transformé en une étiquette plus traditionnelle; des groupes comme Play Guitar et Grand Trine ont soumis leur matériel en vue d'une parution sous l'étiquette. Je faisais toujours des enregistrements pour des groupes comme Bad Vibrations mais l'accent était plus sur la volonté de rendre le processus abordable, sans compromettre la qualité, pour des groupes qui commençaient leur carrière.
À ce moment-là, l'étiquette a commencé à développer sa capacité à faire connaître des groupes à travers le pays, en partie grâce à Weird Canada et aux radios communautaires. C'est devenu ce que c'est maintenant : une série de clichés de communautés entremêlées, un rhizome de groupes, de musiciens et de scènes.
Il semble que l'accent ait d'abord été mis sur la scène d'Halifax pour ensuite se déplacer vers d'autres coins du pays. Qu'est-ce qui a motivé ce changement? Comment est-ce que la relation de CS avec la scène musicale d'Halifax a changé de ce fait?
Je suis passablement nomade alors je passais de moins en moins de temps à Halifax et j'explorais d'autres coins de pays. J'ai trouvé des similarités avec d'autres villes qui rendaient possible l'expansion de l'étiquette vers d'autres régions. Sackville, Montréal, Toronto et Calgary ont toutes des fils en commun; des dialogues à différents degrés entre certains fils créatifs, une réalisation très excitante pour moi. Ma relation avec la scène d'Halifax est toujours très forte. J'y retourne souvent, j'essaie de me tenir au courant de ce qui s'y passe et j'espère être toujours en mesure de le faire.
Compte tenu de l'évolution qu'on vient de mentionner, comment fonctionne maintenant le processus de sélection de CS? Est-il plus difficile de prendre une décision éclairée pour une parution maintenant que vous devez tenir compte du Canada tout entier?
Le processus de décision pour les nouvelles parutions est assez simple. J'essaie de déterminer si une parution est bénéfique pour toutes les parties concernées : le groupe, l'étiquette et les autres groupes sous l'étiquette. Si c'est le cas et que le groupe en a envie, je fais tout ce qui est en mon pouvoir pour créer une cassette. Je trouve que plus l'envergure géographique est étendue, plus on retrouve de cohésion entre les projets. Faire paraître Homebody (de Denver, Colorado) et voir les liens entre par exemple Heaven For Real ou You Are Minez était vraiment sympa.
Chaque ronde de parutions présente une esthétique différente mais toujours en cohésion et il me semble que le design graphique est un aspect important de CS. Comment décrirais-tu la relation entre l'étiquette/la musique et l'aspect visuel?
J'ai passé beaucoup de temps à l'école d'art à Halifax et j'ai décidé dès le départ que cette cohésion visuelle était vitale pour la sensibilité du projet. D'autres étiquettes – comme Sacred Bones– incorporent le visuel pour un superbe effet et je trouve une grande satisfaction à réussir à faire la même chose. C'est un peu bizarre d'imposer une esthétique à un groupe d'artistes mais en fin de compte je pense que c'est important pour faire fonctionner l'étiquette comme elle fonctionne, ontologiquement. Jusqu'à maintenant cela n'a jamais été un problème avec les artistes.
En tant qu'abonné, j'ai toujours trouvé que chaque ronde de parutions par CS était comme une leçon sur la musique indépendante canadienne. D'où est née l'idée d'une étiquette qui fonctionne par abonnement?
L'abonnement est une manière de maintenir l'élan et d'ajouter un autre élément à la nature du projet. Je crois que le fait d'ajouter l'élément de collection rend le projet plus riche, comme quand tu voulais une série complète de cartes de baseball quand tu étais enfant. Si tu étais vraiment passionné, tu achetais la série au complet d'un coup. De cette manière, le collectionneur fait partie du projet. Il ne sait pas quelle cassette il va recevoir : il est abonné à l'étiquette et il est vraiment une autre composante du processus global.
Comment est-ce que le format cassette est lié à l'esthétique et à l'idéologie de CS? Est-ce que l'étiquette est limitée à ce médium ou vous avez l'intention d'expérimenter d'autres méthodes de parution tangibles?
Les cassettes sont géniales parce qu'elles ne sont pas chères, sont faciles à reproduire, faciles à emballer, durables et elles ne sont pas plus cher à expédier par la poste que les lettres. Elles rendent aussi les enregistrements numériques non masterisés plus cool et ne prennent pas une énorme place physiquement. Elles ont une tranche large, alors remplir une tablette avec une collection produit vraiment un bel effet.
En 2010, j'ai acheté un très grand et ancien tour d'usinage de disques (record lathe), un engin utilisé dans la manufacture de disques vinyl. J'ai modifié l'engin, et avec l'aide d'une super communauté internet, j'ai expérimenté une façon de m'en servir pour produire des petites quantités de disques fait-main. Présentement il est possible pour quelques dollars de produire un disque mono qui ne s'use pas, qui jouera bien et qui produit un son excellent sur un éventail de fréquences, avec un minimum de bruit de fonds et à un volume intéressant sur la plupart des tables tournantes. Malheureusement, le stylet que l'engin utilise est fait de saphir et coûte à peu près 100 $ donc les erreurs sont coûteuses et la majorité de mes expérimentations ont consisté à produire un maximum de copies avant que le stylet ne s'use. Ma première parution dans ce format a été CS024-SLOW BURN pour TORONTO HOMICIDE SQUAD. Un total de 30 copies m'a demandé deux longues journées de travail et le résultat est génial.
Qu'est-ce qui s'en vient pour CS?
Les prochaines parutions seront Negative Rage et Un Blonde, deux des plus excitants simple-cassettes jusqu'à maintenant. Les deux sont jeunes, du type « auteur » et je suis super excité. Je pense que la prochaine vague d'artistes au Canada sera incroyable et tout le monde devrait se préparer à halluciner en 10 000 couleurs. D'ailleurs, je suis vraiment content de voir des groupes de CS comme Heaven For Real, Monomyth, Old and Weird et d'autres avancer dans leur carrière à grande vitesse et je réfléchis à des moyens de faire avancer l'étiquette avec eux.
Discographie de Craft Singles (jusqu'à maintenant) :
CS001 – Omma Cobba – Policeman
CS002 – The Ether – Dead Scene Politics
CS003 – The Friendly Dimension – Executive Koala
CS004 – Lantern – American Razorwire
CS005 – Kill Squares – Swim To Me
CS006 – Play Guitar – Majic Child
CS007 – Grand Trine – Euthanize Me
CS008 – Crosss – Bone Brigade
CS009 – Bloodhouse – Baby Butter Knife
CS010 – Transfixed – Physical Demands
CS011 – Bad Vibrations – In The Rough
CS012 – Old and Weird – Minstrel Rock
CS013 – Special Costello – Music and Image
CS014 – The You Are Minez – Can't Question Desire
CS015 – Astral Gunk – Street Level
CS016 – Yellowteeth – Repo
CS017 – Chief Thundercloud – End of August
CS018 – Quaker Parents – Rubber Match
CS019 – Quivers – Self Portrait in E
CS020 – Heaven For Real – Hero's Code
CS021 – Monomyth – Trash Day
CS022 – Homebody – Homebody EP
CS024 – Toronto Homicide Squad – Slow Burn
CS025 – Negative Rage – I'm Controlled, You're Controlled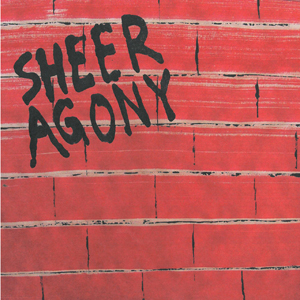 Sheer Agony
7″
Montreal, QC

Montreal's heppest combo graduate to a pop PhD with this master class platter. 2/4 of the dearly departed
Play Guitar
and the jazz hands of
Silver Dapple
have been obsessive-compulsively honing their chops in afterparty venues and analog basements before unleashing eight minutes of jangular heaven on an
unsuspecting public
. Pay your respects at the temple of tone and let it wash over you like
underwater moonlight
.
[audio:http://weirdcanada.com/wp-content/uploads/2012/06/02-Shes-An-Artist.mp3|titles=Sheer Agony – She's An Artist] Sheer Agony – She's An Artist
[audio:http://weirdcanada.com/wp-content/uploads/2012/06/03-Good-Cats-Go-To-Heaven.mp3|titles=Sheer Agony – Good Cats Go To Heaven] Sheer Agony – Good Cats Go To Heaven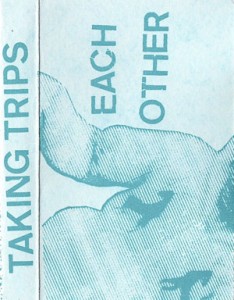 Each Other
Taking Trips
(Self Released)
Montreal, QC

This one's a total "no duh." The latest subsidiary of the
Long, Long, Long
hit factory sheds a few layers of skronk while firing jangular hooks down the assembly line. Space echoes shimmer in an ocean of detached emotion while the tag-team harmonies sound positively
fab
. Drifting from the Maritimes to Montreal, our heroes have picked up a
ringer
to man the traps and cast this
brilliant kahuna
into the wild. A+++.
[audio:http://weirdcanada.com/wp-content/uploads/2011/12/01-Looking-Lapsed.mp3|titles=Each Other – Looking Lapsed] Each Other – Looking Lapsed
[audio:http://weirdcanada.com/binary/Weird_Canada-Each_Other-Odd_Body.mp3|titles=Each Other – Odd Body of Water] Each Other – Odd Body of Water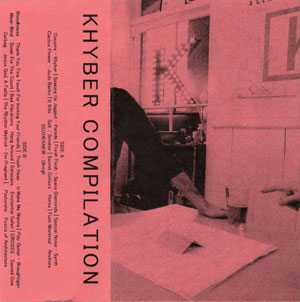 Various Artists
Khyber Compilation
(Self Released)
Halifax, NS

Halifax's premier fringe-art
playhouse
has pulled together a mammoth compilation capturing the recent wave of do-it-with-everyone artists roaming the Haligonian landscape. Where other cities devolve into scene sectarianism, Halifax bursts with cross-genre vigor, laying the streetwork for steadfast artifacts like the
Khyber Compilation
. Similar in spirit to the
Emergency Room
comp.,
Khyber
wins for the sheer spread of pressure-waves; from the red-lined raw-fi of Fuck Montreal to the casio-blown R&B of Pastoralia, it seems that every buckeyed freak managed to explode with colour beneath the Khyber's magnificent arches. Includes many new-jacks to the scene, too! Proceeds from the tape go to future renovations at the Khyber. Bands included:
Cousins
,
Soaking Up Jagged
, Fresh Flesh,
Special Noise
, Cactus Flower,
It Kills
,
Secret Colours
,
Fuck Montreal
,
DUZHEKNEW
,
Bloodhouse
, Trash Heap,
Play Guitar
,
Mean Wind
,
Bad Vibrations
,
Datacave
, CROSSS,
Catbag
,
The Rhythm Method
, and
Pastoralia
.
[audio:http://weirdcanada.com/wp-content/uploads/2011/03/The-Khyber-Club-The-Khyber-01-Cousins-Khyber.mp3|titles=Cousins – Khyber] Cousins – Khyber
[audio:http://weirdcanada.com/wp-content/uploads/2011/03/The-Khyber-Club-The-Khyber-13-Mean-Wind-Down-for-The-Count.mp3|titles=Mean Wind – Down for The Count] Mean Wind – Down for the Count
[audio:http://weirdcanada.com/binary/fuck_montreal-anchors.mp3|titles=Fuck Montreal – Anchors] Fuck Montreal – Anchors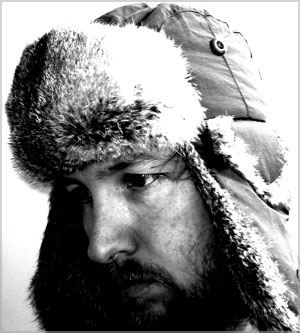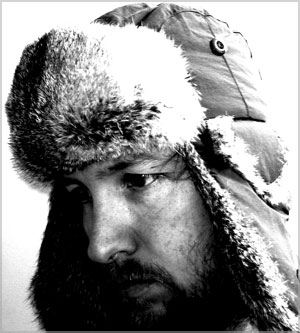 Interview with: Al Bjornaa
From: Scotch Tapes
(conducted by: Zachary Fairbrother)
Batchawana Bay, ON
Scotch Tapes has quickly become Canada's premier cassette label, pumping out thousands of tapes to brilliant minds all around the world. In addition to the plethora of magnetic strips crafted in the ghettos of rural Ontario, Scotch Tapes has been capturing Toronto's burgeoning underground punk scene via plastic lathe-cut brilliance in a collaborative series with Young Guv's Ben Cook. In 2011, they embarked on yet-another lathe-series with Montreal's No Vacation. As 2011 began with the redesign of Scotch Tapes' rather hilarious website and their subsequent world domination, we decided to link Zacharay Fairbrother with Scotch Tapes founder and sole-proprietor Al Bjornaa for a featured chat about his rural adventuring.
Aaron Levin
Weird Canada
www.weirdcanada.com
---
/////////////// AL BJORNAA INFERRED VIEWS ///////////////
Zachary
::
I'm into how landscapes and environment influence people's creativity. Why do you base your label where you do [
Batchawana Bay
]? How do the often cosmopolitan sounds play out in your environment?
Al
::
I base Scotch out of Batchawana Bay because it's close to my family. I have lived all over the country but this has always been home. There have been some health issues in the Bjornaa family the past few years and its been nice to be able to help out. We run a family fishing business and I have had to take a larger role in that. Plus it's a beautiful area. I live on the beach! The north shore of Lake Superior is my favourite place on Earth.
I have always been a huge music fan. Both of my parents love music. Although their tastes may differ from mine, they passed on a passion for good music. Most of the people who live in my area think the music I release sounds like a "badger caught in a wood chipper" but most people from the area think its cool that I run a record label in such a small place. Whenever I go for coffee or breakfast at the local diner, everyone always asks how the label is doing.
Zachary
::
I have heard of your beach shows. I hope you will you be doing more of this. Who has played? What was your favorite?
Al
::
I haven't done an actual beach show in ages but I have had a lot of bands pass through here and hang out for a day or two. Its a tough area to get a decent show. I mean I could likely set up a show in Sault Ste. Marie (which is notorious for TERRIBLE shows) or they can hang out here for a night, have some drinks, go swimming and get a good meal. I am hoping that this year with a new space, I can host more bands and maybe do some recordings and send them back on the road with a new tape or lathe. Some of the best times I've had drinking/ hanging out/ recording have been with Play Guitar, The Famines, Dirty Beaches, Grown-Ups, Gobble Gobble, Nobunny… There are tons. I am hoping to make Batchawana Bay a "must-stop" for bands touring Canada. Not to play shows but to have a great day off mid-tour where they can do laundry, relax, jump in the lake, maybe practice some new stuff they have been working on. 2011 is already getting booked up at Casa de Al with Bucketseat stopping here in March.
Zachary
::
I see that your label is doing some collaborative splits how did this come about?
Al
::
Yeah. I wanted to work with a few cool labels. I have a lathe series coming out with No Vacation Records (Brett Wagg from Pink Noise/ Campaign For Infinity) Brett basically just asked if I would be interested and since I love the music he puts out, I was totally in. I also put out a 7″ with No Clear Records from Florida. I imagine if any label contacted me and I liked the band, I would probably be interested. I know that Ben Cook (Fucked Up, Young Guv, etc) and I have a few co-releases lined up for his new label, Marvelous Music, as well. We will be co-releasing the Roommates LP this summer/ fall.
Zachary
::
I see you have a vast list of upcoming releases. Are all these going to happen??!
Al
::
You bet your sweet buttocks! In the first two years of Scotch, I released almost 200 tapes. I take the label very seriously. Its become more than a hobby. It's basically a second full-time job. I plan on putting out about 70 tapes, 30 lathes and 10 vinyl releases in 2011. There are times when I get tired and need a break… and those are the times where I just take like 2-3 weeks off, don't check emails and basically disappear. But when I do that, I normally come back with 4-5 releases at once.
Zachary
::
What is up with the lathe series? Does the type of Lathe reflect the artist?
Al
::
Well… I have two series going. There is the Scotch/ Young Guv series. Ben Cook [of Young Guv] records all the bands that share his jam space and then we release a song or two from them. So far, I have put flexis out for Huckleberry Friends, Tropics, Bruised Knees & Lonely Wholesome with Actual Water, Dentata, Wyrd Visions and I think 2 more to come. The other series is the aforementioned series with No Vacation. There are some pretty killer bands scheduled for that like FNU Ronnies and Factums (who I LOVE!) The type of lathe really doesn't come into play. I mean the one I did for We All Inherit The Moon HAD to be a square plexiglass lathe because of the ideas they had for the art but most bands don't really care that much. They just think lathes are fun.
Zachary
::
Do you think there is a Canadian Sound? And what from your perspective are the sounds of the different scenes within Canada?
Al
::
I don't think there is a specific Canadian sound. It's such a vast area geographically that it's tough to narrow down one sound. I think Vancouver has a great weirdo punk scene with bands like Shearing Pinx, Nu Sensae, Twin Crystals, etc. who really have their own genre that isn't like anything else in the country. When you move into the prairies you have bands like Myelin Sheaths, Fist City, Grown-Ups, Moby Dicks… sort of that heavy garage punk stuff. They all totally feed off of each other. Ontario is sort of weird. Toronto is just starting to get a good scene again. I think the bands that Ben and I are releasing on the lathe series are going to get big really fast this year. That jam space is oooozing talent. Montreal always has a great scene. I think that city spawns some of the most creative and unique artists. And the whole Halifax scene… that city reminds me of Portland, Oregon. EVERYONE is in a band and creates visual art and silkscreens t-shirts and makes zines and drinks good beer if they can afford it but will drink shit if that's all they have and dresses cool without thinking they dress cool. One of my absolute favourite cities on the planet!
Zachary
::
What has got you most excited about 2011?
Al
::
SUMMER! I hate winter more than anything! That and doing this interview for Weird Canada! Thanks, Zach…


From the palimpest of Jesse Locke:
Weird Canada's love for all things D'EON continues with this four-track cassette of Swans covers from the good folks at Palimpsest Magazine. Much like Raymond Biesinger's immaculately typefaced releases for his berserker garage duo The Famines, a tonne of care went into the design of this stylish little art object. The extensive liner notes from Play Guitar's Jackson Macintosh are necessary, going so far as to provide a spot-on comparison of the synth-fluted update of "A Screw" to Jay Z's "Big Pimpin'". Indeed, D'EON adds fresh flair to Swans' original soul-crushers, re-contextualizing Michael Gira's sadistic lyrics and devastating delivery with ethereal washes of electronics, stuttering beats and his own Downy soft vocals. Alas, nothing can make "Cop" anything less than horrific. Grippeth hurr.
[audio:http://weirdcanada.com/wp-content/uploads/2010/11/DEON-cop.mp3|titles=D'EON – Cop] D'EON – Cop
[audio:http://weirdcanada.com/wp-content/uploads/2010/11/DEON-the-other-side-of-the-world.mp3|titles=D'EON – The Other Side of The World] D'EON – The Other Side of the World
---