Tag: planet of the tapes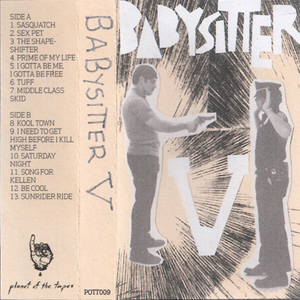 Babysitter
Tape V
Victoria, BC
From the middle class skiddery of Aaron Levin:
It's no secret. The shadowy lizard government pulling the strings behind Weird Canada HQ is fully brainwashed by Babysitter's revolutionary rhetoric. The fifth chapter in their ever-evolving saga of sub-island urban wastoids is a fully realized dogma of red-lined rock absurdity. With western flair they drive through 60s mellow with surprising seriousness, espousing their living word in trinkets as clear as "I'm riding on a plane / a real astral plane". The blend of rural-rock, 90s hair-pop, and completely burnt punk has never been weirder, as tracks like "be cool" and "sex pet" rip asunder fledging notions of genre. A serious favorite in the nation of fringe. GRIP AND GET FREE.
Du dérapage de classe moyenne d'Aaron Levin:
(Traduit par Odile Leclerc)
Ce n'Est pas un secret. L'ombrageux gouvernement lézard tirant les ficelles derrière le QG de Weird Canada s'est complètement fait lavé le cerveau par la rhétorique révolutionnaire de Babysitter. Le cinquième chapitre de leur saga toujours évoluante de wastoïde urbain de sous-îles est un dogme pleinement réalisé d'absurdité de rock ligné de rouge. Avec une style western ils conduisent à travers des mélodieux des années 60 avec un sérieux surprenant, épousant leur mots vivant en bibelots aussi clair que "I'm riding on a plane / a real astral plane". Le mélange de rock rural, de pop de cheveux des 90s et du punk complètement brûlé n'A jamais été aussi bizarre, alors que des pistes comme "be cool" et "sex pet" déchire en morceaux des notions de genre encore titubantes. Un favoris sérieux dans la nation du marginal. ATTRAPEZ ET SOYEZ LIBRE.
[audio:http://weirdcanada.com/wp-content/uploads/2011/09/06-middle-class-skid.mp3|titles=Babysitter – Middle Class Skid] Babysitter – Middle Class Skid
[audio:http://weirdcanada.com/wp-content/uploads/2011/09/05-i-gotta-be-me-i-gotta-be-free.mp3|titles=Babysitter – I Gotta Be Me, I Gotta Be Free] Babysitter – I Gotta Be Me, I Gotta Be Free
[audio:http://weirdcanada.com/wp-content/uploads/2011/09/12-be-cool.mp3|titles=Babysitter – Be Cool] Babysitter – Be Cool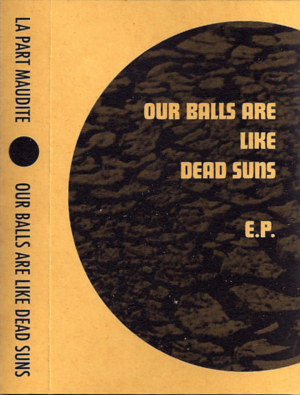 La Part Maudite // Dios Mio!
Our Balls Are Like Dead Suns EP //
Leçon practique d'hypnotisme
Montréal, QC

POTT
004 est au-delà de toute description. Chaque face révèle les travaux d'un groupe qui repousse les limites du genre, de la musique, et même du son. Dios Mio, en utilisant une guitare, un clavicorde, un theremin et un magnétophone à bobines crée la bande sonore pour un film qui n'existe pas. C'est le 115ième cauchemar de
Franz Anton Mesmer
. Sur la seconde face, La Part Maudite crée cet espèce assez rare —
une fusion agéable
à écouter. Il se produit une synthèse qui emprunte également au thrash-punk et au jazz. Imprimé en édition limitée, ceci est une cassette qu'il faut gripper immédiatement.
From the 115th nightmare of James Goddard:
POTT 004 is beyond description. Each side reveals the work of a group who is pushing the boundaries of genre, music, and even sound. Dios Mio, using guitar, clavier, theremin and a reel-to-reel, creates the soundtrack for a film that doesn't exist. It's the 115th nightmare of Franz Anton Mesmer. On the flip side, La Part Maudite finds that rare breed — a palatable fusion, synthesizing equally from thrash-punk and jazz. With only a limited edition reissued, this tape must be gripped immediately.
[audio:http://weirdcanada.com/binary/Weird_Canada-Dios_Mio-Leçon_practique_d_hypnotisme_(excerpt).mp3|titles=Dios Mio! – Leçon Practique D'Hypnotisme (excerpt)] Dios Mio! – Leçon Practique D'Hypnotisme (excerpt)
[audio:http://weirdcanada.com/wp-content/uploads/2011/05/Weird_Canada-La_Part_Maudite-Boxerblood.mp3|titles=La Part Maudite – Boxerblood] La Part Maudite – Boxerblood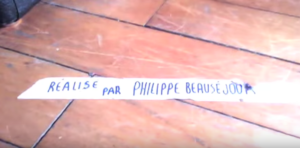 Jesuslesfilles // The Peelies
Á demain // Medication
(Directed By: Phil Console)
Montreal, QC
From the intellipop of: Michael Deane:
Jesuslesfilles bring Metz to Montreal, infusing blown '90s college-guitar-rock with sing-along thumping psych-pop-punk. Weirdly infecting vocals earworm their way into your being — popping, pulsing and breaking into off-kilter patterns of inspired intellipop vocals. The Peelies pick up on the softer side, mingling fuzzy guitars, warped riffs and pronounced, staccatotized vox; spitting sweetness on top of the scuzz. This tune brings Back To The Future-basics, introducing naïve pop to garage-punkitude and rock 'n roll's go-go-ing playfulness. These bands meet in the middle of excellence, matching each other's influences and energy in a constructive complement. A seamless two-song teaser for the upcoming split from Planet of the Tapes.
De l'intellopop de Michael Deane:
(Traduit par l'écume de Maya Keshav)
Jesuslesfilles apportent Metz à Montréal, en infusant le college-guitare-rock bourré des années 90 du psych-pop-punk lancinant et entraînant. Le chant bizarrement balançant rengaine dans ton être — en explosant, pulsant et créant des motifs obliques de chants inspiré intellopop. The Peelies fournissent une face plus soyeuse, en mélangeant les guitars floues, les riffs tordus et la vox prononcée et saccadée; en crachant la douceur au-dessus de l'écume. Cette toune apporte les éléments essentiels du Retour vers le futur, en présentant la pop naïve à la punkitude garage et à l'allégresse go-go du rock. Ces groupes se retrouvent au milieu de l'excellence, en jumelant les influences et l'énergie dans un complément constructif. Un teaser intégré de deux chansons pour la cassette divisée imminente de Planet of the Tapes.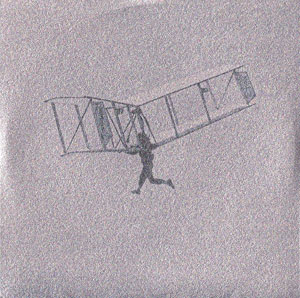 Markus Floats
Untitled
Montreal, QC
From the train of thought of Jarrett Samson
For the first release on Planet of the Tapes' 3″ CD offshoot, Dream Sequence, Silver Dapple bassist Markus Lake delivers a two-song chiller seemingly designed to accompany riding public transit alone at 3 a.m. "GrownDown" begins with the sound of undistinguishable voice and movement before receding into a single shimmering drone, in turn melting into minimalist electronic radar, mirroring the opening. "One Take 3, take 33" comes on as a lullaby guitar orchestra, layering leads one over the other in a harmonic yet chaotic arrangement. One couldn't find a more appropriate start to a project known as Dream Sequence. Good night…
Du fil des pensées de Jarrett Samson:
(Traduit par Odile Leclerc)
Pour la première sortie du rejeton du CD de 3'' sur Planet of the Tapes, Dream Sequence, le bassiste de Silver Dapple, Marcus Lake nous offre un relaxant deux-chansons apparemment conçu pour accompagner le public qui se promène seul sur le transport en commun à 3 a.m. ''GrownDown'' commence avec le son d'une voix et d'un mouvement indiscernable avant de battre en retraite dans un solo de bourdonnements scintillants, qui se fond à son tour dans un radar d'électronique minimaliste, miroitant l'ouverture. ''One Take 3, Take 33'' apparaît comme une orchestre de berceuse de guitare, couchant des solos les uns par-dessus les autres dans un arrangement harmonieux quoique chaotique. Quelqu'un ne pourrait pas trouver un début plus approprié pour un projet connu sous le nom de Dream Sequence. Bonne nuit…
Markus Floats – One Take 3, Take 33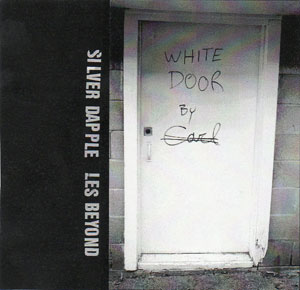 Silver Dapple / Les Beyond
White Door By Carl
Montreal, QC
From the white doors of Aaron Levin:
Two Albertans find each other in Montreal during a French class while an ex-Shearing Pinx member embarks on a solo project of ambient processed guitar and French language learning. Unexpectedly, the two groups, Silver Dapple and Les Beyond (respectively), share the sides of a brilliant c10 that forges the hidden links between 90s femme-pop and cerebral guitar work-outs. Silver Dapple inject their pop mastery into the hidden teenager scheming within your mind-sphere while Les Beyond thwarts your tomfoolery with twilight mellowtude. All of this accomplished in under 20 minutes care-of Montreal's latest addition to the cassette scene, Planet of the Tapes.
Des portes blanches d'Aaron Levin: (Traduit par l'étudiante de français qui est Maya Keshav)
Deux Albertains se retrouvent à Montréal dans un cours de français pendant qu'un ancien membre de Shearing Pinx s'embarque dans un projet solo de guitare transformée d'ambiance et l'apprentissage de la langue française. C'était pas prévu, mais les deux groupes, Silver Dapple et Les Beyond (respectivement), partagent les voies d'un c10 brillant qui forge les liens cachés entre le femme-pop des années 90 et les exercices cérébraux de guitare. Silver Dapple injectent leur prouesse pop dans la machination cachée d'ado dans ta tête alors que Les Beyond contrecarrent tes bêtises avec l'attitude moelleuse de l'aube. Tout ça est accomplie dans moins de 20 minutes grâce au dernier ajout à la scène cassette de Montréal, Planet of the Tapes.

Silver Dapple – (Pauses)

Les Beyond – Brass Knuckled

Silver Dapple – 2 x 2
---