Tag: piper curtis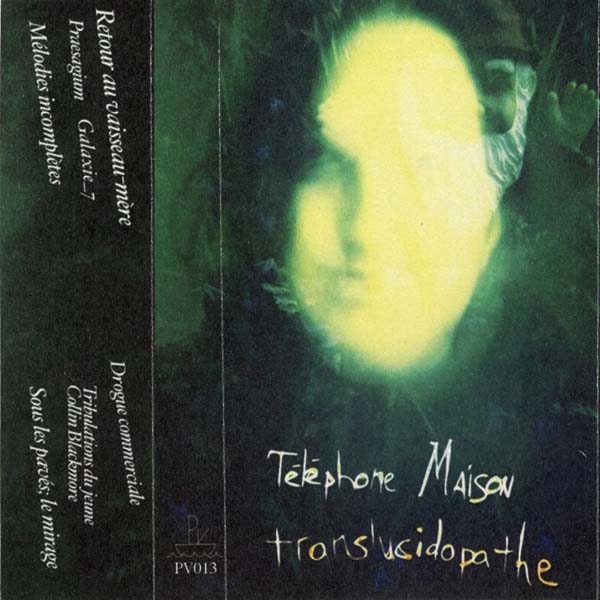 Téléphone Maison
Translucidopathe
Montréal, QC
From the tired mind of Piper Curtis:
Feeling: Incomplete.
Moving through a smoky hallway, loose green fabrics draped from the walls and ceiling. Wires sparking.
Dancing formlessly in this peculiar space. Move with me, see through me. Here we are transient.
Missing: Nothing.
De l'esprit fatigué de Piper Curtis:
(Traduit par Julie Mayer)
Sentiment d'inachevé
Se déplacer le long d'un couloir enfumé, des tissus verts et lâches pendent des murs et du plafond. Des câbles font des étincelles.
Danser de manière abstraite dans cet espace singulier. Bougez avec moi, voyez à travers moi. Ici, nous sommes éphémères.
Ce qui manque : Rien
Téléphone Maison – Praesagium (ft. Velvet Glacier)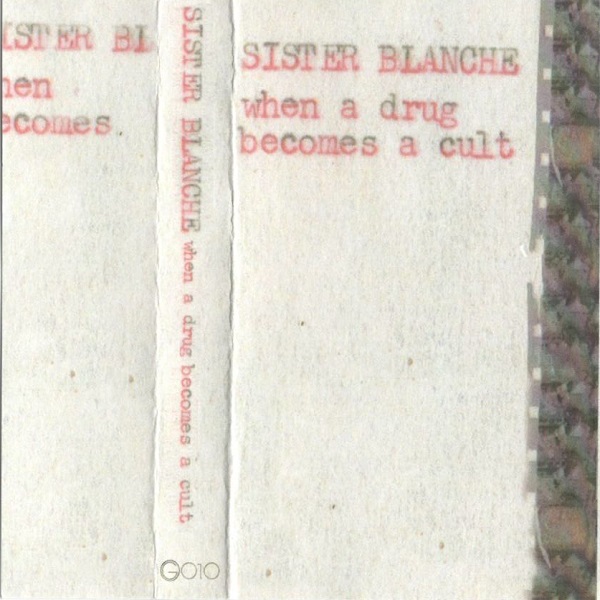 Sister Blanche
When a Drug Becomes a Cult
(Gary Cassettes)
Victoria/Vancouver, BC
From the gnawed appendages of Piper Curtis:
Wandering through a witchy haze, feet not quite touching the ground. Waves of discontent fill the air. Feeling intensely lovely, calm amongst unrest and agitation. There is a dissonance between us and this fuzzy dreamscape.
Static, moving all around. Witches watch through a shroud of fog. Dusk descended before we awoke here and remains, permeating.
Par les appendices rognés de Piper Curtis:
(Traduit par la scansion sabbatique de Benoit Arcand)
Errance dans une brume de sabbat, les pieds pas tout à fait au sol. Des ondes de discorde emplissent l'atmosphère. Le sentiment d'être ardemment aimable et posé dans ce tumulte, ce trouble. Il y a dissonance entre nous et ce paysage onirique flou.
La statique fluctuant tout autour. Des sorcières guettent à travers des linceuls de brouillard. Le crépuscule tombe avant que nous nous réveillions, et demeure, prégnant.
Sister Blanche – When A Drug Becomes A Cult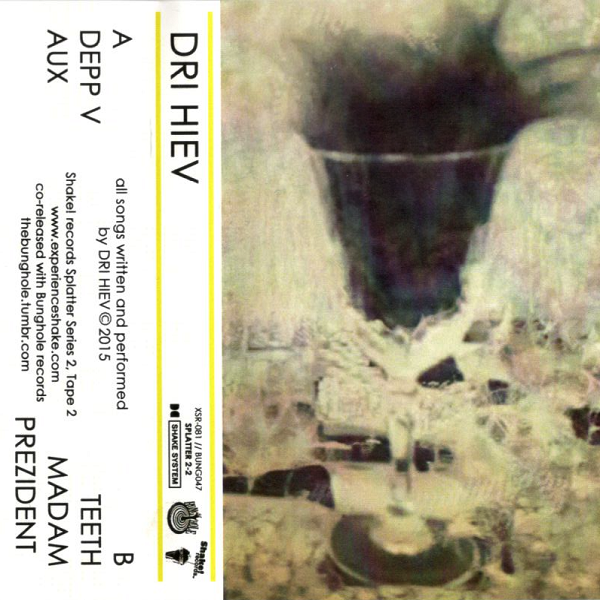 From the chilly chambers of Piper Curtis:
Whirring, head full of cotton, confused. Astray in methodical disarray. Marching past—calling out, too hard to make out, can't be heard. A denouncement.
Angry, defiant. A refrain of malaise.
Par les chambres frisquettes de Piper Curtis:
(Traduit par le gris culbutant d' Émily Traichel)
Bourdonnant, une tête pleine de coton, confus. Égaré dans le désordre méthodique. Défilant—interpellant, trop dur à distinguer, impossible d'être entendu.Une dénonciation. Furieux, irrévérencieux.
Un refrain de malaise.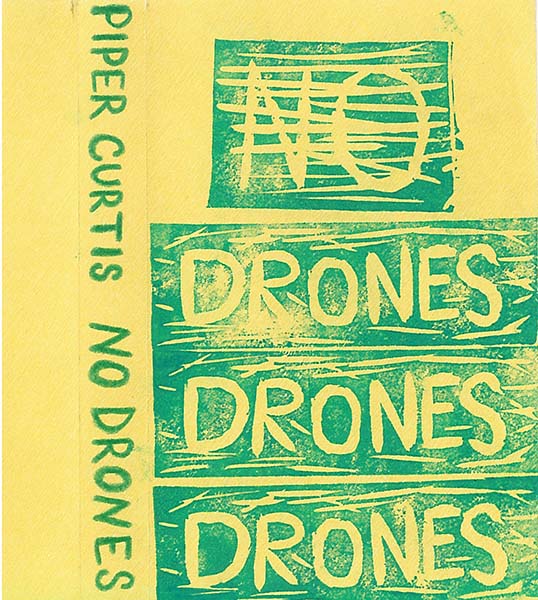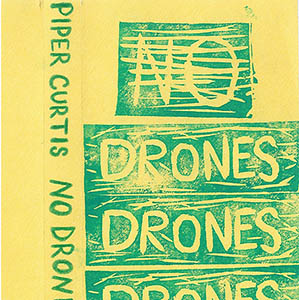 Piper Curtis
No Drones
(Self Released)
Kingston, ON // Halifax, NS
Piper Curtis – MS2 (Alt Version)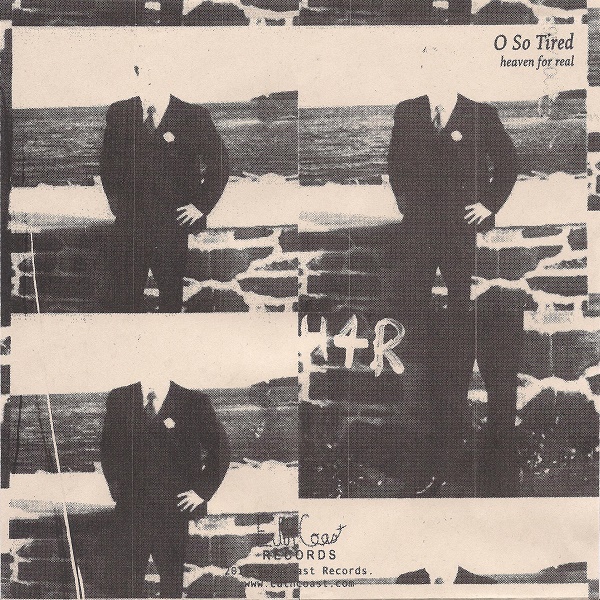 Heaven For Real // Homebody
Split
Halifax, NS
From the gnawed appendages of Piper Curtis:
Tired and roadworn, Heaven For Real trudge along an open roadway, dusty and without an end in sight. Directionless and meandering. Sunrises melt into sunsets, the passing of each day constant and unrelenting. They shed their skins, feet dragging, trying to find something, or some place, destination unknown. Their loss is palpable, yet there is no yearning, only an exhausted search.
Something comes into view and the pace quickens. They break into a run, only to be faced again with loss as it fades: a mirage.
The road continues.
Des appendices rongés de Piper Curtis:
(Traduit par les entrailles ravagées de Marie-Pier Chevrier)
Fatigués de toujours rouler, Heaven For Real se traînent le long des kilomètres de route, poussiéreux et à perte de vue, en errance dans les méandres. Aurores qui se fondent en crépuscules, le cours des jours et sa constance impitoyable. Ils changent de peau, traînant des pieds en quête d'un quelque chose, d'un quelque part inconnu. Leur perte est palpable, mais aucun désir en vue, rien d'autre que cette quête épuisée.
Quelque chose à l'horizon, le pas s'accélère. Ils commencent à peine à courir que la vision se perd déjà. Mirage…
Et la route continue.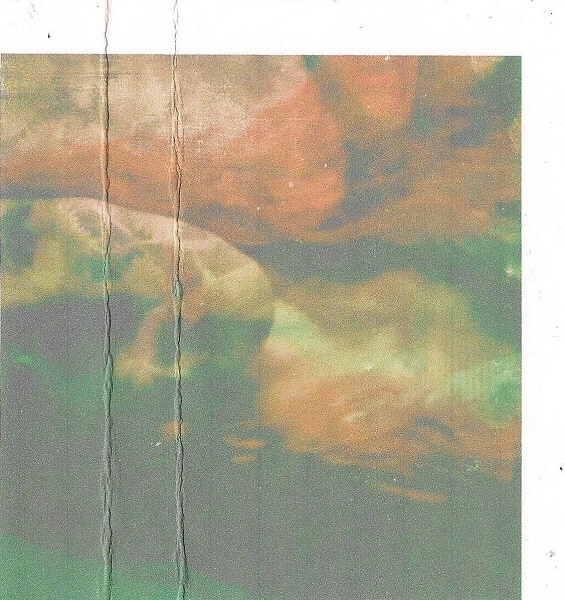 YlangYlang
Mutualism
Montreal, QC
From the gnawed appendages of Piper Curtis:
Don't be afraid. We are embarking on a celestial sojourn. Feel the waves of the cosmic sea washing gently over you. It is calm here. Floating naturally, we need no vessel in the astral plane. A glimpse into the future, or the past. Time here is an uneven flow, drifting in and out of sync with itself. Listen to the hum of the universe. Follow my voice.
All is ethereal. Beautiful. You are safe here.
Par les membres rongés de Piper Curtis:
(Traduction puisée du présent-passé d'Émily Traichel)
N'ayez pas peur. Nous embarquons pour un séjour céleste. Sentez les vagues de la mer cosmique qui vous saucent tout doucement. C'est calme, ici. Flottant naturellement, nous n'avons besoin d'aucun navire sur le plan astral. Un coup d'œil dans le futur, ou bien dans le passé. Le temps ici est un flux irrégulier, dérivant régulièrement de son auto-synchronisation. Écoutez le bourdonnement de l'univers. Suivez ma voix.
Tout est éthéré. Magnifique. Vous êtes en sécurité ici.
YlangYlang – Descent In A Feminine Breakdown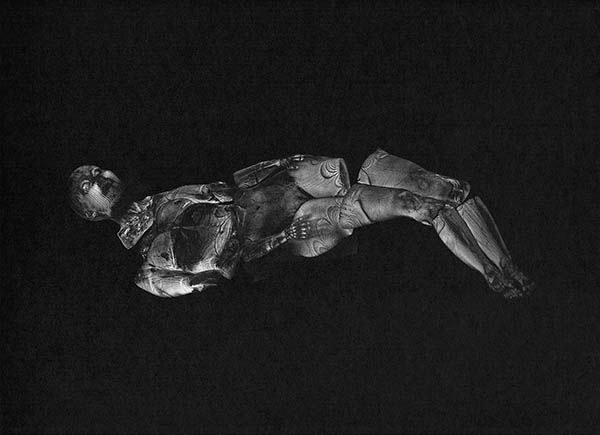 Scattered Clouds
The First Empire
Hull, QC
From the gnawed appendages of Piper Curtis:
You are in a dark manor, deep in a thick wood, in the black of night. Stumbling through the maze of hallways you find yourself in a great, cavernous chamber. Distraught, swaying as the looming darkness closes in, you feel the end is near. There is a reprieve, the dark clouds scatter and an eerie calm sets in. For a moment there is euphoria, before you are consumed by the night.
Des appendices rongés de Piper Curtis:
(Traduit par Julie Forget)
Tu te trouves dans un manoir sombre, au plus profond d'une forêt dense dans la noirceur de la nuit. Ta démarche est chancelante le long du dédale de couloirs. Te voilà dans une immense chambre caverneuse. Fou d'angoisse et chancelant alors que la pénombre s'installe, tu sens que la fin approche. Tu obtiens un sursis : les nuages sombres se dispersent et un calme étrange règne. Pendant un moment, c'est l'euphorie avant que tu sois consumé par la nuit.

Scattered Clouds – Deepest Night
---