Tag: philip dickau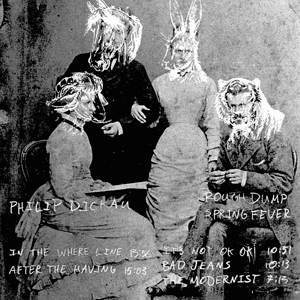 Philip Dickau
Rough Dump Spring Fever
(Self Released)
Edmonton, AB

Edmontonian Philip Dickau's new cassette
Rough Dump Spring Fever
slivers through the vestiges of electronic normalcy with
frightening delicacy
and abject gentleness. An ambient traipse through worldly drone,
experimental kosmiche
, synths and druggy psychedelia, these five "tracks" are the celestial aesopia of young innocence cobbled with surgical precision. "After the Having" quells
Astarian communiqué
with bellowed and distant modals, as does finale "The Modernist", a comparatively brief voyage of
Rileyean
letup. Keep your eyes on the stars and the streets; more to come from this young planetary adventurer.
[audio:http://weirdcanada.com/binary/Weird_Canada-Philip_Dickau-The_Modernist.mp3|titles=Philip Dickau – The Modernist] Philip Dickau – The Modernist
[audio:http://weirdcanada.com/binary/Weird_Canada-Philip_Dickau-After_the_Having.mp3|titles=Philip Dickau – After the Having] Philip Dickau – After the Having
---