Tag: peter particule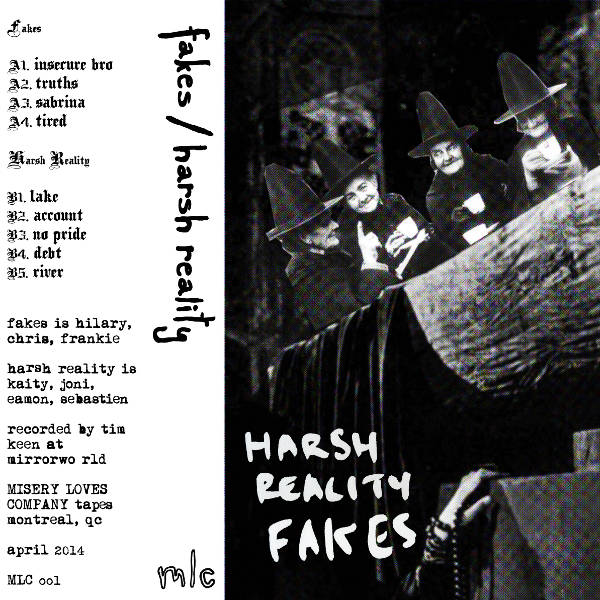 Fakes // Harsh Reality
Split
Montréal, QC
From the gravelly punk playgrounds of Cassilou Landra:
Newly christened Montreal collective Misery Loves Company packs a vicious split of grainy punk pastures and noise rock destruction. Side one has Fakes asserting a charged jolt of weirdo primitive punk held up by a simple trifecta of fuzzy guitar, pounding drums, and a voice that either sounds like shuffling feet on gravel or the sky splitting open during a particularly harsh rainstorm. Speaking of harsh, side two comes fully stocked for the feedback-fanatics thanks to Harsh Reality. Bringing to mind The Dead C's free post-punk approach to composition, this four-piece sets their amps to 111 and never stops to make sure their (or our) ear drums haven't burst.
Des terrains de jeux gravement punk de Cassilou Landra:
(Traduit par Peter Particule)
Le collectif montréalais fraîchement baptisé Misery Loves Company livre un split vicieux fait de pâturage punk granuleux et de destruction noise rock. Sur la face A, Fakes envoie une secousse chargée de punk primitif étrange soutenue par un tiercé simple : des guitares fuzzy, une batterie fracassante et une voix qui oscille entre le bruit des pas sur du gravier et le déchirement du ciel lors d'un orage particulièrement violent. En parlant de violence, Harsh Reality entasse de quoi ravir les fans de feedback tout le long de la face B. Avec une composition qui rappelle l'approche free post punk de The Dead C, ce groupe de quatre musiciens aux amplis réglés à 111 ne s'arrête pas un seul instant pour vérifier si leurs (ou nos) tympans ont explosé.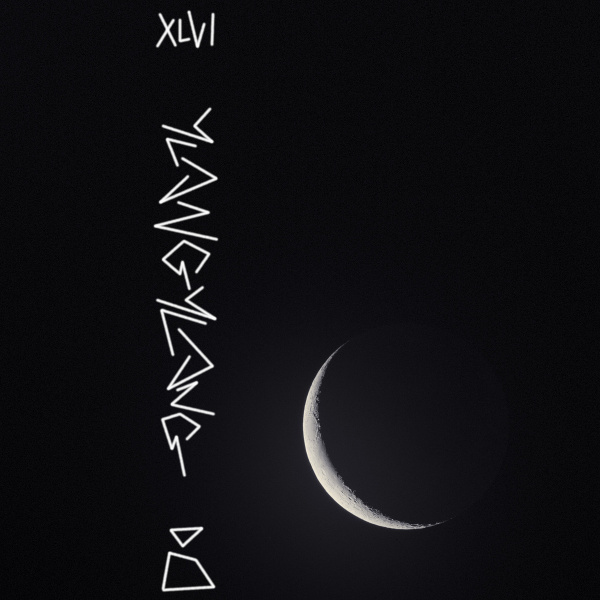 YlangYlang
Blossom
Montréal, QC
From the ethereal atoll of Nick Schofield:
Amid a shut-eye seance of dream'ed lucidity, pique thy senses and follow the scent of YlangYlang towards dark, rippling rose waters. Drifting along Montreal's submerged streets, Blossom aligns as a contemporary almanac, denoting the shifting tides of the city's experimental undercurrents. Ever-so-faintly, Catherine Debard navigates hushed vocals, gusts sinusoidal synths and thrums arhythmic percussion. Land-locked listeners wishing to chart seraphic scenes, and those hoping to connect their constellations with figurative asterisms, let this album be your astrolabe.
De l'atoll ethéré de Nick Schofield:
(Traduit par Peter Particule)
En plein milieu d'une séance de lucidité rêvée les yeux fermés, éveille tes sens et suis la fragrance d'YlangYlang à travers les eaux de rose sombres et ondulantes. Dérivant au gré des rues submergées de Montréal, Blossom s'étire tel un almanach contemporain, indiquant les marées changeantes au sein des sous-courants expérimentaux urbains. De maniere toujours subtile, Catherine Debard navigue entre vocaux feutrés, rafales sinusoïdales de synthétiseurs, et percussions vrombissantes et arythmiques.Avis à tous les auditeurs enclavés souhaitant répertorier des scènes séraphiques, et à ceux qui souhaitent connecter entre elles leur constellations aux astérismes figuratifs, que cet album soit votre astrolabe.
YlangYlang – Emerald Atoll Eye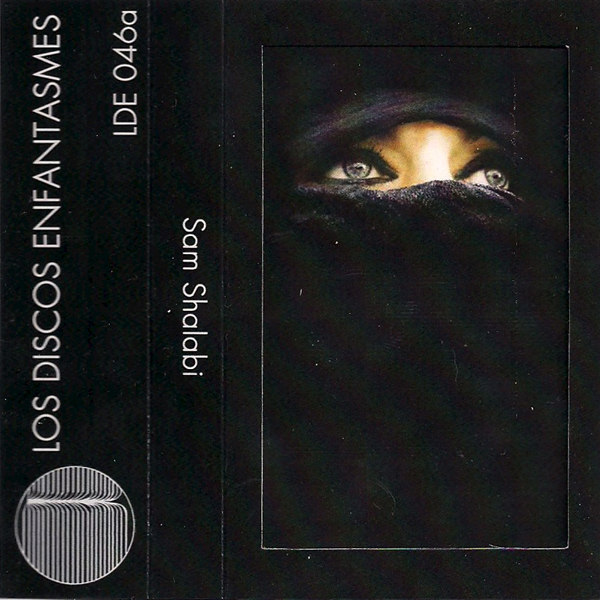 Sam Shalabi
Mindlessness
Montréal, QC
From the personal recountings of Kevin Hainey:
…and then, from out behind the dark gathering clouds, we were given this brilliantly long-form, strikingly personal and emotionally involving surrealistic double-cassette, kaleidoscopically blending world-wise field recordings, poetic monologues about sex, drugs and mysteries, and densely sweet psychedelic experimental bliss from Sam Shalabi's seemingly bottomless vaults. The listener is immersed in a wide array of deeply musical explorations which flow into, out of and through one another like a mind lucid with travel, clarity and expansion, meditation and thought thought thought…
Perhaps the best Sam Shalabi release I've ever heard, and certainly a landmark album in its own right, Mindlessness was recorded sporadically from 2003-2011 and mixed in Cairo sometime more recently. Its vision is best compared to Luc Ferrari's experiments, but also such audio verite releases as the first album by godspeed you black emperor (albeit, being stretched and quartered on some medieval torture table), or dare I say Neil Young's Journey Through The Past, only without any of the rock songs or '70s commercial pomp. What's left is a pure expression in moving audio verite sound and third ear listening, a personalized impression of Cairo with tripped out lenses and psychedelic filters to spare. Get ready for a long, strange trip, with a lot of "What"s along the way. Fans of contrabass marathons, street performances where there's livestock running around, and gritty spoken word about things that matter to those who care, listen up to Mindlessness, and let yourself go.
En direct des mémoires personnelles de Kevin Hainey:
(Traduit par Peter Particule)
Puis, du tréfonds des nuages se rassemblant au loin, nous fut donné cette double cassette surréaliste, brillante dans sa longueur, étonnamment personnelle et émotionnellement engageante, mélangeant tel un kaléidoscope des enregistrements sur le terrain en prise directe avec le monde, des monologues poétiques impliquant sexe, drogue et mystère, et une douce et dense béatitude psychédélique des chambres fortes apparemment sans fond de Sam Shalabi's. L'auditeur est enseveli dans une large série de profondes explorations musicales qui coulent à l'intérieur, à l'extérieur et au travers d'entre elles comme un esprit lucide au fil du voyage, clair et en expansion, méditatif comme une pensée, pensée, pensée…
Peut-être la meilleure sortie de Sam Shalabi que j'ai pu entendre, et certainement un album marquant qui a tout pour se le permettre, Mindlessness a été enregistré sporadiquement entre 2003 et 2011, et mixé au Caire plus récemment. Sa vision pourrait être comparée aux expériences de Luc Ferrari, mais aussi à une vérité audio telle que le premier album de godspeed you black emperor (bien qu'étirée et écartelée sur un chevalet de torture médiévale) ou encore, oserais-je, à Journey Through The Past de Neil Young, mais sans aucune des chansons rock ou des pompes commerciales des années 70. Il ne reste alors que la pure expression de l'émotion audio dans la vérité du son, l'écoute intuitive, avec la troisième oreille, une impression personnalisée du Caire à travers des verres optiques trippés et assez de filtres psychédéliques pour tout le monde. Tenez-vous prêts pour un long voyage étrange, avec de nombreux points d'interrogation tout au long du chemin. Fans des marathons de contrebasse, des performances de rue au milieu du bétail, et de spoken word graveleux qui importe pour ceux qui s'en soucient, plongez dans Mindlessness, et laissez vous aller.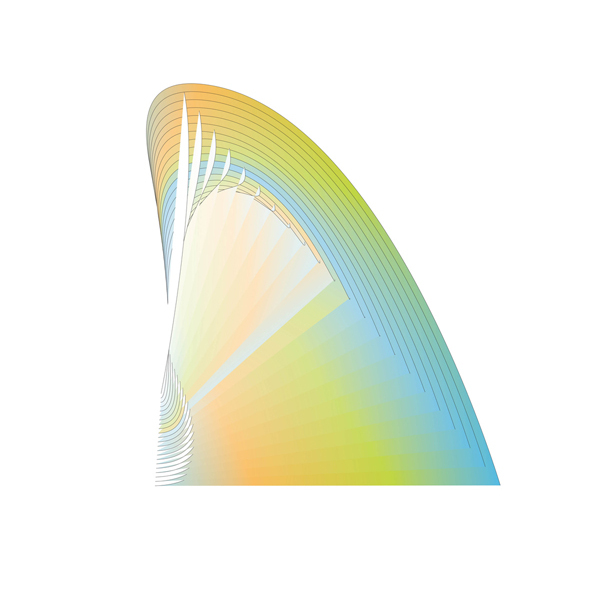 Hobo Cubes
Apex Ideals
(Debacle)
Montréal, QC
From the subtle sleep of Jesse Locke:
WC OG Francesco de Gallo sets down 12 inches of arachnidian mind-massage for the second time in less than a year. The warble-jam haunted house plunderphonics of his Ala Vjiior alias are replaced here with something subtle and formless, yet the lingering neck-chills continue to pulse and bleep from the cracks. "Structures in Stasis" plays Bloody Mary with the circuit-bent Speak & Spell spirit of Cthulhu, summoning the gatekeeper into this rainbow netherzone.
Du sommeil subtil de Jesse Locke:
(Traduit par Peter Particule)
Pour la seconde fois en moins d'un an, Francesco de Gallo – un vieux de la vieille chez Weird Canada – met en place 12 pouces de massage cérébral arachnéen : un album subtil, aux contours flous, dont les frissons persistants le long de l'échine continuent de jaillir des fissures sous forme de bips et de pulsations, et qui vient succéder au magma grésillant qui hante la house-collage possédée de son alias Ala Vjiior. « Structure in Stasis » joue à Bloody Mary avec l'esprit de Dictée Magique trafiquée de Cthulhu, suppliant à genoux le gardien de l'entrée de ces abysses multicolores.
---