Tag: Penny Clark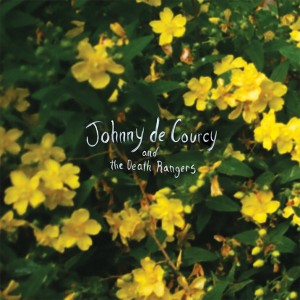 Johnny de Courcy and the Death Rangers
Johnny de Courcy and the Death Rangers
(Self Released)
New Westminster, BC
From the gasoline bubbles of Penny Clark:
Johnny de Courcy and the Death Rangers' self-titled album skips open with "Panoramic View", a song that blows the sticky sweet bubbles laced with gasoline that cover their music. The band has a blown out rock 'n' roll flair providing momentum for their inclination towards folk-punk and legendary storytelling. De Courcy's deliberately enunciated lyrics give him the gravity of a narrator, describing the life he's witnessed with a sympathetic urgency. His words emphasize individuality and uncertainty, recalling the feeling of being a teenager playing rock star in front of the mirror while waiting for the moment of comeuppance. There's a vulnerability here that's compelling, strange and completely charming.
Des bulles d'essence de Penny Clark:
(Traduit par l'individualité douloureuse d'Andréanne Dion)
L'album éponyme de Johnny de Courcy and the Death Rangers' s'ouvre sur « Panoramic View », une chanson qui souffle les bulles sucrées et collantes arrosées d'essence qui recouvrent leur musique. Le groupe a un style rock 'n' roll gonflé qui donne un élan à leur penchant pour le folk-punk et pour la narration légendaire. Les paroles délibérément énoncées de De Courcy lui donne le sérieux d'un narrateur, décrivant la vie dont il a été témoin avec une urgence compatissante. Ses mots soulignent l'individualité et l'incertitude, rappelant ce que c'est que d'être un adolescent qui joue à la rock star devant son miroir en attendant de recevoir ce qu'il mérite. Il y a une vulnérabilité irrésistible ici, étrange et entièrement charmante.
Johnny de Courcy and the Death Rangers – Panoramic View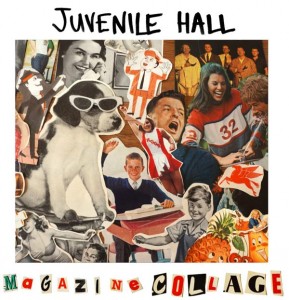 Juvenile Hall
Magazine Collage
Vancouver, BC
From the maximum glare of Penny Clark:
This is one kisser-smacker of an album. Melodic triple-vox jump like boot-wearing freaks on top of straight-up punk bar-chord riffs. Heavy bass and bash-em-around drums push every song straight into the mosh pit. This album is 100% power-punk for when you just feel like jumping around, bashing your head on your friends, and getting ferocious about everything — from the fact that you don't live in California to the creeps on the goddamn patio. Put on your heaviest leather jacket, pull your hair in front of your face, peek your eyes through your bangs for maximum glare, and clomp around town listening to Magazine Collage.
Du regard le plus noir de Penny Clark:
(Traduit par la crise d'adolescence d'Andréanne Dion)
Cet album est un coup de poing au visage. Trois voix mélodieuses sautillent comme des fous qui portent des bottes, par-dessus des riffs de punk pur aux accords barrés. De la basse lourde et des rythmes de batterie qui cognent poussent chaque chanson directement dans le mosh pit. Cet album est power-punk à 100%, parfait quand vous avez juste envie de sauter partout en vous cognant la tête contre vos amis et d'être féroce à propos de tout — depuis le fait que vous ne vivez pas en Californie, jusqu'aux sales types sur le fichu patio. Mettez votre manteau de cuir le plus épais, peignez vos cheveux vers l'avant, lancez à tout le monde votre regard le plus noir à travers votre frange et marchez lourdement à travers la ville en écoutant Magazine Collage.
Juvenile Hall – California Cut-Offs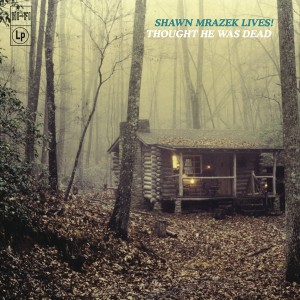 Shawn Mrazek Lives!
Thought He Was Dead
(Are You Mad At Me?)
Burnaby, BC
From the night swim of Penny Clark:
Calling himself 'Shawn Mrazek Lives!', the drummer from The Evaporators and The Doers has recorded a solo album that sounds like the audio equivalent of going on a trip to the country, swimming in the lake, drinking cheap beer and talking with your friend, Shawn. Mrazek is a sometimes teasing, sometimes moody, yet always gentle narrator, possessing a voice cut with a punk edge. His bright, sparkling instrumentals are well complemented by cameos from a generous handful of the Western music community's most brilliant musicians. Thought He Was Dead revels in the deeply personal, like a night swim in the river or a long walk with just yourself on a grey and gold fall afternoon.
De la baignade nocturne de Penny Clark:
(Traduit par l'après-midi gris et or d'Andréanne Dion)
Sous le nom de 'Shawn Mrazek Lives!', le batteur de The Evaporators et The Doers a enregistré un album solo qui est l'équivalent audio d'aller faire un tour en campagne, de se baigner dans le lac et de boire de la bière pas chère en parlant avec ton ami Shawn. Mrazek est parfois moqueur, parfois de mauvaise humeur, mais demeure toujours un narrateur doux qui possède une voix coupée au punk. Ses morceaux instrumentaux sont éclairés et étincelants, mis en valeur par les contributions de quelques-uns des plus brillants musiciens de la communauté artistique de l'Ouest. Thought He Was Dead est profondément personnel, comme une baignade nocturne dans la rivière ou une longue promenade solitaire un après-midi d'automne aux teintes grises et or.
Shawn Mrazek Lives! – Man In The Glass
---