Tag: Penny Clark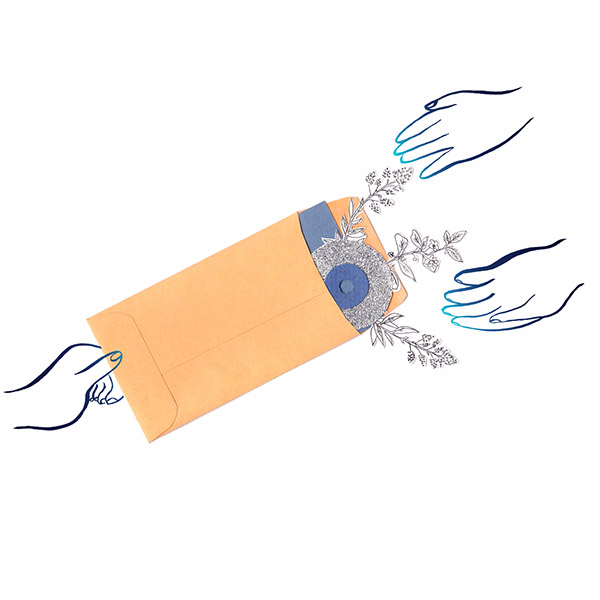 How To Get Support From Campus and Community Radio
Johnnie Regalado
Victoria, BC
Illustration by: Flora Hammond
From the friendly frequencies of Johnnie Regalado with contributions by Erin Flynn & Penny Clark:
So you've got some music and you want people other than your friends and family to listen to it. Sure you can throw it on the web and add your voice to the cacophony, but there is another way… campus and community radio.
Start local
Campus and community radio is a strange and fickle creature. Every station is independent and operates under its own set of rules and procedures. For that reason it's best to begin close to home at your nearest campus and community station. Most Canadian universities have a station and many rural communities have stations as well. A good resource for finding stations is the National Campus and Community Radio Association member directory, although there are many more stations in the country.
Do your homework
Just like you, a station is excited to know they've got an engaged community of listeners, so it helps a lot to actually be familiar with your local station. Do they play ambient electronic music? Do they have a metal show?
Read the station's website to get an idea of their program schedule and also make sure you check out their music submission guidelines. In order to deal with the large volume of music stations receive every day they have some basic needs that make their lives easier. Generally stations require:
A physical CD copy (more on this later)
Full track listings
Brief background information
Visit the station
If you're able to drop off your record in person it can help a lot. Don't be surprised though if the station's Music Director or other staff don't have a lot of time to chat. They're busy people working way too hard. Being polite and courteous goes a long way in an industry built on good will. Tell them a bit about your music and don't forget to mention you love their station, and if you've got a favourite show on their schedule, tell them about it.
Volunteer at the Station
Like all things, it helps to have an inside edge. But unlike most institutions, campus and community radio is pretty much an open door. Volunteering at your local station can be super rewarding, you'll meet great people, learn about awesome music and get to be a part of a huge, supportive community. This is a great way to meet like-minded people and become a part of a strong community. And if you happen to be a musician, it doesn't hurt to have some pals with open ears that might want to lend you some support.
Going nationwide
So, you've submitted your music and now you're charting in the top ten at your local station. Of all the records recently received at the station, yours has received more spins than most and it's landed you a spot on their charts. Maybe by now you've also played some fundraiser concerts for the station, done an interview or live performance on air, and you're ready for the big time. Before you go packing a hundred envelopes with your CD or mass emailing every Music Director across the country without a blind cc (please don't do this) it's time for more… research!
Start by chatting with the Music Director at your local station to find out if they know any other stations where you should send your record. Campus and community radio is a tight community and having the backing of your local station will go a long way. Many stations communicate with each other and review the charts at other stations to get an idea of what they should be looking out for.
When you're selecting which station to send your music to, visit !earshot magazine online and check out what albums are charting at the different stations across the country. If the station's charts are fairly up-to-date with what's new, this means they're processing new submissions quickly. If not, they're probably backed up and your album might sit in a bin for awhile. Are there albums of a similar style to yours appearing on their charts? If so, then you've got a target.
Come up with a list of all the stations you want to send your album– thirty is a good number to start with. Check out their websites and make sure you read over their submission guidelines (this is also where you'll find their mailing addresses). Don't forget that every station is different. Each has its own needs and requirements.
Assembling your radio mailer
Now you've got a stack of envelopes all lovingly addressed to Music Directors (or another appropriate staff person as discovered from the station's website) from across the country. Let's put something inside!
Most stations require a release to have a minimum of 4 songs (no singles or remixes), and they need complete tracklistings with composer information. Track times are helpful too. Album art will make your CD-R stand out. If you have time to make each mailer somewhat personalized to the station you're sending it to (without going nuts) that can make an impact as well.
Most stations DO NOT require a fancy info kit with a glossy photo of your band. Most of the time your music will do the talking and press kit won't change a Music Director's mind. In fact, some folks think they're a huge waste of materials and will think less of your submission.
When you're ready to mail your packages, talk to your local post office worker about the best (aka cheapest) way to ship your CDs. Depending on the thickness, weight and size of your envelopes the costs can vary widely. The flatter and lighter the better. Try and convince the postal worker that it should be sent by regular mail instead of parcel.
Kiss 'em for good luck if you're feeling nervous and then it's time to wait.
Following up
It'll take about a week for your package to reach all the stations. Then it'll take anywhere from a couple days to a couple weeks for the stations to check out your CDs. In the meantime you can tag stations on social media or email them to let them know a package is on the way. The most important thing with this is to not be too persistent. If you're emailing everyday asking about your submission, you'll likely be written off pretty quickly. It sucks, but most Music Directors are fielding hundreds of emails just like yours and they want to have pleasant interactions. Getting nagged isn't fun for anyone. A concise and friendly email is best. You can offer to do an interview but don't push it. If they really want that they'll ask you.
Keep an eye on the charts from each station you sent your record to by visiting their homepage, !earshot or ask to be added to their mailing list. If you see yourself on someone's charts, send them a message thanking them. Campus and community radio stations love when they get promoted by musicians so if you share their charts they'll be even more excited about your band.
Sometime you'll find out that your album wasn't added to the station's library. It's a bummer but try not to take it out on the stations or get too frustrated. Stations receive a ton of music and listen to everything. They may not have a lot to tell you about why it didn't get added, usually they'll say something like "It's not the right fit for our station." This isn't necessarily a reflection on the quality of your music, it just means it didn't resonate with them. If they're into having a dialogue with you about this, use it as an opportunity to learn. If not, check-in with the other stations.
What now?
So now you've got some fans in far and distant cities across the country. Maybe you saw your band's name in Exclaim! magazine or a relative heard your song in their town. So cool. Is that the end of your relationship with these stations until you release another record? Hopefully not!
Remember that a lot of stations will do interviews and even studio sessions with bands. When you're plotting your cross country domination tour, try and coordinate stops at all those stations that showed you some love. This is a great way to hype your show in the evening and it'll connect you with even more people who will love and support your music.
There are lots of ways you can get support from campus and community radio. Like all relationships there's a give and take, with lots of compromise. Not every station is the same and not every experience will be the same, but that's part of what's so great. One station might not dig your record, but the next might love it. Each is independent of the other and they will all give your tunes a fair shake. These are the people in the trenches of the underground music scene working hard to support artists like you. Take a few steps to make their lives easier and they'll be even more excited to champion your cause.
Johnnie Regalado is the Program Director at CFUV 101.9 FM in Victoria, BC. He's also the Vice President of the National Campus & Community Radio Association, runs a DIY radio distribution service called Hot Hand Cold Hand, and is a Music Editor for Weird Canada.
Des fréquences amicales de Johnnie Regalado avec la contribution de Erin Flynn et Penny Clark:
(Traduit par Jessica Grenier)
Alors, tu as de la musique, et tu aimerais que d'autres personnes (à part tes amis et ta famille) l'écoutent. C'est sûr que tu peux la mettre sur internet, ajoutant ainsi ta voix à la cacophonie générale, mais il y a une autre possibilité : les radios étudiantes et communautaires.
Regarde autour de toi
Les radios étudiantes et communautaires sont des créatures étranges et capricieuses. Chaque station est indépendante et fonctionne selon ses propres règles et procédures; c'est pourquoi il est préférable de commencer par la plus près de chez toi. La plupart des universités canadiennes en ont une, tout comme de nombreuses communautés rurales. L'annuaire des membres de l'Association nationale des radios étudiantes et communautaires est une bonne source pour trouver des stations, mais il y en a beaucoup d'autres à travers le pays.
Fais tes devoirs
Un peu comme toi, une station est toujours contente de constater qu'elle a des auditeurs engagés; et connaitre réellement ce qu'elle fait aide beaucoup. Est-ce qu'elle joue de la musique électro d'ambiance? Est-ce qu'elle a une émission consacrée au métal?
Consulte le site web de la station pour avoir une idée de sa programmation et pour connaitre ses critères de soumission pour un projet musical. Pour arriver à gérer la quantité phénoménale de musique qu'elles reçoivent tous les jours, les stations établissent des exigences de base qui leur simplifient la vie. Généralement, elles demandent :
Un exemplaire physique du CD (nous y reviendrons)
La liste complète des pistes
Une brève présentation du groupe
Visite la station
Aller déposer l'album en personne peut aider beaucoup. Il ne faut pas s'étonner si le directeur musical ou le personnel n'a pas beaucoup de temps pour discuter avec toi : ce sont des personnes occupées qui travaillent énormément. C'est toujours payant d'être poli et courtois, surtout dans une industrie basée sur la bonne volonté. Parle-leur un peu de ta musique, n'oublie pas de mentionner que tu écoutes leur station, et si tu aimes particulièrement une de leurs émissions, dis-leur.
Deviens bénévole
Comme dans toute chose dans la vie, on a souvent avantage à aller chercher la perspective intérieure. Par contre, contrairement à celle de bien des organismes, la porte des radios étudiantes et communautaires est généralement ouverte. Devenir bénévole pour ta station locale peut être super gratifiant, en plus de te faire rencontrer des personnes géniales, découvrir de la musique vraiment bonne et devenir membre d'une gigantesque communauté solidaire. C'est une excellente manière de rencontrer des gens partageant des points de vue similaires et de faire partie d'une communauté solide. Et si tu es musicien, ça ne peut pas nuire d'avoir des amis attentifs qui sont prêts à donner un coup de main.
Vois plus grand
Donc, tu as soumis ta musique, et elle est maintenant dans le top 10 du palmarès de la radio locale. Parmi tous les albums reçus par la station dernièrement, c'est le tien qui a joué le plus souvent, et il se tient toujours vers le sommet de leur palmarès. Tu as peut-être même déjà joué lors d'un concert-bénéfice pour la station, fait une entrevue ou une performance en direct à la radio – tu es prêt à voir plus grand. Avant d'aller lécher une centaine d'enveloppes contenant ton CD ou d'envoyer un courriel de groupe à tous les directeurs musicaux du pays sans les mettre en copie conforme invisible (par pitié, ne fait pas ça), c'est le moment de faire… plus de recherche!
Commence par discuter avec le directeur musical de ta station pour lui demander s'il connait d'autres stations où tu pourrais envoyer ton album. La collectivité des radios étudiantes et communautaires est solidaire, et avoir l'appui de ta station locale aidera certainement. Beaucoup communiquent entre elles et consultent le palmarès des autres stations pour se faire une idée de ce qu'elles devraient garder à l'œil.
Pour déterminer à quelles stations envoyer ta musique, lis le magazine !earshot en ligne pour regarder quels albums sont sur les palmarès des différentes stations à travers le pays. S'ils sont à jour, ça voudra dire que les nouvelles soumissions sont traitées rapidement; autrement, les stations sont probablement surchargées, alors ton album pourrait passer un certain temps sur le coin d'un bureau… Est-ce qu'il y a des albums avec un style similaire au tien? Si oui, tu as une idée d'où l'envoyer.
Dresse une liste de toutes les stations où tu veux envoyer ton album – 30 est un bon nombre pour commencer. Va voir leur site web pour trouver leur adresse postale et assure-toi de lire leurs directives de soumission. N'oublie pas que chaque station est différente : elles ont toutes leurs propres besoins et exigences.
Prépare ton envoi
Tu as maintenant en main un paquet d'enveloppes adressées avec amour à divers directeurs musicaux (ou autre personne appropriée selon ce qui était noté sur le site de la station) un peu partout au Canada. Alors… glissons quelque chose à l'intérieur!
La majorité des stations demandent que les enregistrements aient au moins quatre chansons (donc pas de single ni de remix), et soient accompagnés d'une liste complète des pistes (la durée peut aussi être utile) et de renseignements sur le compositeur. Une illustration sur la pochette aidera ton CD-R à se démarquer. Si tu as le temps, personnaliser quelque peu chaque envoi (sans virer fou pour autant) peut également avoir un impact.
La plupart des stations ne demandent PAS un dossier de presse tape-à-l'œil ni des photos de groupe avec un fini glacé. La majorité du temps, c'est la musique qui fait le travail; un directeur musical ne changera pas d'idée à cause d'un dossier de presse. En fait, il y en a même qui trouvent que c'est du gaspillage, ce qui nuit à la soumission.
Quand tes enveloppes sont prêtes à être envoyées, va voir l'employé du bureau de poste de ton quartier pour savoir la meilleure façon (c'est-à-dire la moins chère) de poster tes CD. Le prix peut varier beaucoup selon l'épaisseur, le poids et la grosseur des enveloppes : plus elles sont minces et légères, mieux c'est. Essaye de convaincre l'employé que tout devrait être envoyé par courrier régulier plutôt que par colis postal.
Croise les doigts si tu as un élan de nervosité; il ne reste plus qu'à attendre.
Fais un suivi
Il faut compter environ une semaine avant que chaque station ait reçu son enveloppe. Ensuite, ça peut prendre de quelques jours à quelques semaines avant que les stations aient le temps d'écouter tes CD. En attendant, tu peux tagger les stations sur les médias sociaux, ou leur envoyer un courriel pour les aviser que quelque chose leur a été envoyé. Le plus important à retenir est de ne pas trop insister. Si tu leur écris tous les jours pour savoir si ta soumission a enfin été reçue, ton album risque d'être mis de côté assez rapidement. C'est poche, mais la plupart des directeurs musicaux traitent chaque jour des centaines de courriels exactement comme le tien, et ils veulent des interactions agréables. Personne n'aime se faire harceler. La meilleure option reste un message concis et amical. Tu peux offrir de faire une entrevue, mais sans trop insister : si la station en veut une, elle va le demander.
Surveille les palmarès de chacune des stations auxquelles tu as envoyé ton enregistrement en visitant leur page d'accueil, !earshot, ou en demandant à être ajouté à leur liste d'abonnés. Si tu découvres que tu es sur un palmarès quelque part, écris un message de remerciement. Aussi, les radios étudiantes et communautaires adorent recevoir de la promotion de la part de musiciens; si tu fais connaître leurs palmarès, elles vont être encore plus emballées par ton groupe.
Tu peux aussi découvrir que ton album n'a pas été ajouté au répertoire d'une station. C'est dommage, mais il faut éviter de se frustrer ou de lui en vouloir. Les stations radio reçoivent énormément de musique, et elles écoutent tout. Il n'y a peut-être pas toujours un long commentaire explicatif justifiant pourquoi l'album n'a pas été ajouté (souvent, c'est quelque chose comme « Ne convient pas aux besoins de la station. »); mais ce n'est pas nécessairement parce que ta musique est de mauvaise qualité, c'est souvent juste qu'elle ne correspondait pas à leurs goûts. Si les gens sont ouverts à en discuter avec toi, ça peut devenir une occasion pour apprendre. Si ce n'est pas le cas, entre en contact avec d'autres stations.
Quoi faire maintenant?
Alors, maintenant, tu as des fans dispersés un peu partout au pays. Le nom de ton groupe est peut-être apparu sur un exemplaire du magazine Exclaim!, et un membre de ta famille vivant dans une autre ville a peut-être même entendu une de tes chansons à la radio. C'est super cool. Est-ce que ça veut dire que, en attendant de sortir ton prochain album, c'est la fin de ta relation avec toutes ces stations de radio? J'espère que non!
Il faut garder en tête que beaucoup de stations font des entrevues avec les groupes et même des séances de studio. Quand tu planifieras de partir en tournée pour conquérir le pays, essaye de prévoir des arrêts dans chacune des stations qui t'a envoyé de l'amour. C'est une excellente façon de promouvoir les spectacles, en plus de te mettre en contact avec encore plus de gens qui aiment ta musique et l'encouragent.
Il y a plein de manières différentes pour obtenir le soutien des radios étudiantes et communautaires. Comme dans toute relation, il faut être prêt à faire des compromis, à donner pour recevoir. Chaque station est différente et aucune expérience ne sera pareille, mais c'est ce qui rend tout ça génial. Une station peut ne pas triper sur ton album, alors qu'une autre peut l'adorer; chacune est indépendante et toutes te donneront une chance. Ce sont ces personnes qui se battent sans relâche dans les tranchées de la scène musicale underground pour aider les artistes comme toi. Pose ces quelques gestes pour leur simplifier la vie, et elles seront encore plus heureuses de défendre ta cause.
Johnnie Regalado est directeur de la programmation chez CFUV 101.9 FM, à Victoria (C.-B.). Il est également vice-président de l'Association nationale des radios étudiantes et communautaires, en plus de gérer un service DIY de radiodistribution appelé Hot Hand Cold Hand.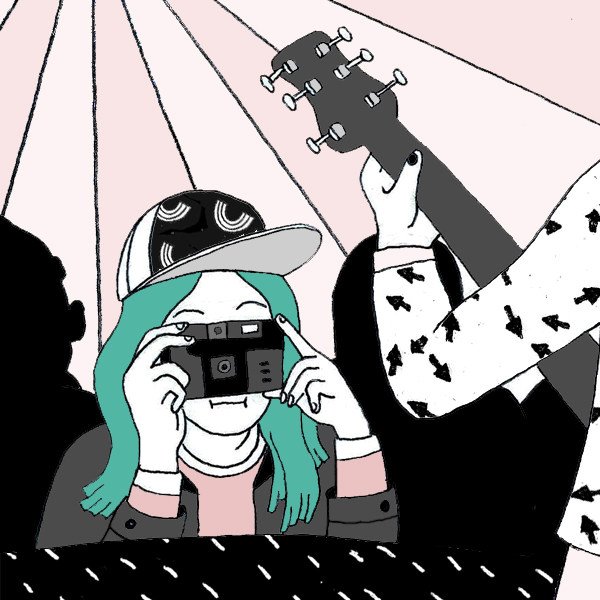 How To Start Taking Concert Photographs
Penny Clark
Toronto, ON
Cover Art: Andrea Manica
From whatever of Penny Clark:
Piece editors: Edited by Maegan, Matthew, Ariel, Magnus & Jarrett during a How To How-To workshop for CJSF 90.1 FM in Vancouver, BC.
I am an amateur photographer who knows very little about the mechanics of photography other than what I've picked up from taking a boatload of photos. But! I have had my photos published in multiple publications, including festival program guides, CITR 101.9's magazine half Discorder Magazine, and The Globe & Mail. So if you want to take some concert photos and you have no idea what you're doing with a camera, do not let that stop you! Here are some of things I've picked up while bumbling around with a camera that might help you as you get started.
I use a DSLR camera that was several models out of date when I bought it in 2009. The auto-focus doesn't work and (most of the time) neither does the flash. But that's okay! It does the trick and it produces a quality image. When I take concert photographs, my objectives are to a) Get a shot of each band where everyone looks cool and b) Annoy the artists and audience members as little as possible.
These are the steps I take in pursuit of these objectives:
1) Setting up the shot.
In low-light scenarios such as a music concert, black and white photography is everyone's friend. This prevents odd colourations from ruining what could be a good photo and makes everyone's cheekbones look better. Be my guest and take colour photos but make sure you grab a couple in b/w, just in case.
High angles are also an asset. In general, people in photos just look better from above. I don't know why. Try getting on your toes when you're taking the shot or looking for a higher place around the sides of the stage to prop yourself up. If that's not available, try holding your camera higher up but if your camera uses a viewfinder instead of a display window, be conscious of where you're aiming the lens or you'll end up taking a picture of some disembodied heads.
2) Quality control: Just because you can take a million photos doesn't mean you should. Here's why: Every time you hold up your camera, you are blocking the view of the people behind you. Flash photos are conspicuous and they can tend to disrupt the flow of the performance, for both the audience and the artists. Don't rely on good odds. With a bit of patience and set up, you can get a good photo on purpose. When you get home and have to upload and sort through one thousand pictures, you will hate yourself.
3) Be a part of the crowd. As a rule, people are generally pretty tolerant of photographers but don't push your luck. It's not worth ruining everyone else's night. Instead, try dancing into the audience to take your picture. If that's not for you (you don't dance), learn the key unobtrusive photographing stations. These are generally located toward the far sides of the stage. Take shots from both sides.
4) Share your work. Volunteer as photographer for blogs and magazines. Put pictures on your own Flickr and Tumblr but also consider putting a note asking people to ask for permission to use your photos. I used to just leave my photos up for unqualified grabs but eventually I began finding them published without even being aware that anyone had liked my photographs well enough to publish them.
Taking photos can be a really fun way to enjoy a show and it's awesome and satisfying when they turn out. So go forth and try it out!
Penny Clark is the How-To Editor at Weird Canada and plays power chords in a band called Tough Age. She has been taking amateur photos since 2008 and some of these can be found in Discorder Magazine, The Globe & Mail, the Vancouver Fringe Festival and the New Forms Festival program guides, and on the cover of the Korean Gut 7" called Lava Flow, out on Kingfisher Bluez.
Des whatever de Penny Clark:
(Traduit par Flora Hammond)
Comment prendre des photos de concert lorsque l'on débute en photographie
Je suis photographe amateure et m'y connais très peu en photographie : ce que j'ai appris, je l'ai appris en prenant photo après photo après photo. Pourtant, mon travail est apparu dans de nombreuses publications, incluant des programmes de festivals, le magazine de CITR 101.9 Discorder Magazine et The Globe & Mail. Même si tu penses ne pas savoir ce que tu fais lorsque tu tiens une caméra, photographie sans arrêt! Voici quelques astuces que j'ai apprises en caracolant de fosse en fosse, caméra en bandoulière —j'espère qu'elles encourageront tes débuts.
J'utilise toujours un appareil réflex. Il était déjà dépassé de plusieurs modèles lorsque je l'ai acheté en 2009, la mise au point automatique ne fonctionne pas (la plupart du temps), le flash non plus. Cela dit, ce n'est vraiment pas un problème, il fait quand même des photos de qualité. Quand je prends une photo lors d'un concert, mes objectifs sont, a) de saisir un cliché de chaque groupe où tous les membres sont visibles et paraîssent à leur avantage b)de déranger les artistes et le public aussi peu que possible.
Voici les étapes qui me permettent d'atteindre au mieux ces objectifs :
1) Anticipation des prises de photos. Dans les scénarios tels un concert, la lumière se fait rare, le noir & blanc est ton meilleur ami. Il évite que des couleurs étranges ruinent une bonne photo qui serait autrement réussie—et qui n'a pas l'air d'avoir un visage plus saillant et sexy en noir et blanc? N'hésite pas à prendre des photos en couleurs, mais juste au cas où, assure-toi que tu as aussi quelques clichés en noir et blanc.
Les prises de vues en hauteur sont aussi un atout. Je ne sais pas pourquoi, mais en général, un sujet apparaîtra sous son meilleur jour lorsqu'on le capture de haut. J'essaye de me dresser sur la pointe des pieds pour prendre mes photos ou bien de localiser un point élevé à proximité de la scène. Si cette option n'est pas envisageable, je tiens mon appareil en hauteur. Attention : si tu utilises un appareil avec un viseur plutôt qu'un écran d'affichage, sois attentif lorsque tu positionnes ton objectif sinon tes photos risquent de n'être qu'un nuage flou de têtes sans corps.
2) Contrôle de qualité : Ne prends jamais une tonne de photos juste parce que tu as un appareil numérique. Voici pourquoi :
À chaque fois que tu brandis ton appareil, tu bloques le champ de vision des personnes qui se trouvent derrière toi.
Utiliser le flash lorsque l'on prend une photo passe rarement inaperçu et peut interrompre la continuité de la performance, aussi bien pour le public que les artistes.
Ne compte pas trop sur la chance. Avec un peu de patience et d'installation au préalable, il est possible de planifier la prise d'une bonne photo.
Tu vas te détester lorsque tu rentres chez toi et que tu te retrouves avec un millier de photos à télécharger et trier.
3) Fonds-toi dans la foule! Les gens sont généralement très tolérants vis-à-vis des photographes, mais ne prends pas le risque de les froisser inutilement. Ça ne vaut pas la peine de gâcher la soirée de tout le monde autour de toi. Essaye plutôt de danser avec le reste du public pour prendre tes photos. Si ça n'est pas vraiment ton style et que toi et la danse ne faites pas équipe, apprend à repérer les endroits où tu peux prendre des photos sans obstruer la vue des autres spectateurs. Ils se trouvent souvent sur les côtés extrêmes de la scène : prends des photos depuis la gauche ainsi que la droite.
4) Partage ton travail. Propose-toi comme photographe bénévole pour des blogues et des magazines. Poste tes photos sur ton Flickr et Tumblr et réfléchis à la possibilité d'ajouter une légende précisant que l'on devrait demander ta permission avant d'utiliser tes photos. Dans le passé, je laissais la liberté à n'importe quelle publication d'utiliser mon travail, mais j'ai commencé à trouver mes photos publiées un peu partout, dans des publications où personne n'avait jugé utile de me prévenir.
Prendre des photos peut-être une super façon de profiter d'un concert et de les voir à nouveau une fois le moment passé est extrêmement satisfaisant. N'hésite pas et lance-toi !
Penny Clark est l'éditrice « How to » de Weird Canada et joue des power chords dans le groupe Tough Age. Elle prend des photos en amatrice depuis 2008 et l'on peut retrouver certaines d'entre elles dans Discorder Magazine, The Globe & Mail, les guides du Fringe Festival de Vancouver et du New Forms Festival et la couverture du single de Koren Gut « Lava Flow », disponible chez Kingfisher Bluez.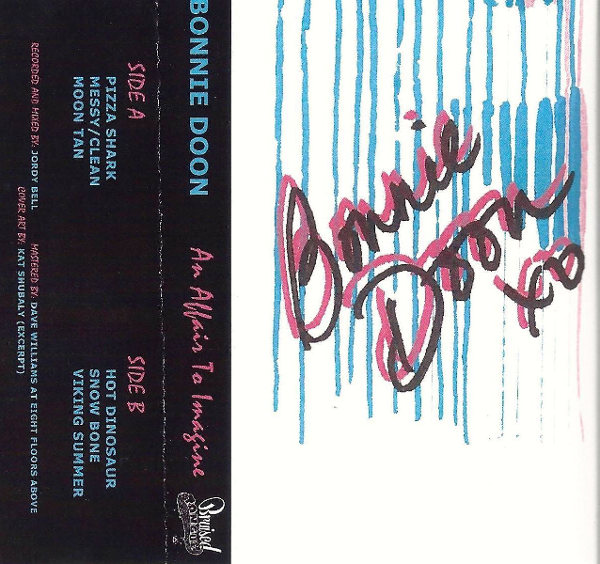 Bonnie Doon
An Affair to Imagine
Ottawa, ON
From the Frankenstein monster of Penny Clark:
Bruised Tongue slams another release out of the park with distorted, two bass glam-punk tape sounds from Bonnie Doon. The band immortalizes cheap slice Ottawa eatery Pizza Shark and the hot dinosaur who earns a living at the record store. They do this with vocals that are like some kind of insane Monster Mash/Bikini Kill Frankenstein monster. These Ottawa toughs crack wise sharper than anybody else.
Du monstre Frankenstein de Penny Clark:
(Traduit par Benoit Arcand)
C'est une autre garnotte étampée Bruised Tongue qui s'ébroue ici au-delà des palissades du champ gauche. Toutes basses glam-punk distordues brandies, Bonnie Doon rend au passage un térébrant hommage aux peu chères pointes de chez Pizza Shark et à ce dinosaur qui trime chez le disquaire, et tout ça sur des airs qui tiennent de l'hybridation démente de Monster Mash et de Bikini Kill. Ces durs à cuire ottaviens raillent plus profondément que les concurrents.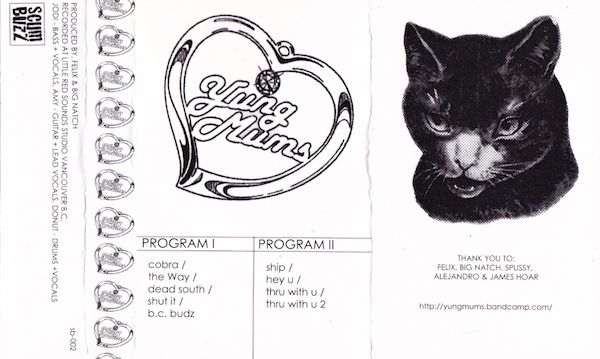 Vancouver's Yung Mums are here to do one thing: searing kick-in-the-teeth garage punk.
Yung Mums
Yung Mums
Vancouver, BC
From the punctuated statements of Penny Clark:
Yung Mums are here to do one thing. And that is to play some searing kick-in-the-teeth garage punk. Every track is a deliberately punctuated statement of intent. This tape is looking you dead in the eye and telling you to draw at high noon. The band may have broken up but their music is a testament to their genre.
Des énoncés ponctués de Penny Clark:
(Traduit en solidarité par Nadine Tkatchevskaia)
Yung Mums est ici pour ne faire qu'une chose – jouer du garage punk virulent genre coup de pied dans les dents. Chaque morceau est un énoncé d'intention ponctué de façon intentionnelle. Cet enregistrement vous regarde directement dans les yeux et vous dit de tirer à midi. Même si le groupe n'est plus ensemble, sa musique demeure un témoignage de son genre.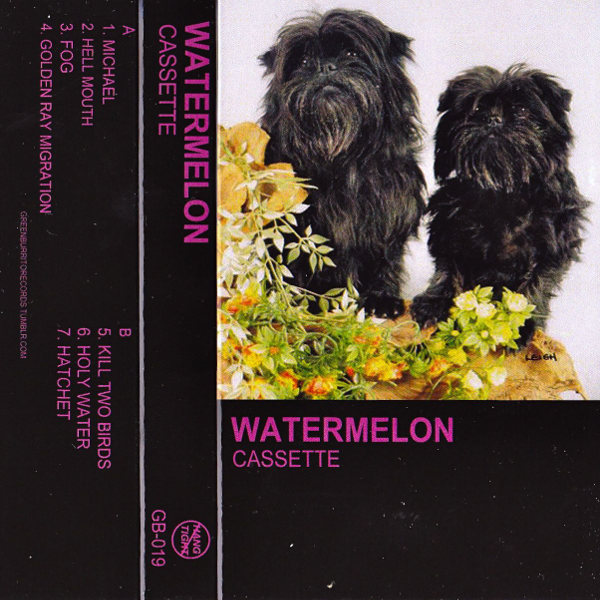 Watermelon
Watermelon
Vancouver, BC
From the golden ray migration of Penny Clark:
Watermelon's self-titled tape absolves like a new day, taking in anxieties and insecurities, then banishing them with an unqualified eyebrow raise. The guitar tone pricks and soothes like icy rain, as skulking basslines tread darkly over rotting leaves. Reverb-drenched vocals drip with stolid apathy towards the manifold bruises that are consequentially human. Steady drums provide an underlying sense of serene optimism, a reliability that signals the continuation of life going on and of you being pretty much okay. Anesthetic music for lovers who don't love anybody and for misanthropes who do. The most Pacific Northwest surf.
De la migration au rayon doré de Penny Clark:
(Traduit par les secrets de Julie Forget)
La cassette éponyme de Watermelon absout comme un nouveau jour en saisissant les angoisses et les insécurités, les chassant ensuite d'un haussement de sourcils sans réserve. Le ton de la guitare perce et apaise comme une pluie glaciale pendant que les lignes de basse discrètes marchent mélancoliquement sur des feuilles en décomposition. Des voix trempées de réverbération ruissellent avec une impassible apathie vers les multiples contusions qui sont donc humaines. La batterie constante procure une impression sous-jacente d'optimisme serein, une fiabilité qui indique que la vie continue et que tu t'en sors plutôt bien. De la musique anesthésiante pour les amoureux qui n'aiment personne et pour les misanthropes qui aiment quelqu'un. Le surf le plus Nord-Ouest Pacifique.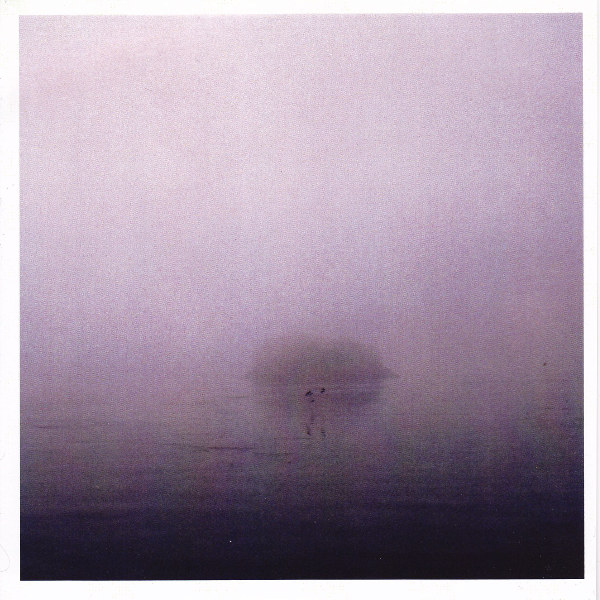 Student Teacher
Left For Dead
Vancouver, BC
From the magnetic contribution of Penny Clark:
Student Teacher dredges in discordant, mournful isolation and indents it on plastic vinyl. Baleful bass guitar paddles the song on a doomed journey, portended by cold iron guitar and omnisciently detached vocals. Kingfisher Bluez continues its run of concisely poignant releases with this magnetic contribution to the label's single-sided singles series.
De la contribution magnétique de Penny Clark:
(Traduit par la dissonante, funèbre isolation de Hugo Hyart)
Student Teacher drague une dissonante, funèbre isolation, et la projette sur le plastique vinyle. Une guitare basse sinistre pagaie la chanson sur un voyage condamné, annoncé par une froide guitare d'acier et un chant détaché de façon omnisciente. Kingfisher Bluez continue ses sorties poignantes et concises avec cette contribution magnétique à la série de singles à une face de l'étiquette.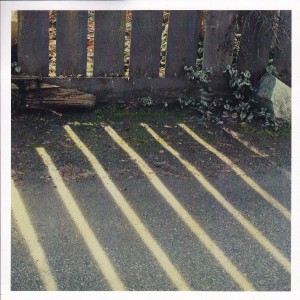 Rose Melberg
Distant Ships
Vancouver, BC
From the glittering prizes of Penny Clark:
Rose Melberg's striding drums and sunny melodies pedal her song like a bicycle through a bright green day. Recorded as part of the Kingfisher Bluez Single Sided Singles club, this 7" has the hazy, warm quality of a projection film reel. Her vivid guitar tone and calm-breeze vocals sail across the horizon, while the song disappears over the glittering waves just as abruptly as it begins. Melberg offers a brief memory of summer, the scent of the rich earth and gentle salt air.
Des récompenses étincelantes de Penny Clark:
(Traduit par la hâte du printemps de Catherine Gaucher)
Grâce à ses percussions marquantes et à ses mélodies ensoleillées, Rose Melberg pédale sur ses chansons comme sur une bicyclette défilant lors d'une radieuse journée. Enregistré pour Kingfisher Bluez et sa collection Single Sided Singles, ce 7 pouces possède une qualité diffuse, chaleureuse et comparable à celle même d'une bobine de projection de film. Ses tonalités vives de guitares et sa voix légère comme la brise voguent à l'horizon, tandis que ses chansons disparaissent tout aussi soudainement qu'elles étaient apparues, parmi les vagues scintillantes. Melberg nous livre un bref souvenir de l'été, un riche parfum de terre et d'air salin léger.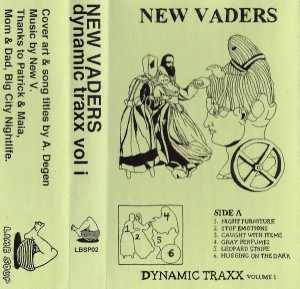 New Vaders
Dynamic Traxx Vol. 1
Vancouver, BC
From the sparkling caverns of Penny Clark:
The tape presents its songs in fragments, as if each were its own dream. Low, isolated notes take quick, staccato steps underneath a sun-streaked sky made of expansive chords and chirping melodies. Prismatic lines of sound intertwine with each other to create music that is complexly geometrical. Tom Whalen has consistently proven himself as a uniquely talented songwriter and a master of evocative harmonics. With his New Vaders project, he sends the listener through deep, sparkling caverns, into phosphorescent dust storms, across desolate moons and velvet icy space.
Des cavernes scintillantes de Penny Clark:
(Traduit par la résonance orbitale de Catherine Gaucher)
Cet enregistrement présente des chansons en fragments, comme si elles étaient chacune leur propre rêve. Des notes basses et isolées avancent rapidement en staccato sous un ciel strié de soleil fait d'accords vastes et de mélodies stridulantes. Des lignes prismiques de sons s'entrelacent pour créer une musique géométriquement complexe. Tom Whalen s'est toujours avéré être un auteur-compositeur exceptionnellement doué et un maître des harmonies évocatrices. Avec son projet New Vaders, il transporte l'auditeur à l'intérieur de profondes et scintillantes cavernes, dans de phosphorescentes tempêtes de sable, à travers des lunes sombres et dans la froideur d'un espace de velours.
Hag Face
Hag Face
(Self-Released)
Calgary, AB
From the creep-surf of Penny Clark:
This album sounds like a slew of demons tearing it up at the biggest house party. On a tropical island. With surfing. During a lightning storm. After an ominous introduction, the album sprints with wicked fast creep-surf riffs, metallic wah wah and cackling vocals. Careening basslines slash through with the fury of a Bash Brother and the pull-no-punches drummer punctuates the joyously vicious lyrics. Screeching guitar feedback glistens alongside their seething rhythms. Closer "Shake" shifts the tone and becomes even noisier, which creates an effect of distance as Hag Face withdraw into the night's fog.
Du creep-surf de Penny Clark:
(Traduit de l'île tropicale de Justine Gabias)
Cet album sonne comme un tas de démons s'envoyant en l'air dans un immense house party. Sur une île tropicale. Avec du surf. Pendant un orage électrique. Après une introduction menaçante, l'album déferle avec des riffs effrénés de creep-surf, du wah wah métallique et une voix crépitante. Les jeux de basse chancelants tranchent avec la furie d'un Bash Brother et la batteuse, qui ne fait pas de quartiers, souligne des paroles joyeusement vicieuses. Le feedback grinçant des guitares miroite aux côtés de leurs rythmes enragés. La piste finale « Shake » change le ton et devient encore plus bruyante, ce qui crée un effet de distance alors que Hag Face se retire dans le brouillard nocturne.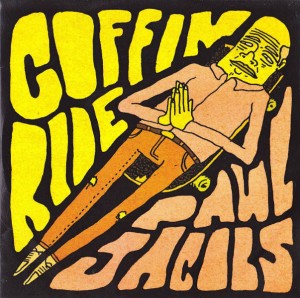 Paul Jacobs
Coffin Ride
(Self Released)
Windsor, ON
From the freight train of Penny Clark:
Paul Jacobs is a mad garage-rock scientist. Live, his one-man musical freight train includes a bass drum set-up rigged with three kick pedals, a crash cymbal, a snare, and a built-in box with vocal effects controls. He bounces a guitar in his lap like a porch-rocking nut ball and just top-of-his-lungs it. That unhinged energy is exactly what you get from this album, graced with the multi-talented Jacobs' own weirdo illustrations. The only reasonable explanation is that he somehow managed to swallow an entire punk band, which is now fighting its way out through his arms, legs and face.
Du train de marchandise de Penny Clark:
(Traduit par Jacinthe Laplante)
Paul Jacobs est un savant fou de rock garage. En spectacle, son train de marchandise musical solo inclut une grosse caisse configurée avec trois pédales déclencheur, une cymbale crash, une caisse claire et une boîte intégrée avec réglages d'effets vocaux. Comme un cinglé se berçant sur sa galerie, il fait rebondir une guitare sur ses genoux et chante à tue-tête. On retrouve exactement cette énergie déséquilibrée sur cet album orné des propres illustrations bizarroïdes d'un Jacobs aux multiples talents. Qu'il ait réussi à avaler tout un groupe punk qui tente maintenant de s'échapper par ses bras, ses jambes et son visage semble être la seule explication sensée.
---