Tag: paul lawton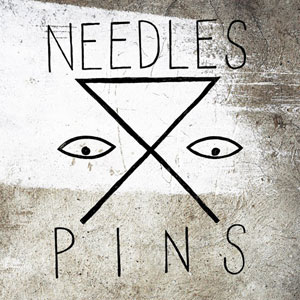 NEEDLES//PINS
Drop It b/w Kalifornia Korner
Vancouver, BC
From the scummy buzz of Paul Lawton:
While compiling the Bloodstains Across British Columbia 7", I asked bands to recommend their favourite new Vancouver band that I hadn't heard of yet, and almost everyone came up with the same answer. NEEDLES//PINS fit nicely in the modern garage-pop cosmos currently being mined in Ottawa (White Wires, Steve Adamyk) and the Bay Area (Nobunny, Bare Wires, etc). While it can be easy to dismiss genre bands, NEEDLES//PINS gets it right where so many bands fail: hooks and songwriting. Incredible songcraft is at work here, both songs being the winning combination of instantly likable and infinitely memorable. Top notch stuff, highly recommended.
Du vrombissement écumeux de Paul Lawton:
(Traduit par la combinaison parfaite de Maya Keshav)
En collectionnant le 7" Bloodstains Across British Columbia, j'ai demandé aux groupes de recommander leur nouveau groupe préféré dont j'ai pas encore entendu parler, et presque tout le monde m'a donné la même réponse. NEEDLES//PINS s'intègrent bien dans le cosmos de la garage-pop moderne qui est en train d'être extraite à Ottawa (White Wires, Steve Adamyk) et la région de la Baie de San Francisco (Nobunny, Bare Wires, etc). Même si c'est assez facile de rejeter les groupes de genre, NEEDLES//PINS y arrivent où nombreux groupes échouent: les accroches et l'écriture de chansons. On trouve ici l'habileté incroyable— les deux chansons sont la combinaison parfaite d'immédiatement agréable et d'infiniment mémorable. De premier ordre, vivement conseillé.

NEEDLES//PINS – Drop It

NEEDLES//PINS – Kalifornia Korner
James Leroy
Distinction
Lethbridge, AB
From the power pop distinction of Jesse Locke:
Since the dawn of the aughts, Lethbridge music mainstay Paul Lawton and songwriting partner JL Hankey have been cranking out infectious little pop tunes under a variety of aliases (James and The Giant, Coruscant, Light Years and James Leroy). The pitch-shifted vox will turn heads first, yet the duo's tweaked backdrops include everything from slacker jangle to AM radio breeze, canned crowd sounds to Rapture-ous debauchery (when's the last time you heard that comparison?). Distinction collects the cream of the crop before the pair's latest project The Ketamines; drops its debut LP on Dead Beat Records, plus 7-inches on HoZac, Southpaw, and Odd Box.
De la distinction power pop de Jesse Locke:
(Traduit par la voix altérée de Maya Keshav)
Depuis l'aube des temps, le pilier de la musique à Lethbridge, Paul Lawton, et son partenaire de composition JL Hankey pondent les petite tounes entraînantes de pop sous une variété de noms (James and The Giant, Coruscant, Light Years et James Leroy). La voix altérée va se faire remarquer avant tout, mais les fonds modifiés du duo comprennent tout depuis la slacker jangle jusqu'à la brise de la radio AM, depuis les sons en boîte du lot jusqu'à la débauche Rapture-esque (c'est quand la dernière fois que t'as entendu cette comparaison?). Distinction ramasse la crème de la cuvée avant que le dernier projet du duo qui s'appelle The Ketamines présente leur premier LP avec Dead Beat Records, ainsi que 7" sur HoZac, Southpaw, et Odd Box.
James Leroy – Wasting Our Time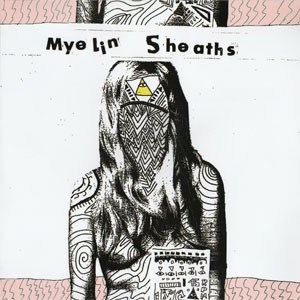 Myelin Sheaths
Get On Your Nerves
Lethbridge, AB
From the nervous sheets of Aaron Levin:
The most realized piece of psy-fi punk shreddery from the camp that put Alberta on the map for fringe aficionados. Burning beyond saturated garage riffery, Get On Your Nerves cauterizes all hemorrhaging power-chord burnitude, thrusting a strychnine hybrid of freejacked harmonies and maximum guitar overdrive straight to the dome. Bask in the crushed pop panoramas bursting through membranes of a nihilist future. Glorious 12″ vinyl LP with a limited clear version. Pass the grippy on the left hand side.
Des draps nerveux d'Aaron Levin: (Traduit par Maya Keshav)
L'album le plus réalisé du psy-fi punk shred du gang qui a mis Alberta sur la scène pour les amateurs du fringe. En brûlant au-delà des riffs saturés de la garage, Get On Your Nerves cautérise toute l'attitude hémorragique et perçant, en poussant un hybride strychnine d'harmonies libres et de vitesse maximal de guitare directement au dôme. Savourez les panoramas de pop écrasée qui transpercent les membranes d'un avenir nihiliste. Un splendide LP 12" en vinyle, avec une version édition limitée qui est transparente. Passez l' « achetez » à gauche.
Fist City
Queen of the Slugs b/w Crime Spree
Lethbridge, AB
From the crime sprees of Aaron Levin:
Southern Alberta's hilly wasteland continues to explode with Fist City's anamorphosis from the pop spectrum. Their twin-shriek phenomenon bludgeons us with searing, distorted leads, rolling bass lines, and a bewildering catchiness that has become their harmonic core. Fist City's debut single is a brilliant sortie from the disempowered rurality of Alberta, charging forward into instant hit and pop satisfaction. Limited to 99-copies and available to Wyrd Alberta patrons exclusively, the 7″ will luckily be rereleased owing to an epic pressing flaw on the b-side. Recommended grippage.
Des séries de crimes d'Aaron Levin: (Traduit par Maya Keshav)
La terre en friche vallonnée d'Alberta du Sud continue d'exploser avec l'anamorphose de Fist City hors de la gamme de pop. Leur phénomène double-cri nous matraque avec les tounes virulentes et déformées, les mélodies déferlantes de basse, et quelque chose de super entraînant qui est devenue leur coeur harmonique. Le début single de Fist Sity est une sortie brillante de la ruralité défavorisée d'Alberta, qui empoigne immédiatement le succès et la satisfaction de pop. Il n'y a que 99 copies qui sont disponibles aux clients de Wyrd Alberta exclusivement; heureusement le 7" sera republié grâce à une énorme erreur d'imprimerie à la face B. Vivement conseillé.

Fist City ~ Queen of the Slugs
---