Tag: paul jacobs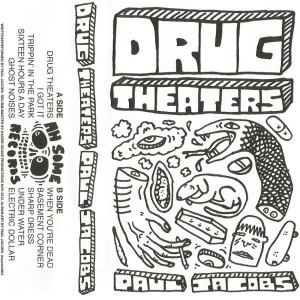 Paul Jacobs
Drug Theaters
Windsor, ON
From the ghostly noises of Kelly MacNeil:
Deep under the mountains of antiquity and reason, water drips from the ceilings in an infinite chorus of reverb. Stalagmites form from these drips, borrowing the reverb while mocking the mountains and their eternal rumbles. Young in contrast to the rocks from which they form, they are the mountain's essence of youth. Paul Jacobs is a stalagmite. He rises from deep undercurrents, and yells into the depths.
Des bruits fantômatiques de Kelly MacNeil:
(Traduit par la chute lente de Catherine Gaucher)
Dans un refrain infini de réverbération, l'eau s'écoule des voûtes profondément enfouies sous les montagnes de l'Antiquité et de la raison. De ces gouttes d'eau s'élèvent des stalagmites, puisant à même les réverbérations et imitant ces montagnes et leurs grondements éternels. D'existence récente en comparaison des roches depuis lesquelles ils se forment, ils sont l'essence de la jeunesse de la montagne. Paul Jacobs est tel un stalagmite. Il s'élève par-delà des lointains courants sous-marins et hurle dans les profondeurs.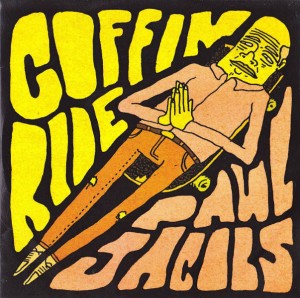 Paul Jacobs
Coffin Ride
(Self Released)
Windsor, ON
From the freight train of Penny Clark:
Paul Jacobs is a mad garage-rock scientist. Live, his one-man musical freight train includes a bass drum set-up rigged with three kick pedals, a crash cymbal, a snare, and a built-in box with vocal effects controls. He bounces a guitar in his lap like a porch-rocking nut ball and just top-of-his-lungs it. That unhinged energy is exactly what you get from this album, graced with the multi-talented Jacobs' own weirdo illustrations. The only reasonable explanation is that he somehow managed to swallow an entire punk band, which is now fighting its way out through his arms, legs and face.
Du train de marchandise de Penny Clark:
(Traduit par Jacinthe Laplante)
Paul Jacobs est un savant fou de rock garage. En spectacle, son train de marchandise musical solo inclut une grosse caisse configurée avec trois pédales déclencheur, une cymbale crash, une caisse claire et une boîte intégrée avec réglages d'effets vocaux. Comme un cinglé se berçant sur sa galerie, il fait rebondir une guitare sur ses genoux et chante à tue-tête. On retrouve exactement cette énergie déséquilibrée sur cet album orné des propres illustrations bizarroïdes d'un Jacobs aux multiples talents. Qu'il ait réussi à avaler tout un groupe punk qui tente maintenant de s'échapper par ses bras, ses jambes et son visage semble être la seule explication sensée.
---