Tag: pam haasen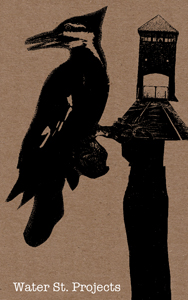 Paranerd
Writ EP
Moncton, NB
From the plimp strut of Pam Haasen:
Big Sturge's aquarian guitar heeds a cumulonimbus warning. Low rumbling thunder resides in the near future and if I were a betting man, I'd put twenty across the board on a storm. Near is the rumble, with strings drawn out to bode a "brewing". Get off your hog and walk it to the cabin with the light in the window. Refuge comes with Side B, for you've discovered it was a light behind those clouds. From that mountain above you where the fog surrounds the peak comes a holler of "help!" The loop behind it all disintegrates, the guitar begins plimping and you've found an old baseball mitt and bottle of Scotch while looking for a pack of waterproof matches.
De la démarche fière de Pam Haasen:
(Traduit par les salutations de Maya Keshav)
La guitare verseau de Big Sturge tient compte d'un avertissement cumulo-nimbus. La tonnerre qui gronde reste dans l'avenir proche et si je pariais, je dirais pour vingt piastres que il y aura un orage. La grogne est proche, avec les cordes définies pour prévenir un orage. Quitte ton cochon et l'amène à la cabane avec la lumière dans la fenêtre. Refuge est accompagné par une face B, parce que tu as découvert que c'était une lumière derrière ces nuages. De cette montagne au-dessus de toi où le brouillard entoure le pic il arrive un cri d'"Au secours!" Le boucle derrière tout se désintègre, la guitare commence à plimper et tu as trouvé un gant de baseball et une bouteille de scotch pendant que tu cherchais un paquet d'allumettes imperméables.
Water St. Project – Welcome Home Dangerous Town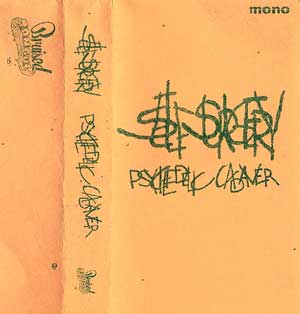 Self Surgery
Psychedelic Cadaver
Ottawa, ON
From the throat hissing of Pam Haasen:
If your parent's parents were terrified by the satanic vibes emanating from backward playing records, they best stay away from Psychedelic Cadaver all together. The hiss sticking to the back of your throat may cause discomfort, but the feedback drowns your ear in micro-waves that erase all memories of silence. It's music for people who love airports mixed with Chalupa and cigarettes. This album is what's under your car in the parking garage and leering at you from the window as you baby sit. Cry if you want, but the demons will never rest.
Du sifflements de la gorge de Pam Haasen: (Traduit par les aéroports de Maya Keshav)
Si les parents de tes parents étaient terrorisés par les ondes sataniques qui émanent des disques passés à l'envers, il faut qu'ils se tiennent à l'écart de Psychedelic Cadaver. Peut-être que le sifflement qui colle à ta gorge cause un inconfort, mais le larsen noie ton oreille dans les micro-ondes qui effacent tous les souvenirs du silence. C'est la musique pour ceux qui aiment les aéroports mélangés avec le Chalupa et les cigarettes. Cet album est ce qui se cache au-dessous de ta voiture dans le parking et ce qui te regard méchamment pendant que tu s'assois comme un bébé. Pleure si t'as envie, mais les démons ne feront jamais une pause.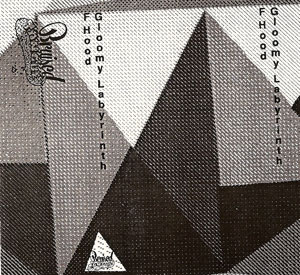 F Hood
Gloomy Labyrinth
Ottawa, ON
From brotherly diary entries of Pam Haasen:
This is a diary entry from my cousin's recollection of her first acid trip. I think it applies here:
Crying will do no good. I am on the brink of everything. Tears well up and overwhelming joy tingles through my body like a hacky sack teeming with ants and funny bones. Moving my fingers is the most graceful thing in the world and a stream underneath IT ALL sends a wake that my brain can wind surf on. I'm laughing now like I've been hypnotized and my memory is in shock. I wish my hair was a little longer, though.
Des notations fraternelles du journal de Pam Haasen:
Voici une note du journal intime de ma cousine, le souvenir de son premier trip sous acide. Je crois qu'elle est pertinente ici. Pleurer va rien faire. Je suis sur le bord de tout. Les larmes montent et une joie accablante fait picoter tout mon corps comme un pouf poire qui déborde de fourmis et de petits juifs. Bouger mes doigts est la chose la plus gracieuse du monde et un ruisseau au-dessous DE TOUT envoie une onde sur laquelle mon cerveau peut surfer. Maintenant je ris comme je suis hypnotisée et ma mémoire est sous le choc. J'ai envie que mes cheveux soient un peu plus longues, quand même.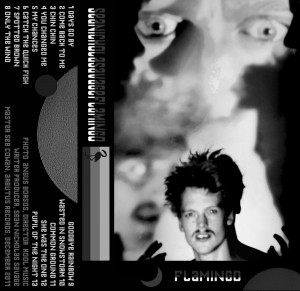 Sean Nicholas Savage
Flamingo
Montreal, QC
From the carnie games of Pam Haasen:
If small town fairs were hip to the culture of cheap thrills and cheese appeal that speaks to my inner child, I'd hear Flamingo on the tinny speakers beside my head while I wait in line for elephant ears and ride vouchers. Sean Savage is calmer and quieter here than I've known him to be. These are vaguely erotic hand-holding and ferris-wheel-secret-telling songs. I want to win the big bear prize for my gal and make promises to her while the sun sets. Lovely meets funny as Sean trills, woos and oohs you.
Des jeux carnies de Pam Haasen: (Traduit par Odile Leclerc)
Si les foires de petite ville étaient branchées à la culture des sensations bon marchés et de charme du fromage qui parle à mon enfant intérieur, j'écouterais Flamingo sur les petits haut-parleurs à côté de ma tête pendant que j'attends en ligne pour des oreilles d'éléphant et des coupons de tours. Sean Savage est plus calme et silencieux ici que je l'ai connu d'être. Ceux-là sont du tenage de mains vaguement érotique et des chansons de secret conter sur la grande roue. Je veux gagner le gros ours en prix pour ma fille et lui faire des promesses au coucher du soleil. L'adorable rencontre l'amusant alors que Sean vous roucoule, courtise et vous fait des oohs.
Sean Nicholas Savage – She Was The One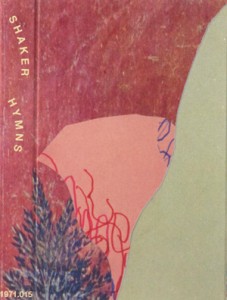 Shaker Hymns
Dub Sawyer EP
Montreal, QC
From the reggae rush of Pam Haasen:
Imagine following that silly rabbit down a hole and never finding the bottom. A soundtrack to your descent may sound frightening but in fact, after about two minutes of free falling, a sense of peace licks your brain and you forget what it feels like to keep two feet on the ground. Shaker Hymns whoop and flip chords to penetrate typical guitar riffs for the ultimate in desert spy movie darkness. A voice squelches from behind a dune but the bass 'n' drums are your canteen of agua. Lifesavers in a strange place that leave you afraid but intrigued. A plane in the sky writes a message that reads: "keep going".
De l'accès de reggae de Pam Haasen: (Traduit par les trous mystérieux de Maya Keshav)
Imagine que tu suis ce drôle de lapin dans le trou et tu trouves jamais le fond. Peut-être que la bande-son de ta descente a l'air éprouvant mais en fait, après environ deux minutes de chute libre, une sensation de tranquillité lèche ton cerveau et tu oublies ce qui c'est d'avoir deux pieds par terre. Shaker Hymnes hululent et renversent les chordes pour pénétrer les riffs typiques de guitare pour l'ultime du noir des films des espions dans le désert. Une voix piaille derrière une dune mais la basse et la batterie sont ton bidon d'agua. Les sauveteurs dans un endroit bizarre qui te font peur mais tu t'intrigues aussi. Un avion au ciel écrit un message qui se lit: "continue".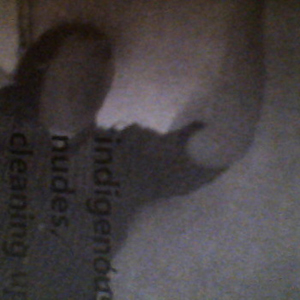 Indigenous Nudes
Cleaning Up For AI
(Girl Boss)
London, ON
From the forced city freak-out of Pam Haasen:
Tech Supporters Nicholas and Cheddle channel all thoughts of "kill roommate" into buzz, wind, fire, distortion and incantations. Indigenous Nudes play with heat guns as séance sounds churn from their guts; writhing a full-term demon baby from underwater delivery through the annals of time/space. Cheddle's glasnost lingers in the box on the floor that reads "fragile" while ichola scoops up broken glass to throw at anyone who gets too close. To listen is to watch a candle burn with the TV on while mother bakes rotted mincemeat pies and calls from a distance that dinner's ready.
De la crise urbaine obligée de Pam Haasen: (Traduit par Maya Keshav)
Les Tech Supporters Nicholas et Cheddle transforment toutes les pensées de "tuer le coloc" en bourdonnement, vent, feu, distorsion et invocations. Indigenous Nudes jouent avec les pistolets thermiques pendant que les sons de séance de spiritisme tourbillonnent dans leurs boyaux; un bébé démon se tortille à terme dans un accouchement sous-marin à travers les annales du temps et de l'espace. La glasnost de Cheddle reste dans la boîte par terre qui se lit "fragile" pendant qu'ichola ramasse du verre cassé pour lancer à n'importe qui vient trop proche. Écouter, c'est regarder une bougie brûler avec le télé allumé pendant que maman cuisine les pâtés de viande pourrie et crie au loin que le souper est prêt.
Indigenous Nudes – God, Forgive Satan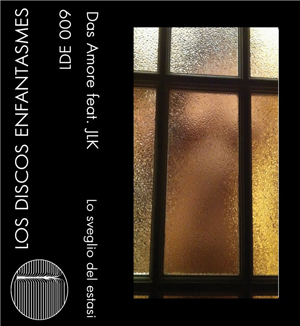 Das Amore feat. JLK
Lo sveglio del estasi
Montreal, QC
From the disco-limbo contest of Pam Haasen:
To describe Lo sveglio del estasi as "weird" is almost unfair. The subjectiveness of this far-out nightmare turned disco-limbo creates a genre of uncertainty, which is so sexual that I'm afraid I'm the only one who feels this way. I feel naked and awake but in a trance-like state, swaying and bobbing in a slow motion dance alone in Parts Unknown. Das Amore and JLK sound simultaneously natural and synthetic, with drum beats that come from the knocking of a headboard. This trip takes you out of yourself for the shortest half hour of your life and drops you off wanting to ride again.
Du concours disco-limbo de Pam Haasen: (Traduit par Maya Keshav)
Décrire Lo sveglio del estasi comme "bizarre" est presque injuste. La subjectivité de ce cauchemar excentrique devenu disco-limbo crée un genre d'incertitude, qui est si sexuel que j'ai peur que je sois le seul qui a ce sentiment. J'ai l'impression d'être nu et réveillé mais dans une sorte de transe, en chancelant dans une danse solitaire dans les Parts Unknown. Das Amore et JLK ont l'air simultanément naturel et synthétique, avec les rythmes du tambour qui viennent du cognement d'une tête de lit. Ce voyage te fait sortir de ton corps pour les trentes minutes les plus courtes de ta vie et te laisse l'envie de voyager encore.
Das Amore feat. JLK – Introduzione al desiderio de la pelle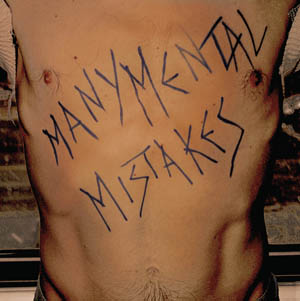 ManyMental Mistakes
Trois
(ManyMental Records)
Montreal, QC
From the urban battleground of Pam Haasen:
Music to weld to. I can accomplish many things whilst listening to Trois, such as rebuilding a motor, base-jumping or scrambling the shit outta eggs. Let ManyMental Mistakes take you over the edge of reason. Come screaming down from Mount Royal and fear no wrath, for you are a titan of the urban jungle with a battle-axe to shred and bleed onto. If MMM is your conscience, listen and run, jump, stab, flail, surf and Kill Kill Kill. Faster, Pussycat! You can't outrun the devil forever but you can beat him at his own game.
Du champ de bataille urbain de Pam Haasen: (Le mode en rafale de Odile Leclerc)
De la musique pour souder. Je peux accomplir plein de choses tandis que j'écoute Trois, comme reconstruire un moteur, sauter en parachute ou brouiller des œufs à fond. Laissez ManyMental Mistakes vous apporter au bord de la raison. Descendez en criant du Mont Royal et ne craignez pas de colère, puisque vous êtes un titan de la jungle urbaine avec une hache de guerre sur laquelle vous déchirez et saignez. Si MMM est votre conscience, écoutez et courez, sautez, poignardez, débattez vous, surfez et Kill Kill Kill. Plus vite Minette! Vous ne pouvez pas fuir le Diable pour toujours, mais vous pouvez le battre à son propre jeu.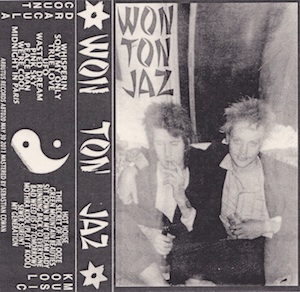 Count Dracula // Kool Music
Won Tan Jaz
Montreal, QC
From the kung fu tableau of Pam Haasen:
In my quiet bedroom I hear the Wilhelm scream of Count Dracula (a.k.a. Sean Nicholas Savage) echoing from outer space travel-log mixtapes as the ship travels faster than the speed of light over Montreal. From his U.F.O. he sends ray beams of steel drums, lilting vocals and, of course, catchy lyrics that no one else could pull off (sex, sweet sex). Kool Music offers a side of '80s ice cold film soundtrack with a meditative swirl as the chewy centre. Calm before the sewer storm? Yeah. It's a tableau of sex, action, sunglasses and chilly, kung fu svelte babes in the 'hood.
Du tableau kung fu de Pam Haasen: (Traduit par Odile Leclerc)
Dans ma chambre silencieuse j'entends le cri Wilhelm du Conte Dracula (alias Sean Sean Nicholas Savage) faisant écho des cassettes mix de carnet de voyage de l'hyper espace alors que le vaisseau voyage plus vite que la lumière au-dessus de Montréal. De son U.F.O. il envoie des rayons laser de batteries d'acier, élevant les chants et, bien sûr, des paroles accrocheuses que personne d'autre ne pourrait réaliser (sex, doux sex). Kool Music offre un côté d'une frigide bande sonore de film des années 80 avec un tourbillon méditatif comme centre moelleux. Le calme avant la tempête d'égouts? Yeah. C'est un tableau de sex, d'actions, de lunettes de soleil et de fraîche, de sveltes minettes kung fu dans le quartier.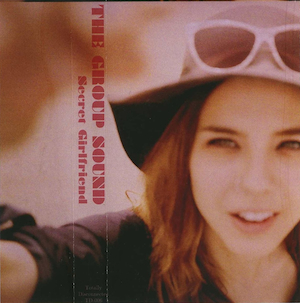 The Group Sound
Secret Girlfriend
Edmonton, AB
From the love letters of Pam Haasen:
The ebb and flow of washy guitars echoing across the Pacific form the most beautiful sunset of sweet lyrics on Secret Girlfriend. Dance on the horizon and cast the longest shining reflection that reaches your toes as you dip into the Group Sound. Love letters written in sand dunes on the warmest night in July remind you why you loved pop when you were young and thirsty. These road songs for a trip rise to the top of Mt. Fuji and scream "baby please don't go!" as you skydive down to earth and land in a banana split.
The Group Sound – Secret Goilfriend
---