Tag: p. trash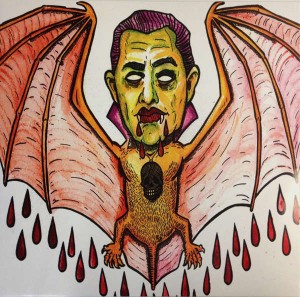 Pink Wine
Untitled
Toronto, ON
From the pink whine of Jesse Locke:
You can only beat on the brat for so long before he starts to beat back. On Pink Wine's debut platter (LP from the Canuck-punk lovers at P. Trash and cassette from the hosers at Hosehead), these rough-and-tumble charmers slick back their quiffs and hit the street with baseball bats swingin'. Joel French's bubblegum vox would make Nobunny proud, and the tunes are a timeless blast of soda shop bop. Oh yeah!
Du gémissement rosé de Jesse Locke:
(Traduit par Jankarza)
Vous ne pouvez taper sur le petit morveux que pour un certain temps avant qu'il ne vous tape dessus en retour. Sur le premier album de Pink Wine (33 tours offert par les amoureux de punk canadiens de P. Trash et cassette offerte par les arroseurs de Hosehead), ces chahuteurs charmeurs se lissent les cheveux en arrière et sortent dans la rue en balançant leurs battes de baseball. La voix gomme balloune de Joel French rendrait Nobunny fier, et les chansons sont une explosion intemporelle de be-bop de snack-bar. C'est ça!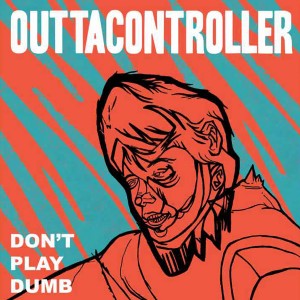 Outtacontroller
Don't Play Dumb
(P. Trash)
Halifax, NS
From the ear-bone of Joel French:
Outtacontroller like to party. Fuck it, they ARE a party. The hooks are huge. The energy is off the charts. Plus they're handsome as hell. Power-pop-punk recorded in the garage. The best part about these East Coast heart-melters is they sound even better live than they do on the 16 cuts this record has to offer. Ear-boners for party-people.
De la chaîne ossiculaire de Joel French:
(Traduit par Felix H-T)
Outtacontroller aiment faire le party. Fuck ça, ils SONT un party. Les accroches sont immenses. L'énergie est démesurée. En plus, c'est des maudits beaux bonhommes. Du power-pop-punk, enregistré dans le garage. En plus, ça sonne encore mieux en show que sur les 16 tounes offertes sur cet album. Érections auditives pour le monde de party.
Outtacontroller – Pointed at You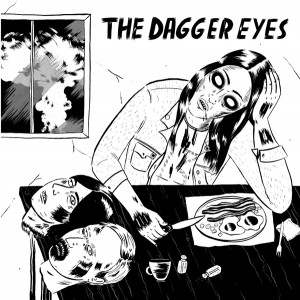 The Dagger Eyes
The Dagger Eyes
(P. Trash)
Ottawa, ON
From the hot snot of Joni Sadler:
Bursting out of the gates in a piss-and-vinegar fury, the Dagger Eyes waste no time knocking out listeners and dragging them back to the heyday of late '70s punk. Fans of Ottawa's beloved Suppositories are going to find themselves on familiar sonic turf with the snotty vocals that gave their ex-band a fair share of its vitriol. The same rapid-fire snarls are back without fail, but this time backed by tighter, sharper arrangements. The searing aggression of the jams and amazing zombie-inspired artwork make for a record that's hard to ignore; this one digs its claws in deep and has a tough time letting go.
De la morve chaude de Joni Sadler:
(Traduit par le canon fumant de Patrick Du Tremble)
Dans un turbulent élan de fureur, The Dagger Eyes défoncent les portes et s'empressent de souffler les auditeurs pour les ramener vers l'apogée du punk de la fin des années 70. Les nombreux adeptes des Suppositories d'Ottawa se retrouveront en territoire auditif connu, grâce aux chants crasseux qui donnaient son bon côté corrosif à l'ancien groupe. Les mêmes aboiements à fond de train sont de retours sans faute, mais cette fois-ci soutenus par des arrangements plus précis et soignés. L'agression ardente des morceaux et la géniale illustration inspirée zombies rendent cet album difficile à ignorer; il enfonce ses griffes profondément et ne lâche pas prise facilement.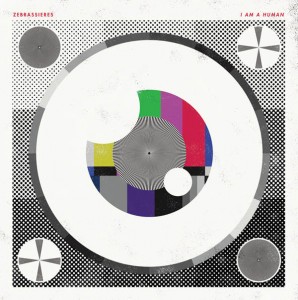 Zebrassieres
I Am A Human
(P. Trash)
Toronto, ON
From the power jam of Michael Deane:
These Ottawa-ian/Torontonian cosmic creeps get all herky-jerky on a synth-heavy, punked-up, spaced-out Devo tip – embodying and busting through the Capital scene's Gates of Steel with bubble-gum hooks, frenetic pacing and otherworldly energy. The Zebs power jam one-to-two-minute songs to their breaking point and seem borne from crowded, rafter-hanging basement blow-outs. Their maxed out synthusoids™, hooks set to stun and relentless rhythms will leave you lost in space with no way of getting back.
Du jam puissant de Michael Deane:
(Traduit de la plume punk de Dominic Mpilé)
Ces énergumènes cosmiques venus d'Ottawa et de Toronto s'excitent le synthé et vont rejoindre Devo dans un trip spatial punk et déjanté. Parfaite incarnation de la scène musicale de la Capitale, ils défoncent ses portes d'acier avec leurs mélodies saccharinées, leurs rythmes frénétiques et leur énergie venue d'ailleurs. Depuis les tréfonds suants d'un sous-sol sens dessus dessous, les Zebs se jettent à corps perdu dans leurs courtes chansons d'une minute ou deux. Leurs synthusoids ® dans le tapis, leurs refrains renversants et leurs rythmes endiablés vous perdront dans l'espace sans voie de retour.
---