Tag: ontario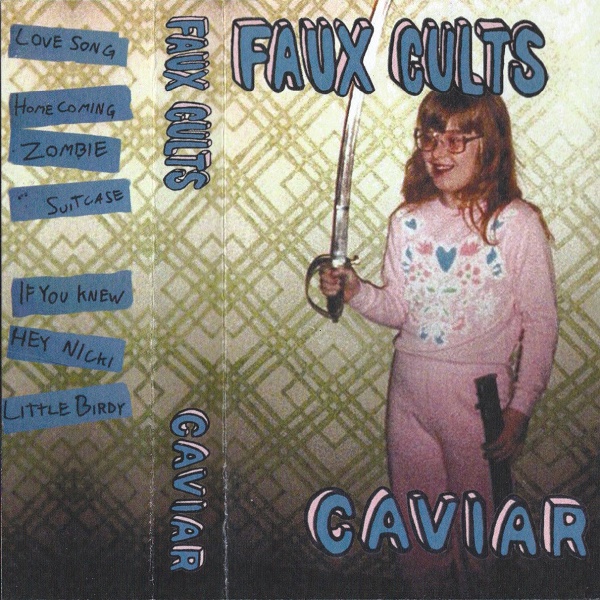 Faux Cults
Caviar
(Self-Released)
Peterborough, ON
From the gnarly swells of Mike Roy:
An abandoned fish tank sits in the corner of your parents' living room. The tank is still half-full, void of life beyond its tropical beach backdrop. An aimless surfer is face down in a growing pit of algae. You approach the glass and tap to find a pulse. Tick. Tick. A hairline crack is formed. It grows and grows. The tank comes to life. Tick. Tick. The surfer twists in his pit of algae to look at you. A longing for a swell to escape Tick. Tick. Crack. Water gushes through the room, liberated to all corners of the room. The surfer rides these currents to land by your feet. The energy of an endless summer from a long forgotten memory warms the room. The look of longing evolves to a smile.
Des gonflements fous de Mike Roy:
(Traduit par l'adulation en série Mackenzie Smedmor)
Un aquarium abandonné est posé au coin du salon de tes parents. Il est toujours à moitié rempli, dépourvu de vie autre que le fond de plage tropicale. Un surfeur vagabond est à plat ventre dans un trou croissant d'algues. Tu t'approches du verre et tapes à la recherche de son pouls. Tick. Tick. Une petite fissure se forme. Elle croît et croît. L'aquarium prend vie. Tick. Tick. Le surfeur se serpente dans son trou d'algues pour te regarder. Une envie pour qu'un gonflement s'échappe. Tick. Tick. Crack. L'eau jaillit dans la salle, libérée dans chaque coin de la salle. Le surfeur monte ces courants pour atterrir à tes pieds. L'énergie d'un été sans fin d'une mémoire longtemps oublié réchauffe le salon. Le regard d'envie s'évolue en sourire.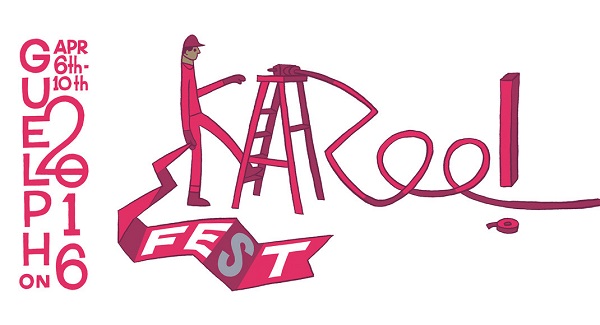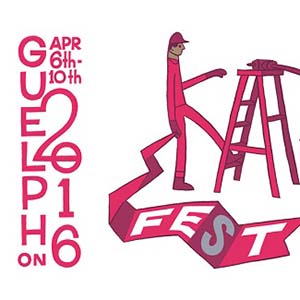 Kazoo! Fest 2016
Guelph, ON
From the ruling fingers of Sara Bortolon-Vettor:
Kazoo! Fest oozes out over 5 days in the intimate downtown core of Guelph. The 8th Kazoo! runs from April 6-10 2016, and soars to hit every weird sweet spot imaginable. An experiential annual delight, lifting our sneakers above the clouds.
What can you expect this year in the Royal City, where everything rules? A tightly curated lineup of everyone's favourite darlings, dreamers, stoners, visionaries, originators, best bad dads, experimenters, soul lifters, and heart tuggers are charming your ears over 5 blissed-out days.
Check out the Guelph Night Market (buy handmade stuff at night); Golden Bus Film Screenings (featuring Life of a Craphead's Bugs); contemporary dance; improv with The Making Box; the Kazoo! Print Expo; experiential art installations like the TrinkeTron 6750; plus live visuals and art gushing all over town.
Meet us at Vienna's for breakfast?
Par les doigts gouvernants de Sara Bortolon-Vettor:
(Traduit par les orifices fleurissants d'Émily Traichel):
Kazoo! Fest s'écoule le long de 5 jours dans l'intimité du coeur du centre-ville de Guelph. Le 8e Kazoo! a lieu du 6 au 10 avril 2016, et s'enligne pour toucher à tous les points forts du weird. Un délice annuel expérientiel, qui élève nos baskets par dessus les nuages.
À quoi pouvez-vous vous attendre cette année dans la cité royale, où régnent toutes sortes d'expression créative? Une programmation soigneusement sélectionnée des bien-aimés, rêveurs, stoners, visionnaires, initiateurs, méchants pères, expérimenteurs, leveurs d'esprit, et vibreurs de cordes sensibles préférés de tout le monde vous enchante les oreilles pendant 5 jours de félicité.
Découvrez le marché de nuit, le Guelph Night Market (achetez des items faits à la mains la nuit); les Golden Bus Film Screenings (en vedette, Bugs de Life of a Craphead); de la danse contemporaine; de l'impro chez The Making Box; l'exposition d'imprimerie de Kazoo!; des installations d'art expérientielles telle que le TrinkeTron 6750; et encore bien plus de montages visuels en direct et d'art qui jaillissent partout dans la ville. 
Rendez-vous chez Vienna pour le déjeuner?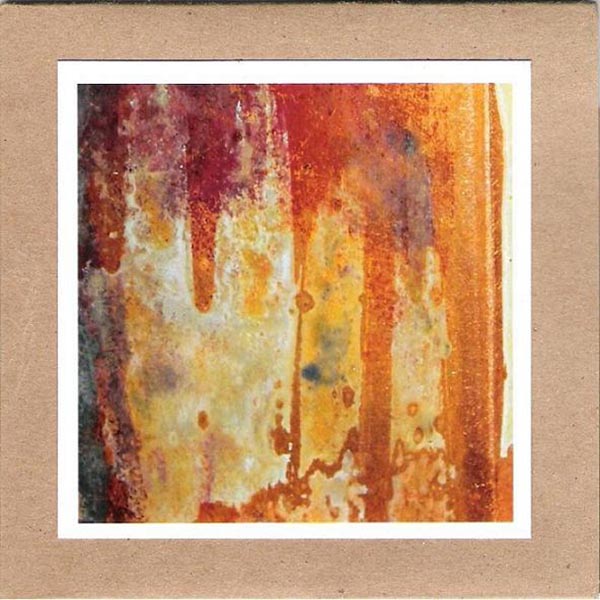 M. Mucci
Don't Be Afraid
Guelph, ON
From the dexterous string cycle laps of Trevor Angst:
"Starkest Darkness" is a song and an inspired cadence to an eponymous poem by Nathanael Larochette. It bands together the truth seekers who are boundlessly searching for pure self-expressionism, and calls to those who creatively jaunt through their unprecedented future. This extended collaborative intermezzo features the caesura of spoken word over M. Mucci's incessantly dexterous finger style pacing. It's your last impressioned coda. Don't Be Afraid is prominent in guitar and lap steel arrangements, assembling cymbal crashes and swells with orchestrated pipe organ drones.
De la corde qui tourne en boucle avec dextérité de Trevor Angst:
(Traduit par Moi Quevillon)
La chanson « Starkest Darkness » possède un rythme inspiré du poème éponyme écrit par Nathanael Larochette. Elle rassemble les chercheurs de vérité, ces êtres inlassablement en quêtent de l'expression personnelle la plus pure, et elle appelle ceux qui se baladent avec créativité vers un futur sans précédent. Cet intermezzo collaboratif prolongé nous offre une césure dans la création orale de M. Mucci constamment articulée virtuose du doigté avec cadence. C'est votre dernière impression – votre coda. La présence de guitare et d'arrangements lap-steel prévalent dans Don't Be Afraid, avec un drone ambiant d'orchestration de cymbales et d'orgue.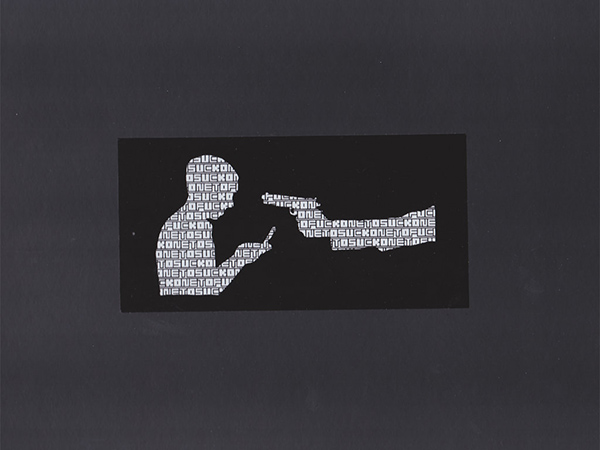 b.burroughs // justin scott gray // the One (family)
ONE TO SUCK, ONE TO FUCK
Toronto, ON
From the confusing paroxysms of Joshua Robinson:
A horde of demarcated stingers and sweetness. Little are we to know that one is the other is the other. All things equal?
Indexicality: smoke and fire, thunder and torn veneer, a closing eye and embezzled light. If patterns were constant and form immutable, we would all be the same. Ergo the change; the inevitability of gyre; tempering, nothing constant. Janus-faced. Austere in their words, but origins the same.
Des paroxysmes confus de Joshua Robinson:
(De l'hémispère gauche de Diane Beaupré)
Tout et son contraire. Difficile de savoir que l'un est l'autre et l'autre. Tout est pareil? Indexicalité : la fumée et le feu, le tonnerre et le contre-plaqué arraché, un œil qui se ferme et la lumière diffuse. Si les motifs étaient constants et les formes immuables, nous serions pareils. D'où le changement, l'inévitable tourbillon; en mouvement, jamais constant. Visages de Janus. Austère dans leur propos, mais fidèles à eux-mêmes.
the One (family) – nounverbnoun
justin scott gray – Drone Strike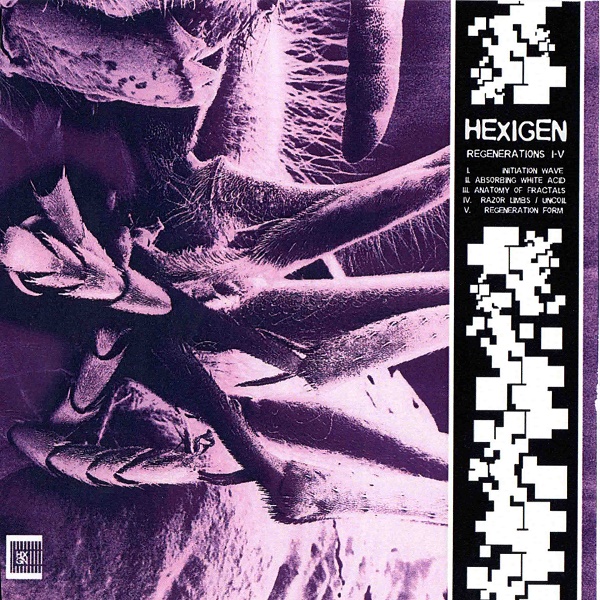 Hexigen
Regenerations I-V
(Self-Released)
Brampton, ON
From the spasming futures of Heather Lune:
It feels like electricity thudding into your body through the nerves of your fingertips. It rockets up into the ticklish base of your brain.
Brampton's Hexigen releases a semi-improvised rainstorm of droning airborne frictions showering out of a near-future dystopia, from a time when the few remaining habitable areas of the earth have been enclosed in impenetrable low-lying domes.
The air, the rain, the sun: just cold and distant projections in the encased and gasping remnants of our dimming organic world. Our once soft bodies now composed of 60% cybernetic parts.
All touch so cold and plastic — but we will long to feel the texture of skin, and shriek for it in our coded dreams.
Des avenirs spastiques de Heather Lune:
(Traduit par la frittata sans patates de Julie Mayer)
C'est une sensation comparable au martèlement de l'électricité qui traverse ton corps par les nerfs situés au bout de tes doigts. Ça se propulse jusqu'à la base chatouilleuse de ton cerveau.
Hexigen, groupe originaire de Brampton, lance une pluie diluvienne semi-improvisée de frictions bourdonnantes portées par le vent. Ces dernières coulent, tel un jet de douche, d'une dystopie de l'avenir proche, d'un temps où le peu de zones habitables restantes de la Terre sont enfermées sous d'impénétrables dômes de faible altitude. L'air, la pluie, le soleil : que des projections froides et distantes dans les vestiges mis sous verre et haletants de notre monde organique déclinant. Nos corps jadis tendres sont désormais composés à 60 % de pièces cybernétiques.
Tout contact est si froid et plastique, mais nous nous languirons de ne pas sentir la texture de la peau, et la réclamerons à grands cris dans nos rêves encodés.
Hexigen – RGN i: Initiation Wave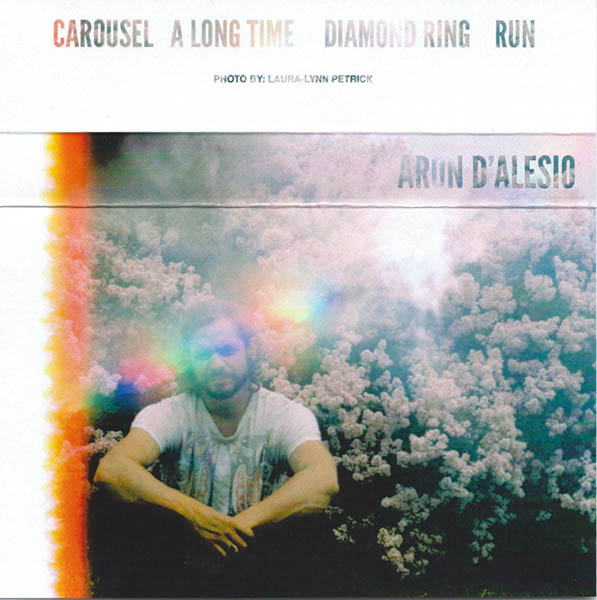 Aron D'Alesio
Cassette EP
(Self Released)
Hamilton, ON
From the dashboard confessional of Mike Roy:
A ride upon the carousel of Aron D'Alesio's Cassette will induce a retrospective haze carried over by jangly, 50s-inspired AM waves. Cassette feels like your parents' favourite Buddy Holly record soaked in bluesy psychedelia, but just as sweet and earnest as his predecessor. D'Alesio builds the soundtrack to help you through those late night drives mourning the end of summer romance without a tumble into total melancholy. Ride on.
Du confessionnal roulant de Mike Roy:
(Traduit par Aliké Harel)
Un tour sur le carrousel de Cassette, d'Aron D'Alesio, provoquera une rétrospective floue sur l'air jovial des ondes AM des années 50. L'album Cassette rappelle les albums préférés de Buddy Holly de vos parents, imbibé de psychédélique légèrement blues, mais aussi mélodieux et dévoué que son prédécesseur. D'Alesio construit la trame sonore qui traversera une nuit au volant avec vous, à écumer le deuil d'une romance de fin d'été sans dégringoler dans la mélancolie absolue. Allez-y, roulez.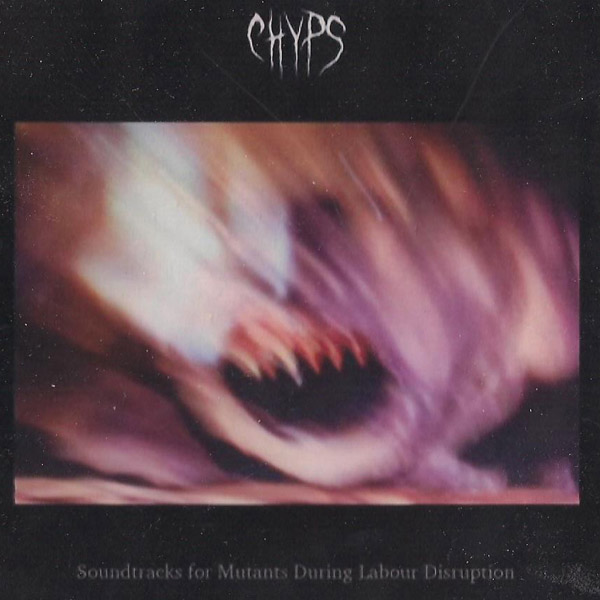 CHYPS
Soundtracks for Mutants During Labour Disruption EP
(Self Released)
Mississauga, ON
From the fingertips of Lauren Rabindranath:
Soundtracks for Mutants During Labour Disruption is also suitable for humans during summer afternoons. The 3-track EP creates space with sound, catapulting the listener into a sonically-driven contemplative journey. Contrast between methodical, calming instruments and tense, upbeat electronic tones form a balanced and coherent whole. Cryptic last (and only) lines provide personality. CHYPS embrace 'empty' space as part of the experience and use silence as effectively as sound. The tracks' raw edges leave the listener with an invitation to ascribe their own meaning – to fill or find comfort in their own silences.
Du bout des doigts de Lauren Rabindranath:
(Traduit par Julie Mayer)
Soundtracks for Mutants During Labour Disruption convient également aux humains pendant les après-midis d'été. Cet EP de trois pistes crée de l'espace avec du son et catapulte les auditeurs et les auditrices dans un voyage contemplatif mené par une motivation sonique. Le contraste entre les instruments méthodiques et apaisants et les tons électroniques, entraînants et tendus forment un tout équilibré et cohérent. Les dernières (et uniques) lignes cryptiques donnent du caractère. Pour CHYPS, l'espace « vide » fait partie de l'expérience et il utilise le silence aussi efficacement que le son. Le côté brut des pistes sonores invite l'auditeur à leur attribuer leur propre sens; remplir leurs propres silences ou y trouver du réconfort.
CHYPS – Soundtracks for Mutants During Labor Disruption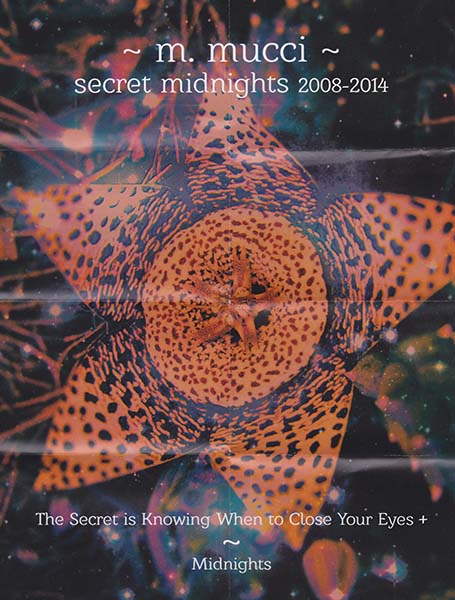 M. Mucci
Secret Midnights
Guelph, ON
From the mesmerized apertures of Joshua Robinson:
Side B of this release was previously written about here.
Slowly, ever so slowly, thought takes form. Nadirs of fleeting melody particulate, each fleck of minute detail whisking away from its source; whisking away from itself. Slowly, ever so slowly, these details coalesce and emerge just as they fray at the seams and come to rest as tablatures too delicate to decipher. The re-release of this material is not only an acknowledgment of its quality, it is the recognition of how fragile permanence (as memory) can be. Incarnate tones tiptoe over themselves, their brittleness that which indentures their longevity. For all that is young and quiet, grow old and fond. For all that is fleeting and transient, stay still.
Des ouvertures ensorcelantes de Joshua Robinson:
(Traduit par Mylène Quevillon)
Lentement, toujours plus lentement, les pensées prennent forme. Les nadirs des particules d'une mélodie fugace, chaque détail minuscule qui passe transporté loin de sa source; transporté loin de son centre. Lentement, toujours plus lentement, ces détails s'amalgament et se décomposent, se déposent en tablatures trop petites pour être déchiffrées. La réédition de ces oeuvres n'est pas seulement un gage de leur qualité, c'est aussi la reconnaissance de la fragilité de la permanence et de la mémoire. Les tonalités incarnées s'entrechoquent, créant une fragilité qui diminue leur longévité. Étant donné que tout ce qui est jeune et tranquille vieillit et se gâte. Étant donné cette fugacité éphémère, restez immobile.
M. Mucci – The Secret is Knowing When To Close Your Eyes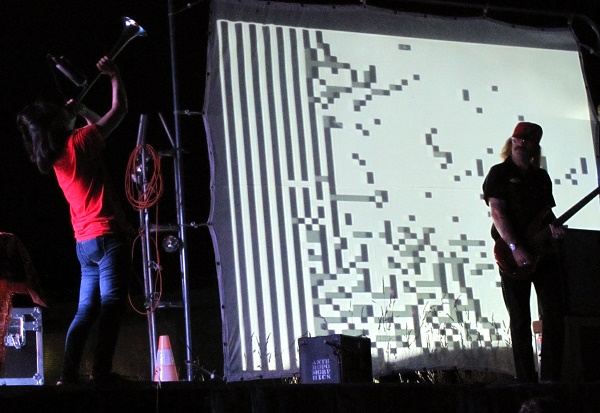 Electric Eclectics
July 31 – Aug 2, 2015
Meaford, ON
Photos by: Joshua Cwintal/li>
From the oily reduction of Joshua Cwintal:
Receptive ears were scattered between the teddy bear adorned pillars found at the Electric Eclectics festival near Meaford, Ontario. Attendees revelled in indoctrinating drones and chest caving noise from acts who embodied the friendly and visionary spirit of the gathering. Installation artists intrigued and captured wanderers as they attempted to cross the picturesque canvas of land christened as "The Funny Farm". Each night refused to end as moonlit dancing and laughter spilled deeper into DJ-led forest festivities. Each morning brought familiar faces together to welcome another day where only the unfamiliar could be expected.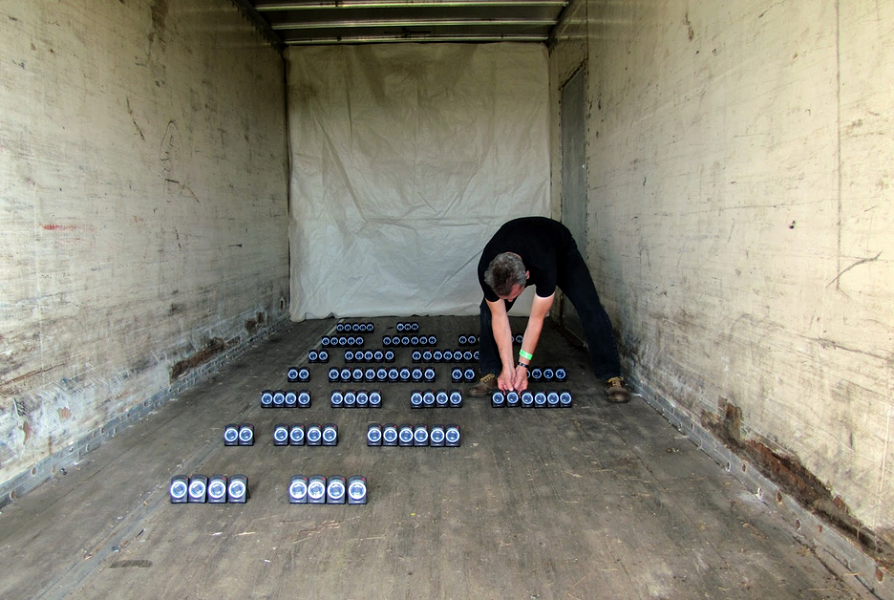 100 metronomes, all clicking in a cicadian like flutter. All arranged to match the physical shape of a companion poem.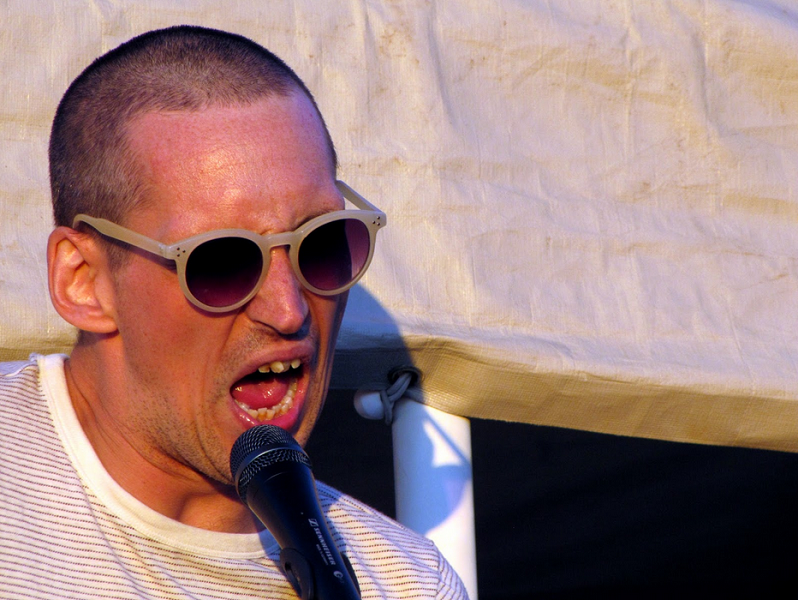 "Anyone get a psychosomatic rash before?" – Dave from Soupcans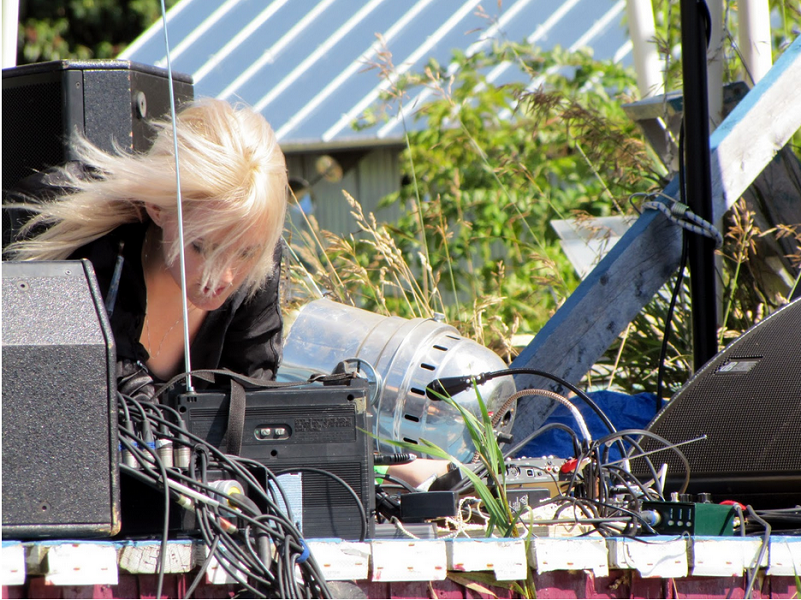 "The Nihilist Spasm Band apologized to me after my set for driving up near the stage while I was playing. I thought, I wish you drove over the stage, that would have been amazing. Also I hadn't noticed – I didn't notice the ambulance for the heat stroke suffering guy either (hope he's okay). I couldn't see my gear, we both don't understand sunshine." – Bridget Bardon't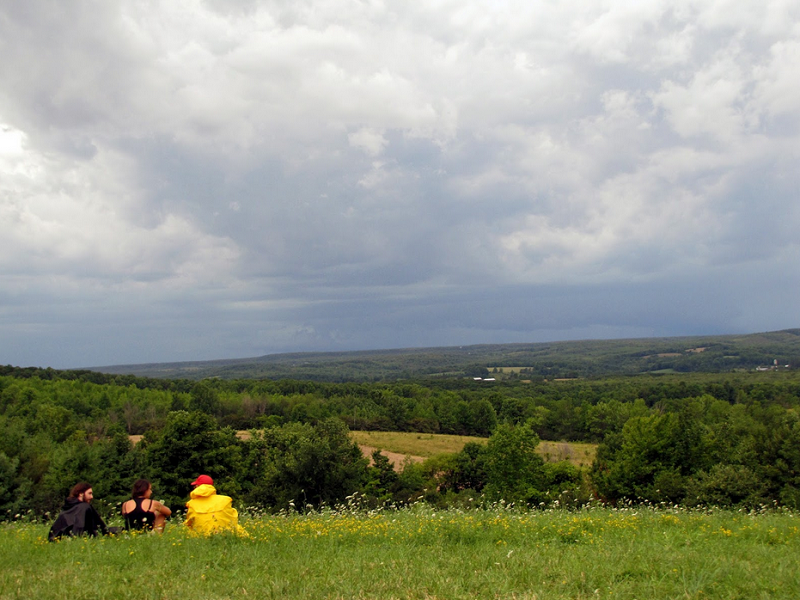 A calming moment before the end of the Festival and a tremendous downpour. Until next year friends.
De la réduction huileuse de Joshua Cwintal:
(Traduit par le sourire fatigué de Jessica Grenier)
Les paires d'oreilles réceptives étaient éparpillées entre les piliers décorés d'oursons en peluche au festival Electric Eclectics, quelque part près de Meaford, en Ontario. Les festivaliers se délectaient de drone endoctrinant et de sons réverbérant dans la cage thoracique; autant de détails personnifiant l'esprit visionnaire et convivial du rassemblement. Avec leurs installations intrigantes, des artistes capturaient les promeneurs alors qu'ils tentaient de traverser le paysage pittoresque baptisé « The funny farm ». Sous l'animation de danses nocturnes rythmées et de rires se déversant toujours plus profondément dans les profondeurs de la forêt, les nuits refusaient de mourir; et chaque jour naissant guidait son lot de visages familiers vers une rencontre où l'inconnu était la seule chose au programme.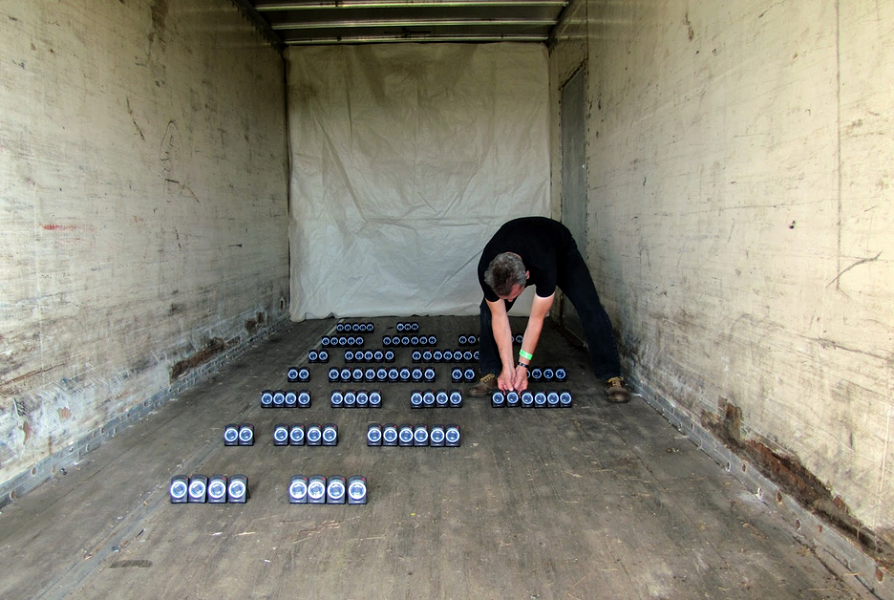 Cent métronomes – autant de battements rappelant les stridulations d'une cigale – placés de façon à reproduire la présentation d'un poème compagnon.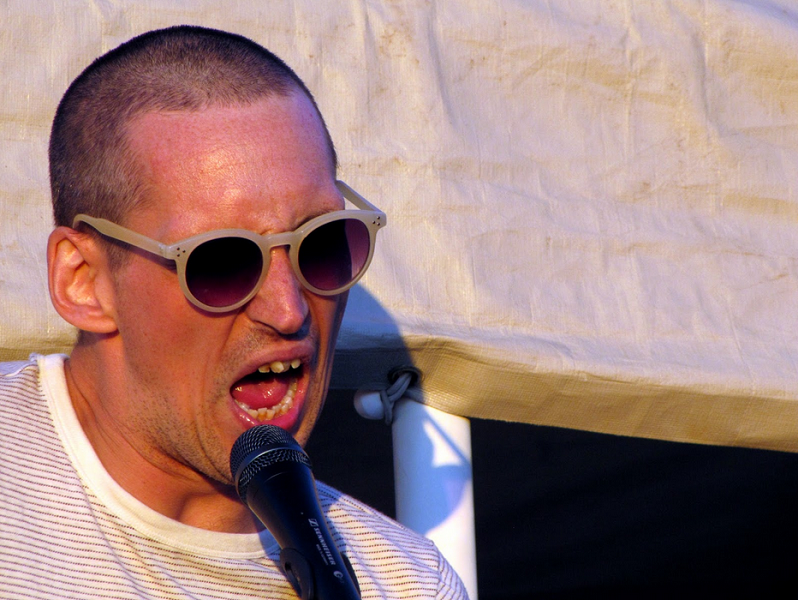 « Quelqu'un a déjà eu une démangeaison psychosomatique? » – Dave de Soupcans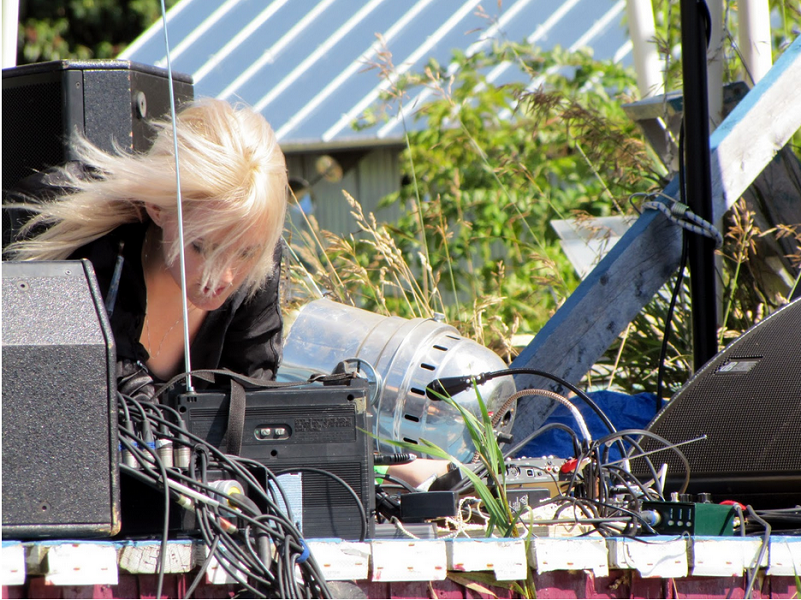 « Le Nihilist Spasm Band s'est excusé d'être passé en voiture juste à côté de la scène pendant que je jouais. Je me suis dit : "vous auriez dû rouler directement dessus, ça aurait été fou!" Et puis je n'avais pas remarqué – je n'avais pas non plus remarqué l'ambulance venue chercher un gars qui avait fait un coup de chaleur (j'espère qu'il est OK). Je n'arrivais pas à voir mon matériel : lui et moi, on a de la misère avec le soleil. » – Bridget Bardon't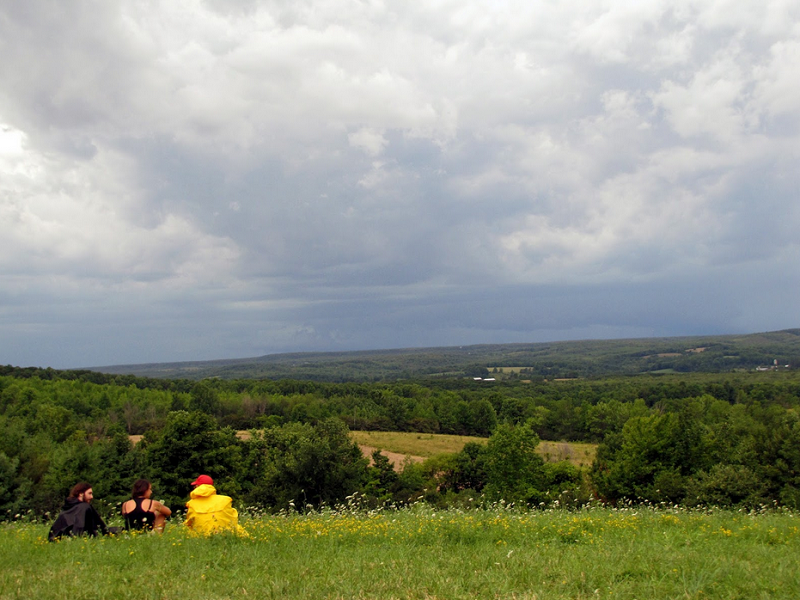 Un moment de répit avant la fin du festival (et une averse phénoménale). Au plaisir de se revoir l'année prochaine.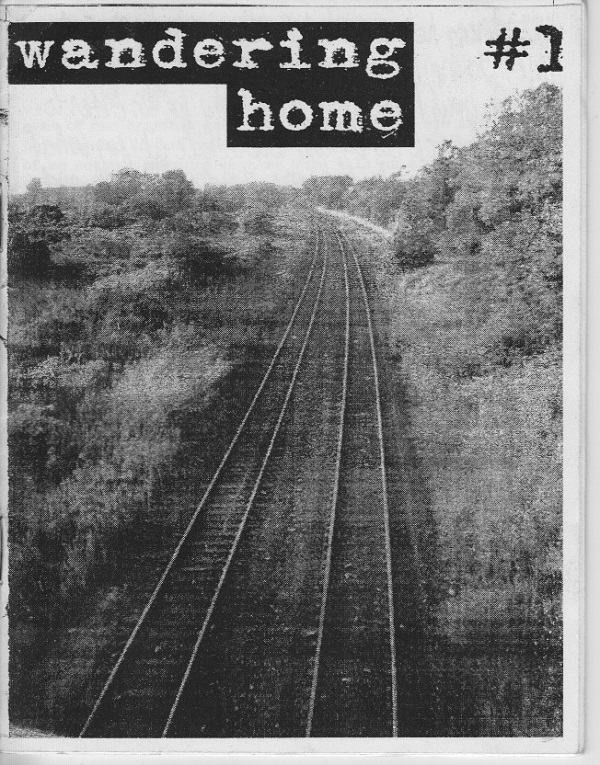 Michelle Pentland
Wandering Home #1
(Self-Published)
Niagara Falls, ON
18 pages saddle stitch stapled
From the zine-filled bedroom of Erin War:
Have you wandered before? Taken your time to get home? Stopped to pet the cats along the way? Lingered to read bits of paper tacked to telephone poles? It's not the destination that is important, but how you get there; the trip and what happens during it.
Wandering Home is based on a collection of journal entries Michelle Pentland wrote at the age of sixteen. Pentland matter of factly recounts the beauty and challenges discovered during the firsts of life – first trip across Canada, first apartment, first memories – reaching back into memory and pulling out the tiny details that make up our tiny lives – the smells, the sounds, and the good the bad feelings.
This quarter-sized zine's gritty, grainy, and cut and paste aesthetic works journal entries and internal, reflective thought into an homage of the perzine form. Wandering Home is about being present during these wanders, taking those moments (heartwarming and heartbreaking) and experiencing them in earnest because these are the bits that make up the bigger bits of our lives.
This is just the first issue of many to come.
De la chambre remplie de zines d' Erin War:
(Traduit par Kevin Godbout)
As-tu déjà erré? Pris ton temps en rentrant à la maison? Ralenti pour flatter les chats le long du trajet ou pour lire des feuilles agrafées sur les poteaux de téléphone? Ce n'est pas la destination qui compte, mais la façon de s'y rendre; le voyage et ce qui s'y passe.
Wandering Home est une collection d'entrées de journal que Michelle Pentland a écrites quand elle avait seize ans. Sur un ton neutre, elle raconte les défis et la beauté des premières — les premiers souvenirs, le premier appartement, le premier voyage à travers le Canada —, fouillant dans sa mémoire pour y puiser tous les petits détails qui composent nos petites vies — les sons, les odeurs, les bonnes émotions et les mauvaises.
Cette toute petite publication au fini granuleux et à l'apparence rapiécée transforme les textes et les pensées qui l'habitent en un hommage du style perzine. Lire Wandering Home, c'est être présent durant ces promenades, c'est prendre ces moments (qui réchauffent le cœur ou qui le brisent) et les vivre sincèrement, car ce sont tous ces petits morceaux qui composent en grande partie nos vies.
Ce n'est que le premier volume de plusieurs à venir.
---