Tag: ontario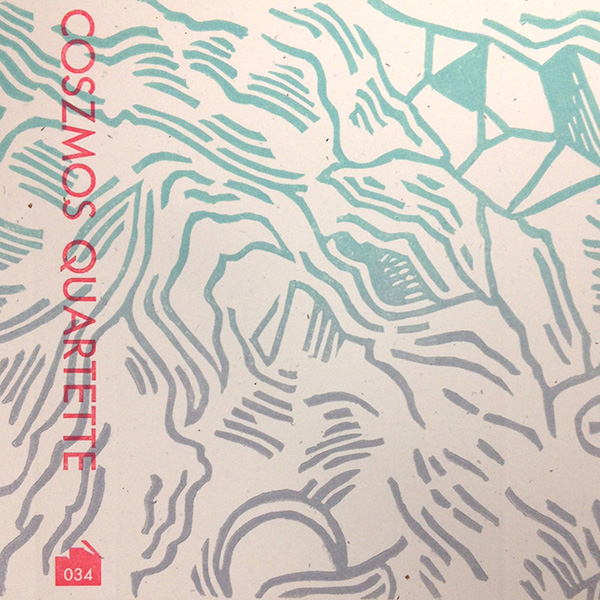 Coszmos Quartette
Coszmos Quartette
Hamilton, ON
From the breath of fire of Mike Roy:
The crash of high and low pressure systems in a late summer breeze is a meticulous design of nature. Free range of temperature and direction meld with gales oddly precise in strength. Hamilton's Coszmos Quartette operate much the same, crescendos of tranquility dance and intertwine with sweeping booms of strings and vocal harmonies. Where lead vocalist Brad Germain exhibits an immersive range that stretches the limits of scale, accompanying vocalists Joel Banks, Kate Quigley and Sara Froese deliver soothing melodies with familiar instrumentals. The combination proves undeniably powerful, but a breeze soft enough for a humble night's close.
Du souffle de feu de Mike Roy:
(Traduit par Sergio Calla)
L'écrasement des systèmes à haute et basse pression soufflant légèrement en fin d'été est une conception méticuleuse de la nature.
Une gamme libre de température et de direction se fusionnent avec des vents étrangement précis en force. Le Coszmos Quartette de Hamilton opère de la même façon. Les crescendos de la tranquillité dansent et s'entrecroisent avec les cordes et mélodies
vocales fulgurantes. Le chanteur Brad Germain démontre l'étendu de son registre vocal. Les chanteurs accompagnateurs Joel Banks, Kate Quigley et Sara Froese livrent des mélodies apaisantes avec des instruments connus. La formation se révèle incontestablement puissante, une brise assez douce pour une fin de nuit humble.
Coszmos Quartette – A Perfect Paradise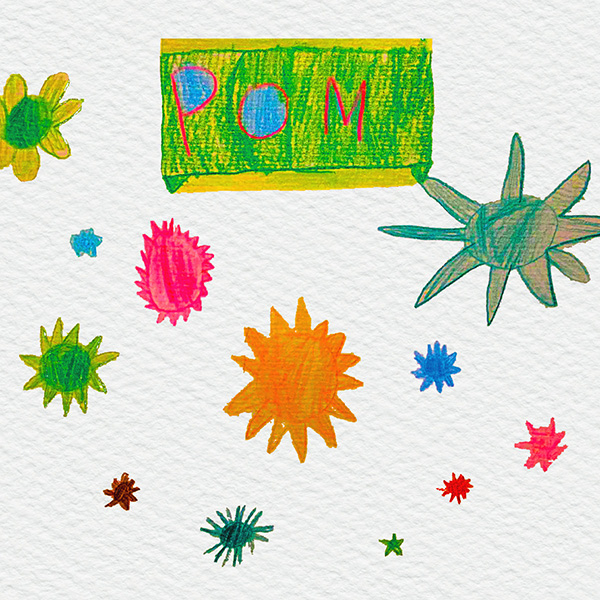 POM
POM EP
Self-released
Toronto, ON
From the archives of Mike Roi's Äppärät:
The Internet. Digital echoes become reflections of ourselves from the ideals (and flaws) of our bodies in the form of endless retweets, reactions and likes. This is nothing new, but POM find the beauty and horror lying in this relationship rallying to infinity. The syncopated rhythms of POM's instrumentals feel coolly calculated, but underscored by it all is the incongruent marriage of the real and the programmed. Its incompatibility knows no limits, but there is a thrill in the known and unknown beauty created by the shifting powers of control. "Take time to look inside – you're mine".
Archivée dans l'äppärät de Mike Roi:
(Traduit par l'encrier kaléidoscopique de Julie Mayer)
L'Internet. Les échos numériques deviennent les reflets de nous-mêmes, les idéaux (et les travers) de nos corps sous forme de gazouillis partagés, de réactions et de « J'aime » sans fin. Ça n'a rien de nouveau; POM a découvert la beauté et l'horreur se cachant derrière cette relation d'échanges à l'infini. Le duo semble avoir calculé de sang-froid sa musique instrumentale aux rythmes syncopés. Cependant, le tout met en évidence le mariage incongru du réel et du virtuel, de l'improvisation et de la programmation. Cette incompatibilité ne connaît aucune limite, mais un délicieux frisson réside dans la beauté connue et inconnue créées par le pouvoir changeant de l'emprise. « Prends le temps de regarder à l'intérieur; tu es à moi »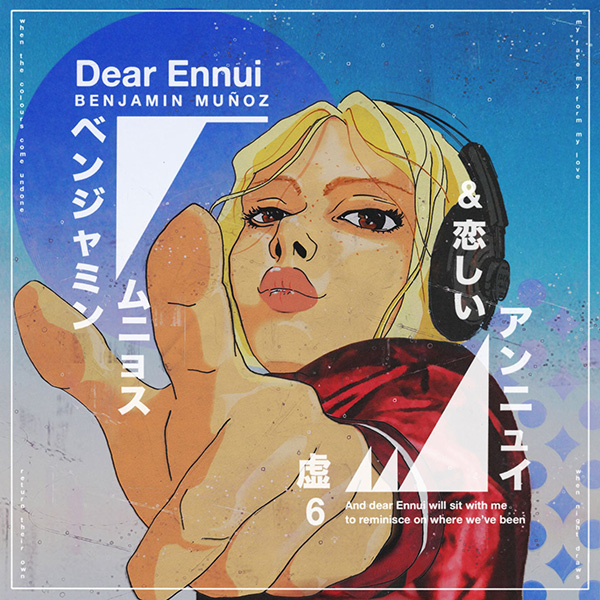 Benjamin Muñoz
Dear Ennui
Hamilton, ON
From the hygge of Rolf Klausener:
The chalky timbre of TUMS rattling in their bottle, the infinite drum roll of heavy rainfall: the right poly-rhythms have a way of both soothing us and sparking contemplation. With its heavy industrial past—echoes of primitive robots stamping out die-cast auto parts—Hamilton seemed destined to be Canada's home of arrhythmic pop. Benjamin Muñoz cobbles warm, percussive electro, where tumbling woodblocks spoon seamlessly with avant-garde jazz-breaks. Delayed pianos dovetail sampled vocals forging sweater-weather melodies. Easily at home among Berlin's Leaf Label, or Caribou's debut explorations as Manitoba, Dear Ennui offers daydream voyages on pleasantly unpredictable oceans, slave to rogue waves, and bound by no anchor.
De l'hygge de Rolf Klausener:
(Traduit par la saudade de Louis-Félix de Chevigny)
Le timbre crayeux d'un flacon de TUMS que l'on secoue, le roulement de tambour perpétuel d'une pluie battante: les bons motifs polyrythmiques apaisent et invitent à la contemplation. Avec son lourd passé industriel -lors duquel retentissait la résonance de robots primitifs martelant des pièces d'automobile moulées – Hamilton semblait destiné à être le foyer canadien du pop arythmique. Benjamin Muñoz nous concocte de l'électro percutante et chaleureuse dans laquelle s'harmonisent le wood-block et les interludes jazzy avant-gardes. Des mélodies de temps frisquet issues de l'accord entre des notes tardives de piano et des échantillons vocaux. Bien à sa place aux côtés de la maison de disque berlinoise Leaf Label, ou de Caribou à ses débuts, sous le pseudonyme Manitoba; Dear Ennui offre une rêverie de voyages sans ancre sur des eaux imprévisibles, esclave aux vagues scélérates.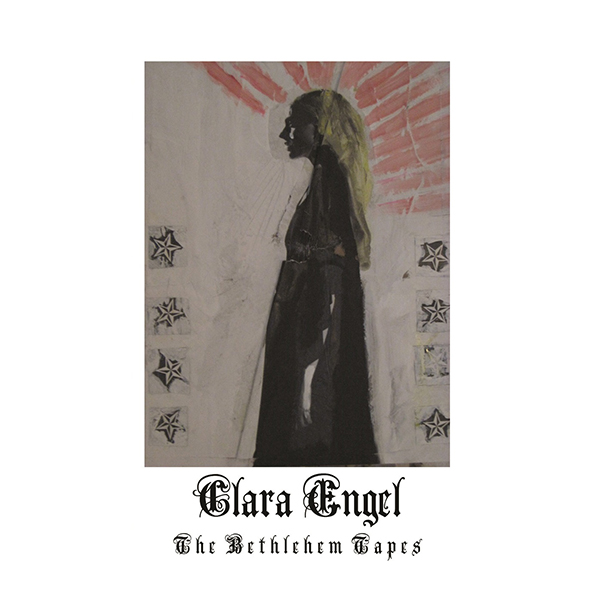 Clara Engel
The Bethlehem Tapes
Toronto, ON
From the folk noir of Joshua Robinson:
Dark lulls of quiet repose drift like so many memories in the night. Cathedrals echo with the pitter patter of a soft voice as it speaks of the space that exists between the spaces that take up the shape and form of the sounds we see behind closed eyes. The revenants that lilt from such great heights are far too misremembered to dare touch down once more. Rather, they stay in the rafters as their whispers and musky laughter fall onto the heads below, present again in the moment as they once were.
Du folk glauque de Joshua Robinson:
(Traduit par les sommets gargouillants de Marie-Pier Chevrier)
De sombres accalmies de repos tranquille dérivent comme autant de souvenirs dans la nuit. Les cathédrales résonnent du tapotement de la douce voix qui raconte l'espace existant entre les espaces ayant la taille et la forme des sons que l'on voit les yeux fermés. Les revenants qui se dandinent de ces hauteurs vertigineuses ont bien trop sombré dans l'oubli pour oser redescendre une fois de plus. Ils restent plutôt dans les poutres d'où leurs murmures et leurs rires musqués tombent sur les têtes plus bas, présents encore pour un moment tels qu'ils l'ont déjà été.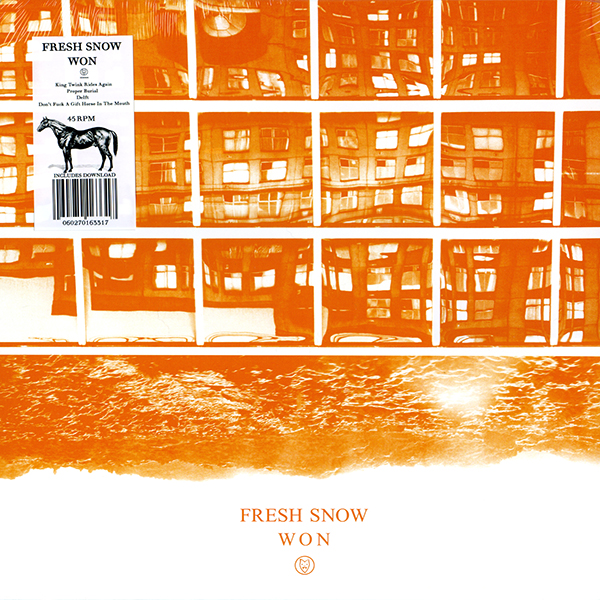 Fresh Snow
WON
Toronto, ON
From the frozen technology of Brendan Lehman:
City streets, forest paths; in and out, up and down. Running from one dirty thrill to the next euphoric hell. Fresh Snow is the score to your chase, sprinting with you as the graceful noise tears down walls and trees alike. Yet still, the sun will rise tomorrow.
De la technologie gelée de Brendan Lehman:
(Traduit par le soleil pensif de Maya Keshav)
Les rues de la ville, les chemins forestiers; ici et là, en haut et en bas. En courant d'un frisson louche vers le prochain enfer euphorique. Fresh-Snow est la bande sonore de ta chasse, qui court à toute vitesse avec toi pendant que les bruits gracieux démolissent les murs et les arbres. Mais tout de même, le soleil se lèvera demain.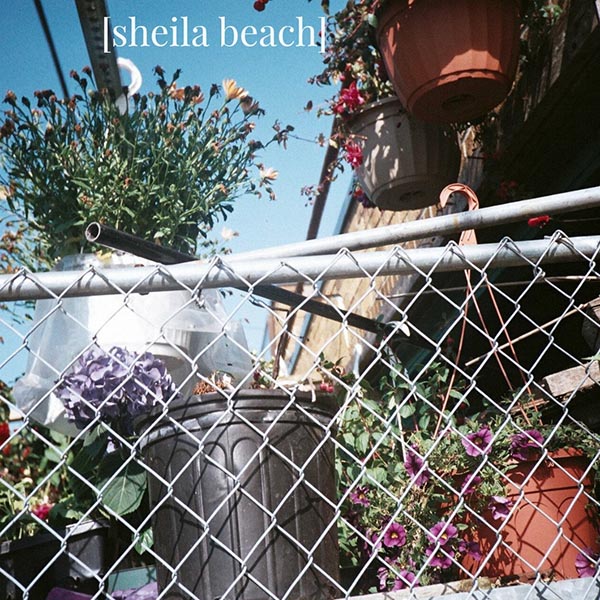 Sheila Beach
Walk Home
(Self-Released)
Peterborough, ON
From the suburban submarine of Mike Roy:
Taking cues from their other projects in The Lonely Parade and Faux Cults, young Peterborough innovators Charlotte Dempsey and Luca Mo spread their undeniable chemistry over the length of Sheila Beach's "Walk Home". Their crunchy and gravelly stride strikes a DIY approach to finely tuned pop gems with results as warm, earnest and glossy as a memory of teenage romance. The album standout "Wally M" is playfully ephemeral like the gentle caress of an unassuming summer love, washing waves of feedback through messy hair and rosy cheeks.
Du sous-marin de banlieue de Mike Roy:
(La chimie indéniable de Odile Leclerc)
Suivant l'exemple de leurs autres projets dans The Lonely Parade et Faux Cults, les jeunes innovateurs de Peterborough, Charlotte Dempsey et Luca Mo, répandent leur indéniable chimie sur tout de "Walk Home" par Sheila Beach. Leur foulée crissante et graveleuse frappe une approche DIY aux joyaux de la pop avec des résultats aussi chaleureux, sincères et reluisants qu'un souvenir d'une romance d'adolescent. Le remarquable album "Wally M'' est joyeusement éphémère comme la douce caresse d'un amour d'été modeste, faisant des vagues de réactions qui se brisent à travers des cheveux en bataille et des joues rosées.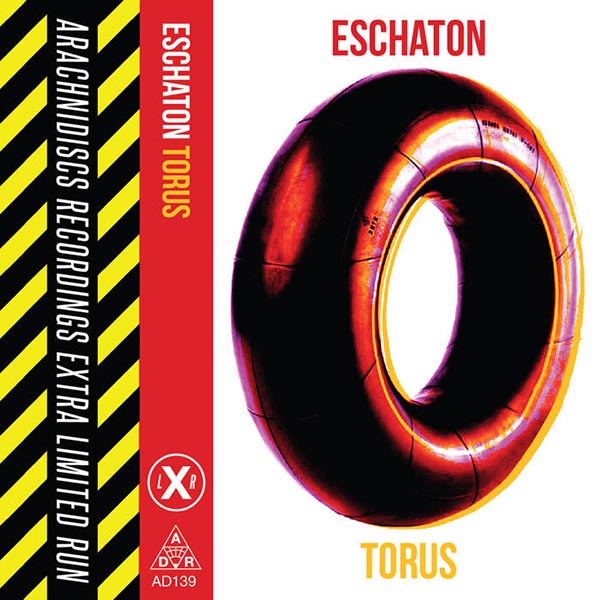 Eschaton
Torus
Hamilton, ON
From the Coffee Sweats of Bobby Andrews:
The hypnotic nature of dreaming, softly re-etched within Eschaton's album Torus, calls for a careful ear from the listener. Through provocative distortion and trill tones, this album takes the consciousness on an extended lucid dream, birthed through musical improvisation. An experience of expertly-crafted beats created by architects of both ear and the mind. E, emotional chaos ensues as the senses meet in an eruptive ballet. Restless tunes of intense dissonance are quickly followed by immense solace as the album's narrative shakes the eardrum.
De la sueur de café de Bobby Andrews:
(Traduit par les trilles douces de Maya Keshav)
La nature hypnotique du rêve, doucement regravée dans l'album Torus d'Eschaton, demande une oreille méticuleuse de l'auditeur. Grâce à la distorsion provocatrice et aux tons de trille, cet album prend amène la conscience dans un rêve lucide prolongé, auquel l'improvisation musicale a donné naissance. Une expérience de rythmes fabriqués de mains expertes qui est créée par les architectes de l'oreille et de l'esprit. Le chaos émouvant s'ensuit au fur et à mesure que les sens se retrouvent dans un ballet éruptif. Le réconfort immense suit rapidement les mélodies agitées de la dissonance intense alors que le récit de l'album agite le tympan.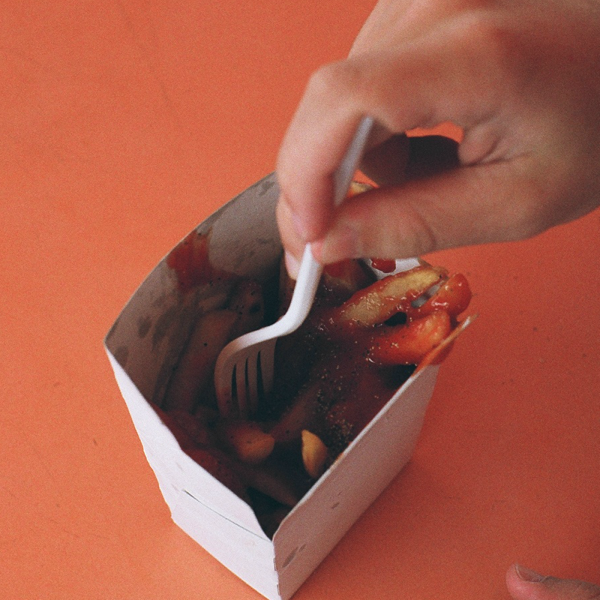 LA ROSE
lean period
(Self-Released)
Toronto, ON
From the scraped knees of Joshua Robinson:
Bedroom sophistry unfurls late-night curlicues, its lo-fi heartache screaming synthesized apologies that bounce off walls to rest, at long last, in the deepening emptiness of the space between weary ears. A catalogue of downtrodden pop-plunderphonics that bleed soft-spoken requiem; these entries are retreating voices and cigarette smoke, turning bright and polished daydreamed lovery into pale, ghostly, mournful parables. Intoned sepia dreams; clouded glasses and knees scraped against sharp pavement. The answer to the echoes that dance upon an upside down stage eyes hooked to the shadows that move across quiet ceilings.
Des genoux râpés de Joshua Robinson:
(Traduit par les roucoulades douces de Maya Keshav)
Le sophisme d'alcôve déroule des enjolivures nocturnes, pendant que son chagrin lo-fi hurle des excuses synthétisées qui rebondissent sur les murs jusqu'à ce qu'elles se reposent, enfin, dans le vide de plus en plus grand entre des oreilles fatiguées. Un catalogue des pop-plunderphonics opprimés qui dispersent le requiem doux; ces entrées sont des voix en retraite et de la fumée de cigarette qui transforment les roucoulades rêvées brillantes et bien polies en paraboles pâles, spectrales, et funèbres. Les rêves sépia entonnés; la buée sur les lunettes et les genoux égratinés par la chaussée rugueuse. La réponse aux échos qui dansent sur une scène à l'envers, les yeux rivés aux ombres qui se déplacent sur les plafonds silencieux.
Electric Eclectics

July 29th – 31st, 2016

Various Artists
Meaford, ON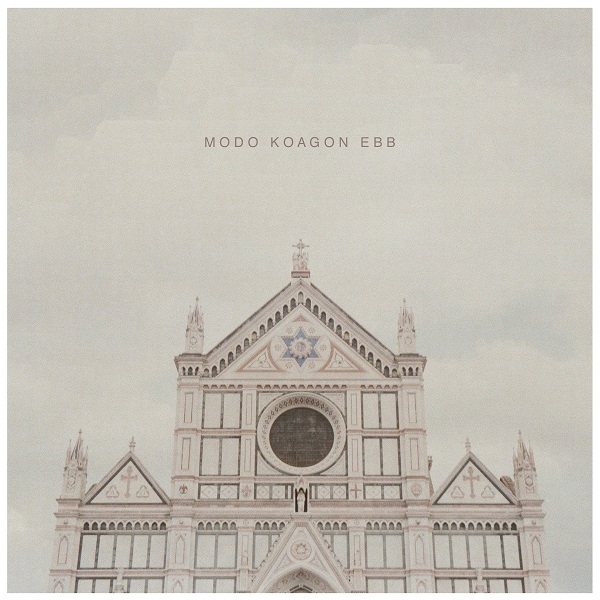 Modo Koagon
Ebb
(Self-Released)
Guelph, ON
From the last breath of Heather Lune:
The field recordist curls up after a long life and goes to sleep. The moment – the fall – the rise – the bridge – the break – eternally suspended in the midst of infinite sound.
A toy xylophone, screaming shoreline wind, liquid sliding on skin, dead radio whirling the drain, while stirring the spoon chinks the glass, razors buzz, the jazz cd skips, the car and the sound the land makes as you pass through it, insects in trees, blades on ice, the gutters melting, tapping typewriter, the beep of the life support machine, the clock on the wall.
You discover the moment of death – that split second before the jump, forever.
Du dernier souffle de Heather Lune:
(Traduit par le gargarisme salé de Julie Mayer)
Le preneur de son se pelotonne après une longue vie et s'endort. L'instant – la chute – l'ascension – la transition – la rupture – l'homme est éternellement suspendu au milieu d'un son infini.
Un xylophone jouet, le hurlement du vent en provenance du rivage, le glissement d'un liquide sur la peau, une radio à plat s'écoule en tourbillons par la bonde, la cuillère fait tinter le verre lorsqu'on la remue, des rasoirs qui bourdonnent, le CD de jazz saute, l'auto et le son que la terre produit alors que vous passez dessus, les insectes dans les arbres, des lames de patin sur la glace, des gouttières fondent, les bruits de frappe d'une machine à écrire, les bips de l'appareil veillant au maintien des fonctions vitales, l'horloge accrochée au mur.
Vous découvrez l'instant de la mort – cette fraction de seconde avant le grand saut, à jamais.
Modo Koagon – Ebb (For Wilhelm and Ellen)
---