Tag: omon ra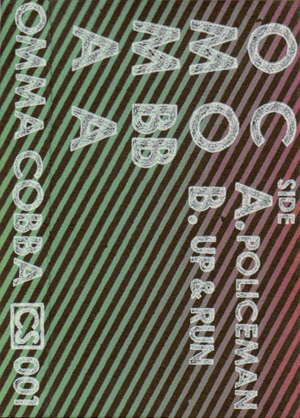 OmmaCobba
Police Man b/w Up & Run
Halifax, NS
From the secret police of Aaron Levin:
It's been a year since I received a humble e-mail from OmmaCobba containing a soft-focus view into the paranormal meanderings of an ex-OmonRa marijuana ensemble. Finally, languishing within my grip is a cassingle dripping in organ-driven low-end and dazzling rhythm. With a lysergic drawl that engulfs a fantastic journey through trans-planar mellow, OmmaCobba tweak you into a new wavelength of future-hippie regalia. All of it tightly packaged in a silk-screened cassingle care of Craft Singles. GRIP.
De la police secrète d'Aaron Levin: (Traduit par le voyage merveilleux de Maya Keshav)
Ça fait un an que j'ai reçu un courriel humble d'OmmaCobba qui contenait une vue flou artistique des vagabondages paranormaux d'un ensemble ex-OmonRa de marijuana. Enfin, languissant dans mon poing est une cassingle trempée de l'orgue low-end et des rythmes éblouissants. Avec un accent lysergique qui engloutit un voyage merveilleux à travers plusieurs planètes moelleuses, OmmaCobba te portent à une nouvelle longueur d'ondes de tenue hippie-future. Tout ça fermement emballé dans une cassingle sérigraphiée aux bons soins de Craft Singles. ACHÈTE-LE.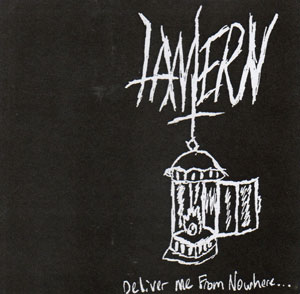 Lantern
Deliver Me From Nowhere…
Montreal, QC // Halifax, NS // Philadelphia, PA
From the brotherly love of Gabriel Jasmin:
Lantern is the duo of Zachary Fairbrother and Emily Robb, two recent Canadian expats gone to the City of Brotherly Love. Wait, are we violating Weird Canada rules? Well, I'm sure both still have Canadian passports, and this first offering is too rad to pass up. Six songs taking cues from early American folk and blues, from desolate quietness to a harmonica call and response to the blown-out fuzz-wah meltdown in "Crude Vessels of Sound." A grand foray into guitar-fueled proto-punk and psychedelic blues, Hasil Adkins cover included.
De l'amour fraternel de Gabriel Jasmin:
(Traduit par Odile Leclerc)
Lantern, c'est le duo Zachary Fairbrother et Emily Robb, deux expatriés canadiens partis vers la Ville de l'Amour Fraternel. Mais pardieu, brisons-nous vraiment les règles de Weird Canada ? Oui, peut-être, mais ils ont encore leur passeports canadiens. Aussi faut-il savoir que cette première cassette est trop savoureuse pour rester silencieux. Six compositions qui empruntent au folk et au vieux blues américain, où l'on passe de la solitude désolante à l'harmonica jusqu'au fuzz-wah anéantissant de << Crude Vessels of Sound >>. Carburant à la guitare, c'est un beau retour aux sources du proto-punk et du blues sauce psychédélique, cover de Hasil Adkins inclus.

Lantern – Crude Vessels of Sound

Lantern – Let's Take a Trip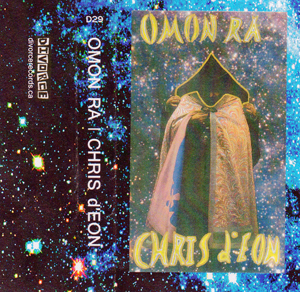 Omon Ra // Chris d'Eon
Omon Ra // Chris d'Eon
Vancouver, BC
Aaron Levin:
Divorce Records found an odd paring between Omon Ra and Chris d'Eon. In what will likely become a flag-ship release within Canada's psychedelic tapestry, we (finally) see the benefits of our quilting of culture. Within both sides of this cassette are woven threads of proven psychedelic fybre: Chris d'Eon channeling streams from the Eastern source and Omon Ra from the western rhythmic pop-lysergia. Chris d'Eon occupies the entirety of Side A with a long, progressive track based around (what I'm assuming is) guitar, tabla, and sitar. It's a classic trip that reaches quick perfection as it touches on John Fahey, Sandy Bull, and Shawn Philips, amongst other masters of the folk communion. Side B captures Omon Ra conjuring ethereal, western acid with layered vocals, distorted drones, and subdued-pop. It's catchy, droney, vaguely-emotional, and a certified trip. Omon Ra will become a leading creative mind in Canada and I'm assuming there's a lot more at the source. Grip it before it's sold out and let it resonate with the subtleties of your subconscious, causing vibrations within your inner-mind; channel the stars, night, and that weird star-wars looking dude on the cover. Recommended for late-night listening. Alone.
Aaron Levin:
(Traduit par les oreilles contentes de Maya Keshav)
Divorce Records a trouvé un jumelage bizarre entre Omon Ra et Chris d'Eon. Avec ce qui va probablement devenir un enregistrement vedette de la fresque psychédélique du Canada, on voit (finalement) les avantages de notre matelassage de la culture. Sur les deux côtés de cette cassette il y a les fils tressés de la fibre prouvée d'être psychédélique: Chris d'Eon fait couler les flots d'une origine orientale alors que Omon Ra est inspiré par le pop-LSD rythmique occidental. Chris d'Eon prend l'entier de face A avec un morceau longue et progressif construit autour (je suppose) de la guitare, du tabla, et du sitar. C'est un voyage classique qui atteint rapidement la perfection quand il touche John Fahey, Sandy Bull, et Shawn Philips, parmi des autres maîtres de la communion trad. À la face A, Omon Ra fait fait apparaître l'acide occidental aérien avec les couches de chant, les drones déformés, et le pâle-pop. C'est entraînant, dronesque, vaguement-émouvant, et un trip certifié. Omon Ra sera un génie créatif éminent au Canada et je suppose qu'il y a beaucoup plus à la source. Achète-le avant qu'ils soient tous vendus et laisse-le résonner avec les subtilités de ton subconscient; fait acheminer les étoiles, la nuit, et ce gars bizarre à l'air star-wars sur la couverture. Recommandé pour l'écoute en nocturne. Tout seul.
Omon Ra – It's So Nice To See You All Again
---