Tag: old and weird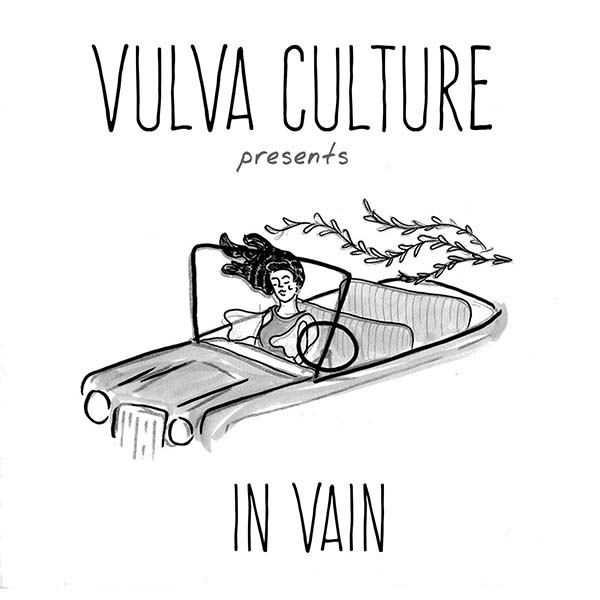 Vulva Culture
In Vain
(Self-Released)
Halifax, NS
From the academically distracted delerium of Caleb John Schriver:
Vulva Culture's In Vain syndicates the eerie, melodic, and anxious sound of Halifax's North End district. Early shoegaze and doo wop jazz meet at the Lynchian Road House in a fly-by-night covert romance.
Reverberating guitar riffs and operatic vocals ring out like rusted springs of old furniture, where reclining rhythms wear on your posture. In Vain is a safe haven for emotional deluge, an incubator of familiar comfort built by somber feelings and propelled by the beauty found in coming to terms with what ails you.
Du délire académiquement distrait de Caleb John Schriver:
(Traduit par le fredonnement anxieux de Mathieu Bédard )
In Vain de Vulva Culture regroupe les sonorités étranges, mélodieuses et anxieuses du quartier North End d'Halifax. Du shoegaze primitif et du jazz doo wop se rencontrent dans un bar routier lynchien, le temps d'une romance illicite et secrète.
Les riffs de guitare réverbérés et les chants lyriques retentissent comme les ressorts rouillés de vieux meubles, dont les rythmes inclinables usent votre posture. In Vain est un abri sécuritaire pour déluge émotionnel, un incubateur de réconfort familier construit en hébergeant des sentiments perturbés, propulsé par la beauté qu'on trouve à accepter ce qui fait mal.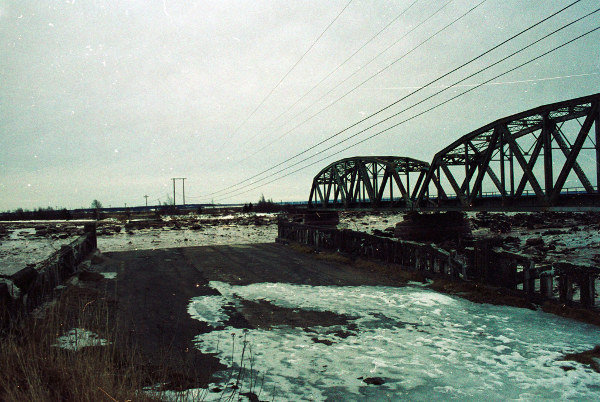 Stereophonic 12
January 22-24
Sackville, NB
Photo: Colin Medley
From the snow-flecked eyebrows of Kevin Brasier:
Stereophonic, is a winter fundraiser/hellraiser for Sackville's community station, CHMA 106.9FM. If you've ever wondered "what's in that Sackville water" that produces the finest bands in the land, the answer is CHMA's FM-freakuencies. Stereophonic is how Sackville says thank you to CHMA for offering the community free postering services, PA equipment for shows, and much more. Far from an ordinary fundraiser– co-directors Scott Brown and Ilse Kramer (also bandmates in the mighty Kappa Chow) are throwing a three-day rager featuring musical legends from bag-town and beyond including Astral Gunk, Bry Webb, Old and Weird, and Monomyth. Check out the release video for the full-line up, and listen to the festival mix-tape to preview the sweetest sounds of the marshes.
Des sourcils parsemés de flocons de neige de Kevin Brasier:
(Traduit par le nez incandescent de Jessica Grenier)
Stereophonic est une collecte de fonds infernale/hivernale pour la station radio communautaire de Sackville, CHMA 106.9FM. Si vous vous êtes déjà demandé ce qu'il y a dans l'eau de la ville pour qu'elle produise les meilleurs groupes du pays, la réponse se trouve dans les freakences de CHMA. Stereophonic, c'est aussi Sackville qui dit merci à CHMA pour le service d'affichage qu'elle offre gratuitement à la communauté, l'équipement de sonorisation lors des spectacles, et bien d'autres choses encore. Stereophonic est loin d'être un spectacle-bénéfice ordinaire : les codirecteurs Scott Brown et Ilse Kramer (aussi membres du grandiose Kappa Chow préparent une fête de trois jours avec des légendes de la musique povenant de la ville ou d'ailleurs, comme Astral Gunk, Bry Webb, Old and Weird et Monomyth. Regardez l'annonce vidéo pour savoir la programmation et écoutez la cassette du festival pour vous donner un aperçu des meilleurs sons du marécage.
1 Best Fiends – "Uh Huh"
2 Zakary Slax – "Remains"
3 Monomyth – "Candleholder"
4 Coach Longlegs – "Baycation With You"
5 Klarka Weinwurm – "TMSB"
6 Bry Webb – "Prove Me Wrong"
7 Corey Isenor – "Beneath The Bramble"
8 Jon Mckiel – "I Know, I Know"
9 Astral Gunk – "Astral Theme"
10 Heaven For Real – "Hard Done By"
11 Union Suit – "Delirious Vista"
12 Adam Mowery – "Follow Me To The Bottom*"
13 The Kavorkas – "The Grocery Store (demo)*"
14 Old and Weird – "She Seems Stressed"
15 Legendary Golden River Show Band – "Stay Yonder (Honeysuckle)"
16 Zachary Lucky – "Salty Air"
17 Old Bones – "I Can See Through You*"
18 Painful Shivers – "Blu"
* denotes that the track is unreleased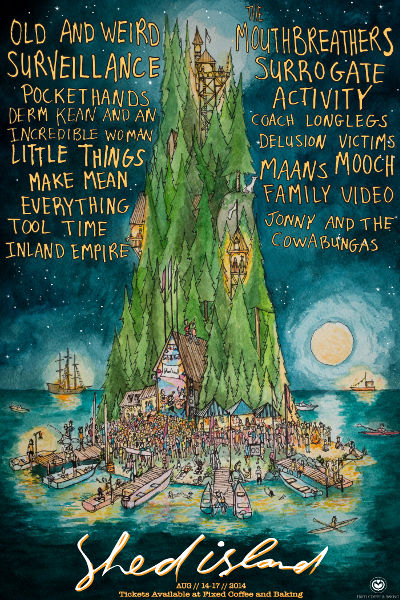 Shed Island
St. John's, NL
From the motivational transition of James Colin Graham:
Shed Island is a music festival running in St. John's this summer from August 14th to 17th. It features some familiar East Coast faces, as well as a delectable local presence, and even a contingent from Massachusetts. Here's what we needed to know about it:
What's motivating your transition from booking small shows for those you know to booking a festival for the population at large?
A) We get to expose local bands that we think are often undersung to a broader audience, both locally and nationally. B) We get to bring in bands, both old and new, who we enjoy and would like to meet (but can't wait until they tour eastwards (nobody ever tours eastwards). C) The thrill of creating something and seeing how people respond.
One advantage of small, self-promoted shows is the intimacy between the artists, the promoters, and the audience. How do you plan on scaling up what you enjoy about DIY culture for this bigger setting?
Instead of feeling like a movement away from DIY culture, the whole process of putting together a music festival of this nature hasn't felt out of touch with the way we normally promote shows. Aside from some logistical stuff that we've never done before (such as producing tickets), we're still just attempting to put off a show using our regular frame of reference as to what makes for a fun show. The larger nature of a music fest just means it's possible that more people than normal might come out and enjoy themselves. Scaling up just means reaching out and making space for those new people.
You organized a series of shows/events to raise funds to get Shed Island off the ground. Why not seek out government funding or sponsorship like many other music festivals?
It just seems easier to ask the people that might be interested in your festival to help you support its creation, rather than a disengaged party. It's not that we oppose grants or sponsorship, it's that we don't see them as necessary facets of what we want to do. Plus, government grants are uncertain and take time (we organized this festival in a couple months), while any local business that would support our festival probably deserves some compensation for their money. At least in looking to our local music scene to raise funds, we can recompense with even more music and shows. Which is the whole point of doing this in the first place.
Lightning Round: Many potential festivalgoers haven't heard any of Shed Island's performers before. Give us a synopsis of what people can expect from every artist. Only five words apiece. Get us excited!
The Mouthbreathers: Hooky guitar rock with punk backbeats.
Surveillance: Lo-fi + noisy but not unmelodic.
Old and Weird: Kinda makes you wanna dance/cry.
Coach Longlegs: "Children's music" for adults. Fun.
Tool Time: Five words can't describe genius.
Surrogate Activity: Seminal fest reunion band. Stoked.
Family Video: So many emotions at once.
Make Mean Everything: Super tight mathy pop tunes.
Pockethands: Never stopped listening to lifetime.
Little Things: Cathartic blend of emo and pop.
Mooch: Find yourself inexplicably headbanging. Hard.
Derm Kean and an Incredible Woman: Mesmerizing performers, trance-inducing jamband.
Delusion Victims: Sweet and sour riff rock.
MAANS: Power pop that incites to dance.
Inland Empire: Shoegazey rock two piece outfit.
Jonny and the Cowabungas: Stoned and surfy, also bongos.
De la transition motivatrice de James Colin Graham:
(Traduit par Andréanne Dion)
Shed Island est un festival de musique qui aura lieu à St-John cet été du 14 au 17 août. Le festival nous présente des visages familiers de la côte Est, ainsi qu'une délicieuse présence locale, et même un contingent du Massachusetts. Voici ce que vous devez savoir au sujet de Shed Island:
Qu'est-ce qui motive votre transition entre booker des petits spectacles pour vos amis et booker un festival pour la population en général?
A) Ça nous donne la chance de promouvoir des groupes locaux qui sont souvent méconnus par le public, autant au niveau local qu'international. B) On peut faire venir des groupes, vieux ou nouveaux, que nous aimons et que nous aimerions rencontrer (on ne veut pas attendre qu'ils viennent en tournée dans l'Est, personne ne fait jamais de tournée dans l'Est). C) Le plaisir de créer quelque chose et de voir comment les gens y répondent.
Un des avantages des petits spectacles dont vous faites la promotion vous-même est l'intimité entre les artistes, les promoteurs et le public. Comment avez-vous l'intention d'adapter ce que vous aimez de la culture DIY dans un cadre plus grand?
Nous n'avons pas l'impression de nous éloigner de la culture DIY, l'organisation d'un festival de musique comme Shed Island ne nous semble pas très différente de la façon dont on fait habituellement la promotion de spectacles. À part quelques trucs logistiques que nous n'avions jamais fait avant (comme produire des billets), on tente de mettre sur pied un spectacle en utilisant nos références habituelles quant à ce qui donne un bon spectacle. La grosseur d'un festival de musique veut simplement dire que c'est possible pour plus de personnes de venir s'amuser avec nous. Ça veut simplement dire qu'on doit faire de la place pour accueillir ces nouveaux spectateurs.
Vous avez organisé une série de spectacles et d'évènements pour collecter des fonds afin de faire de Shed Island une réalité. Pourquoi ne pas chercher à avoir des subventions gouvernementales ou des commandites comme bien d'autres festivals de musique?
Ça semblait plus facile de demander à ceux qui s'intéressaient à notre festival de nous aider à soutenir sa création, plutôt que de demander à des gens indifférents. Ce n'est pas qu'on s'oppose aux subventions ou aux commandites, c'est plutôt qu'on ne les considère pas comme un aspect essentiel de ce que l'on veut faire. De plus, les subventions gouvernementales ne sont pas sûres et elles prennent du temps (nous avons organisé ce festival en quelques mois), et les entreprises locales qui seraient intéressées à commanditer notre festival mériteraient probablement un dédommagement pour leur argent. En se tournant vers notre scène locale pour collecter des fonds, on peut leur donner encore plus de musique et de spectacles. C'était ça l'objectif en premier lieu.
Ronde éclair: Beaucoup de festivaliers potentiels n'ont jamais entendu parler des artistes qui seront à Shed Island. Donnez-nous un aperçu de ce à quoi l'on peut s'attendre de chacun des artistes. Donnez-nous envie!
The Mouthbreathers: Guitares accrocheuses avec un fond punk.
Surveillance: Lo-fi et bruyant, mais mélodique.
Old and Weird: Ça vous donne envie de danser/pleurer.
Coach Longlegs: De la musique pour enfants, pour adultes. Amusant.
Tool Time: Cinq mots ne suffisent pas à décrire leur génie.
Surrogate Activity: Un groupe fondateur se réunit.
Family Video: Tellement d'émotions à la fois.
Make Mean Everything: Des chansons pop super tight.
Pockethands: Jamais arrêté d'écouter Lifetime.
Little Things: Mélange cathartique de emo et de pop.
Mooch: Vous vous secouez la tête. Violemment.
Derm Kean and an Incredible Woman: Des interprètes hypnotiques, des jams qui vous font entrer en transe.
Delusion Victims: Du rock aigre-doux.
MAANS: Du power pop qui fait danser.
Inland Empire: Un duo de rock shoegaze.
Jonny and the Cowabungas: Surfeurs défoncés, et aussi bongos.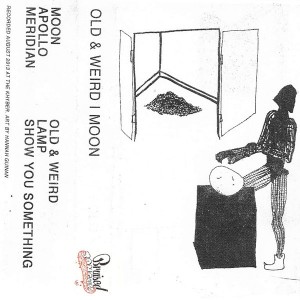 Moon // Old and Weird
Split
Halifax, NS // Halifax, NS
From the prime meridian of Josh Silver:
This split release from Bruised Tongue is a musical juxtaposition. Moon's jangly guitars materialize visions from another world as sparkling cymbals clash, taking the listener on a trip through spaces of both resonance and dissonance. On side two, Old and Weird provides an off-kilter complement with narrative songs of young life. The music flows in the same fashion as the story contained in the lyrics; floating guitars and vocals held in place by a punching rhythm section. In only four songs, these complexities and contradictions create a rich experience, leaving you wanting more.
Du premier méridien de Josh Silver:
(Traduit par Jan Karza)
Le dernier split cassette de Bruised Tongue est une juxtaposition musicale. Les guitares cacophoniques de Moon matérialisent des visions d'un autre monde tandis que des cymbales étincelantes se repercutent, faisant voyager l'auditeur à l'intérieur d'espaces de résonance et de dissonance. Sur le deuxième côté, Old and Weird fournit un complément décalé avec des chansons narratives d'une jeune vie. La musique coule de la même manière que l'histoire contenue dans les paroles; des guitares et des voix flottantes, maintenues en place par une section rythmique coup de poing. En seulement quatre chansons, ces complexités et contradictions créent une expérience riche, vous laissant sur votre faim.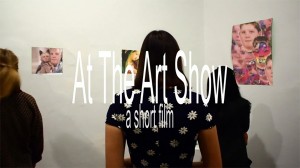 From the goshdarn gallery of Jared Majeski:
As a landlocked Albertan since birth, oceanic inspirations remain an elusive distance. What's it like growing up near the sea? Halifax director Heather Rappard departs from her grainier, art house experiments for a spin-the-bottle-awkward trip to gallery with fellow Haligonian creative types, Old and Weird. Mildly Lewisian in its goshdarn playfulness, "All of My Friends" sums up everything wrong with our generation in the only way possible: booze, art and internet memes. But hey, what do all the squares in the world know anyway? Like the gals tell us: "As long as I'm happy I'll be happy…er, whatever."
De la folie extatique d'Jared Majeski:
(Traduit maladroitement par Andréanne Dion)
Pour un Albertain enfermé dans les terres depuis sa naissance, les sources d'inspirations océaniques demeurent à une insaisissable distance. Comment est-ce que de grandir près de la mer? Heather Rappard, la réalisatrice d'Halifax, s'éloigne de son style granuleux et expérimental en faveur d'un voyage à la galerie d'art (qui s'avère être aussi embarrassant qu'une partie de jeu de la bouteille) avec des créatrices elles aussi Haligoniennes, Old and Weird. Passablement Lewisien dans son sacré enjouement, "All of My Friends" résume tout ce qui ne va pas avec notre génération de la seule façon possible : à force d'alcool, d'art et de mèmes internets. Mais hé, qu'est-ce que tous les gens assommants du monde savent de toute façon? Comme les filles nous le disent : "As long as I'm happy I'll be happy… er, whatever."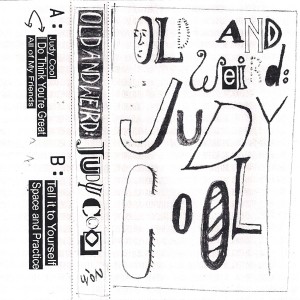 Old and Weird
Judy Cool
(Self Released)
Halifax, NS
From the oscillating fan of Brennan McCracken:
Grounded by a concrete rhythm section, the newest cassette from Halifax's Old and Weird saunters by in a breeze of pastel melodies and saccharine vocals. These 13 minutes are deliciously cool, like early evenings in July when shadows are swollen, colours are tenebrous and dandelions are indiscernible from distant sunflowers. The tape is filled with oblique highs, but the featherweight "All of My Friends" stands above the rest. Slyly catchy, no-frills pop at its finest.
Du ventilateur oscillant de Brennan McCracken:
(Traduit en chantant, par Juitch)
Basée sur des parties rythmées en béton, la nouvelle cassette du groupe haligonien Old and Weird se balade dans une brise de mélodies pastelles et de voix sucrées à la saccharine. Ces 13 minutes sont délicieusement fraîches, comme une fin d'après-midi de Juillet, où les ombres s'allongent, les couleurs s'assombrissent et les pissenlits se confondent au loin avec les tournesols. La bande est remplie de hauts obliques, mais le morceau poids plume "All of My Friends" se démarque du reste. Le meilleur de la pop discrètement entraînante et sans superflu.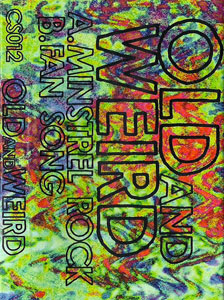 Old and Weird
Minstrel Rock b/w Fan Song
Halifax, NS
From the fan death of Jesse Locke:
The hypercolor sleeve of this cassingle is at odds with the understated pop contained within. Like sonic compatriots Brave Radar the moves here are delicate, floating freely between any particular sound or style with the softest layer of peachfuzz coating the low end of "Fan Song." All the ramshackle sweetness you need in less than three minutes.
De la mort d'un admirateur de Jesse Locke: (Traduit par le jus de Maya Keshav)
La couverture hypercoloriée de cette cassingle est en désaccord sur la pop discrète qui est dedans. Comme les compatriotes soniques Brave Radar, les pas ici sont délicats, en volant librement entre n'importe quel son ou style avec la couche la plus douce du duvet de pêche enrobant le bout en bas de "Fan Song". Toute la douceur délabrée que t'en as besoin en moins de trois minutes.
---