Tag: odonis odonis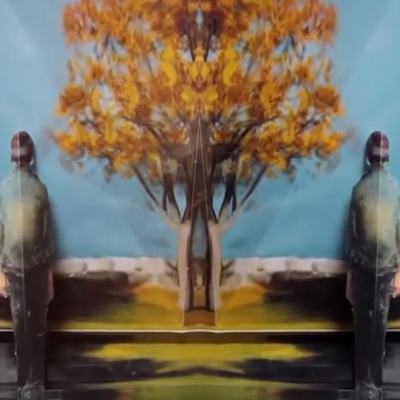 Odonis Odonis
Angus Mountain
Directed by: Jesse Yules
Toronto, ON
From the mirror mitosis of Nick Smith:
Jesse Yules makes the static dynamic. A three-part play of dualities: arching our relationships with ourselves, others and nature. Leave your kaleidoscope at home and follow the movements of these folded paintings as we climb the mountain.
De la mitose de miroir de Nick Smith:
(Traduit en solidarité par Nadine Tkatchevskaia)
Jesse Yules rend le statique dynamique, une pièce de thèâtre en trois parties remplie de dualités: traçant nos relations avec nous-mêmes, avec les autres et avec la nature. Laissez votre kaléidoscope à la maison et suivez les mouvements de ces peintures pliées en grimpant la montagne.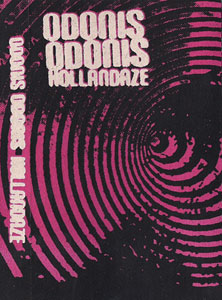 Odonis Odonis
Hollandaze
Toronto, ON
From the sodonomi of Jesse Locke:
Specters of surf-beat and apparitions of the brothers Reid linger between supercharged shards of feedback from this brazen Toronto trio. Hollandaze channels decade-faded six-string anthemia smoke-ringed into the present like a resinous blast of chromium dioxide. The holy triumvirate of Buzz, Daps and Pleasence group grope the O boys to present this late '11 stunner in all three formats a gripper could desire. Our only question: who's dropping this shit on eight-track?
Du sodonomi de Jesse Locke: (Traduit par le coup résineux de Maya Keshav)
Les spectres du surf-rythme et les apparitions des frères Reid restent entre les éclats surchargés de larsen de ce trio ehonté de Toronto. Hollandaze puise dans les hymnes délavés par les décennies à six cordes, les ronds de fumée qui sautent dans le présent comme un coup résineux de dioxyde de chrome. Le triumvirat sacré de Buzz, Daps et Pleasence gang bang les garçons O pour présenter ce succès du fin de l'année 2011 dans tous les trois formats qu'un acheteur peut vouloir. Notre seule question: Qui met ça sur un eight-track?
---