Tag: odile leclerc
Nimbes
Des kiwis pour ma fiancée
Quebec, QC
From the airtight held breath of Benoit Arcand:
(Translated by the crackling campfire of Odile Leclerc)
In the semi-darkness, a barely phosphorescent mirage, Nimbes imposes without intrigue the iridescence of its presence. No need for a campfire near a beach cabin, young and mournful: here everything crackles around your head, licks your cheek like a wave of heat. Instead make yourself a sarong from these pyramidal keyboards, plant yourself on this homeopathic surf and caress this abyssal groove.
Don't forget to shine in the night.
De l'apnée hermétique de Benoit Arcand:
Dans la demi-pénombre un mirage à peine phosphorescent, Nimbes impose sans intrigue l'iridescence de sa présence. Pas besoin de feu de camp au bord d'un shack de la plage, jeune mélancolique: ici tout crépite autour de ta tête, te lèche la joue comme une vague de chaleur. Fais-toi plutôt un paréo de ces claviers pyramidaux, plante-toi sur ce surf homéopathique et caresse ce groove abyssal.
N'oublie pas de briller dans la nuit.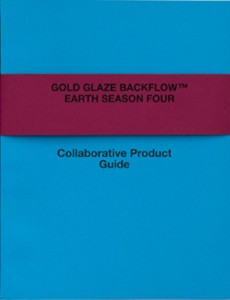 Gold Glaze Backflow™
Written by: Chris White
(Self Published)
Toronto, ON
Published: 2011
From the euphemistic suffocation of David Steinberg:
Eyes split open, awake in a cold sweat, the words throbbing saccharine in your head: Gold Glaze Backflow™ is excited about the new possibilities in store for the future. A frosty retrograde awaits us, and Chris White wants to show you all about it. Collaborative Product Guide sounds benign at first, but the euphemistic suffocation that it represents soon becomes clear. Inside the four beautifully / brightly bound guides are Brazil-esque juxtaposed illustrations, photographs, and text all pointing to a backwards-facing future, a yawning chasmic discord between progress and public benefit.
De la suffocation euphémistique de David Steinberg: (Traduit par Odile Leclerc)
Les yeux grands ouverts, réveillé en sueur sueurs froides, les mots saccharines palpitant dans votre tête : Gold Glaze Backflow™ est excité à propos des nouvelles possibilités en attente pour le futur. Une rétrograde givrée nous attends et Chris White veut tout vous montrer de celle-ci. Collaborative Product Guide sonne bénin en premier, mais la suffocation euphémistique que ça représente devient rapidement clair. À l'intérieur des quatre guides magnifiquement/ vivement liés se tiennent les illustrations Brazil-esque juxtaposées, des photographies et du texte pointant tous vers un futur faisant face à l'arrière, une discorde d'abîme baillant entre le progrès et le profit publique.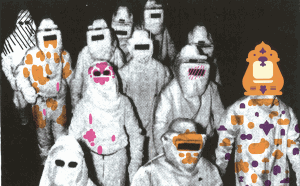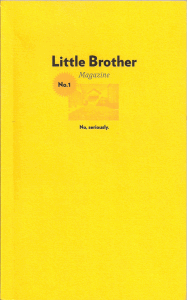 Little Brother Magazine No. 1
Written by: Various Authors
(Self Published)
[93pp. Perfect Bound; Risograph]
Toronto, ON
Published: 2012
From the risograph sun of James Lindsay:
Look how strong our little brothers have grown, look how handsome they are in their smart yellow jackets. Here's Ellie Anglin, full of empathy, in a story from a stray cat's POV; Chris Randle proves that he knows a thing or two about Proust (though we always suspected he did) in his densely lyrical fiction, and Andrew Kaufman (don't tell anyone, but he's always been our favourite) with his effortless realist surrealism. Then there's Cian Cruise, freshly film schooled, with the balls to compare Fellini to something animated named Shin Seiki Evangelion from Japan; spending most of the time with Elissa Pearl Matthews, Shari Kasman and their beautiful photo-essay meets flash-fiction mash-up about tiny houses. These are some of the reasons why we love our little brothers, but there are others too.
Du soleil risographe de James Lindsay:
(Traduit par Odile Leclerc)
Regardez à quel point nos petits frère sont devenu forts, regardez comme ils sont beaux dans leurs brillant gilet jaune. Voilà Ellie Anglin, pleine d'empathie, dans une histoire du point de vue d'un chat de gouttière; Chris Randle prouves qu'il sait une chose ou deux à propos de Proust (Bien que nous nous en avions toujours douté) dans sa fiction de lyrique à forte densité, et Andrew Kaufman (ne le dites à personne, mais il a toujours été notre favoris) avec son surréalisme réaliste facile. Puis il y a Cian Cruise, fraîchement sorti de l'école du film, avec les boules pour comparer Fellini à quelque chose d'animé nommé Shin Seiki Evangelion du Japon; passant la majorité de son temps avec Elissa Pearl Matthews, Shari Kasman et leur superbe fusion de composition-photo rencontre la fiction-flash à propos de petites maisons. Celles-là sont quelques unes des raisons pourquoi nous aimons nos petits frères, mais il y en a d'autres aussi.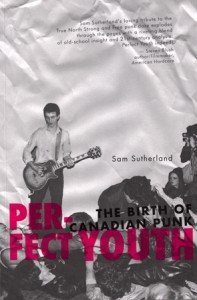 Perfect Youth
Written by: Sam Sutherland
[368pp. Perfect Bound]
Toronto, ON
Published: 2012
From the screaming fist of Jesse Locke:
As a primer on first-wave Canadian scuzz, Sam Sutherland has set a new standard. Sure, there are scene-specific tomes that dig deeper — the author recommends Treat Me Like Dirt, Warm Beer & Wild Times, Argh Fuck Kill and a score of others — but for this coast-to-coast overview, he pogos in the style of Legs McNeil. From the Dishes to the Dishrags, "fuck bands" to the Squamish Five, no stone is left unturned. All the big dogs are covered (Pointed Sticks, Teenage Head, D.O.A., SNFU, Viletones, etc.) but overlooked rippers like Personality Crisis, The Robins and The Bureaucrats are the real epiphany. Some of these names have washed up on WC before, but Sutherland unearths a whole other purple ocean of hate in his first-person fan-boy fervour. Must grip.
Du poing hurlant de Jesse Locke: (Traduit par Odile Leclerc)
En tant qu'amorce sur la première vague de scuzz Canadien, Sam Sutherland place un nouveau standard. Sûre, il y a des tomes de scène spécifique qui vont plus profondément—l'auteur recommande Treat Me Like Dirt, Warm Beer & Wild Times, Argh Fuck Kill et un tapon d'autres—mais pour ce panorama côte à côte, il fait du pogo dans le style de Legs McNeil. Des Dishes à Dishrags, ''va faire voir les groupes'' au Squamish Five, aucune pierre n'est laissée non retournée. Tout les gros bonnets sont couverts (Pointed Sticks, Teenage Head, D.O.A., SNFU, Viletones, etc.), mais les défonceurs négligés comme Personality Crisis, The Robins et The Bureaucrats sont la vraie épiphanie. Certains de ces noms se sont échoués sur WC avant, mais Sutherland déterre un tout autre océan mauve de haine dans sa ferveur de garçon fan à la première personne. Faut saisir.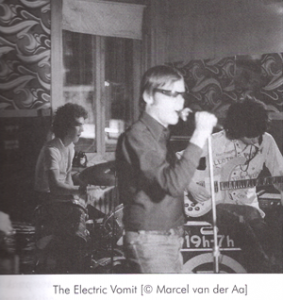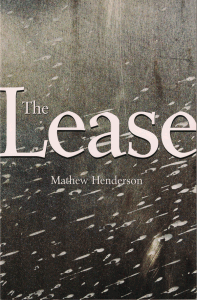 The Lease
Written by: Mathew Henderson
[72pp. Perfect Bound]
Toronto, ON
From the alien landscape of James Lindsay:
The voice of Mathew Henderson's The Lease is one of the thousands of young people who head to the Alberta oil fields in search of work, finding only endless labour, condensed male sexuality and constant physical pain. This is an alien landscape lit by the gas flare of the oil rigs where "you are the only thing with feet and hands / on a flat dying moon."
An Edward Hopper painting if he painted the rigs, these tight, narrative-driven poems are reminiscent of the traveler's estrangement felt in Antony Di Nardo's Alien, Correspondent and the overheard-dialouge-while-working-your-ass-off accessibility of Michael Turner's Company Town. And like those collections, it focuses on the day-to-day. The only thing that breaks up the apathy is when, for a moment, we turn away from the work and notice our surroundings: prairies as wide as the sky, cows grazing at night, "palm-sized moths", and the terrible cold letting us know we don't belong here this time of year. Nature reminds us that we are only barely tolerated.
Du paysage extraterrestre de James Lindsay: (Traduit par Odile Leclerc)
La voix de The Lease de Mathew Henderson est l'une des milliers de jeune gens qui se dirige vers les champs pétroliers d'Alberta à la recherche de travail, trouvant seulement du labeur interminable, de la sexualité mâle condensée et une douleur physique constante. C'est un paysage extraterrestre éclairé par les flammes de gaz des plates-formes de pétrole où ''vous êtes la seule chose avec des pieds et des mains / sur une lune plate mourante.''
Une peinture d'Edward Hopper s'il peignait les plates-formes, ces poèmes, serrés, menés en narration sont réminiscent de l'éloignement de voyageur ressentit dans Alien, Correspondent de Antony Di Nardo et le ''dialogue entendu par hasard pendant que tu travail comme une bête de l'accessibilité de Company Town de Michael Turner. Et comme ces collections, elle se concentre sur le jour-à-jour. La seule chose qui brise l'apathie c'est quand, pour un moment, nous nous détournons de l'œuvre et remarquons ce qui nous entoure : des prairies aussi vaste que le ciel, des vaches broutant durant la nuit, ''des mouches de la grosseur d'une paume'', et le terrible froid nous laissant savoir que nous ne devrions pas être ici à ce temps de l'année. La nature nous rappelle que nous sommes à peine tolérés.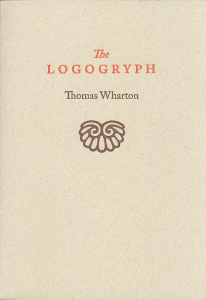 The Logogryph
Written by: Thomas Wharton
[236pp. Perfect Bound]
Edmonton, AB
Published: 2004
From the Odyssian proportions of David Steinberg:
Bursting into existence from the inscrutable mind/body syzygy of Thomas Wharton comes The Logogryph, a fictional work containing dozens of vistas and histories, marginalia and miscellanea, curiosities, obscurities, and impossibilities. It is a book of ideas, a book of metaphors, a book of questions. What is the origin of paper? What about Atlantean literature? What if you fell out of a novel? It is a Canadian book of stories, describing Stand By Me-framed digs in Jasper pizza joints circa 1981 complete with lame Terry Fox slams, else-referential culturial Canadiana, and Mexican excavations of Odyssian proportions. It is a collection of accumulated lacunae, a Borgesian beastiary, a labyrinth of Lynchian puzzles and problems, some unsolved, others unsolvable. The singular unifying light amidst this beautiful confusion is the common theme suggested by the subtitle, "a Bibliography of Imaginary Books."
A mystery wrapped in a riddle wrapped in a dust jacket wrapped in a sleeve, we would be remiss if we didn't take a moment to appreciate the physical splendor of The Logogryph. As always, Gaspereau Press has taken pains to make the reading experience a physical and aesthetic pleasure: the creamy textured paper, letterpress dust jacket, and sleeve will have you cozying up to this book after lights-out. Grip, read, and be read.
Des proportions d'odyssée de David Steinberg:
(Traduit par Odile Leclerc)
Explosant dans l'existence de l'inscrutable esprit/corps de la syzygie de Thomas Wharton vient The Logogryph, une œuvre de fiction contenant des douzaines de vues et histoires, marginalie et diversité, de curiosités, d'obscurités et d'impossibilités. C'est un livre d'idées, un livre de métaphores, un livre de questions. Quel est l'origine du papier? Et que dire de la littérature Atlantaine? Et si vous tombiez d'un roman? C'est un livre d'histoire canadien, décrivant les fouilles de Stand By Me-framed dans des joints de pizza de Jasper à l'entour de 1981 de proportions complètement Odysséennes. C'est une collection de lacunes accumulées, un bestiaire Borgésien, un labyrinthe de casse-têtes et de problèmes Lynchien, certains non résolus, d'autres insolubles. L'unique lumière unifiante parmi cette magnifique confusion est le thème commun suggéré par le sous-titre, ''une Bibliographie des Livres Imaginaires.'' Gaspereau Press en a bavé pour faire l'expérience de lecture un plaisir physique et esthétique: la texture crémeuse du papier, une jaquette de livre typographiée et une gaine qui va vous acclimater à ce livre après la fermeture des lumières. Saisissez, lisez, et soyez lu.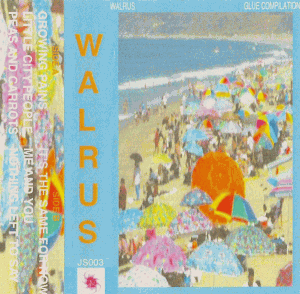 Walrus
Glue Compilation
Halifax, NS
From the martian sunrise of Aaron Levin:
Wrapped in a soupy gauze of slow-pitched delirium, Walrus' sophomore summertime creeper unravels the dormant fantasies deep within all of us. It's easy to waver within their cosmic surreality as you percolate through bubbling pop warbles and disparate vocals rooted deeply within the school of Brave Radar and the drug-ladled Amos & Sara. A superb beach-side jammer for the fantasian sunrise.
Du levé de soleil martien d'Aaron Levin:
(Traduit par Odile Leclerc)
Enveloppé dans une gaze liquide de délire en balle lente, le grimpeur d'été de deuxième année de Walrus dévoile les fantaisies dormantes profondément enfouies en chacun d'entre nous. C'est facile de vaciller dans la surréalité cosmique alors que vous pénétrer à travers des gazouillis de pop bouillonnant et de chants disparates enracinés profondément dans l'école de Brave Radar et d'Amos & Sara en louchées de drogue. Une superbe jammeur de bord de plage pour un levé de soleil de fantaisie.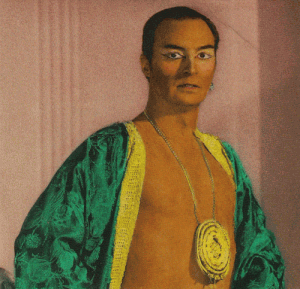 Slim Twig
Sof' Sike
Toronto, ON
From the bellbottom bangers of Christopher Laramee:
This slab of weirdo basement dwelling pomp-pop-prog appears outta nowhere (for me, anyway). The Zombies trading pants with Freddie Mercury in a changing room, ol' Slim and company hit their stride on the latest in a long line of releases (with plenty more to come). There's some Iggy boogie here as well, most obviously on "Priscilla", a song torn from the same sonic shirt as The Idiot, and all the better for it. "Madeline Has A Body" is a warning or a celebration of a lady who will sit you down and voodoo your ass. It's an organ driven shifting-between-moonbeams winner. I'm hearing a lot of angles, like Boces-era Mercury Rev sharing a sleeping bag with Todd Rundgren. Sparks? Hell yeah! The record Meat Loaf should've made after Bat Out Of Hell? Sure. Have a whiskey and slap some backs, Slim, you've earned it!
Des super chansons de pantalons éléphants de Christopher Laramee:
(Traduit par Odile Leclerc)
Ce bloc de bizarroïde de prog pomp-pop de sous-sol apparaît de nulle-part (pour moi, en tout cas). Les Zombies échangeant de pantalons avec Freddie Mercury dans une salle d'essayage, l'vieux Slim et compagnie s'embarquent vraiment sur le dernier dans une long suite de sorties (avec encore plus à venir). Il y a quelques boogie d'Iggy ici aussi, mais plus évidemment sur "Priscilla", une chanson arrachée du même chandail sonique que The Idiot et c'en est que mieux. ''Madeline Has A Body'' est un avertissement ou une célébration d'un dame qui va vous asseoir et faire du vaudou sur votre derrière. C'est un organe engagé bougeant entre le gagnant de faisceaux lunaires. J'entends beaucoup de points de vue, comme Boces-era Mercury Rev partageant un sac de couchage avec Todd Rundgren. Des étincelles? Oh que oui! L'enregistrement que Meat Loaf aurait dû faire après Bat Out Of Hell? Sûre. Prend un whiskey et claque quelques dos, Slim, tu l'as mérité!
Slim Twig – Madeline Has A Body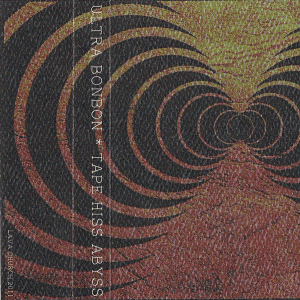 Ultra Bonbon
Tape Hiss Abyss
Ponoka, AB
From the gold coast mind-state of Christopher Laramee:
Danny Milanese (a.k.a. Ultra Bonbon) kicks it out for Sarasota, Florida's Lava Church Records on these two sides of cold stare. This aptly titled release was apparently recorded in the dead of winter in good ol' Ponoka, perhaps influencing the desolate vibes that wander like a lone dog on a lonely street. Nurse With Wound comes to mind at moments, also a sense of stillness, maybe due to geographical or personal disconnection with what's going on. I'm just fishing here, but let me wander….Two tracks, two sides, no titles, nothing to get in the way of some fine brain scrub, a cleanse for the psyche, if you will. Anyhoo, get on top of this one before it's gone. Dan's tapes disappear quick!
De l'état d'esprit de la côte d'or de Christopher Laramee: (Traduit par Odile Leclerc)
Danny Milanese (a.k.a. Ultra Bonbon) en déchire pour Sarasota, les Lava Church Records de Floride sur ces deux faces de regard froid. Cette sortie justement intitulée fut apparemment enregistrée au milieu de l'hiver dans le bon vieux Ponoka, influençant peut-être les ambiances désolées qui errent comme un chien solitaire dans une rue isolée. Nurse With Wound vient à l'esprit par moments, aussi un sens d'immobilité, peut-être à cause de la déconnection géographique ou personnelle avec ce qui ce passe. Je furette juste ici, mais laissez-moi errer…Deux pistes, deux faces, pas de titres, rien pour se mettre en travers de la route d'un quelconque fin nettoyage de cerveau, une purification pour le psych, si vous voulez. De toute façon, embarquez sur celui-ci avec qu'il soit parti. Les cassettes de Dan disparaissent rapidement.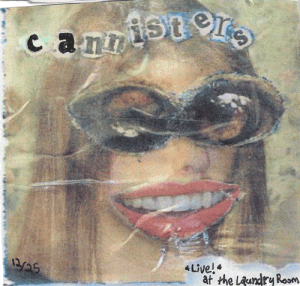 Cannisters
LIVE! at the Laundry Room
(Self Released)
Dartmouth, NS
From the mason jar of Gregory Pike:
The boys from the Dirty "D" (read: Dartmouth) are giving off some serious just-broke-up-with-your-long-time-specialfriend vibes. Not in a sad sense. Maybe a little bit. But mostly in the way your buddies cheer you up by coming with you to throw logs and tires in the river between sips of whiskey. They are the bonfire and you are the marshmallow. Let's rebound together.
Du pot maçon de Gregory Pike: (Traduit par Odile Leclerc)
Les garçons de Dirty ''D'' (Lisez: Dartmouth) dégagent cette sérieuse impression de viens-juste-de-rompre-avec-ton-vieil-ami-spécial. Pas d'une façon triste. Peut-être un peu. Mais surtout d'une manière dont vos potes vous encouragent en venant avec vous pour jeter des bûches et des pneus dans la rivière entre des gorgées de whiskey. Ils sont le feu de camp et vous êtes la guimauve. Reprenons ensemble.
---