Tag: nwobhm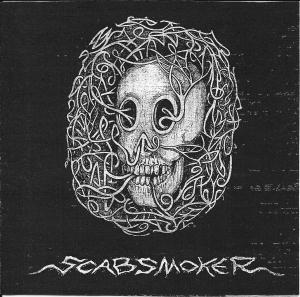 Scab Smoker
Scab Smoker
(Self Released)
Winnipeg, MB
From the slurred manipulations of Taylor Burgess:
A power trio which sways from down-tempo doom to British Heavy Metal, and their drummer's tape manipulations are the glue that holds it all together? If the tectonic shifts don't diminish you with a blink, nervous hums will creep up through Crabskull's eerie non-sequiturs and form pustules on any clean mind — infectious stoner metal in its newest mutation, perversion, persuasion, enticing all to bang head, bang head, bang head.
Des manipulations difficilement articulées de Taylor Burgess: (Traduit par Odile Leclerc)
Un trio en puissance qui se balance de perte de tempo fini à du British Heavy Metal et les manipulations de cassette de leur batteur sont la colle qui tient le tout ensemble? Si les mouvements tectoniques ne vous diminuent en un clin d'œil, des fredonnements vont grimpez à travers les sinistres non-sequiturs de Crabskull et former des pustules sur n'importe quel esprit—du métal infectieux de stoner dans sa plus récente mutation, perversion, persuasion, tentant tous à se cogner la tête, cogner la tête, cogner la tête.
Scab Smoker – Butcher of Daemons
---