Tag: numbers station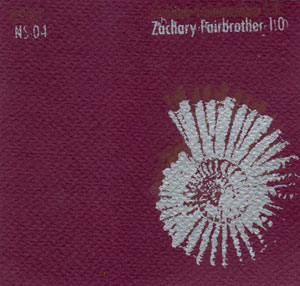 Zachary Fairbrother
Zachary Fairbrother 1.0
Montreal, QC
From the long tones of Aaron Levin:
With an unruly vocabulary for the avant-garde, the wild long-hair behind Omon Ra / Omon Ra II rips through your consciousness with six streams of free jazz, orchestral minimalism, and prepared minutiae. The unwieldy compositions are performed on-or-by everything (Arp2600, Dalhousie Brass Quintet, Saxophones, mixers, prepared piano, etc.) and mutate wildly in timbre; "Origins"' dense, synthetic dark-age scorches a sinusoidal path for the blissfully organic sequences; hear the strangely poppy Brass Quintet devastate "Prisms" and segue into the harrowing minimalia of "Long Tones and Lose Change." It's all a sharp reminder that underground reverberations are still produced in the dusty corners of academia. Bsc GRIP.
Des longs tons d'Aaron Levin:
(Traduit par Odile Leclerc)
Avec un vocabulaire turbulent pour l'avant-garde, les longs cheveux en bataille derrière Omon Ra / Omon Ra II fendent à travers votre conscience avec six courants de jazz libre, de minimalisme orchestral et de la minutie préparée. Les compositions non maniable sont performées sur-ou-par tout (Arp2600, Dalhousie Brass Quintet, Saxophones, mélangeurs, des pianos préparés, etc.) et furieusement muté en tonalité; le lourd ''Origins'', les brûlures synthétiques de l'ère sombre un sentier sinusoïdal pour les séquences parfaitement organiques; entendez l'étrangement sautante Brass Quartet dévaster ''Prisms'' et segue dans le minimalia déchirant de ''Long Tones and Lose Change.'' C'est tout un vif rappel que les réverbérations clandestines sont encore produites dans les coins poussiéreux d'academia. Bsc. GRIP.
Zachary Fairbrother – Long Tones and Loose Change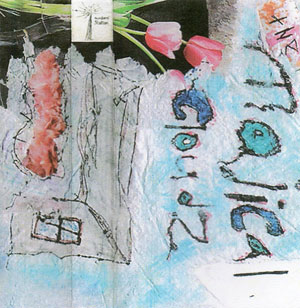 Majical Cloudz
Majical Cloudz
Montreal, QC
From the spike top spittin' cloud of Aaron Levin:
Numbers Station are solidifying themselves as Canada's premier psychedelic cassette label, with more swirls of lysergic prowess and fractured dissertations from Montreal's Majical Cloudz. This side-project from Pop Winds front-man Devon Welsh and Toronto-obscurity Matthew Duffy is further evidence of Montreal's hidden fortress of L.S.Druids, hitting record on the boom-box as they obsecrate the altar of left-field pop occultism. The cassette sifts through your mind like a dream: blissful meanderings through fields of granular echo; pop one minute and droning visions of euphoria the next. To be played at full stone.
Du sommet pointu crachant des nuages d'Aaron Levin:
(Traduit par Odile Leclerc)
Number Station se solidifient en étant la première maison de cassette psychédélique au Canada, avec plus de remous de prouesse lysergique et de dissertations brisées de Majical Cloudz de Montréal. Ce projet en parallèle du leader de Pop Winds, Devon Welsh et l'obscurité de Toronto Matthew Duffy est la preuve encore plus grande que la forteresse cachée de L.S. Druids de Montréa atteignant des records sur le boombox alors qu'ils font l'obsécration de l'autel due l'occultisme pop du champ de gauche. La cassette tamise à travers votre esprit comme un rêve; des méandres divines à travers des chants d'échos granuleux; elle saute une minute et drone des visions d'euphorie par la suite. Doit être joué quand complètement gelé.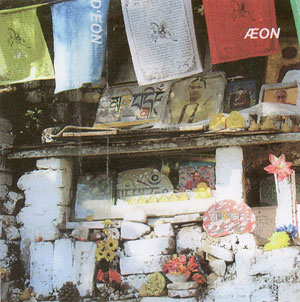 From the Teddy Riley jacketed body of Aaron Levin:
D'Eon returns with a new moniker and a time-lapsed sound no less forward looking than the last. Veering away from the cosmic meanderings of wa al-'asr (by the time) and plunging wrap-first into New Jack Swingery, D'EON delivers like no other methamphetamine-infused Much Music dance party. The whole trip is soaked in d'Eon's psychedelic twilight, making it the ideal late-night, post-apocalyptic high-on-life-but-I'm-still-down-on-everything soundtrack to your small-town fashion-school graduation party. Your not-really-friends are passing rails in a bathroom while you're saluting a full-moon on the apex of an abandoned farm-house; Sony Walkman™ giving portable life to d'Eon's mellow tech flowing through your veins. Meanwhile, Teddy Riley is sitting in a blackstreet-funded mansion with a giant grin and the speach bubble reads: "it's about time, whoa jam."
Du corps en manteau Teddy Riley d'Aaron Levin:
(Traduit par les oreilles contentes de Maya Keshav)
D'Eon revient avec un nouveau nom et un son chronocinématographique qui est aussi tourné vers l'avenir que son dernier album. En déviant des vagabondages cosmiques de wa al-'asr (by the time) et en sautant wrap-en-avant dans le New Jack Swing, D'EON réussit comme aucune autre fête de danse Much Music remplie de la méthamphétamine. Le voyage entier est trempé de la pénombre psychédélique de d'Eon, grâce à laquelle c'est la bande-son parfait en-nocturne, post-apocalyptique, défoncé-à-la-vie-mais-je-m'en-fou-du-tout pour ta fête des finissants de l'école de mode de ta petite ville. Tes pas-vraiment-des-amis prennent la drogue dans les toilettes pendant que tu salues une pleine lune sur le sommet d'une ferme abandonnée. Au même temps, Teddy Riley s'est assis dans un manoir financé par le blackstreet avec une sourire énorme et la bulle dit: "il était temps, whoah boeuf."
D'EON – the girl from köln is gone
---