Tag: not unlike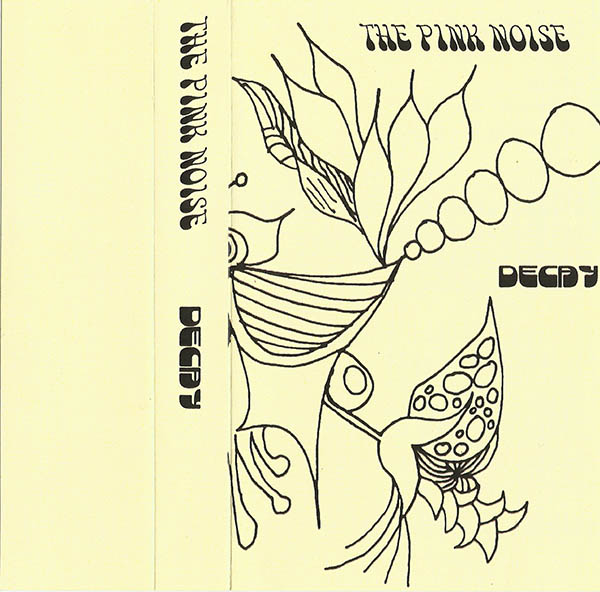 The Pink Noise
Decay
Montréal, QC
From the time-warped transgressions of Mark Anthony Brennan:
Frown. "Did it work?" "Not sure. Shifting a funk band through space-time from 1972 isn't easy, you know." Pointing finger. "But … they sound like the Velvet Underground doing Vegas." Shifting eyes, surveying panel. "Interference. Some glam got in. And British punk. And …. " "Noise. A lot of noise." Gulp. "I know, I know. There's static. We introduced some atmospheric distortion." "Something's warped. But it's brilliant. Like nothing I've ever heard." Eyes wildly darting. "Is it warped genius or temporal distortion?" Hiss. "What do we do?" "I think we should get the f&%k outta here." "I'm right behind you."
Des déformations transgressives du temps de Mark Anthony Brennan:
(Traduit par l'autoconférence tordue de Mathieu Bédard)
Froncement de sourcil. « Ça a marché? » « Pas sûr. Faire passer dans l'espace-temps un groupe de funk depuis 1972 n'est pas chose facile, vous savez. » Pointant du doigt. « Mais… ils sonnent comme le Velvet Underground à Vegas. » Mouvement rapide des yeux, sondant la table. « Interférences. Un peu de glam s'est incrusté. Et du punk britannique. Et… » « Du bruit. Beaucoup de bruit. » Déglutissement. « Je sais, je sais. Ça grésille. On a introduit de la distorsion atmosphérique. » « Il y a quelque chose de déformé. Mais c'est brillant. J'ai jamais rien entendu comme ça.» Yeux dardant follement. « C'est du génie tordu ou de la distorsion temporelle? » Sifflements. « Qu'est-ce qu'on fait? » « Je pense qu'on devrait cri%&er notre camp d'ici. » « Je te suis. »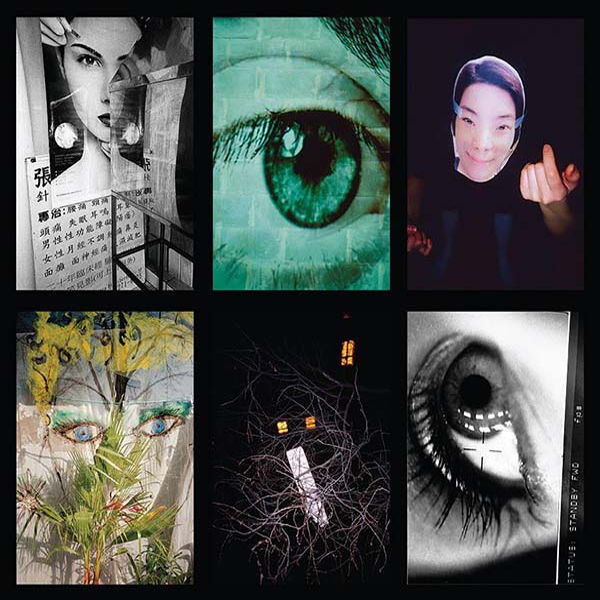 From the diner talk of Brad Casey:
There's this one boy in your class. He doesn't make eye contact with anyone. His hair is like a black rooster's comb. His jawline is so defined it's almost monstrous. He's thin but his skin is so tight he's vacuum sealed. Sometimes you glance across the expanse of bodies at their desks, hoping he'll look back, but he's casually drawing faces with a copycat Egon Schiele grotesqueness. His headphones drape around his neck like a dead animal. The bell will ring, and he'll walk out of the room shrouding the sides of his face with those same dead animal headphones while you wonder what he's listening to. You'll fantasize about telling him about Lee Paradise, how you'll put the needle to the record in his room. Everything smells like summer and he smiles and you could die like this. Just like this.
Du souper-causerie de Brad Casey:
(Traduit par Jessica Grenier)
Il y a ce garçon dans ta classe. Il ne croise jamais le regard des autres. Ses cheveux ressemblent à une crête de coq noire. Sa mâchoire est tellement bien dessinée qu'elle en est presque monstrueuse. Il est maigre – la peau étirée au point où il a l'air emballé sous vide. Parfois, tu jettes un regard sur l'étendue de corps assis à leur bureau en espérant croiser le sien, mais il est généralement en train de griffonner des visages grotesques à la Egon Schiele. Ses écouteurs pendent à son cou comme un animal mort. La cloche va sonner et il va se lever pour quitter la pièce, ensevelissant au passage les côtés de son visage dans ses écouteurs-animaux-morts pendant que tu vas te demander ce qu'il peut bien écouter. Tu t'imagineras lui parler de Lee Paradise. Déposer l'aiguille sur le disque dans sa chambre. On dirait l'été. Il sourit, et tu pourrais mourir à cet instant. Exactement comme ça.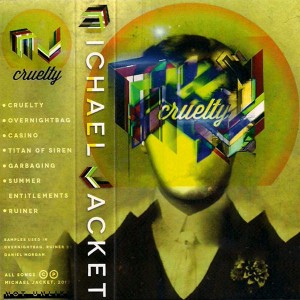 Michael Jacket
Cruelty
Toronto, ON
From the speed read of James Lindsay:
The man behind the signature industrial-punk beats of Odonis Odonis and THIGHS takes a speed read from the IDM codex that leaves you breathless and wanting more. These brief tracks make it possible to discuss Skinny Puppy and Autechre in the same breath, all while sipping whiskey and thinking abut new things to do in the intersections. Consider this cassette alongside likeminded releases from Toronto percussionists Sexy Merlin, Petra Glynt and Mas Aya, and an interesting trend towards the cerebral dance floor begins to emerge.
De la lecture rapide de James Lindsay:
(Traduit par Jacinthe Laplante)
L'homme derrière le rythme punk-industriel emblématique d'Odonis Odonis et de THIGHS fait une lecture rapide du codex IDM qui vous laisse à bout de souffle et en demandant davantage. Ces courtes pistes permettent d'évoquer Skinny Puppy et Autechre du même souffle, tout en dégustant un whiskey et en pensant aux nouvelles choses à faire aux intersections. Il faut considérer cette cassette dans la même ligne de pensée que celles produites par les percussionnistes torontois Sexy Merlin, Petra Glynt et Mas Aya, et une tendance fascinante se met à apparaître près du plancher de danse cérébral.
Michael Jacket – Summer Entitlement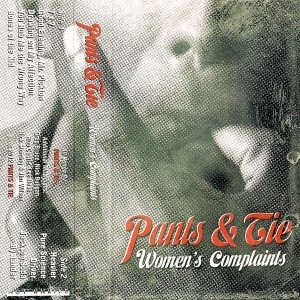 Pants and Tie
Women's Complaints
Toronto, ON
From the blistering report of Harriet Wild:
A tomcat yowl. A cocktail in a highball glass spilling under a z-z-zapping neon sign. Pants and Tie are red-light/all nite, and Women's Complaints is shoot-first, ask questions never. Mark Colbourne's vocals are a blistering report delivered in maximal-minimal alternation, jiving against a wall of electro beats, synth riffs, guitar fuzz and the occasional strain of violin. Check yr shirt at the door for a punk-funk stomp beating down a soul train to the depths of the dancefloor.
Du compte-rendu fulgurant d'Harriet Wild:
(Traduit en buvant un cocktail par Andréanne Dion)
Le miaulement d'un matou. Un cocktail dans un grand verre, qui se répand sous une enseigne au néon qui z-z-zappe. Pants and Tie est un quartier chaud ouvert toute la nuit, et sur Woman's Complaints, on tire d'abord et on pose les questions…jamais. La voix de Mark Colbourne est un compte-rendu fulgurant, livré dans une alternance maximale-minimale, qui jive contre un mur de rythmes électro, de riffs synthés, de sons de guitares fuzz et contre l'occasionnel accord de violon. Laissez votre t-shirt au vestiaire pour un swing punk-funk qui tabasse un soul train à travers les profondeurs de la piste de dance.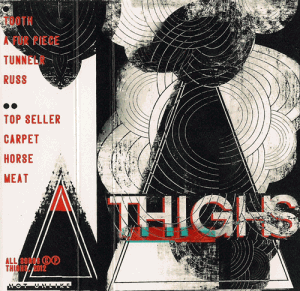 THIGHS
THIGHS
Toronto, ON
From the horse meat disco of James Lindsay:
Comparisons fail me. Jesus Lizard? Someone said Krautrock; but who doesn't say that anymore? Dave from the Soupcans said "they just make you suck that one note over and over, like: suck-suck-suck-suck, suck-suck." Then Jesse Locke told me that they sounded like Edmonton. Sure, half the band is expats, but I had no idea Edmonton sounded like Satan himself sewed together the attitude of early post-punk with the palsied energy and noise of spazz-punk. There's some heavy hypnosis at work, convincing you that this sinister wave of noise is birth by a Toronto supergroup: Pants and Tie, Young Truck, Odonis Odonis, and the late/great Danger Bay.
Du disco viande de cheval de James Lindsay: (Traduit par Maya Keshav)
Il n'y a aucune comparaison. Jesus Lizard? Quelqu'un a dit Krautrock; mais tout le monde dit Krautrock ces jours-ci. Dave des Soupcans a dit "ils te font sucer cette seule note encore et encore, genre: suce-suce-suce-suce-suce, suce-suce." Pis Jesse Locke m'a dit qu'il ressemble Edmonton. Ben oui, une moitié du groupe est les expatriés, mais je savais pas qu'Edmonton avait l'air que Satan lui-même a cousu l'attitude des débuts de post-punk avec l'énergie tremblante et le bruit du spazz-punk. L'hypnose sérieuse est en action ici, en te convaincrant que cette onde sinistre de bruit vient d'un supergroupe de Toronto: Pants and Tie, Young Truck, Odonis Odonis, et le grand défunt Danger Bay.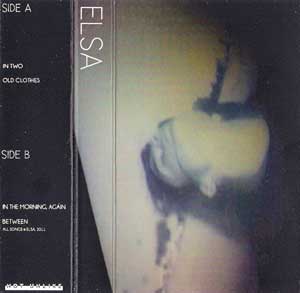 From the Tresvant sensitivity of Aaron Levin:
Between the blanketed 90s vibez lurks a definitive mellow eschewed by these Toronto mysteries. Layered guitars glide along powdery tracks paved by staccato bass and infinite drum machinery, making it too easy to whirl endlessly within their chorus of liquid vox. Quite frankly, the dub see has never been softer.
De la sensibilité Tresvante d'Aaron Levin: (Traduit par tous les chemins de Maya Keshav)
Entre les ondes couvertes des années 90 une détente définitive se cache qui est rejetée par ces mystères de Toronto. Les couches de guitare planent à côté des chemins saupoudrés pavés par la basse saccadée et la machinerie infinie de batterie, qui le font trop facile de tourbillonner sans cesse dans leur refrain de voix liquides. C'est bien le cas de dire que le dub see n'a jamais été si doux.
---