Tag: not the wind not the flag
Electric Eclectics

July 29th – 31st, 2016

Various Artists
Meaford, ON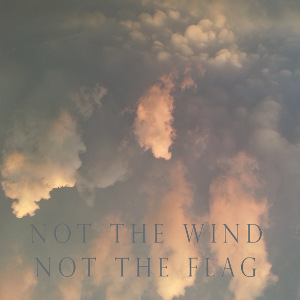 Not the Wind, Not the Flag
Garments of Light
Toronto, ON
De la cabane secrète d' Eamon Quinn:
(Traduit de la sonde spatiale de Justine Gabias)
Aussi expansif, mystérieux et joyeux que la pochette signée Victoria Cheong, le nouveau CD de Not The Wind, Not The Flag nous arrive gracieuseté des esprits allumés de chez Healing Power Records. Dans cette galaxie temporelle de nu jazz cosmique transporteur, on peut presque apercevoir Colin Fisher (cordes et autres trucs) et Brandon Valdivia (percussions) se retirer dans une cabane secrète, façon A Beautiful Mind. Là-bas, ils s'inspirent des liens dissimulés entre les piles savamment disposées d'émouvants ESP-Disks, de cassettes nouvel-âge égarées et de la collection personnelle Nonesuch Explorers de la sonde Voyager.
Mas Aya
Kairos
Toronto, ON
From the origami anthropology of Trevor Blumas:
Vast histories collide in Mas Aya's origami anthropology, enfolding time into a singular and supreme moment: Kairos. The latest effort by Brandon Valdivia stitches together scepters of sound with pulsing digital heartbeats; a heavenly soul wed to an earthly body in an eternal and loving matrimony. There is an equally discreet sense of protest and resistance against certain dark forces, but this album's immediate sense of optimism entrusts Mas Aya as our shining saviour of the terrestrial plane, yielding the universal power of rhythm to combat the darkening skies ahead. As the cosmic giggle larks around us, we can all take comfort and solace within the safety of this kairos.
De l'anthropologie d'origami de Trevor Blumas:
(Traduit par les touches de Julie Forget)
De vastes récits se heurtent dans l'anthropologie d'origami de Mas Aya, enveloppant le temps dans un moment suprême et singulier : le Kairos. Le dernier effort de Brandon Valdivia combine des sceptres de son et des pulsations cardiaques digitales ; une âme divine qui épouse un corps terrestre dans un éternel mariage d'amour. Il existe un sentiment de protestation discret contre certaines forces sombres autant qu'un sentiment de résistance à celles-ci, mais le sens immédiat d'optimisme de cet album fait de Mas Aya notre brillant sauveur de l'avion terrestre, produisant le pouvoir universel du rythme pour combattre les ciels sombres qui se trouvent devant. Alors que le rire cosmique fait l'idiot, nous pouvons tous nous réconforter et nous consoler dans la sécurité de ce kairos.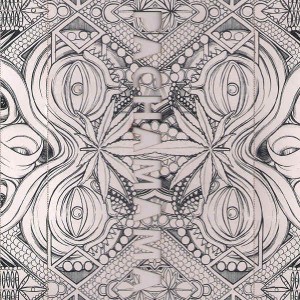 Pachamama
Pachamama
Toronto, ON
From the earnest appetite of Moshe Rozenberg:
Most artists beat around a theme with deliberate, cryptic poetry. Pachamama revolt in plain language, preventing any contortion of their lyrical disposition: a love for mother nature and distaste for humankind's self-destructive, self-serving bearings. The duo of Brandon Valdivia and Alexandra Mackenzie address these issues with synergetic vocals that call and respond unity. Their lyrical repetition on opener "A Dream A Belief" reflects an earnest appetite for change and the subsequent frustration. They hammer mantra after mantra into the ground, anchoring root architecture and divulging their environmental loyalty. On "Garbage", Valdivia and Mackenzie let out a wonderful vocal harmony with the phrase "twenty thousand faces of the displaced workers." In this parallel moment, Pachamama manage to set their heavy themes to thoughtful, delicate melody; these balanced bits are their finest. Sonically, theirs is an amalgamation of layered drums, vocals, flutes and miscellaneous percussive samples pleasantly manipulated beyond recognition. They blend New Age meditative qualities with a spirit reminiscent of Reggae in its political consciousness and outright criticism of prevalent wrongdoings. For me, songs like "At What Cost" are the best blend: stick clicks, dingy kalimba and thunderous auxiliary drumwork communicating strength with brute intensity.
De l'appétit sincère de Moshe Rozenberg:
(Traduit par le langage clair de Hugo Hyart)
La plupart des artistes tournent autour d'un même thème en le rabâchant avec la même poésie délibérément cryptique. Pachamama se révolte en langage clair, en prémunissant leurs paroles de toutes contorsions : un amour de mère Nature couplé d'un dégoût pour les comportements autodestructeurs et égoïstes de l'être humain. Brandon Valdivia et Alexandra Mackenzie abordent ces problèmes avec des voix en synergie qui appellent et se mettent à l'unisson. Les vers répétés sur « A Dream A Belief », le morceau d'ouverture, reflètent un appétit sincère pour le changement et aussi la frustration qui en découle. Mantra après mantra, le duo martèle le sol pour y ancrer ses racines et mettre au grand jour sa loyauté environnementale. Sur « Garbage », Valdivia et Mackenzie déploient une harmonie vocale merveilleuse en entonnant « twenty thousand faces of the displaced workers » (vingt mille visages de travailleurs déplacés). Parallèlement, Pachamama parvient à poser ses thèmes graves sur des mélodies délicates; ces moments de pur équilibre comptent parmi leurs meilleurs. Leur musique est un amalgame de couches de batterie, de voix, de flûtes et de divers échantillons percussifs manipulés avec ludisme et rendus méconnaissables. Les qualités méditatives du New Age se fondent ici avec la conscience politique du Reggae et sa critique sans concession à l'égard des malversations qui prévalent. Pour moi, des chansons comme « At What Cost » incarnent le meilleur des mélanges : claquements de baguettes, kalimba défraichi et percussions auxiliaires tonitruantes communiquent leur force avec une intensité brute.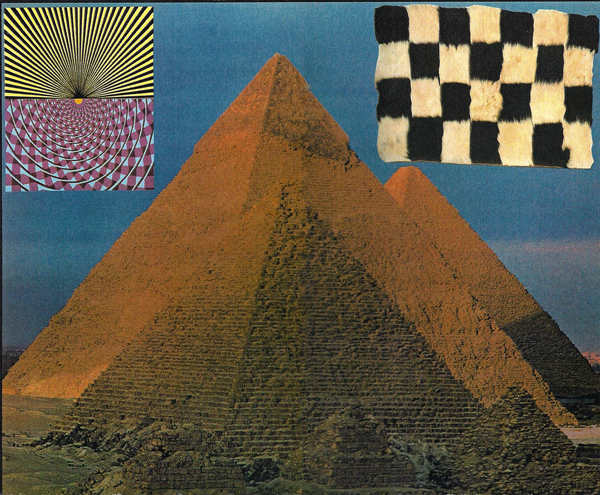 Not The Wind, Not The Flag
The Star Maker
(Inyrdisk)
Toronto, ON
From the pyramid scheme of Trevor Blumas:
Listening to NTW,NTF is a little like wandering through a post-everything landscape where destructive forces have reduced the entirety of man into a point of singularity. To accompany the listening experience of their latest album, I urge you to do the following: pour yourself a fine Chianti, draw up a hot bath, light some aromatherapy candles (perhaps the scent of Carrion Flower would do), squirt some Ivory Springs body scrub onto an iron-barbed loofah and apply. Finish with a chapter of Joseph Conrad's Heart Of Darkness. Like the book, this album conjures up and weighs out the opposing forces of the civilized and the savage, man and nature, the sacred and the profane. Upon the completion of your petty bourgeois bath, you will have a fresh perspective of the world and your entitled position within it. Now put on some clothes, you naked scoundrel, and make some changes! The Star Maker offers a reconsideration of the apocalyptic in an age after Quetzalcoatl that is equal parts wonderfully dreadful and hypnotically mobilizing.
De la quête astrale de Trevor Blumas:
(Profané par Vincent Rondeau)
Écouter NTW,NTF, c'est un peu comme se promener dans un tableau post-tout où les forces de la destruction auraient réduit toute l'humanité à un point de singularité. Pour accompagner l'expérience auditive de leur dernier album, je vous invite à suivre cette procédure : versez-vous un verre de Chianti, allumez des chandelles aromathérapiques (parfumées à la « fleur-charogne », peut-être?), mettez un peu de lotion Ivory Springs sur une éponge en fer barbelé et frottez. Pour terminer, lisez un chapitre d'Au coeur des ténèbres de Joseph Conrad : comme ce roman, l'album de NTW,NTF évoque et oppose le civilisé et le sauvage, l'humain et la nature, le sacré et le profane. Votre baignade petite-bourgeoise terminée, vous disposerez d'une nouvelle perspective sur le monde et sur votre position privilégiée au sein de celui-ci. Et maintenant, petit vaurien nu, rhabillez-vous et faites que ça change! The Star Maker nous offre une nouvelle vision de l'apocalypse après l'ère de Quetzalcoatl, vision aussi merveilleusement terrifiante qu'hypnotiquement rassembleuse.
Not The Wind, Not The Flag – Many Monsters Stand Between Us
Not The Wind, Not The Flag – Freedom Is Not Freedom From Something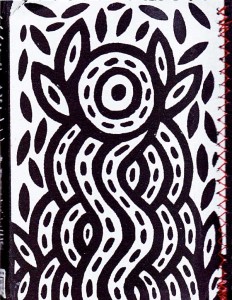 Mas Aya
Pockets
Toronto, ON
From the nom-de-drum of Brandon Hocura:
Despite his years it seems like Brandon Valdivia has already spent several lifetimes playing, traveling and soaking up a polymeter of vocabularies from this musically dense planet. This is written in the fabric of his work with Picastro, Not The Wind, Not The Flag and especially in his solo work under his nom-de-drum, Mas Aya. Pockets, a beautiful cassette released, printed and designed by Tomaturj/Errata in France, sounds something like a dream jam between Milford Graves and This Heat. The ur-global rhythms played by Valdivia on gaita, likembe, kalimba, mbira and a whole bucket-load of percussion instruments are run through reverbs, delays and distortions creating a Fourth World haze and Konono murk. Brandon's pockets run deep and are a brimming panoply of ideas, sounds and instruments. Do as the wise Sage says and put this tape in your pocket; and you will see beyond the horizon.
Du roulement de tambour de Brandon Hocura:
(Traduit par l'écho creux de Nicolas Coutlée)
Malgré son jeune âge, Brandon Valdivia semble déjà avoir passé plusieurs vies à jouer, à voyager et à puiser une polyrythmie de vocabulaire à même cette planète à haute densité musicale. Tout cela se retrouve dans la fibre même de ses collaborations avec Picastro, Not The Wind, Not The Flag, mais tout particulièrement dans son travail solo sous le sobriquet de Mas Aya. Pockets, une superbe cassette parue, conçue et imprimée chez Tomaturj/Errata en France, ressemble à une sorte de jam de rêve entre Milford Graves et This Heat. Ses rythmes mondialisants de gaïta, de likembe, de kalimba, de mbira et d'une chaudière pleine à ras bord de percussions, sont réverbérés, délayés et distordus pour former un brouillard digne du Quatrième Monde et des ténèbres de Konono. Les poches de Brandon sont profondes et débordent d'une panoplie d'idées, de sons et d'instruments. Écoutez les conseils du vieux sage et empochez cette cassette; faites cela et vous percerez l'horizon.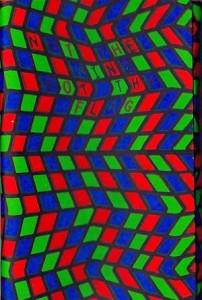 Not The Wind, Not The Flag
Esoteric Cycle
(Medusa)
Toronto, ON
From the fringewroth sequence of Aaron Levin:
As categorical explorations within our unified consciousness, Not The Wind, Not The Flag encompass the simple liquidity languishing within cultural disharmony. Mellow meditations arise with the conjuring of their euphoric harmonies, and the entangled clamor of strings and kalimba oscillate with sublime frequency between free jazz and private issue new age. A glorious grip of the next age.
De la série fringewrothe d'Aaron Levin: (Traduit par les envies de Maya Keshav)
En tant qu'explorations catégoriques dans notre conscience unifiée, Not The Wind, Not The Flag comprennent la liquidité simple qui traîne dans le désaccord culturel. Les méditations détendues apparaissent avec l'arrivée de leurs harmonies euphoriques, et le boucan pris de cordes et de kalimba oscille avec une fréquence sublime entre le free jazz et le private issue new age. Un achat magnifique de la prochaine ère.
Not The Wind, Not The Flag – 8
---