Tag: not not fun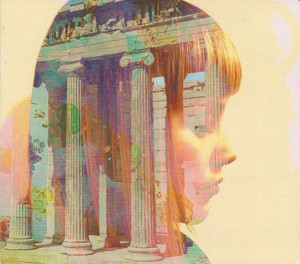 White Poppy
White Poppy
Vancouver, BC
From the post-existential reverie of Adam Bradley:
For White Poppy's eponymous Not Not Fun LP, Crystal Dorval transmutes the soft, grey clay of her shimmering ambience into sparkling, etch-textured gold. A splendorous idol aloft an ionic column, she looms down and imparts the power to dance upon its worshipers through the fog of a post-existential reverie. An impermanent rave in purgatory. The air becomes honey, sparks crackle from footfalls and the stirring clouds whorl with a pastel palette. Here, there is a distant joy and an eternal promise of beautiful things.
De la rêverie post-existentielle d' Adam Bradley:
(Traduit par l'instruction éphébique de Nicolas Coutlée)
Sur l'album homonyme de White Poppy paru chez Not Not Fun, Crystal Dorval transmue l'argile grise et friable de ses ambiances chatoyantes en lingots d'or ciselés et étincelants. Telle une idole sublime perchée sur une colonne ionique, elle pose son regard sur ses adorateurs et leur accorde le pouvoir de danser à travers le brouillard de cette rêverie post-existentielle. Un rave éphémère au purgatoire. L'air devient miel, des étincelles jaillissent de sous les pieds nus et des nuages s'élèvent en tourbillons pastels. Ici, le bonheur n'est jamais loin et promet à jamais la beauté infinie.
White Poppy – Darkness Turns To Light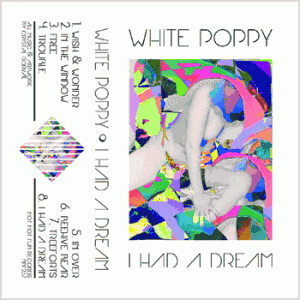 White Poppy
I Had A Dream
Vancouver, BC
From the beachside burnitude of Aaron Levin:
Billowing acid casualties litter the emergent form of our friend Wallis. I Had A Dream is a blown-out saturnalia of junglic trance wrapped with incandescent layers of popular catch. The anthemic wash of lysergic fuzz and drum machine clamour drives like veins bursting with empathy and bliss. The perfect triangulation of beachside burnitude, west coastral mellow, and magnetic jammery. Shred.
De la fainéantise de la plage d'Aaron Levin: (Traduit par Maya Keshav)
Les victimes gonflés de l'acide tachettent la forme émergeante de notre ami Wallis. I Had A Dream est une fête explosée de transe junglique emballée dans les couches incandescentes de popularité entraînante. Les ondes hymnales de flou lysergique et de chaut boîte à rythme balancent comme les veines qui débordent d'empathie et de joie. La triangulation parfaite de la fainéantise de la plage, la détente de la côte ouest, et les bœufs magnétiques. Achetez-le.
---