Tag: no-wave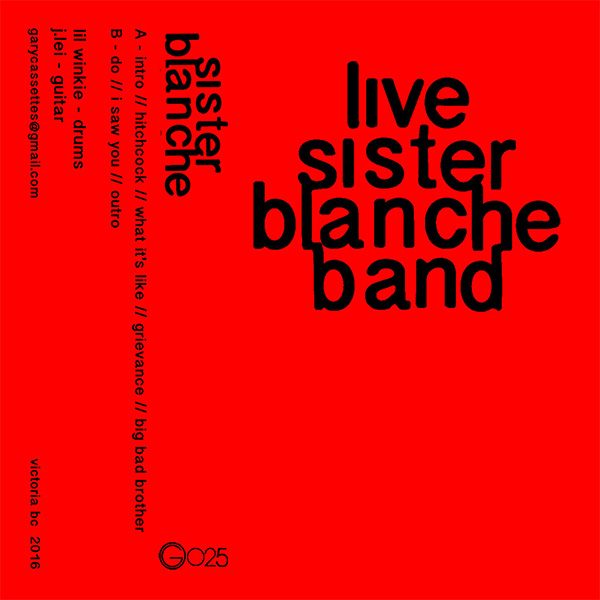 Sister Blanche
Live Sister Blanche Band
Victoria, BC
From the demonic haze of Mark Gillis:
Buried in the heart of the pit, the snarls of Sister Blanche carve through your skin and grind themselves deep inside your soul. With every abrasive noise, the mechanized monster that is Sister Blanche grows larger. As the gears turn, the entire system overheats, spewing smoke and ash. Burnt to a crisp, the remnants of Sister Blanche emit a thick, demonic haze of smog while the world plummets into a deeper despair. No light, no hope.
Du brouillard démoniaque de Mark Gillis:
(Traduit par les déambulations nocturnes de Julie Mayer)
Enterrés au cœur du puits, les hurlements de Sister Blanche transpercent votre peau pour s'enraciner profondément dans votre âme. Chaque bruit abrasif fait grossir le monstre mécanique qu'est Sister Blanche. Tandis que les engrenages tournent, le système tout entier surchauffe, crachant de la fumée et des cendres. Carbonisés, les restes de Sister Blanche émettent un épais brouillard démoniaque alors que le monde plonge dans un désespoir plus profond. Sans lumière, pas d'espoir.
Sister Blanche – Intro//Hitchcock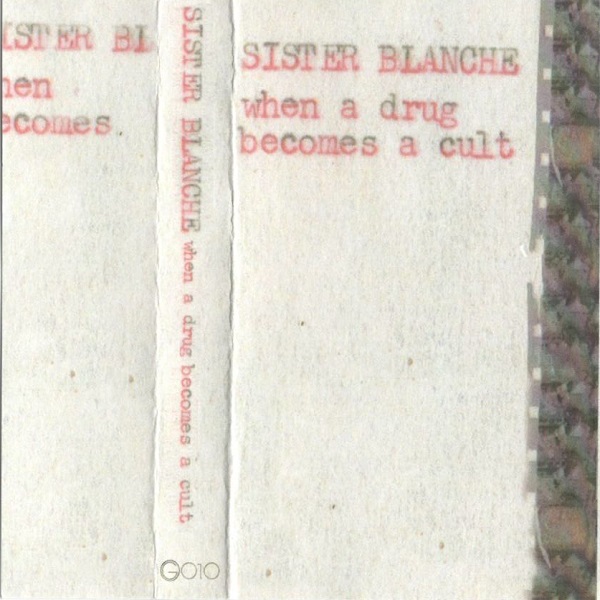 Sister Blanche
When a Drug Becomes a Cult
(Gary Cassettes)
Victoria/Vancouver, BC
From the gnawed appendages of Piper Curtis:
Wandering through a witchy haze, feet not quite touching the ground. Waves of discontent fill the air. Feeling intensely lovely, calm amongst unrest and agitation. There is a dissonance between us and this fuzzy dreamscape.
Static, moving all around. Witches watch through a shroud of fog. Dusk descended before we awoke here and remains, permeating.
Par les appendices rognés de Piper Curtis:
(Traduit par la scansion sabbatique de Benoit Arcand)
Errance dans une brume de sabbat, les pieds pas tout à fait au sol. Des ondes de discorde emplissent l'atmosphère. Le sentiment d'être ardemment aimable et posé dans ce tumulte, ce trouble. Il y a dissonance entre nous et ce paysage onirique flou.
La statique fluctuant tout autour. Des sorcières guettent à travers des linceuls de brouillard. Le crépuscule tombe avant que nous nous réveillions, et demeure, prégnant.
Sister Blanche – When A Drug Becomes A Cult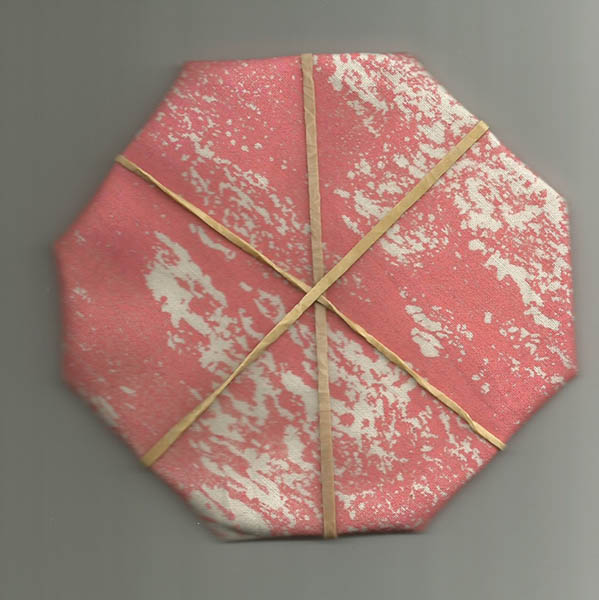 Gel Nails
Savory
(Self Released)
Blackfalds, AB
From the dystopian despair of Mark Anthony Brennan:
It's a morass of transistors and steel. An electronic bog from which there is no escape. That unearthly humming could be music of some kind, or maybe just the auditory manifestation of my own psychosis. Wait, is that a voice? It is. It's either a robot whispering to me or a man hissing down an air duct. Either way, there is no hope. One is an inanimate object, incapable of caring. The other is made of metal. Either way they are a just another cog in this all-consuming machine.
Du désespoir dystopique de Mark Anthony Brennan:
(Traduit par Jessica Grenier)
C'est un bourbier d'acier et de transistors. Un marécage électronique duquel on ne peut s'échapper. Ce bourdonnement surnaturel pourrait être un type de musique… ou peut-être juste la manifestation auditive de ma propre psychose.
Attends, c'est une voix? C'est… soit le murmure d'un robot, soit un homme sifflant dans une conduite d'air. Peu importe, il n'y a aucun espoir. L'un est un objet inanimé, incapable d'émotions; l'autre est fait de métal. Et dans les deux cas, ils ne sont qu'un rouage de plus dans cette effroyable machine.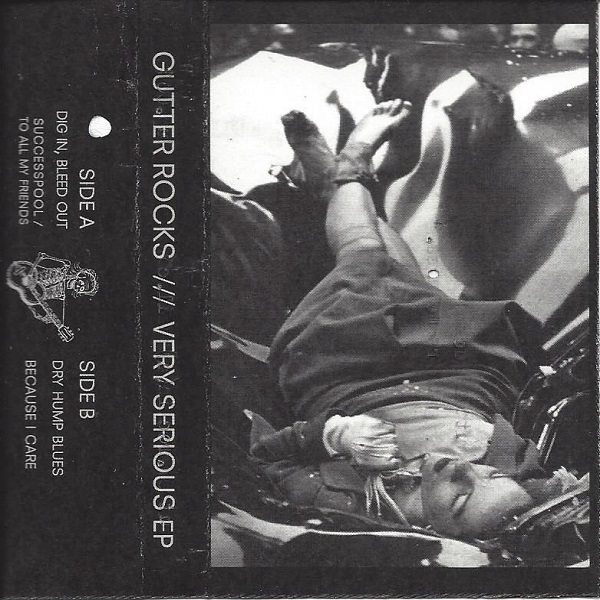 The Gutter Rocks
Very Serious
(Self Released)
Ottawa, ON
The Gutter Rocks – Dig In Bleed Out
The Gutter Rocks – Successpool
Successpool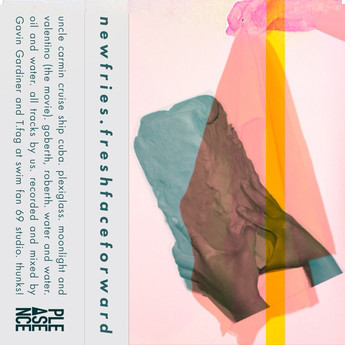 New Fries
Fresh Face Forward
Toronto, ON
From the warped reflection of Julia Dickens:
You're in a room. You begin pacing back and forth, thinking furiously about a strange memory, an odd decision, disjointed communication, your own existential confusion. Your speed increases, becomes frantic, stops and starts. You're muttering, talking out loud without knowing, repeating the same words until they become the steady rhythm to a herky jerky dance routine, ending as abruptly as it began. Absolute silence interrupted by your own yelps; spastic bursts of noise, and the pacing starts again. This is the deconstructed dance anthem to your most obsessive and zig-zagged anxiety attack, the performance art soundtrack to a poetically deranged stream of consciousness.
De la réflexion tordue de Julia Dickens:
(Traduit par Jessica Grenier)
Tu marches furieusement dans une pièce, ton va-et-vient occupé par un souvenir étrange, une décision bizarre, un problème de communication, ta propre confusion existentielle. Ta vitesse accélère, devient frénétique, ponctuée d'arrêts et de recommencements. Tu marmonnes sans t'en rendre compte, répétant à haute voix les mêmes mots jusqu'à ce qu'ils deviennent le rythme régulier d'une danse saccadée qui prend fin aussi abruptement qu'elle a commencé. Un silence absolu, parfois interrompu par tes propres cris – spasmes éclatants de bruit – et tu recommences à faire les cent pas. C'est l'hymne déconstruit de la danse pour tes attaques d'anxiété les plus obsessives et zigzagantes, la trame sonore d'un artiste de performance pour un flot de conscience poétiquement dérangé.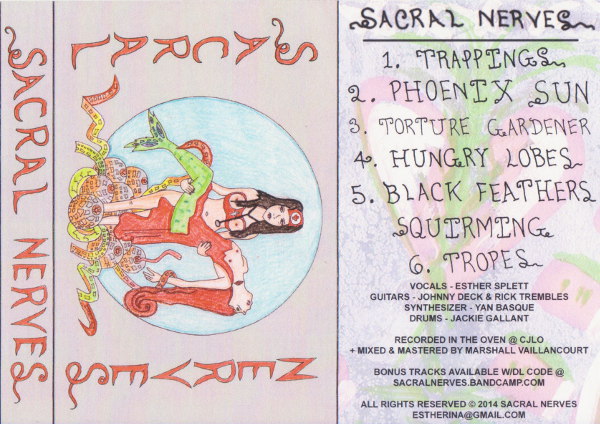 Sacral Nerves
Sacral Nerves
(Self Released)
Montréal, QC
From the brimming menstrual goblet of Liam Kennedy:
Describing your band as a "diva cup overflowing with menstrual blood left on your neighbour's porch" captures the energy of Sacral Nerves as occupying the pubescent middle ground between quasi-political awakenings, awkward sexual self-awareness, and a mild fascination in the occult confluencing in long summer's late-night neighbourhood pranks. But, Sacral Nerves are more than the brimming menstrual goblet. They are a crucified semi-lighter-melted bald Barbie doll with a blood-soaked Tampax crown of thorns, ketchup-soaked toilet paper entrails dangling above a gold spray-painted silicone holy grail spilling post-endometrium with every careful footfall, and the shushes, wispers, and held-in laughter from the bushes by the ditch as the porch light comes on.
Du gobelet menstruel débordant de Liam Kennedy:
(Traduit par Jessica Grenier)
Décrire le band comme une « Diva Cup débordant de sang menstruel laissée sur le porche d'un voisin » capture bien l'énergie de Sacral Nerves et leur occupation du territoire pubère, quelque part entre un éveil quasi-politique, une conscience gênante de sa propre sexualité et une légère fascination envers le monde occulte qui convergent en une longue nuit estivale à jouer des tours aux voisins. Mais Sacral Nerves sont plus qu'un gobelet menstruel débordant. Ils sont une poupée Barbie crucifiée, son crâne chauve, à demi fondu par un briquet, couvert d'une couronne d'épines en Tampax ensanglanté, ses entrailles de papier de toilette enduit de ketchup pendouillant au-dessus d'un Graal de silicone recouvert d'un graffiti doré qui répand des résidus d'endomètre à chaque pas prudent, et les murmures, les chut! et les rires étouffés provenant des buissons près du fossé quand la lumière du porche s'allume.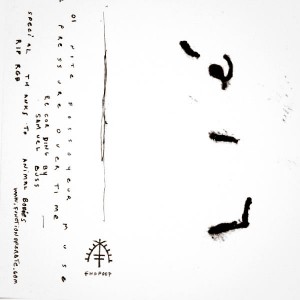 From the nic-fit of Bryce Warnes:
No lies: the first physical testament from all-female trio Lié is a slab of midwinter permafrost. The temperature in Vancouver rarely drops below freezing; Lié compensate with blackened punk aggression and icy gothic elegance. "Fossoyeur"'s bassline grabs your pelvic bones and shakes them to a rhythm banged out by shovels on casket lids. And if the Delphic Oracle broke curfew, started painting her nails black and formed a band, she would sing lead on "Muse." It all ends with the nicotine-jittery "Pressure" followed by "Overtime"'s feedback loop of paranoia. Word is that the Vancouver edition of this tape is sold out, so if you want a meatspace copy you'll have to order it from Lié's US label. But it's totally worth it for a trip into the heart of the darkness this trio conjures. Beware of black ice.
Du besoin de nicotine de Bryce Warnes:
(Traduit par le cerveau splitté de Justine Gabias)
Pas de mensonges : le premier testament musical tangible du trio féminin Lié est un bloc de permafrost en plein coeur de l'hiver. La température de Vancouver tombe rarement sous zéro, mais Lié compense avec une agression punk noircie et une élégance gothique verglacée. La basse sur « Fossoyeur » s'empare de ton pelvis et le secoue à un rythme qui frappe comme des coups de pelle sur des cercueils. Et si l'oracle de Delphes manquait le couvre-feu, peinturait ses ongles d'une couche de vernis noir et partait un band, elle serait assurément la chanteuse principale sur « Muse ». L'album se termine avec la tremblotte de nicotine de « Pressure » suivie par le feedback paranoïaque en boucle de « Overtime ». Le bruit court que toutes les copies de l'édition vancouvéroise seraient déjà toutes vendues, alors si tu veux une copie physique, tu devras la commander de l'étiquette américaine de Lié. Mais le voyage au coeur de la noirceur avec ce trio en vaut vachement la peine. Attention à la glace noire.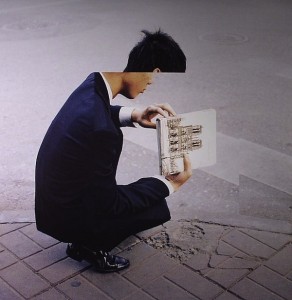 Hot & Cold
Border Area
Toronto, ON
From the slinking tendrils of JT Stephenson:
If you sonically fused James Chance's vocals with Lydia Lunch's delivery, threw it in a band with a fuzzier hybrid of Arto Lindsay and Mark Cunningham, and let Alan Vega call the production shots, you'd have an alienating brew of No Wave stew stirred by the godfathers and mothers themselves. Or, you'd have Border Area. These tendrils have slunk far from the '70s and entwined around Hot & Cold, the ultimate host, and their brilliantly addictive opulent minimalism. The downstroke lethargy and drum machine apathy throughout is a humble testament to these psychic siblings' neo No Wave genius.
Des vrilles furtives de Jessie Stephenson:
(Traduit avec l'approche New Wave de Dominic Mpilé et de Nicolas Coutlée)
Si on fusionnait la voix de James Chance à celle de Lydia Lunch, qu'on ajoutait au groupe une sorte d'hybride plus fuzzé de Arto Lindsay et de Mark Cunningham et qu'on laissait Alan Vega aux commandes de la production, il en résulterait une bouillie aliénante de No Wave servie par les chefs eux-mêmes. Ou encore, on aurait Border Area. Ces vrilles se sont étendues bien au-delà des années 1970 pour s'entortiller autour de Hot & Cold, l'hôte ultime, et son génial minimalisme opulent et infectieux. La profonde léthargie et la machine rythmique apathique qui en émanent sont un modeste témoignage en l'honneur de ces frères et sœurs psychiques, génies du néo-No Wave.
Hot & Cold – No Dreams Tonight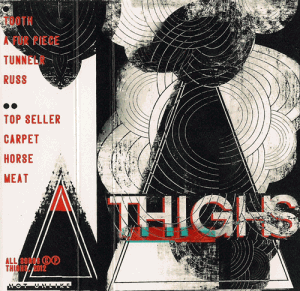 THIGHS
THIGHS
Toronto, ON
From the horse meat disco of James Lindsay:
Comparisons fail me. Jesus Lizard? Someone said Krautrock; but who doesn't say that anymore? Dave from the Soupcans said "they just make you suck that one note over and over, like: suck-suck-suck-suck, suck-suck." Then Jesse Locke told me that they sounded like Edmonton. Sure, half the band is expats, but I had no idea Edmonton sounded like Satan himself sewed together the attitude of early post-punk with the palsied energy and noise of spazz-punk. There's some heavy hypnosis at work, convincing you that this sinister wave of noise is birth by a Toronto supergroup: Pants and Tie, Young Truck, Odonis Odonis, and the late/great Danger Bay.
Du disco viande de cheval de James Lindsay: (Traduit par Maya Keshav)
Il n'y a aucune comparaison. Jesus Lizard? Quelqu'un a dit Krautrock; mais tout le monde dit Krautrock ces jours-ci. Dave des Soupcans a dit "ils te font sucer cette seule note encore et encore, genre: suce-suce-suce-suce-suce, suce-suce." Pis Jesse Locke m'a dit qu'il ressemble Edmonton. Ben oui, une moitié du groupe est les expatriés, mais je savais pas qu'Edmonton avait l'air que Satan lui-même a cousu l'attitude des débuts de post-punk avec l'énergie tremblante et le bruit du spazz-punk. L'hypnose sérieuse est en action ici, en te convaincrant que cette onde sinistre de bruit vient d'un supergroupe de Toronto: Pants and Tie, Young Truck, Odonis Odonis, et le grand défunt Danger Bay.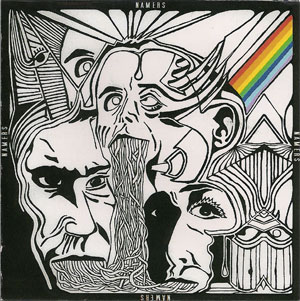 Matthew A. Wilkinson
Namers
(Self Released)
Grand Prairie, AB
From the brittle hands of Jesse Locke:
Surprise grip of the year. Softly diffusing from the northwestern margins of the Swan City (Grand Prairie), Matthew A. Wilkinson has upended Weird Canada HQ with his numinous folk incantations. Wordless murmurs melt into wasted drum circles, twinkling pianos and bent acoustic chant, as this boreal basement ritual summons malevolent deities of wavering gender. Songwriter, filmmaker and maybe even oracle, Wilkinson wields an unruly power. Lend him your ears.
Des mains cassantes de Jesse Locke: (Traduit par le rituel sous-sol de Maya Keshav)
C'est l'achat surprise de l'année. En émanant doucement des marges du nord-ouest de Swan City (Grand Prairie), Matthew A. Wilkinson a bouleversé le QG de Weird Canada avec ses invocations numineuses de folk. Les marmonnements sans mots fondent dans les cercles de percussion camées, les pianos scintillants et le chant tordu d'acoustique, pendant que ce rituel boréal du sous-sol fait apparaître les divinités malveillantes du genre fluctuant. Auteur-compositeur, cinéaste et même peut-être oracle, Wilkinson exerce un pouvoir ingérable. Écoutez ses histoires.
Matthew A. Wilkinson – Hand Over Hand
Matthew A. Wilkinson – Like This
---