Tag: nick storring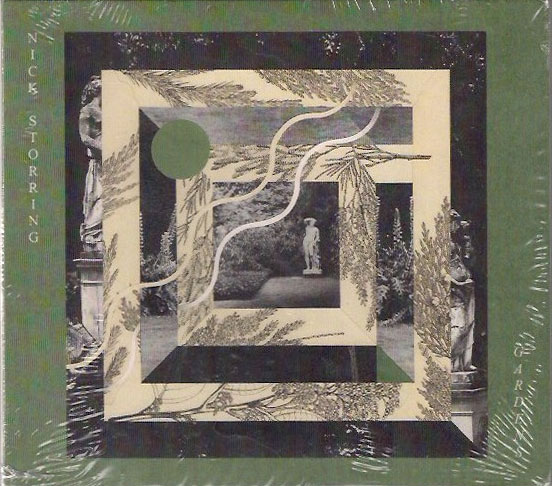 Nick Storring
Gardens
Toronto , ON
From the aberrant psychology of Jake Bornheimer:
Gardens is a matrix of acoustic sound, constantly fluxing and slowly transmuting to alternate forms. Cacophony to symphony. There's an incredible sense of flow here, some sections surge forward, others float blissfully on. Storring employs dissonance expertly throughout the pieces. Elements of the music come from all over the place: post-rock melodic structure, classical influences, gamelan, drone, what sounds like tibetan singing bowls, and a host of instruments spanning India, Thailand, China, Indonesia, Turkey, Africa, and more. As one listens they find themselves sinking backwards into a trance. The experience is dark, enchanting, repellent, and resplendent.
Gracieuseté de la psychologie aberrante de Jake Bornheimer:
(En direct de l'hémisphère gauche de Diane Beaupré)
Gardens est une matrice de sons acoustiques, toujours en mouvement, mutant lentement en formes alternatives. De la cacophonie à la symphonie. Il se dégage une sensation de flux surprenante. Certaines portions déferlent comme une vague, d'autres nous donnent envie de s'y abandonner. Dans tous les morceaux, Storring utilise la dissonance de façon experte. Des éléments musicaux jaillissent de toute part : structure mélodique post-rock, influences classiques, gamelan, drone, un son qui ressemble à celui des bols chantants tibétains et une panoplie d'instruments provenant de Thaïlande, Chine, Indonésie, Turquie, Afrique et d'ailleurs. Pendant l'écoute, on entre en transe. L'expérience est sombre, enchantée, repoussante et resplendissante.
Nick Storring – Nothing Seems to Rhyme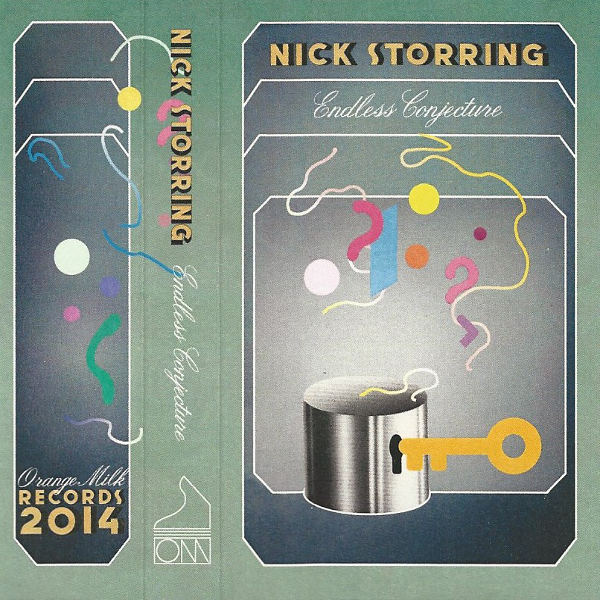 Nick Storring
Endless Conjecture
Toronto, ON
From the churning memory of Adam Bradley:
Gulp down a glass of orange milk. Fall forward slowly on the hinge of the toe, flat grimace, saucer eyes. Poof into the sandbox sand. Garnets and amethysts trickle from the clouds, dark green evergreen bows bend down to make a blanket. Sink into the sand. Slow, slower. Darkness first, then emergence into a viscous semi-void, rattling with the ghost of every toy you ever owned. Rusty clockwork cranks and twangs. Twiggy fingers pluck at your clothes. Climb into Grandma's cupboard, the size of a bear cave, filled from floor to ceiling with pots and pans, sentient and looming. The teeth of age clatter, the guts of memory churn.
De la mémoire emmêlée d'Adam Bradley:
(Traduit par Jessica Grenier)
Avales un grand verre de lait d'orange. Glisse doucement la tête vers l'avant jusqu'à être sur la pointe des orteils avec une grimace figée, les yeux en soucoupes. Pouf! : tu es dans le carré de sable. Il pleut des grenats et des améthystes, des nœuds papillons-conifères s'inclinent en une couverture. Enfonce-toi dans le sable lentement, plus lentement. D'abord l'obscurité, puis émerge un demi-néant visqueux, hanté par les fantômes de tous tes anciens jouets. Un vieux mécanisme rouillé toussote en grinçant. Des doigts rachitiques pincent tes vêtements. Grimpe dans le placard de grand-mère, celui gros comme l'antre d'un ours, remplis de casseroles et de poêlons animés et menaçants. Les dents de l'âge s'entrechoquent, les boyaux de la mémoire s'entremêlent.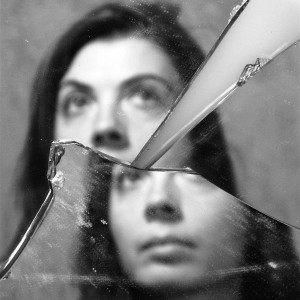 Picastro
You
(Self Released)
Toronto, ON
From the breadcrumb trail of Alex Hamlyn:
Sixteen years gives you time to hone your craft. Master it, maybe not, but there is a clarity of purpose and a confidence that can only be bought with time. Liz Hysen — along with her rotating crew of collaborators — has been making music under the name Picastro for 16 years and You is a brilliant distillation of the project's aesthetic. With a voice that shifts shape from track to track, moment to moment, Hysen is alternately enchanting and harrowing. Fables, rituals and even the living dead provide fodder for her incantations and yet there is a dark warmth to it all. Playing lullabies and whispering in your ear like some spirits found deep in the wilderness, they want to guide you home.
De la traînée de chapelure d'Alex Hamlyn:
(Traduit par le doux murmure d'Anaïs Njike)
En 16 ans, on a le temps de perfectionner son travail. Peut-être pas de le maîtriser, mais au moins d'affiner son objectif et d'acquérir une confiance qui ne se gagne qu'avec le temps. Liz Hysen — ainsi que son équipe changeante — compose depuis 16 ans sous le nom de Picastro, et You est un brillant condensé de l'esthétique du projet. Avec un timbre de voix qui varie à chaque instant, d'un morceau à l'autre, Hysen est à la fois envoûtante et angoissante. Ses incantations sont inspirées de fables, de rituels et même de morts vivants, et pourtant on y trouve une certaine chaleur obscure. En chantant des berceuses et en murmurant à vos oreilles comme des esprits sortis du fin fond de la forêt, ces paroles magiques veulent vous guider à la maison.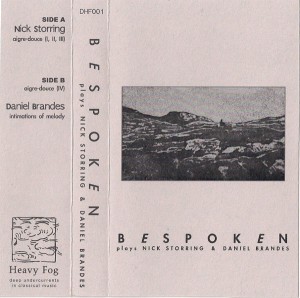 Bespoken
Plays Nick Storring & Daniel Brandes
Toronto, ON
From the necessary notes of James Lindsay:
Divorce Records' first offering from its classical cassette imprint, Heavy Fog, is a study in the massive emotional impact that can be made with utmost minimalism. Cello, piano, autoharp, kalimba, melodica, pitch pipe, and bird call all make up the sophisticated junkyard orchestra. These tiptoe around Nick Storring's Aigre-Douce movements like a wandering, sleeping sickness, inducing only the most essential sounds before putting them to rest and moving on. The second half of the program, Daniel Brandes' Intimations of Melody, sheds away even more superfluous resonance, leaving only the most necessary notes to construct a delicately humming, devotional giant. The overall feel is akin to hearing a newly constructed instrument being played for the first time. Imagine it as very large, made out of petrified wood and with many steel stings to be bowed and plucked. Now imagine that instrument being played by careful hands on a winter beach, and you start to get an idea of this beautiful bleakness.
Des notes nécessaires de James Lindsay:
(Traduit par les neurones en délire de Julie Forget)
Heavy Fog, la première offre de Divorce Records provenant de leur empreinte cassette classique, est une réflexion dans l'énorme choc émotionnel qui peut être fait avec le plus grand minimalisme. Le violoncelle, le piano, l'autoharpe, la kalimba, le mélodica, le diapason et l'imitation du cri des oiseaux composent cet orchestre-entrepôt de ferraille sophistiqué. Tous se déplacent sur la pointe des pieds autour des mouvements d'Aigre-Douce de Nick Storring comme une maladie vagabonde et endormie, déclenchant les sons les plus essentiels avant de les faire taire et de passer à autre chose. La deuxième partie du programme, Intimations of Melody de Daniel Brandes, répand des résonances encore plus superflues, laissant seulement les notes nécessaires pour construire un colosse pieux fredonnant délicatement. Le sentiment d'ensemble est semblable à l'écoute d'un instrument nouvellement construit et joué pour la première fois. Imaginez-le très grand, fait de bois pétrifié et comportant de nombreuses aiguilles d'acier se faisant courber et pincer. Imaginez maintenant cet instrument joué par des mains attentionnées sur une plage d'hiver et vous commencez à comprendre l'idée de ce beau caractère sombre.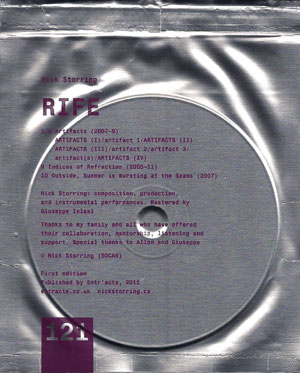 Nick Storring
Rife
Toronto, ON
From the ethnomellowology of Aaron Levin:
As a compilation of Storring's electroacoustic variété, Rife hints at the hidden majesty lurking within his many mental membranes. The searing vision lies between the strung wisdom of his violin and the electroacoustic prowess harnessed by modern digitalia; dense ethnographic footprints imprinted within our curious minds. The heavy THX moves coalesce within beds of a private world processed for our unguided meditation. A valiant expression of creative experimentalism worth all the honours stowed upon him. Freeze-dried for a gripper's safe keeping.
De l'ethnodétenduologie d'Aaron Levin: (Traduit par le monde gentil de Maya Keshav)
En tant que compilation de la variété électroacoustique de Storrings, Rife donne un indice à la majesté cachée qui rôde dans ses nombreuses membranes cérébrales. La vision torride reste entre la sagesse cordée de son violon et la prouesse électroacoustique exploitée par la technologie moderne; les empreintes ethnographiques intenses sont imprimées dans nos têtes curieuses. Les mouves lourdes THX se fondent dans les lits d'un monde privé fait pour notre méditation non guidée. Une expression vaillante d'experimentalisme créatif qui mérite toute la louange qu'il reçoit. Lyophilisé pour la bonne garde d'un acheteur.
---