Tag: nick smith
Rhythm of Cruelty
Dysphoria
Edmonton, AB
From the steely synesthesia of Nick Smith:
North America's northernmost metropolis gives us a chilly slice of its minor-key grooves, of the high-walled and barbiturate-wire type. Considering Ian and Brandi's previous bands and RoC's run-up of EPs, this is no big surprise: they've been working on their no-nonsense post-punk with the barest of elements since the beginning. The guitars have stayed flanged-out, the vocals echoing, and the songs' razor-sharp direction and drum-machined propulsion crack like a whip. If True Detective's Rust Cohle had a wax penchant, you can bet that Dysphoria would be in his collection.
De la synesthésie d'acier de Nick Smith:
(Traduit par Nick Smith)
La Métropole la plus nordique de l'Amérique du Nord nous donne une offrande glacée de ses grooves en clef mineure, du genre hautement fortifié et recouvert de barbituriques. Considérant les groupes et les EP précédents de Ian et Brandi, on n'en est pas surpris : ça fait depuis leur début qu'ils travaillent sur leur genre de postpunk minimaliste. Les guitares sont enrobées de flange, la voix est saturée d'écho, et les chansons sont alimentées de boites à rythmes, donnant au tout un ton monomaniaque. Si Rust Cohle de True Detective était accro du vinyle, on en est certain que Dysphoria serait dans sa collection.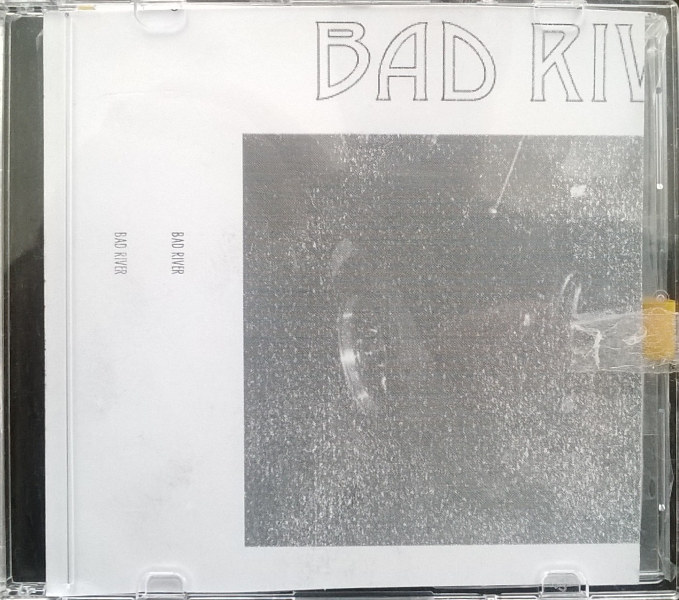 Bad River
Bad River
(Self Released)
Toronto, ON
From the musty banks of Nick Smith:
Listening to Bad River is like tubing down a big warm glowing stream with buds, wearing your most comfortable sweater and seeing it all through your favourite filter (mine's magic-hour). It's a pleasant voyage that's immediately intimate, wrapping you up like a dip in perfect-temperature water. Thom Huhtala picks these tunes from the primordial mud of our collective consciousness, and envelops them in layers of murky drift. The bits that emerge above the stalled shoreline and fasten onto our minds ring out high and clear, like the cicada song of late-summer blues. It might be a lazy river, but it's taken fully in earnest.
Des berges limoneuses de la mémoire de Nick Smith:
(Traduit par Aliké Harel)
Écouter Bad River ressemble à la descente d'une rivière aux eaux chaudes et étincelantes entre amis, vêtu de son chandail le plus confortable en admirant le tout à travers son filtre préféré (le mien, c'est l'heure de la magie). Le doux voyage, instantanément intimiste, vous enveloppe dans la tiédeur d'une baignade parfaite. Thom Huhtala sélectionne les chansons dans le terreau primordial de la conscience collective et les enrobe dans plusieurs couches de limon. Les fragments qui émergent des eaux stagnantes atteignent les berges et s'agrippent à l'esprit, puis claironnent haut et fort, tel le chant du grillon avec son blues de fin d'été. Si le courant est las, le passager, lui, est imbu de solennité.

Bad River – Yard Sale (introduction)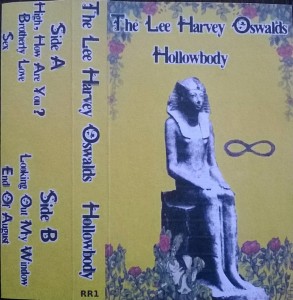 The Lee Harvey Oswalds
Hollowbody
(Runk Records)
Fredericton, NB
From the blitzed second sight of Nick Smith:
Wandering around different cities can sometimes give you a lysergic impression of déjà vu, where the space-and-time train seems to have momentarily jumped the rails onto another track. Places almost familiar, but steeped in a light gauzy haze of otherness, are also comfortingly foreign, like a good acid flashback. Transcendent moments like these dot the horizon of Hollowbody, where melodies and harmonies tumble together against sitar drones, backwards guitars and reverse freak-outs echo alongside steady percussions. At once familiar and off-set, we're bird's-eye view zooming through the sky with a tether to the ground. Featuring a cover of lo-fi Haligonian songster Craig Currie, this nugget's worth the trip, captain.
De la seconde vue bombardée de Nick Smith:
(Traduit par le paysage urbain de Julie Forget)
Errer dans différentes villes peut parfois donner une impression lysergique de déjà vu, où le train espace-temps semble avoir momentanément sauté des rails pour se diriger dans une autre voie. Des endroits presque familiers, mais remplis d'une légère et vaporeuse brume d'altérité, sont aussi étrangers de façon réconfortante comme un bon flashback d'acide. Des moments transcendants comme ceux-ci parsèment l'horizon de Hollowbody, où les mélodies et les harmonies tombent ensemble contre des bourdonnements de sitar, des guitares renversées et flips inversés résonnent à côté de percussions constantes. À la fois en terrain connu et à l'écart, nous zoomons dans le ciel comme l'œil d'un oiseau avec une attache au sol. Comprenant une reprise du chanteur haligonien lo-fi Craig Currie, ce bijou vaut le détour, capitaine.
The Lee Harvey Oswalds – High, How Are You?
---