Tag: new jack swing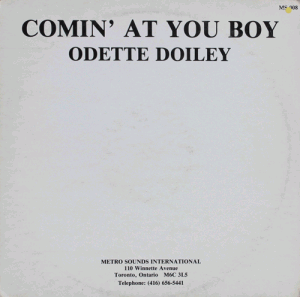 Odette Doiley
Comin' At You Boy b/w Comin' At You Boy (Instrumental)
Metro Sounds International
Toronto, ON
Originally Released: 1987
From the metropolitan sounds of Chris Bateman:
Another addition to the fringe on top of fringe that is New Jack Swing Canadiana. As much as I want to quote verbatim from the description of Odette Doiley on the back of her 1987 private press 12 inch (calling her "a very dedicated singer and performer [who] is all ready to make her contribution to the music industry"), I will instead say that "Comin' At You Boy" is a bangin' New Jack chune. With its catchy chorus, classic synth production (by someone named Carl Ottway) and perfectly written bridge, it's part Come on shake your body baby, do the conga, part entitled high school student, and all Oakwood and Vaughn. The twelve inch is confirmed not raer (or at least not sought-after) so cop while you can and send yourself swanging. Doiley has at least one other single and this very necessary piece of video.
Des sons métropolitains de Chris Bateman:
(Traduit par Maya Keshav)
Un nouvel ajout à la marge sur la marge qui est New Jack Swing Canadiana. Autant j'ai envie de citer mot pour mot la description d'Odette Doiley sur l'envers de son 12" presse privée de 1987 (qui l'appelle "une chanteuse-interprète tellement dévouée qui est prête à contribuer à l'industrie musicale"), autant je dirai à la place que "Comin' At You Boy" est un morceau super balançant de New Jack. Avec son refrain entraînant, son synthé classique (par quelqu'un qui s'appelle Carl Ottway) et son interlude parfaitement écrit, c'est une partie Viens bouger ton corps bébé, fais la chenille, une partie élève du secondaire présomptueuse, et complètement Oakwood and Vaughn. Le vinyle est assurément pas rare (ou au moins, c'est pas coinvoité) alors achetez-le quand vous le pouvez et laissez-vous balancer. Doiley a au moins une autre single et cet extrait de vidéoclip tellement nécessaire.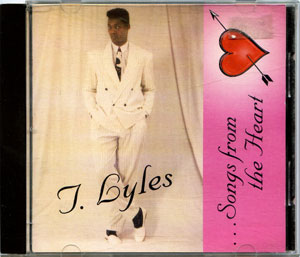 T. Lyles
…Songs from the Heart
(Toon Town Records)
Saskatoon, SK (Originally Released: 1995)
From the kraazy Saskatoon lovertude of Christopher Bateman
Ever wondered what a Prince or Babyface-inspired boy from the Canadian prairies looks and sounds like? By 1995, New Jack Swing was on its way out of radio favor and Saskatoon is about as far from a stronghold of hip hop informed R&B that you can get, but for better or for worse, that never stopped Indianapolis-born T. Lyles from putting out a collection of New Jack swangers in the heart of Joni-town. It is not exactly clear how Lyles is connected to Saskatoon, but it was there that he created his 12-bar New Jack rub-down of an album. For the most part, the disc is more weird than bangin', but it stands as a curious peek into an outsider prairie new jack inductee. Also: check the T-fade.
De l'amoureux-attitude de la kraazy Saskatoon de Christopher Bateman:
(Traduit par Odile Leclerc)
N'êtes jamais demandé de quoi à l'air un garçon inspiré de Prince ou Babyface des prairies canadiennes et comment il sonne? Par 1995, New Jack Swing sortait hors de la faveur radio et Saskatoon est aussi éloigné d'un R&B informé d'un château fort de hip hop qu'elle peut l'être, mais pour le meilleur ou pour le pire, cela n'a jamais arrêté T. Lyles, né à Indianapolis de publier une collection de swingueurs New Jack dans le cœur de Joni-ville. Ce n'est pas exactement clair comment Lyles est relié à Saskatoon, mais c'était là qu'il a créé son rub-down album 12-bar New Jack. Pour la majeure partie, le disque est plus bizarre que cognant, mais il se tient en tant qu'un curieux coup d'œil dans une célébrité New Jack étrangère de la prairie. Aussi : regardez le T-fade.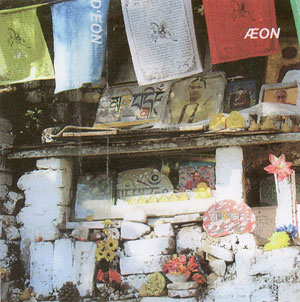 From the Teddy Riley jacketed body of Aaron Levin:
D'Eon returns with a new moniker and a time-lapsed sound no less forward looking than the last. Veering away from the cosmic meanderings of wa al-'asr (by the time) and plunging wrap-first into New Jack Swingery, D'EON delivers like no other methamphetamine-infused Much Music dance party. The whole trip is soaked in d'Eon's psychedelic twilight, making it the ideal late-night, post-apocalyptic high-on-life-but-I'm-still-down-on-everything soundtrack to your small-town fashion-school graduation party. Your not-really-friends are passing rails in a bathroom while you're saluting a full-moon on the apex of an abandoned farm-house; Sony Walkman™ giving portable life to d'Eon's mellow tech flowing through your veins. Meanwhile, Teddy Riley is sitting in a blackstreet-funded mansion with a giant grin and the speach bubble reads: "it's about time, whoa jam."
Du corps en manteau Teddy Riley d'Aaron Levin:
(Traduit par les oreilles contentes de Maya Keshav)
D'Eon revient avec un nouveau nom et un son chronocinématographique qui est aussi tourné vers l'avenir que son dernier album. En déviant des vagabondages cosmiques de wa al-'asr (by the time) et en sautant wrap-en-avant dans le New Jack Swing, D'EON réussit comme aucune autre fête de danse Much Music remplie de la méthamphétamine. Le voyage entier est trempé de la pénombre psychédélique de d'Eon, grâce à laquelle c'est la bande-son parfait en-nocturne, post-apocalyptique, défoncé-à-la-vie-mais-je-m'en-fou-du-tout pour ta fête des finissants de l'école de mode de ta petite ville. Tes pas-vraiment-des-amis prennent la drogue dans les toilettes pendant que tu salues une pleine lune sur le sommet d'une ferme abandonnée. Au même temps, Teddy Riley s'est assis dans un manoir financé par le blackstreet avec une sourire énorme et la bulle dit: "il était temps, whoah boeuf."
D'EON – the girl from köln is gone
---